Coin Values Moving with Precious Metals: Up-Dated 3/30/2020: Gold $1605 | Silver $13.85
Half Cent Values
Half cent values start at $40 to $45 each for a well worn coin. Not a bad minimum value for an old coin.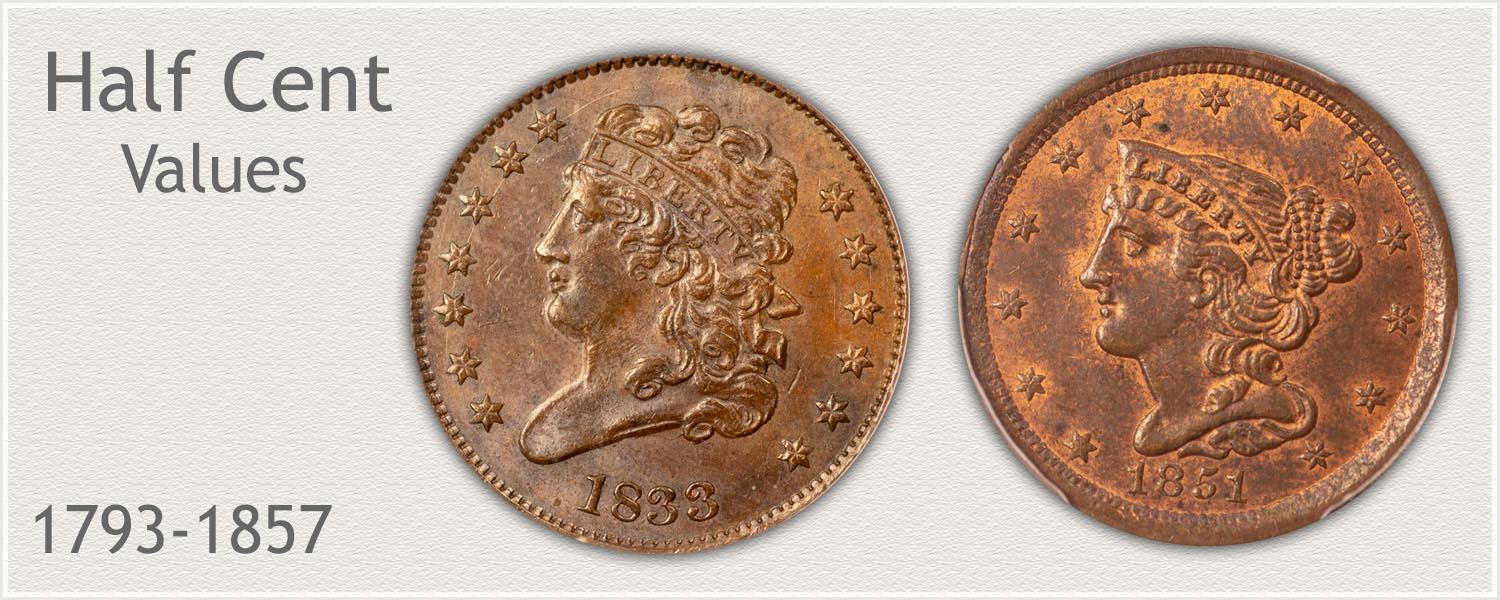 Find a "better date" in you box, for example an 1802, 1811 or 1831 and your half cent values increase dramatically.
Additionally, if the condition of your coin is better than heavily worn, you possess a rarity many collectors find highly desirable. Auction prices often reach thousands of dollars for the right coin.
You can estimate values fairly accurately by first determining your half cent condition and then checking the date and value on the charts below.
Half Cent Values and What Dealers Pay
Remember, with old coins, condition is very important as you determine value. Below the value table are images of Half cents in various stages of wear, compare your coins, determine their condition to arrive at an accurate Half Cent value.
The above are wholesale coin values. Computed from dealer's price lists with various mark-up factors figured in. They reflect closely the value you would expect to receive when selling. Variations in value do occur subject to subtle grading points, collector demands and dealer needs. For more background information, see how value listings in the Coin Value Guide are determined.
Half Cent Values - Making the Grade
Condition is one of the key factors in determining half cent values. Collectors are always looking for coins with the least amount of wear. The better the state of preservation of your coin, the higher the value... sometimes much higher.
The concept is straight forward, as a coin circulates and wears, all the varying degrees of its condition are each assigned a "grade".
Compare your coin to the grading images and find the closest match. The Braided Hair Half Cent is pictured, examine closely the hair around her face, the more detail evident the better the condition. If your coin is slightly better than pictured, use the higher value of the price range.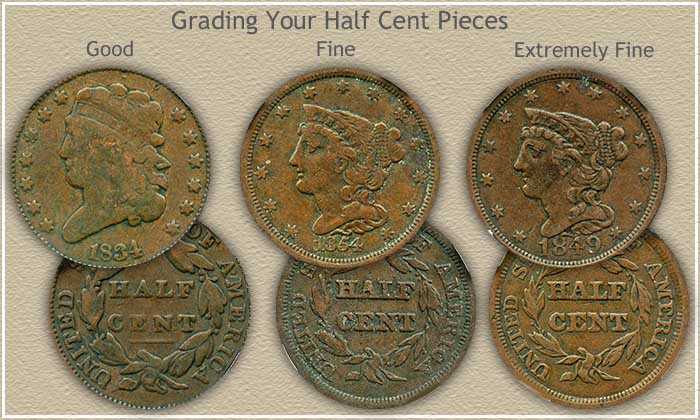 Is your Half Cent mint state? If your coin shows no signs of wear it is referred to as Uncirculated or mint state. The mint state grade is also divided into Uncirculated, Choice Uncirculated and Gem Uncirculated.
Use caution here, a small degree of difference in appearance has a big impact on half cent values. With many uncirculated Half Cent values starting in the hundreds of dollars and rising rapidly from there, it is a good idea to have a professional grading service examine and grade your coins.
Collectors and dealers consider PCGS and NGC as leaders in coin grading services. They both authenticate and grade your coin. The small fee you pay provides assurance you understand and receive the full value of your coin.
It is also helpful to know grading a coin is not an exact science. It is your opinion, dealers and collectors have their own opinions... and they can all differ slightly.
Check a few rare coin dealers listings, look for those offering Half Cents for sale, their listings and prices usually include a notation of the NGC or PCGS assigned grade. Additionally... these coin dealers are potential buyers of your coins.
All Half Cents are Rare and Valuable
Only 7,781,426 Half Cents made.
Seven and three quarter million half cents where minted from 1793 until 1857 when the denomination was discounted. The major type varieties are...
Liberty Cap 1793-1797
Draped Bust 1800-1808
Classic Head 1809-1836
Braided Hair 1840-1857
It is remarkable a coin minted in the days of reading by candle light survives to this day. It is even more remarkable some of these coins minted so long ago are still in mint state condition. Consider all an important part of our history. In your search of rare coin dealer web sites, did you encounter any rare and valuable Half Cents? How did your coin compare to those listed?
Consider your group of coins as the beginnings of a coin collection and... hopefully the start of an enjoyable and rewarding hobby. Sorry, I just had to mention collecting coins. Even if you don't become a collector, one approach is to sell all of your coins and use the proceeds to buy one truly nice rare coin. Pass the thrill of a "rare" coin on to your children.
If you are keeping your coins, check back occasionally to stay informed of the ever changing rare coin values.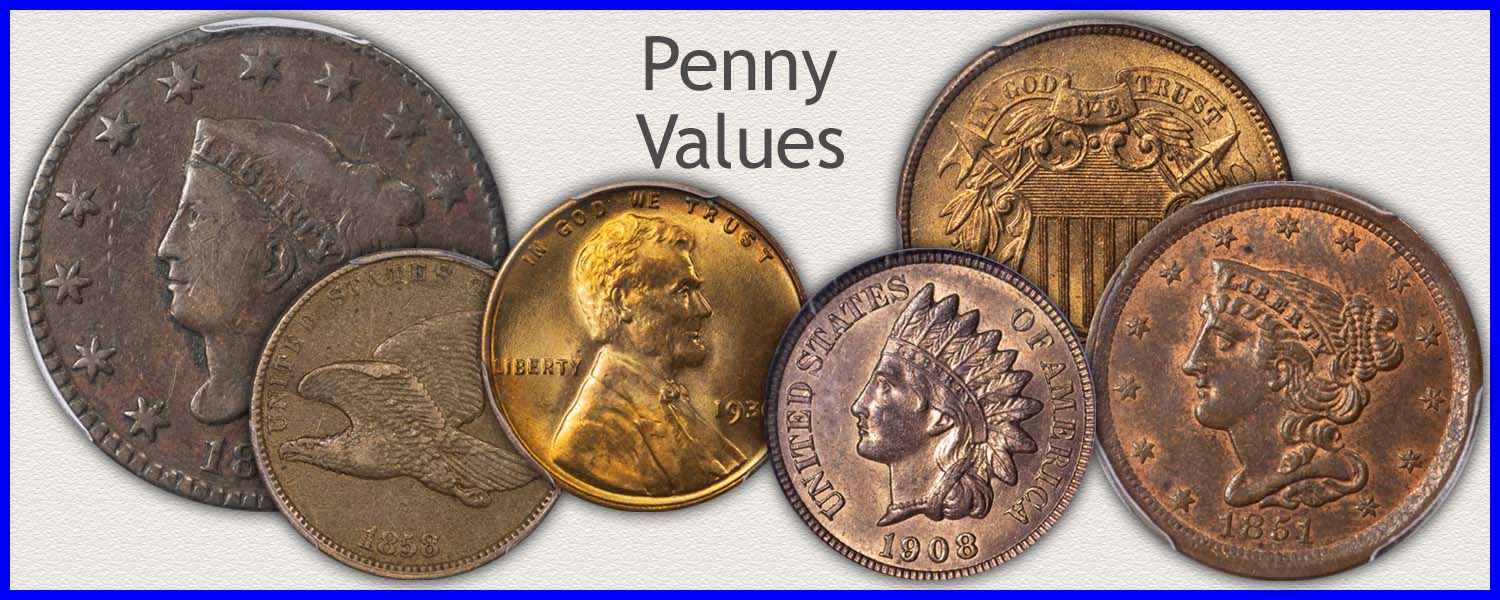 Discover the value of all your pennies. From the rare and valuable Large Cents to the popular Indian cent. Next check your wheat pennies, especially the early years. Match your coins to the grading images and value charts.
Do you have other denominations?
★Coin Values Discovery... finds Half Cent Values and...
All old US coin values. It is an excellent index with images and text links to all coin series, from Cents to Gold. Value charts, grading images and descriptions uncover how much your box of old coins is worth.