Coin Values Moving with Precious Metals: Up-Dated 9/25/2023: Gold $1921 | Silver $23.44
Bust Quarter Values
All are scarce, Bust quarter values reflect how scarce even the heavily worn examples have become. Following a step by step approach, recognize what determines a high value, rare Bust quarter. Use the images and descriptions below and discover how much they are worth.
Steps Leading to Value:
Step 1: Date and Variety Identified - Key dates are noted with important varieties.
Step 2: Grading Condition - Judge condition comparing to images and descriptions.
Step 3: Special Qualities - Recognize subtle factors helping narrow value range.
Because of advanced age and premium value, Bust quarters are closely inspected. The "how to " steps follow the value chart.
The impressive coin values for Bust Quarters are computed from dealer's price lists with various mark-up factors figured in. They reflect closely the value you would expect to receive when selling. Variations in value do occur subject to subtle grading points, collector demands and dealer needs. For additional reference... CDN publishes a price guide, covering retail Bust Quarter values in detail.
Step 1: | Date Plus Variety are Identified
Three important varieties of Bust quarters are part of the series. Each unique in style, scarcity, and qualities determining values. Identify your quarter series and next proceed to judging its condition.
Draped Bust Quarter Variety 1796 to 1807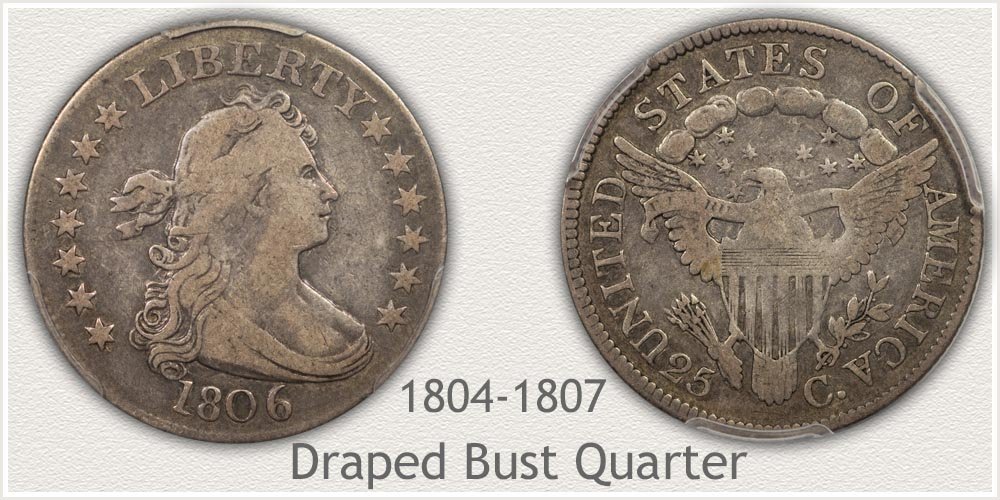 The iconic bust of Liberty facing right fills the obverse of the Draped Bust variety. Liberty's hair flows down and over her shoulder, with a ribbon tie in the back. The quarter series continues the use of the design as seen on denominations of the half dime through dollars.
All Draped bust quarters are scarce. In higher grades becoming rare. All were struck at the Philadelphia mint with just over half a million produced. Most served until heavily worn with few surviving in lightly circulated or better condition today.
Capped Bust Quarter Variety 1815 to 1828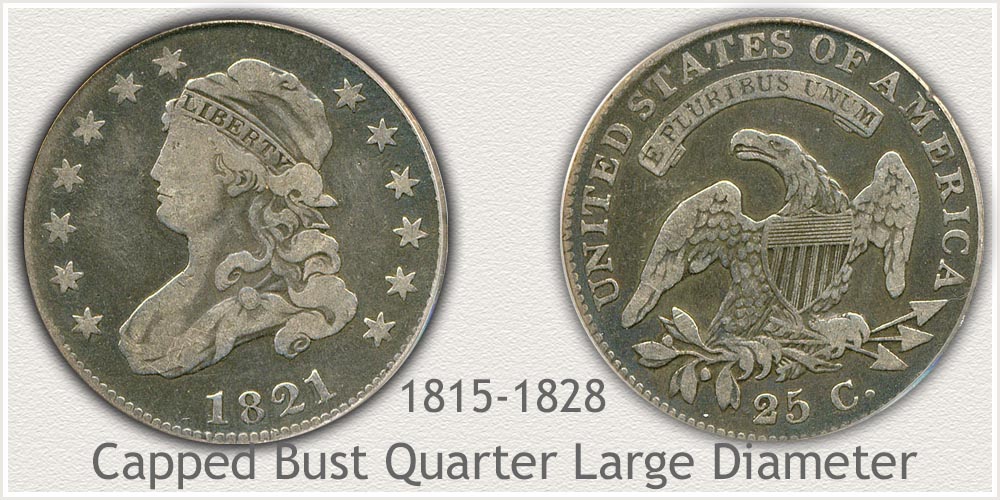 Quarters after an absence of years resumed production in 1815. A restyled design with Liberty now facing left was introduced. She is wearing a "Liberty Cap" and retains the loosely falling hair. Thirteen stars surround, complementing the design representing the original 13 colonies. An eagle with wings downward is on the reverse. The US shield in displayed on the chest with the eagle holding arrows and an olive branch.
Capped bust quarters of the large diameter variety were minted is greater quantities as the previous Draped variety. Just over 1.2 million struck during the 1815 to 1828 span, still a small number in comparison to today's hundreds of millions per year. All are scarce and highly sought by collectors. In high grade very scarce.
Capped Bust Quarter Variety 1831 to 1838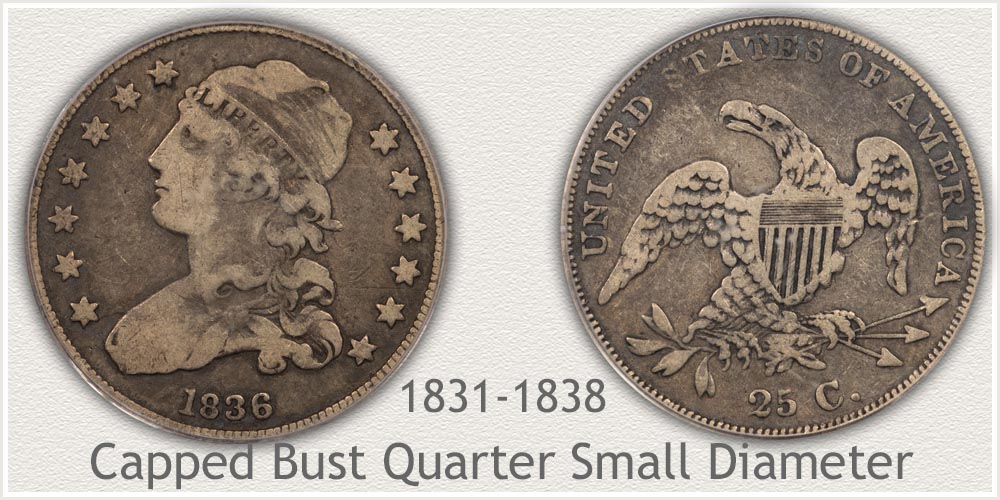 A significant reduction in size (diameter reduced by 10%) was introduced to the quarter denomination in 1831. A smaller, compact coin; however, total weight and metal content remaining the same. Liberty's portrait is slightly modified with the major design elements similar. The reverse is scaled to fit the smaller diameter. Eagle with central shield holding three arrows in left claw and olive branch in right claw.
A new size quarter and increased production was confirming the growth of the nation. Philadelphia mint struck a total of 4.2 million quarters of the variety. A large number of quarters per year and 1835 standing out with close to 2 million in one year. These increased mintages have resulted in larger numbers surviving today. Most however are very worn, displaying few details within Liberty's hair. Judging condition becomes important to value.
Step 2: | Grading Condition Identifies Grade and Narrows Value
Bust Quarter values rise quickly as the condition of your coin improves. Less wear adds to eye appeal and how much your coin is worth. Although rare dates are very valuable, they are rarely encountered. You stand a better chance of identifying a better condition coin.
Bust Quarter Value and Making the Grade
Old quarters minted 1804 through 1807 are the Draped Bust variety and very scarce. Grading is best left to one of the top grading services to determine an accurate market grade. Here are a couple examples in Fine and Good grade. If you coin is nicer in appearance seek professional assistance.
Fine Grade: Draped Bust Quarter 1804 to 1807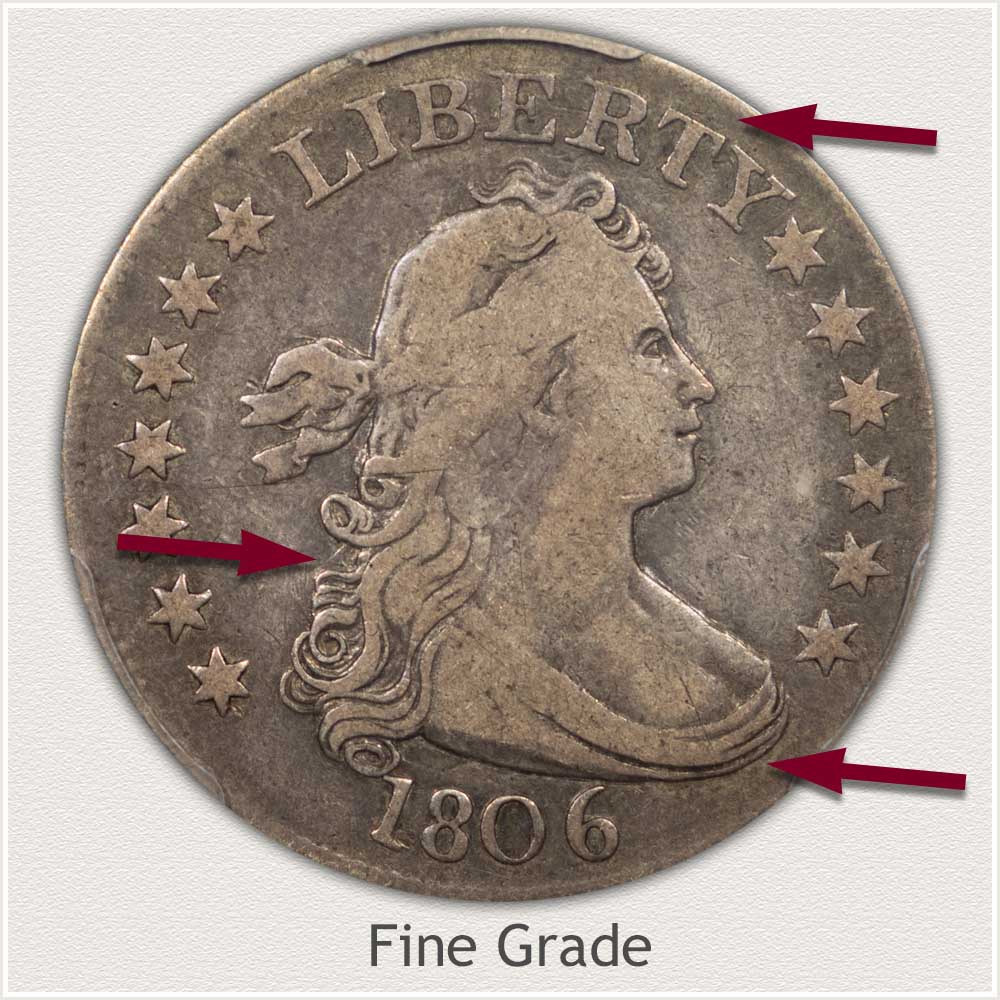 Obverse: Features Identifying the Fine Grade: Ample detail remains on a Fine grade coin. Major design elements are strong and a moderate amount of finer design lines are seen.
Liberty's gown is recognizable with many folds well defined. Most of the line separating her shoulder from gown remains.
Hair detail is abundant towards the back of her neck. Bold waves of hair flow below her ear and past the shoulder. Flatness to the hair is located primarily at the back of head and above the ear.
Stars and letters of "Liberty" are well defined and raised above the field of the coin.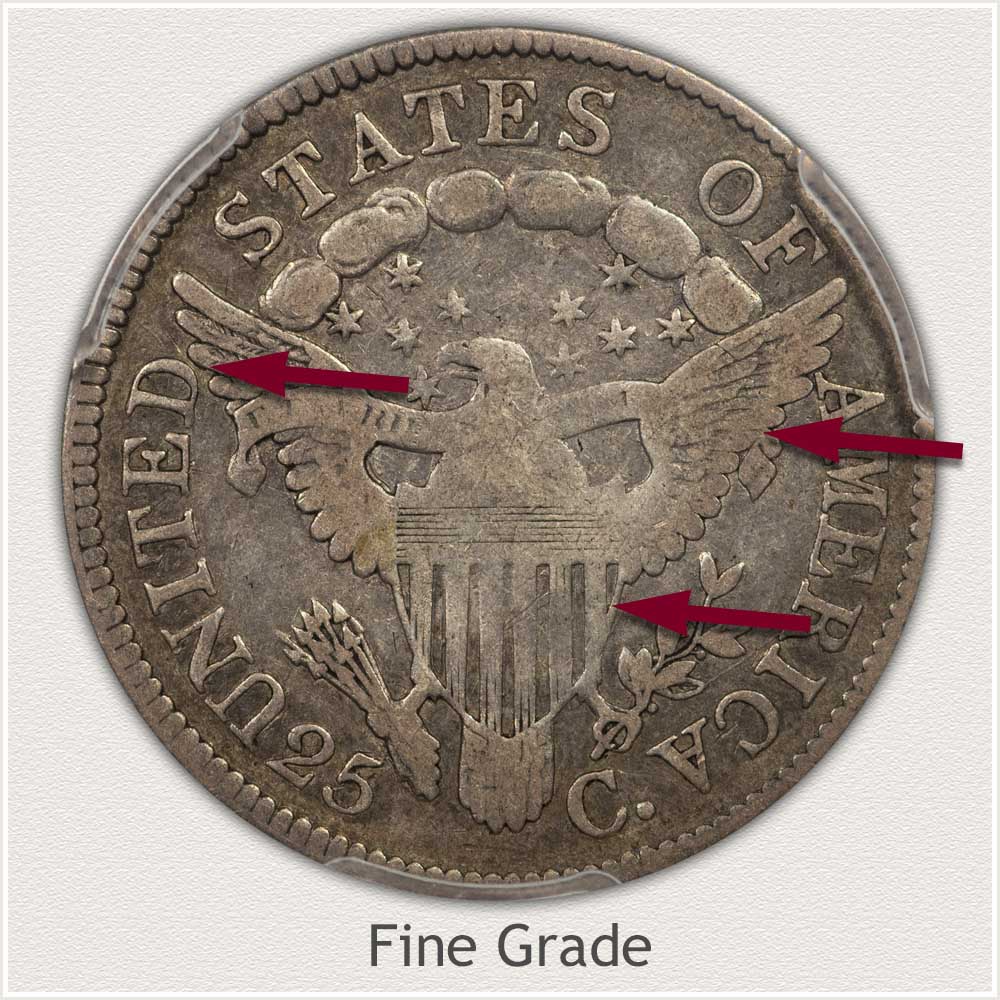 Reverse: Features Identifying the Fine Grade: Nice detail remains overall on the reverse.
Feathers are seen in the central areas of the eagle's wings. Flatness and wear is towards the ends of wings.
A bold shield is well defined. Although visibly flattened many horizontal and vertical lines are distinct.
All lettering is clear along the rim.
Most letters to the motto; E Pluribus Unum are readable.
Good Grade: Draped Bust Quarter 1804 to 1807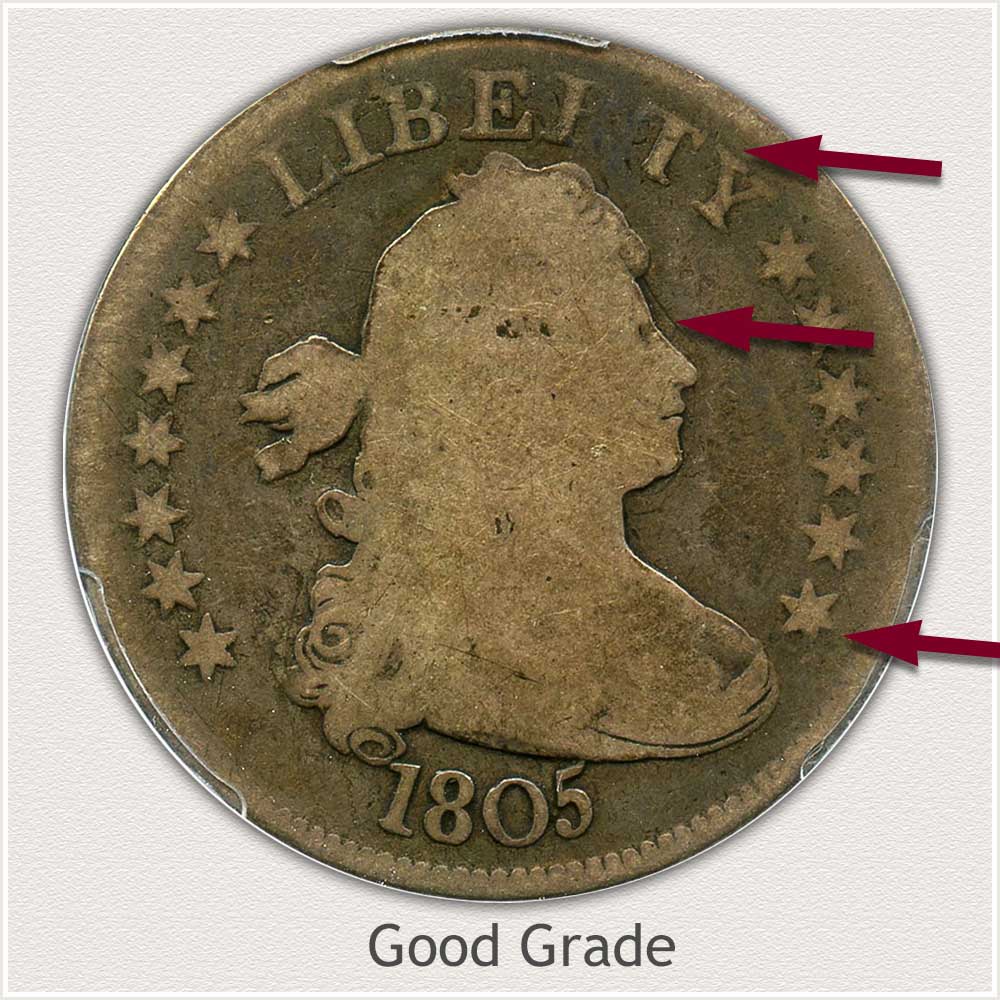 Obverse: Features Identifying the Good Grade: Despite heavy wear Liberty's portrait is well defined. Other areas towards the rim are very faint.
Liberty's eye is strong as well as a complete outline. Parts of the portrait is well raised from the field.
Letters are weak and the top edges are often faint and flat with the rim.
Not all of the stars have survived with many worn into the field.
The rim itself is weak in areas and needs to remain complete in others.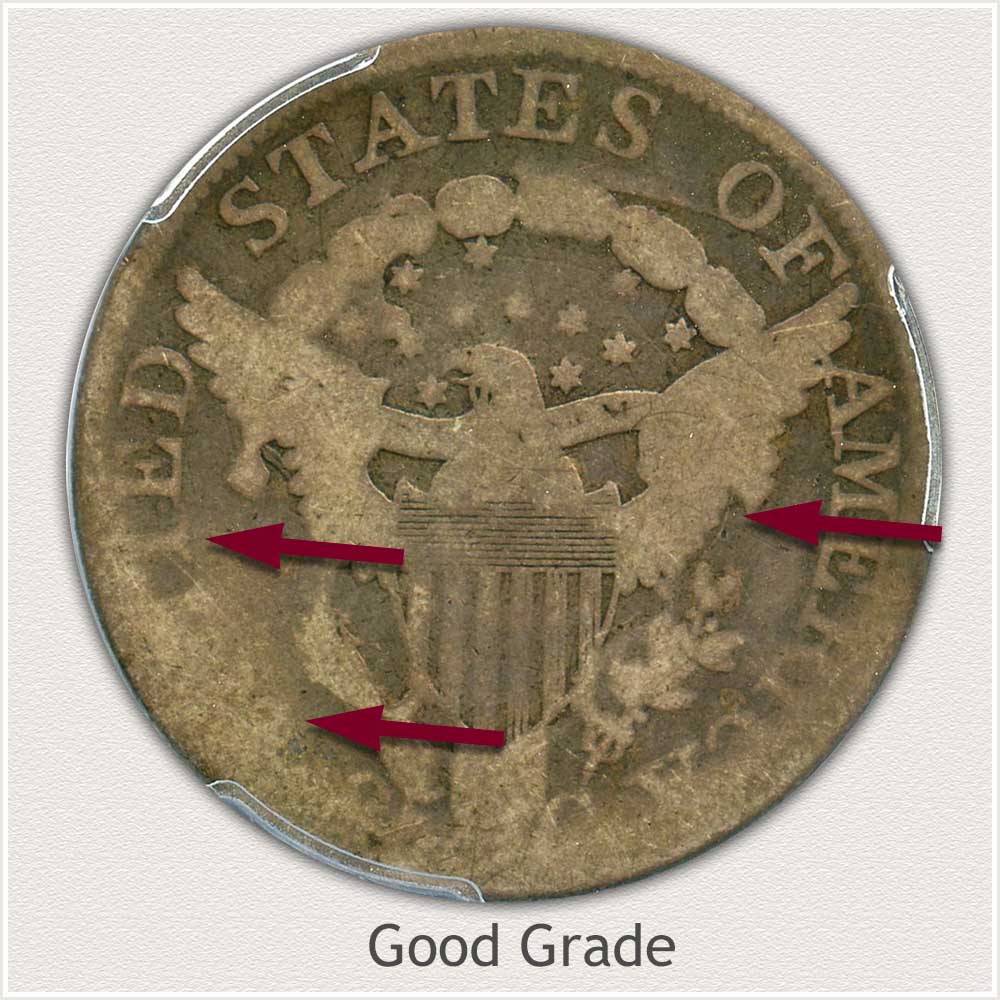 Reverse: Features Identifying the Good Grade: Many elements remain strong on a Bust quarter in Good grade. Condition is very worn with most of the design recognizable.
Wear has reduced many features of the eagle to a flat surface. It remains completely outlined. Often faint in areas; are tips of wings and near the shield, but not blending with the field.
Rim is usually inconsistent; weak in areas and stronger in others. Because of weak areas in the rim, tops of lettering is often faded and merging. A strong Good grade example displays only a few faded letters.
Capped Bust Quarter 1815 to 1828 | Judging Condition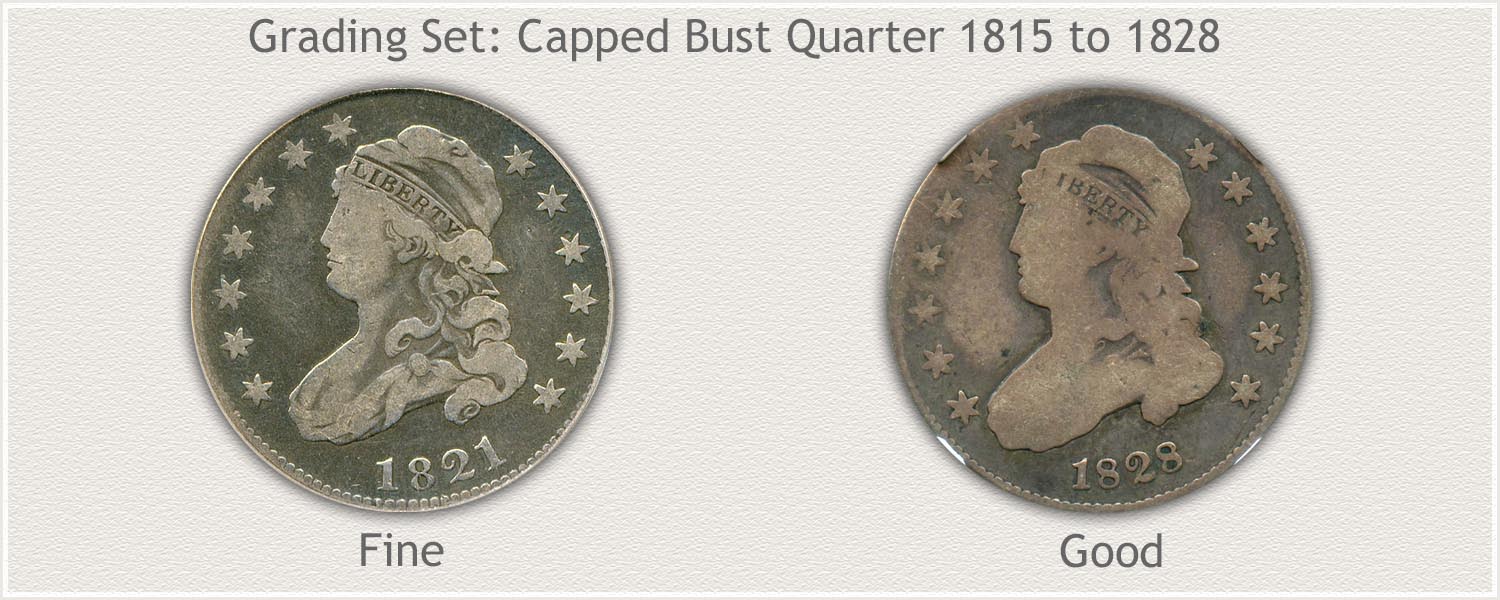 The second variety: a Capped Bust Quarter of the large size diameter is also very scarce. Most are in heavily worn condition. A Fine grade example is presented first to examine. Any coin in a higher condition is best evaluated by professionals. PCGS and NGC grading services are considered the top two by collectors and dealers.
Fine Grade: Capped Bust Quarter 1815 to 1828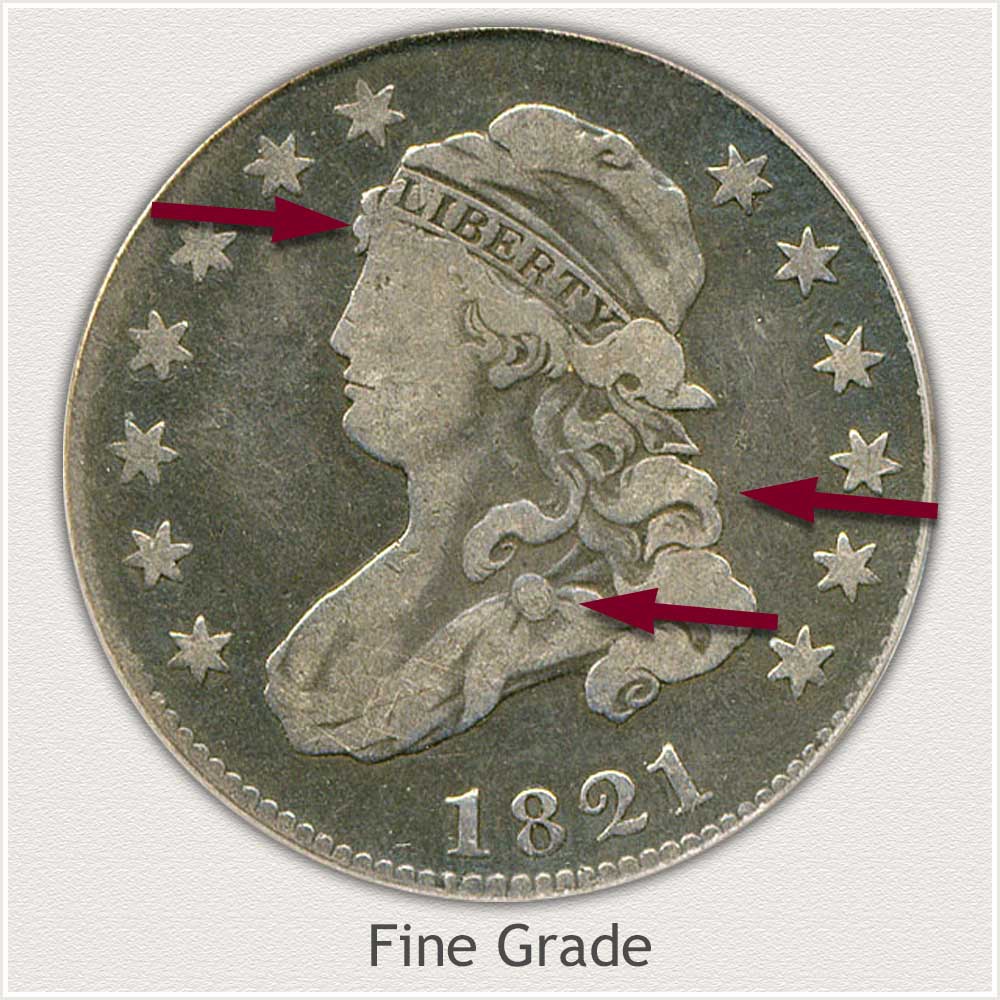 Obverse: Features Identifying the Fine Grade: A moderate amount of wear is flattening most of the design on a coin in Fine condition.
Above Liberty's eye is flat with no evidence of hair. A strong line separating the band remains from the flattened hair.
Curls of hair down the back of her head are represented by flat areas with separations. Fine lines are missing.
A round clasp holding the gown is complete, although a slight fading with the gown is often seen. Any merging of the clasp with gown is slight.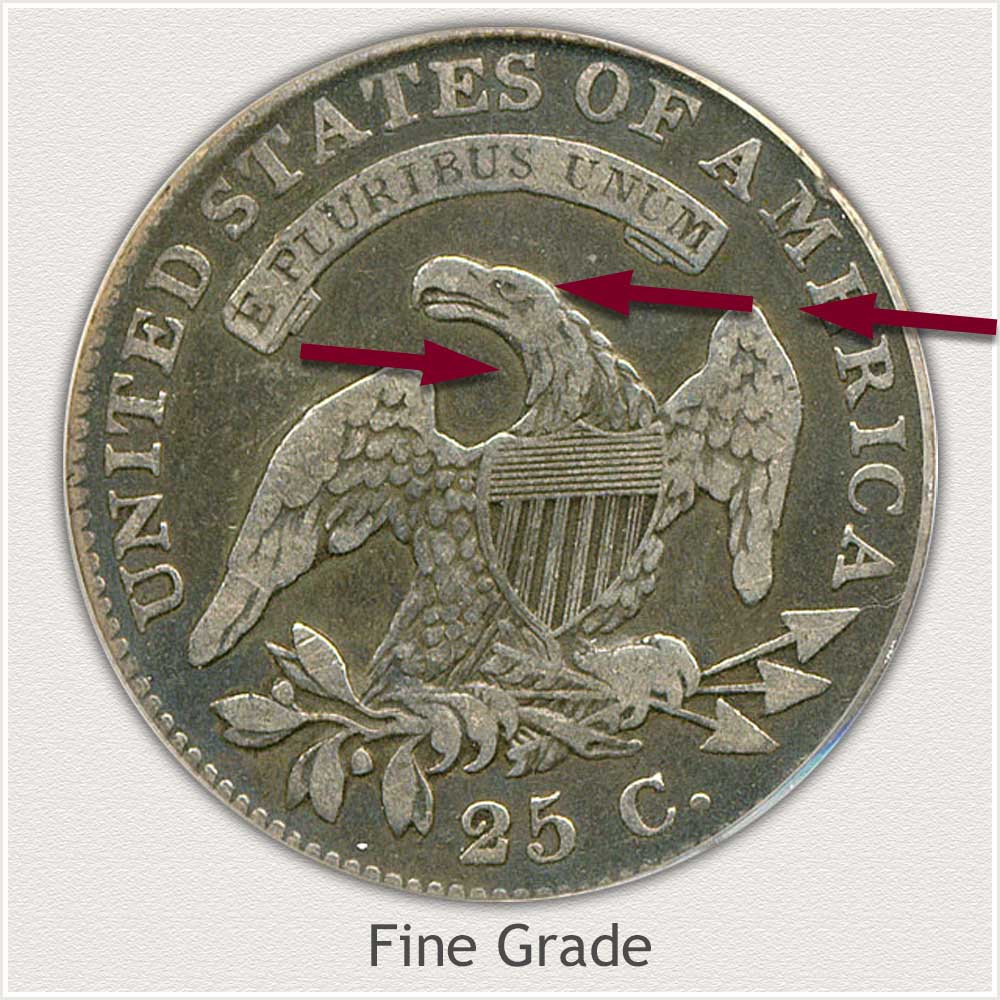 Reverse: Features Identifying the Fine Grade: A nicely detailed eagle remains as the central feature of the reverse.
Wear has reduced the detail to outer edges of wings. Many feathers are flattened and merged at the edge. Most inner feather detail remains.
High contours to the Eagle's head are lowered but a strong eye remains.
Feathers are visible on most of the Eagle's neck with some merging where the feathers meet the head.
The scroll with motto: E Pluribus Unum is readable.
Good Grade: Capped Bust Quarter 1815 to 1828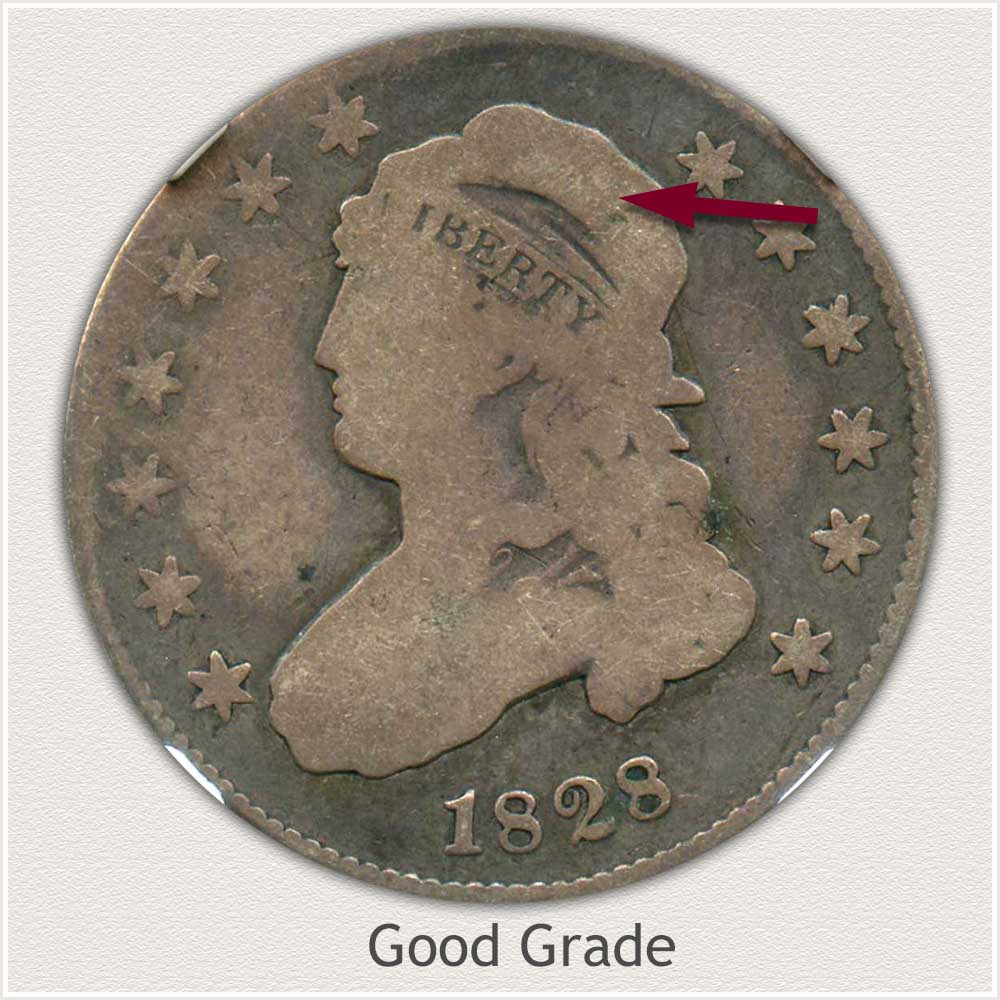 Obverse: Features Identifying the Good Grade: A strong outline to Liberty's portrait remains in the Good grade.
Liberty is flattened by wear, however, some detail to the cap remains above the band.
A slight definition to the band holding the cap is seen.
Although faded, many letters of "Liberty" on the band are visible.
Reverse: Features Identifying the Good Grade: A complete outline to the eagle helps identify a Good grade Bust quarter.
Outer edges of both wings are clearly defined. Wear has removed most feather detail but wings are clear of the field.
Letters of the legend are well worn and just beginning to fade into the rim in places. Merging with the rim is minimal.
Motto; E Pluribus Unum is very weak to missing. Completeness of the eagle and just slight merging of letters to rim defines the grade.
Capped Bust Quarter 1831 to 1838 | Judging Condition
Capped Bust quarters were further refined in 1831, reducing its diameter. With a smaller bust of Liberty and a smaller diameter, quality was improved. Grading condition takes these changes into consideration, expecting an even wear pattern and fewer variances to strike quality. High condition Bust quarters, because of value are routinely sent to grading services.
Mint State Grade: Capped Bust Quarter - Small Diameter 1831 to 1838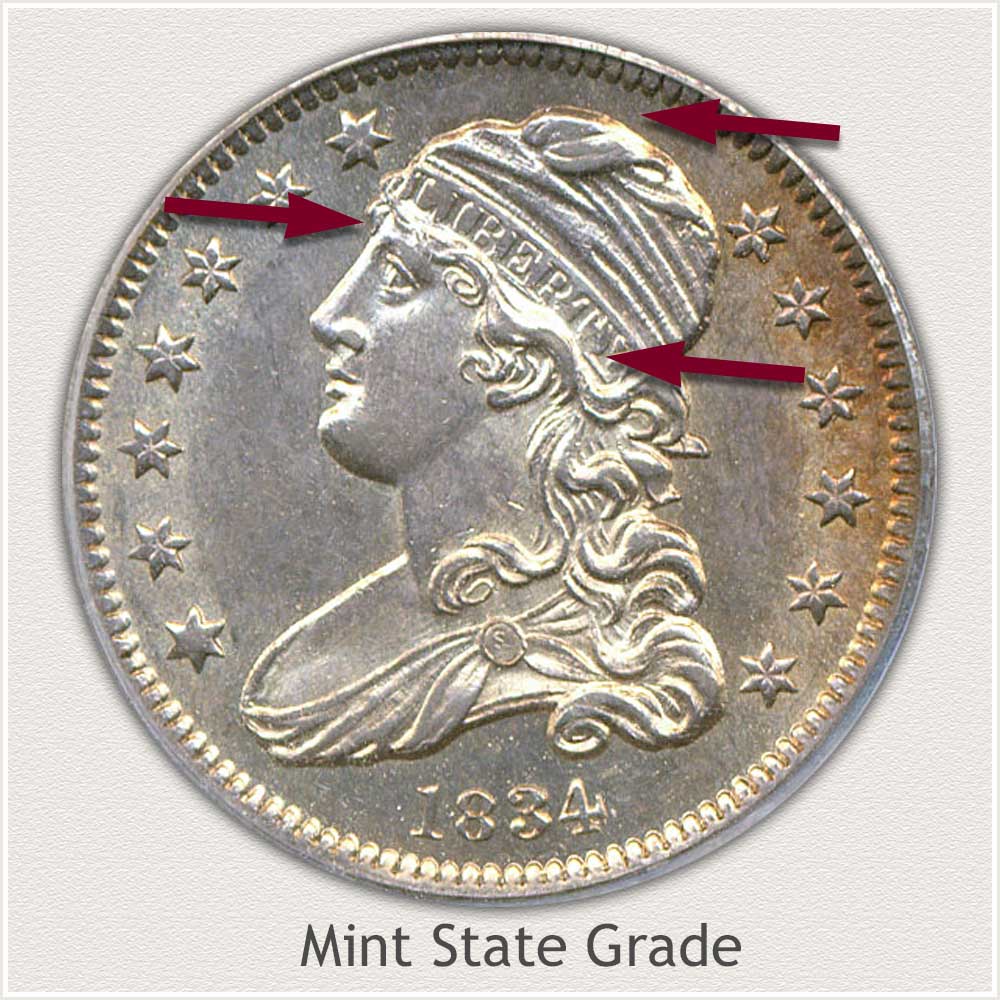 Obverse: Features Identifying Mint State Grade: Defining the Mint State grade is the absence of wear to the coin. High areas are closely inspected for traces of smoothing and texture of the metal.
Hair strands and curls of Liberty's hair are very bold and high in relief. Just over her eye is a prime location to receive wear. This coin shows no flattening and smoothing of hair details.
Next to receive wear is the large hair curl above the ear. An original rounded contour remains on mint state grade examples.
A the very top of the cap is a large fold. A close inspection shows no smoothing and original texture to the metal.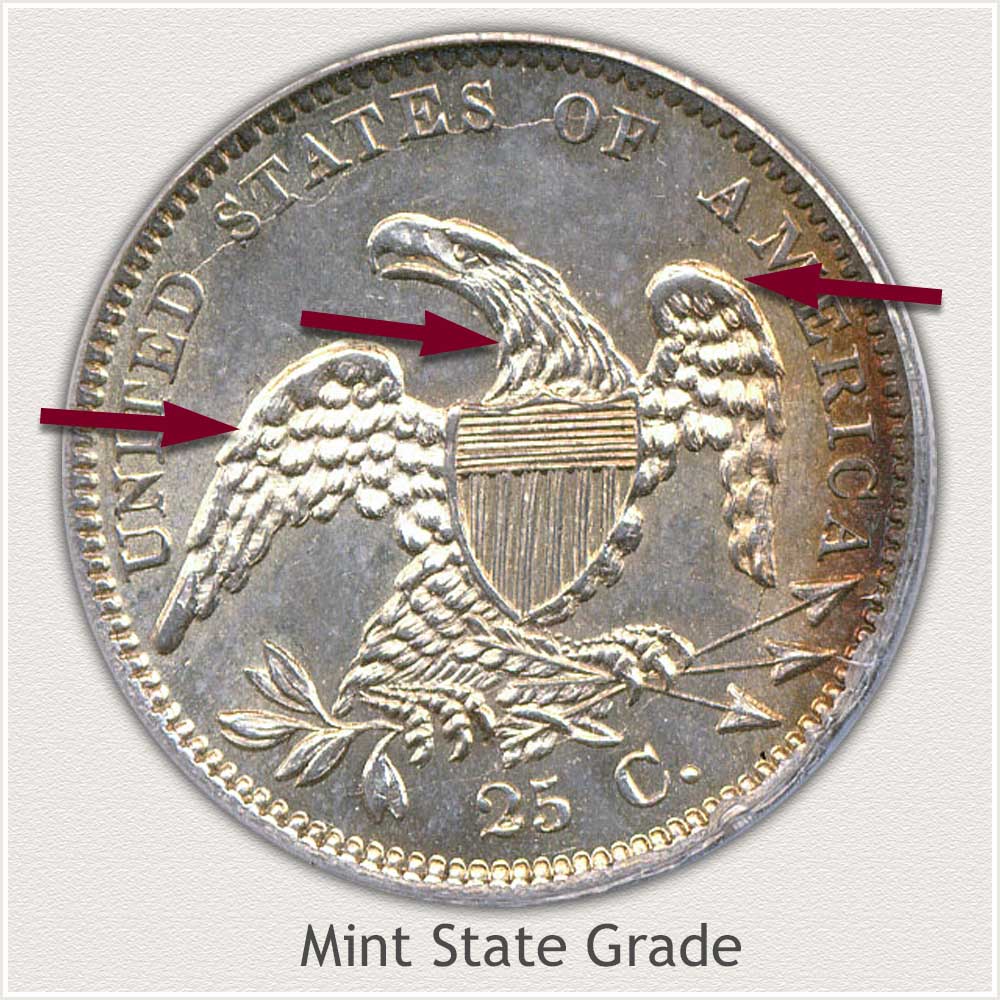 Reverse: Features Identifying Mint State Grade: A very bold and detailed eagle presents many areas for wear to show.
Highly raised feather details are judged for signs of wear at the very tops of the contours.
Look close at the center area of the Eagle's neck. No evidence of smoothness to the metal indicates absence of wear.
Along the top edges of the wings remain without any flatness. Wear leaves a different "look" to the outer edges of the wings when compared to the rest of the inner wing.
Extremely Fine Grade: Capped Bust Quarter - Small Diameter 1831 to 1838
Obverse: Features Identifying Extremely Fine Grade: A bold and detailed obverse remains on a Bust quarter in Extremely Fine grade. Slight wear has only removed the highest points of design.
All major curls in Liberty's hair are bold. A few areas are just beginning to flatten due to wear. Curl of hair over forehead is smooth, missing any fine lines.
A small flat areas has replaced a raised contour on the hair just above her ear.
Major curls of hair flowing down the neck are smoothed on the tops only.
Reverse: Features Identifying Extremely Fine Grade: Wear is only noticeable on the upper edges of the eagle's feathers and head.
Just above the eye is now a flat area remaining separate of the bill and neck feathers.
Deep areas separate all feathers of the wing. Wear is seen along the outer edges of the wing and close to the shield. Just the tops of the contours are flattened.
Both claws are well detailed, wear shows only on the upper areas.
Fine Grade: Capped Bust Quarter - Small Diameter 1831 to 1838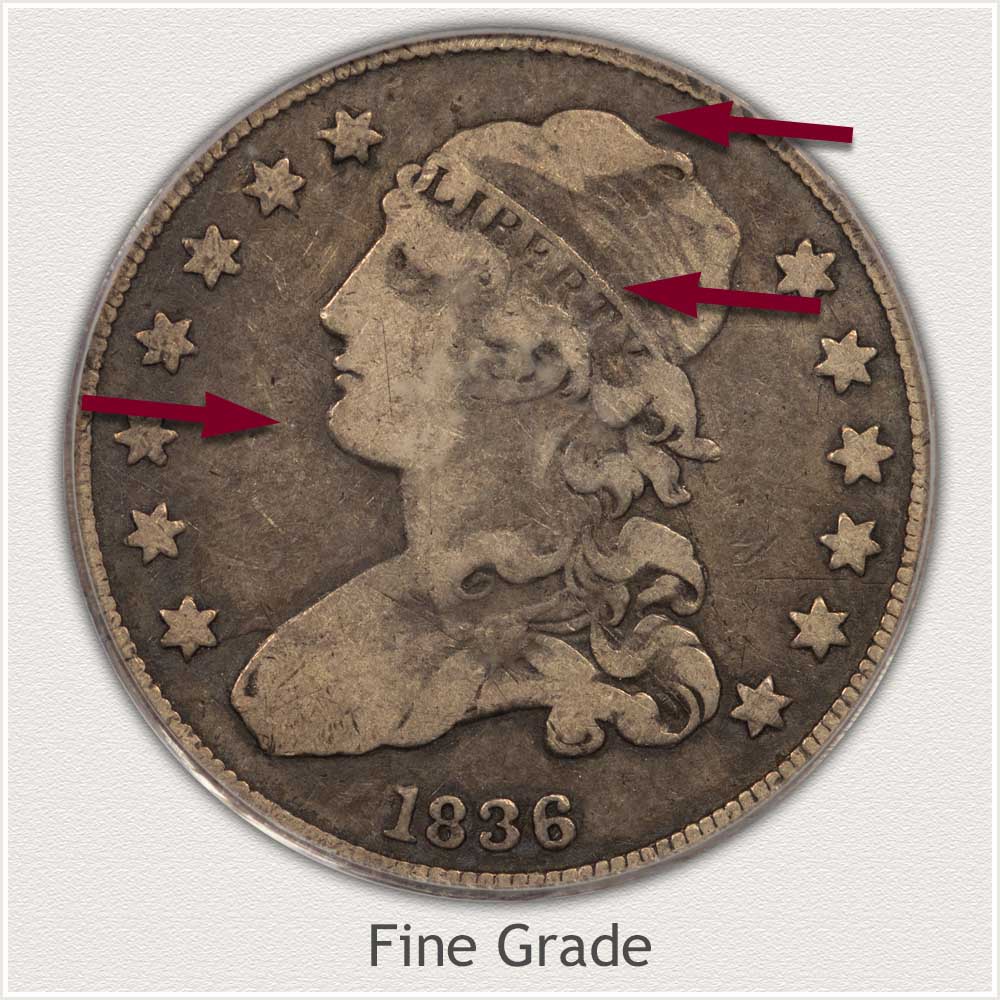 Obverse: Features Identifying the Fine Grade: Moderate wear covers all of the design, reaching into the lower relief areas. Heavy wear has reduced the higher relief points to wide flat areas. Contours are flattened but not eliminated.
A large flat area is now part of Liberty's chin and cheek. Above her eye is also blended into a flat area below the band holding the cap.
Top fold of cap is flat, but remains distinct and recognizable.
All letters of "Liberty" show, with parts of the band still separate of hair and cap.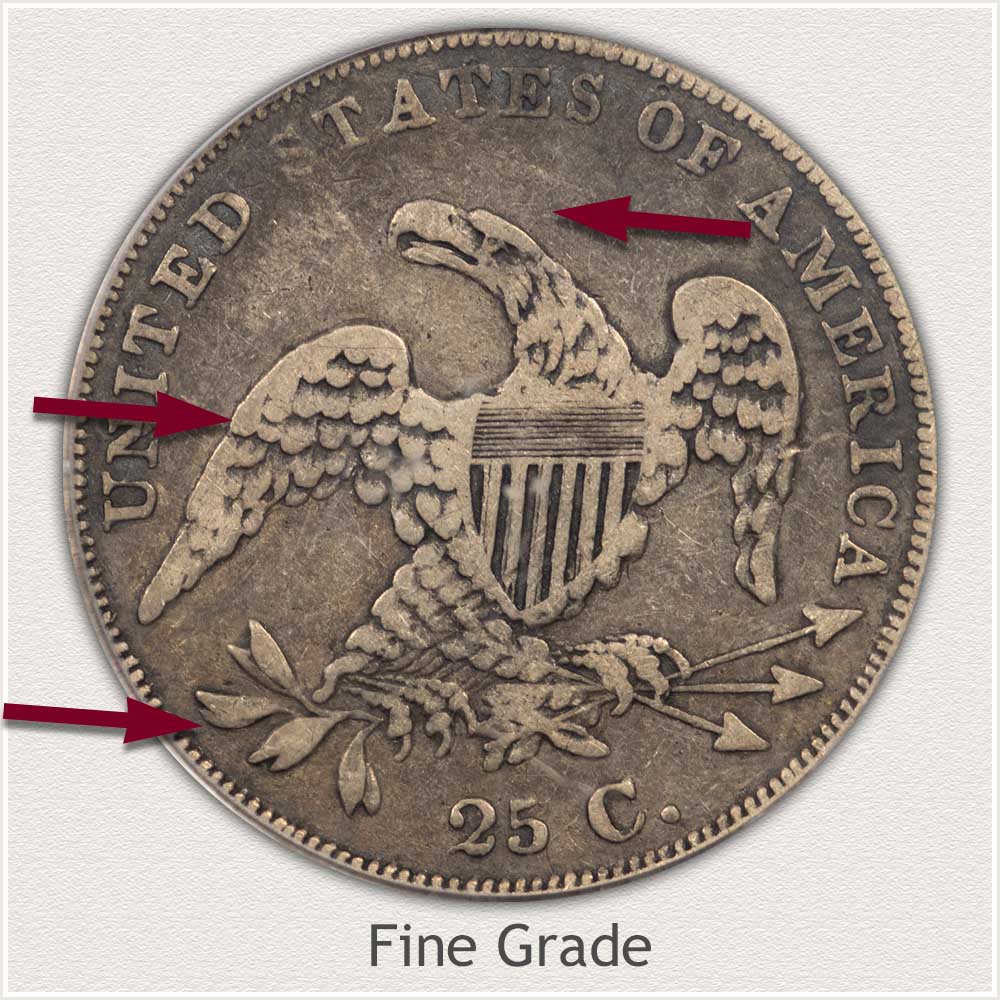 Reverse: Features Identifying the Fine Grade: A clear eagle with shield and feathers remains in the Fine grade. A crisp look is the first impression.
Feather detail is noticeably flattened, however, merging of major detail is minimal.
Eagle's beak, head, and neck feathers are worn but distinct.
Leaves of the olive branch are flattened with a small separation remaining.
Good Grade: Capped Bust Quarter - Small Diameter 1831 to 1838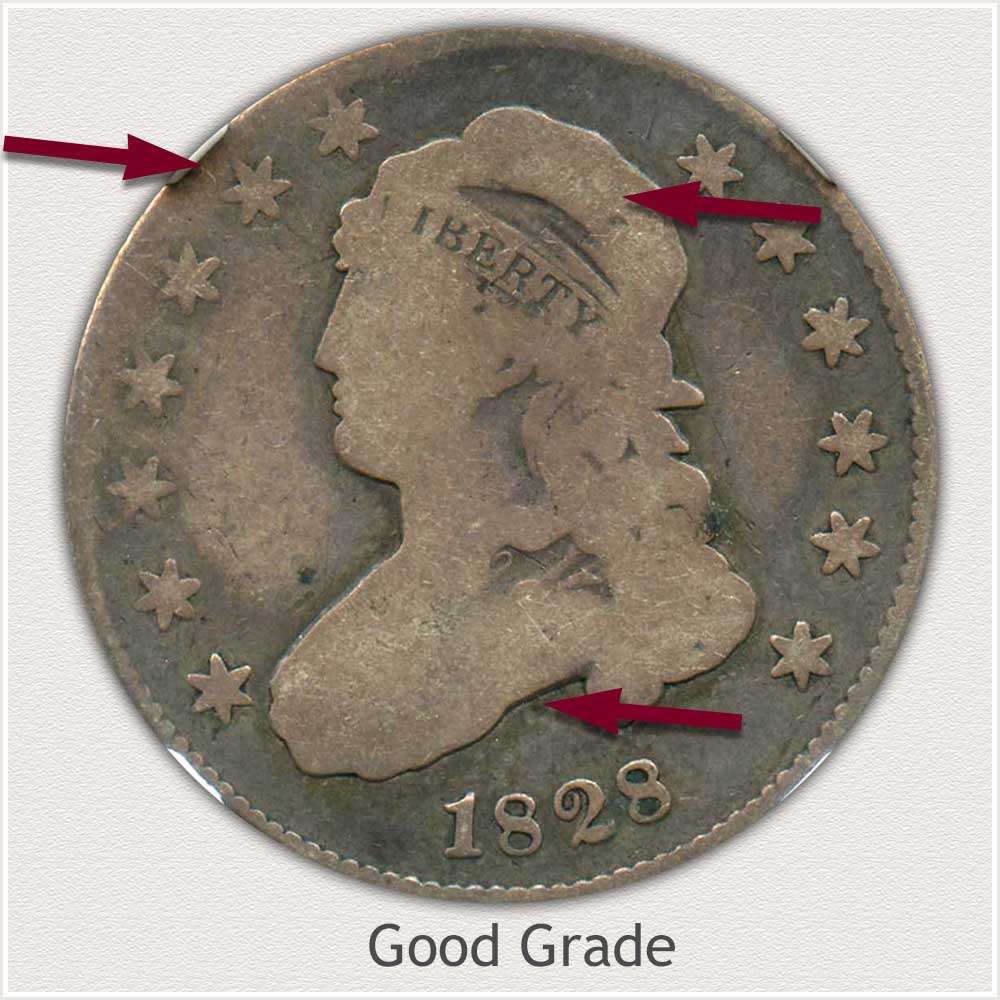 Obverse: Features Identifying the Good Grade: Merging of major flat areas is the identifying trait of Capped Bust quarters in Good condition. A full outline of Liberty remains.
Drapery is worn smooth with few details remaining.
Folds in cap are smooth with just a faint line at the band.
Rim is full and fading of stars to rim is in isolated areas only.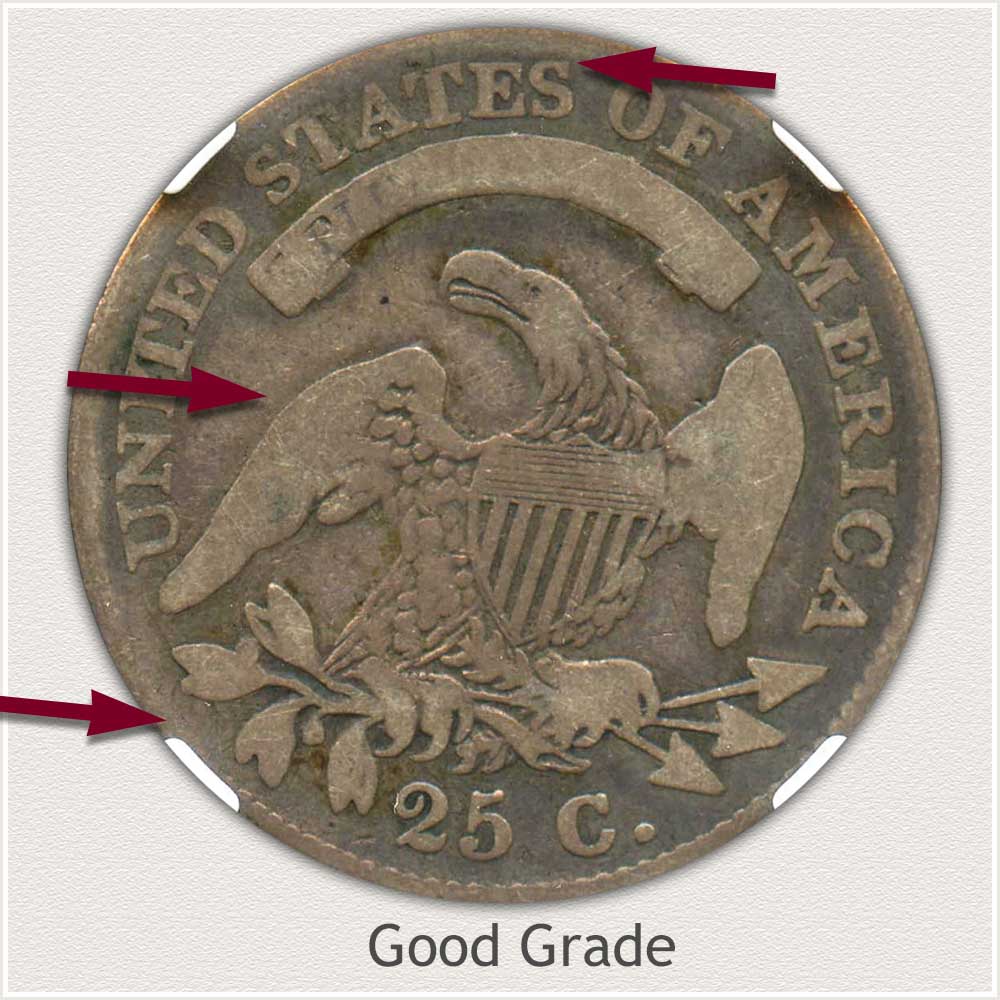 Reverse: Features Identifying the Good Grade: A well outline eagle is raised from the field helping define the Good grade.
Within the center of the eagle, few feathers, if any are defined. The shield is represented by vertical line. Edges to the shield are missing and merged with the eagle.
Rim is visible but faint. Areas along the rim are just blending with the field.
Lettering is bold at the base and faint near the rim. A few letters missing at the tops is the cause of strike differences along the rim. Most letters must remain readable to qualify as a Capped Bust quarter in Good condition.
Step 3: | Special Qualities Add Potential Value
Bust quarters are part of the original series of US coinage. These first era US coins are historically important to collectors. Each is studied intently. A determination of its physical condition and aesthetic appeal is formed. As part of this evaluation, subtle points begin to play a large role in value. Amount of wear, fullness of strike, numbers of contact marks, degree of toning and overall color decides it appeal.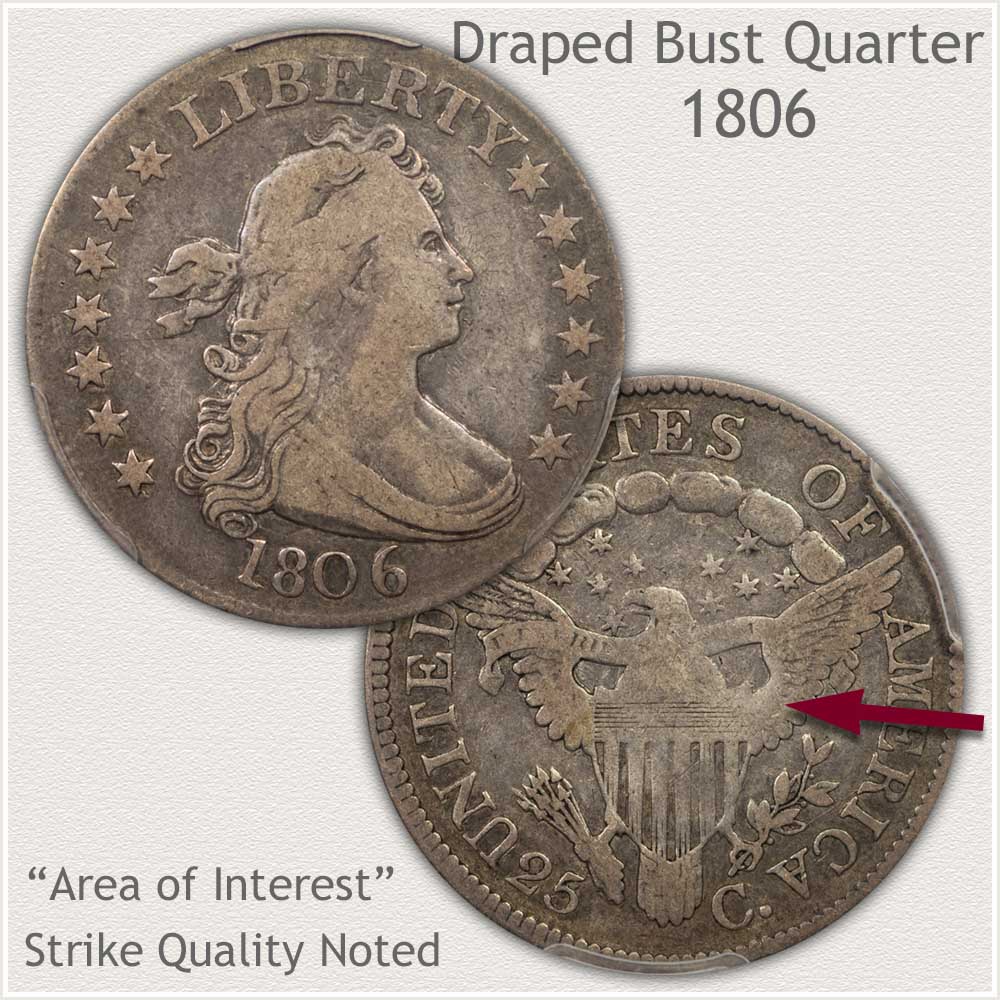 The 1806 imaged is considered a strong Fine grade example in the market place. Representing a high value coin on the above chart. When a collector or dealer examines the coin; they begin to judge its subtle qualities. Noted is a slightly weak strike area of the eagle's left wing at the shield. Quality of strike on the reverse is a minor deficit. Also considered is the originality of the surfaces. Within the series an original coin with pleasing toning is scarce, helping offset the light strike. A completely original coin, despite wear, and strike deficit is always preferred by collectors.
With values beginning in the high range and subtle qualities having the potential to raise them even higher; professional grading of a Bust quarter is a must. Two services are considered leaders in the field by collectors. PCGS and NGC authenticate and grade your coin. The coin is placed is a protective holder with a market accepted judgement of grade. The range of the coin's value is narrowed, becoming easier to determine.
References
US Mint. 1892 US Mint Annual Report https://nnp.wustl.edu/library/book/316
US Mint. Catalogue of Coins of the United States https://nnp.wustl.edu/library/book/554591
Coin Values | CoinStudy Articles
Never standing still, bust quarter values from one year to the next are always changing. They may fluctuate up or down over the short term, but the trend is up in value.
The Draped Bust quarter variety 1804 to 1807 is hugely popular, with strong demand and values. The Capped Bust quarter varieties 1815 to 1838 are more obtainable with moderate values. Both are very collectible and treasured.
The Very Rare Bust Quarter is Hard to Detect
Unlike the prominence of a rare date, a "condition rarity" is something that takes skill to detect when judging a Bust quarter. The grading images provide a basic understanding. However, there are many subtleties involves in determining the exact grade of your bust quarter, or any coin. In the higher grades especially, when a small difference means a large increase in value. PCGS and NGC authenticate and grade your coin.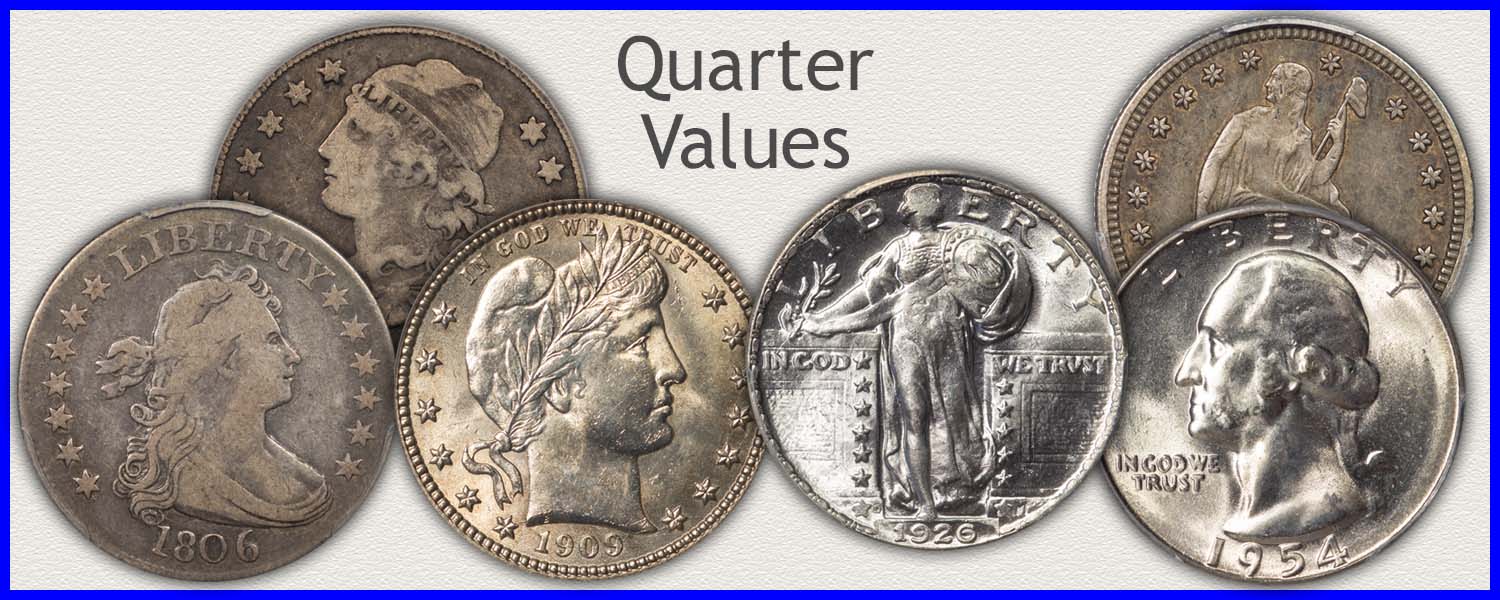 Easily find how much your old coins are worth. From Bust Quarters to Seated Liberty, Barber, Standing Liberty and Washington quarters. All series follow a step by step method of determining value. Images and descriptions of dates, mintmark location and grading is judged comparing your coin to video, images, and descriptions. Narrow the range on value charts.
A quick reference to US Coin Values. Images to identify each coin and minimum values for each type. Using the step by step method to how much coins are worth. Bookmark the online value charts to phone.
Selling Coins describes the different types of markets, and the type of coins to match each market. Extra effort for sure, but finding the best coin buyers yields the best results.
Most quarters dated before 1892 are very scarce. Twentieth century quarters; the Standing Liberty and Washington series have their share of rare and scarce dates. Leading to a find is often recognizing an above average condition quarter.
Do you have other old coins?
★ Coin Values Discovery finds Bust Quarter Values and...
All old US coin values. It is an excellent index with images and text links to all coin series, from Cents to Gold. Value charts, grading images and a step by step procedure uncovers how much your box of old coins is worth.