Coin Values Moving with Precious Metals: Up-Dated 3/30/2020: Gold $1605 | Silver $13.85
Modern Jefferson Nickel Values
Reviewing the chart shows modern Jefferson nickel values are gaining a premium in the "uncirculated" condition. Note additionally, most dates and mints are priced similar in a narrow range.
However there are a few premium standouts.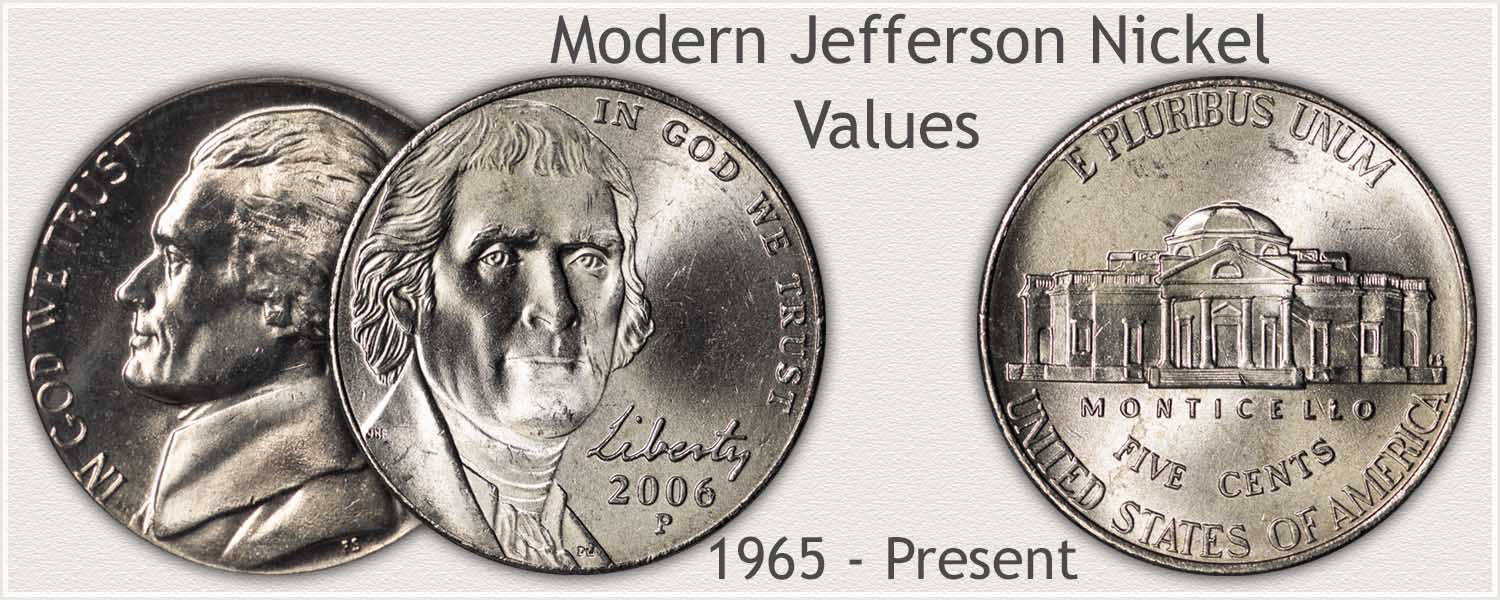 Finding high value modern era Jefferson nickels in pocket change is difficult. A dedicated effort of searching bank rolls does have some chance of success. Some people are doing just that, as a hobby.
Keep in mind any of your finds must be in top condition. Refer often to the condition comparison images (found below the chart) of a typical circulated nickel to the higher end collector quality pieces.
Even though most worn and circulated Jefferson nickels are still valued at five cents the series does have a big future potential. Decades old nickels still found in daily use and recent design changes both promote interest.
Values in the chart represent average retail prices of single coins if you were to purchase them from a dealer.
Condition of Your Jefferson Nickel = Value
For an in-depth study visit Grading Jefferson Nickels and follow both the video and descriptions with images.
Separating the vintage from the modern era in coin collecting is the shift to focusing on Mint State (uncirculated) condition coins. Additionally, within this uncirculated grade the further preference is on obtaining very high end examples of dates and mints. First priority is determine if your coin is in Mint State (no wear to the surface) condition. Compare closely how your coin looks in reference to the condition images.
A nice looking coin, this 1982-P nickel still shows a small amount of luster in the protected areas. Standing out as an old date and pleasing appearance, unfortunately worth face value. Wear to the surface and numerous marks removes its status as a collectible.
No wear to the surfaces, although they exhibit numerous marks, notable in the fields of the design. Luster on this 1971-D Jefferson is somewhat subdued. Represents the condition and values listed on the chart.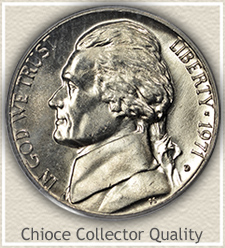 Vibrant luster, few light marks to the surface, a very high condition 1971-D Jefferson nickel. A nickel in this condition would realize a premium value.
At first look, the amount of luster suggests a like "new" condition nickel. The fields of the coin however are somewhat dull and lacking the complete luster and glow of a freshly minted nickel.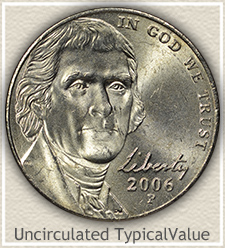 A true "uncirculated" mint state example of the new Jefferson portrait nickel series. Luster is complete across the surface. Notice however the scattered, numerous marks evident on the large open surfaces. In the retail market this 2006-P nickel represents the typical price.
Well above average condition Jefferson nickel. Almost mark free and pleasing this 2008-D nickel is of the quality sought by collectors. Premium quality and value in the market.
Future Modern Jefferson Nickel Values in the Market
A large raw supply of Jefferson nickels is available today as mintages of each year are in the hundreds of millions of pieces. Consequently, the challenge becomes locating a coin worth a premium over face value. Such a coin would represent a high end example in terms of luster, quality of strike and surface preservation.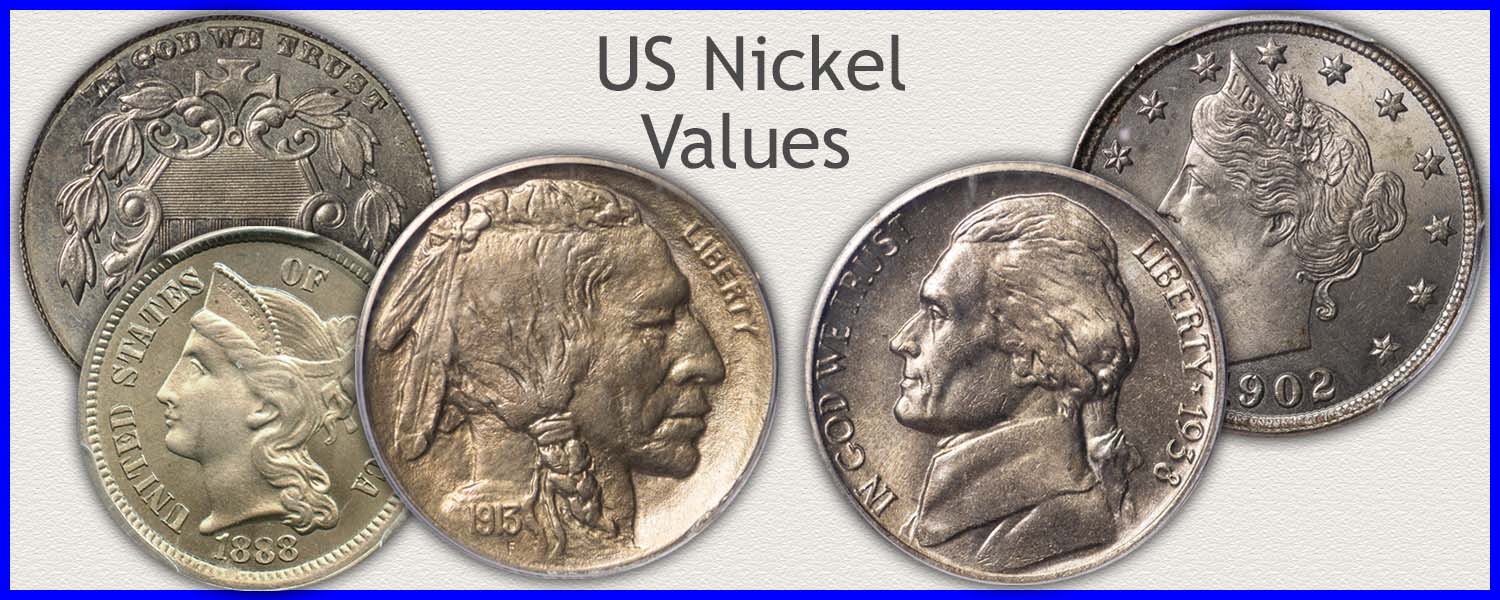 Return to the index page of Shield, Liberty, Buffalo, Three Cent Nickel and Jefferson Nickels. Match your coins to the grading images and value charts, discover your rare coins.
Grading Old Nickels | Video Series
Videos, close-up images and descriptions, give insight into the details to accurately grade the condition of your old nickels. Judge carefully to find the true potential value.
Do you have other denominations?
★Coin Values Discovery... finds Modern Jefferson Nickel Values and...
All old US coin values. Visit the index page with images and text links to all coin series, from old pennies to the valuable US Gold coins. Value charts, grading images and descriptions uncover how much your box of old coins is worth.