Coin Values Moving with Precious Metals: Up-Dated 9/25/2023: Gold $1921 | Silver $23.44
The High Value of an Indian Penny
Identify Indian penny values on the chart by following three important steps. Early years 1859 through 1878 are especially sought by collectors in nice condition - grade.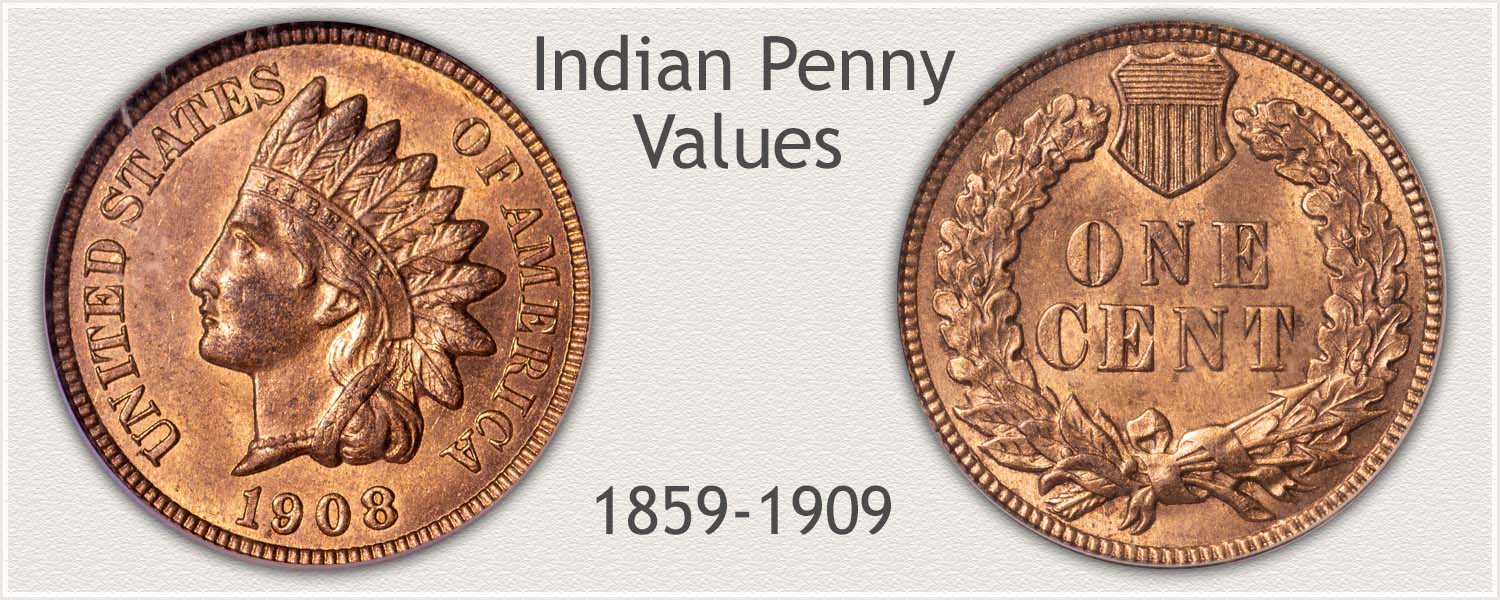 Steps Leading to Value:
Step 1: Date and Mintmark Variety - Accurately identify date and variety of Indian cent
Step 2: Grading Condition - Important elements are judged; amount of wear is determined and condition is graded.
Step 3: Special Qualities - These old pennies are copper and many factors contribute to value. Preservation of the surface is examined.
The following chart shows a wide range of values. Spotting key, valuable dates followed by an accurate judgement of their condition assures you don't miss any highly sought Indian cents.
The above are wholesale coin values. Computed from dealer's price lists with various mark-up factors figured in. They reflect closely the value you would expect to receive when selling.
However; do expect variations in value to occur subject to subtle grading points, collector demands and dealer needs.
Step 1: | Date and Mintmark Plus Variety are Identified
Indian pennies are divided into two major variety groups by metal alloy composition. 1859 to 1864 Copper-nickel alloy and 1864 to 1909 a 95% copper alloy. 1864 is a transitional year, both alloys were used and the copper-nickel (CN) variety is valued higher than the 95% copper (BR) pieces.
Indian Cent | Copper-Nickel Variety Minted 1859 to 1864
Initial production of Indian cents was an alloy of copper-nickel. Minted from 1859 through part of 1864 the coins have a lighter color than later copper pennies, sometime hard to distinguish. Identifying a copper-nickel cent is best done by their greater thickness. Later cents are thinner and when compared the difference is easily determined.
Mintage numbers of the variety account for only a small part of the Indian series, approximately 160 million in total.
These early copper-nickel cents are often collected as a sub-set of the Indian penny series. Popular with collectors, demand is steady for nice examples.
Indian Cent | 95% Copper Variety Minted 1864 to 1909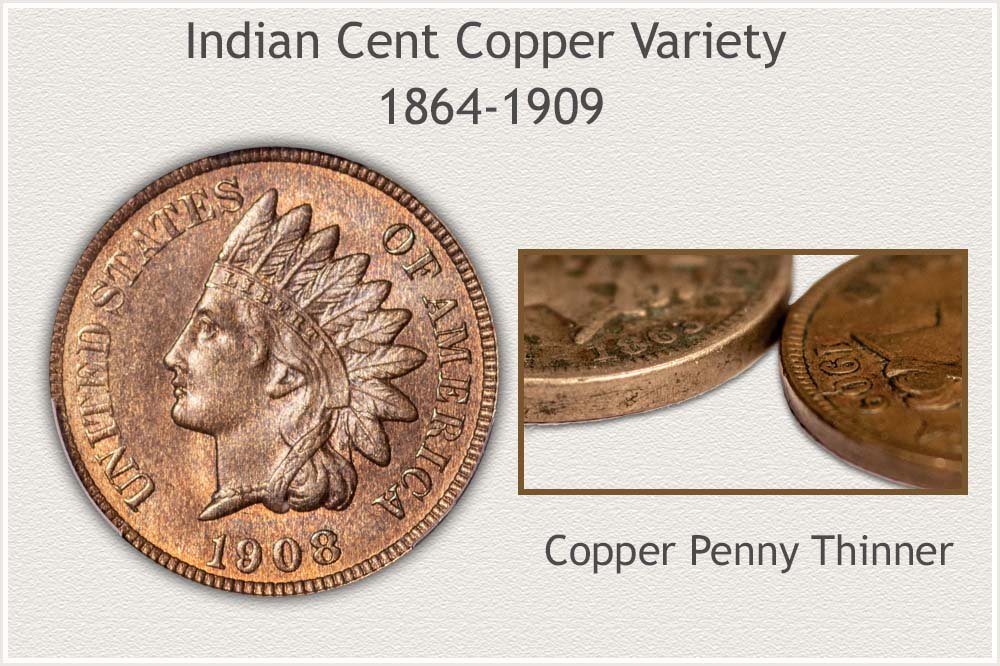 An alloy change to the metal in 1864 began the second metal variety of Indian cents. A thinner coin made of 95% copper with tin and zinc. Color of the coin is a deeper shade and noticeably thinner. Placed flat on a surface the difference in thickness is visible.
Most surviving Indian cents are the copper variety. Original mintage placed over 1.5 billion into circulation. Highest mintage year was 1907, with over 108 million struck.
Majority of surviving Indian pennies are very worn. Collectors place added value on lightly circulated or better coins.
"S" Mintmark Variety 1908 and 1909 Indian Cent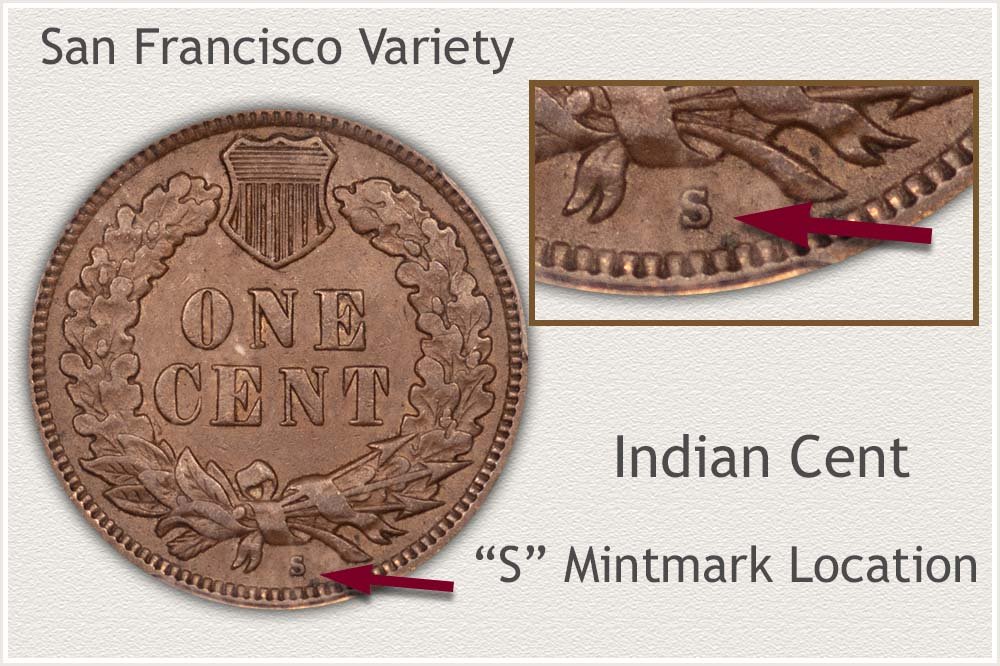 From the beginning of the series to end, the Philadelphia mint was the main facility producing Indian pennies. No mintmark was used by the Philadelphia mint. All Indian pennies without a mintmark were struck at Philadelphia.
In 1908 and 1909 a second mint - San Francisco - began striking Indian pennies. San Francisco mint placed an "S" mintmark on the reverse, at the bottom of the coin, below the ribbon.
Collected and valued individually, the mintmark "S" on the reverse identifies the San Francisco variety.
Quantities struck of the San Francisco branch mint were low in comparison. Both the 1908 and 1909 are highly sought by collectors, with large premiums in all grades.
Step 2: | Judging Condition Determines Grade | Narrows Value
Comparing your coin to images representing standards for each grade helps visualize a narrow range of condition. As example, focus on the band within the headdress. If all letters of "Liberty" are visible the coin is a Fine grade or higher. The opposite is true, less than all letters showing is a lower grade candidate.
Using a magnifying glass and looking closely at your coins, determining a higher grade discovers a higher accurate value of an Indian penny.
High Grade Equals | High Indian Penny Value
Mint State Grade: Indian Penny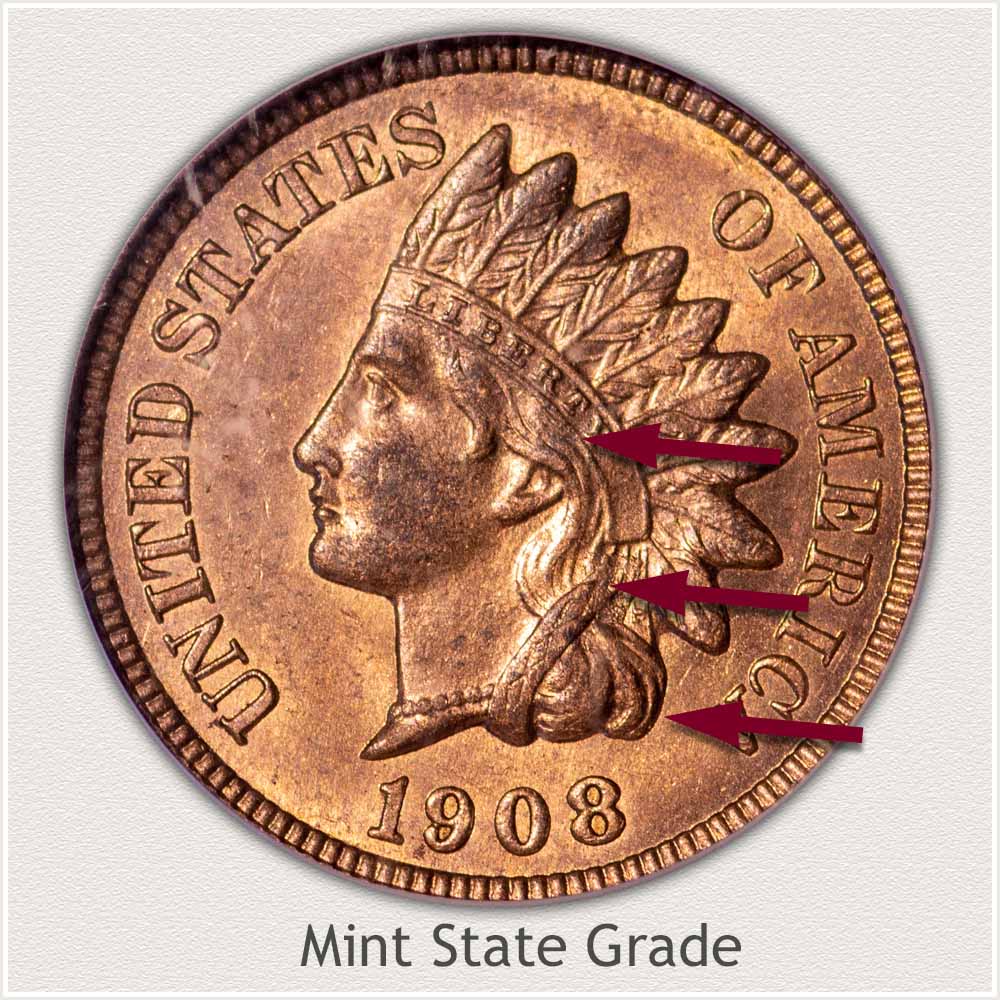 Obverse: Features Identifying Mint State Grade: A mint state grade penny is without wear to the surface by definition. Original luster imparted during mining remains without any wear spots on high points of design.
Early wear is prone to show on the two waves of hair over the ear. A mint state coin in this area has a texture of metal similar to the hair further up the in the forehead area. Wear over the ear smooths the metal changing its look and removing the grains of luster.
Below the ear, across the top of the ribbon remains with any smoothing effect to the metal.
Two large waves of hair at the bust line are high in the centers and prone to flattening from wear. Identify these are of a texture matching close-by areas.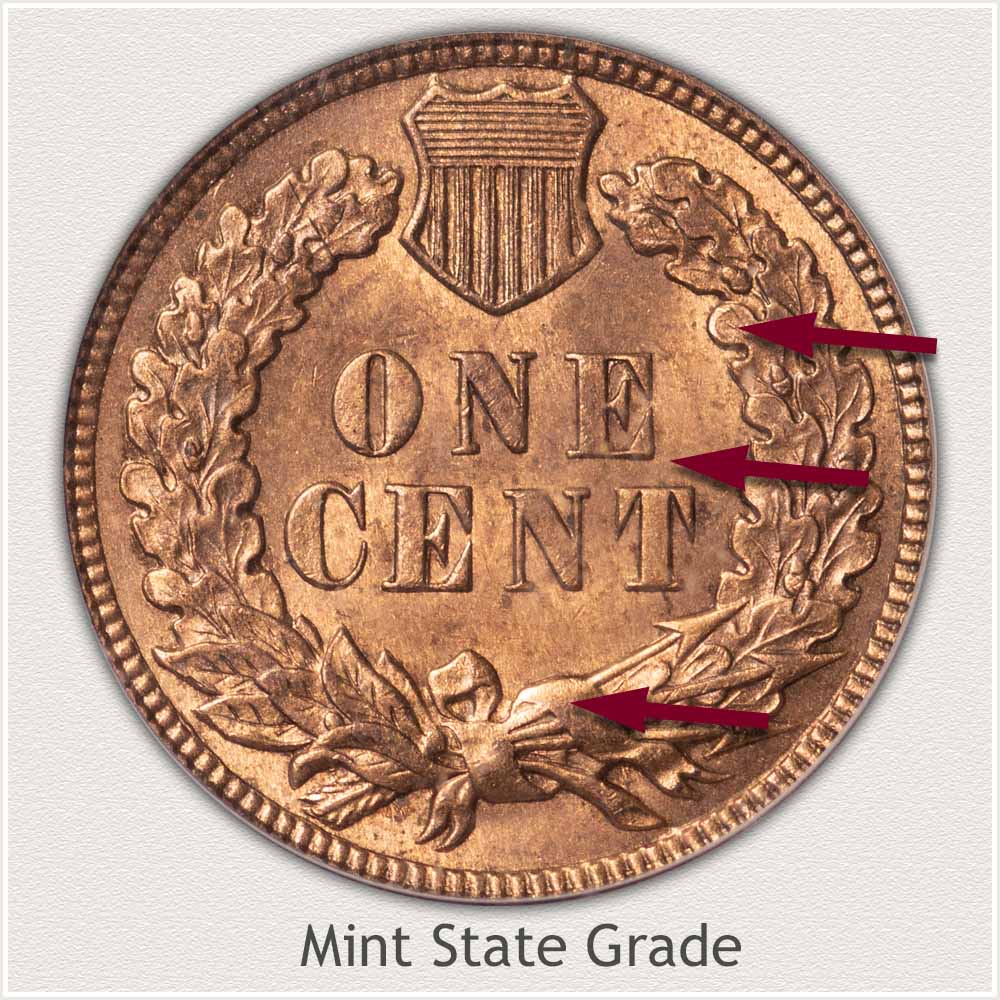 Reverse: Features Identifying Mint State Grade: Many areas of the reverse present themselves as prone to initial wear.
Leaf edges are not only high in relief but small in dimension, any wear quickly smooths these surfaces and removes luster. A "faded" look when compared to deeper recess indicates the upper edges are worn.
"One Cent" is bold with wide flat surfaces. A mint state coin shows the texture of the letters matches the lower surrounding fields of the coin; no smoothing is seen on letters.
A small bow of ribbon holding the ends of the wreath and arrows is prone to wear. High points include the upper loop, ribbon below the loop and over the arrow shafts. Lack of flatness to these points is helping place the coin in Mint State grade.
Extremely Fine Grade: Indian Penny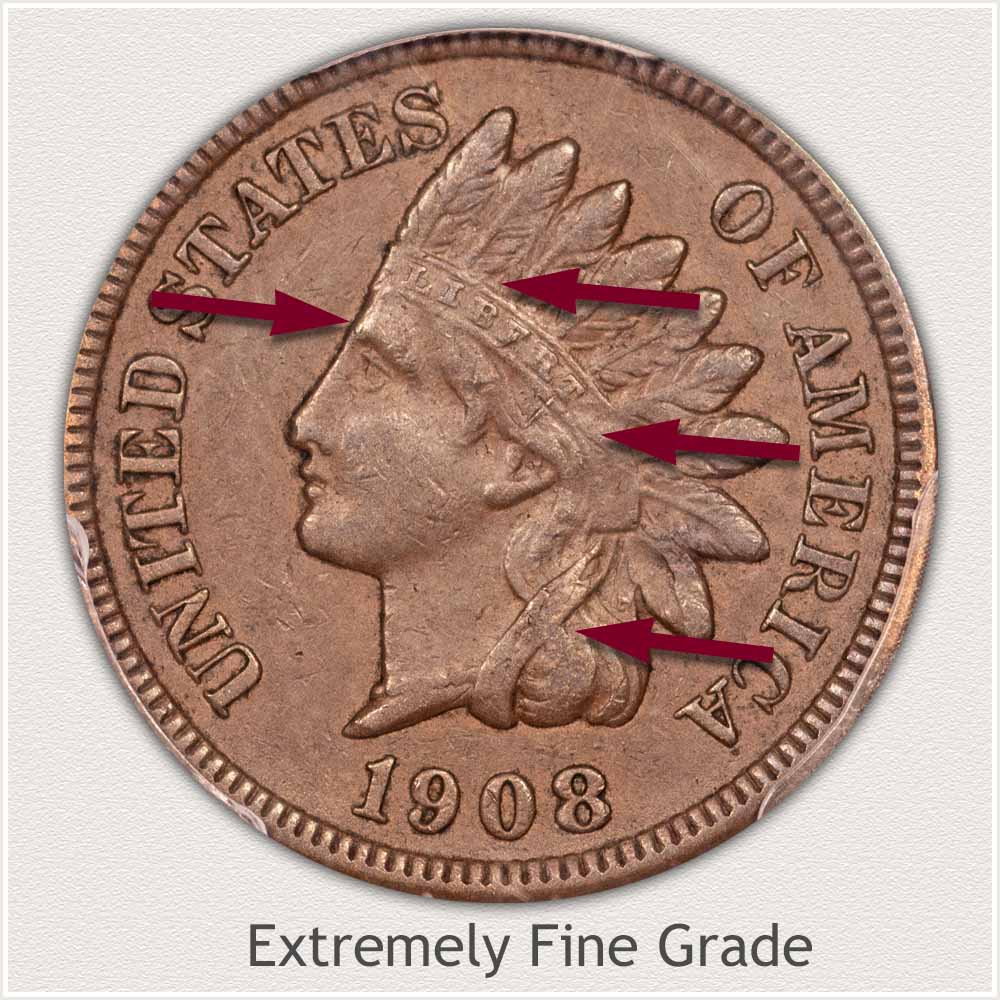 Obverse: Features Identifying Extremely Fine Grade: Slight wear is creating small smooth and flat areas on highest parts of design. All major and most minor design features remain leaving a bold appearance.
Important is "Liberty" across the headband is fully raised and no connections are noted with the upper and lower lines of band.
Wear has created a flat area above the Indian's ear, no longer are two lines visible defining hair strands.
Two small and disconnected flat areas are the eye brow and hair just to the right. Strands in hair are now missing but these areas a fully separate.
Flatness is on tops of the ribbon losing inner detail as it crosses over the waves of hair. Hair just below shows a distinct flat area on top of each curl.
Notice a defining line of the lower edge of ribbon remains.
Reverse: Features Identifying Extremely Fine Grade: Bold details of the wreath remain, helping define the Extremely Fine grade.
Edges of the oak leaves have lost the sharp, raised edge defining the leaves. This edge is now worn to the level of the leaf. All leaves remain separate and distinct from each with many finer inner lines showing. A depth and contour to each leaf is noted.
Bow holding the wreath ends and arrows remains raised above lower elements with defined edges. Flatness has removed raised areas but no blending is seen.
Arrow shafts are complete. Center arrow shaft is flattened but continues across leaves.
Fine Grade: Indian Penny
Obverse: Features Identifying the Fine Grade: Flat areas are now noticeable on several areas of the design. Cheek and eye brow are flattened but disconnected contours.
"Liberty" remains readable within headband. Lower portions of "IBER" are just beginning to fade and become weak. A small amount of blending with lower edge of head band touches only bottoms of letters.
Hair below head band is now flat and lacking any strands. Although worn smooth a separation of two main areas of hair remain.
Ribbon crossing hair under the ear is now blended with the lower curls of hair. Upper edge of over hair is well defined.
Reverse: Features Identifying the Fine Grade: Strong wreath elements remain on a coin in Fine grade.
Each leaf is clear and bold from underlying leaf. Central lines and veins are showing towards the base of the majority of leaves.
Traces of the ribbon crossing over the ends of the wreath and arrows is visible. On some coins this feature is bolder than others. Presence of a well-defined ribbon increases desirability to collectors in the Fine grade.
A bold shield displays strong vertical and horizontal lines. Some blending of these fine lines is often found near the outer border of shield.
Good Grade: Indian Penny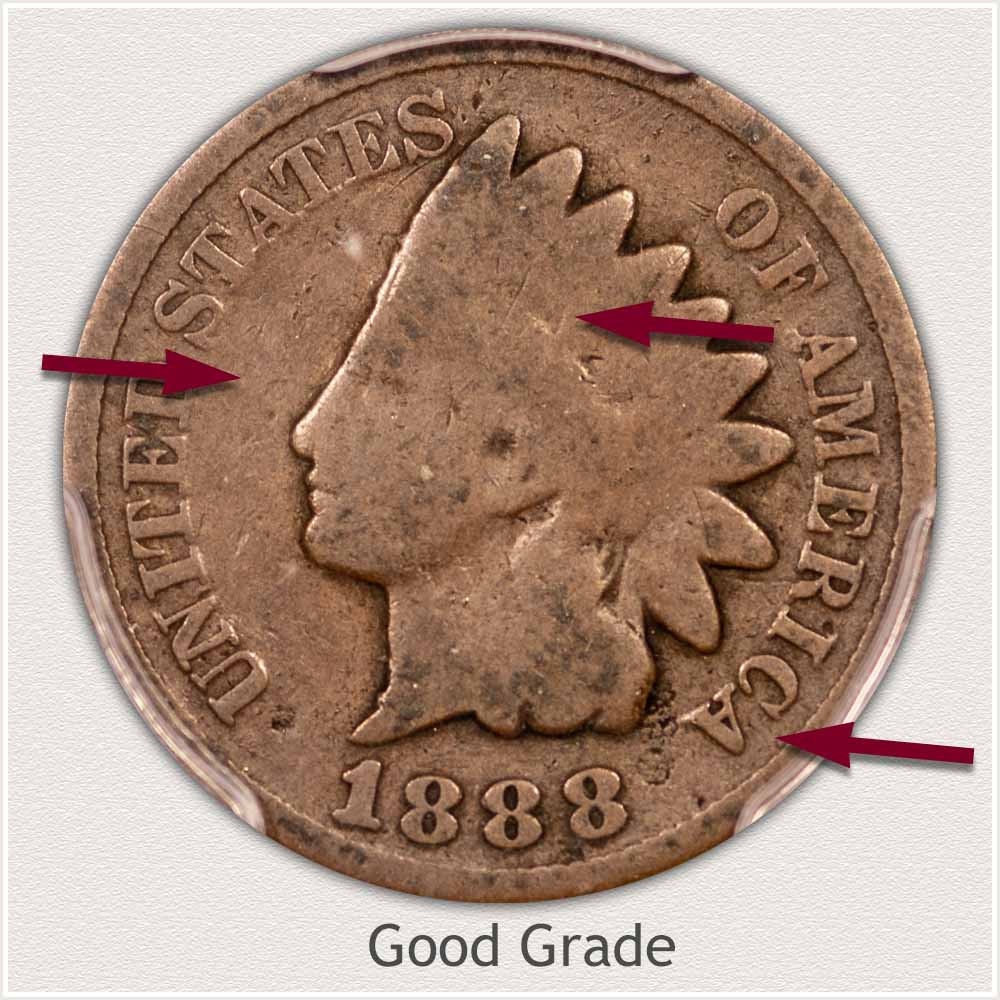 Obverse: Features Identifying the Good Grade: Heavy wear has reduced all minor and major designs to a flat surface. An outline remains to the Indian.
If no trace of any letters to "Liberty" are visible within the headband, a maximum grade of Good is assigned.
Remaining bold from the field, a full outline of the Indian is visible. At the top of the headdress, feathers are outlined from the field.
Legend is complete, weakness towards the rim is often seen in areas. However, majority of tops of letters are separate of the rim.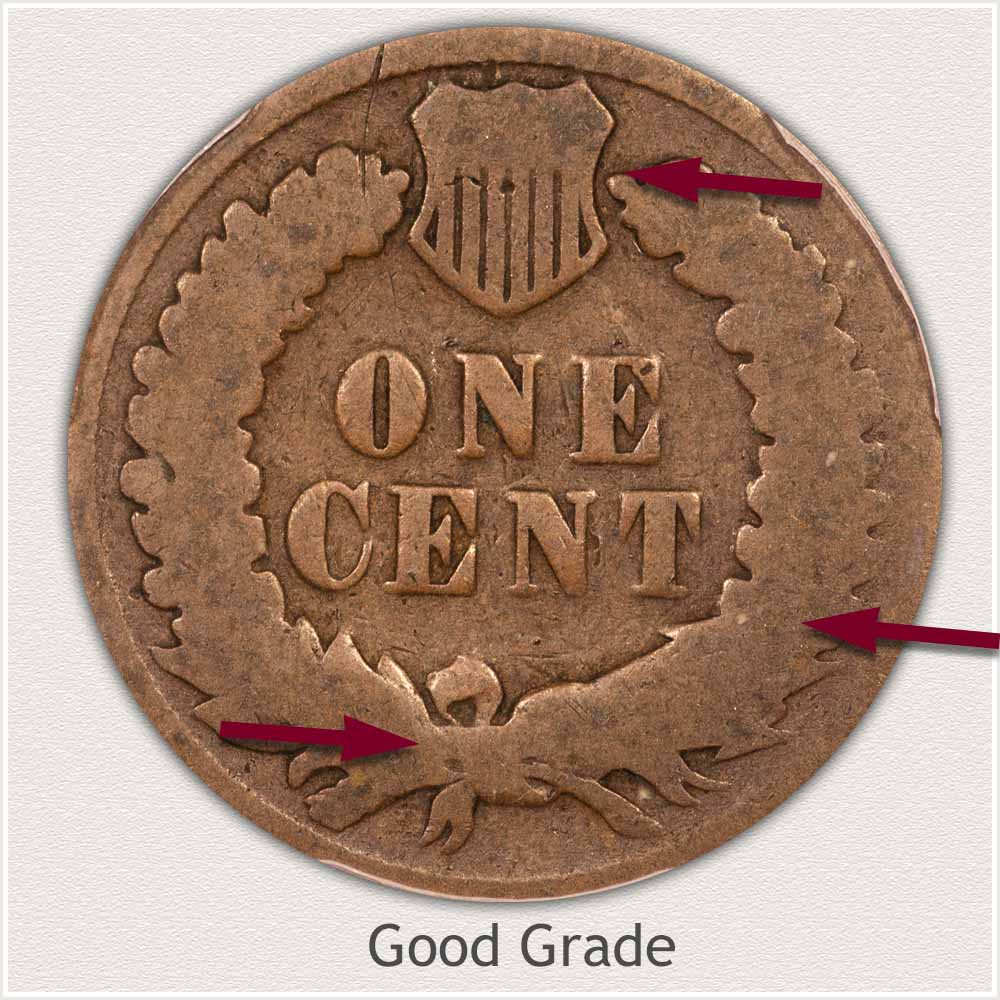 Reverse: Features Identifying the Good Grade: An outlined wreath remains with a readable "One Cent" in center.
Wreath is worn smooth but strongly outlined from field.
Vertical strips are mostly visible within the shield with the small vertical lines flat to just a few visible. A line separates the horizontal line area from the vertical strips.
Bow and ribbon elements are worn smooth leaving a strong loop to suggest a bow. A few edge lines defining arrow points remain.
How to Video: Grading Indian Penny
It is possible to find an old penny in "extremely fine" or even in "mint state" condition. Realize what seems like a small difference in appearance often leads to a large difference in how much these cents are worth.
How to Video | Grading Indian Head Pennies Page dedicated to grading Indian pennies. Video, additional descriptions and images help identify grades.
A lamp as a single light source and tilting the coin helps spot finer detail. It is possible to identify a coin in Extremely Fine or nicer condition. A little time examining a few example images and your coin begins to find its place on the value chart.
Step 3: | Special Qualities Enhancing Value
The number one quality that has the potential to set your coin apart from others is eye appeal of its surface. Coin collecting is a visual pursuit of finding pleasing examples of coins to assemble into a collection. Indian pennies are collected in a wide range of conditions, Mint State to circulated. A nice-looking penny, no matter the grade has a wider range of appeal.
Recognizing Aesthetic Appeal of Indian Pennies
Well cared for copper coins display pleasing stable surfaces. Soft brown colors with few eye-catching distractions enhance the look of the coin. Minimal marks to the surface add crispness and a refined impression.
These two coins illustrate different colors of toned copper. Both are similar in the amount of wear to the surface. However, eye appeal is greater with the 1908, an even light brown color with lighter shades highlighting is attractive. The 1900 penny is dark and somewhat uneven in color obscuring many of the finer details.
Natural Color Adds Appeal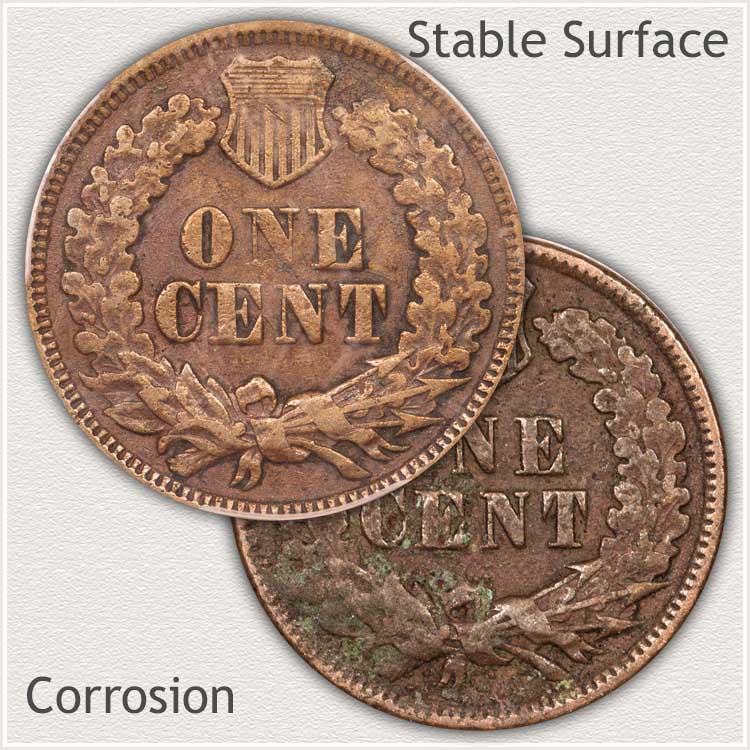 The reverse of an 1896 is free of discoloration and corrosion, a nice coin. Second penny is an 1893 with pitted surfaces and verdigris (the green color) causing further corrosion.
Collector's Choice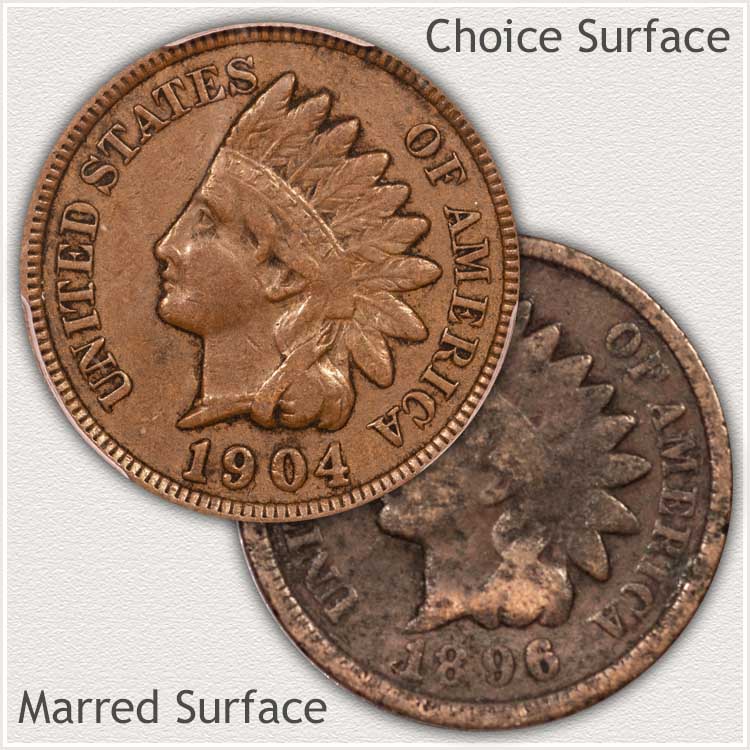 Comparing surface qualities of these coins, both stand out for different reasons. The 1904 is a lightly worn pleasing cent, a collector's choice. The 1896 is a marred, rough surface example, worth minimal value.
Eye appeal factors into value as part of marketability. Collector pass over coins with problems in favor of coins with stable surfaces and pleasing aesthetics.
References
US Mint. 1866 US Mint Annual Report https://nnp.wustl.edu/library/book/514110
US Mint. 1911 US Mint Annual Report https://nnp.wustl.edu/library/publisherdetail/51
US Mint. 1938 US Mint Annual Report https://nnp.wustl.edu/library/publisherdetail/51
Coin Values | CoinStudy Articles
Coin Value Guide | How to Value a Coin Collection
A step by step method combined with the coin value online guide identifies how to value a coin collection. Discover how much your box of old coins is worth.
An excellent picture index of all major US coin series. Compare and identify your coin to the picture, click on the image, and go immediately to your old coin value.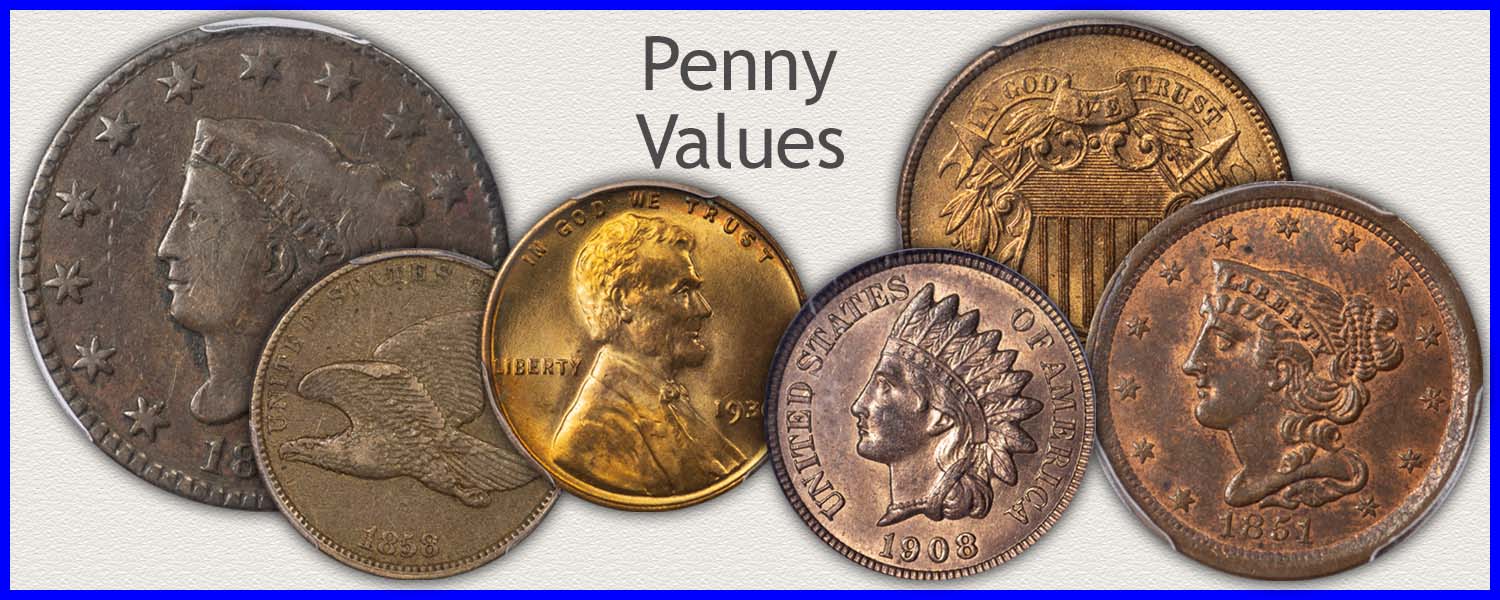 Penny Values | Rare Pennies Have Outstanding Values
Coin values listed. From the earliest Half and Large cents, to Indian head pennies to the popular Wheat pennies of 1909 to 1958. Match you coins to the grading images and value charts. Some of these old pennies have amazing values.
★ Coin Values Discovery finds Indian Penny Values and...
All old US coin values. It is an excellent index with images and text links to all coin series, from Cents to Gold. Value charts, grading images and a step by step procedure uncovers how much your box of old coins is worth.