Coin Values Moving with Precious Metals: Up-Dated 4/6/2020: Gold $1626 | Silver $14.54
Three Cent Silver Value
Starting at $27 each your three cent silver value quickly rises into the $35 to $40 range for better condition coins.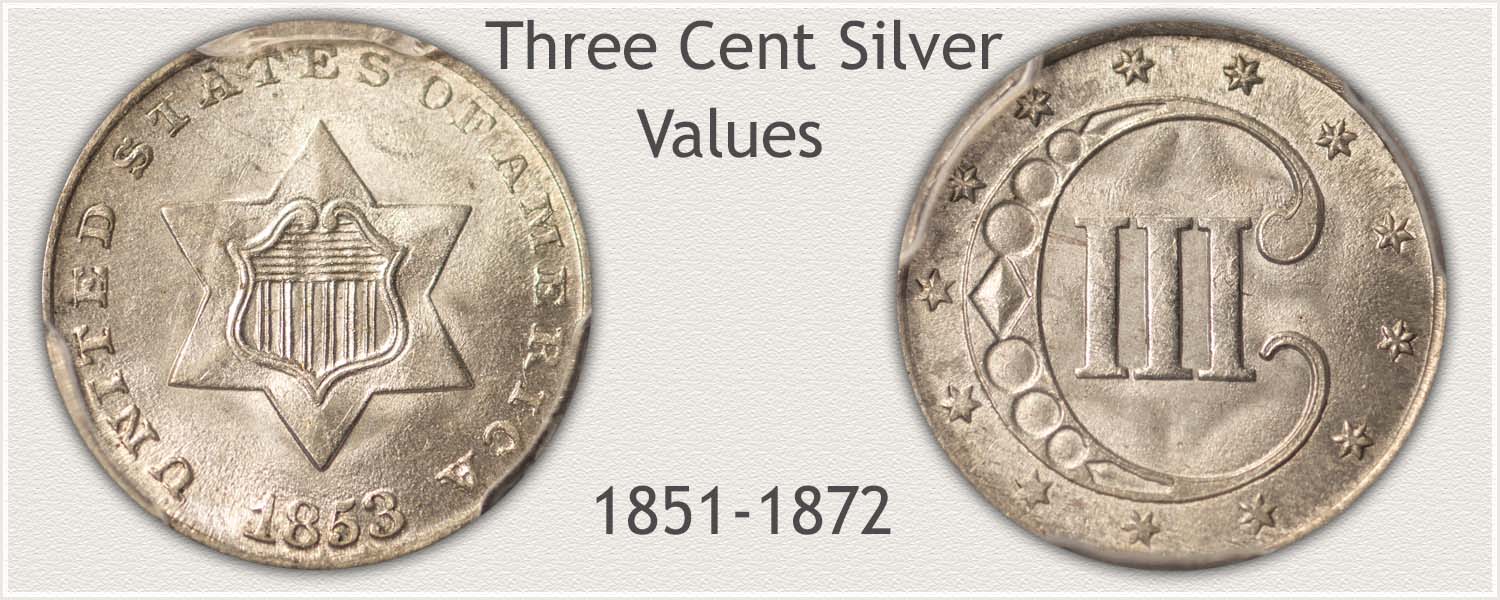 Discover a rare date, any 1863-1873 and your coin is a mini treasure. Handle it carefully, it is worth over $400.
Today's three cent silver value is driven by collectors constantly searching for coins to add to their collections.
A good example of a desirable coin is the 1852 uncirculated three cent silver piece pictured. Although a "common" date it is worth $143 or more because of its uncommon condition.
From rare dates, to condition, to finding mint marks. Detecting and understanding all of these leads to an accurate value of your coins. All detailed below, but first...
Three Cent Silver Value and What Dealers Pay
Your old 3 cent piece is an unusual denomination minted for a short 22 years. In the latter years, after 1862, production tapered off to just a few thousand minted each year. The value chart highlights all are scarce.
Note: In 1873 a few coins were minted in "Proof" condition only. A special minting process, and the coins where distributed to collectors. It is a very rare coin, some 600 made and not issued into circulation. Discover one in your group and the value is $1,400 or more.
The above are wholesale coin values. Computed from dealer's price lists with various mark-up factors figured in. They reflect closely the value you would expect to receive when selling. Variations in value do occur subject to subtle grading points, collector demands and dealer needs. For more background information, see how value listings in the Coin Value Guide are determined.
Next, how to recognize a higher value coin...
Three Cent Silver Value is Conditional
A close and careful examination of your three cent silver piece often leads to discovering a higher value. The reason is the condition of your coin. A date such as the 1854, a $26 coin in "Good" condition, rises to over $93 in the better "Extremely Fine" condition. Finding a higher condition coin happens more often than finding a rare date.
Since collectors and dealers are willing to pay a premium for better condition coins. Compare your coins to the grading image below and determine their "Grade", a key element to your three cent silver value.
Although many factors go into grading coins, some of the major highlights are...
In "Extremely Fine" condition three cent silvers are very boldly detailed. A lesser condition "Fine" example is obviously worn but pleasing. However in "Good" condition the coin is recognizable, but heavy wear has removed much of the design.
Three cent silver coins because of size and design are sometimes difficult to grade accurately. If after using your best judgement grading you feel your coin is worth close to $100 but are not sure. It's a good time to seek professional help.
Collectors and dealers consider PCGS and NGC as leaders in coin grading services. If your coin is approaching $100 or more it is time to seek their advice. They both authenticate and grade your coin. The small fee you pay provides assurance you understand and receive the full three cent silver value.
It is important to know grading a coin is never an exact science. You will have your opinion of grade, dealers and collectors have their own opinions... and they can all differ slightly.
You can however, take advantage of rare coin dealer's listings. Look for those offering Three Cent Silver Pieces similar to yours. Their listings are often very informative, with details of the NGC or PCGS grade and prices. Additionally, these dealers are potential buyers of your coins.
There is one more important detail to consider.
Identify The 1851-O Mintmark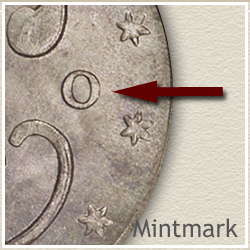 Don't miss the "O" mintmark. It identifies the coin as minted at the New Orleans mint. Find the mintmark on the reverse. 1851 is unique as the only year a branch mint produced three cent silver pieces. All others were minted at Philadelphia.
The 1851-O is a special coin to collectors and commands a value ranging from $39 in "Good" condition to over $372 in "Uncirculated" condition. Worth a double check of your coins.
How to Guarantee Finding a Rare Three Cent Silver
After searching through your box, that super valuable coin just wasn't there. However the total combined value of them all is often surprising.
One successful approach is to sell your coins and use the proceeds to purchase one nice rare coin. The coin pictured in the top image is certainly a desirable 3 cent piece.
There are many other coin series to choose from. Here are a few examples, the Buffalo Nickel a favorite of collectors, the Morgan Dollar a large majestic and popular coin, or the desire to own a gold coin. Any of these in Uncirculated - "Brand New" condition is an outstanding coin to own.
It makes for an exciting story to share. How you evaluated and exchanged your box of old coins for a rare coin you understand the value of, its rarity and enjoy. A sophisticated way to pass the thrill of a rare and valuable coin on to your children.
Discover All Your Coin Values
Everything to accurately value your coins is here. Covering all the dates, mint marks, down to the smallest of details. You have a good idea of your three cent silver value, but there is more.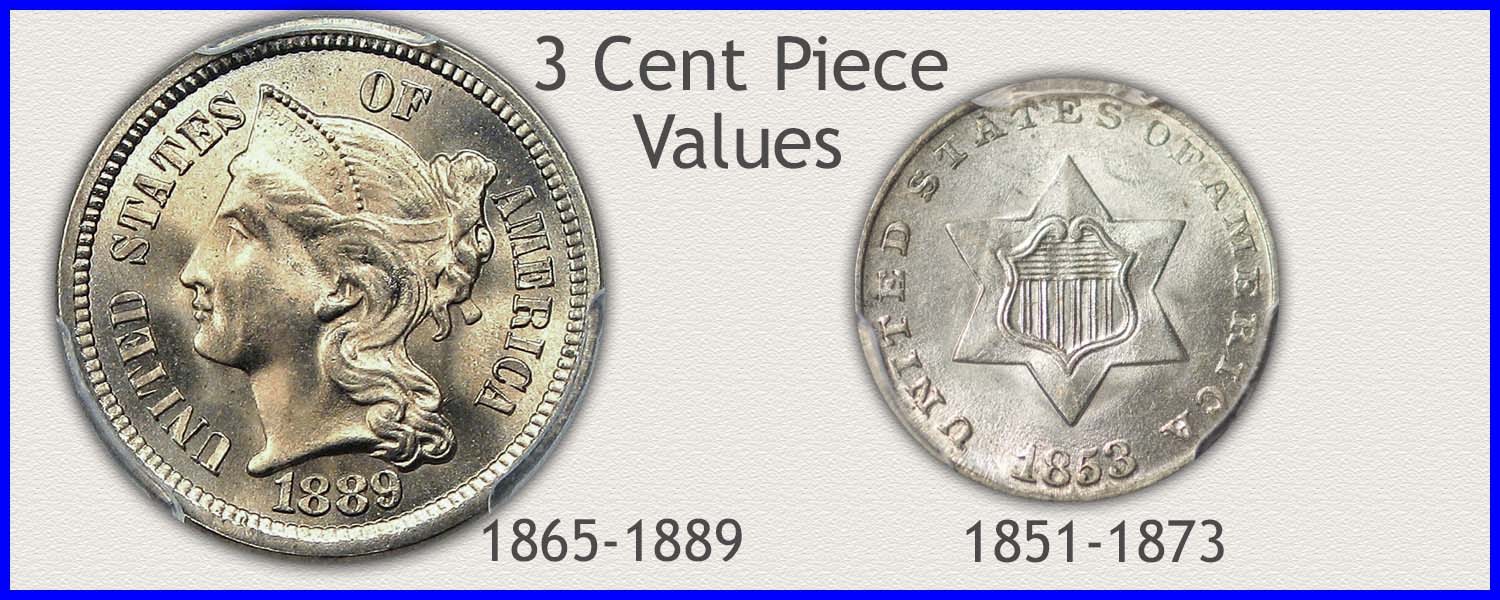 Three Cent Nickel and Three Cent Silver coins are all part of the fascinating series, including many rare dates. Find value in the details, the rare dates, but mostly grading the condition of your coins reveals how much they are worth.
Do you have other denominations of old coins?
★Coin Values Discovery... finds Three Cent Silver Value and...
All old US coin values. It is an excellent index with images and text links to all coin series, from Cents to Gold. Value charts, grading images and descriptions uncover how much your box of old coins is worth.
Print the handy Coin Values Worksheet to list your coins and record their values. Should you decide to sell... use the worksheet as an invoice and packing slip when sending coins through the mail to dealers. Or carry it with you when visiting dealers. You have done your coin values home work, very important with today's high prices.