Coin Values Moving with Precious Metals: Up-Dated 9/25/2023: Gold $1921 | Silver $23.44
Bust Half Dollar Value
Bust half dollar value on the chart shows coins in heavily worn condition are scarce. Your coin is very popular, intensely studied and values are often greatly higher. Follow a step by step method to identify important varieties, dates, and condition of your coin.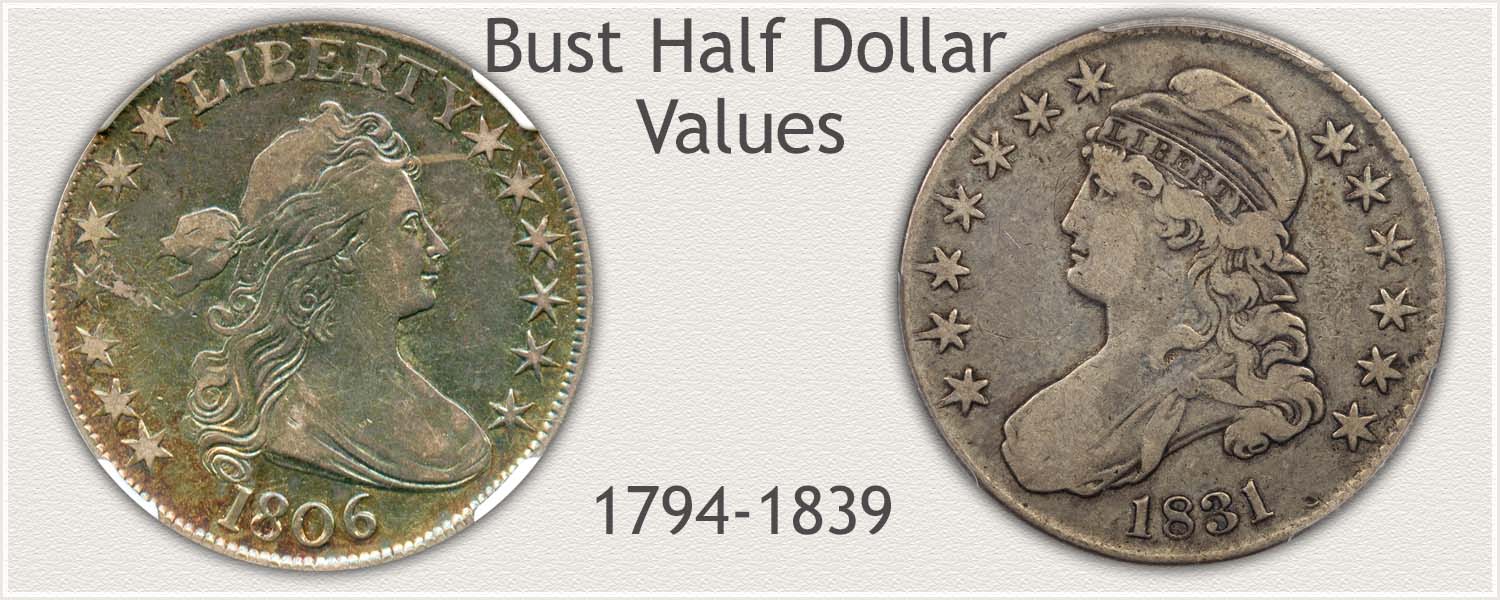 Steps Leading to Value:
Step 1: Date and Mintmark Variety - Varieties and important dates are identified.
Step 2: Grading Condition - Comparing to images, judge condition to narrow value range.
Step 3: Special Qualities - These very old coins are a popular collection to assemble. Recognize subtle eye appeal traits to understand the appeal of your coin.
Half dollars from the beginnings of the US mint are historically important. Collectors are avidly seeking nice examples. Step 1 is just after the value chart and begins to narrow the range of how much your coin is worth.
The above are wholesale coin values. Computed from dealer's price lists with various mark-up factors figured in. They reflect closely the value you would expect to receive when selling. Variations in value do occur subject to subtle grading points, collector demands and dealer needs.
If your coin is not listed above, it is seldom encountered. For additional reference... CDN publishes a price guide, covering retail Bust Half Dollar Value in detail.
Step 1: | Date and Variety of Bust Half Dollars are Identified
Three major designs are part of the Bust half dollar series. These varieties represent very distinct designs and very different value potential.
Flowing Hair Variety minted 1794 to 1795
The first US mint half dollar featured Liberty with long loose hair as the obverse design. A reverse design of an eagle with wings displayed open is surrounded by laurel branches forming a wreath. Interestingly no denomination was included on the coin. Just over 300,000 of the variety minted and historically important.
Draped Bust Variety Half Dollar: 1796 to 1807
In 1796 Liberty was redesigned, now her hair is still loose with the addition of two side waves drawn and tied at back with a ribbon. Featured is the new Heraldic eagle of 1801. The US shield is displayed on the chest with the eagle holding thirteen arrows in the right claw and an olive branch in the left. Symbols of war and peace. Added is a scroll with E Pluribus Unum - of many one.
These half dollars are a bold design and popular with collectors. Representing an early era in US coinage, however limited by numbers struck. 1.3 million total of the variety struck, results in all are scarce and highly valued. Condition and the resulting grade are very important.
Capped Bust Variety Half Dollar: 1807 to 1839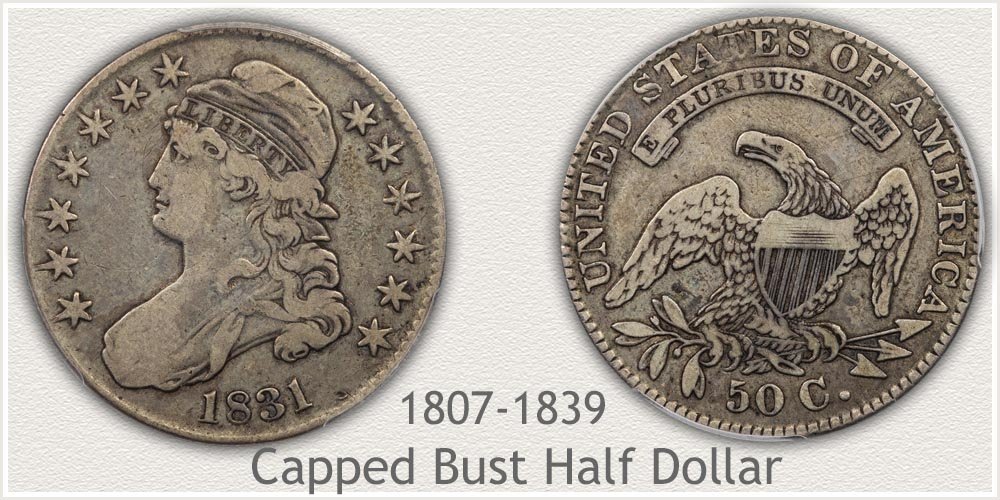 Replacing the style of loose hair from prior years, Liberty now wears a Liberty cap in the new design of 1807. Her cap is held with a ribbon inscribed "Liberty" with her hair over the forehead and down the back. The reverse is a new eagle holding an olive branch in the right claw and three arrows in the left. Olive branch and arrows are symbolism of Peace and War; a nation with peaceful intentions at the ready.
Mintage numbers of the Capped Bust variety were far higher than the earlier half dollars. Its 32-year span saw a steady increase of coins struck with a total of over 92 million produced. High values are concentrated in the first few, lowest production years.
Step 2: | Grading Condition | Judging Quality
What has a dramatic effect on your Bust half dollar value? Condition of the coin, it is a huge issue with collectors. They place large premiums on better "Grade" coins. Heavily worn coins are assigned lower grades with corresponding lower values.
Grading follows a method of comparing your coin to images below and finding a close match. Using the descriptions helps narrow a condition range.
Grading Condition of the Draped Bust Heraldic Eagle Half Dollar 1801 to 1807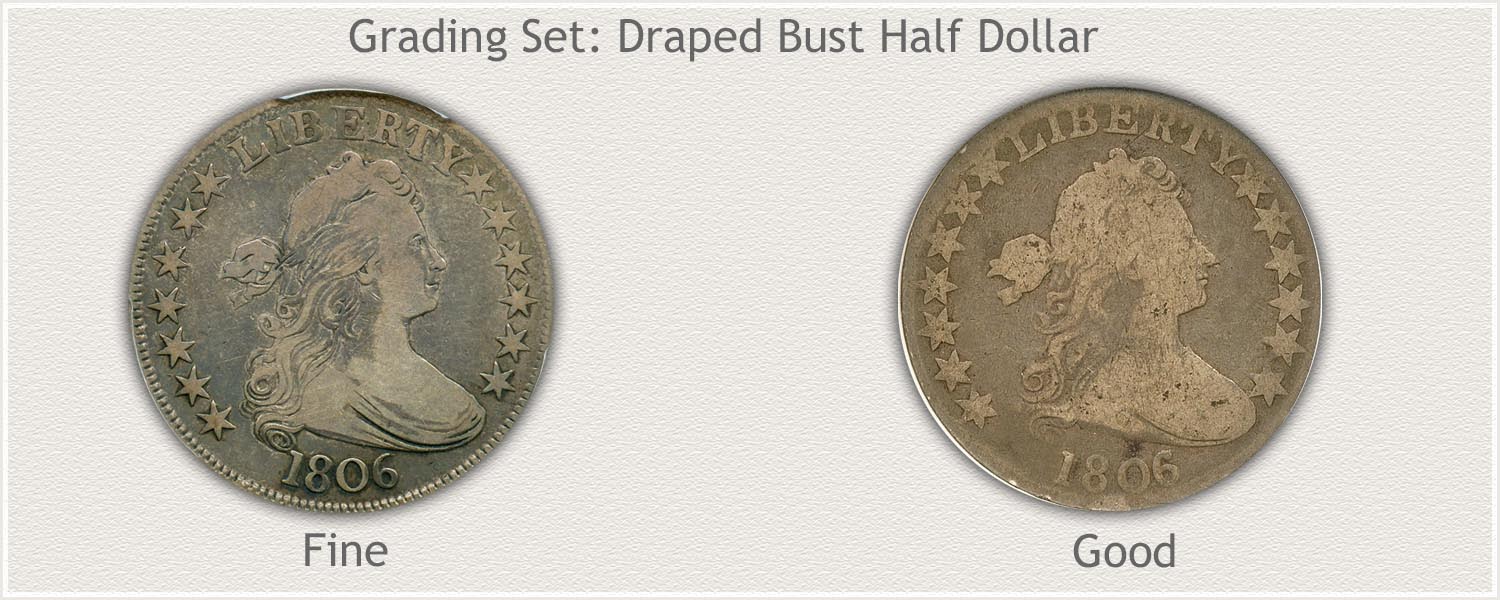 Fine Grade: Draped Bust Half Dollar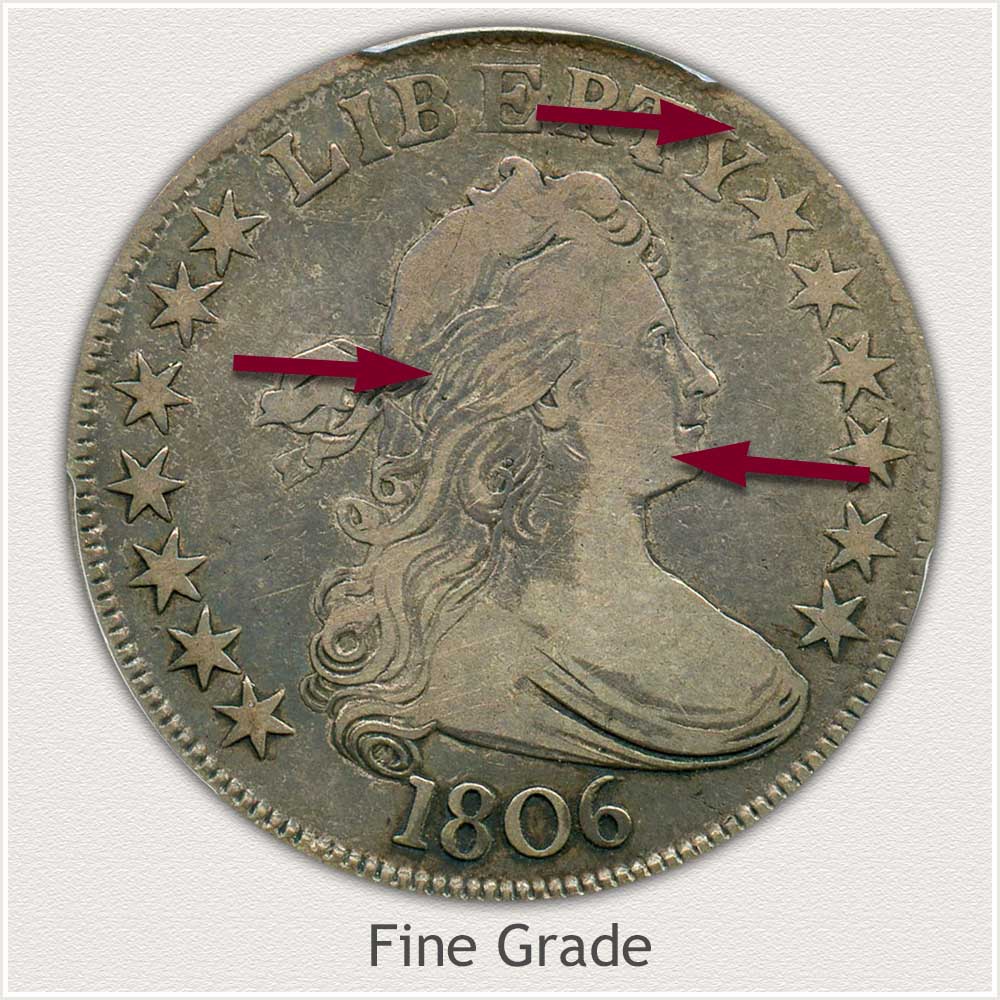 Obverse: Features Identifying the Fine Grade: A moderately worn Fine grade Bust half is a pleasing coin and desirable.
Although wear is visible throughout Liberty's hair, many finer strands remain. Hair is smooth towards her forehead. Detail within the hair is seen at the top of her head and behind her ear.
Liberty's cheek is now a flat surface connecting with her forehead and neck.
A well detailed eye remains giving her face dimension.
Rim is strong and raised from the field. An occasional weak area along the rim is acceptable due to original striking variance.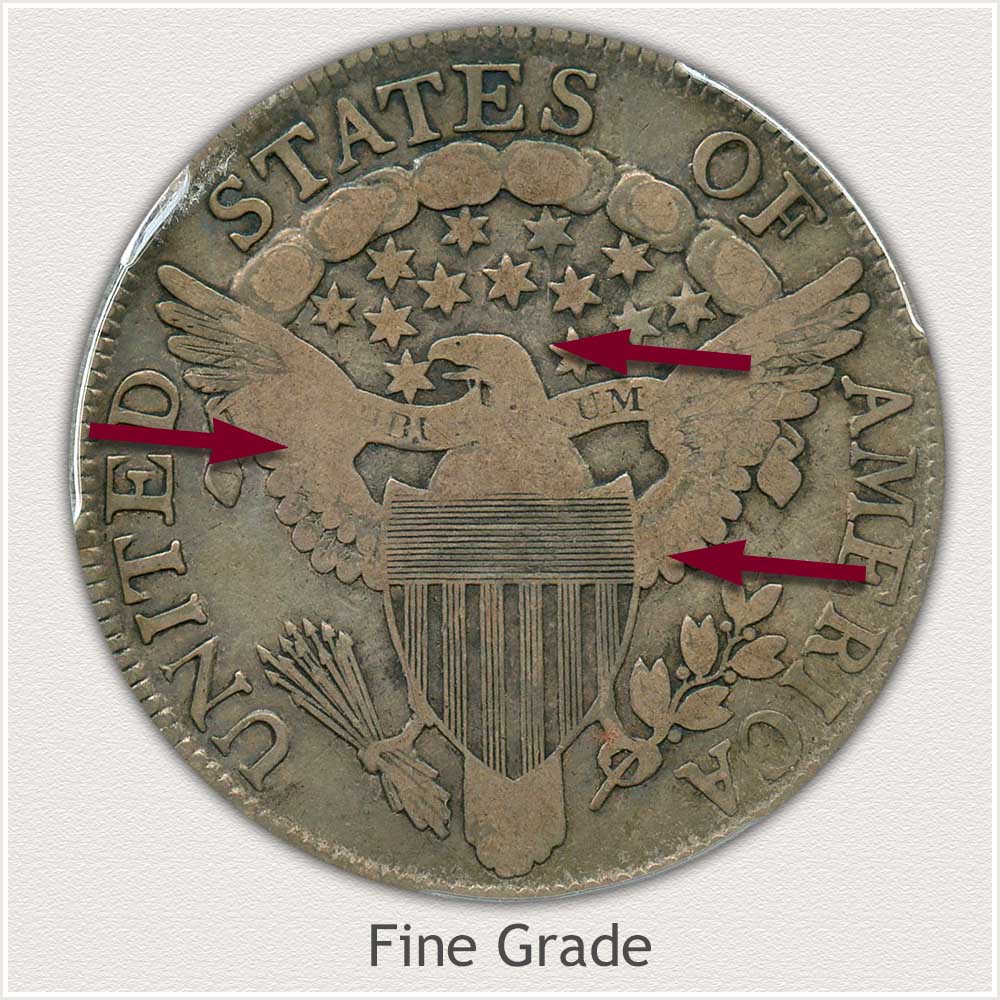 Reverse: Features Identifying the Fine Grade: A well outlined eagle remains with clear legends.
Details within feathers are missing along the upper edges of the wings. Many feather details are visible in the centers of the wings.
Eagle's head is smooth as well as feathers just above the shield.
Most outer edges of the shield are intact. Slight merging of the shield with wings is found on many Bust halves. A strong separation and raised shield edges represents a well struck example.
Good Grade: Draped Bust Half Dollar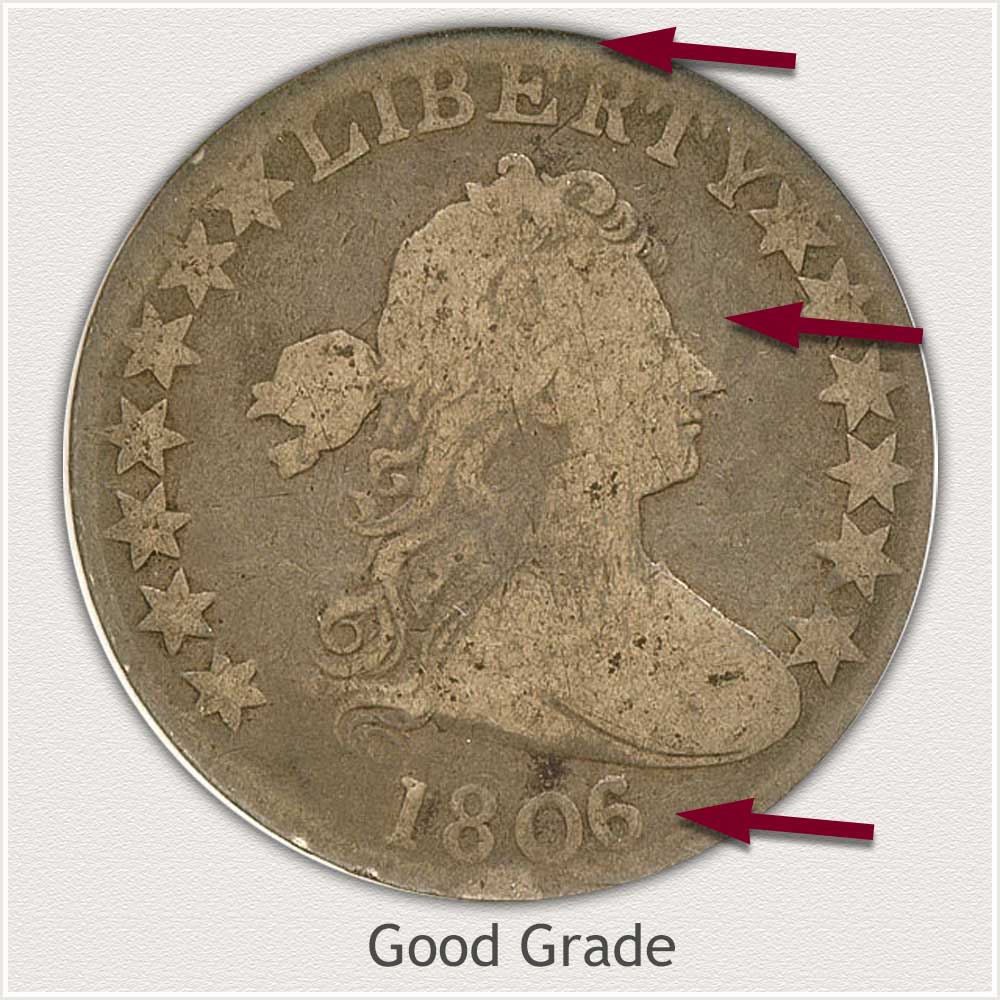 Obverse: Features Identifying the Good Grade: Wear has now smoothed the design to a flat surface. All major elements remain.
Bust of Liberty is very smooth, lacking detail to hair and facial features. She is well outlined, no fading into the background. Hair curls are visible near the date.
Lettering is clear with fading only near the rim.
Date remains although weak along the rim.
Stars are well outlined and depending on how deeply struck, points of the stars are often faded on edges close to the rim.
Reverse: Features Identifying the Good Grade: All major parts of the reverse design are visible. Eagle and lettering are plain as well as most stars and arrows.
To qualify as a Good grade Bust half dollar a fully outlined eagle is present. Inspect the lower edges of the wings and very tips, an outline is visible, although faint.
Legend is readable but faint at tops of letters with some fading into the rim acceptable.
Motto - E Pluribus Unum across the ribbon is mostly gone.
Capped Bust Halves and Grading Condition | Minted 1807 to 1839
A very popular variety of the Bust series half dollars. Many collectors are involved in assembling sets of these coins and condition plays a large role in values. Identifying small details separates grades.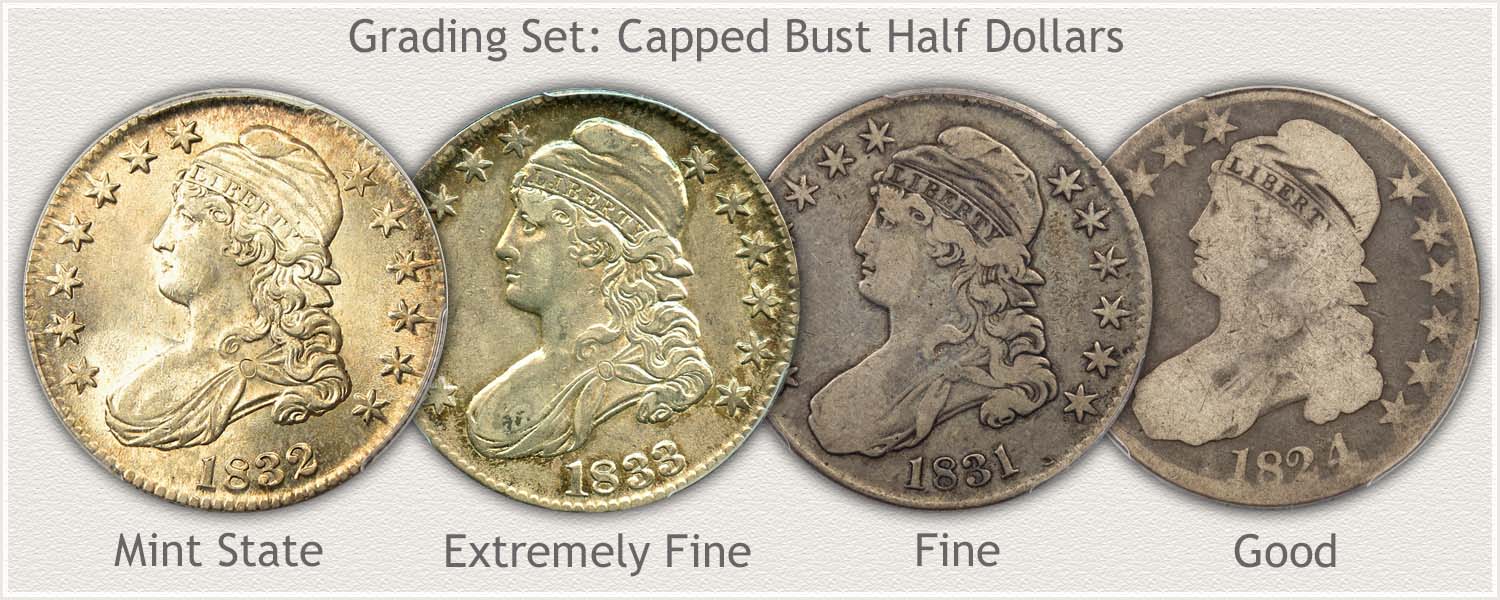 Mint State Grade: Capped Bust Half Dollar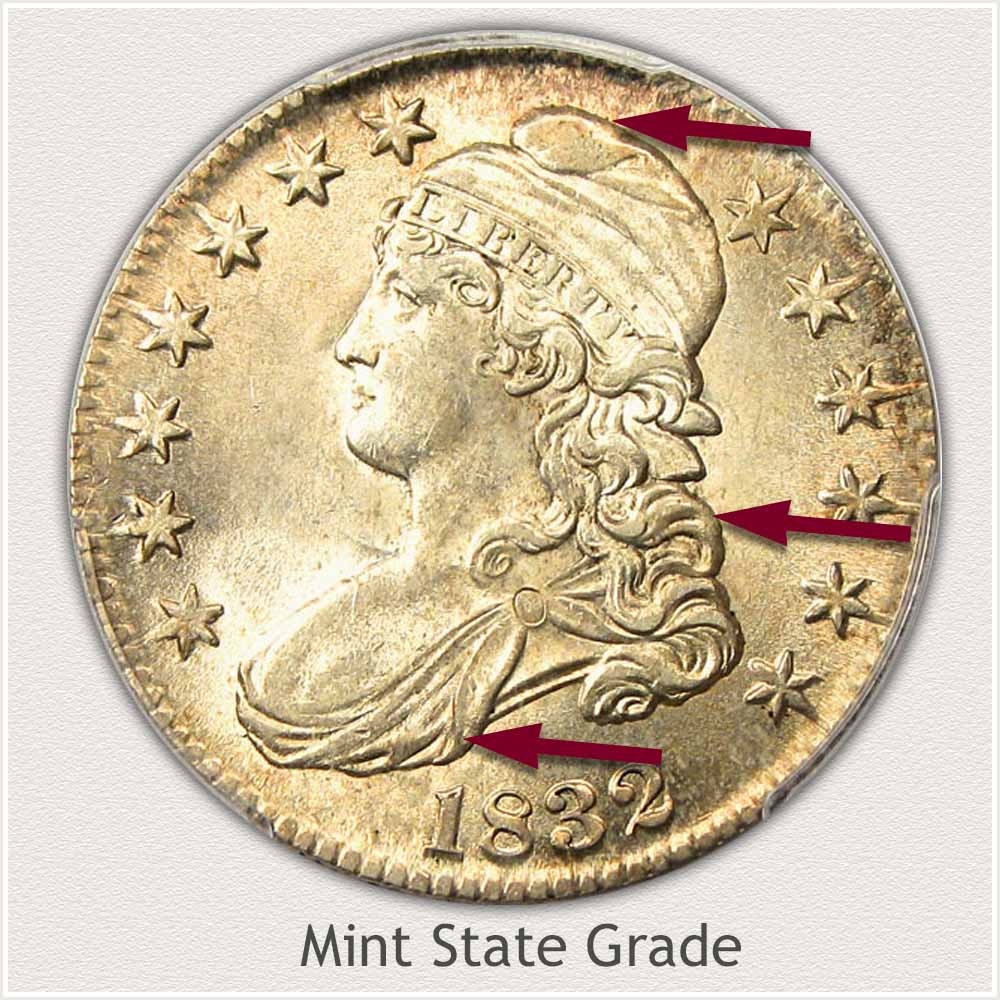 Obverse: Features Identifying Mint State Grade: Inspecting the high ridges and open flat areas to detect friction and wear determines the Mint State condition. No wear present defines the grade.
Folds in Liberty's cap feature both high rounded surfaces and fine ridges to the design. Any wear to the metal changes its texture, smoothing the finely grained surface that produces luster. Compare high points on the cap to recessed areas to confirm both are similar in texture.
Waves of hair are next inspected. Tops ridges remain rounded on original Mint State examples.
Drapery along the front of Liberty is without any signs of smoothing to high points and texture of the metal remains.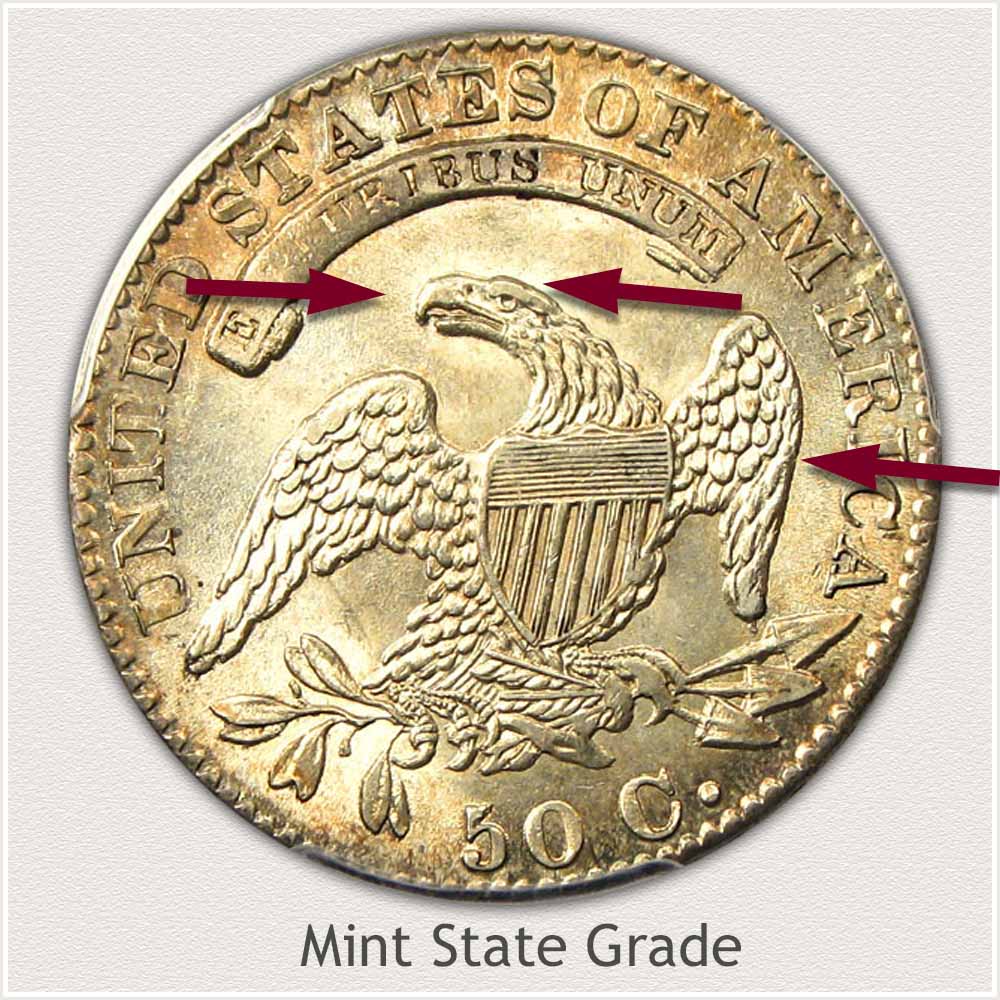 Reverse: Features Identifying Mint State Grade: No evidence of wear is required to meet the Mint State grade.
Inspect the eagle's head for any smoothing due to wear. A slight contour just above the eye remains on Mint State condition half dollars.
The forward edge of the beak is also prone to first signs of wear. Metal is the same texture over the entire beak with no signs of smoothness. Compare metal surfaces under the eye with the metal of the beak.
High points of the feathers are quick to show any flattening due to wear. Ends of feathers need to have a rounded profile.
Extremely Fine Grade: Capped Bust Half Dollar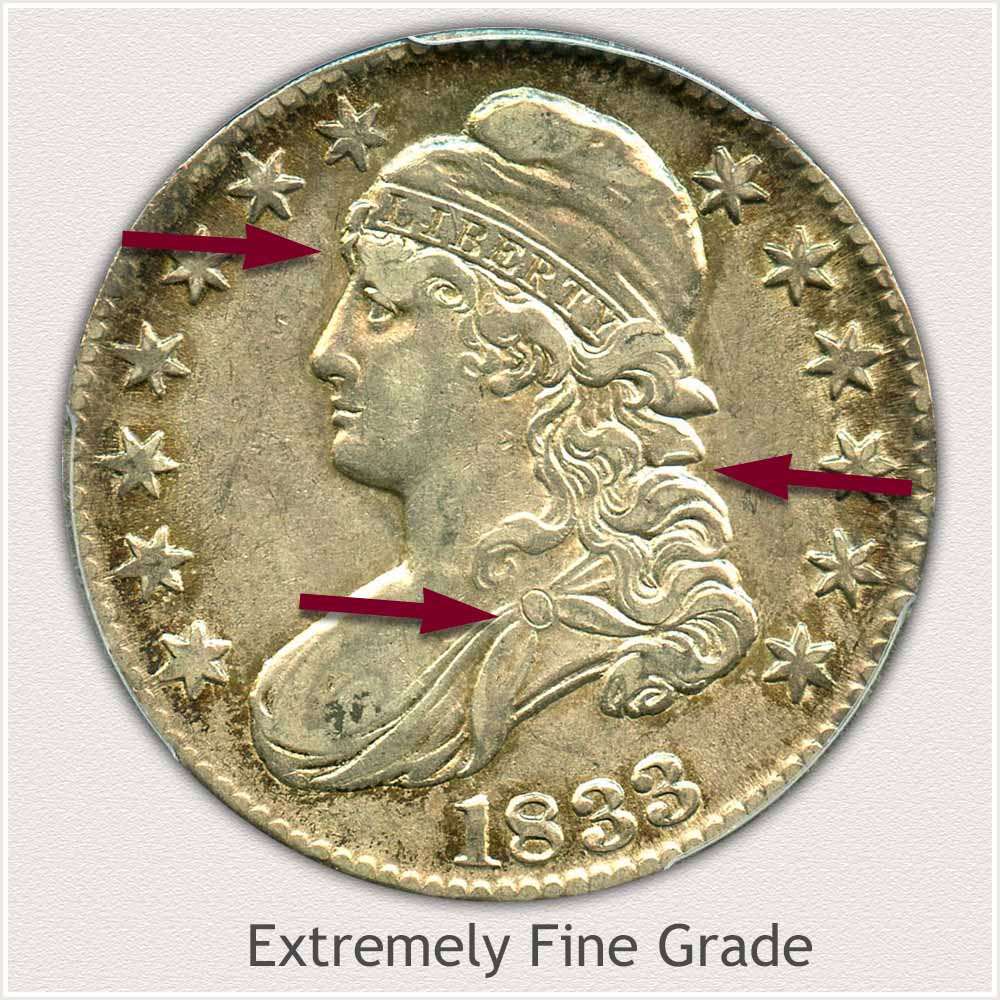 Obverse: Features Identifying Extremely Fine Grade: A small amount of wear has reduced the high points of the design. Slight flat spots are displayed by the cap, hair, and facial features of Liberty.
Hair curls above Liberty's eye are just beginning to flatten. Separation of the hair lines is merging with a small point of the forehead and eye brow.
A clasp secures the drapery at Liberty's shoulder. A complete outline to the clasp is visible with the central portion of the clasp defined.
Large waves of hair are all separated and well detailed. Fine strands of hair are missing from the upper edges of the waves.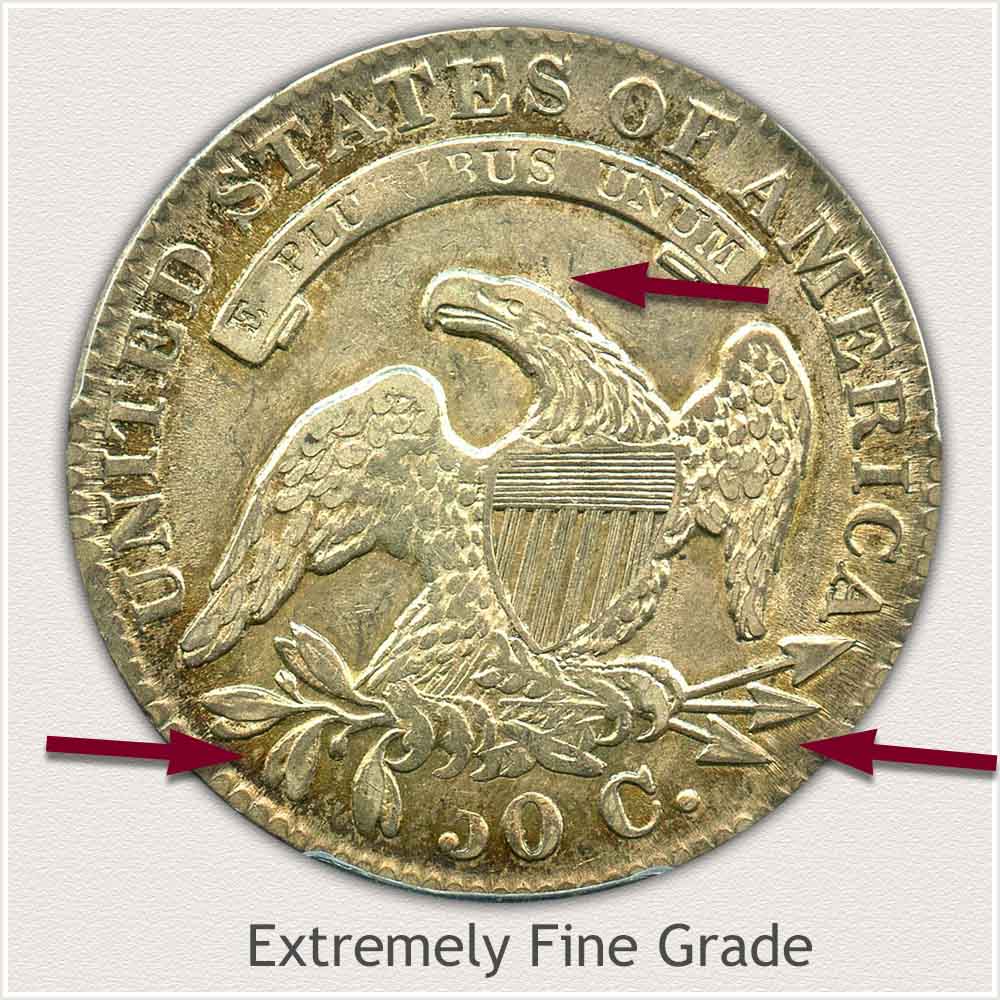 Reverse: Features Identifying Extremely Fine Grade: Wear is smoothing only the highest points of feathers, creating small flat tops.
Overall wear is light to the talons, both remaining well detailed. Most claws are distinct.
In the eagle's right claw, leaves of the olive branch have detail visible within the centers. Edges of leaves are smooth and just beginning to fill towards the middle.
Arrow points are worn along the edges. A ridge within the center of the arrow point is visible.
Fine Grade: Capped Bust Half Dollar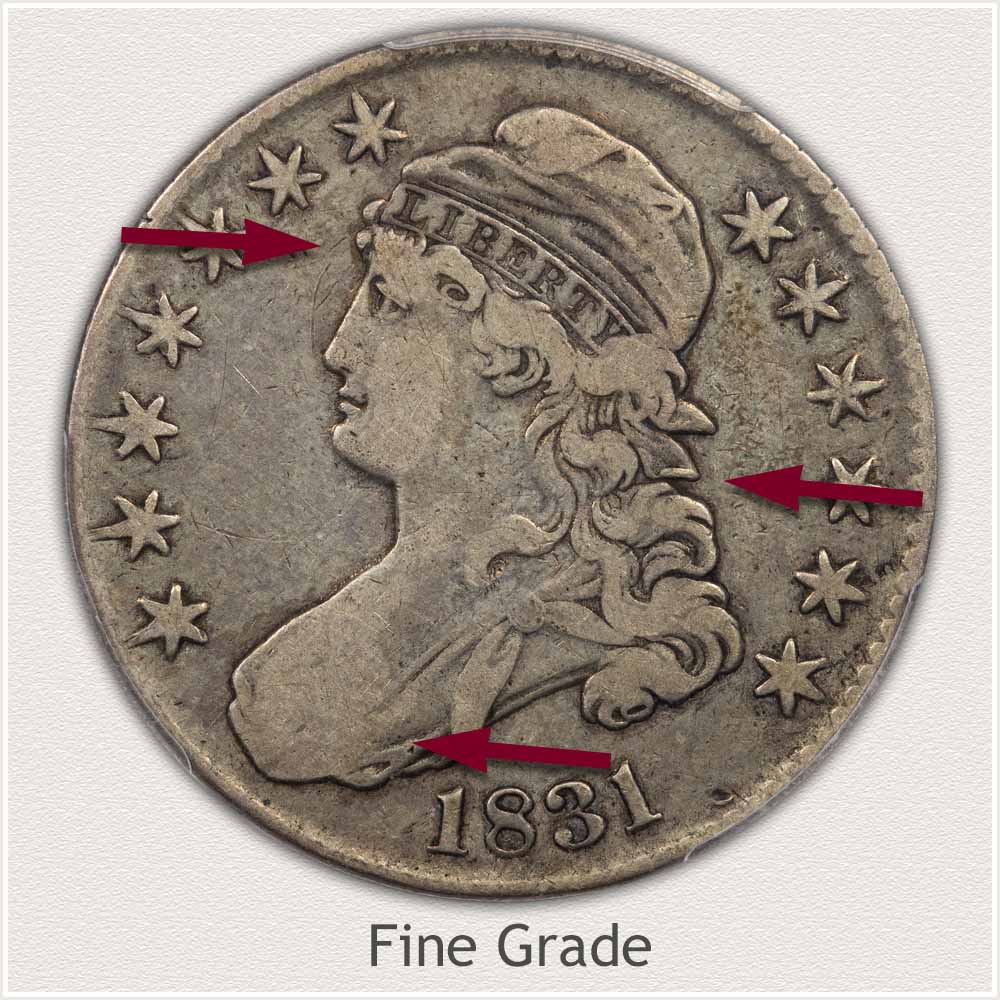 Obverse: Features Identifying the Fine Grade: Moderate to heavy wear has begun to blend major design features, identifying a Bust half in Fine condition.
Curls of hair above Liberty's forehead and ear are visibly flattened by wear. Wear has merged parts of her forehead with hair but major curls are well defined.
Hair waves down the back of Liberty's neck are lacking inner detail. Major curls of the hair are separated and defined.
Drapery across Liberty is blending with her bust.
Deep fold lines remain in cap.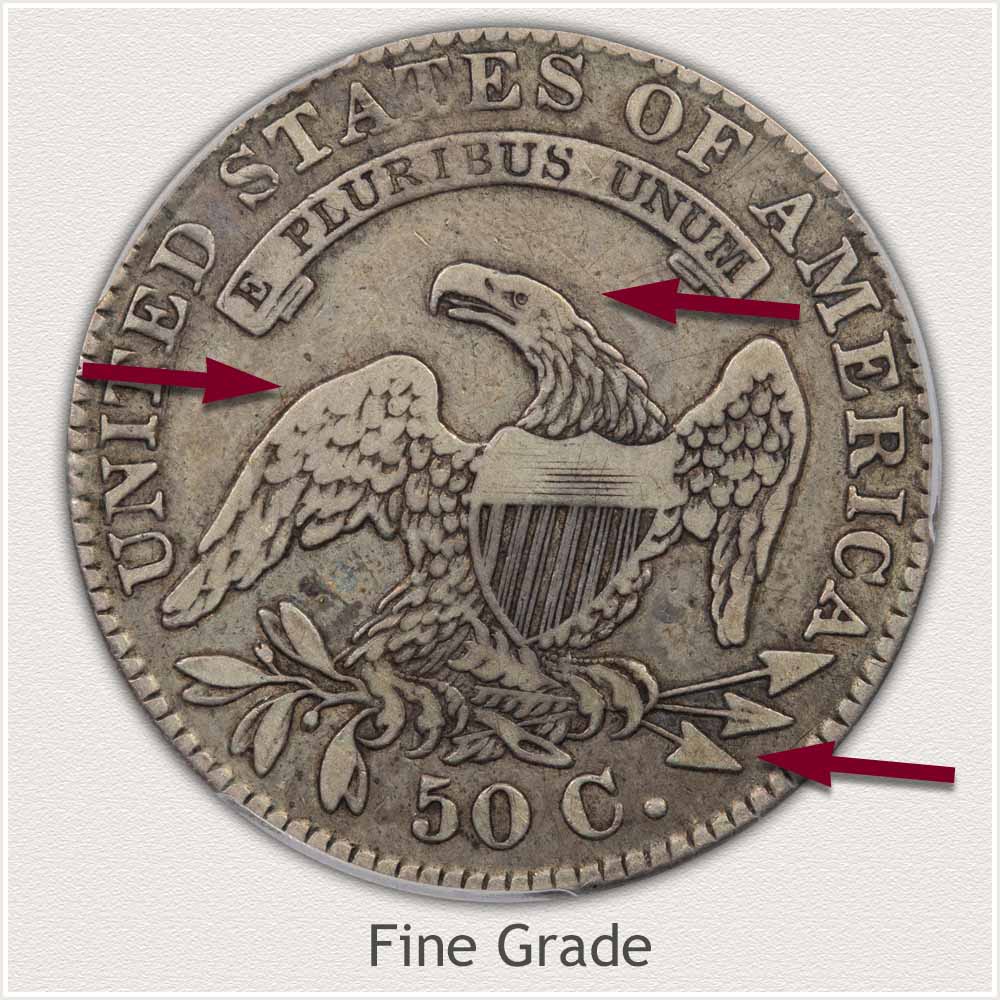 Reverse: Features Identifying the Fine Grade: Most of the high relief areas are now flattened in the Fine grade.
Many feathers are blended on the Eagle's right wing. Inner areas of both wings show detail and feather separation.
Arrow points are now flat with no central raised rib. Tips of arrows are complete and raised from the field.
Eagle's head and upper neck feathers have merged but a strong eye remains.
Shield is well outlined with most horizontal lines showing.
Good Grade: Capped Bust Half Dollar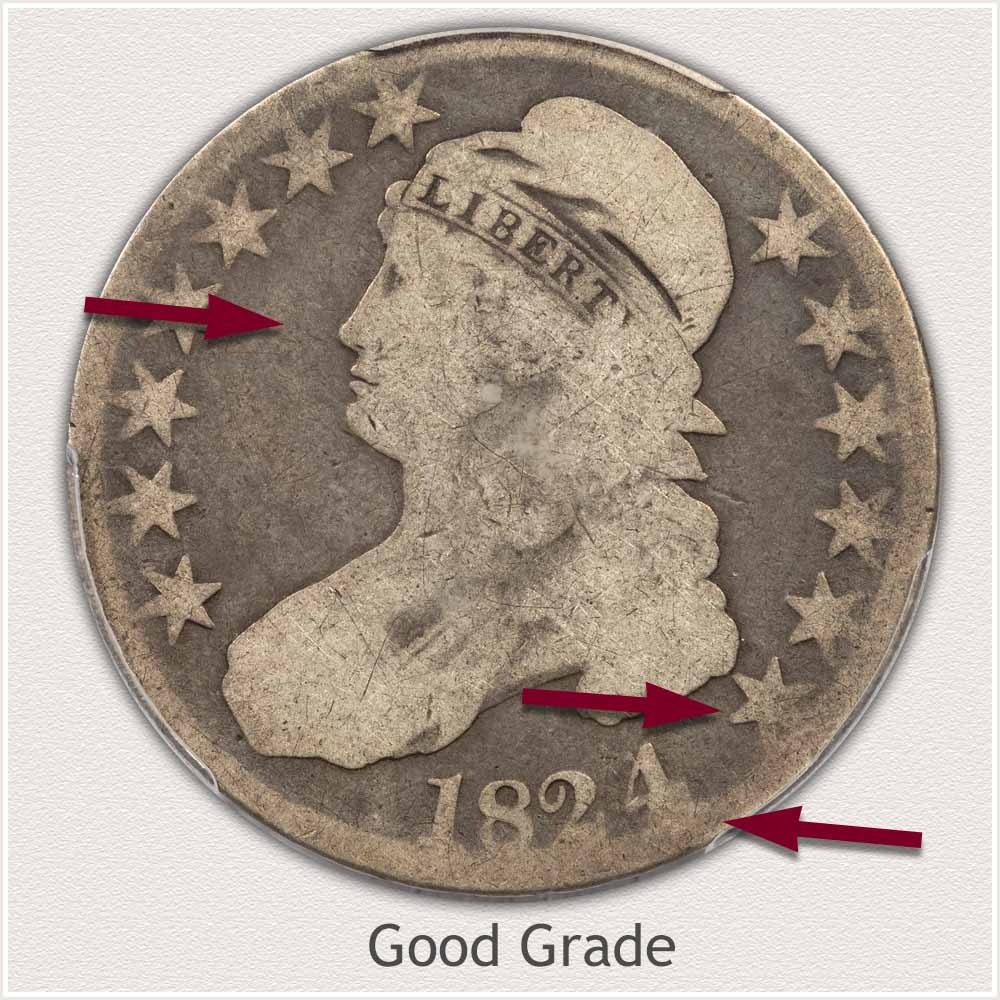 Obverse: Features Identifying the Good Grade: Heavy wear is the first impression of a coin in Good grade. All major elements are visible and mostly separated.
Bust of Liberty is complete and fully outlined. Few details remain towards the outer areas of her design with some inner detail faint.
Stars are visible but well worn. A few stars are just outlined towards the rim
Date is complete with some fading near the rim.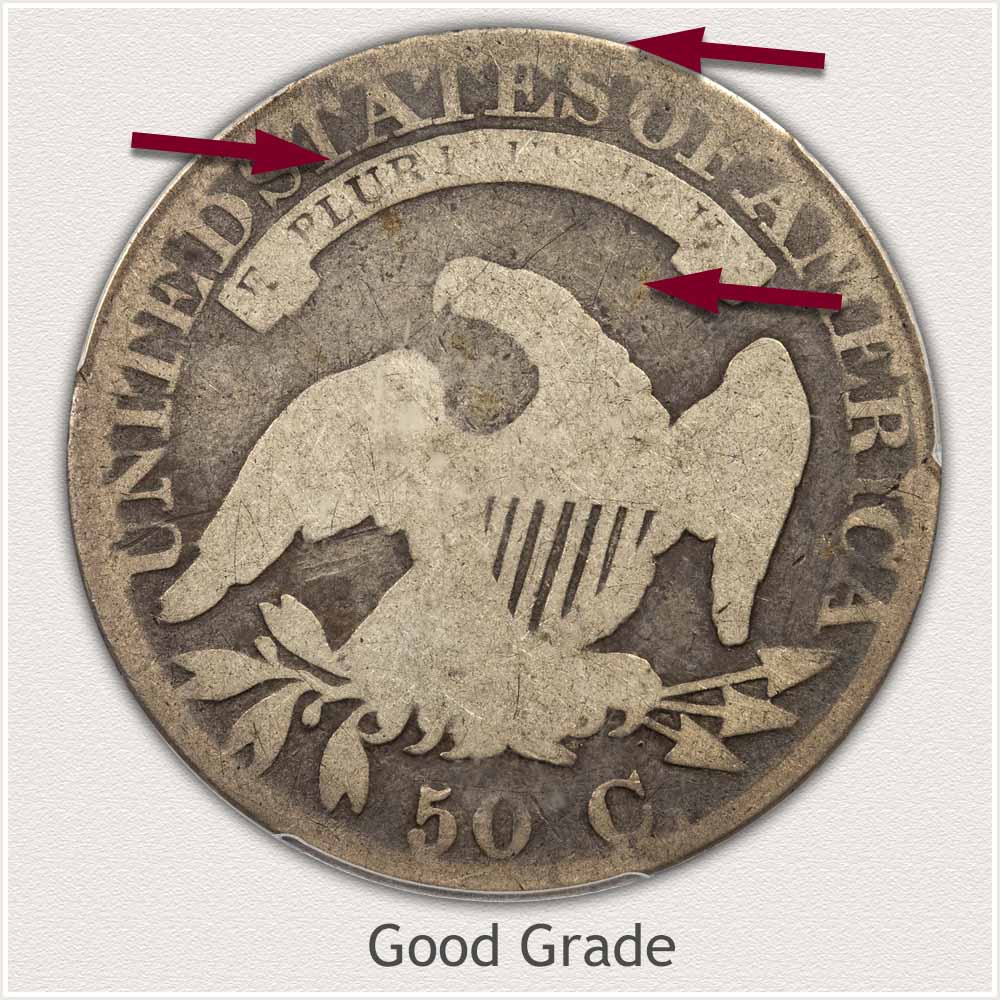 Reverse: Features Identifying the Good Grade: Many details of the original design are missing in the Good grade.
A once finely detailed eagle is now smooth, however completely outlined.
Legend is faint in some areas, possibly bold in others, due to strike. All letters are readable.
Motto - E Pluribus Unum is worn faint with a letter or two very weak or missing.
Rim is an element subject to striking differences. A strong rim in areas with faded spots in others is the norm. Minimal merging with the rim of lettering identifies a coin in the Good grade.
Bust Half Dollar Value is Conditional
Set up a single light source, such as a table lamp over a soft surface to grade coins. Holding the coin, tilt and view from different angles. Bouncing light off the surface at low and high angles brings out subtle details.
Bust halves exhibiting crisp, sharp details with little or no wear are avidly sought by dealers and collectors. From one grade to the next higher grade, values jump accordingly. To accurately assess the value your coins, first separate them by grade using the grading images… then consult the Bust Half Dollar Value chart.
Step 3: | Special Qualities Enhancing Value
Capped bust half dollars are enjoyed by collectors in many grades. Elite sets of coins in Mint State grades are pursued by many. Less expensive sets of circulated examples are also an enjoyment of collectors often leading to upgrading as skills improve. Minted 1807 to 1836 Capped bust half dollars span the early years of US coinage an historical set to complete.
Recognizing the aesthetic qualities is a skill learned by collectors as they develop the "eye" for pleasing coins. Certain traits such as a harsh cleaning is quickly learned to spot and avoided when assembling a quality collection. Circulated coins considered for a set must display natural wear and aging. These are closely examined with a focus on small details.
Recognizing Aesthetic Quality of Capped Half Dollars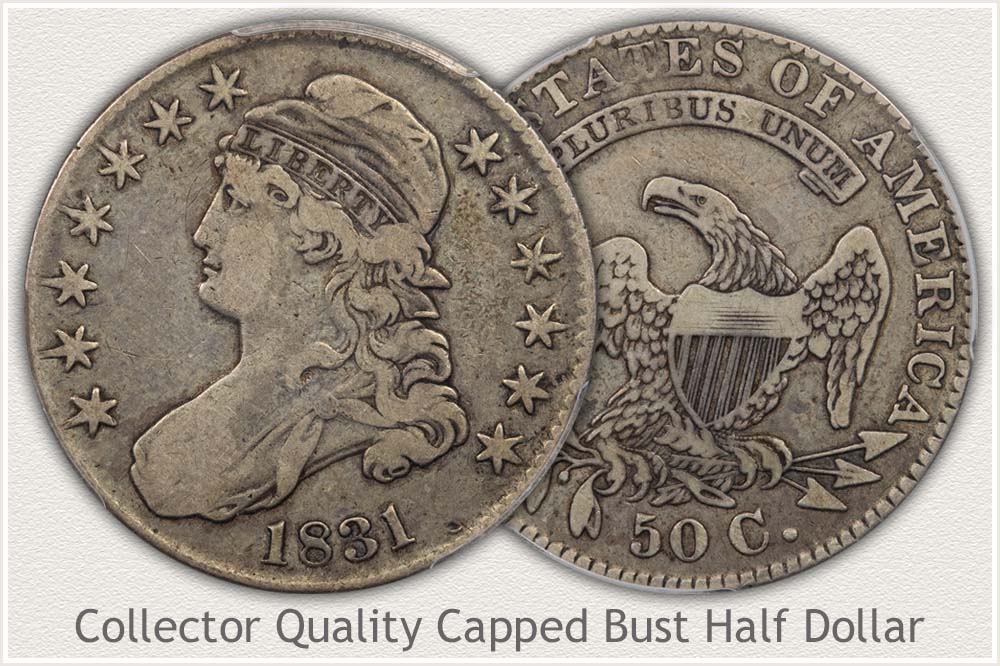 An examination of the 1831 half imaged starts with an overall view. Nice color is first to notice. Soft greys are found on higher relief areas and a darker color highlights the design. Even balance of color is displayed with no darkened areas. Also, a nice balance obverse to reverse is noted.
Moving closer to the surface, a scan is not interrupted by glaring, eye catching nicks or scratches. A few small marks are noted, the nick right of the date is the worst. The reverse is also nick and relatively mark free. The amount of feather detail to the eagle gives the design a crisp look. A pleasing coin on both sides.
Wear is even and the original strike is strong, bringing up the design on both sides with no lightly struck areas. Circulation grade quality is high and the coin is an impressive old half dollar, somewhat elusive with these aesthetic qualities. The coin displays a small insight into forming a quality collection of any series in circulated grades.
References
US Mint. 1892 US Mint Annual Report. https://nnp.wustl.edu/library/book/316
US Mint. Catalogue of Coins of the United States. https://nnp.wustl.edu/library/book/554591
Coin Values | CoinStudy Articles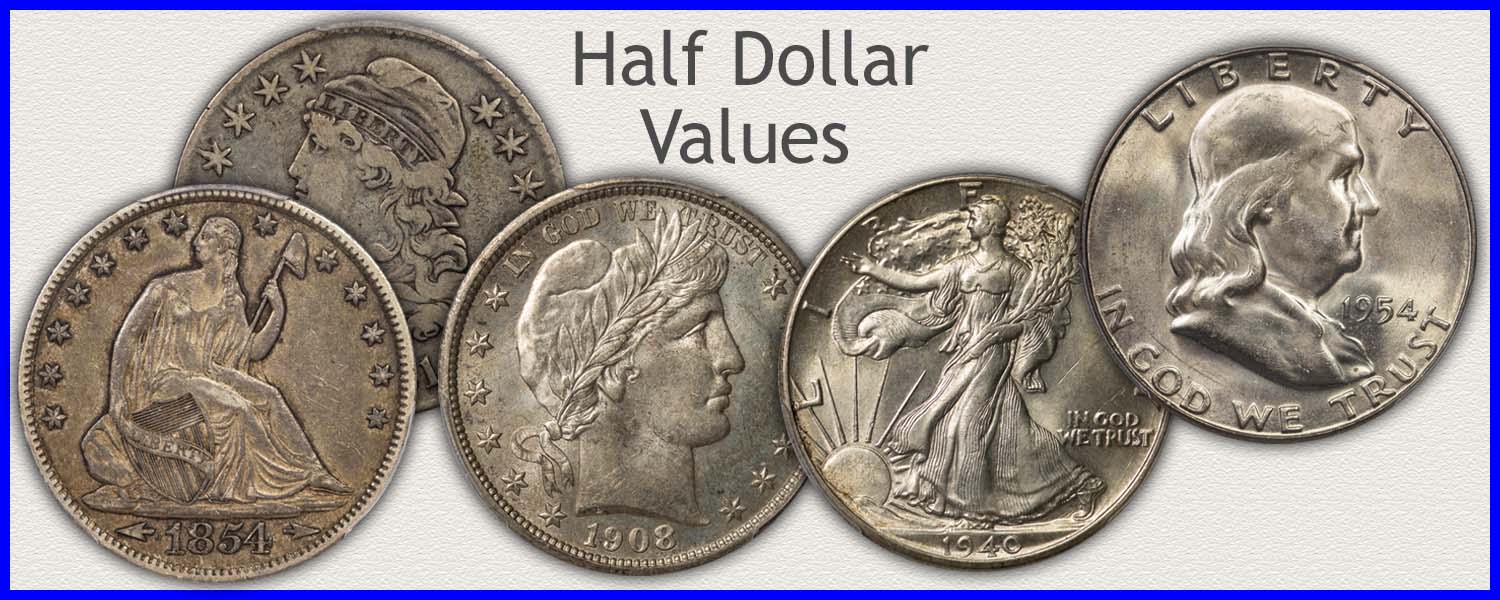 Discover the value of all your old half dollars. From the very first Bust half dollars to Seated Liberty to Barber halves. Continue to the Walking Liberty and Franklin Half dollars. Compare your coins to the "Grading Images" and find their accurate value on the charts.
Rare half dollars are found by recognizing dates, mintmarks and grade of the coin. Early half dollars are all scarce. Any minted before 1892 is becoming a scarce coin. Twentieth century series such as Barber and Walking Liberty halves contain a number of rare dates. Franklin halves because of silver are all premium coins.
A quick reference to US Coin Values. Images to identify each coin and minimum values for each type. Using the step by step method to how much coins are worth. Bookmark the online value charts to phone.
Benefits of Professional Grading Services
Bust half dollars are a challenge to place an accurate value. Each coin needs close examination involving many special qualities. Dates are quickly confirmed and rare dates separated. Variety is important because of overlaps between series. Of them all, judging condition becomes a challenge, both the technical and subjective parts.
Any Bust half dollar closing in on a value above $100 benefits when sent to a professional grading service.
PCGS and NGC are considered by the collecting community as the top two. Coins sent to these services are first authenticated and then graded by a panel of specialists. The coins are then placed in special holders. Marketability is increased and you gain an insight into the coin's accurate grade and resulting value.
Introduction into the selling coins process. Preparing, organizing, and planning all combine to improve results.
The Forgotten Silver Kennedy Half Dollars
An in-depth look at these seldom remembered and valuable silver coins. The first year of the Kennedy half series was minted containing silver, all are premium value today.
★ Coin Values Discovery finds Bust Half Dollar Value and...
All old US coin values. It is an excellent index with images and text links to all coin series, from Cents to Gold. Value charts, grading images and a step by step procedure uncovers how much your box of old coins is worth.