Coin Values Moving with Precious Metals: Up-Dated 11/27/2023: Gold $2010 | Silver $24.66
Jefferson Nickel Values
First minted in 1938; the early years of the Jefferson nickel series are drawing a premium value. Many date and mintmark combination are worth 25 cents or more depending on condition. Follow the steps below; images and descriptions identify how much your coin is worth.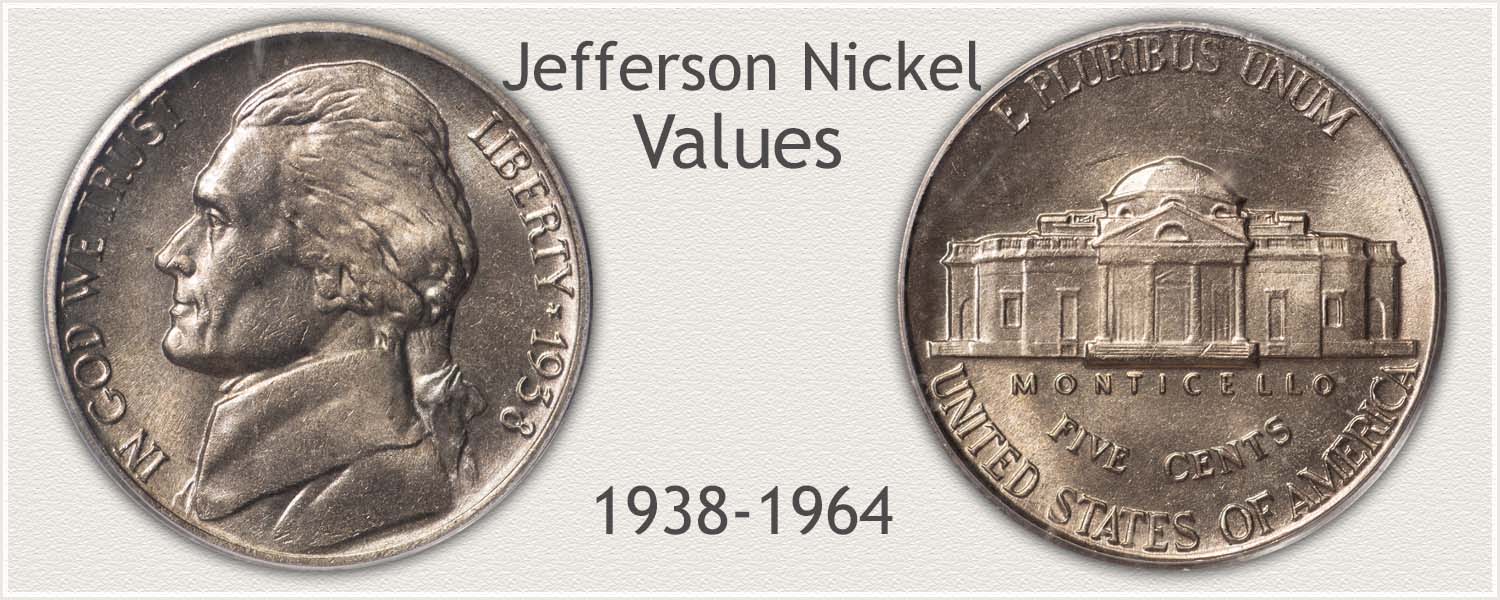 Steps Leading to Value:
Step 1: Date, Mintmark and Variety - Accurately identify different varieties, dates, and mintmarks of the Jefferson Nickel Series.
Step 2: Grading Condition - A key factor to value, condition is graded comparing to images and descriptions.
Step 3: Special Qualities - Find added qualities that appeal to collectors and potential value.
Jefferson Nickels are gaining in popularity as the series continues. A stunning "Mint State" piece, such as the one pictured above, is the type of coin eagerly sought by collectors.
The above are wholesale coin values. Computed from dealer's price lists with various mark-up factors figured in. They reflect closely the value you would expect to receive when selling.
Variations in value do occur subject to subtle grading points, collector demands and dealer needs. For more background information, see how value listings in the Coin Value Guide are determined.
Step 1: | Date and Mintmark Plus Variety are Identified
Jefferson nickels began production in 1938 along-side the last of the Buffalo nickels. Introducing a new design featuring Thomas Jefferson on the obverse with Monticello, his Virginia home, as the reverse design. These nickels retained the deep relief of design elements as the previous Buffalo nickel; Jefferson's portrait is raised high above the field of the coin.
Jefferson Nickel | Nickel-Copper Alloy
Jefferson nickels are made of a nickel-copper alloy (25% nickel with 75% copper) the same metal used since the first five cent nickel denomination was introduced with the Shield nickel in 1866. A very durable metal proven by longevity of surviving in circulation.
Three mints struck Jefferson nickels throughout the years. San Francisco mint, Denver mint in Colorado, and the Philadelphia mint. All varieties are valued separately.
San Francisco Mint Jefferson Nickel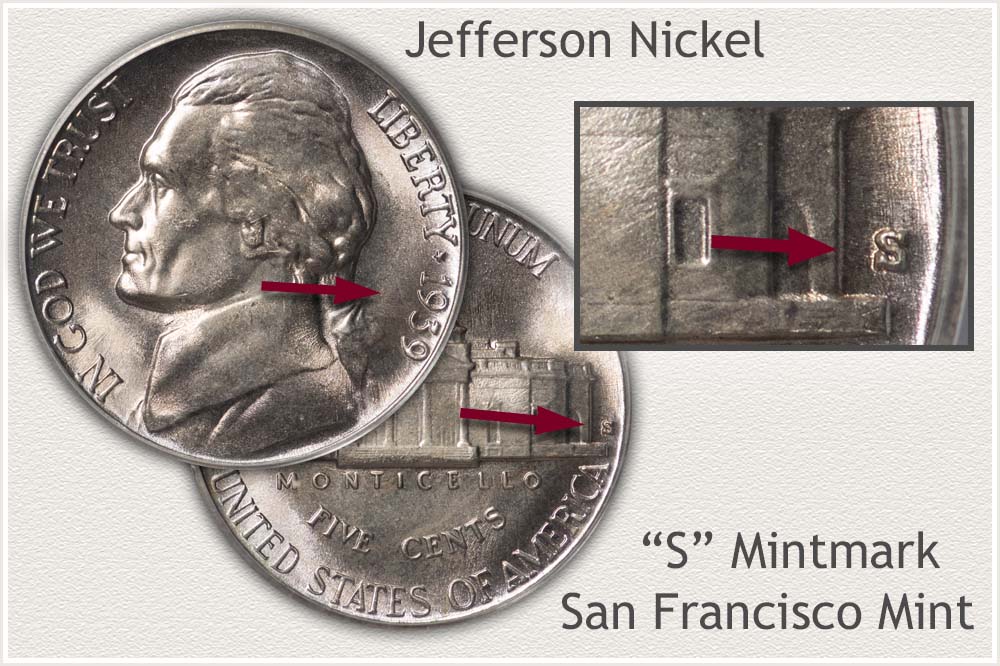 San Francisco struck the fewest Jefferson nickels of the three mints throughout the early years; 1938 to 1964. A total just over 230 million nickel-copper alloy coins. Low mintages signal to collectors a less available coin and in general values follow with slightly higher premiums.
Mintmarks were placed on coins to identify branch mint production. San Francisco used an "S" mintmark on nickel-copper Jefferson nickels 1938 through 1964. Find the small "S" mintmark on the reverse, to the right of Monticello, and next to the rim.
Lowest mintage year is 1938, some 4 million struck in San Francisco. A sought-after coin, worth is above face value in circulated condition.
Denver Mint Jefferson Nickel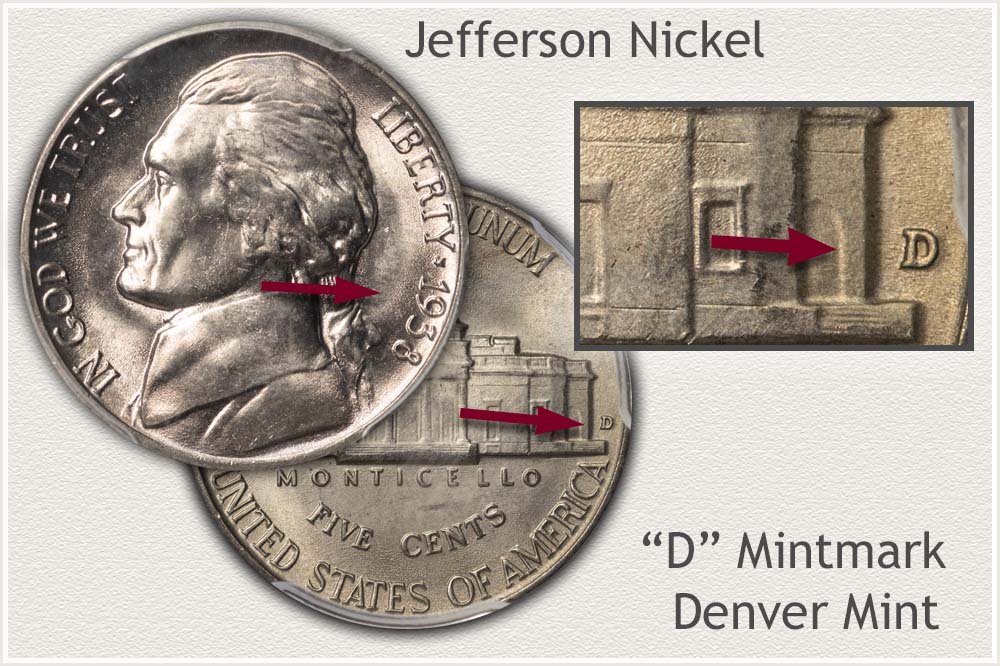 The first few years of production of the Denver mint 1938 to 1942 started slow. Just under 120 million struck. 1938 and 1939 are notable for low mintages and above average values. Numbers of coins struck in the 1960's increased and Denver through 1964 struck the largest total of nickels, more than Philadelphia and San Francisco combined.
Denver uses a "D" mintmark to indicate its production. The "D" is placed to the right of Monticello next to the rim.
Despite Denver's total mintages compared to the other mints, many individual years are modest in numbers. 1950 stands out as the lowest of the entire series, just over 2.5 million struck and a premium find in any condition.
Philadelphia Mint Jefferson Nickel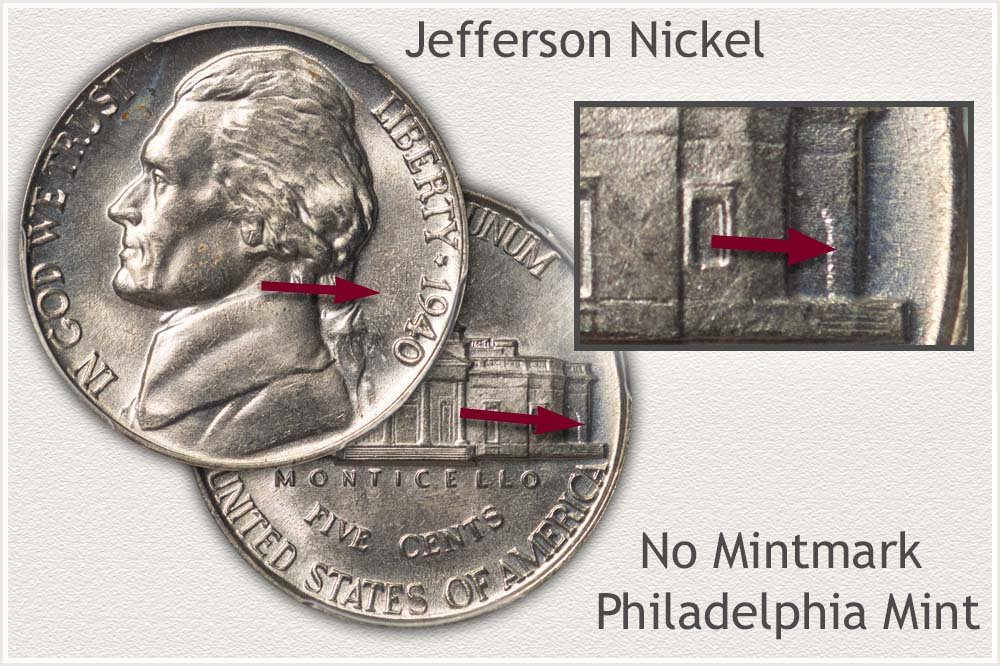 Philadelphia mint placed into circulation over 2.7 billion nickels of the nickel-copper variety spanning the years 1938 to 1964. Quantities are available today and collecting of the variety is focused on high condition examples.
Philadelphia did not place any mintmarks on these nickel-copper alloy pieces. Those dated 1938 through 1968 without any mintmark are Philadelphia nickels.
Lowest production year from the Philadelphia mint of the nickel-copper variety is 1955 with 7.8 million struck for circulation.
Jefferson Nickel 1942 to 1945 Silver Alloy Variety
Unique to the entire five cent nickel denomination are the silver alloy nickels of 1942 to 1945. These represent a distinct variety and are very popular with collectors. Because they contain silver, each is a premium value nickel. Production of the new alloy coins - 35% silver, 56% copper, and 9% manganese began in October 1942 creating a new variety for the year.
Large mintmarks were placed on all silver alloy nickels to indicate the alloy change. This is the defining difference and confirmation of the variety.
Silver Jefferson nickel values of circulated examples are tied to movements in the price of silver. Most circulated examples are traded by roll quantities (40 coins) or larger.
San Francisco Mint Silver Alloy Jefferson Nickel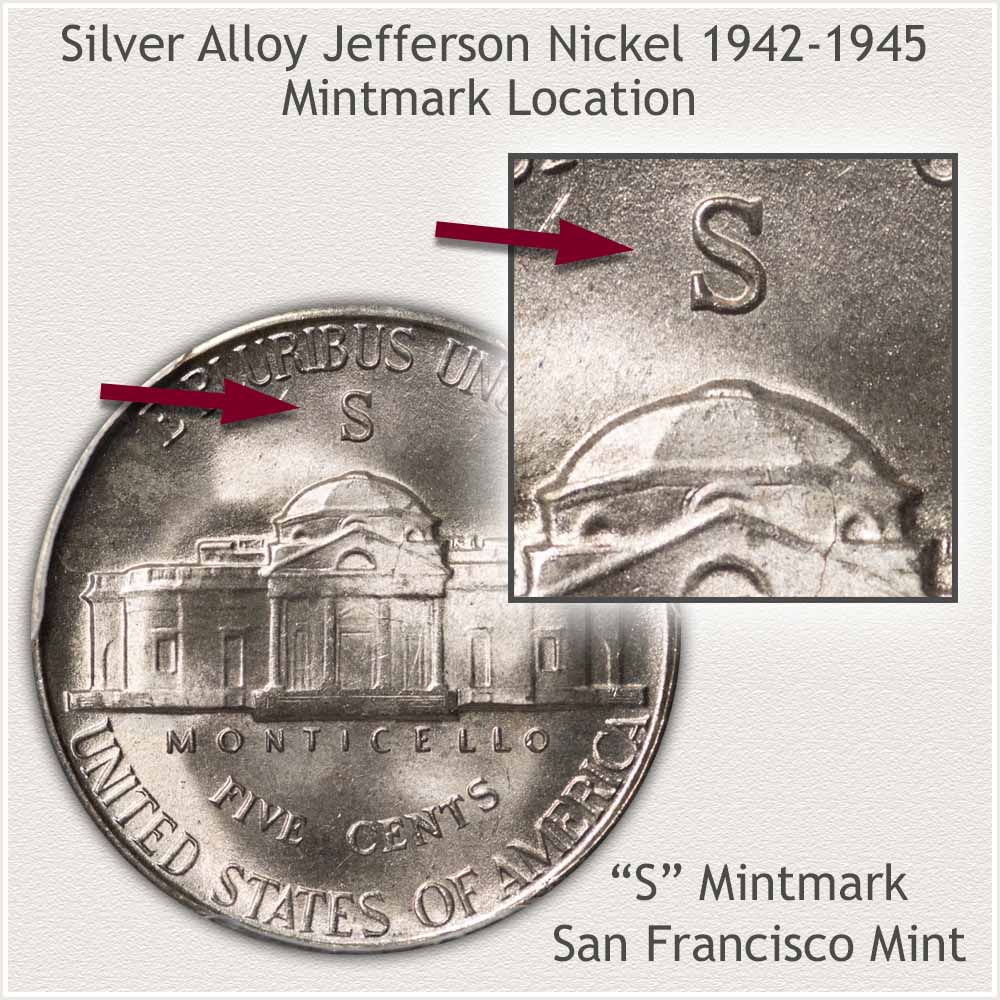 Large "S" mintmark above Monticello confirms the silver alloy nickel. San Francisco produced over 217 million pieces and all are premium value coins because of silver content.
Denver Mint Silver Alloy Jefferson Nickel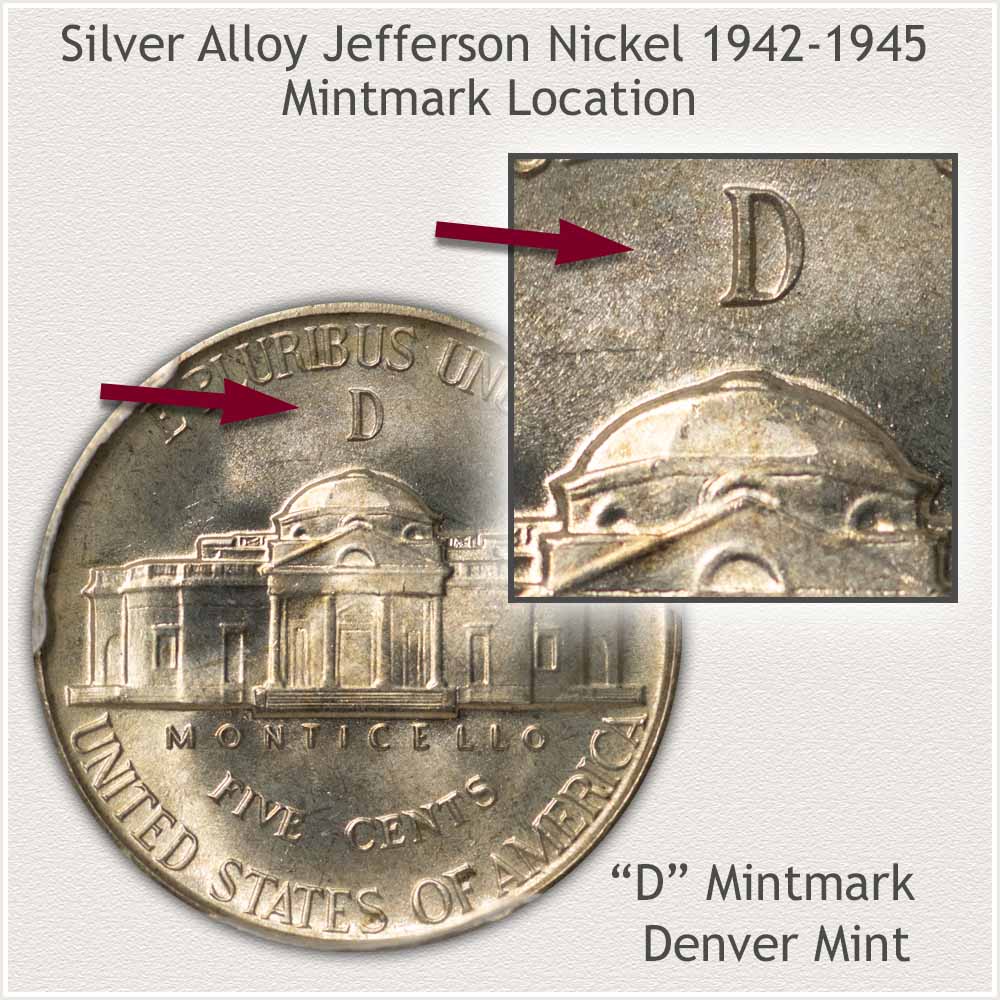 Large "D" mintmark above Monticello confirms the silver alloy nickel. No production of 1942 silver alloys nickels from Denver. Total production of Denver silver nickels over 84 million.
Philadelphia Mint Silver Alloy Jefferson Nickel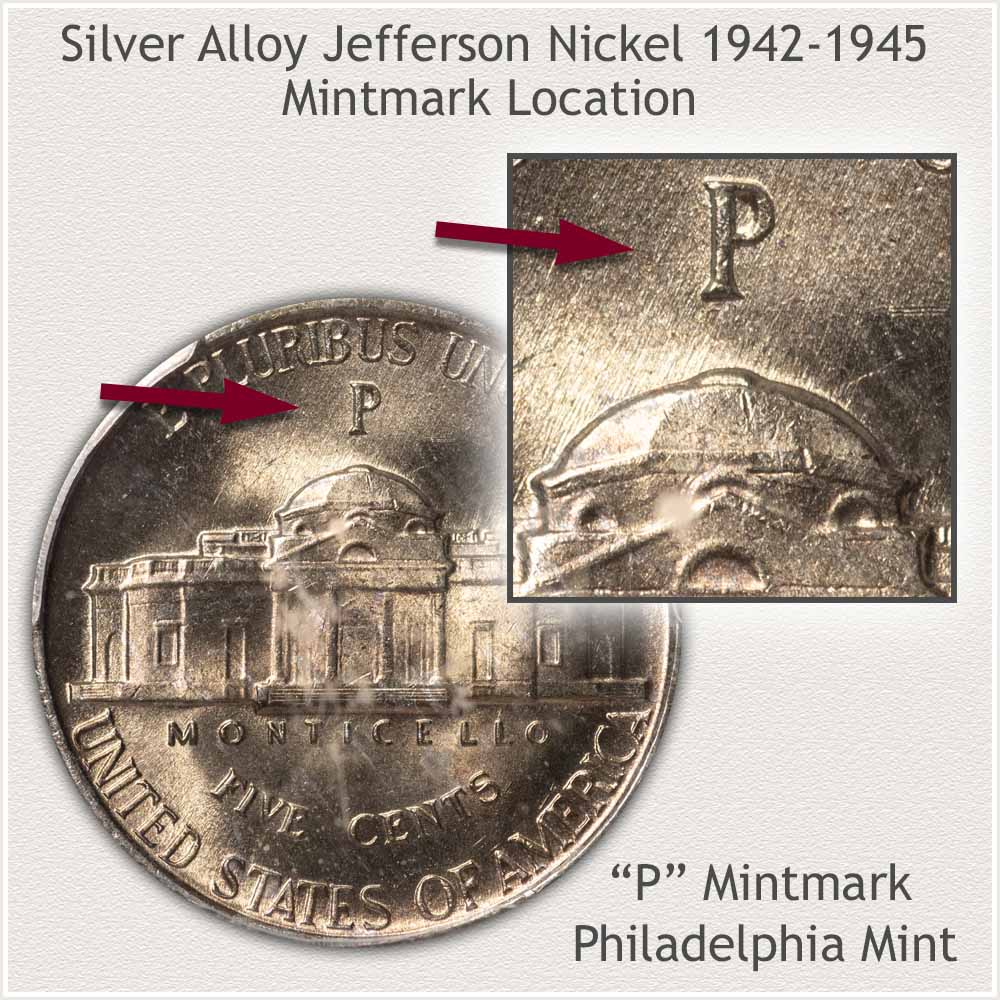 1942 silver Jefferson nickel is the first time Philadelphia used a mintmark on coinage. A large "P" over Monticello confirms the silver alloy nickel. Over 567 million struck during the four years of the variety, the majority stayed in circulation until the mid-1960's becoming well worn.
Step 2: | Grade Determines Value of Jefferson Nickels
After identifying your coin by date and mintmark, determining its "Grade" is the next greatest influence on value. A better state of preservation the more desirable to a dealer, the more it is worth to a collector. To accurately determine your Jefferson nickel values, compare your coins to the images below and assign each coin a grade.
Jefferson Nickel Values are Conditional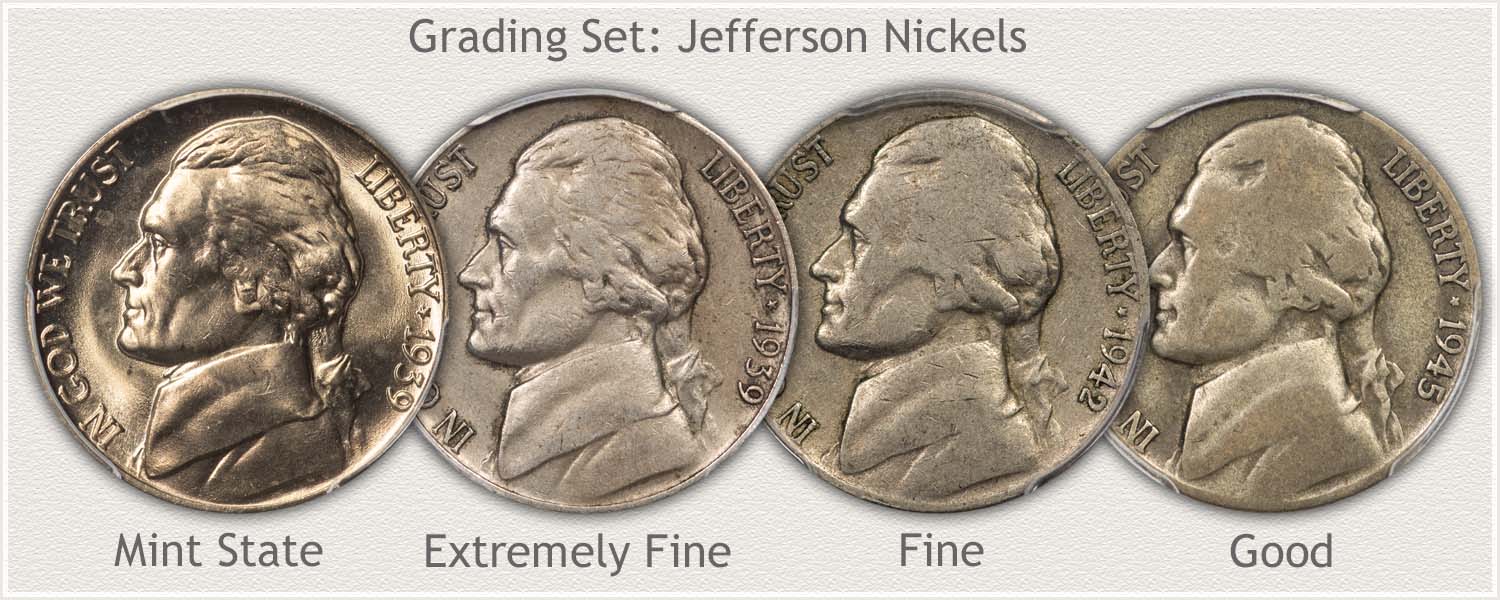 Mint State Grade: Jefferson Nickel
An overview of your coin begins with an inspection of Jefferson's home Monticello on the reverse. Four central pillars showing, separates a nickel in "Fine" condition from one where Monticello is worn smooth and in "Good" condition. If all the details on the obverse and reverse are crisp and sharp, with slight wear, your coin is approaching "Extremely Fine" condition and needs further inspection.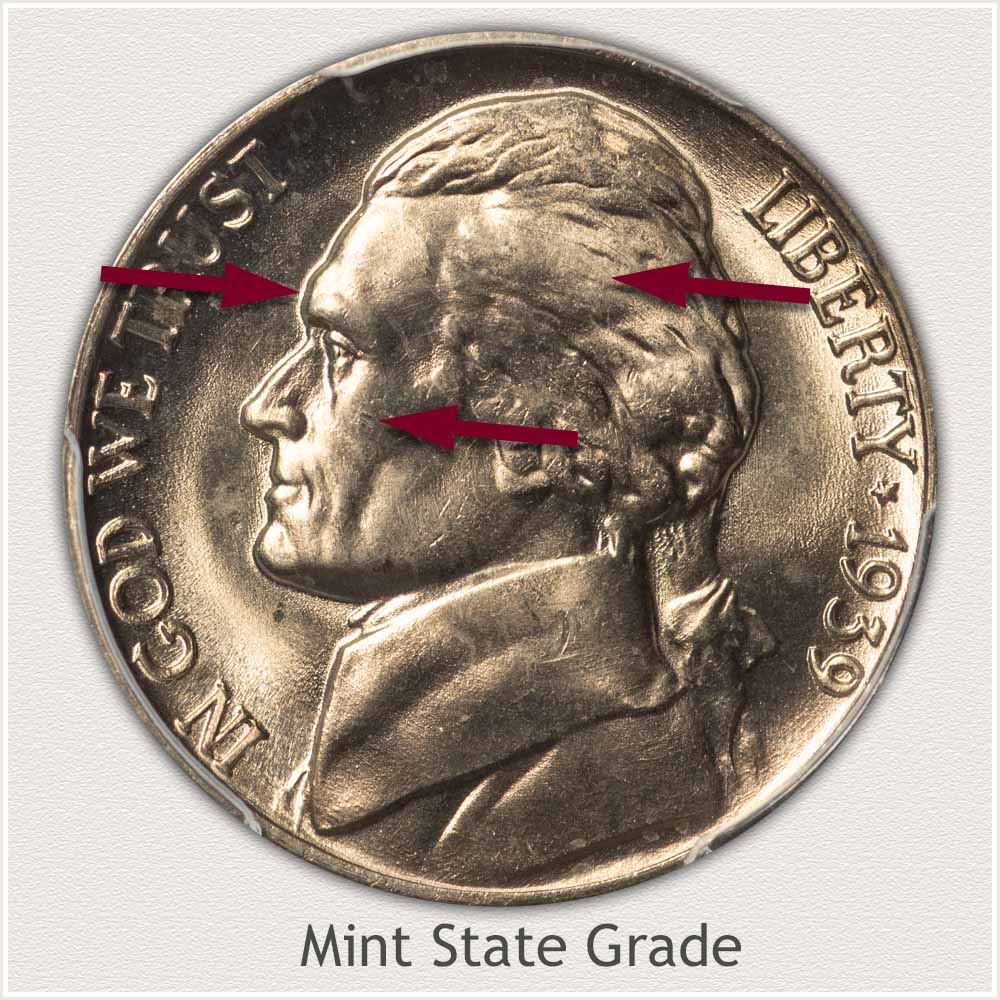 Obverse: Features Identifying Mint State Grade: No wear to the surface defines a coin in Mint State grade. A few minutes viewing the highest points of the design determines the grade.
Jefferson's cheek and eye brow are high areas wear occurs first. Minting imparts a delicate grain to the metal producing the luster, the shimmer of a freshly mint state coin. When worn luster is removed and the metal takes on a different, smooth texture and a different color.
Compare Jefferson's cheek area with surrounding metal for a consistent appearance.
Also, waves of hair are high and low in relief, all contours must have a similar luster and texture.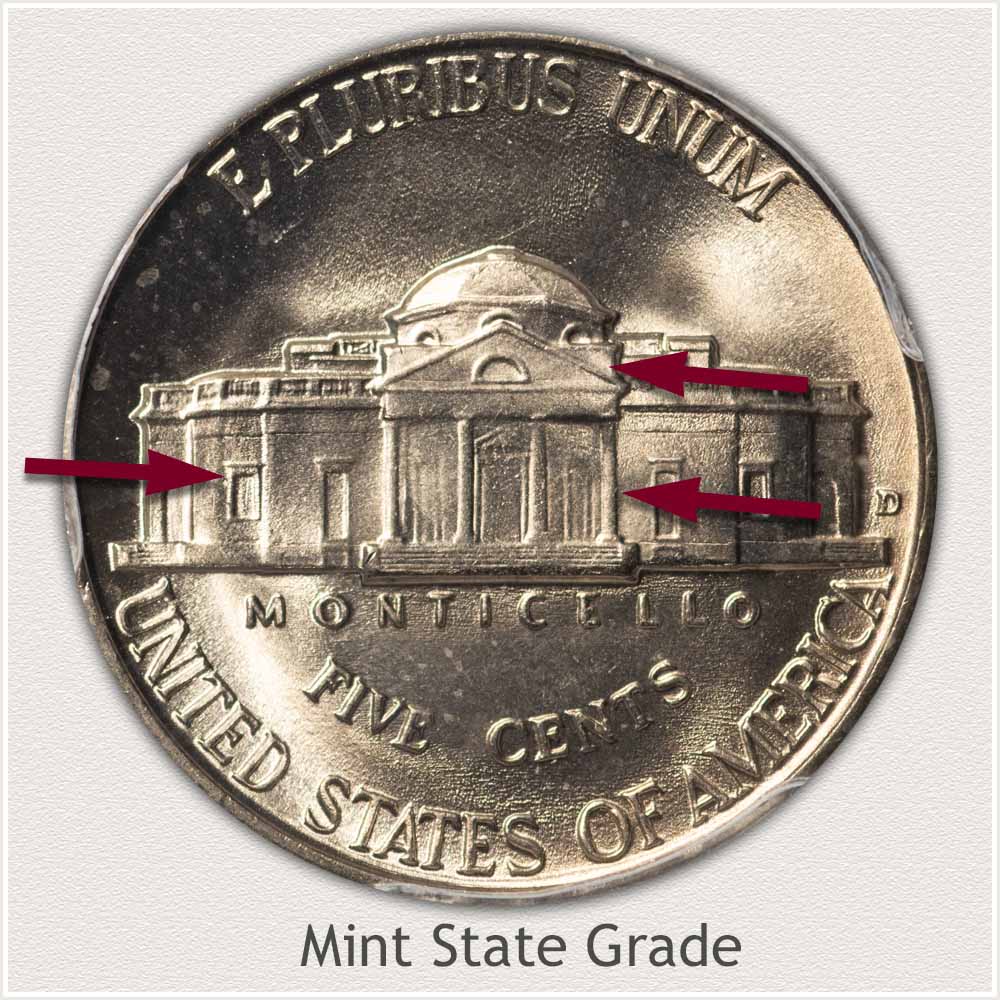 Reverse: Features Identifying Mint State Grade: The reverse features Monticello with the central area highest in relief.
Columns are slightly rounded with an exposed surface. Looking closely, original luster is present and a bright surface remains. Dulling of the metal indicates slight wear.
Leading edges of the triangular roof lines are also inspected; absence of wear leaves these areas without any flattening from wear.
Vertical lines of the building next to the windows remain crisp and of a similar look as nearby metal.
Extremely Fine Grade: Jefferson Nickel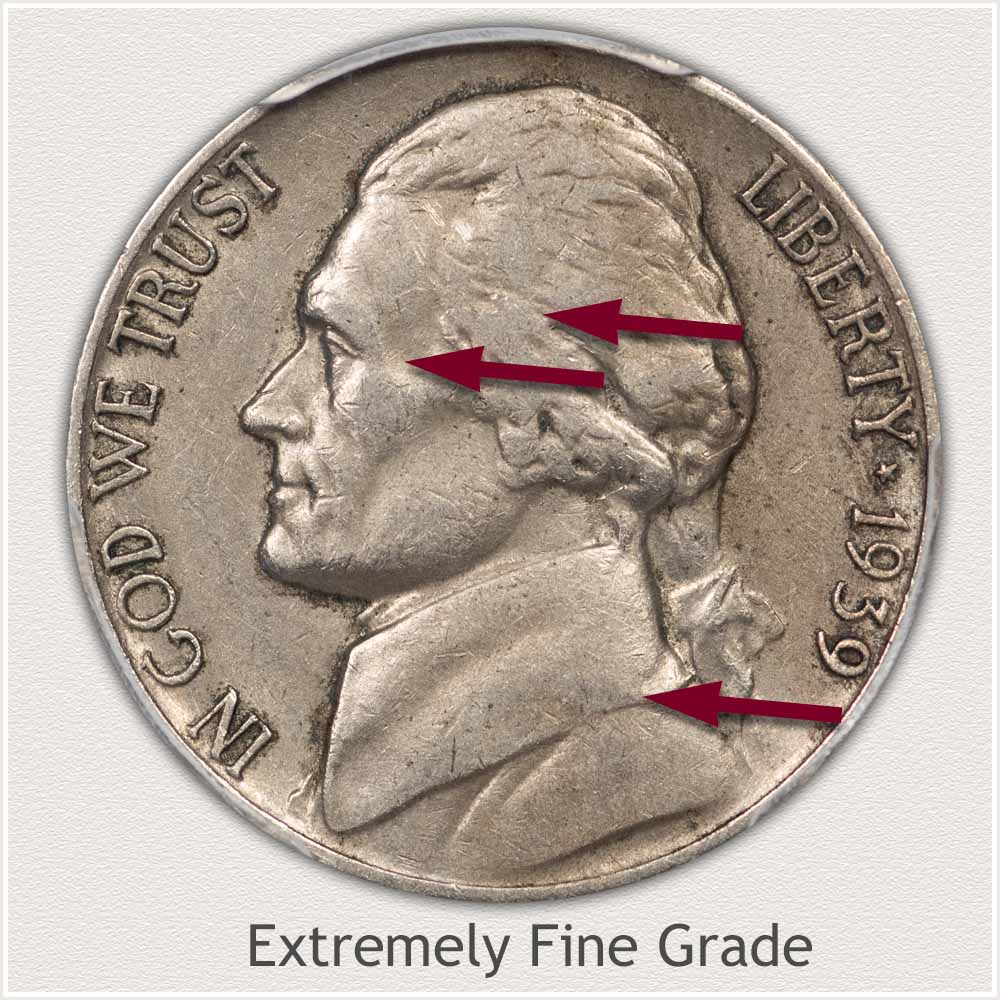 Obverse: Features Identifying Extremely Fine Grade: Light wear is beginning to smooth small portions of waves of hair.
Small spots of flat areas a confined to just the tops of hair waves. This evidence of wear is seen concentrated just above Jefferson's ear. Smoothness must remain disconnected and minor.
Wear is light to the high area of cheek near Jefferson's eye. A flattening is seen limited to an area smaller than his eye. His eye brow is also just beginning to show smoothness and slight flattening.
Lower line of collar is strong and separated from coat along the majority of its length.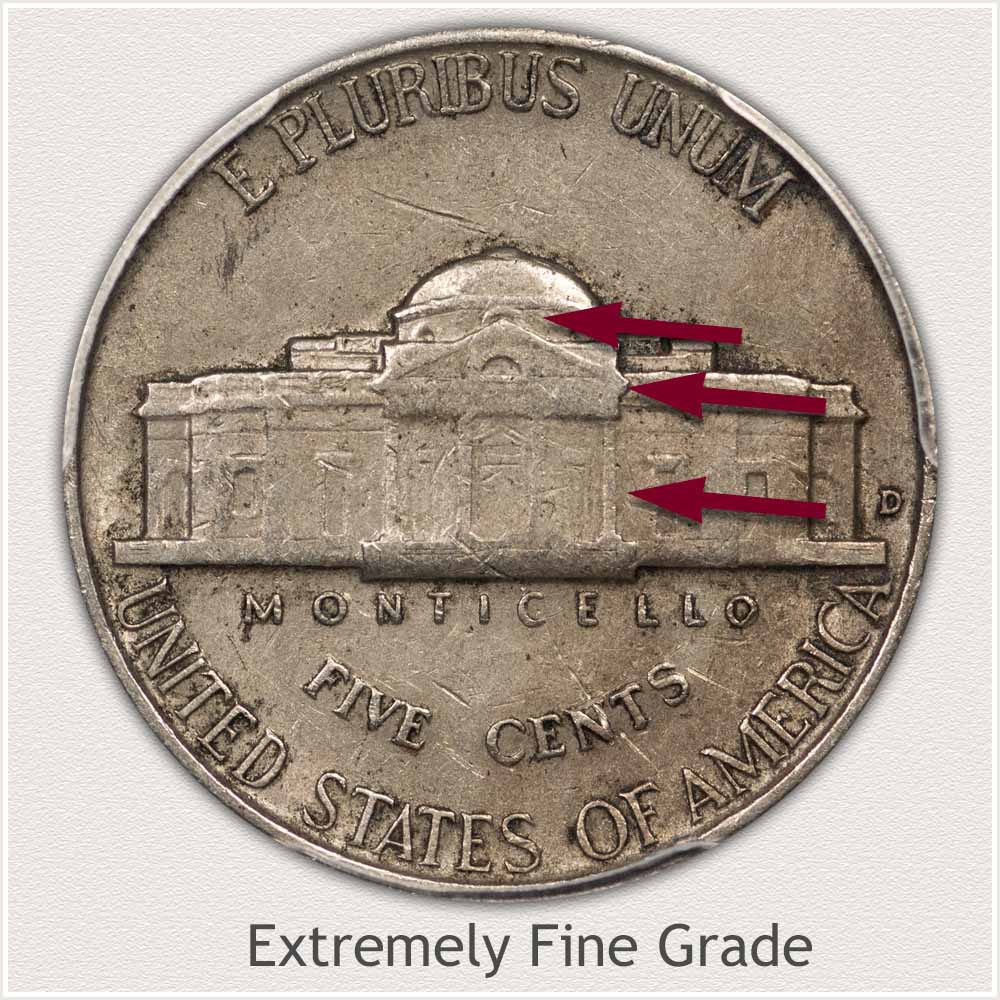 Reverse: Features Identifying Extremely Fine Grade: Monticello, because of its high relief position, begins to lose minor detail quickly.
A triangular arch, above the pillars, must show upper defining lines. These upper lines are faint but remain.
Pillars themselves are faint, however, each side of the pillars is clear. Fading of the defining lines is beginning, but definition places the coin solid in the Extremely Fine grade.
Notice a base line to the triangle is just visible. Wear is extensive and a close look is needed. Tilt the coin under a light helping bring out these subtle details and correctly identifying a grade.
Fine Grade: Jefferson Nickel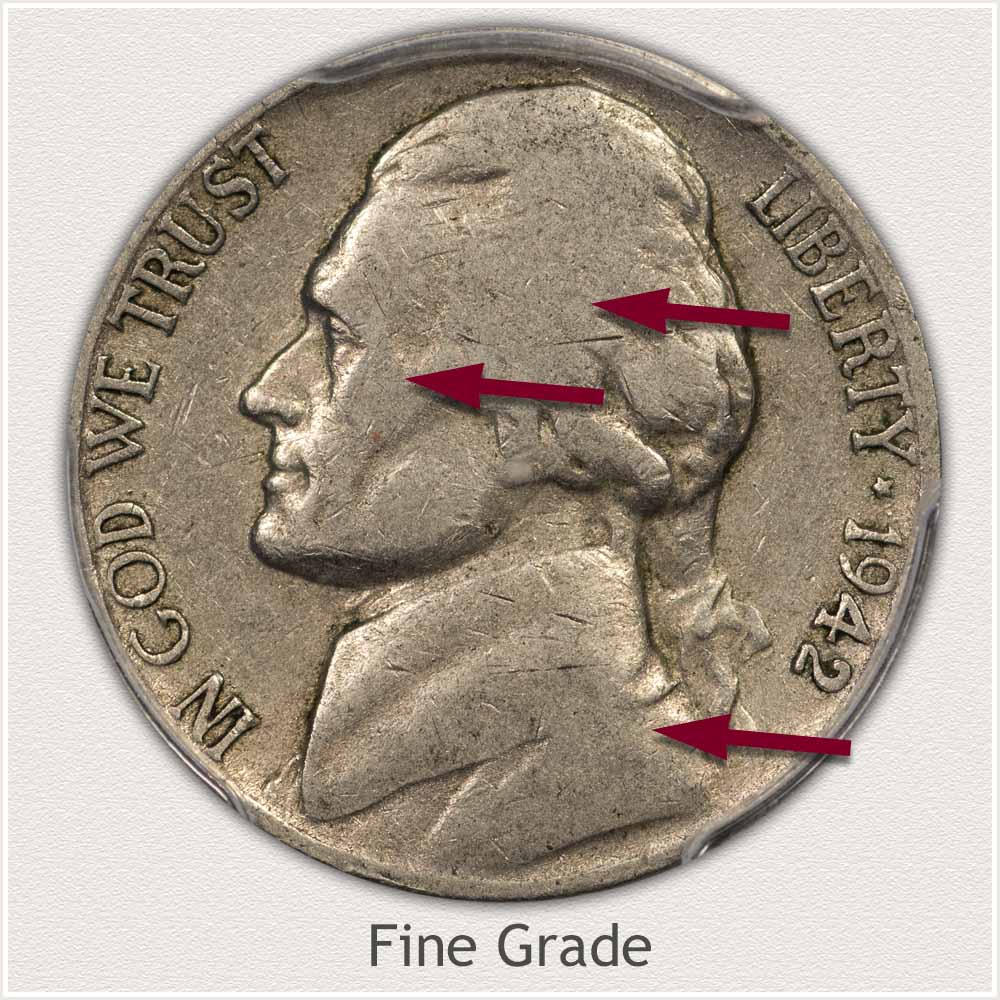 Obverse: Features Identifying the Fine Grade: Wear is heavy in the central areas creating large flat zones.
Above Jefferson's ear is a smooth plane extending to the top of his head. This flatness has removed the part in his hair through the center. Just traces of hair waves along the back and above collar remain.
Jefferson's cheek and eye brow is worn flat and connecting this flat area is also connecting with his hair. A small separation is noted between his cheek and the jaw area below.
Shoulder along the rim is flattened and without contour. No longer is a full connected line separating the collar from the coat.
Reverse: Features Identifying the Fine Grade: Heavy wear has removed all traces of fine detail of Monticello.
Traces of pillars remain, very weak. The central area of Monticello is just slightly raised with partial indications of pillars.
Peak area of the triangular arch is visible with only minor connecting with the dome above.
Windows show on either side of the central pillar area. Four windows, two on each side of pillars helps place a worn Jefferson nickel in the Fine grade.
Good Grade: Jefferson Nickel
Obverse: Features Identifying the Good Grade: Wear now covers the entire design smoothing details to outlines.
Jefferson remains outlined. Hair is now fully connected with his forehead at temple.
Eye brow plus cheek is connected with hair forming flat areas covering Jefferson's face.
Rim is beginning to merge with tops of lettering.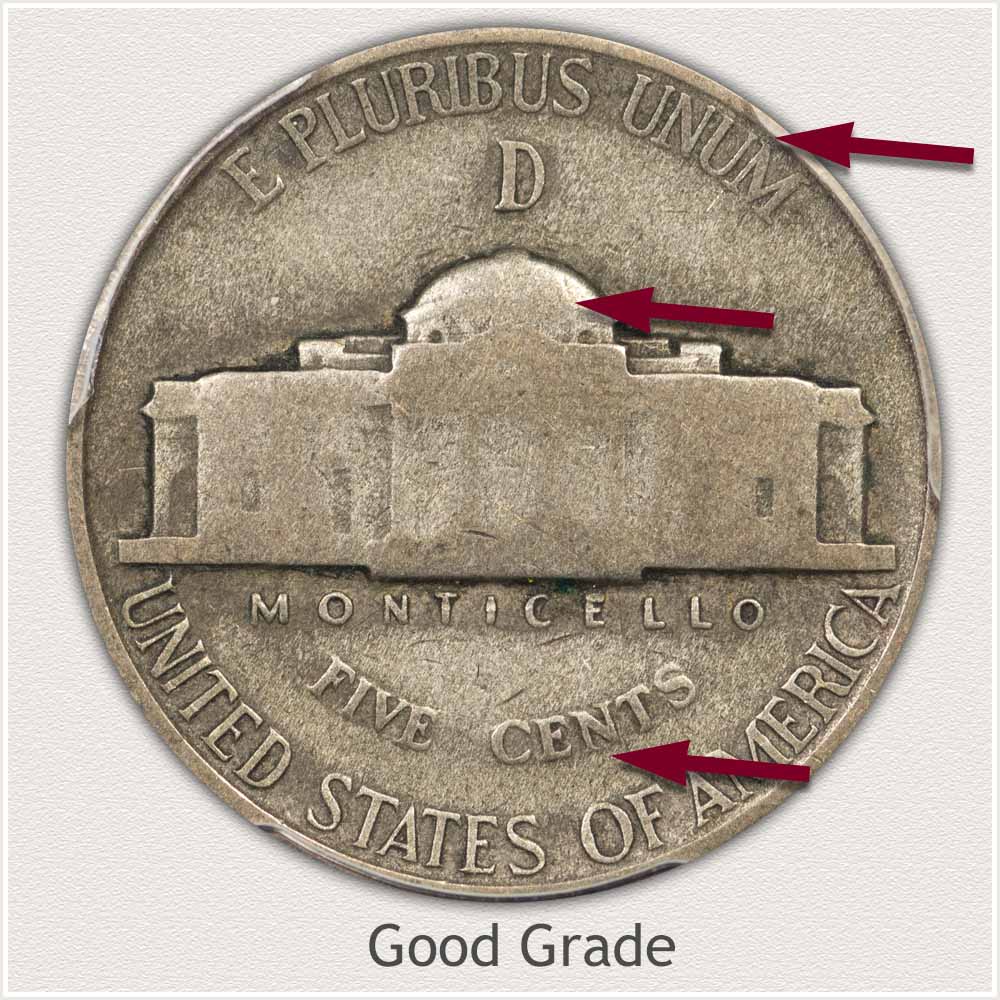 Reverse: Features Identifying the Good Grade: Heavy wear leaves Monticello as a featureless flat surface.
Dome is now a flat area and fully connected and forming an outlined Monticello.
Letters along the rim are readable, faint along tops and often merging with the rim.
"Five Cents" in a protected area, is now becoming faint in comparison with letters of upper and lower legend.
How to Video: Grading Jefferson Nickels
Grading condition separates the collectible Jefferson nickels from those worth face value. In the Jefferson series special attention is given to the mint state grade. Follow the grading practices used in the video and compare your coins to images and descriptions.
Video, Images and Descriptions | Grading Jefferson Nickels
Step 3: | Special Qualities Enhancing Jefferson Nickel Value
Collector preference drives the market in Jefferson nickels. Premium values in the Jefferson nickel series are quality mint state grade coins. Ample supplies are available of most date and mintmark combinations. Special qualities within the mint state condition set coins apart in desirability.
Second market is lightly circulated examples, affordable and sough by beginning collectors studying the series and developing collecting skills.
Both groups of collectors are seeking quality coins in their category to add to collections. Qualities of nice color, mark free surfaces, and well struck examples are preferred.
Recognizing Collector Preference
Surface Quality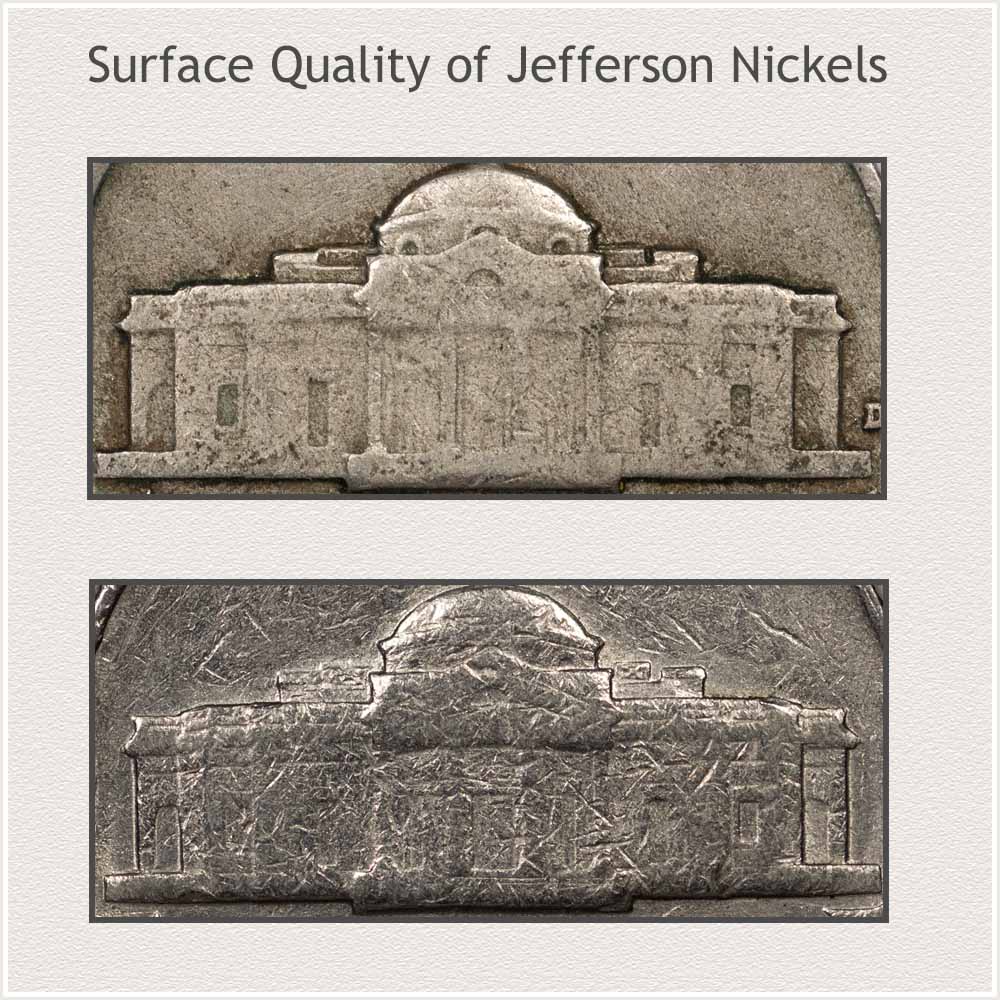 One of the first steps in evaluating a coin is quality of its surface. Circulated coins pick up marks and abrasions. Circulation wear plus noticeable marks are considered by all collectors as lowering desirability. Overly abraded coins fall out of collectible range.
Preservation Quality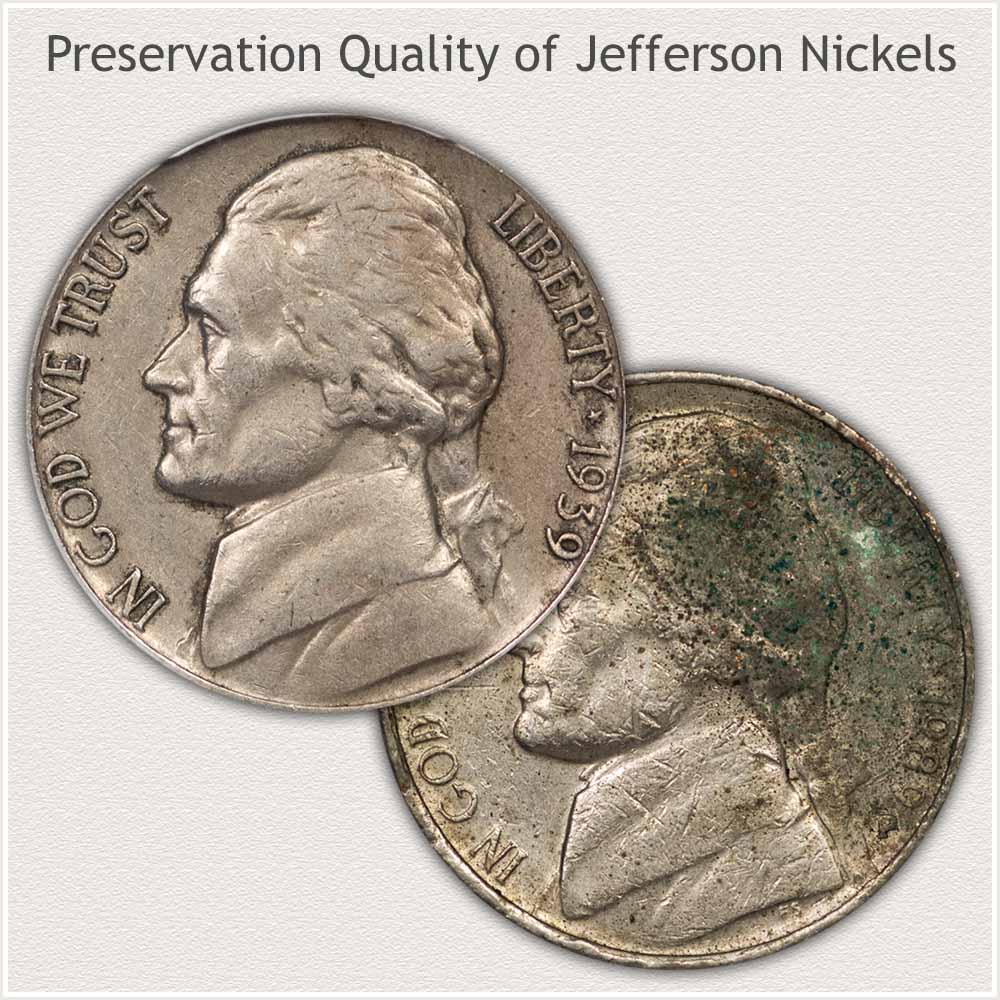 How a coin is stored over the decades has a visual result to the surface. A slightly worn example properly kept is a collectible quality Jefferson nickel. Humidity and elements are beginning to show discoloration and deterioration to the surface of the nickel; result, no longer any collector value.
Strike Quality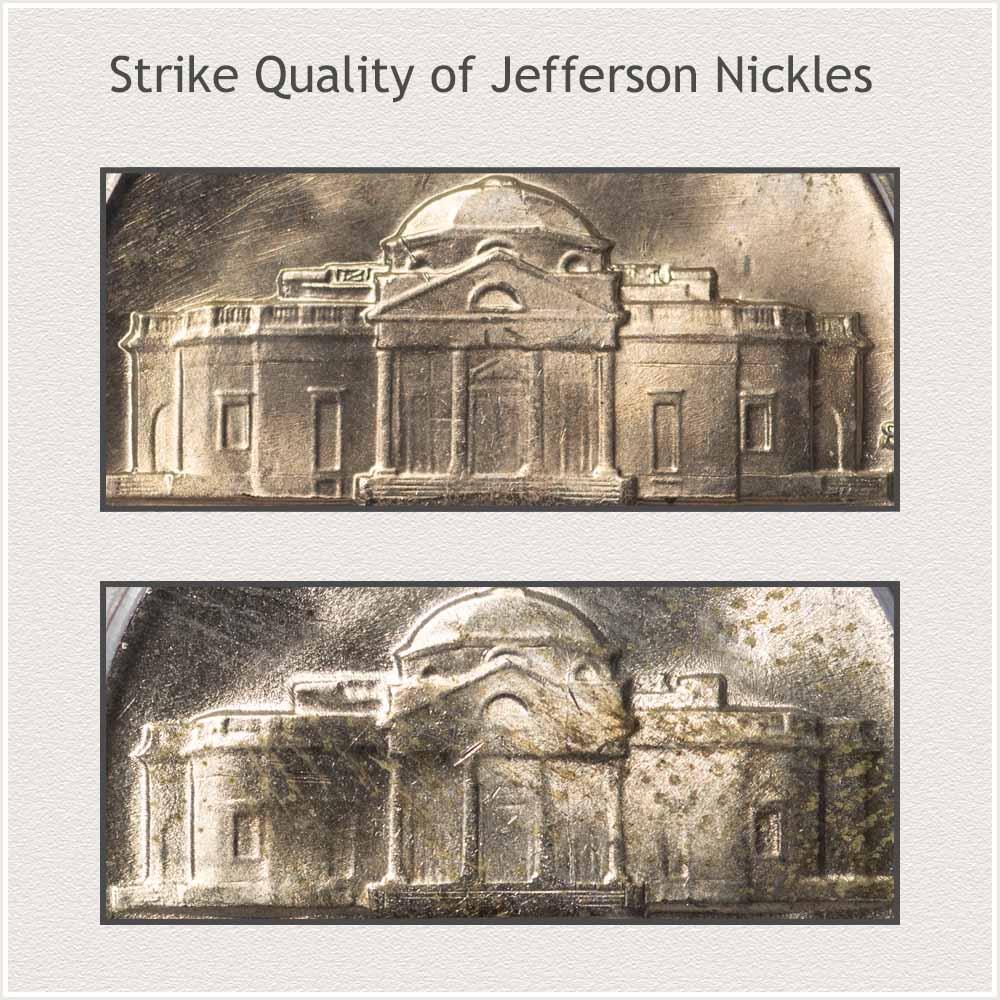 A subtle difference is detected when comparing the two reverses. Jefferson nickels occasionally suffer from a weak strike when minted. A small change in strike quality is picked up by advanced collectors and their preference is a strong strike.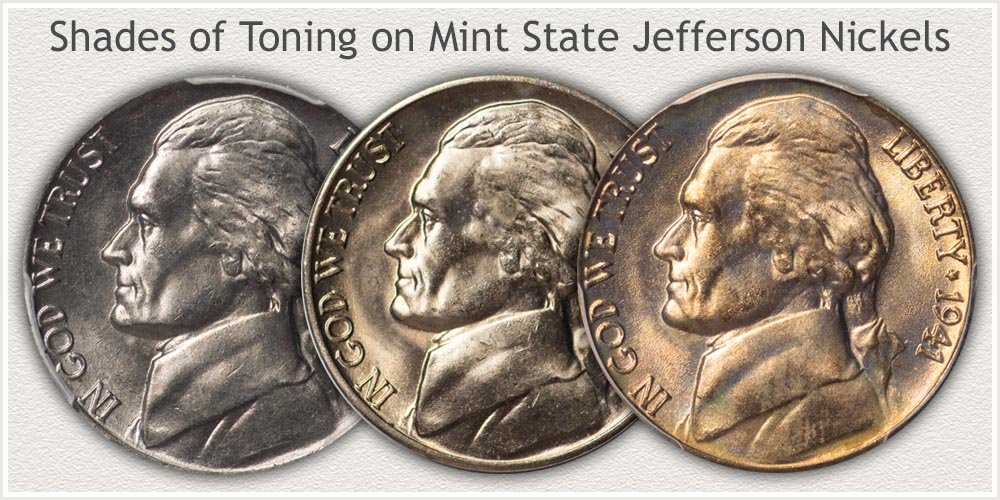 All three nickels represent eye appealing mint state coins. Bright as minted, slight toning enhancing devices, and surfaces toned colors are all appealing to the different preferences of collectors. Missing from the examples are eye distractions such as spots, uneven or mottled toning, any of these lowers quality.
References
US Mint. 1954 US Mint Annual Report. https://nnp.wustl.edu/library/book/343
US Mint. 1939 US Mint Annual Report. https://nnp.wustl.edu/library/book/514143
US Mint. 1943 US Mint Annual Report https://nnp.wustl.edu/library/book/336
Coin Values | CoinStudy Articles
Date by Date
In Depth Jefferson Nickel Values
1938 to 1964
Understanding today's collector market for Jefferson nickels is key to realizing the value of your coin. Popular with collectors are nickels in mint state grade, most others have minimum value below this mint state condition.
Although the Jefferson nickel series is extremely long running, dating back to 1938, their values are in their infancy. The series remained basically unchanged throughout the first 65 years. However, the recent new designs introduced in 2004 are beginning to attract attention to nickels.
With this renewed interest comes a rise in the number of collectors and a rise in value is sure to follow.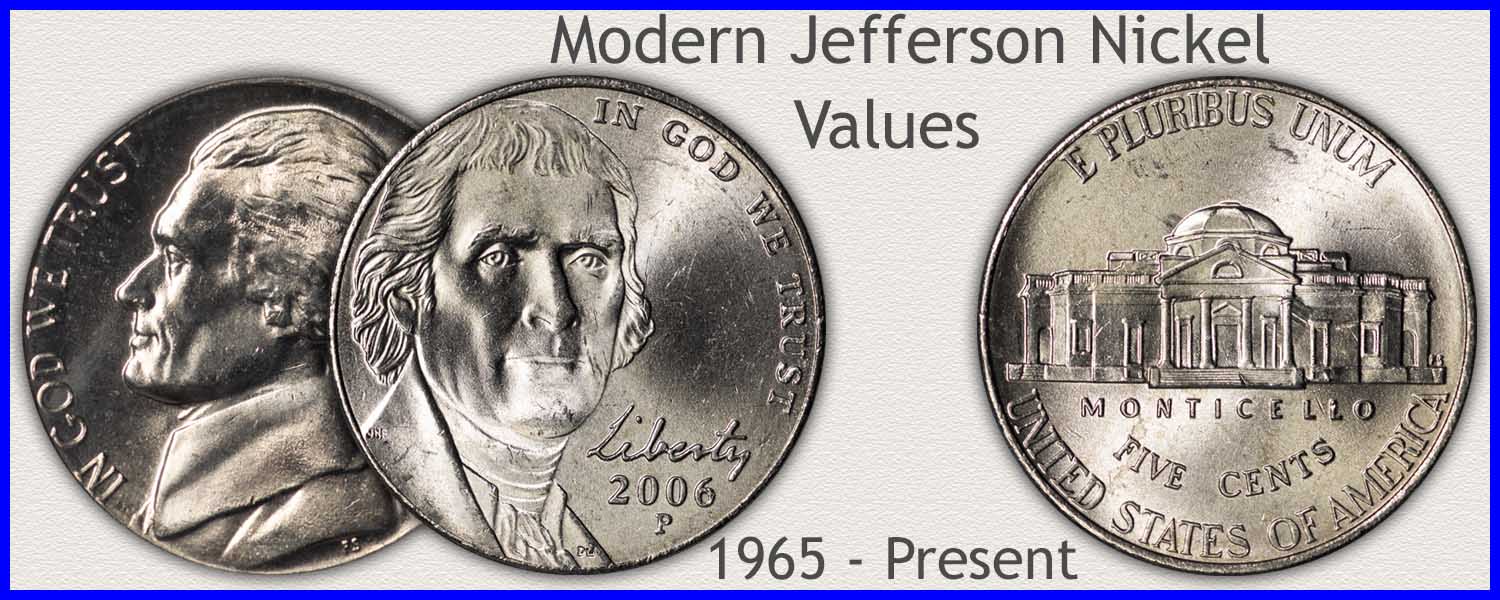 Today's Modern Jefferson Nickel Values
New era nickels are collected in top condition. It is in Mint State preservation added premium value and higher prices are found. Important to compare you coins to the condition images to separate the worn from those with no wear.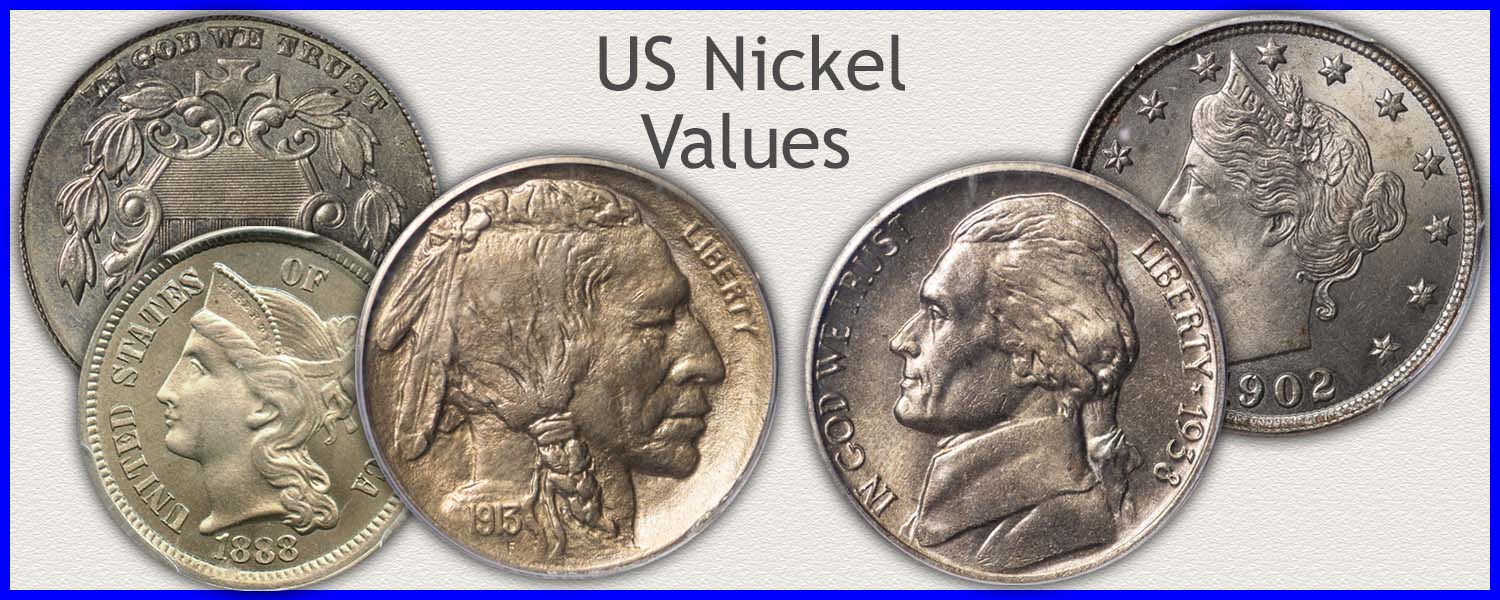 Return to the index page of Shield, Liberty, Buffalo, and Three Cent Nickels. Match your coins to the grading images and value charts, discover your rare coins.
Grading Old Nickels | Video Series
Videos, close-up images and descriptions, give insight into the details to accurately grade the condition of your old nickels. Judge carefully to find the true potential value.
Do you have other denominations?
Coin Value Guide | How to Value a Coin Collection
A step by step method combined with the coin value online guide identifies how to value a coin collection. Discover how much your box of old coins is worth.
★Coin Values Discovery... finds Jefferson Nickel Values and...
All old US coin values. It is an excellent index with images and text links to all coin series, from Cents to Gold. Value charts, grading images and descriptions uncover how much your box of old coins is worth.
Print the Coin Values Worksheet to list your Jefferson nickels and record their values. Should you decide to sell... use the worksheet as an invoice and packing slip when sending coins through the mail to dealers. It indicates you have done your coin values homework.