Coin Values Moving with Precious Metals: Up-Dated 9/18/2023: Gold $1928 | Silver $23.14
Barber Dime Value is Rising
Your Barber dime value is $2.94 to $3.43 for a common date coin in heavily worn "Good" condition. If your coin is better preserved the value increases sharply in "Extremely Fine" condition. A step by step method is used to determine how much your coin is worth.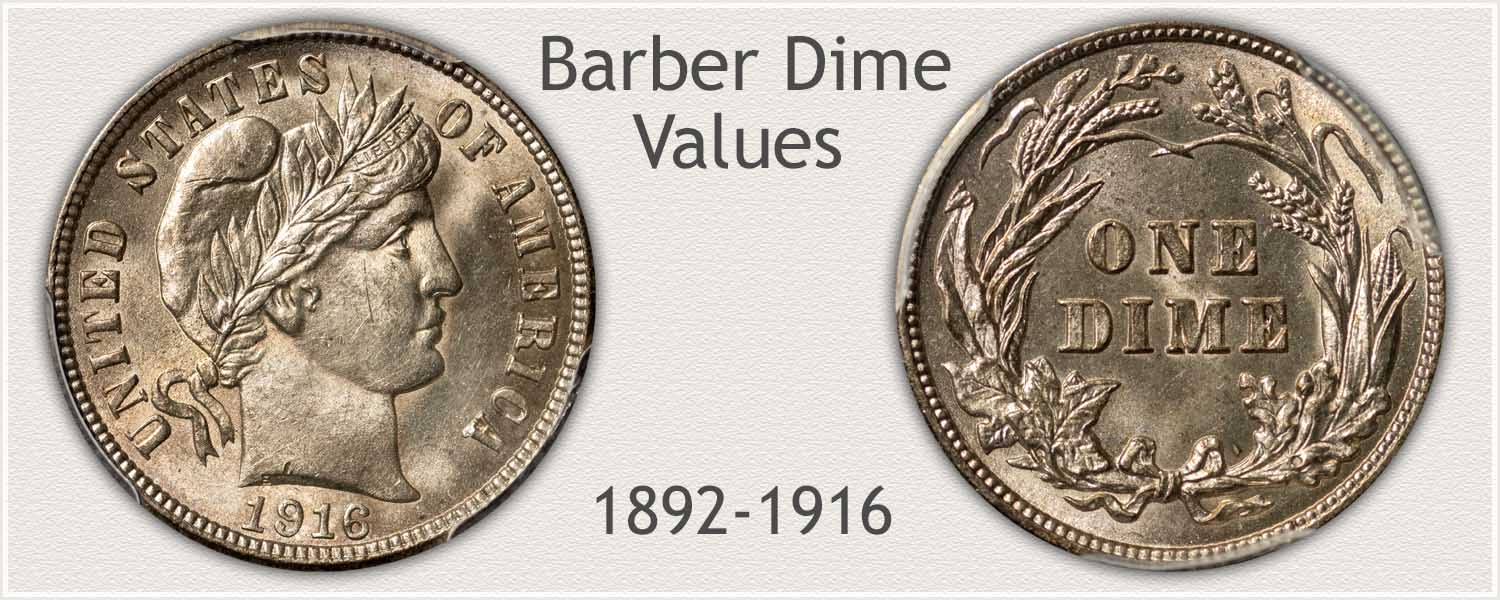 Steps Leading to Value:
Step 1: Date and Mintmark - Rare dates with their mintmark combinations are identified.
Step 2: Grading Condition - Essential to accurate value, Condition is judged to confirm grade.
Step 3: Special Qualities - Recognize what sets a top collectible coin apart.
Top rare date is the 1895-O a New Orleans mint coin. Followed by a number of San Francisco mint dates. Date and mintmark combinations are imaged after the value chart. Additionally, continue to grading condition of these popular coins to realize full potential.
The above chart represents wholesale coin values. Computed from dealer's price lists with various mark-up factors figured in. They reflect closely the value you would expect to receive when selling.
Variations in value do occur subject to subtle grading points, collector demands and dealer needs. For more background information, see how value listings in the Coin Value Guide are determined.
Step 1: | Date and Mintmark Combination is Identified
Barber Dimes minted 1892 to 1916 are an interesting series to collectors. Many dates have a scarce mintmark variety and most are elusive in pleasing collector quality.
Liberty is portrayed wearing a liberty cap and laurel leaves. Further adorning her head is a ribbon inscribed "Liberty" tied at the back of her head. Date of coin is under Liberty's portrait. Known as "Barber" dimes by collectors, in reference to the designer Charles E. Barber.
Mints and Their Mintmark of the Barber Dime Series
After confirming the date from the obverse of the coin, mintmarks are located on the reverse. Many collections are based on assembling date and mintmarks of all years of the Barber dime series. Scarce issues are in particular demand; often these coins have low initial mintage numbers from the branch mints.
Four mints struck these dimes over the years and how to identify each is locating the mintmark on the reverse.
"O" Mintmark: New Orleans Mint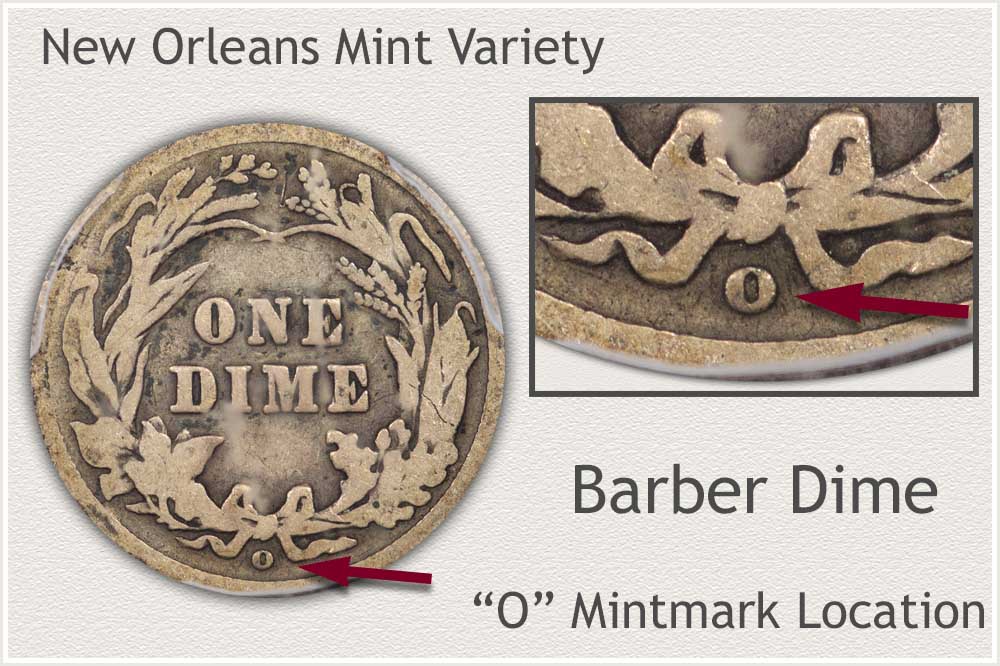 Helping contribute to the nation's coinage, New Orleans typically struck over a million Barber dimes yearly. From 1892 to 1909 when minting operations ceased, New Orleans produced over 48 million dimes. Lowest mintage year are 1895-O dimes 440,000 becoming the lowest for any date and mint combination and a key rarity for the series.
Mintmark "O" is on the reverse below the wreath.
"S" Mintmark: San Francisco Mint
San Francisco mint struck Barber dimes for circulation for all years except 1894. Mintage numbers were modest in comparison to Philadelphia. Over the course of the series San Francisco's total was just over 52 million pieces. Finding an "S" mint dime is often finding a premium coin. Stand out dates are 1892-S and 1901-S with many others close in value.
An "S" mintmark on the reverse below the wreath confirms San Francisco.
"D" Mintmark: Denver Mint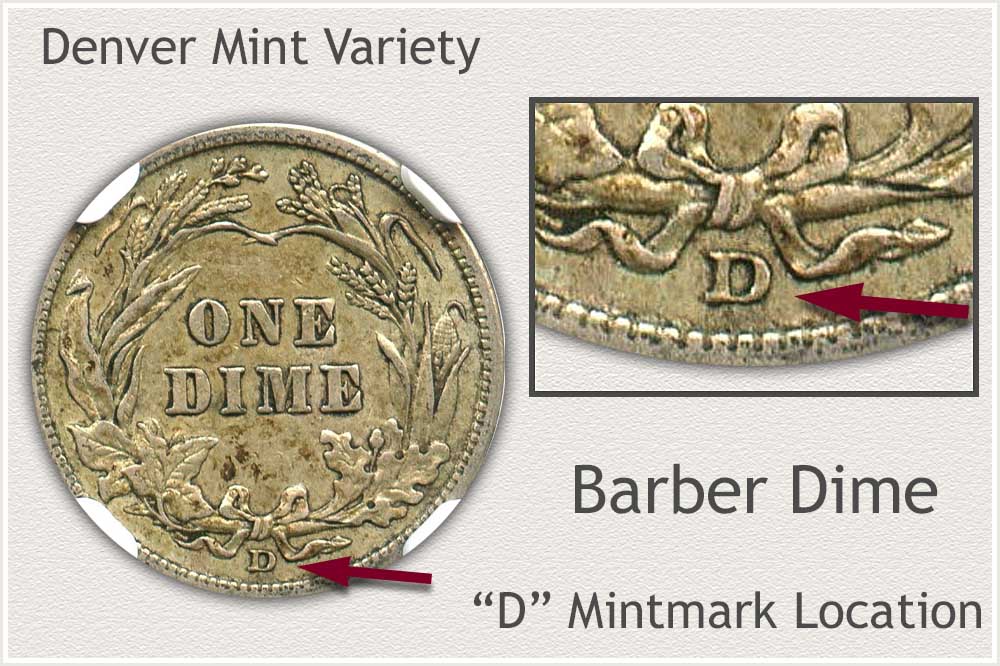 In the city of Denver Colorado a new mint to handle distribution of coins to the central states was completed in 1906. Production of dimes started immediately striking 4 million dated 1906. With interruptions in 1913 and 1915 Barber dime totals from Denver are close to 55 million coins.
A Denver mint dime is noted by the "D" mintmark below the wreath on the reverse.
No Mintmark: Philadelphia Mint
Philadelphia mint, living up to its status and the main mint, produced over 346 million Barber dimes. This total is greater than the combined mintages of the branch mints. The early years of 1894 and 1895 are premium coins in all grades due to low mintages. Quantities are available in Good to Fine grade for the rest of the dates. An excellent entry for new to young collectors to assemble a date run of an old and popular series.
No mintmark was used by Philadelphia on coinage at the time. Without a mintmark below the wreath indicates a Philadelphia mint coin.
Step 2: | Condition is Judged and Grade Determined
Dealers and collectors have a practiced and keen eye for spotting better condition coins. In doing so they categorize and "Grade" each coin. Realize a Barber dime value increases as the condition improves, often dramatically.
Barber Dime Value is Conditional
Compare your coins to the grading images below. A coin in "Good" condition is worn almost smooth, the portrait of Liberty on the obverse and the wreath on the reverse show, but with little detail. In "Fine" condition all the letters to LIBERTY show on the headband and the reverse wreath shows some detail. Hopefully your old dimes are crisp and sharp in detail.
Mint State Grade: Barber Dime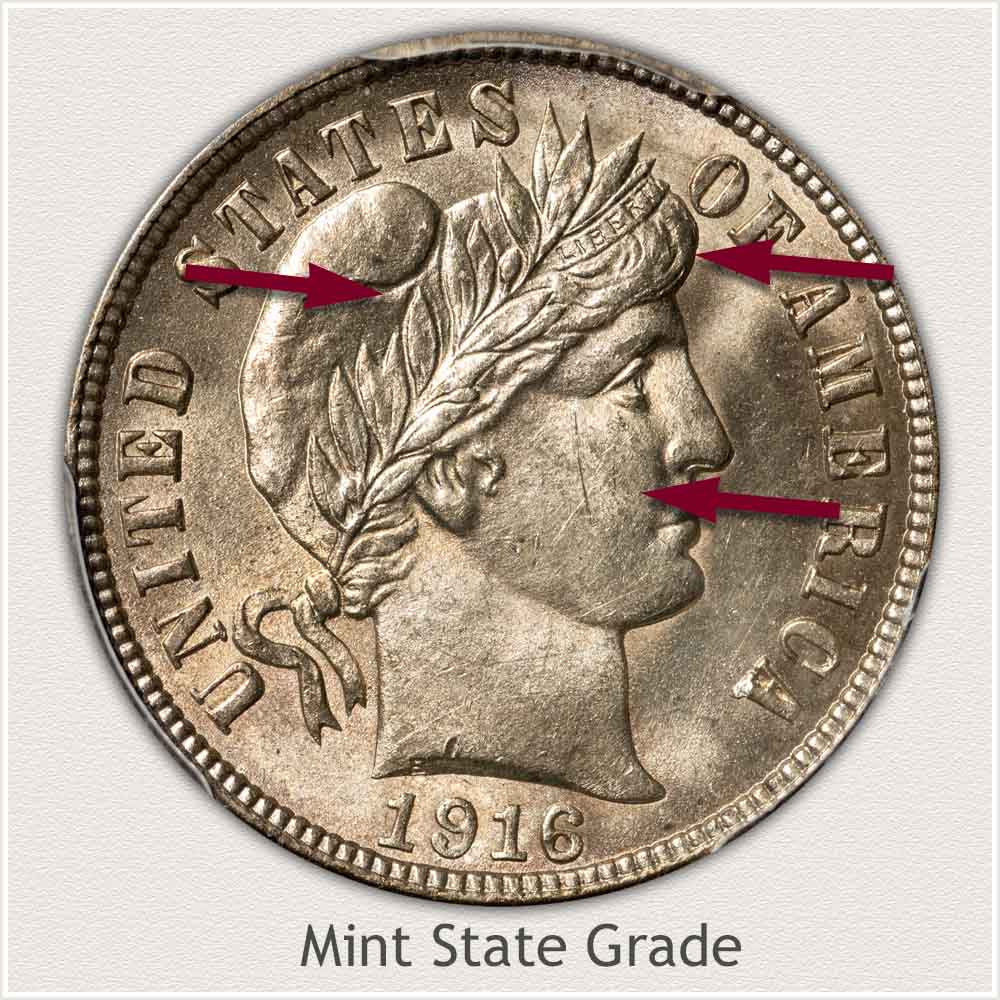 Obverse: Features Identifying Mint State Grade: Mint State grade is an important condition to recognize. To qualify at the mint state level the surface of the coin is free of wear. High points of the design are easily disturbed and show a change in texture to the metal if wear is present.
Liberty's cheek is an open area, any wear to the surface is noticed as a smoothing of the metal along with a dulling of its shine. Tilt the coin under a light comparing the entire cheek area for a consistent texture.
Inspect the hair just above Liberty's forehead. Fine strands of hair are part of the design, these are intact on a mint state coin.
Laurel leaves laying over the cap are free of any smoothness towards the tips. A fine ridge defining the edges of leaves remains with a fine texture.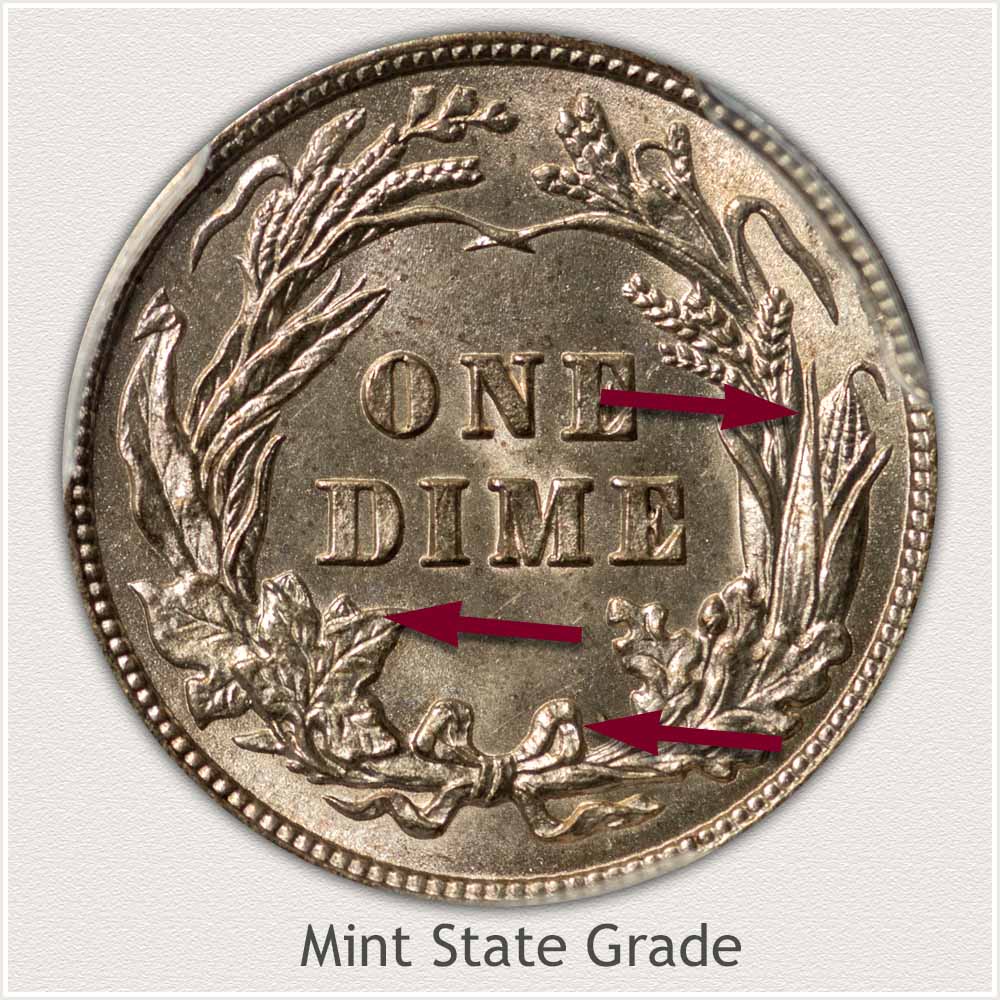 Reverse: Features Identifying Mint State Grade: A large amount of fine detail is part of the wreath on the reverse. Using the upper edges of leaves, grains of wheat and corn helps detect and wear.
Just below the "D" and "E" in "Dime" are very fine leaf details. Look closely to confirm no smoothing of edges to the leaves is present.
Wheat grains and fine lines within the corn are next to judge. Any wear shows a change in color - a dulling - to the metal. Top areas are bright and of the same texture as deeper into the design.
Loops to the bow and trailing ribbons are all without any smoothing on a mint state example Barber dime.
Extremely Fine Grade: Barber Dime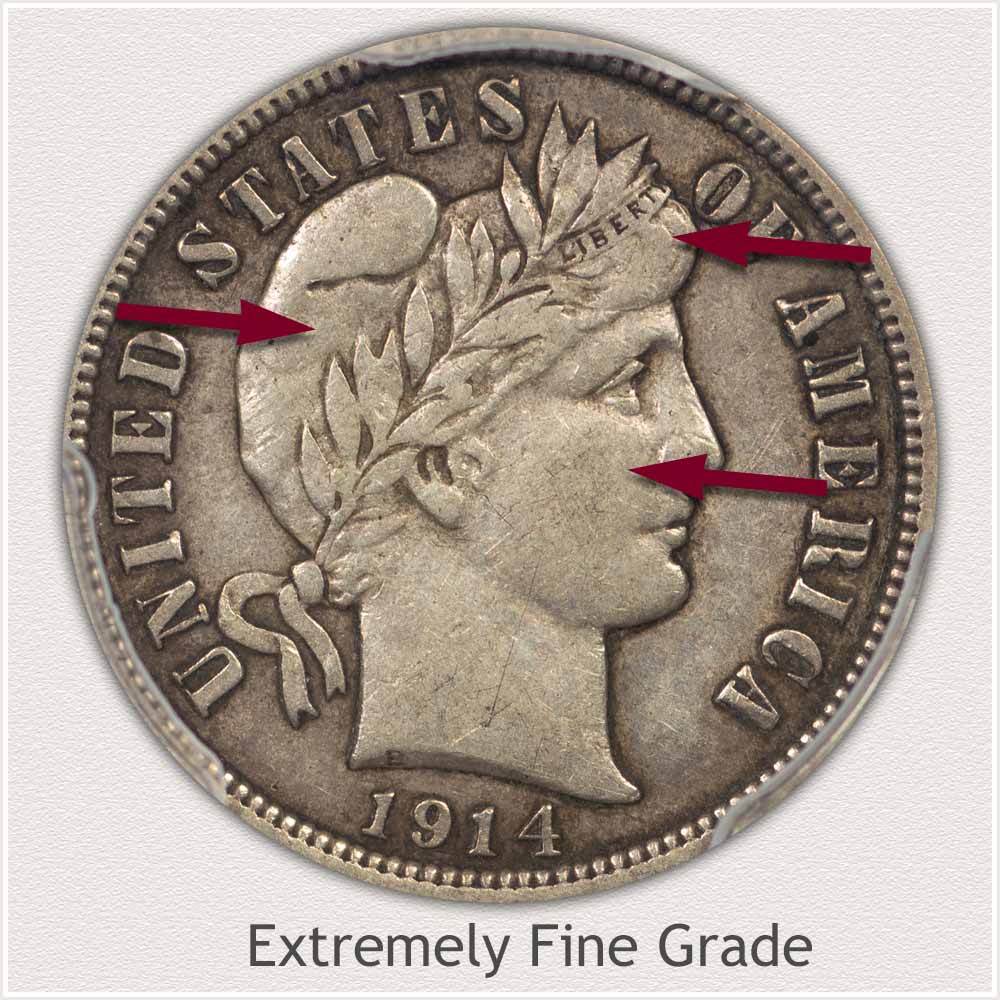 Obverse: Features Identifying Extremely Fine Grade: A small amount of wear is just beginning to flatten high areas of the design. Extremely Fine grade Barber dimes remain crisp and sharp in overall appearance.
Headband featuring letters of "Liberty" inscribed is full across the hair. Both top and bottom edges of the band remain visible.
All letters to "Liberty" are clearly readable. Look closely to recognize a remaining "Y" at the very end of the band.
Laurel leaves are part of the wreath holding the Liberty cap. Lower leaves are losing the edges of some and blending with the hair. Upper leaves remain well defined and bold from where they lay over the cap.
Liberty's cheek and the top portion of her cap display smoothness and a slight flatness to their once raised profile.
Reverse: Features Identifying Extremely Fine Grade: A softening of the defined edges to leaves, grains of wheat and corn are just beginning to show on the design. These extremely fine grade dimes still retain ample fine line detail.
Details defining the inner parts of leaves remain on those leaves just below the "D" and "E".
Viewing all edges of leaves show just slight wear confined to edges only with no signs of flatness to the broader areas of leaves.
Wear is visible on the bow. Only slight flattening of the raised parts of the loops and trailing ribbon ends has occurred.
Fine Grade: Barber Dime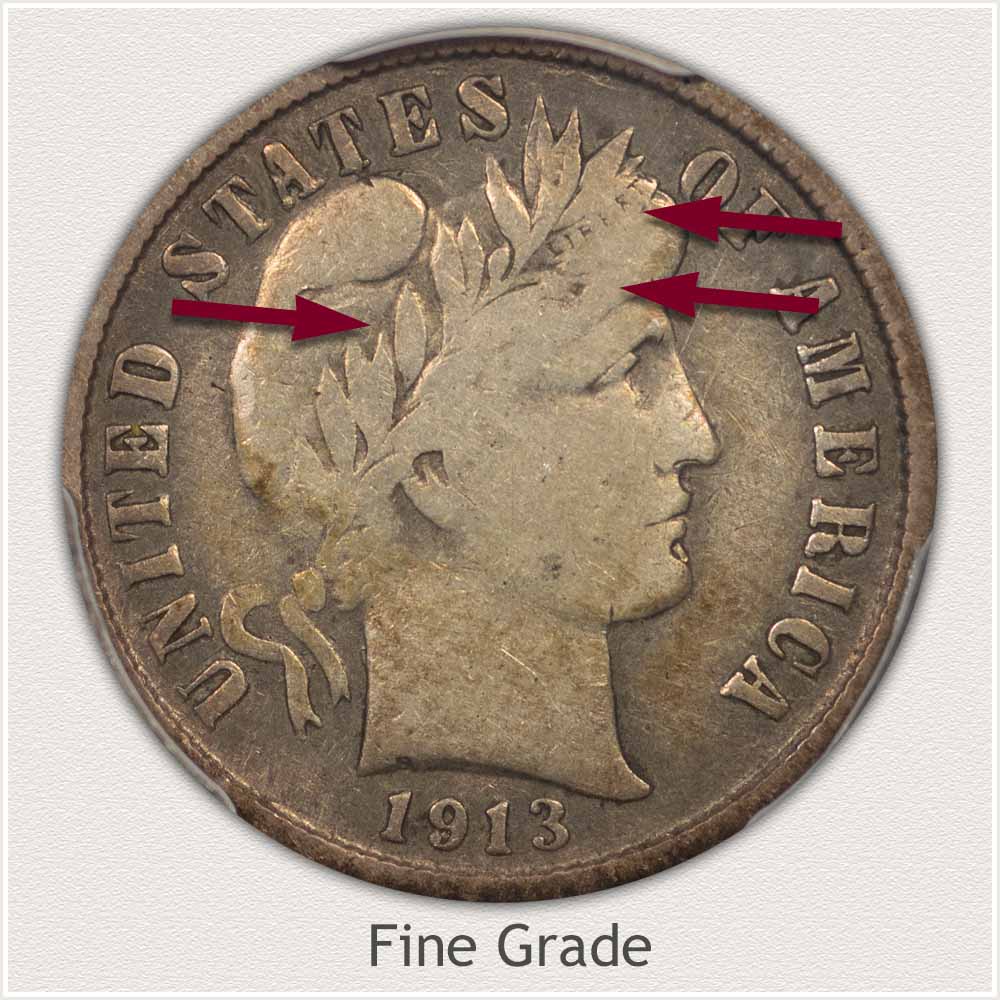 Obverse: Features Identifying the Fine Grade: Wide areas of the coin's surface have become flat, helping to identify the Fine grade.
Portrait of Liberty is still well defined with most major details defined. Lettering of "Liberty" across the band just above her eye is readable. Some letters are faint.
Once well detailed hair strands above forehead are now smooth and just beginning to blend into the lower edge of ribbon.
Leaves of the wreath holding cap are well defined over the cap. Lower row of leaves over Liberty's ear and temple area are losing the edge definition and merging smooth.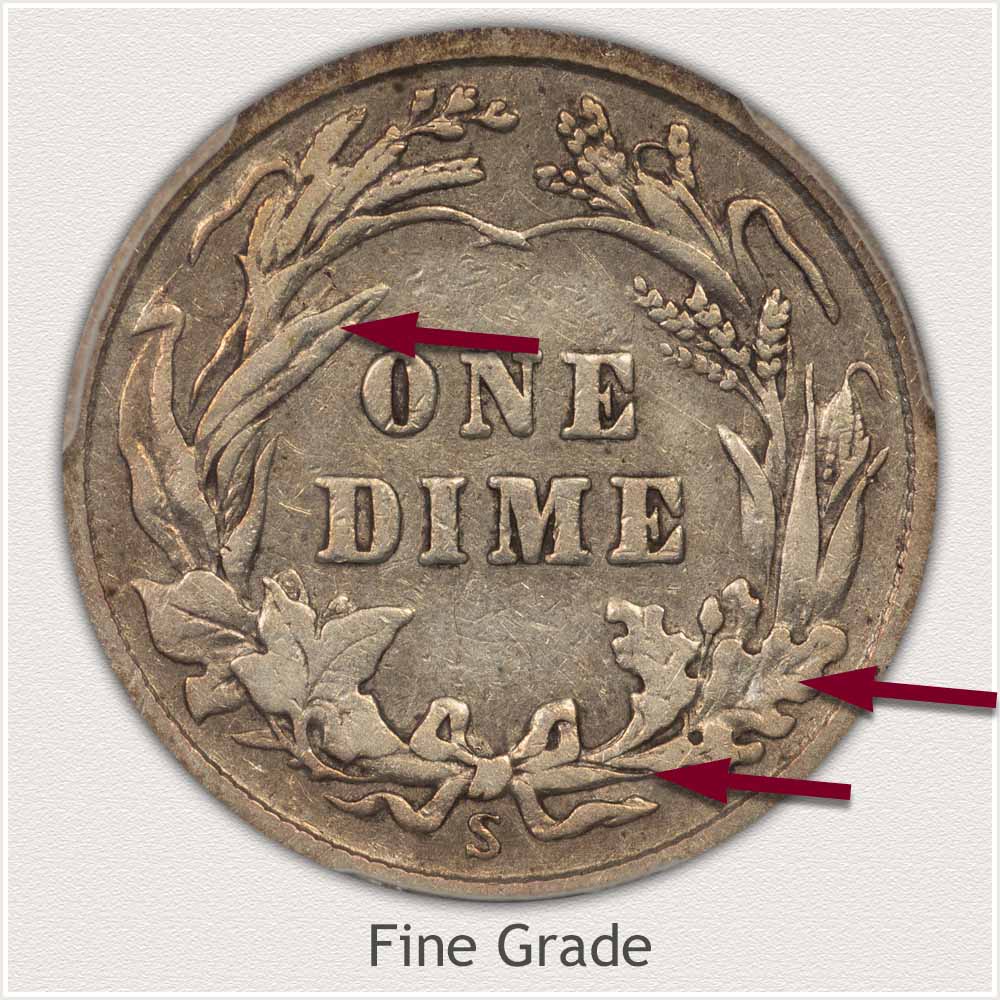 Reverse: Features Identifying the Fine Grade: A defined wreath remains on the reverse of a Fine grade Barber dime.
Although wear is smoothing many fine lines, each leaf is separate and defined. Inner detail to the oak leaves under the "E" is visible.
Flatness is beginning to smooth the upper parts of the leaf next to the "O". Contours giving the leaf depth remain.
Rim is complete and bow at the bottom is well defined with loops, knot, and trialing ribbons separate.
Good Grade: Barber Dime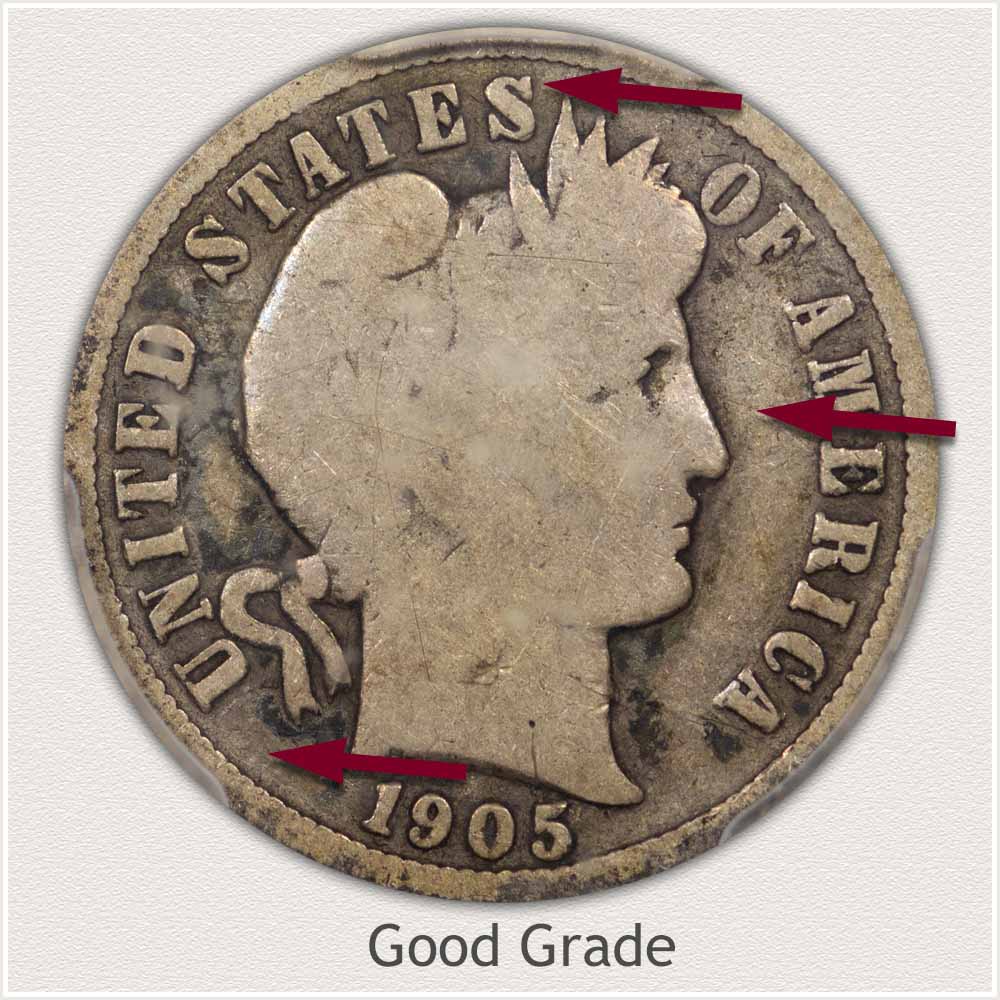 Obverse: Features Identifying the Good Grade: Once a coin is worn to the point major detail is missing a Good grade is defined. Evidence of leaves to a wreath are missing. Headband with lettering is missing. Liberty is an outline all combine to identify the grade.
Helping define the grade; all parts of the legend are readable and bold. Tops of letters are free of the rim.
Liberty's portrait is an outline but bold from the field.
A strong rim remains.
Reverse: Features Identifying the Good Grade: Wreath is heavily worn and many leaves are flat and connected without defined edges.
A few grains of wheat are visible towards the top of the wreath, but the corn next to "E" of DIME is worn and often missing any kernel details.
Rim is well raised from the field in most areas. Any fading of the wreath to the rim is minor and confined to one small part. Widespread blending of outer edges of the wreath with rim indicated a lower condition and value coin.
How to Video: Grading Barber Dimes
It is also helpful to know grading a coin is not an exact science. It is your opinion, dealers and collectors have their own opinions... and they can all differ slightly.
Judging a coin's condition is critical to understanding it true potential. Many of these old dimes often double in value if just slightly above average grade. Visit the in-depth page with close-up images and descriptions covers the process of grading.
Step 3: | Special Qualities and Recognizing Collector Coins
A significant number of Barber dimes are affected by the movements of silver. Values of "bullion" quality dimes move up and down matching the price of silver and trade in bulk.
Recognizing what sets a collector quality piece apart gives an insight into higher end Barber dime value. A dividing line of bullion to collector quality is found in scarce dates, scarce mintmarks, and always in preservation of the coin, its grade.
Identify Bullion Quality Barber Dimes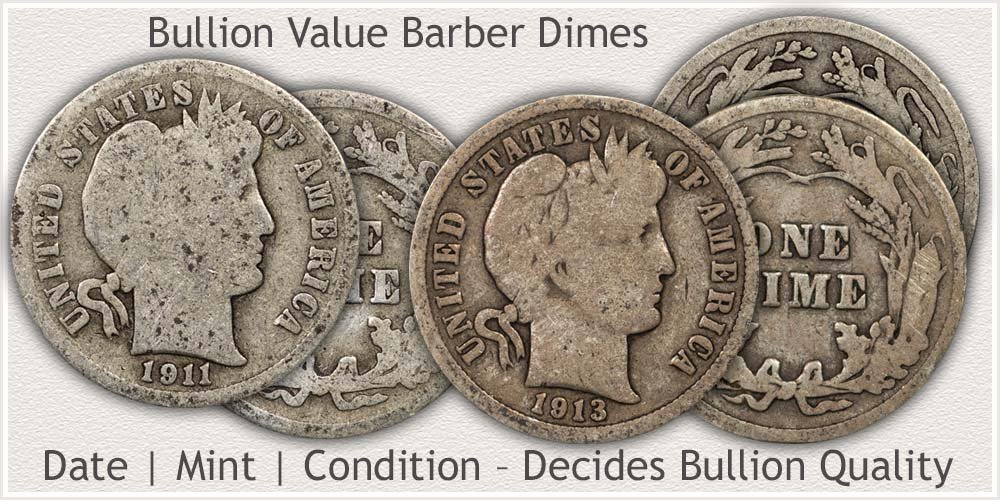 Since the price of silver determines worth of a bullion piece. How much silver is in a Barber dime? Alloy of a silver dime is 90% silver to 10% copper by weight. When minted total weight of a dime is 2.5 grams - 90% of weight is silver at 2.25 grams. Converting grams to troy ounces - a Barber dime contains .072 ounces of pure silver.
Because of advanced age, all in the series are worth a slight premium to underlining silver value. Current range (up-dated weekly) of bullion pieces is $2.94 to $8.14 . Checking these numbers against the chart identifies dates, mints, and condition of coins with ample quantities to satisfy bullion demand.
Identify Collector Quality Barber Dimes
Condition of your coin plays the largest role in finding a scarce and collector quality dime. Noticeable on the chart are a few dates worth a premium in any grade. However, in Extremely Fine grade all are collector coins. Every date and mintmark combination in Extremely Fine grade is well above base bullion value. First task is recognizing higher quality dimes to further evaluate.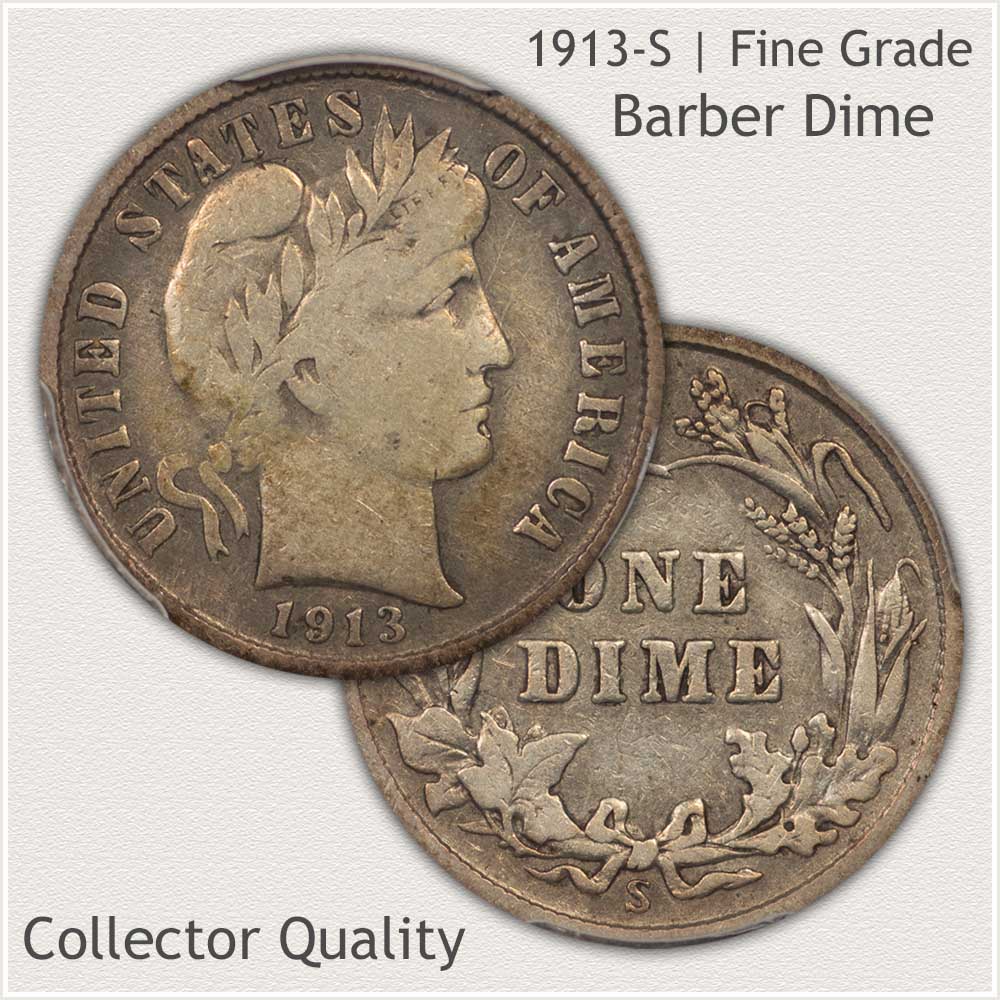 Any Barber dime with clear features to Liberty requires a close inspection. Checking the date and then the mintmark confirms its place on the value chart. The 1913-S Barber dime pictured is a pleasing example and solid collector quality. Finding a rare date requires an amount of luck. Separating the common bullion examples from high demand collector quality dimes is always possible. Eye pleasing coins are well received by collectors.
References
US Mint. 1948 US Mint Annual Report. https://nnp.wustl.edu/library/book/339
US Mint. Catalogue of Coins of the United States https://nnp.wustl.edu/library/book/554591
Coin Values | CoinStudy Articles
Date by Date
In Depth Barber Dime Values
1892 to 1916
It is the collector and their preference deciding on where your coin places on the value chart. Today, attention is on better grade examples, leaving lower condition coin to trade near silver value. In time the series reaches a point, all coins are worth well above silver content. Nice eye appealing coins are always in demand.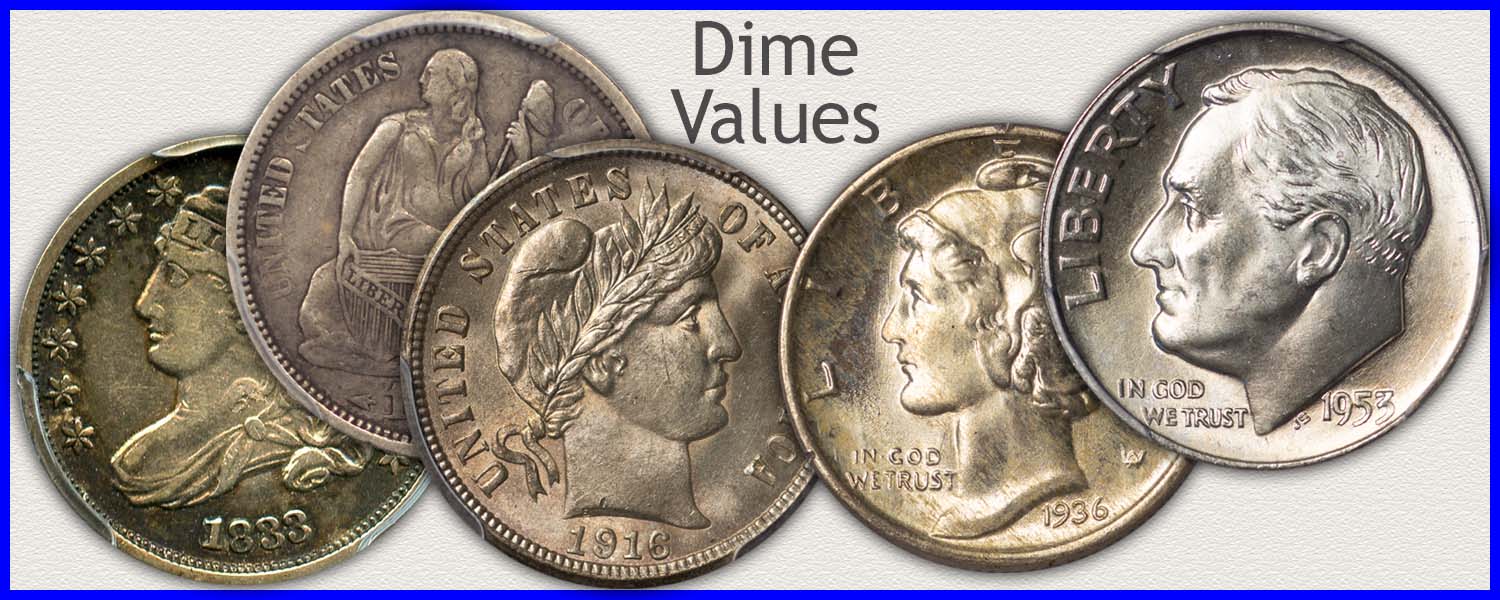 Discover how much your old dimes are worth. Bust, Seated Liberty, to Barber, Mercury, and Roosevelt Dimes. Follow the steps to identify variety, date, and comparing your coins to images and descriptions judge condition and grade. Narrow the range of how much they are worth on value charts.
Grading Old Dimes | Video Series
Grading old dimes is the key step to finding an accurate value of your coins. Use the how-to video plus images and descriptions to judge condition. Subtle details are imaged, described and used to recognize, define and grade dimes.
Today's Minimum Silver Coin Values
Many of your old US silver coin values are tied closely to the price of silver. Silver dimes, quarters, half dollars, and silver dollars are all heavy with 90% silver and worth many times their face value. With today's high price of silver your old coins are becoming surprisingly valuable.
Coin Value Guide | How to Value a Coin Collection
A step by step method combined with the coin value online guide identifies how to value a coin collection. Discover how much your box of old coins is worth.
Introduction into the selling coins process. Preparing, organizing, and planning all combine to improve results.
Do you have more old coins?
★Coin Values Discovery... finds Barber Dime Value and...
All old US coin values. Identify your coin with the image index and text links to coin series, from Cents to Gold. Value charts, grading images and descriptions uncover how much your box of old coins is worth.
Print the Coin Values Worksheet to list your coins and record their values. Should you decide to sell... use the worksheet as an invoice and packing slip when sending coins through the mail to dealers. It indicates you have done your coin values homework.