Coin Values Moving with Precious Metals: Up-Dated 9/25/2023: Gold $1921 | Silver $23.44
Seated Liberty Dollar Values
Seated Liberty dollar values on the chart are a clear indication of how scarce these coins are. Year by year moving higher, a coin in "Good" condition is only the start to how much these old dollars are worth.
A step by step method identifies three key factors helping narrow the value range. Images identify variety, date and mintmark importance, and importantly the preservation of your coin is judged.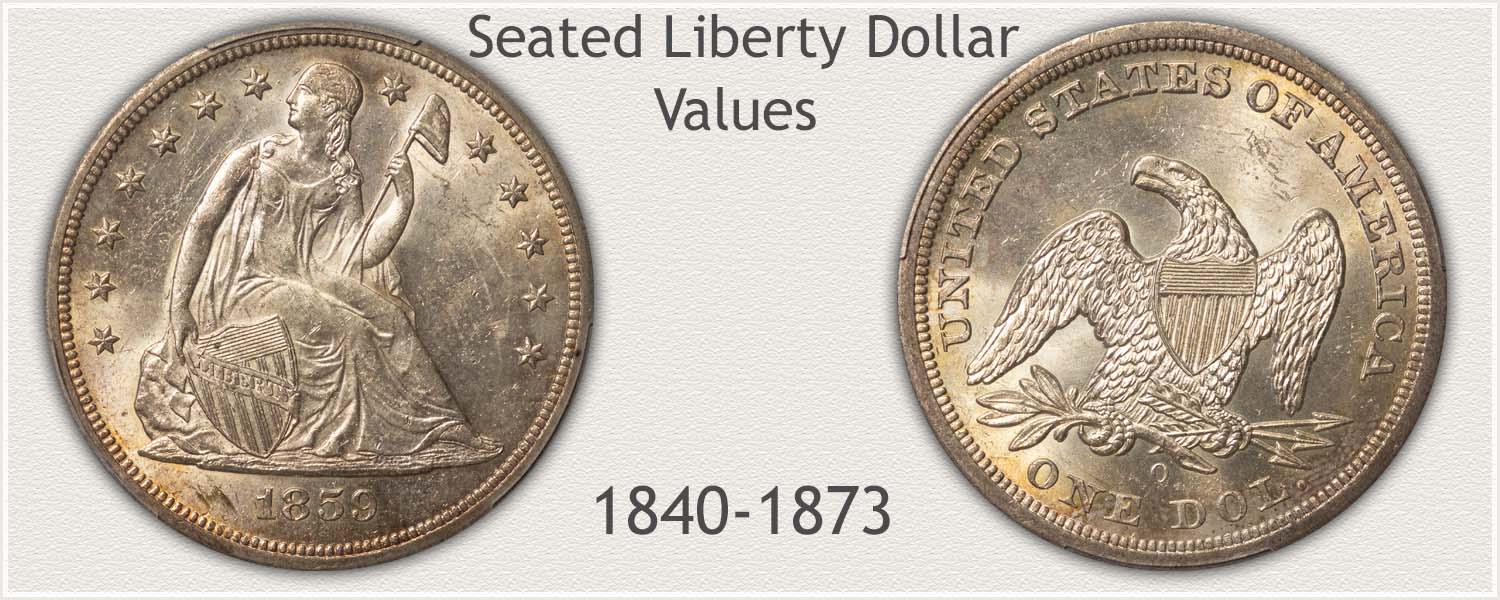 Steps Leading to Value:
Step 1: Variety Plus Date and Mintmark - Variety is identified along with date and mintmarks to recognize its place on the value chart.
Step 2: Grading Condition - Key to understanding potential, Grading images are used to compare your coin and judge its condition.
Step 3: Special Qualities - Collectors drive the market for Seated dollars. Certain issues are in high demand and need close inspection.
A review of the value chart shows the rising scale of potential in well preserved coins. Subtle qualities often show with large differences in Seated Liberty dollar values. Produced in small quantities and unfortunately with low survival rates. Situation today; low supply to meet steady demand from collectors. Continue to Step 1 after the chart.
The above are wholesale coin values. Computed from dealer's price lists with various mark-up factors figured in. They reflect closely the value you would expect to receive when selling. Variations in value do occur subject to subtle grading points, collector demands and dealer needs. For additional reference... CDN publishes a guide, covering retail Seated Liberty Dollar Values.
Step 1: | Variety Plus Date and Mintmark Combination Identified
Scarce, best describes the Seated Dollar series. Different and subtle varieties were minted at four mints across the country each is important to identify.
Seated Liberty Dollar: No Motto Variety 1840 to 1865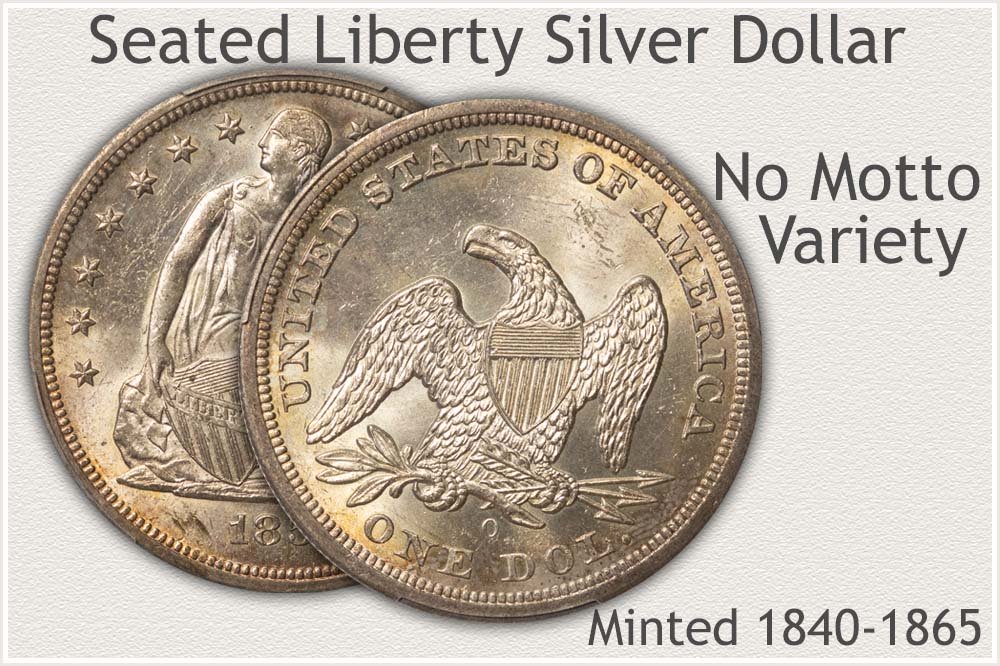 After decades of no production, the need for a large denomination silver coin was met in 1840 with the minting of 61,000 Seated Liberty dollars. The new design was a continuation of the minor coinage design introduced in 1837. A full Liberty is presented seated with a flowing gown supporting the US Shield representing congress. Holding in her left hand, a pole with a liberty cap on top is a symbol used in prior designs. The reverse is the American bald eagle with wings displayed pointing downward. Representing defense of the nation, arrows are held by the left claw and a preference to peace is symbolic of the olive branch in right claw.
Minting of the first variety continued to 1865 with a total coinage by all mints reaching 2.8 million silver dollars. Small mintages equate to underlying scarcity of the whole series.
Seated Liberty Dollar: With Motto Variety 1866 to 1873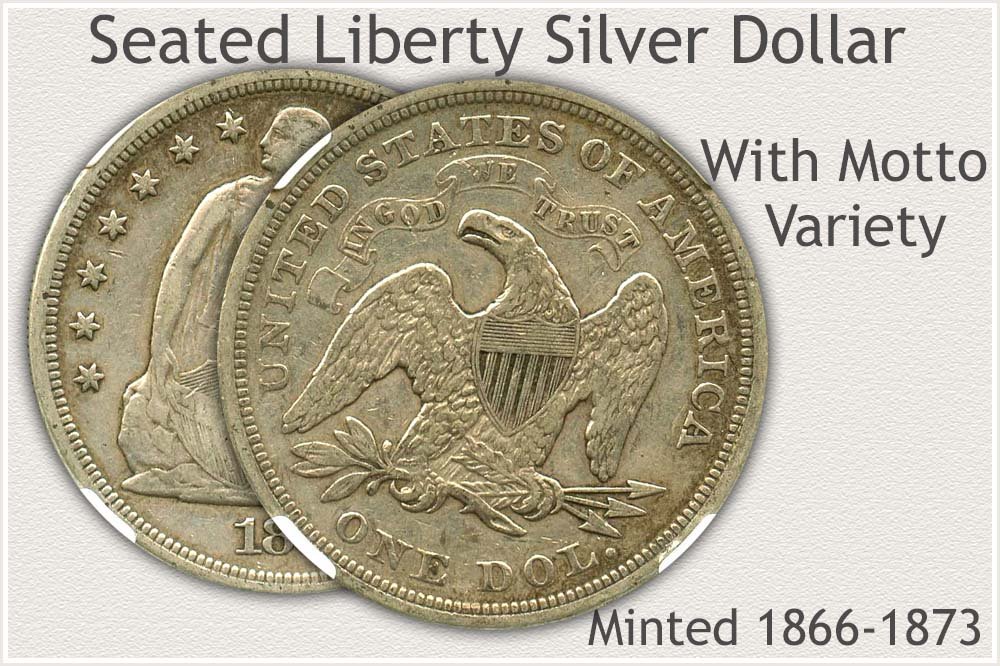 A major design element of a scroll with "In God We Trust" inscribed was added to the reverse, filling the space above the eagle. Beginning with the 1866 mintage the change is noted as the "With Motto" variety. Liberty with thirteen stars along the border remains the same for the obverse.
Total production of the second "With Motto" variety increased to close to 3.7 million silver dollars. Still a small number and considering their advanced age, all of the variety are scarce.
Mints and Mintmarks of the Seated Liberty Dollar Series
Initial production of Seated dollars began with the Philadelphia mint, the main minting facility of the nation in 1840. It continued to provide the majority of the coins on a yearly basis. Branch mints across the country contributed in striking the dollar denomination in various years. New Orleans, San Francisco, and Carson City mints added small amounts to the Seated Dollar series.
New Orleans Mint Seated Dollar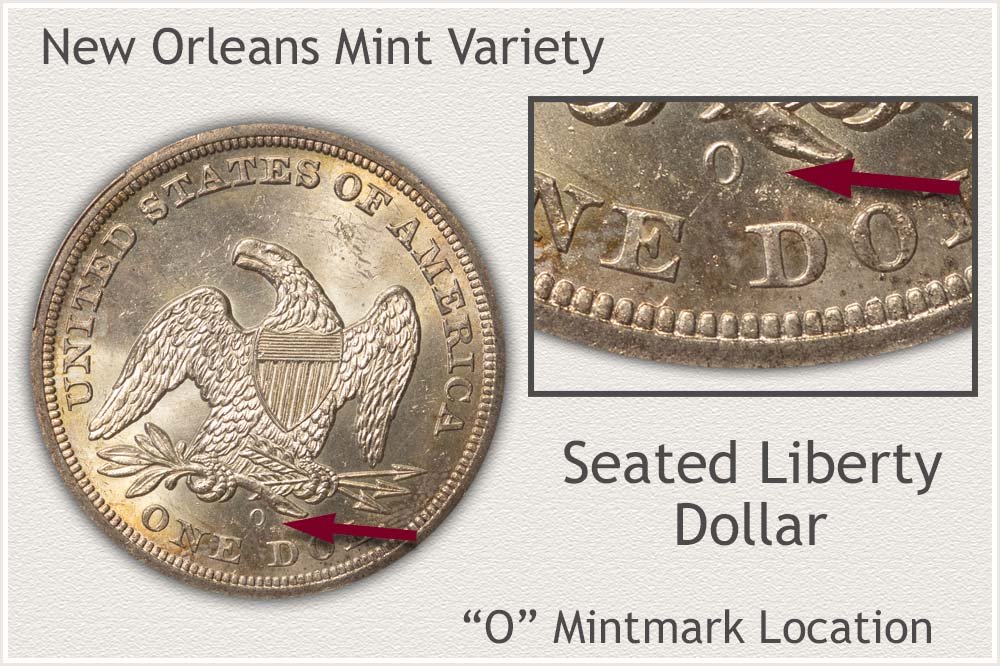 New Orleans mint produced Seated dollars in only four different years: 1846, 1850, 1859, 1860; all of the "No Motto" variety. The mint was called upon to help with supplies of dollars when needed. Total mintage of all years was 974,000 silver dollars. With a modest total, New Orleans dollars are scarce and highly collectible.
Mintmarks identity branch mint production. New Orleans coins are noted by an "O" added to the design. On the reverse below the eagle and olive branch is the "O" mintmark.
San Francisco Mint Seated Dollar
All San Francisco Seated dollars are scarce. A total of 29,700 were struck and only two years are known to represent the San Francisco mint production, 1859 and 1872. A very popular variety with collectors, an "S" mint Seated dollar is always in demand. A well detailed and preserved coin fits into most collections of old dollars.
San Francisco placed a small "S" mintmark on their coinage. Turn to the reverse, just under the eagle and olive branch, look for the elusive "S" mintmark, indicating San Francisco production.
Carson City Mint Seated Dollar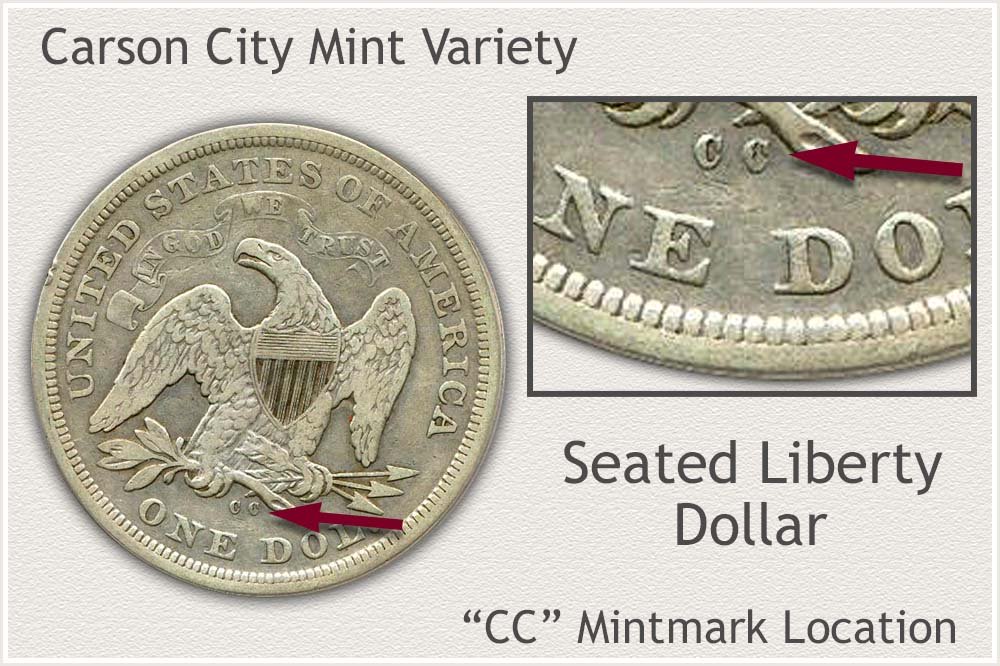 Carson City mint opened and began production of gold and silver coinage in 1870. In time to struck just over 19,000 "With Motto" variety Seated Liberty dollars. Four years saw mintages from a high 12,462 silver dollars in 1870 to a low of just 1,376 in 1871. Extremely limited mintage numbers indicate very scarce coins. Demand from collectors, both silver dollar collectors and specialist in Carson City coinage, equates to very solid values.
Carson City used a "CC" mintmark to identify its coinage. On the reverse under the eagle, often tucked close to the olive branch is a small "CC" mintmark, confirming a scarce Seated dollar variety.
Philadelphia Mint Seated Dollar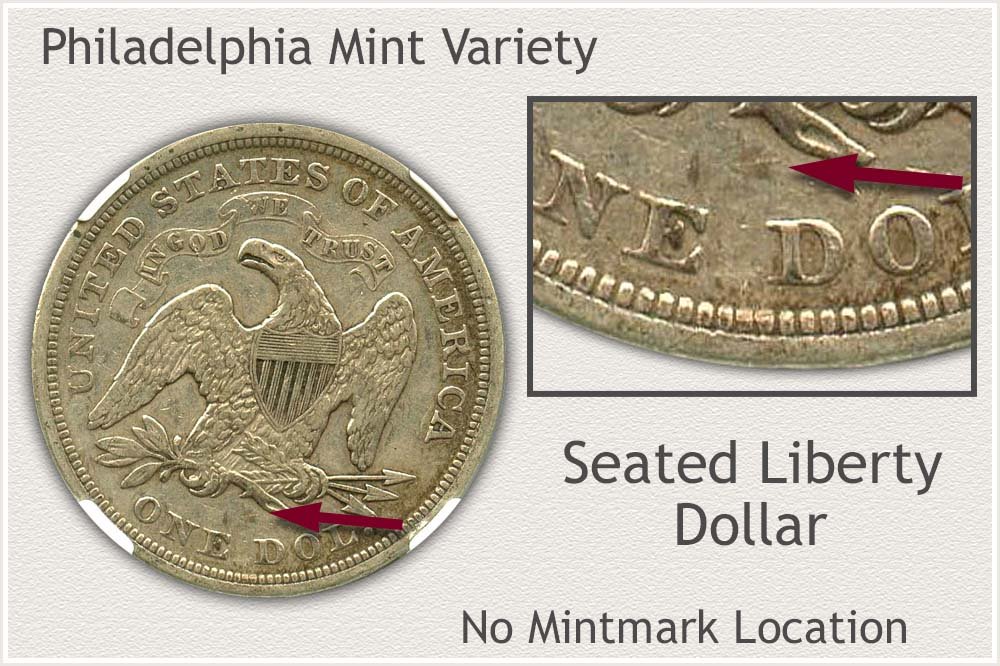 The main mint in Philadelphia struck the largest numbers of Seated Liberty silver dollars. Striking both varieties for a total of 5.5 million silver dollars. Spread over the 34-year span of the series many years saw mintages below 10,000. "No Motto" variety Seated dollars with less than 2 million coins struck for the entire variety feature many rare dates. The "With Motto" variety is represented by two years of over 1 million coins each, 1871 and 1872.
The Philadelphia mint did not place a mintmark on its coinage of Seated dollars. A coin with no mintmark in the space just above the "E and "D letters of "One Dol." is a Philadelphia variety dollar.
Step 2: | Condition is Judged and Grade Determined
Small mintages, extreme age and very popular with collectors, all adds to Seated Liberty dollar values.
Collectors are always looking for better condition coins. Each is examined very carefully for wear, bumps and abrasions. The overall look and appeal is assessed and a "Grade" is determined. Often a large increase in value accrues from one grade to the next higher grade.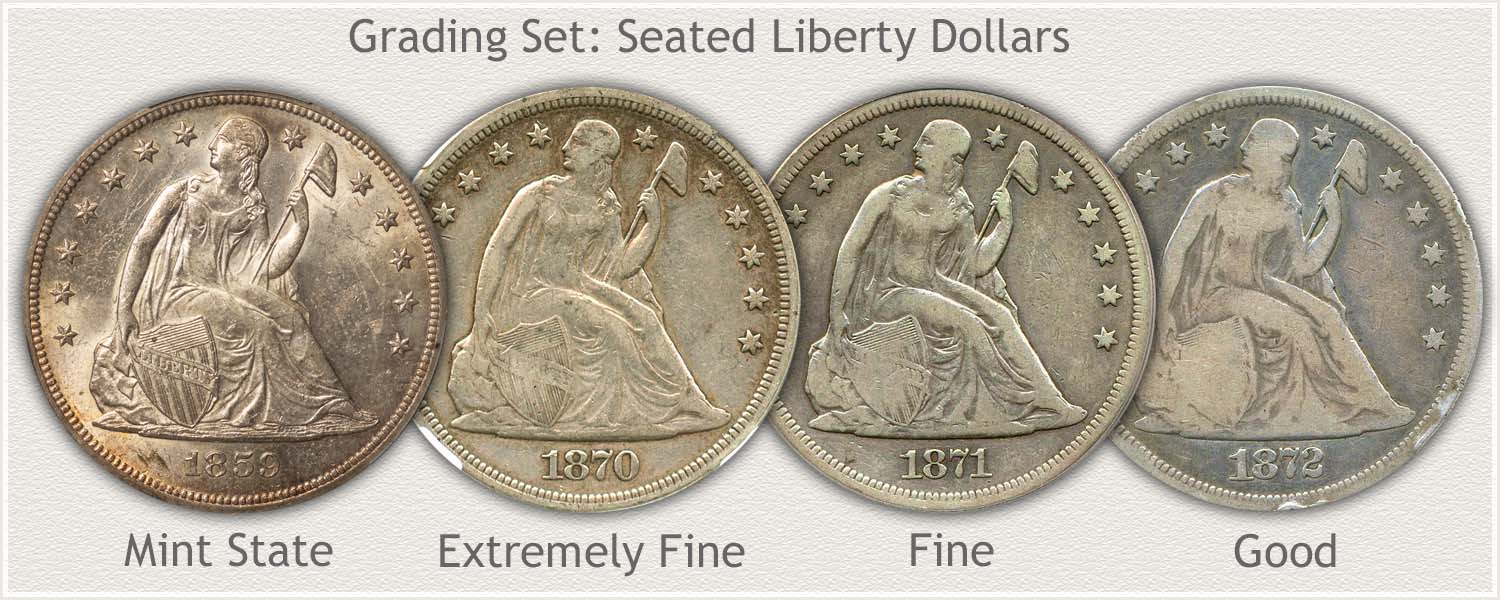 Higher Seated Liberty Dollar Values are Conditional
Carefully examine your coins and compare them to the grading images below. Look closely at the letters of LIBERTY on the shield. All letters showing, separates a coin in "Fine" condition from the lower grades. Note: It is not uncommon for some letters to show weakly across the tops. If your coin is sharp and crisp in detail with just light wear, it is in "Extremely Fine" or better condition. A very desirable coin.
Mint State Grade: Seated Liberty Dollar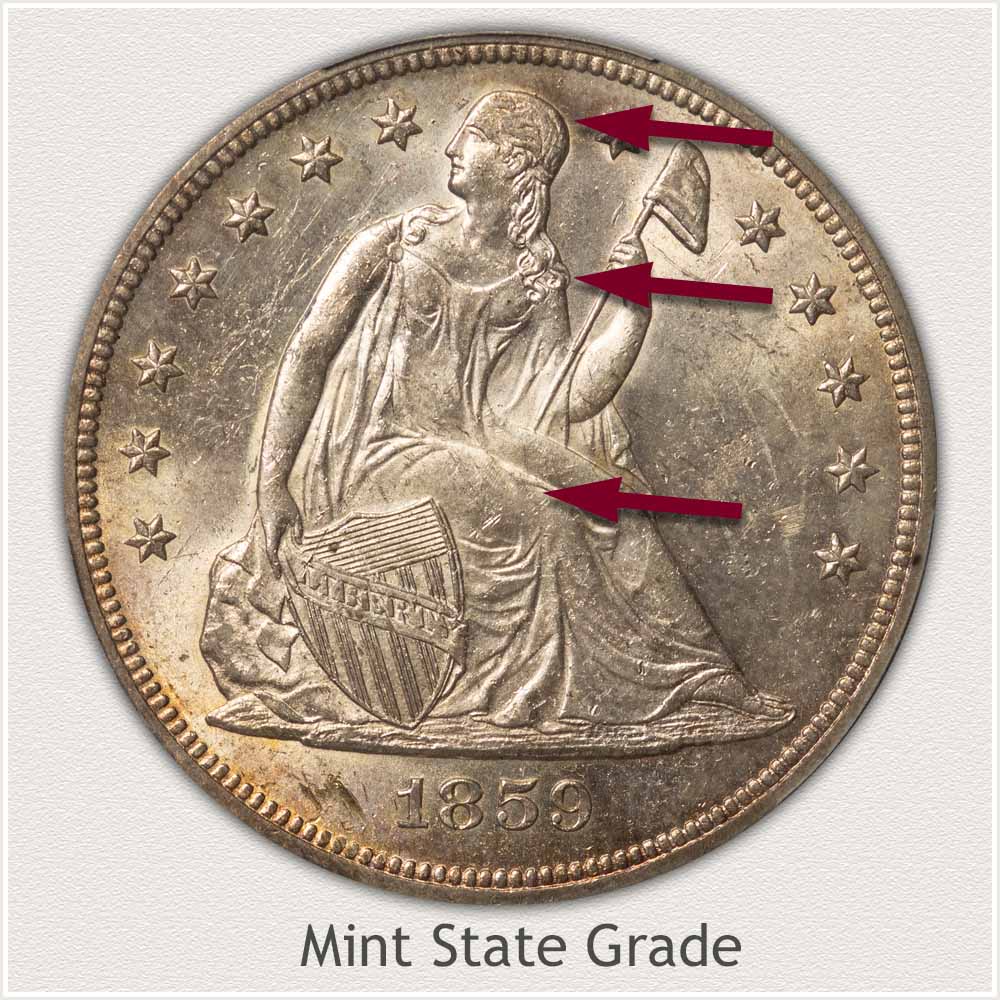 Obverse: Features Identifying Mint State Grade: Wear to the surface is the first consideration to a Mint State grade coin. Luster is the original surface; inspection is made to confirm luster remains.
Look closely at Liberty's hair, any wear appears as a dulling and smoothing to high points.
A small curl of hair at Liberty's shoulder is prone to first signs of wear. The curl needs to remain fully rounded with no signs of flattening.
Liberty's right arm and thigh are open surfaces. These remain covered with the fine texture of luster. Any smoothing to her arm and thigh indicates wear.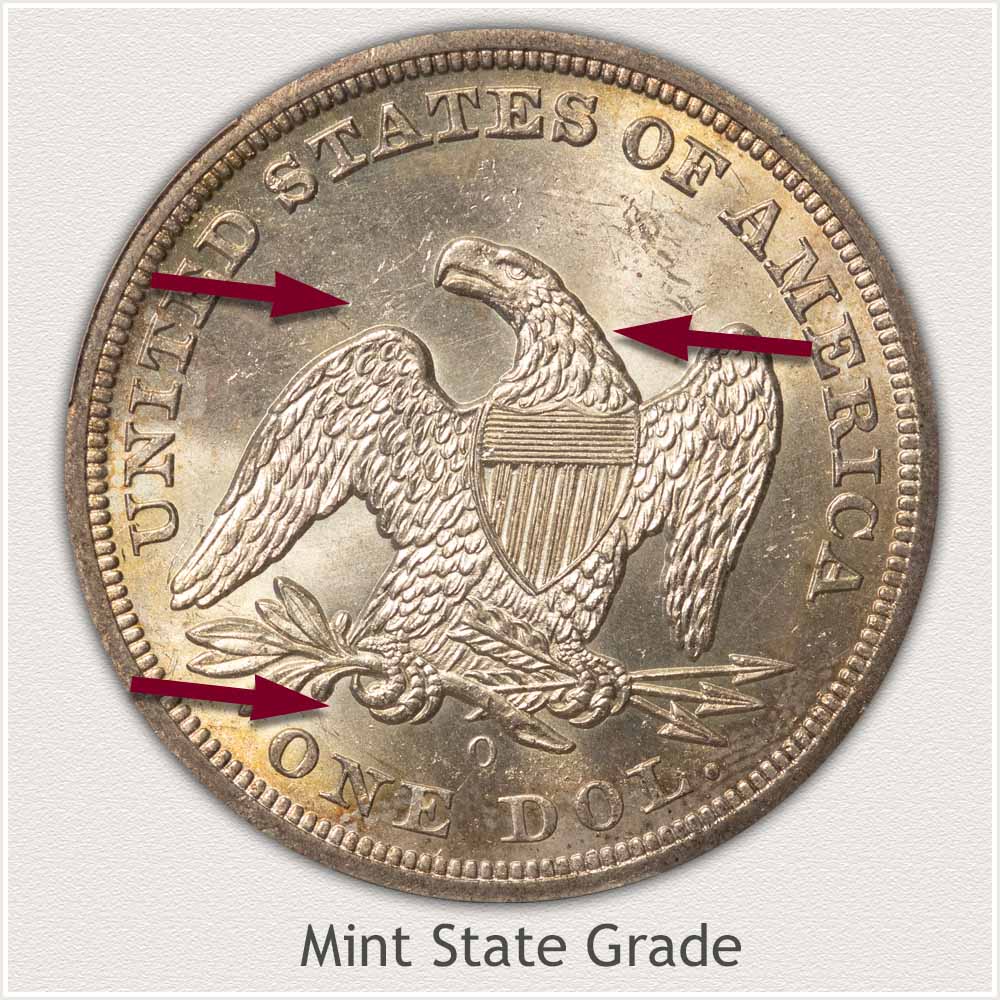 Reverse: Features Identifying Mint State Grade: All upper edges of feathers are without any smoothing or flat spots. In Mint State condition no wear is evident.
Feathers on the Eagle's neck are centrally located and one area to quickly show flatness due to wear. Full feather details include well raised edges.
Upper edges of wings remain with a nicely rounded profile absent of any flattening.
The eagle's claws are finely detailed. All upper areas are the same texture as protected, lower areas.
Fine details to the arrow points remain fully raised.
Extremely Fine Grade: Seated Liberty Dollar
Obverse: Features Identifying Extremely Fine Grade: A light amount of wear is visible on the surface of an Extremely Fine grade dollar. Certain key design features remain visible helping to identify the grade.
All letters of "Liberty" are clear on the scroll across the shield. The scroll itself is fully raised from the lower elements of the shield. Both combined; a crisp and sharp appearance is given by the scroll and its lettering.
Hair above Liberty's ear is slightly worn in places with most notable a flat area above the ear. A separation of hairline and forehead remains. Her cheek is now displaying a small flat spot but is disconnected from the temple and hair line.
Wear has removed mint luster from her right arm. Profile and contours are just beginning to show evidence of slight wear.
A moderate flat area has developed on the right thigh. Smoothing has removed some lines in the gown and created a flat area extending over the knee.
Reverse: Features Identifying Extremely Fine Grade: A main consideration to the Extremely Fine grade is wear does not cause any merging of high points of the design.
When inspecting the feather details within the wing all show slight wear at the tops only. Feathers are strongly separated; depth of design remains. Flatness is limited to upper edges of wings.
A sharply detailed head and neck feathers are noted. No merging of feathers, and roundness to the head shows only light wear. Inspect the feathers along the inner curve of the neck, no blending of detail is evident.
Slight wear is seen on the very tops of the claws with most segments well rounded.
Arrow points are worn along edges and very tip only.
Fine Grade: Seated Liberty Dollar
Obverse: Features Identifying the Fine Grade: Noticeable wear has flattened many details on a silver dollar in Fine grade.
Liberty's head is now lacking a separation of her forehead from hairline. A flat area is extending from the top of her head to neck.
A slight amount of detail remains along the neck of her gown. Folds of the gown are still well represented on either side of Liberty.
Scroll across the shield is beginning to blend with the shield. Lettering of "Liberty" is fading. Central letters are faint to missing, however, remnants of some letters remain helping quality as a Fine grade example.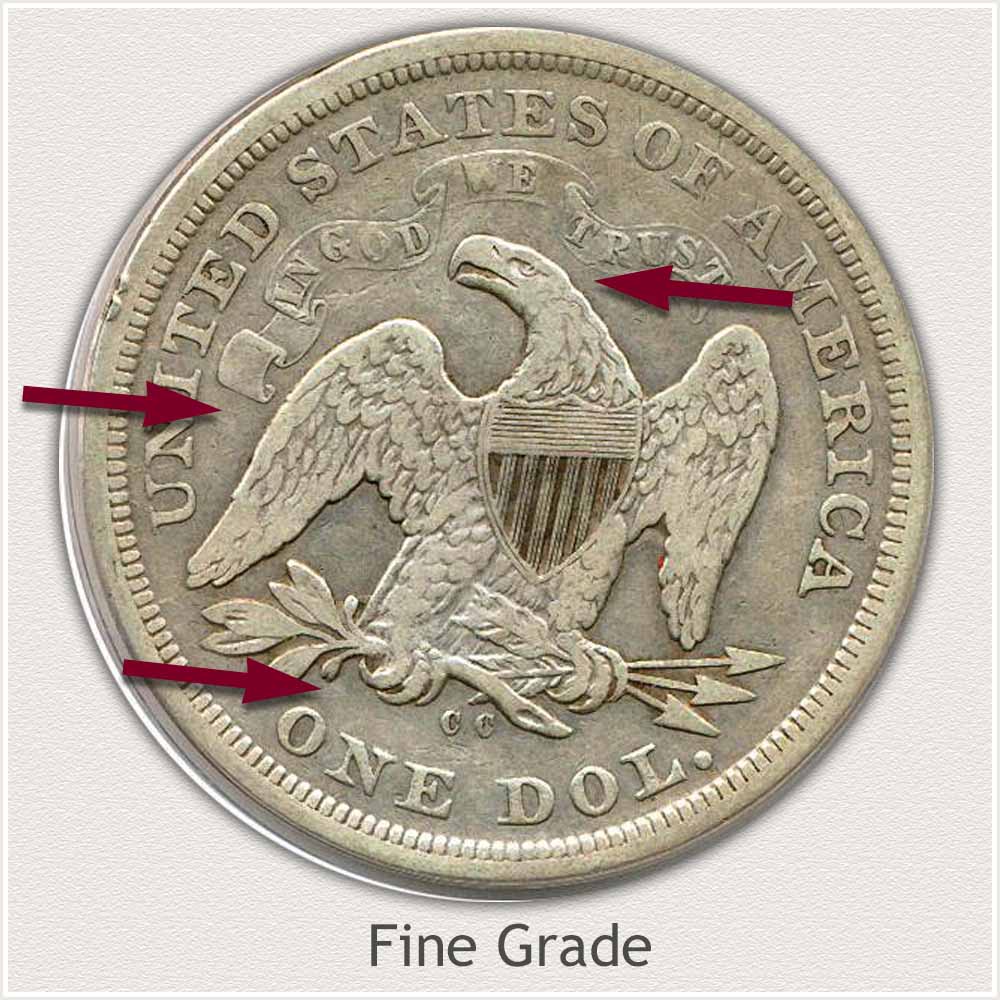 Reverse: Features Identifying the Fine Grade: A significant amount of detail remains within the wings.
Feathers are worn creating flat spots covering half the feather detail. Deep areas remain separating feathers, with slight merging confined to the lower wing tips.
Bold features remain on the head of the eagle. A strongly detailed eye and beak are well raised from the field of the coin. A few feathers are merging along the inside of the neck. Most neck details are well defined.
Talons are all separated. Right claw retains the separation from the leg feathers, a slight contour remains.
Good Grade: Seated Liberty Dollar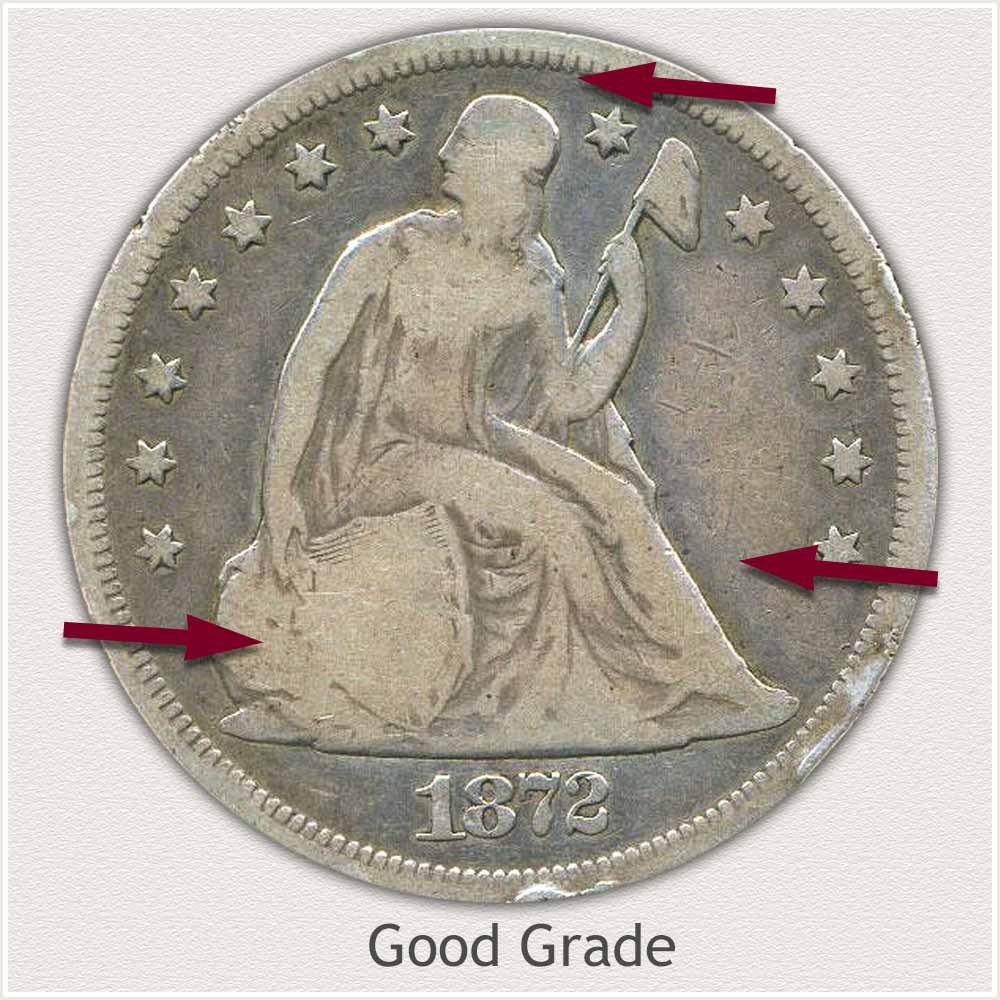 Obverse: Features Identifying the Good Grade: Many elements of the design are worn heavily. A few major details remain visible with Liberty's outline complete and bold from the field.
Both legs of Liberty are faintly visible. Gown folds across her legs are worn smooth as well as her shoe is no longer distinct.
Shield is missing many parts of its perimeter. A faint outline to the shield is found in places near the top and right side.
The presence of a complete rim indicates this coin is well within the Good grade.
Stars remain clear with none faded and merging with the rim.
Reverse: Features Identifying the Good Grade: Although the eagle displays few feather details it remains fully outlined, no fading towards the tips of the wings.
Looking closely at the shield, a few of the fine vertical lines are visible.
Rim is complete. In the Good grade some coins show a stronger rim than others, however, rim is visible.
Lettering is worn and faded but readable. Some letters are often very faint the key factor is none have blended into the rim.
Step 3: | Special Quality Enhancing Value: Collectability
One of the special qualities of Seated dollars is their collectability. An appeal to collecting is obtaining an object that is scarce and challenging to acquire. Seated dollars fit this requirement exactly. Second is the rarity is not so high the coins are excluded to all but a few to participate in assembling a collection. Again, Seated dollars are scarce, many are rare, but with persistence (the challenge) are obtainable.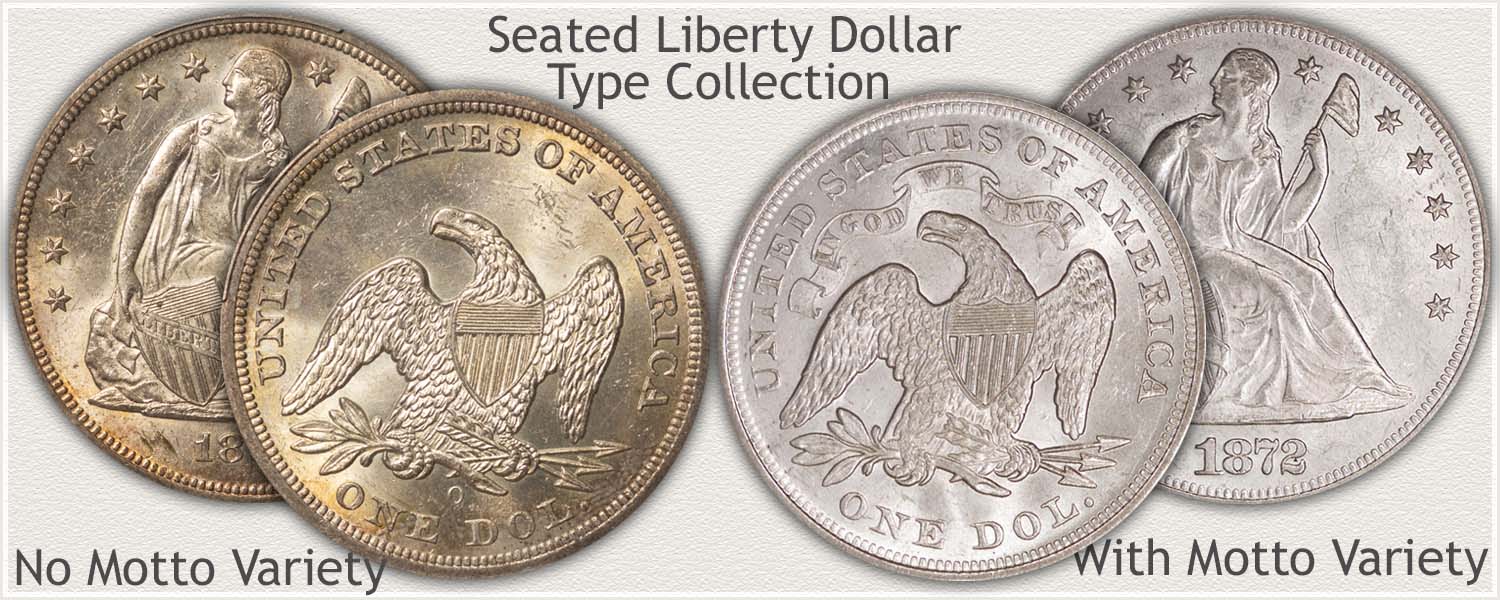 Fitting nicely in the collectability quality is the range of affordability. Costs of acquiring pleasing grades start in the hundreds, true. A solution is following a theme of assembling a type collection; example, one coin of the two major varieties. A way of defining the collection and is not far out of line with overall costs of many other collections with multiple coins. This two-coin collection is expandable to include the different mints involved. A Seated Carson City dollar is very popular. An 1870-CC, is the first of year for the mint, and the least costly. New Orleans Seated dollars were struck at a now long retired mint, would represent the "No Motto" variety. San Francisco with low mintages are all scarce, 1859 is a candidate.
Seated dollars are a large, silver, and masterfully designed US coin. All are important to history. The majority are well struck rendering Liberty in fine detail. Popularity and collector support are strong. Assembling a complete date and mint collection, a traditional way of collecting coins, is out of reach of many. However, a two-coin type collection forms a meaningful and historically important coin collection. This along assures future popularity and collector supported values.
References
US Mint. 1892 US Mint Annual Report. https://nnp.wustl.edu/library/book/316
US Mint. Catalogue of Coins of the United States. https://nnp.wustl.edu/library/book/554591
Coin Values | CoinStudy Articles
Seated Liberty dollars span a couple of important categories determining value. First: the overall rarity; many dates are very rare; with few known to exist. Second category is preservation and condition of the coin. Grading recognizing subtle detail and aesthetic qualities of the surface of the coin. Often large swings in value are involved with judgement of overall quality. High levels of experience needed. Professional grading is necessary with Seated dollars because of high starting values. PCGS and NGC is an insight into having your coin professionally authenticated and graded. Improving market acceptance and assurance of full value.
Your coins are in strong demand. The values are strong. The future is bright and Seated Liberty dollar values are sure to continue advancing.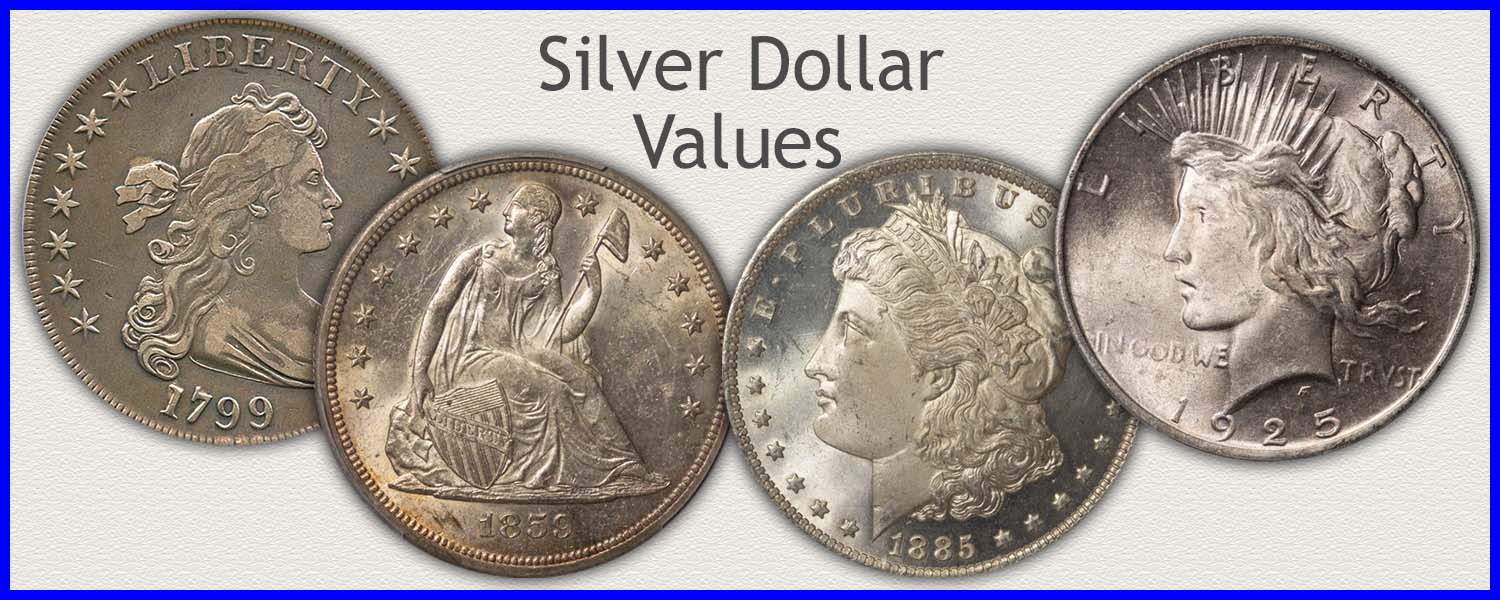 Silver Dollar Values | Remarkable
Coin values spanning 140 years. Value charts and insight to the many rare dates, mintmarks and varieties. Next, "Grading" Images to evaluate the condition of your coins and find the true value of your silver dollars. From early dollars in 1794 to the Liberty Seated variety 1840-1873. Next the ever-popular Morgan Dollar to the Peace Dollars ending in 1935.
Selling Coins | How to Get the Best Value
Selling coins for the highest price is achieved with planning. Research and organize well, value your coins accurately, and then finding and selling to the right buyer equals excellent results.
Value charts of US coin series.
★ Coin Values Discovery finds Seated Liberty Dollar Values and...
All old US coin values. It is an excellent index with images and text links to all coin series, from Cents to Gold. Value charts, grading images and a step by step procedure uncovers how much your box of old coins is worth.
Print the Coin Values Worksheet to list your Seated Liberty silver dollars and record their values. Should you decide to sell... use the worksheet as an invoice and packing slip when sending coins through the mail to dealers. It indicates you have done your coin values homework.