Coin Values Moving with Precious Metals: Up-Dated 3/30/2020: Gold $1605 | Silver $13.85
Seated Liberty Dollar Values
Seated Liberty dollar values year after year move higher and higher. Today the minimum value for a coin in "Good" condition is over $222.
Find an 1851 or 1852 in your group and the excitement really begins. Your coin would sell at auction over $6,000.
It is always thrilling finding a rare date but it is not the only way to higher value. A nice condition or a better "Grade" coin moves the value up into the two or three hundred dollar range.
The Uncirculated Seated Liberty dollar pictured is a treasure any collector would find exciting to own. The value is over $1,450 in such nice condition.
Look for rare dates, yes. Also, the state of preservation is very important. See more about "Grading" the condition of your Seated Liberty dollars below.
Seated Liberty Dollar Values and What Dealers Pay
The following chart shows Seated Liberty Dollar silver values are worth a close look. Carefully assess each one you own. Produced in small quantities and unfortunately with low survival rates from so long ago. The situation today is few coins are available to meet the demand of collectors.
Seated Liberty Dollar Values
1840-1873
Condition of Coin
Date
Good
Fine
Extremely
Fine
Uncirculated
Seated Liberty Dollar Values Updated
2020
No Motto Variety 1840-1865
$229
$259
$385
$1,547
With Motto Variety 1866-1873
$226
$272
$379
$1,562
The Following are a Few Selected Dates
1841
$206
$265
$408
$2,276
1842
$228
$274
$434
$1,495
1843
$233
$255
$338
$1,500
1846
$229
$266
$387
$1,456
1847
$234
$254
$400
$1,530
1859 O
$235
$252
$326
$1,245
1860 O
$236
$249
$401
$1,325
1870
$227
$234
$346
$1,440
1871
$222
$276
$394
$1,486
1872
$222
$290
$354
$1,470
1873
$234
$288
$422
$1,852
The above are wholesale coin values. Computed from dealer's price lists with various mark-up factors figured in. They reflect closely the value you would expect to receive when selling. Variations in value do occur subject to subtle grading points, collector demands and dealer needs.
For additional reference... CDN publishes a retail price guide, covering the retail Seated Liberty Dollar Values in detail.
Higher Value is Conditional
Small mintages, extreme age and very popular with collectors, all adds to Seated Liberty dollar values.
Collectors are always looking for better condition coins. Each is examined very carefully for wear, bumps and abrasions. The overall look and appeal is assessed and a "Grade" is determined. Often a large increase in value accrues from one grade to the next higher grade.
Carefully examine your coins and compare them to the grading images below. Look closely at the letters of LIBERTY on the shield. All letters showing, separates a coin in "Fine" condition from the lower grades. Note: It is not uncommon for some letters to show weakly across the tops.
If your coin is sharp and crisp in detail with just light wear, it is in "Extremely Fine" or better condition. A very desirable coin.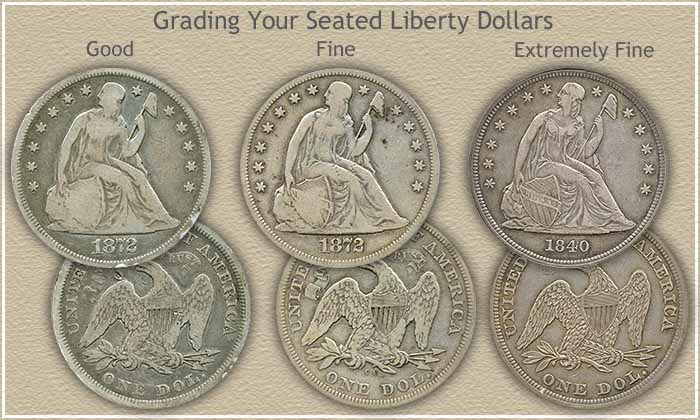 Sometimes the difference between grades is subtle. If your coin approaches "Uncirculated" condition the change in Seated Liberty dollar values is not so subtle. Finding better condition coins happens more often than finding rare dates.
If you believe your coin is a higher grade and value and not sure, help is available.
Collectors and dealers consider PCGS and NGC as leaders in coin grading services. Seek their advice. They both authenticate and grade your coin. The small fee you pay provides assurance you understand and receive the full value of your coin.
It is also helpful to know grading a coin is not an exact science. It is your opinion, dealers and collectors have their own opinions... and they can all differ slightly.
Check a few rare coin dealers listings, look for those offering Liberty Seated dollars similar to yours. Their listings and prices usually include a notation of the NGC or PCGS assigned grade. Additionally, these coin dealers are potential buyers of your coins.
Find Value in Mintmarks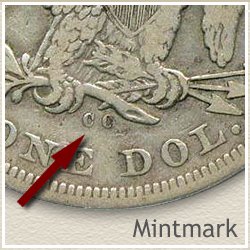 Certain mintmarks increase Seated Liberty dollar values. The "CC" mint mark jumps out as the rarest, minimum value $850... and of course the favorite of dealers and collectors.
Branch mints placed a small letter on the coin indicating where it was produced. The New Orleans mint used an "O", San Francisco an "S" and the Carson City mint a "CC" mint mark. They are located on the reverse just under the eagle.
Seated Liberty Dollar Values in the Future
Wow, every Seated Liberty silver dollar in Uncirculated condition is worth over one thousand dollars. Collectors today are proving if it is the right coin, they are willing to pay for it.
How high can the value of silver dollars go and what should you do?
Consider your group of coins as the beginning of a coin collection. The start of an enjoyable and rewarding hobby. If that is not for you, one successful approach is to sell all your coins and use the proceeds to buy one nice rare coin. Exchange your circulated coins for one nice Uncirculated coin. Pass the thrill of a rare coin on to your children.
Your coins are in strong demand. The values are strong. The future is bright and Seated Liberty dollar values are sure to continue advancing.
Keep in touch. Check back here when curious about values.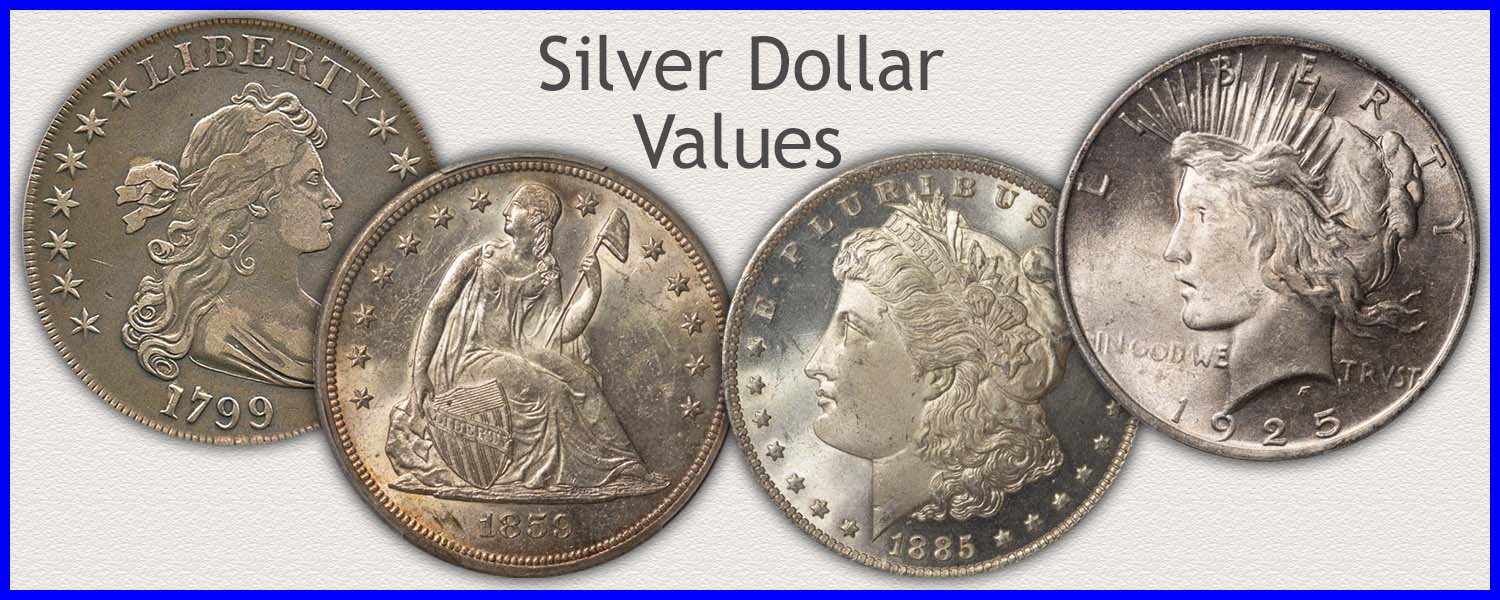 Silver Dollar Values | Remarkable
Coin values spanning 140 years. Discover the many rare dates, mintmarks and varieties. Next, "Grading" Images to evaluate the condition of your coins and find the true value of your silver dollars. From early dollars in 1794 to the Liberty Seated variety 1840-1873. Next the ever popular Morgan Dollar to the Peace Dollars ending in 1935.
Do you have other coin denominations?
★Coin Values Discovery... finds Seated Liberty Dollar Values and...
All old US coin values. It is an excellent index with images and text links to all coin series, from Cents to Gold. Value charts, grading images and descriptions uncover how much your box of old coins is worth.
Print the Coin Values Worksheet to list your Seated Liberty silver dollars and record their values. Should you decide to sell... use the worksheet as an invoice and packing slip when sending coins through the mail to dealers. It indicates you have done your coin values homework.