Coin Values Moving with Precious Metals: Up-Dated 9/25/2023: Gold $1921 | Silver $23.44
Barber Quarter Values
Barber quarter values start at $5.66 . With silver in the range of $23.44 , dealers pay a minimum of $5.66 to $6.51 each for these old quarters. A strong price representing the large silver content.
Collector's place premiums on uncommon dates and mintmark combinations. Condition is also important, often the deciding factor to how much a Barber quarter is worth. Follow the step by step approach to identify the potential of your coin.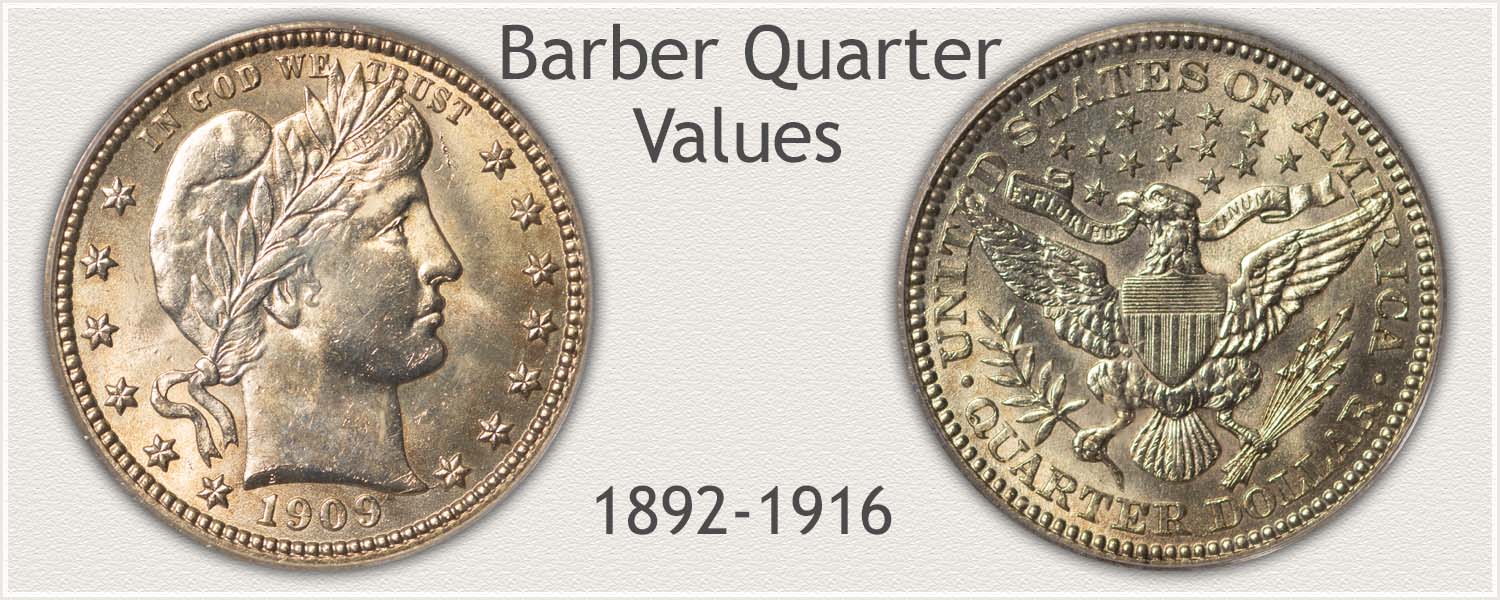 Steps Leading to Value:
Step 1: Date and Mintmark Variety - Many dates and mints are involved in the series, some readily available, some rare.
Step 2: Grading Condition - Using video and images, follow the descriptions to narrow the condition and value of your coin.
Step 3: Special Qualities - A common silver quarter trades at silver value. Identify collector quality examples.
Values of these old coins vary widely. The chart shows a few rare dates steal the show but it is clear the higher the "Grade" the more your coins are worth. Special attention to grade is given in step 2.
The above are wholesale Barber quarter values. Computed from dealer's price lists with various mark-up factors figured in. They reflect closely the value you would expect to receive when selling.
Variations in value do occur subject to subtle grading points, collector demands and dealer needs.
Step 1: | Date and Mintmark Variety are Identified
Attention to date and mintmark combination is significant to collectors. A set collection of Barber quarters typically follows a date run with all mints of each year represented. Because of the availability and scarcity of certain varieties, values cover a wide range depending on date and mintmark.
Barber quarters feature bold designs on both the obverse and reverse. A bust of Liberty adorned with a Liberty cap, laurel wreath, and a ribbon inscribed "Liberty" fills the obverse. An eagle with wings outstretched is central to the reverse design. Symbolism is portrayed by the olive branch - peace, and arrows - war in the eagle's talons. Union shield represents congress and the 13 colonies and with stars above - the nation. The reverse of the Barber quarter is a study in US history.
Barber Quarter Series Mints and Mintmarks
Confirming the date located on the obverse is followed by identifying the mint striking the coin. Over the course of the series four different mints struck quarters. Placing their mintmarks on the reverse; each is easily determined.
"O" Mintmark: New Orleans Mint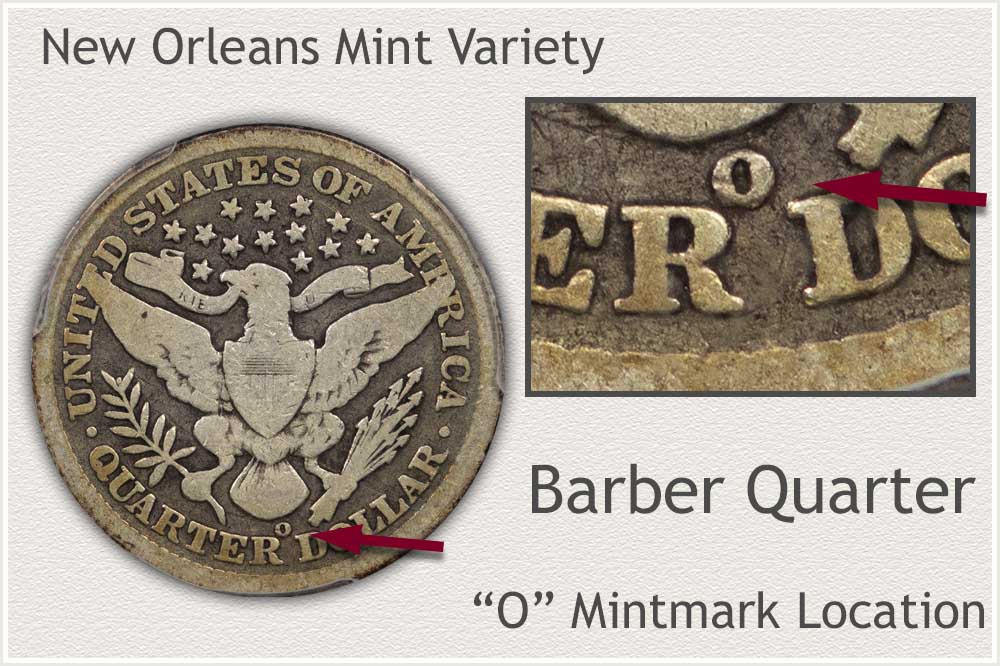 Over the years 1892 to 1909 New Orleans mint produced a steady supply of Barber quarters. Typical numbers of coins were 2 to 3 million per year totaling over 49 million for the series. Collectors often focus on the New Orleans variety as a set and one date 1909 the last year from the mint is the key, scarce issue. After years of million plus production, 1909's mintage dropped to 712,000, creating a valuable Barber quarter.
Mintmark "O" indicating the New Orleans mint is on the reverse below the eagle.
"S" Mintmark: San Francisco Mint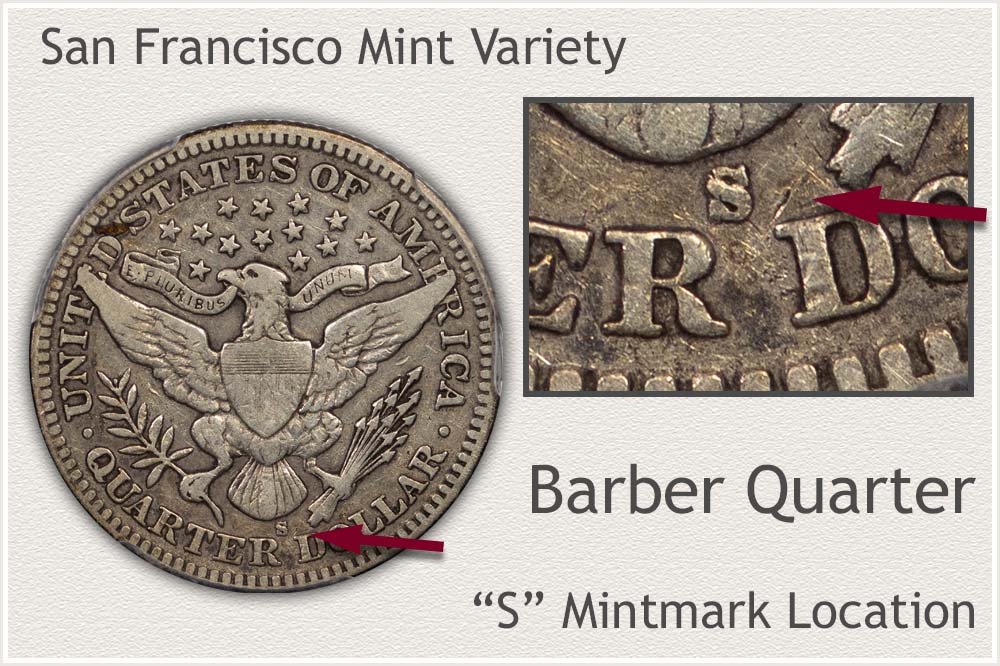 San Francisco mint production of quarters was both sporadic and varied widely in numbers minted. Of all the mints, more San Francisco dates are premium value Barber quarters. It is known for the lowest mintage variety of the series, 1913, only 40,000 struck. A rare and highly sought coin.
Identify San Francisco mintage by the "S" mintmark on the reverse, below the tail feathers of the eagle.
"D" Mintmark: Denver Mint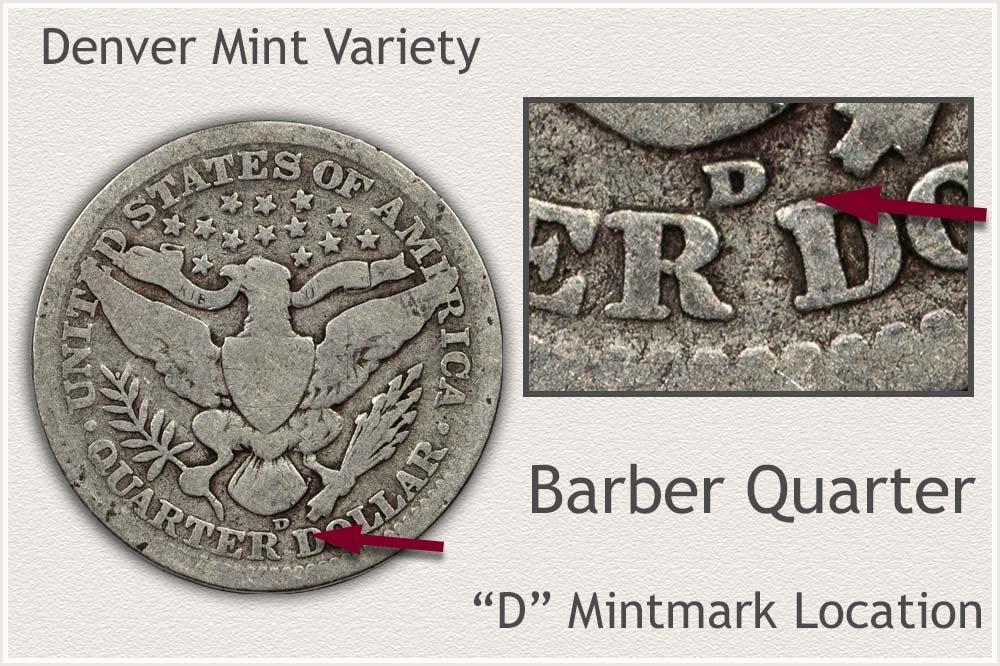 Denver mint located in Colorado was new in 1906 and struck just over 3 million quarters that year. Production continued until the end of the series lapsing only in 1912 striking no quarters, instead focusing on Barber dimes and half dollars. Standout date variety is 1911, only 933,000 mintage a low number and now a scarce coin.
On the reverse a "D" mintmark below the eagle confirms the Denver mint variety Barber quarter.
No Mintmark: Philadelphia Mint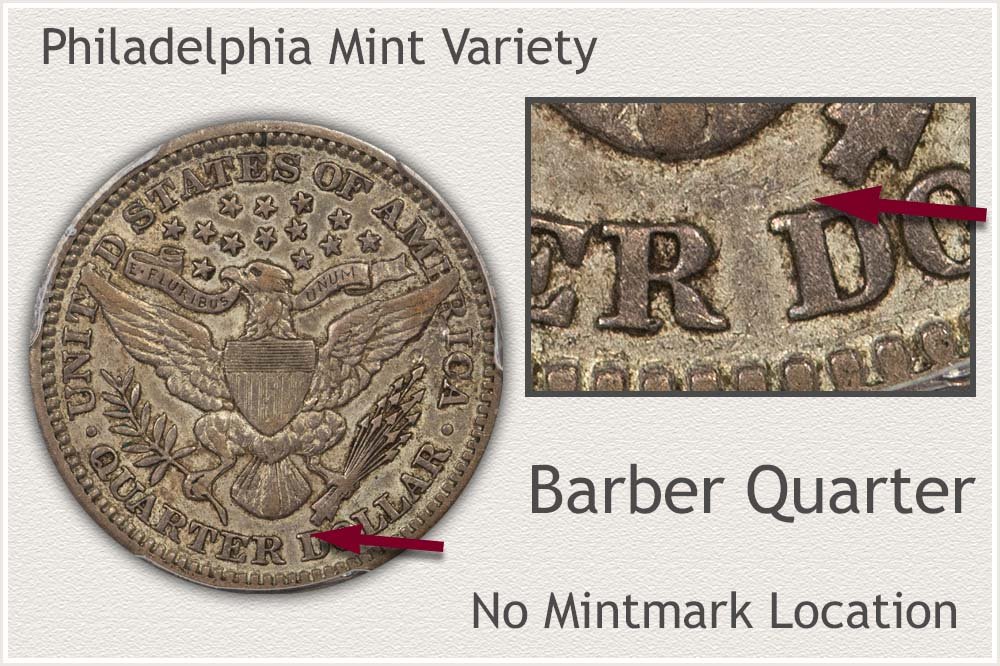 Philadelphia mint was the largest contributor to the series. Minting over 159 million Barber quarters from 1892 to 1916, striking coins every year. Banner production years saw numbers toping 10 million per year. Many Philadelphia coins are the beginnings of a collection because of affordability. One year - 1913 is very scarce due to low numbers minted just over 484,000. A 1913 in above average condition is worth in the hundreds of dollars.
Philadelphia did not use a mintmark to identify its coinage of Barber quarters. No mintmark in the area under the tail feathers of the eagle is a Philadelphia quarter.
Step 2: | Grading Condition Narrows Barber Quarter Values
An old Barber quarter is 90% silver alloy with an underlining base value assigned to well-worn examples. Collector quality coins are worth far more. An accurate judgement of condition begins to identify these higher quality pieces. Comparing your coin to the grading images finds a close match and narrows grade and value range.
Use a single light source when viewing, tilting the coin at different angles helping bring out subtle details important to condition. A magnifying glass is very helpful bringing small details into view.
Barber Quarter Values are Conditional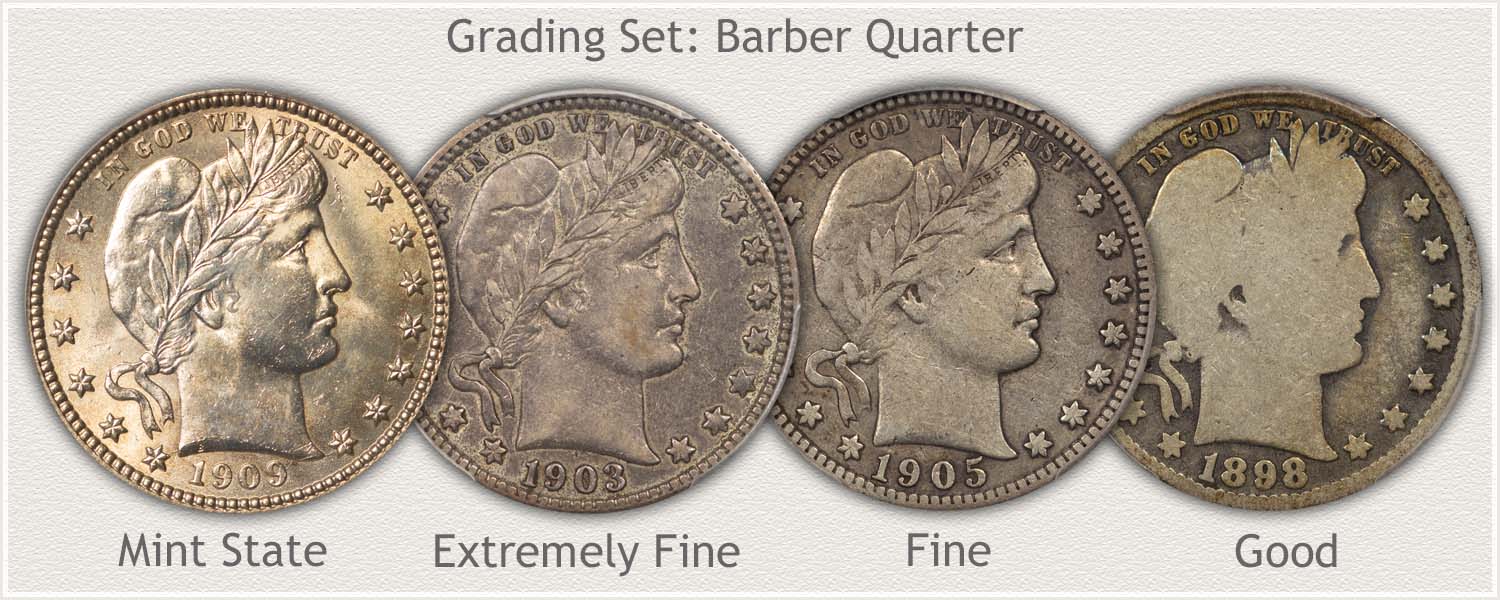 Mint State Grade: Barber Quarter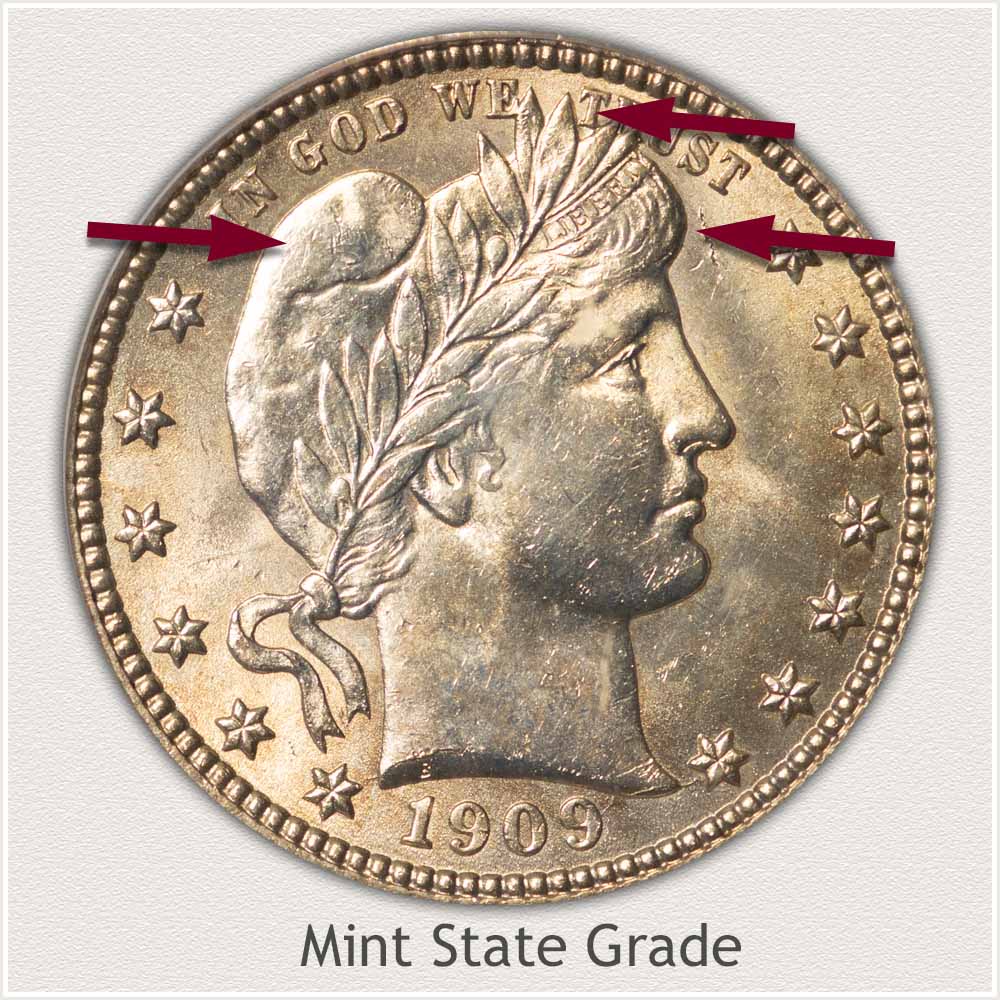 Obverse: Features Identifying Mint State Grade: Defining a Mint State quarter is absence of wear to the surface of the coin. High points of the design are closely inspected to judge this condition.
Liberty's hair just above the forehead is an area prone to wear. Details of the hair are fine lines and subtle waves. All small details remain on a mint state coin.
A the very top of the cap is a large fold, its surface remains with the same texture as the surrounding metal. A fine grain to the metal produces the shine and quickly dulls when worn.
Tips of the laurel leaves are a small high relief feature. Insect the edges of all leaves for any smoothing indicating wear.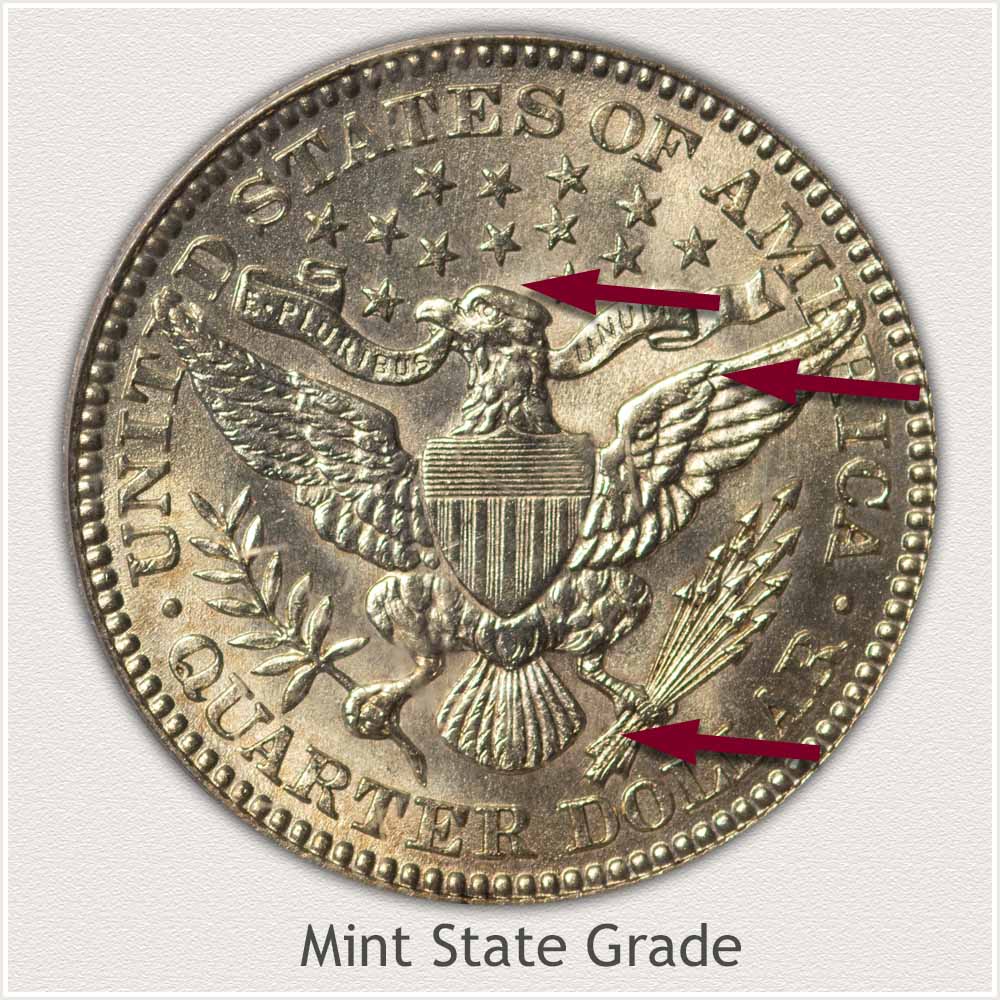 Reverse: Features Identifying Mint State Grade: A bold eagle, outstretched wings, and a central shield are the high areas on the reverse.
Looking at the eagle's head just above the eye, no smoothness or flattening is seen. Sharp lines and defined edges remain.
Prone to wear, the top edges of the wing are well rounded from tips to shield.
Tail feathers are all without signs of flat spots or dulling of the metal. Wear quickly removes the fine grain texture of luster.
Extremely Fine Grade: Barber Quarter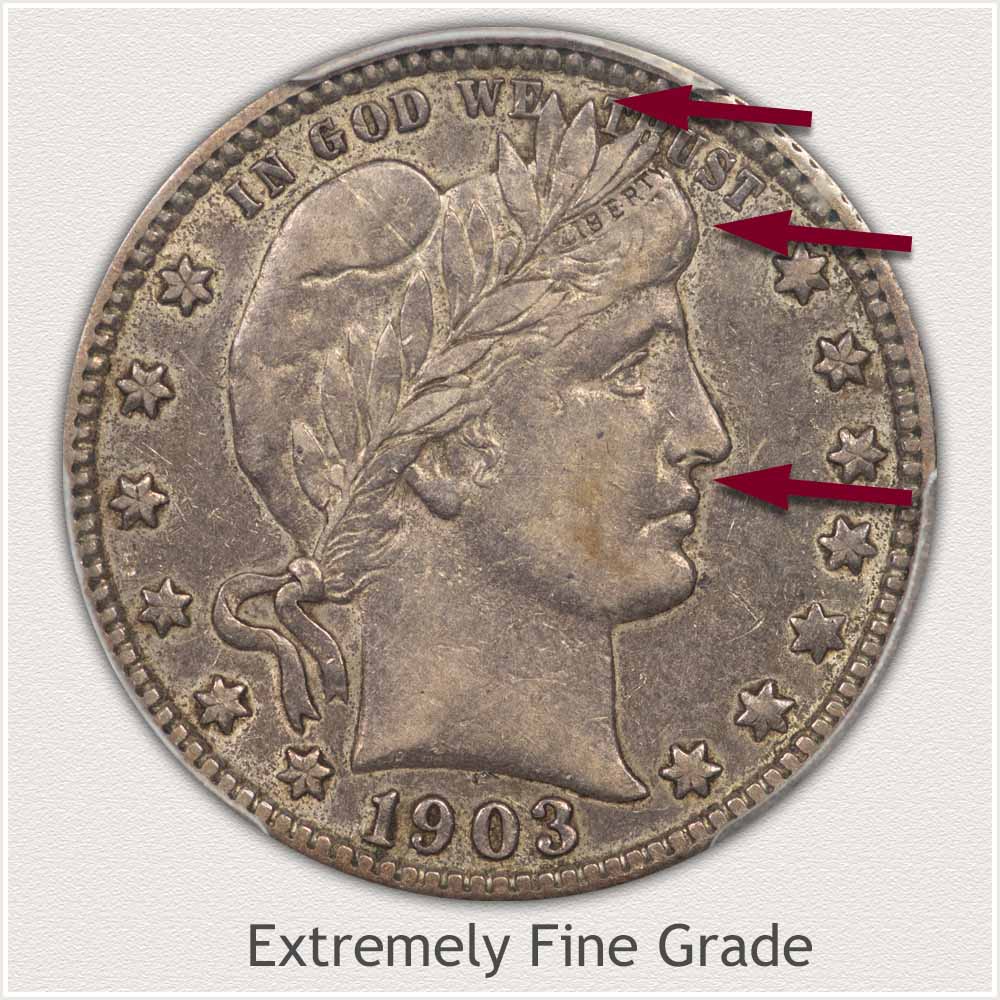 Obverse: Features Identifying Extremely Fine Grade: Light wear has begun to remove just the highest areas of the design.
Liberty's hair displays a small worn area above her forehead. Fine lines are missing and a flat area has developed.
Above her hair line all letters to "Liberty" are readable on the ribbon. Detail of the upper and lower edges of the ribbon are clear. Any fading of the line is on the bottom edge and minor.
A smooth area is now on Liberty's cheek extending from her eye to jaw. A bold contour remains between the eye and cheek below.
Upper laurel leaves to the wreath show a small flattening to the edges and tips of leaves. Lower leaves are worn but all edges are visible and distinct.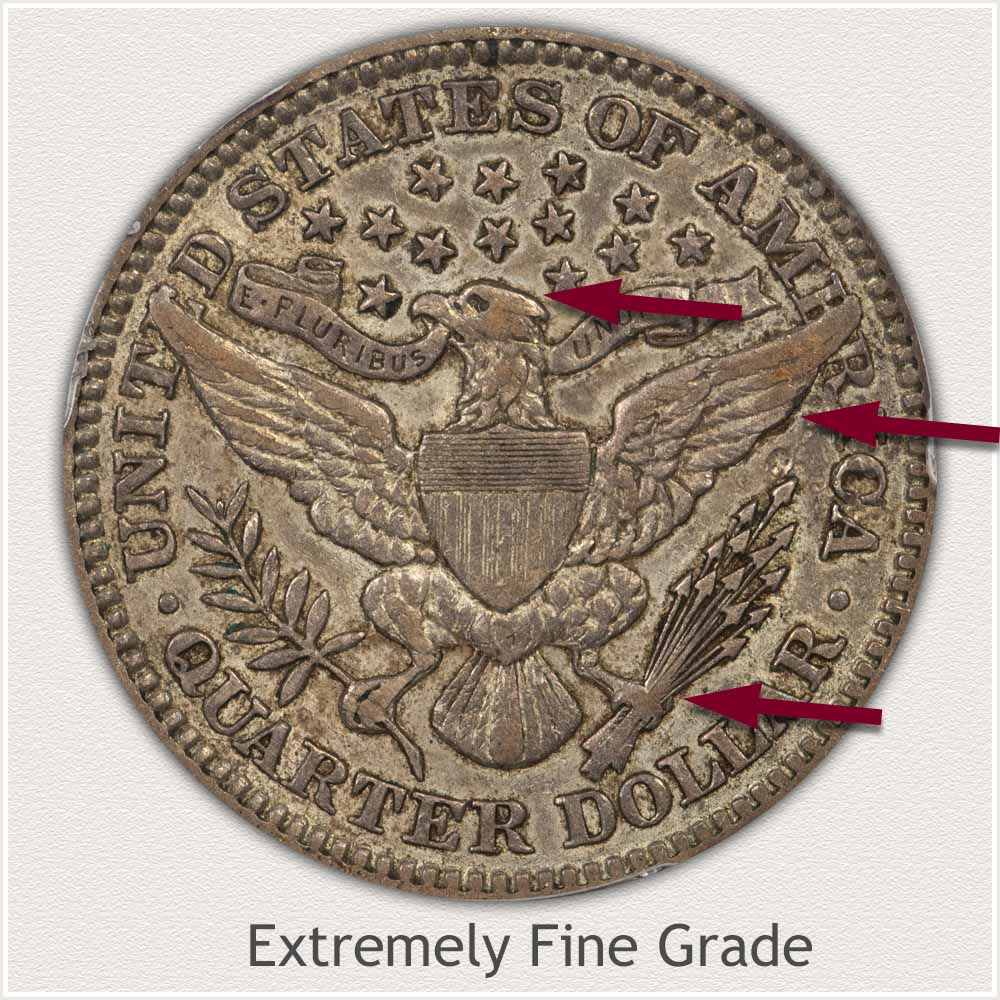 Reverse: Features Identifying Extremely Fine Grade: Wear begins to flatten the fine upper edges of the design. Many minor details remain with major details bold.
A small flat area is seen on the eagle's head. A fine line remains of the very top feather.
Within the center of the neck a small flat area has merged a few lines.
Towards the tips of the wings many fine lines are flat but the major feathers are represented by a separating line.
Talons have a flat area on the top contours; however, talons are raised from the olive branch and arrow shafts.
Fine Grade: Barber Quarter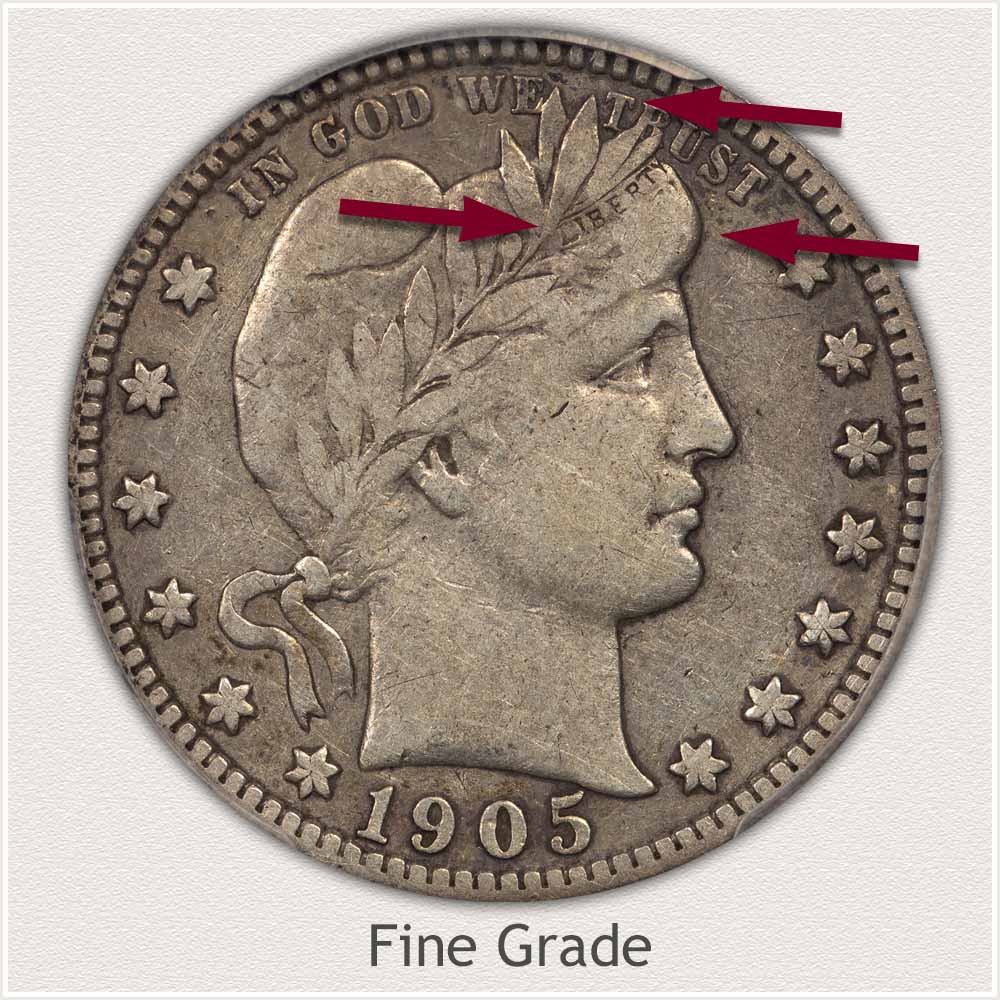 Obverse: Features Identifying the Fine Grade: A flatness is now the norm across most of the surface of a Barber quarter in Fine grade. Many bold details remain, giving the coin character.
Liberty's hair above the eye is smooth and absent of a defining line separating the hair from the forehead.
It is important letters of "Liberty" in the headband show to reach the Fine grade. "ER" is often weak but is readable. A lower line to the band is missing, upper line is partly visible.
A few leaves are outlined, not all are a flat plane. Lower leaves merge with the hair towards their ends. Upper row of leaves is outlined but faint.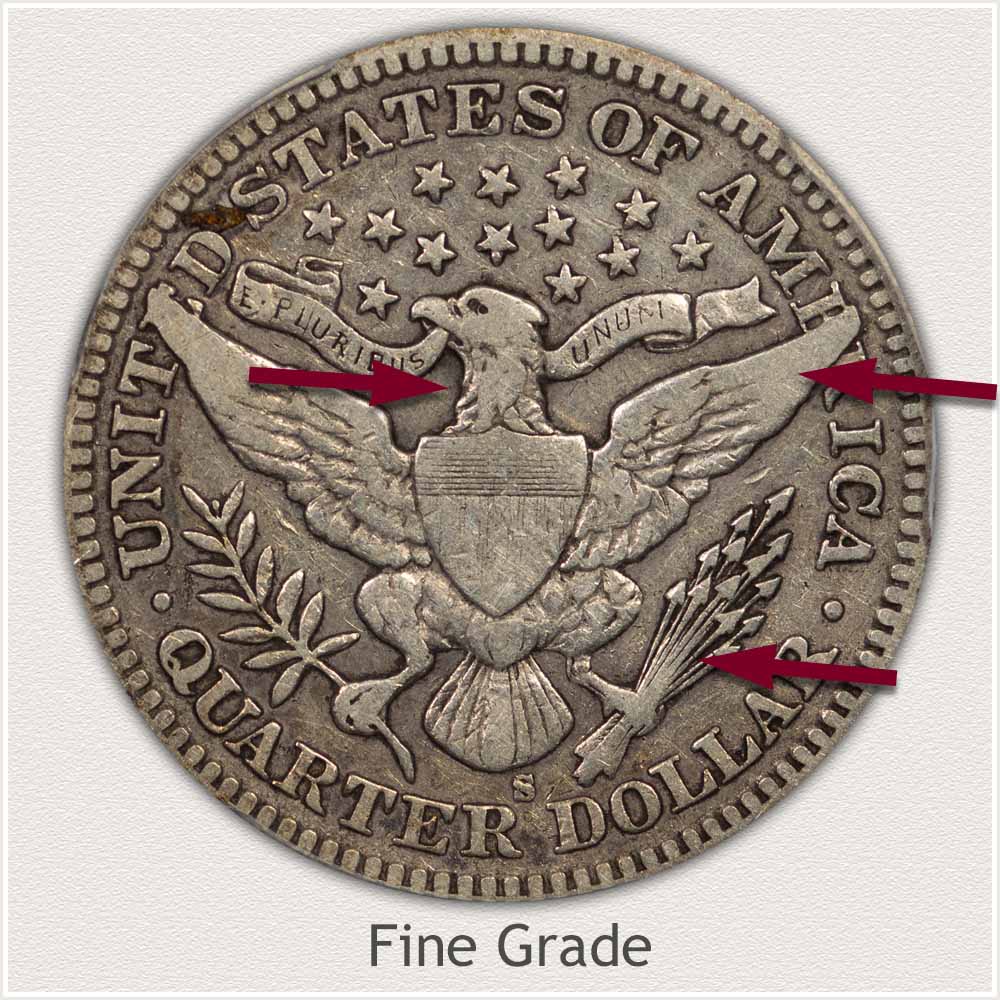 Reverse: Features Identifying the Fine Grade: Moderate wear is covering the entire design. The eagle is bold and most of the motto - E Pluribus Unum is readable.
Across the tops of the wings, feather detail is smooth and blended. Feathers remain separated in the lower half of the wing.
Neck area of the eagle is smooth and flat with a few feathers showing along the edges.
Arrow shafts are beginning to merge in the area close to the talon.
Good Grade: Barber Quarter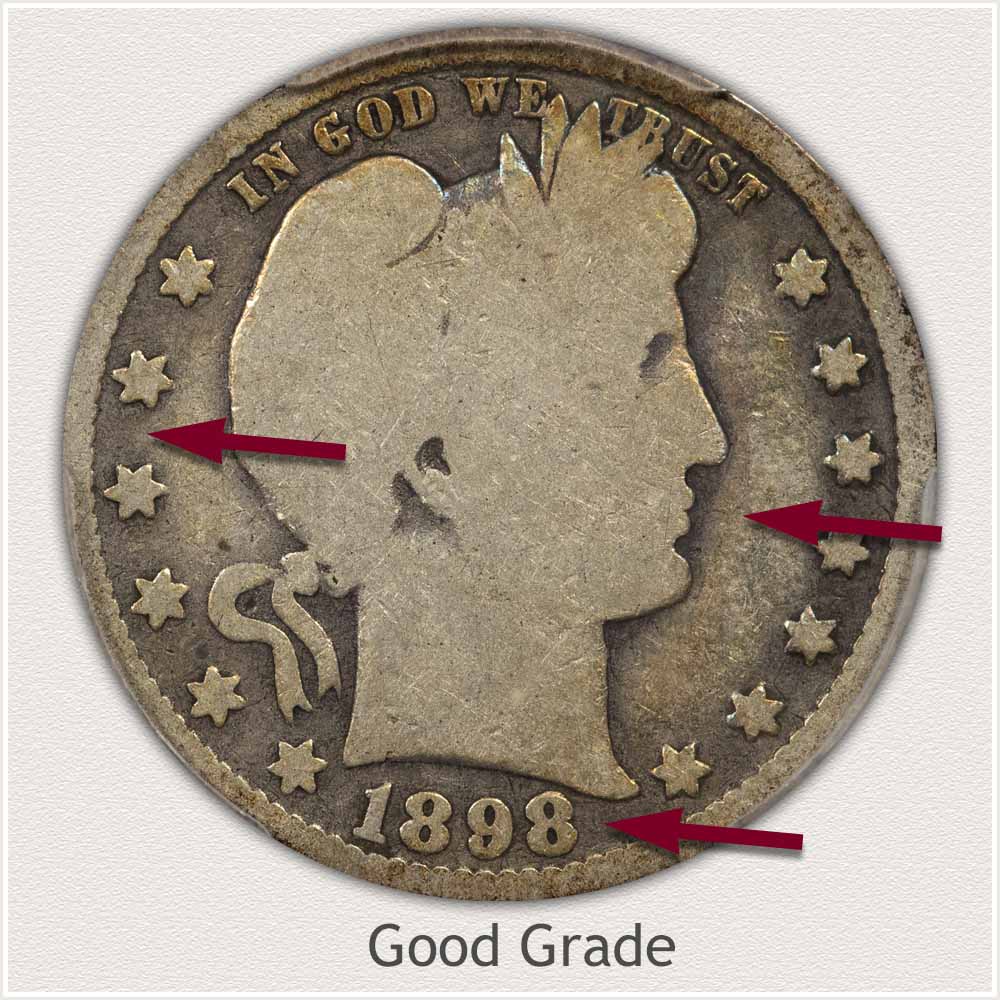 Obverse: Features Identifying the Good Grade: A bold Liberty remains with a strong outline.
Liberty is almost smooth across entire portrait. She remains raised from the lower surface.
Attention now turns to condition of the rim. The rim is complete but weak in areas. Letters of In God We Trust are clear of the rim.
Stars and date are clear and bold.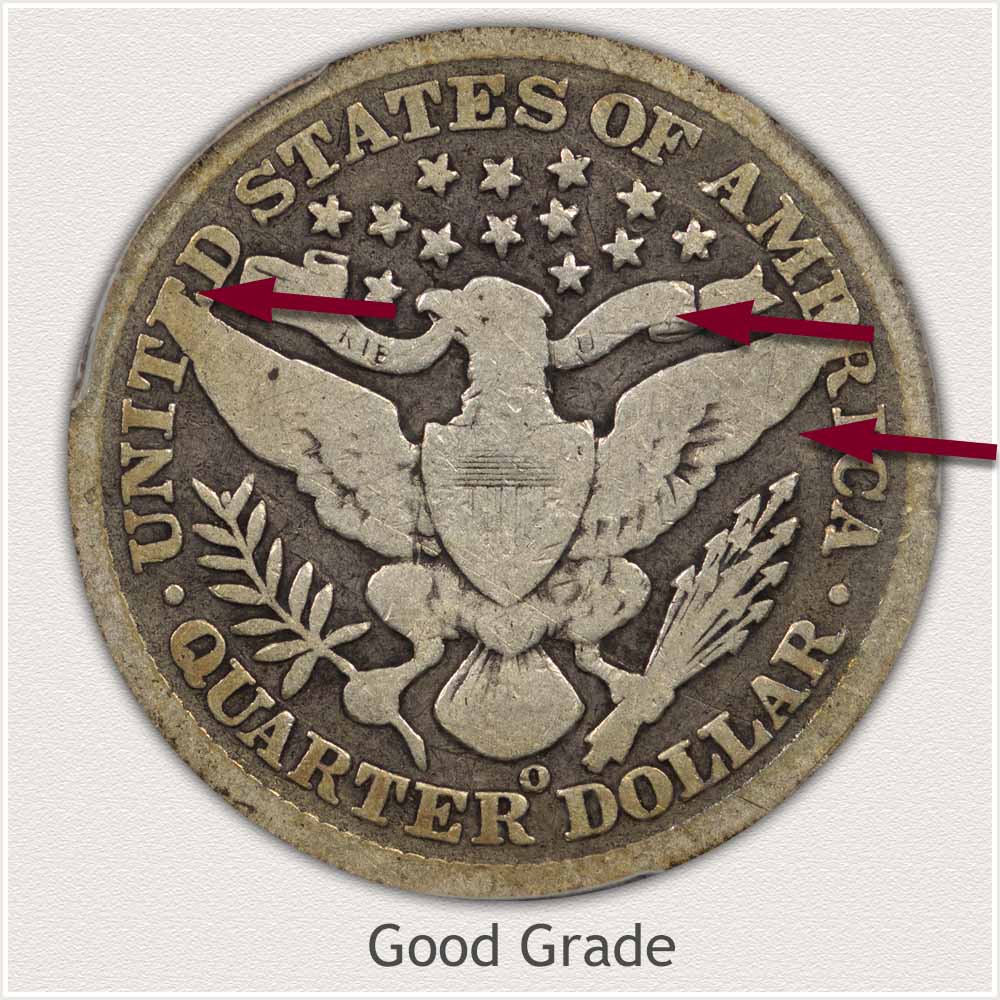 Reverse: Features Identifying the Good Grade: Fine line detail is flattened in the Good grade.
A full outlined eagle remains. Feather details are all but gone. Wing tips must remain clear and free of the rim
Ribbon in the eagle's beak is smooth with only partial letters remaining.
Rim is weak in many areas. Legend is faint towards the tops and a few letters are just beginning to blend with the rim.
How to Video: Grading Barber Quarters
A very worn Barber quarter is valued close to silver content. True, there are valuable key dates and mint marked issues in this grade, however these are rare. Added value of your coin is best found by accurate grading. Judging your coin is a higher collector quality leads to greater worth.
Along with the video are additional images and descriptions to judge condition of your old quarters.
Video | Grading Barber Quarters
Step 3: | Special Qualities That Decide Value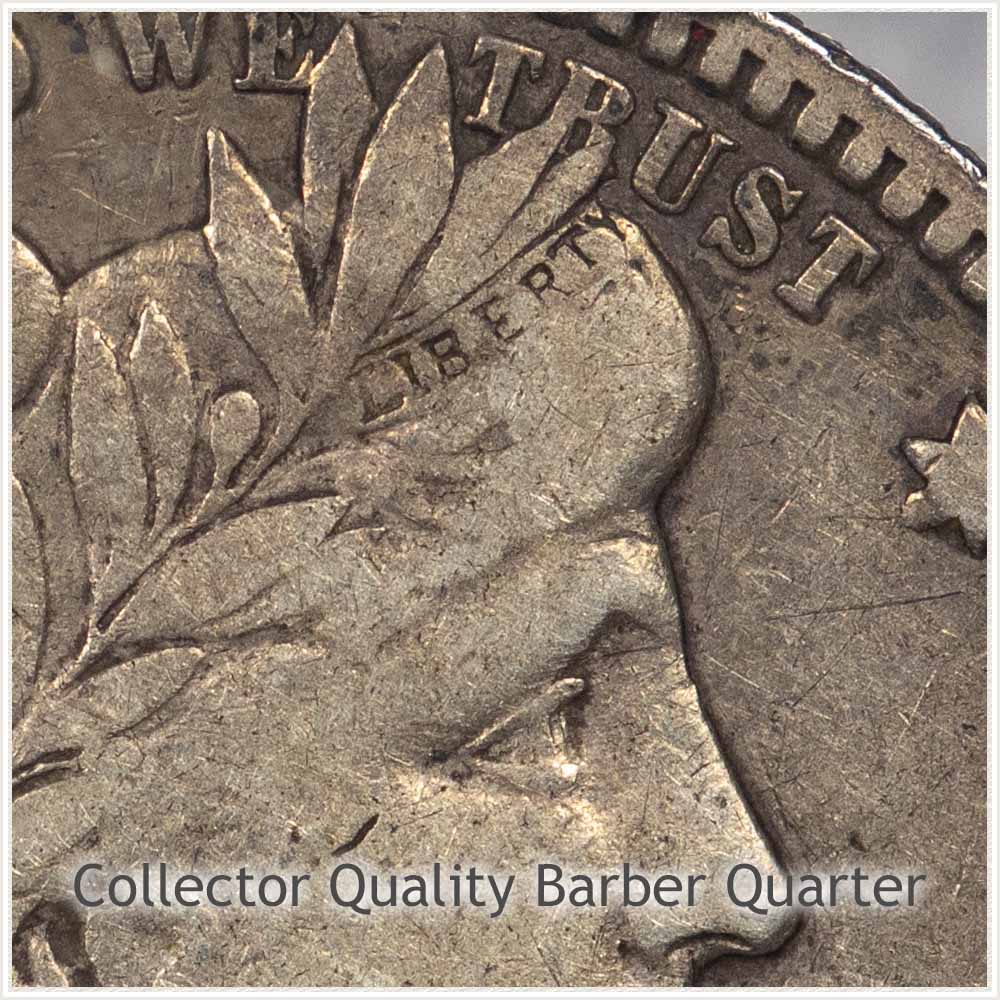 Collector quality defines value of Barber quarters. Once a coin is worn below the Fine grade the majority of dates and mints are now valued based on silver content moving with silver prices. Each Barber quarter is 90% silver by weight; worth $5.66 to $6.51 as of 5/25/2023 . Note: built into this value is a premium due to the popularity of the series.
To break away from base silver value and become a sought-after collectible, condition decides for all dates and mints. Notice all letters of "Liberty" in the headband are visible, including the last letter "Y". This one feature, a complete "Liberty" is an excellent indication of the Fine grade and a fully collectible quality piece. All bullion quality examples lack this distinguishing feature.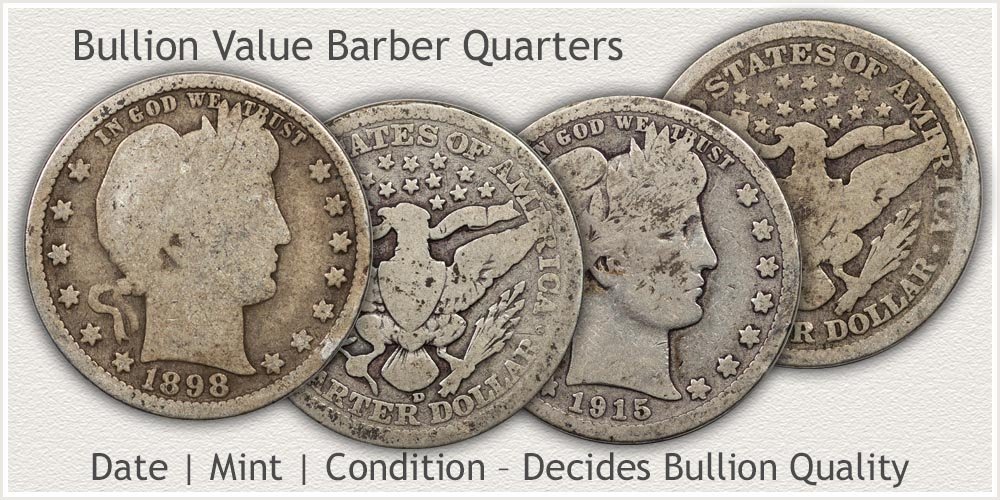 There are a total of 74 date and mintmark combinations in the Barber quarter series. Of these less than two dozen are premium coins below the fine grade. Now identity of date and mintmark decides value. Most coins of the series circulated and became very worn, bullion quality. Added is the mints actively reclaiming old quarters, melting and reusing the silver. In the five years 1916 to 1920 over 8 million quarters were withdrawn from circulation.
Barber quarter value is confirmed by: Step 1 - Date and Mint and then Step 2 - Condition.
References
US Mint. 1948 US Mint Annual Report. https://nnp.wustl.edu/library/book/339
US Mint. Catalogue of Coins of the United States. https://nnp.wustl.edu/library/book/554591
Coin Values | CoinStudy Articles
Date by Date
In Depth Barber Quarter Values
1892 to 1916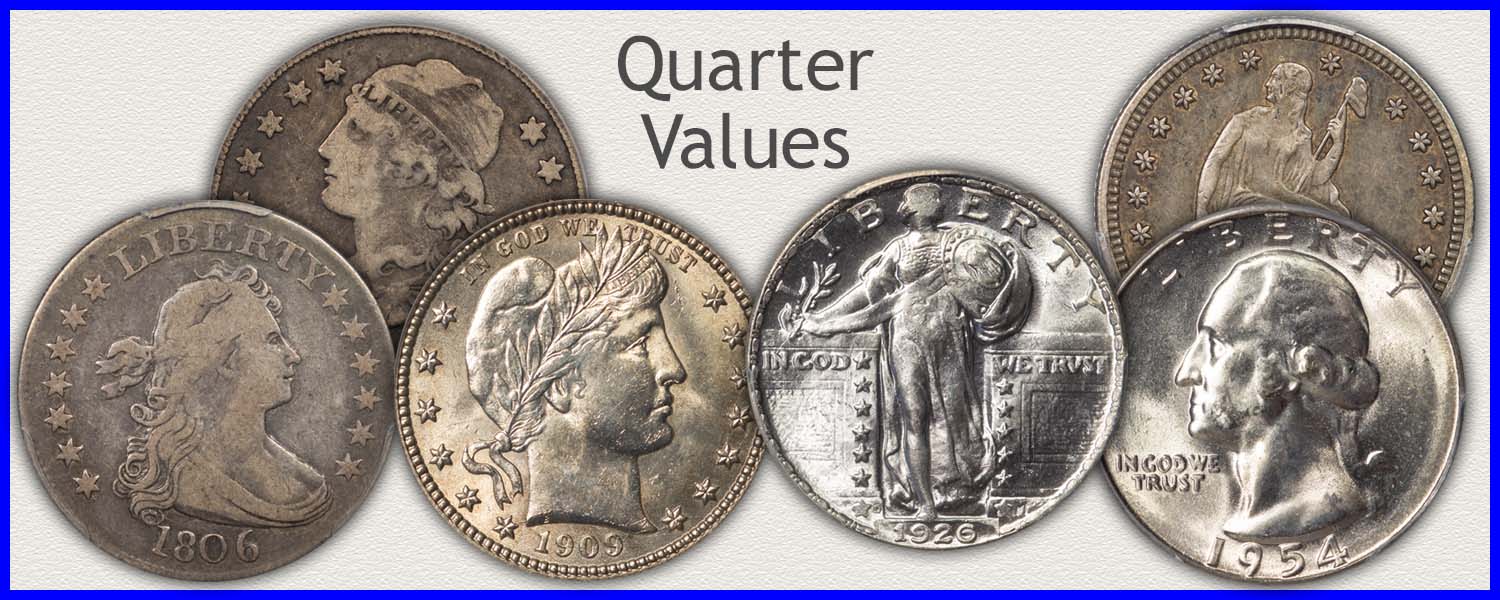 Easily find how much your old coins are worth. From Bust Quarters to Seated Liberty, Barber, Standing Liberty and Washington quarters. All series include Grading Images to judge the condition of your coins and coin value charts.
Today's Minimum Silver Coin Values
Many of your old US silver coin values are tied closely to the price of silver. Silver dimes, quarters, half dollars, and silver dollars are all heavy with 90% silver and worth many times their face value. With today's high price of silver your old coins are becoming surprisingly valuable.
A quick reference to US Coin Values. Images to identify each coin and minimum values for each type. Using the step by step method to how much coins are worth. Bookmark the online value charts to phone.
Coin Value Guide | How to Value a Coin Collection
A step by step method combined with the coin value online guide identifies how to value a coin collection. Discover how much your box of old coins is worth.
★ Coin Values Discovery finds Barber Quarter Values and...
All old US coin values. It is an excellent index with images and text links to all coin series, from Cents to Gold. Value charts, grading images and a step by step procedure uncovers how much your box of old coins is worth.
Introduction into the selling coins process. Preparing, organizing, and planning all combine to improve results.
Searching for rare quarters. Scarce and collectible quarters are found in all of the different series. Key dates, important mintmarks and identifying high condition coins often lead to a find.
Print the Coin Values Worksheet to list your Barber quarters and record their values. Should you decide to sell... use the worksheet as an invoice and packing slip when sending coins through the mail to dealers. It indicates you have done your coin values homework.