Coin Values Moving with Precious Metals: Up-Dated 3/30/2020: Gold $1605 | Silver $13.85
2 Cent Coin Value
Today's 2 cent coin value for the most common dates starts at $10 to $11.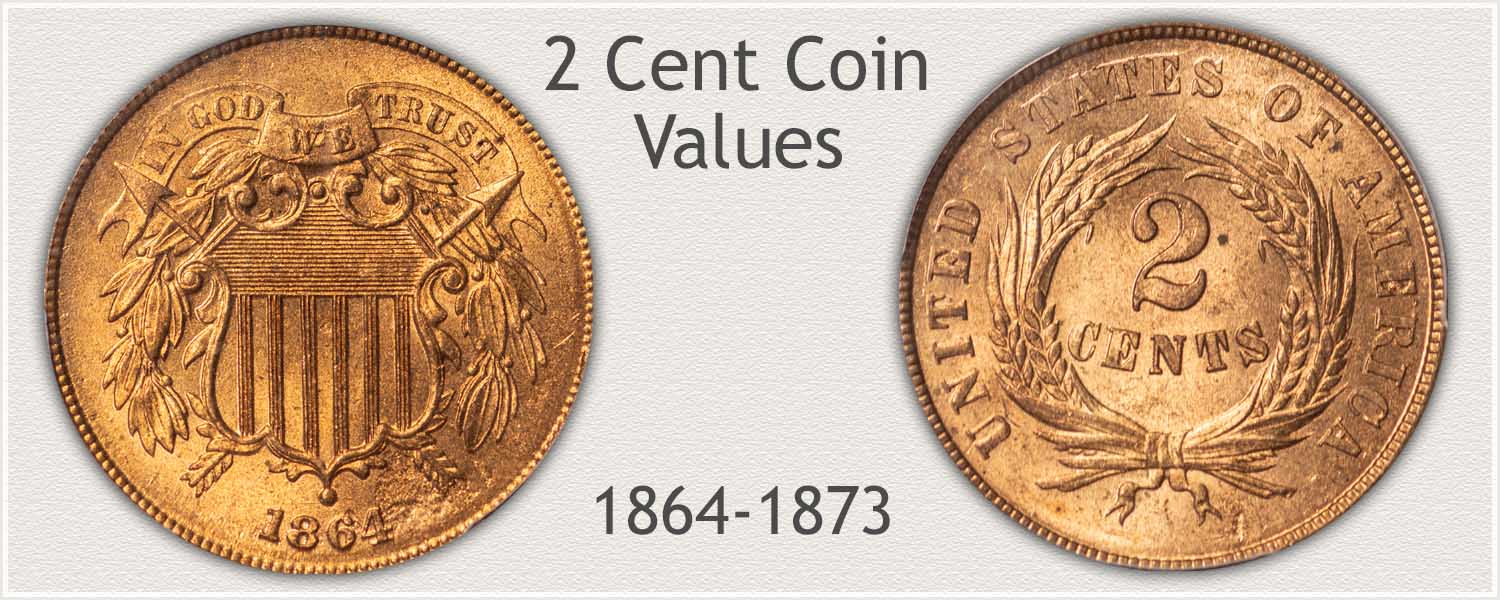 The most frequently found date is the 1864. The first year of mintage and almost 20 million 2 cent coins produced. It must however be examined closely, as it comes in two varieties, Large and Small Motto.
Should your coin be the uncommon Small Motto variety it is now worth $198 or more depending on condition.
And condition, it plays a large role in coin values. The example we are using, the 1864 Small Motto variety, in a higher "extremely fine" condition climbs to over $548.
Also, the nice uncirculated 2 cent coin to the right is highly desirable and sought by collectors, worth $77 to $100. See below about condition and how to "grade" your 2 cent coins.
2 Cent Coin Value and What Dealers Pay
A short series with a few rarities. Not as popular as other coins or series, and their values do not reflect how truly scarce they are.
2 Cent Coin Value
Condition of Coin
Date
Good
Fine
Extremely
Fine
Uncirculated
2 Cent Coin Value Updated
2020
1864 Sm Motto
$198
$303
$548
$840
1864 Lg Motto
$10
$15
$32
$77
1865
$10
$16
$32
$87
1866
$10
$15
$35
$97
1867
$10
$23
$40
$89
1868
$12
$24
$44
$97
1869
$14
$29
$56
$100
1870
$17
$39
$71
$139
1871
$26
$46
$97
$245
1872
$231
$350
$644
$1,594
1873 Proof
**
**
**
$1,822
The above are wholesale coin values. Computed from dealers price lists with various markup factors figured in. They reflect closely the value you would expect to receive when selling.
However do expect variations in value to occur subject to subtle grading points, collector demands and dealer needs.
See more about grading the conditiion of your coins just below.
Coin Values are Conditional
Condition is one of the more subtle points affecting your 2 cent coin value. Nicer, better preserved coins are always worth more. Dealers and collectors identify the different stages of wear separating coins from the most worn to the least and each is assigned a "Grade".
How to grade a 2 cent coin. Give it a try with your coins.
If your coin is worn and tired looking with just a partial IN GOD WE TRUST, it is in "Good" condition. That is how a collector will perceive your coin. They are always looking for a better condition coin with nice eye appeal. Higher grade equals higher 2 cent coin value.
In "Fine" condition the motto must include all the letters. Note, the "WE" in the motto is one of the highest points of the design and often very weak, but readable.
An "Extremely Fine" condition coin, a very desirable coin is crisp and sharp. It shows light even wear only on the high points of the motto. On the reverse, light wear on the ribbon.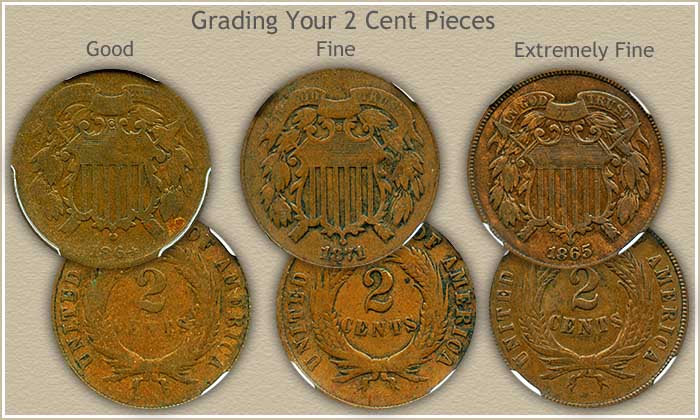 Examine your coins carefully, compare them to the image above, judge their condition conservatively and discover your true 2 cent coin value.
One last note on grading, if you feel any of your coins have a value over $100, such as a rare date or high grade and you are just not sure. Help is available.
Collectors and dealers consider PCGS and NGC as leaders in coin grading services. They both authenticate and grade your coin. The small fee you pay provides assurance you understand and receive the full value of your coin.
Investigate dealer's listings, look for those offering 2 cent coins for sale, their listings and prices usually include a notation of the NGC or PCGS assigned grade. Additionally... these coin dealers are potential buyers of your coins.
The 1864 2 Cent Small Motto Value
Your 1864 2 cent coin value changes dramatically depending on the size of the Motto. The Small Motto is the more rarer of the two varieties, minimum value $198 in good condition. Its popularity to collectors has stood the test of time.
The distinction between the Small Motto and Large Motto at first is hard to detect.
Starting with the Small Motto image. A few features to notice are, the lettering is not very bold. Spacing between letters is a little wide. Evident in the "WE" of the motto. The "T" in TRUST is very close to the fold in the ribbon.
The Large Motto lettering is more bold compared to the somewhat frail Small Motto lettering. The spacing is tighter, "WE" fills more of the ribbon. The "T" in TRUST is noticeably distant of the fold in the ribbon.
With the 1864 2 cent coin value ranging from $10 into the hundreds and all depending on the size of the motto. Put your coins under the magnifying glass. Don't let these slip by you.
To quickly understand some of the differences that gives the 2 cent coin value, as well as all coins, visit rare coin dealer sites. Look for and compare coins similar to yours. Their descriptions are quite telling.
2 Cent Coin Value in the Future
Is the value going up? Should you sell? Should you keep your 2 cent coins?
The 2 cent coin value is steadily increasing over the long term. Admittedly not the most popular coin, however those collecting the series are very serious. When the right coin is available and is needed for their collection, none hesitate to pay.
Should you sell? If you have a group of coins with no real focus, consider them as the start of a collection. The beginnings of a rewarding hobby.
Another successful approach is to sell your coins and use the proceeds to purchase one nice rare coin... the one you where hoping to find in the box. Pass the thrill of a rare and valuable coin on to your children.
You can take your time deciding, today's 2 cent coin value is stable. Handle your coins by the edges to preserve future value. Check back whenever curious or before you sell and stay current with values.
Safe Coin Storage | Recommendations
Recommendations on basic supplies that greatly improve coin storage. Providing for safe handling, preserving of value and organizing your box of old coins.
★Coin Values Discovery... finds your 2 Cent Coin Value and...
All old US coin values. The home page is an excellent index, quickly leading to the major coin series. From Cents to Gold.