Coin Values Moving with Precious Metals: Up-Dated 9/18/2023: Gold $1928 | Silver $23.14
2 Cent Coin Value
A range of 2 cent coin value is given on the chart. A step by step method is used to narrow the range of how much your coin is worth.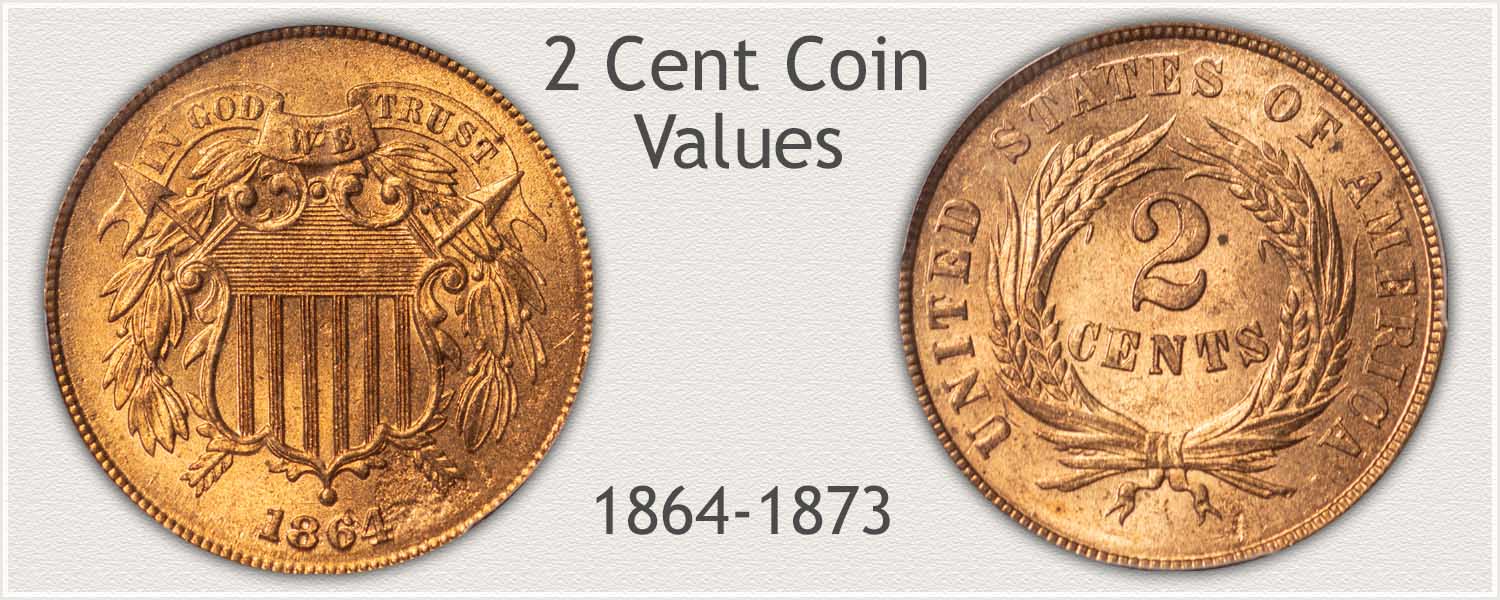 Steps Leading to Value:
Step 1: Date and Variety - Accurately identify dates and varieties found in the Two Cent series. Note: A close inspection of the date is needed because of small numerals.
Step 2: Grading Condition - Important elements are judged and condition is graded.
Step 3: Special Qualities - 2 cent pieces are copper and many factors are examined contributing to value.
First year of mintage 1864 saw almost 20 million pieces struck tapering off to 65,000 of the final circulation year 1872. An 1864 is an often-encountered date, interestingly their mintage represents close to half the total 45 million struck for the entire series. Follow the procedure outlined to discover how much your coin is worth.
2 Cent Coin Value
Condition of Coin
Date
Good
Fine
Extremely
Fine
Mint
State
2 Cent Coin Value Updated
2023
1864 Sm Motto
$119
$241
$468
$840
1864 Lg Motto
$11
$15
$31
$98
1865
$11
$15
$29
$93
1866
$13
$22
$39
$96
1867
$12
$24
$39
$124
1868
$13
$24
$44
$131
1869
$17
$29
$59
$152
1870
$23
$42
$89
$164
1871
$26
$46
$90
$149
1872
$193
$323
$574
$1,582
1873 Proof
**
**
**
$1,659
The above are wholesale coin values. Computed from dealer's price lists with various markup factors figured in. They reflect closely the value you would expect to receive when selling.
However, do expect variations in value to occur subject to subtle grading points, collector demands and dealer needs. Proceed through the steps below and narrow the value range.
Step 1: | Date is Key to an Accurate Worth
A short series with a few rarities, 2 cent pieces were minted for circulation starting in 1864 and circulating coinage ended in 1872. The date is located under the shield. Somewhat small numerals were used of a style needing a close look to recognize correctly. Similar in appearance are the "6" "8" and "9".
Symbolism featured on the obverse depicted what the nation was experiencing at the time. A shield of the United States is over two crossed arrows representing war. Olive branches - peace - are either side. A wreath of wheat - victory - encircles 2 Cents on the reverse with the legend United States Of America along the rim.
Step 2: | Grading Condition | Coin Values are Conditional
Condition has subtle points affecting your 2-cent coin value. Nicer, better preserved coins are always worth more. Dealers and collectors identify the different stages of wear found on the surface of a coin and assign a Grade.
Images representing standards for each grade are used to compared your coin, detecting the points for each grade and narrowing its condition range.
How to Grade a 2 Cent Coin | Give it a Try
Mint State Grade: 2 Cent Piece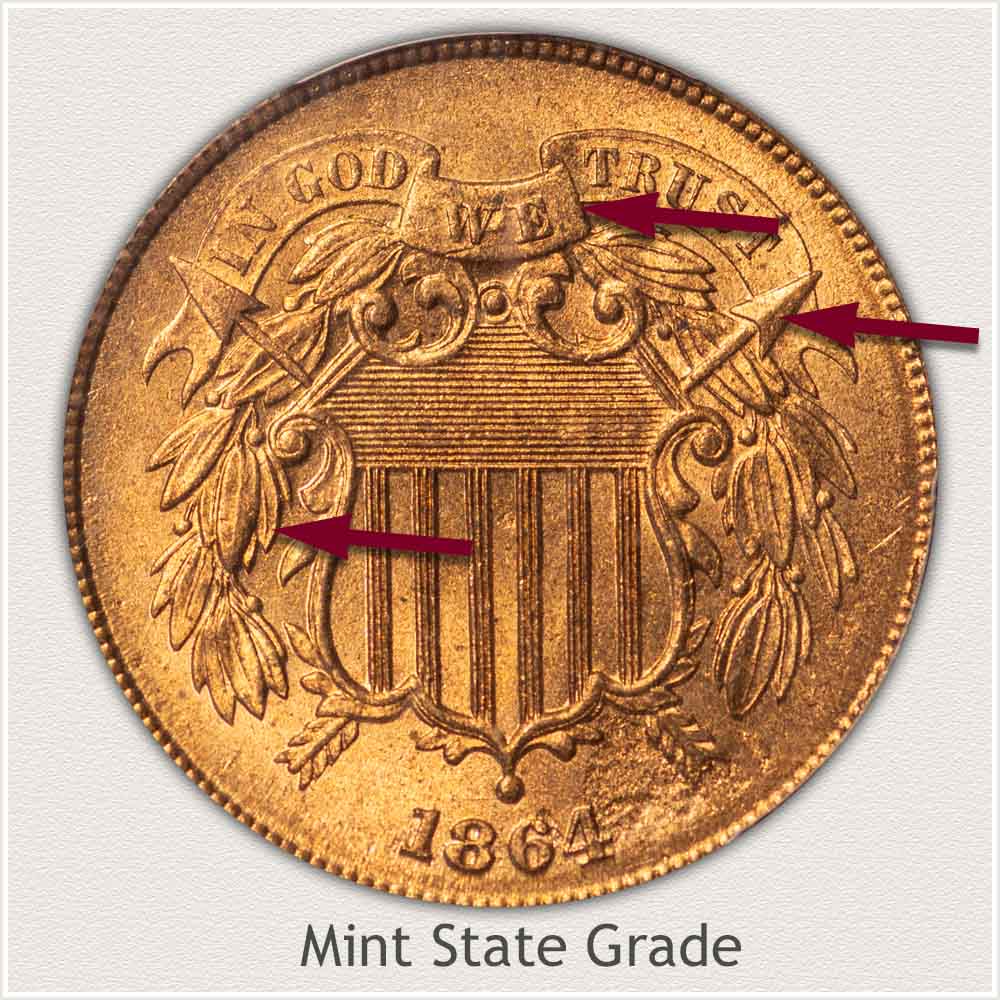 Obverse: Features Identifying Mint State Grade: Keeping in mind the definition of a mint state coin is one without any wear to the surface, a few key areas are inspected.
First and highest in relief is WE found on the scroll above the shield. Signs of wear - a smoothing of the metal - is absent on uncirculated - mint state examples. A shade of brown, natural toning of copper is often found, however, does not disqualify a coin from the grade.
Arrow points are judged for absent of wear. Both arrow points on either side of the shield remain without any flatness.
Confirming the grade is lack of wear on the upper most olive leaves found towards the middle of the shield.
Reverse: Features Identifying Mint State Grade: Stalks of wheat tied at the bottom forming a wreath are subject to initial wear.
Inspect closely the center leaves separating the top and bottom grains of wheat. High ridges of the leaves on mint state examples show no signs of flatness to these ridges.
A small knot ties the wheat at the bottom of the design. Three separate high points are part of the design to the knot, each prone to showing signs of contact. Well defined with no smoothing is expected in mint state condition.
Further inspection finds the wheat grains all remain domed in profile with no flattening.
Extremely Fine Grade: 2 Cent Piece
Obverse: Features Identifying Extremely Fine Grade: An Extremely Fine grade coin is crisp and sharp. It shows light wear only on the high points of the design elements.
Helping judge the grade is a full WE as part of the motto. Evidence of light wear is smoothing the letters but each remain with a complete outline.
Arrow points and their shafts show a slight smoothing and flatness.
Top olive leaves on the left side of the shield are showing small areas of flatness, mostly towards the ends. Separation lines defining each leaf are visible. Scanning the entire coin, small disconnected wear is noticed on the frame of the shield and high points of leaves on the right side of shield. Overall, the coin projects a bold design and crisp look.
Reverse: Features Identifying Extremely Fine Grade: A highly detailed wreath remains on an Extremely Fine condition coin.
Each leaf is clearly defined, and separated with just touches of smoothness along edges. Inspect the larger leaves towards the top of the wreath. Edges are visible to each leaf in the clusters.
Wheat gains are fully separated without any merging together. Wear is only found on the tops of the grains.
Ribbon tying the wreath at the bottom remains well defined. A clear separation is visible from the wheat stems. Trailing ribbon ends show only minor flatness to the upper waves. A bold design is the impression given when viewing the extremely fine grade.
Fine Grade: 2 Cent Piece
Obverse: Features Identifying the Fine Grade: Wear is beginning to clearly show on a 2-cent piece in Fine grade. A moderate amount of design is flattened; however, many major elements remain.
In Fine condition the motto is becoming difficult to see all letters. Note, the "WE" in the motto is one of the highest points of the design and often very weak. Any evidence of WE remaining indicates a strong strike and a solid candidate for the Fine grade.
Leaves are flattened by wear with no central detail remaining. On many examples most leaves still show a separation from each other.
Note that both arrow shafts near the arrow heads have enough detail remaining to indicate they are above the leaves.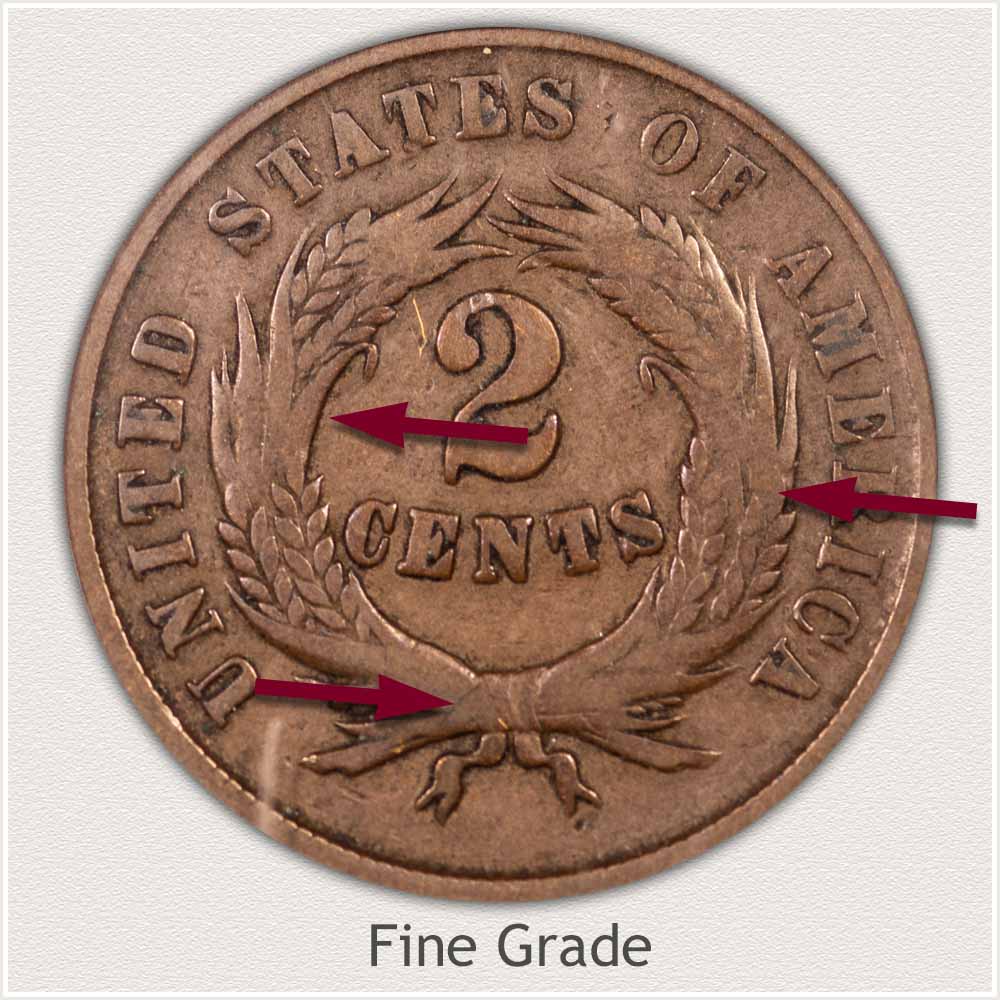 Reverse: Features Identifying the Fine Grade: Wear has smoothed many of the minor details to the reverse.
Bow tying the wreath is mostly merged with the stems of wheat. Ribbon ends remain well defined. Any separation of bow from wreath along edges strengthens the grade.
Many leaves within the wreath are visibly flattened. Merging of leaves together is just beginning. Lines separating the middle set of leaves helps place the coin well within the Fine grade.
Wheat grains are often faded in areas; however, most are visible. A bold rim is clear of the tops of the lettering.
Good Grade: 2 Cent Piece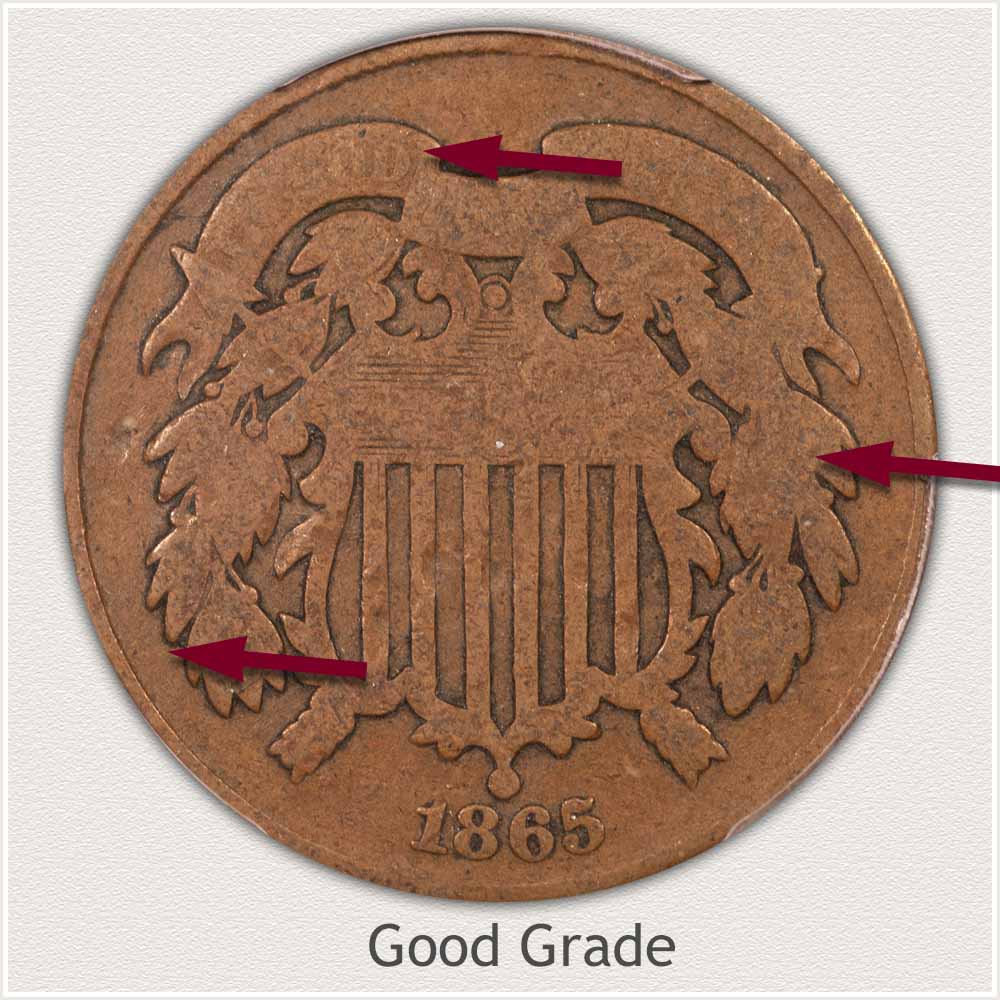 Obverse: Features Identifying the Good Grade: Heavy wear now covers the entire surface of a Good grade example.
Although WE of the motto is missing; IN GOD and TRUST are often just visible on the ribbon above the shield. On many coins lettering of the motto is weak, and very faded.
Leaves have merged and most lines between leaves are missing. Most leaves are represented as a smooth group. Wreath is clear from the fields of the coin.
Rim is complete around the majority of the coin, date plain.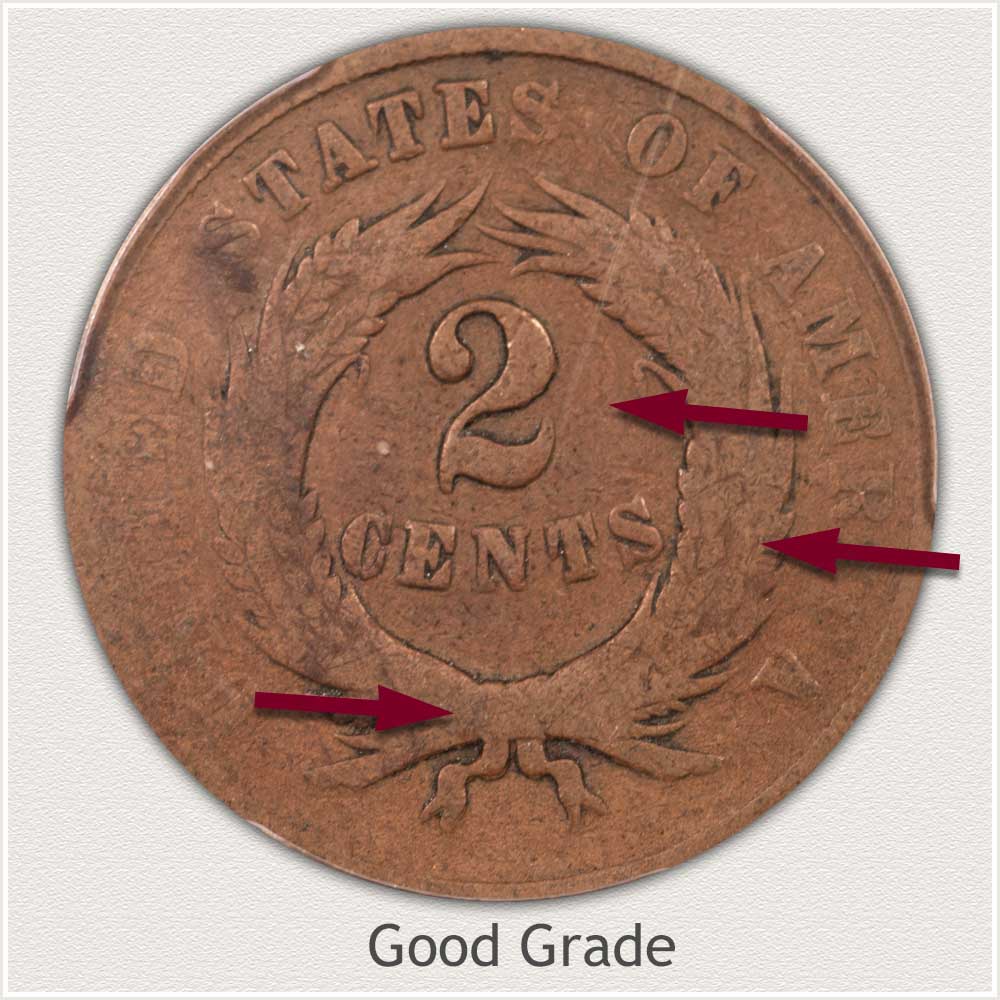 Reverse: Features Identifying the Good Grade: A flattened appearance is the "look" of a good grade reverse. Most elements are recognizable, 2 Cent is readable, and the wreath is raised from the field.
Wreath and bow are connected in a smoot area. Central leaves opposite 2 Cents are very flat with little definition.
Lettering is faded in areas and bolder is others, the result of a variance in strike.
If your coin is worn and tired looking with just a partial IN GOD WE TRUST, it is in "Good" condition. That is how a collector will perceive your coin. They are always looking for a better condition coin with nice eye appeal. Higher grade equals higher 2 cent coin value.
A single lamp as a light source combined with 4x to 5x magnifying glass is helpful to see these subtle points. Often discovering a higher possible condition. Tilting the coin side to side reflects light at angles identifying traces of faded design.
One last note on grading, if you feel any of your coins have a value over $100, such as a rare date or high grade and you are just not sure. Help is available.
Collectors and dealers consider PCGS and NGC as leaders in coin grading services. They both authenticate and grade your coin. The small fee you pay provides assurance you understand and receive the full value of your coin.
Step 3: | Special Qualities Enhancing Value
Recognizing the Sub-Variety 1864 Two Cent
1864 two cent coins include a variety where values change dramatically depending on size of the Motto; Small or Large. The Small Motto is the rare of the two varieties and popular with collectors.
The distinction between the Small Motto and Large Motto at first, is hard to detect. A few key points help to detect the difference of the two.
Starting with the Small Motto, features to notice are the lettering is not very bold. The letters are thin and size within the "D" is large in comparison.
The Large Motto lettering is bold compared to the somewhat frail Small Motto lettering. The spacing is tighter, and the interior of the "D" is narrow in shape. With the 1864 Small Motto value higher, put your coin under the magnifying glass. Don't let these slip by you.
Value in Safe Coin Handling
Proper storage maintains stable surfaces to copper coins. A clear difference in quality is illustrated by the appearance of a well-preserved coin. Allowing the dark corroded coin to experience humid conditions encouraged the green verdigris and corrosion to take hold. Keeping coins dry, holding by the edges not touching the surface is key to handling.
References
US Mint. Catalogue of Coins of the United States https://nnp.wustl.edu/library/book/514142
US Mint. Symbols on Our Coins https://www.usmint.gov/learn/history/us-circulating-coins
US Mint. Catalogue of Coins of the United States https://nnp.wustl.edu/library/book/554591
Coin Values | CoinStudy Articles
Safe Coin Storage | Recommendations
Recommendations on basic supplies that greatly improve coin storage. Providing for safe handling, preserving of value and organizing your box of old coins.
An excellent picture index of all major US coin series. Compare and identify your coin to the picture, click on the image, and go immediately to your old coin value.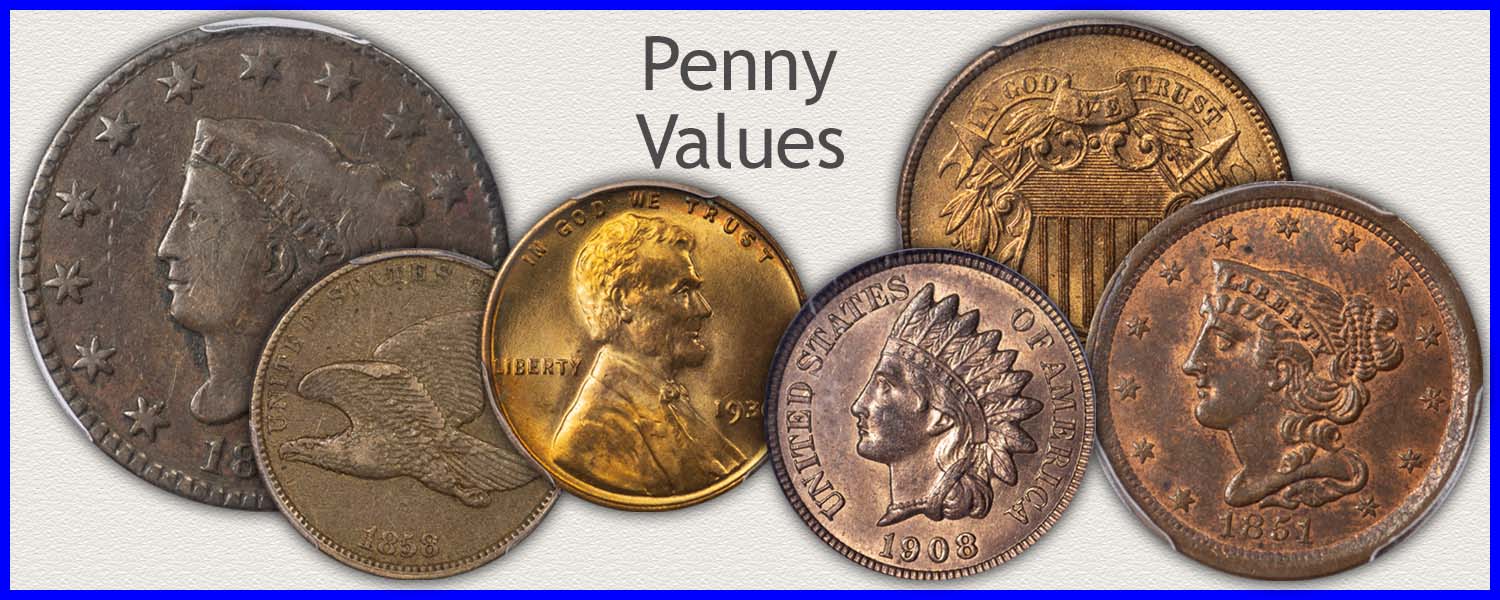 Penny Values | Rare Pennies Have Outstanding Values
Discover your old penny values. 2 cent pieces hold a special place within US coinage history, a unique denomination. Other values are found in the rare Half Cents and Large Cents, to the popular Indian and Wheat pennies. A step by step process is used with all your coins, matching to grading images and value charts. Current values are worth exploring.
Understanding value of your two cent pieces is a great first step to successfully selling these coins. Resources helping find markets is the next step.
Old US Penny Values are Rising
Coin values are determined by using the grading images to judge condition then checking the date and values on the charts provided. Discover all the rare varieties, dates and mintmarks.
★ Coin Values Discovery finds 2 Cent Coin Value and...
All old US coin values. It is an excellent index with images and text links to all coin series, from Cents to Gold. Value charts, grading images and a step by step procedure uncovers how much your box of old coins is worth.