Lincoln Penny Value is Amazing for the Right Coin
Today's Lincoln penny value for common date "wheat" cents dated 1909-1958 start at $1.50 for a roll of 50 coins.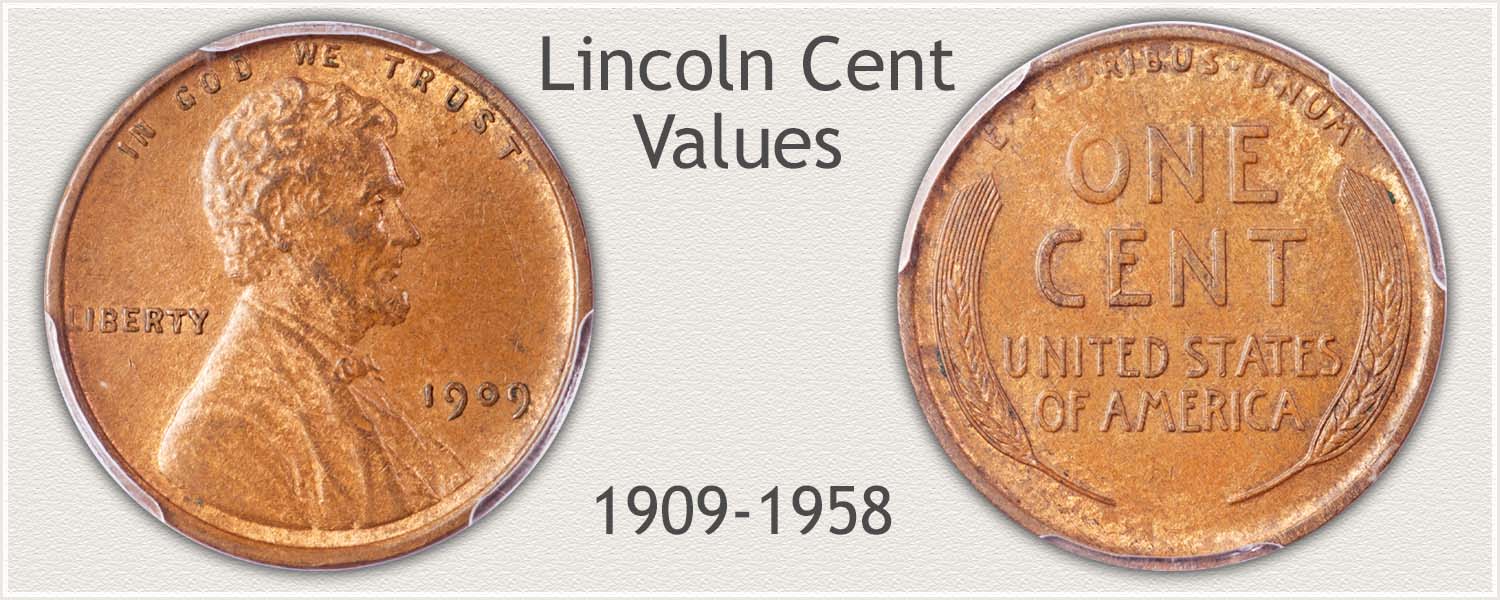 First minted in 1909, itself a desirable coin, the series also includes many other rare and valuable dates. For example, find a 1933-D and its minimum value is $2 If you have a 1931-S you are holding a coin worth at least $27.
Additionally, the better the state of preservation of your coins, the more appealing to collectors they become and the more they are willing to pay.
Pictured is a beautiful 1958 Uncirculated Lincoln Penny all collectors would enjoy adding to their collection. Gather and sort your Lincoln pennies and discover their values.
Lincoln Penny Value-What Dealers Pay
The following Lincoln penny value chart shows clearly dealers and collectors pay a premium for better grade coins. If your Wheat Cent is close to a higher grade and the much higher value, absolutely have it graded by either NGC or the PCGS grading service. More information about these services below.
The above are wholesale coin values. Computed from dealer's price lists with various mark-up factors figured in. They reflect closely what you would expect to receive when selling.
However do expect variations in value to occur subject to subtle grading points, collector demands and dealer needs. For more background information, see how value listings in the Coin Value Guide are determined.
Lincoln Penny Value is Conditional
To accurately determine your Lincoln penny value compare your coins to the images below and assign each a grade.
An easy way to grade the Lincoln cent is by the wheat stalks on the reverse. If all the parallel lines in the upper part are showing the coin is in Fine or better condition. No lines showing, the penny is in Good or worse condition. If all detail on the obverse and reverse is crisp and sharp, your coin is in Extremely Fine condition.
The better the condition means all the difference to a dealer. Their customers are continually looking for nicer examples to add to a collection. Therefore, Lincoln penny value is directly tied to the condition of your coins.
Is one or more of your wheat pennies in very nice condition and you are just not sure of its grade?
Collectors and dealers consider PCGS and NGC as leaders in coin grading services. They both authenticate and grade your coin. The small fee you pay provides assurance you understand and receive the full value of your coin.
It is also helpful to know grading a coin is not an exact science. It is your opinion, dealers and collectors have their own opinions... and they can all differ slightly.
Check a few rare coin dealers listings, look for those offering Wheat Cents for sale. Their listings of the higher value pennies usually include a notation of the NGC or PCGS assigned grade. Additionally... these dealers are potential buyers of your coins.
Value in Mintmarks and the 1909 "VDB"
The "S" mintmark indicates the Lincoln cent was minted in San Francisco. The "S" is found under the date. It holds a special fascination with collectors and is worth a slight premium to common date wheat cents.
Additionally, if the letter is a "D" it was minted in Denver. No mintmark under the date indicates the Philadelphia Mint produced the coin.
Now let's find the "VDB." They are the designers, Victor D. Brenner initials. Only in 1909 where they placed on the reverse and only on part of the coinage. Find them on the reverse, along the rim, at the base of the wheat stalks. Since fewer coins where produced with the initials, check any 1909 wheat cent you have for the "VDB."
To quickly understand why one old penny is more valuable than another, visit rare coin dealer sites. Look for and compare coins similar to yours. Perhaps consider your coins as the beginnings of a collection. One successful approach is to sell them all and use the proceeds to purchase one nice rare coin... the one you where hoping the find in the box. Pass the thrill of a rare and valuable coin on to your children.
Lincoln Penny Value is Climbing Higher
From one year to the next your Lincoln penny value never stands still. New collectors take up the hobby. Seasoned collectors continually improve their collections. New varieties of over-dates, double-dies, or something different is always discovered and sparking interest in wheat pennies.
Keep in touch with coin values, return here whenever curious and update your Lincoln penny value.
Continue Your Coin Values Journey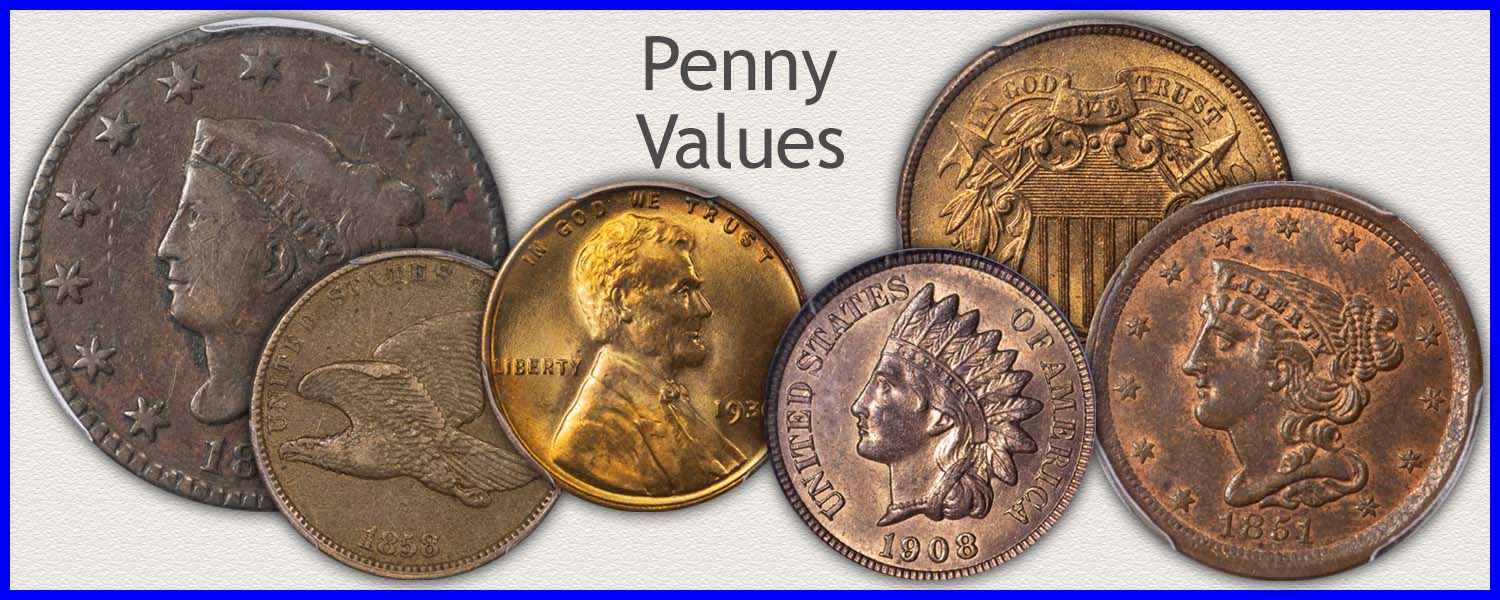 Penny Values | Rare Pennies Have Outstanding Values
Coin values listed. From the earliest Half and Large cents, to Indian head pennies to the popular Wheat pennies of 1909 to 1958. Match you coins to the grading images and value charts. Some of these old pennies have amazing values.
Grading Lincoln Wheat Pennies How to Video and Descriptions
Date | Mintmark | Grade
These all combine and determine the value of your old pennies. Grading Lincoln wheat pennies is covered in detail with the video highlighting subtle condition variables to Lincoln cents. Enhanced images point to specific areas of focus. And descriptions listings what is necessary to confirm a grade. You can judge the condition of your pennies and quickly arrive at an accurate value.
Selling Wheat Pennies and Receiving the Highest Price
Separate your old wheat pennies into the main value groups - different decades, mintmarks, rare dates and importantly condition. Preparing and selling wheat pennies for the best value is possible.
Coin Values Discovery... finds Your Lincoln Penny Value and...
All old US coin values. The home page is an excellent index, quickly leading to the major coin series. From Cents to Gold.
Printable Coin Values Worksheet
Print the handy Coin Values Worksheet, link is in the navigation column, to list your coins and record their values. Should you decide to sell... use the worksheet as an invoice and packing slip when sending coins through the mail to dealers. It indicates you have done your coin values homework.