Coin Values Moving with Precious Metals: Up-Dated 11/27/2023: Gold $2010 | Silver $24.66
Finding Rare Dimes
Let's discover the rare dimes in your box of old coins. The popularity of coin collecting today and demand from collectors has moved the value of these old coins to new highs.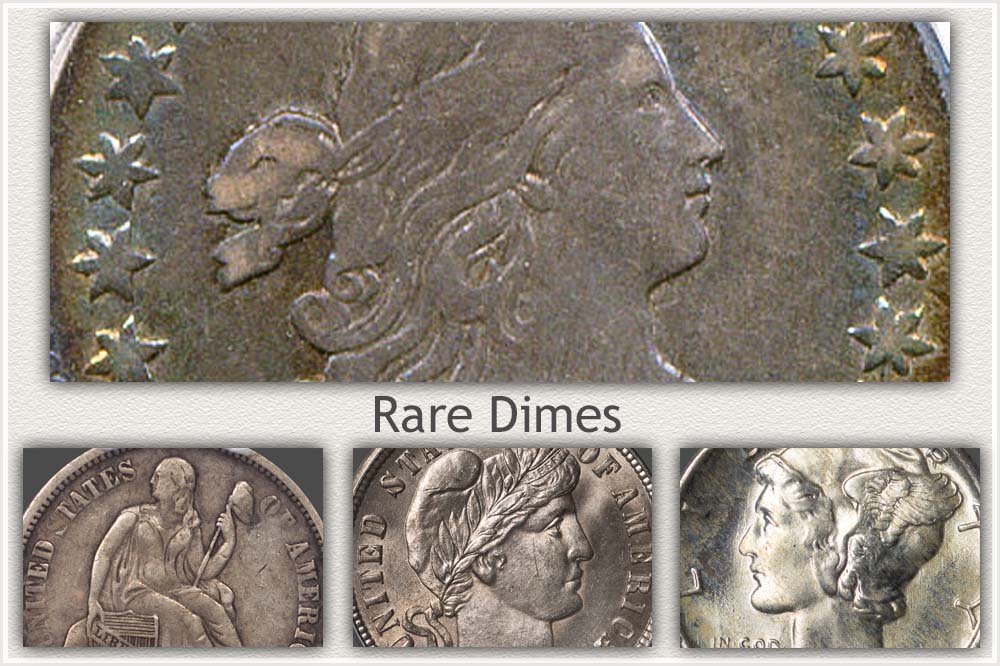 Whole series of dimes, normally scarce, are becoming increasingly rare to find as most are quickly going into collections. Identify one of these avidly sought coins and you have a nice little treasure.
Additionally, a large number of rare dates, mintmarks and date combinations, plus scarce varieties, are found throughout all of U.S. dime production.
Other subtle differences in your coins such as its state of preservation often separates the common from the valuable rare dimes.
Historically Important Rare Dimes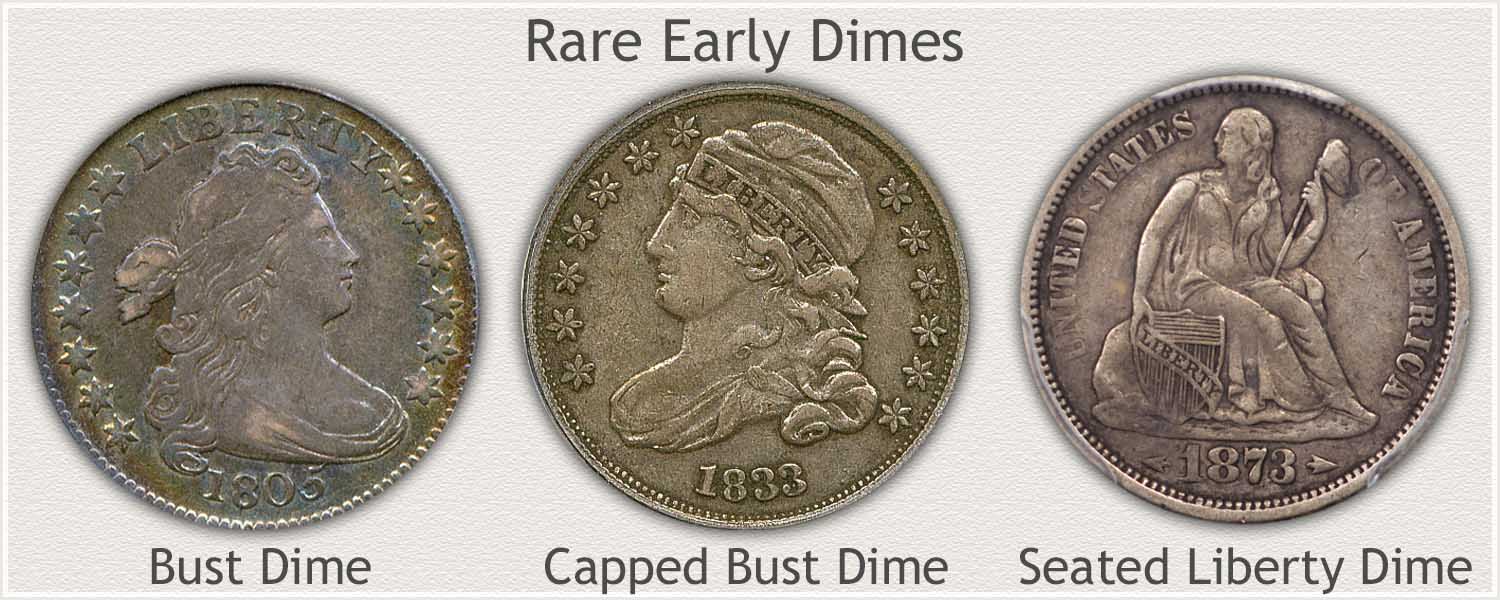 Dime production began in 1796 and the early "Bust" dimes are some of the most sought after of all U.S. coins. The entire series of this design type is rare. Theses first classic colonial dimes are of great interest and value to collectors.
Beginning in 1809 a new Capped Bust design was introduced and continued until 1837. Here again all are rare dimes being either scarce or rare with very few of the original mintage surviving until today.
A heavily worn example represents the condition of the majority of the dimes from these first two designs.
The next series in the line of dime production is the Seated Liberty design. A long running series containing many date and mintmark combinations and always welcome by coin dealers.
Elite Rare Dimes
1796 Bust Dime: First year of U.S. dime production. Histrionically significant, only 22,135 minted, becoming the first rare dime.
1804 Bust Dime: Few were minted and very few survive today. Most were lost to circulation and those remaining are a rare part of history.
1822 Capped Bust Dime: Collectors know dimes were minted in 1822 by the few remaining. Auction records show few trade yearly.
1843-O Seated Dime: The branch mint dime from New Orleans is the first key rare dime of the Seated series. Heavily worn examples are scarce and almost unknown in nice condition.
1846 Seated Dime: A Philadelphia issues dime struck in very small quantities.
1856-S Seated Dime: First dime struck at the San Francisco mint. Very low numbers coined and a rarity.
1871-CC Seated Dime: Carson City mint began striking dimes in 1871, few were made. All Carson City ("CC" Mintmark on Reverse) dimes are elusive and scarce.
Rare Dimes of the Twentieth Century
Barber dimes, a series that carried over into the twentieth century is popular with collectors today. Often sets of Barber dimes are assembled including circulated coins as well as mint state examples to complete the set.
The first four rare dimes of the twentieth century are from the Barber series and the result of very low numbers produced.
1901-S Barber Dime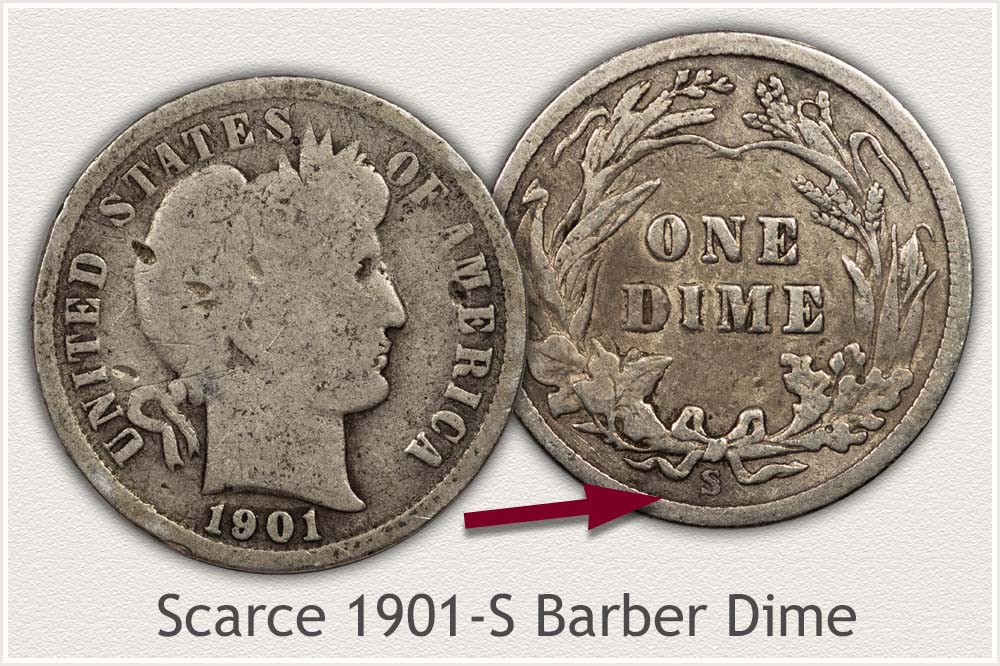 The twentieth century began right away with a rare dime minted by the San Francisco mint. Production of the Barber series dimes from San Francisco was typically low. In 1901 mintage totaled only 593,022 dimes. A significant date in all grades and rare in mint state grade.
1903-S Barber Dime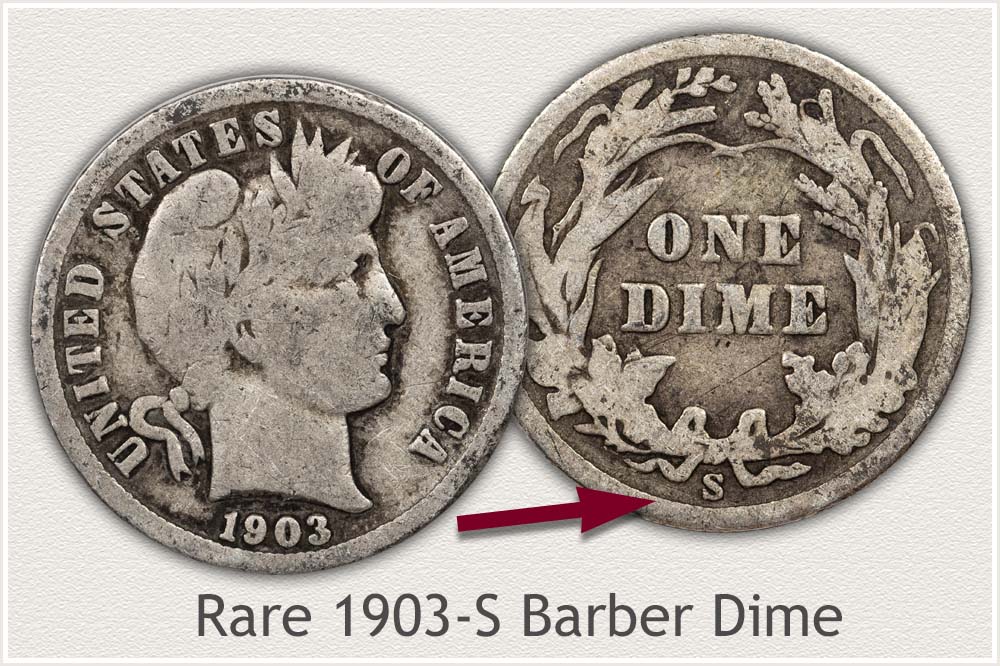 The need for the ten-cent denomination was met by the New Orleans and Philadelphia mints in 1903. San Francisco mint was only required to mint 613,000 dimes. Finding an "S" mintmark 1903 has proven difficult, especially in nice condition. The coin is considered rare in mint state - no wear to the surface - condition.
1904-S Barber Dime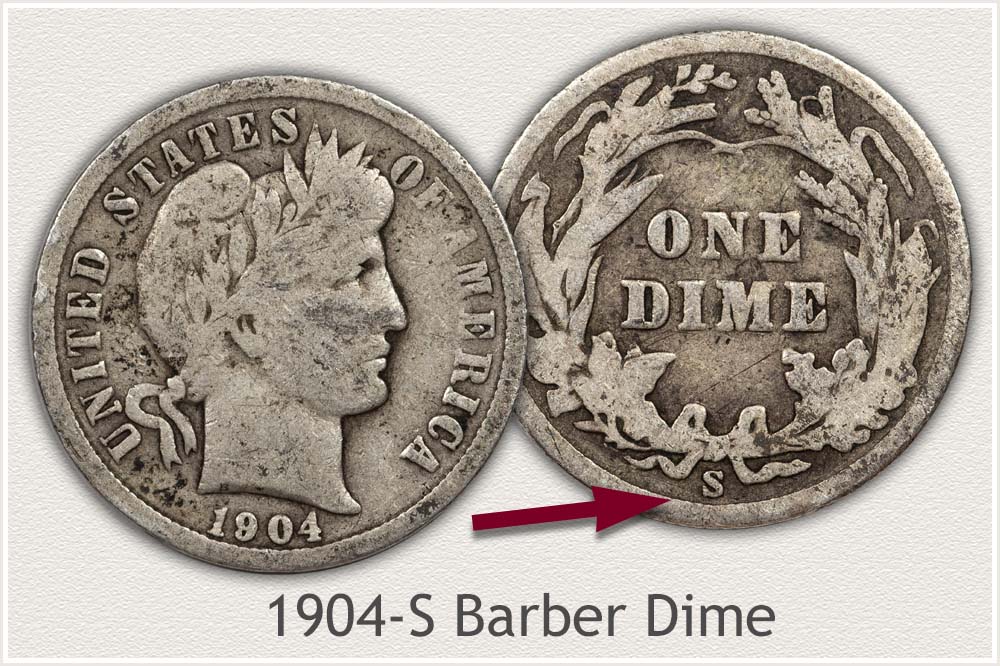 By 1904 the Barber series of dimes was now over ten years in production. Collectors at the time concentrated on date collecting and less on obtaining examples of the different mints. San Francisco dimes with its consistent low quantities struck were not saved in quantities by collectors. Despite a mintage of 800,000; few have survived in any condition. High grade examples draw attention and trade strongly because of rarity.
1913-S Barber Dime
After years of striking millions of dimes per year, San Francisco lowered production in 1913 to 510,000 dimes. Demand for dimes was satisfied by Philadelphia striking over 17 million. The majority of 1913-S mint dimes today are heavily worn, few were saved in nice condition. A dime with all letters of "Liberty" visible on the head band is very scarce. Mint state examples are a twentieth century rarity.
1916-D Mercury Dime
In 1916 the Mercury dime was introduced. Featuring a bold and considered a highly artistic design. Mercury dimes was a series catching the attention of collectors immediately. Three mints struck dimes in 1916; Philadelphia and San Francisco with multi-millions produced. Denver mint however, began production in the latter half of the year striking only 240,000 "D" mintmark dimes. The significance of this low production was not immediately recognized and most circulated until very worn. The 1916-D Mercury is a rare dime of the twentieth century.
1921 Mercury Dime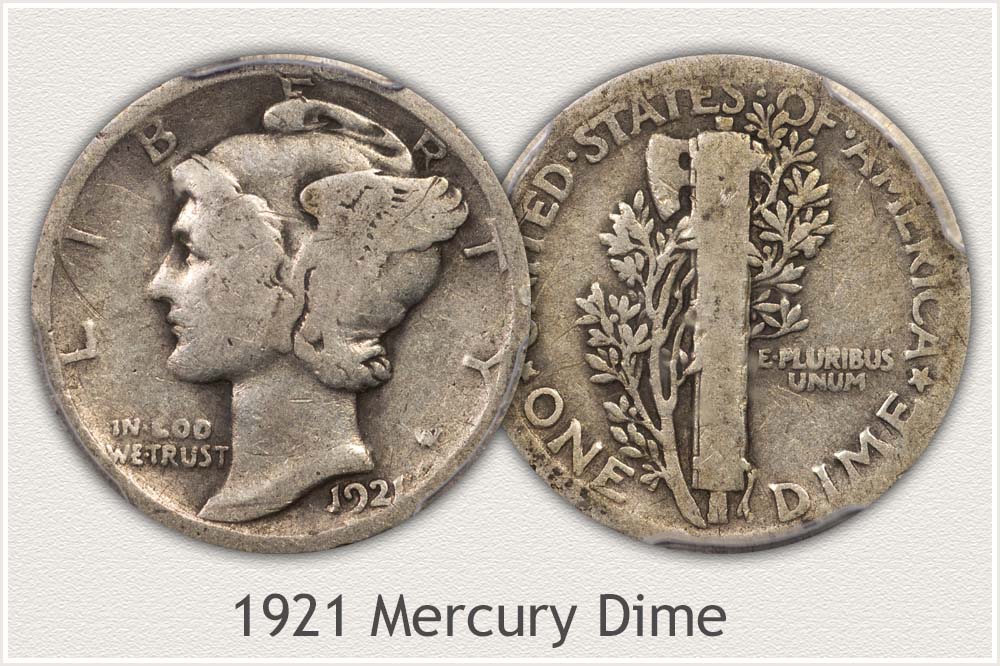 In all denominations 1921 is a low production year of coinage. Silver Morgan dollars was the exception occupying the capacity of mints. Dimes struck at the Philadelphia mint was a low 1,230,000 pieces. Low quantities and active use in commerce results in a scarce date in all conditions.
1921-D Mercury Dime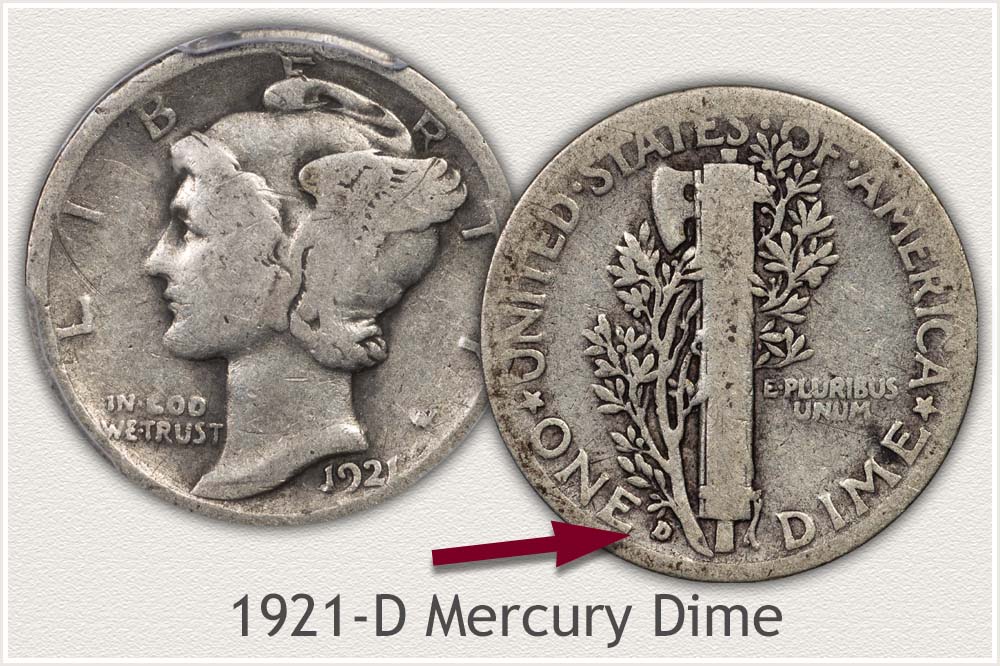 Denver added only 1,080,000 dimes to the 1921 production of dimes for the year. Combined with Philadelphia's low amount; all 1921 issue dimes are scarce. High condition coins are elusive and the year is a sought-after rarity in mint state grade.
1942 Over 1 Mercury Dime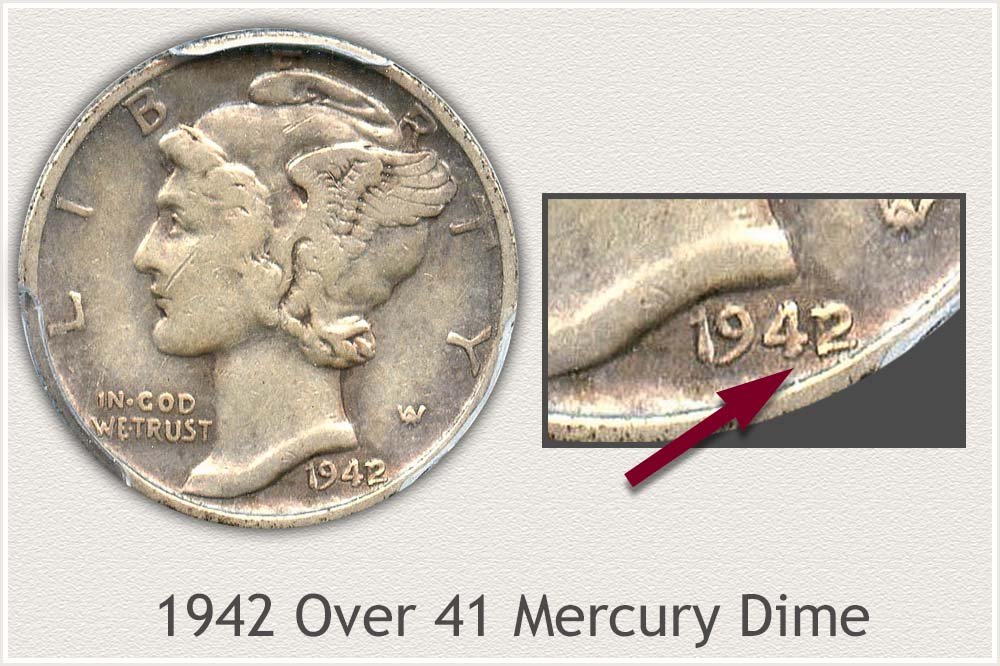 An error during preparation of dies created a rare "Over Date" as part of the popular Mercury dime series. A 1941 dated die was reproposed in 1942. Parts of the underlying "41" was not fully removed and shows distinctly as part of the "42" in the date. Because the error is easily visible and dramatic, it is popular with collectors. Demand has remained strong and is now considered a necessary part of a complete set of Mercury dimes. The coin has proven its rarity in high grades.
Identify Premium Collectible Dimes
Beginning in 1946 the current Roosevelt dime was introduced. The design remains current, however a major change accrued in 1965. All silver was removed from the alloy of U.S. circulating coinage. Today's dime is a "clad" alloy of copper-nickel over a solid copper core.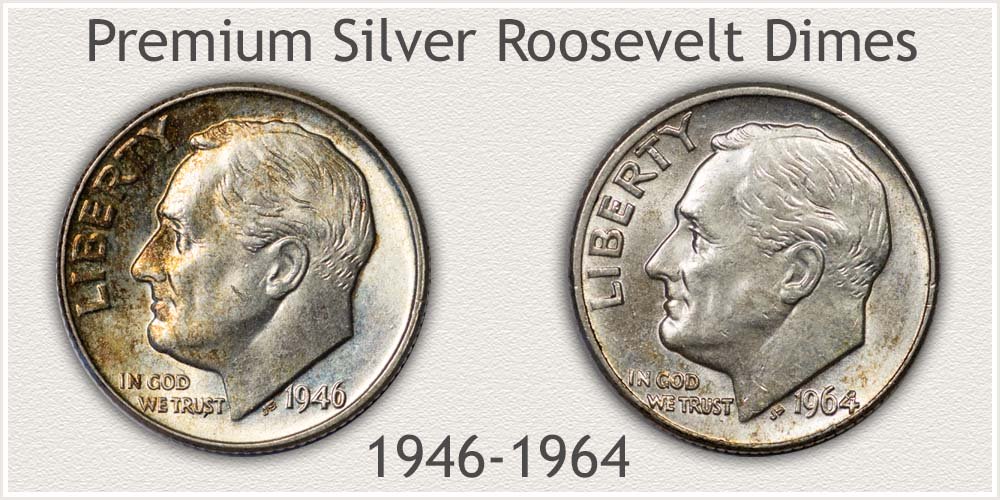 Older dimes of the Roosevelt series containing silver were quickly saved from circulation after 1964. Although some of these silver dimes may turn up in your box of old coins. Separate any dime dated 1964 and before, currently 11/27/2023 they are worth $1.65 each and a nice find.
One series advancing strongly are the Mercury dimes of 1916 through 1945. Collecting interest has placed these high on collector want lists. All grades - condition - examples are sought. The early years have gained favor in conditions as low as the Good grade. Later issues from the mid 1930's to the final date 1945 are sought in lightly circulated and better condition.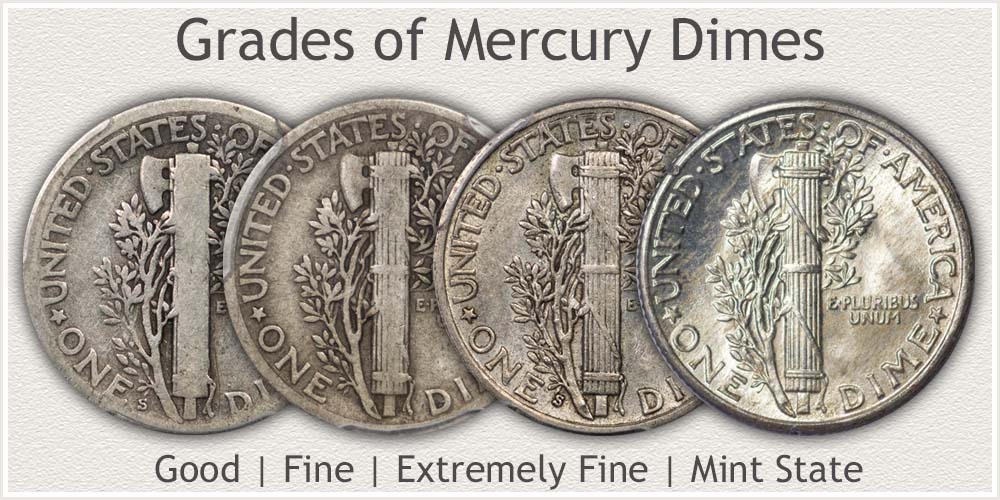 Every Mercury dime is worth $1.81 and heavy with silver value. In a sense all are scarce and valuable with silver at $24.66 per ounce as of 11/27/2023 .
Inspect your Mercury dimes against the "condition" image to identify any in the Extremely Fine grade are better. These represent a collectible coin and premium dime. They are fun to collect and many collectors are assembling sets of Mercury dimes covering every date and mint from 1916 through 1945. Collecting demand has produced some very high values for a few key dates.
Dimes are a large part of U.S. coinage. Dates are of importance to value along with branch mint varieties. Condition plays a large role in how rare a dime is. Explore all your dimes, following a step by step approach to value.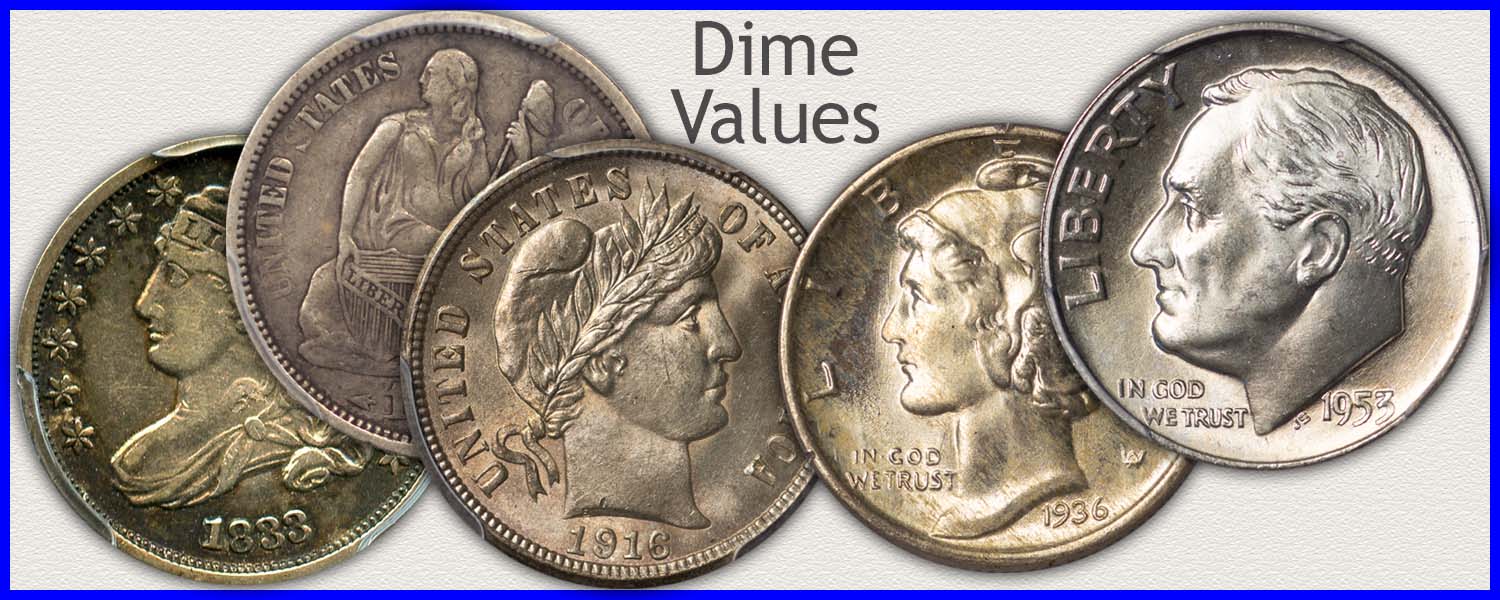 Listings of how much your old dimes are worth, covering the hundreds of date and mintmark combinations. All of your old dimes are not considered rare but they all have different values depending on date and condition. Now for the rest of your coins...
★Coin Values Discovery... finds the value of rare dimes and...
All U.S. coins. Before selling coins, the home page is an excellent index with images and text links to all coin series, from Cents to Gold. Value charts combined with grading images to judge condition, uncovers the accurate value of your box of old coins.
References
US Mint. 1948 US Mint Annual Report. https://nnp.wustl.edu/library/book/339
US Mint. 1923 US Mint Annual Report. https://nnp.wustl.edu/library/book/514134
US Mint. 1796 Report of the Director of the Mint. https://nnp.wustl.edu/library/book/511135