Coin Values Moving with Precious Metals: Up-Dated 11/27/2023: Gold $2010 | Silver $24.66
Finding Rare Half Dollars
First U.S. half dollars were minted in 1794. As a first year of issue these are avidly sought by collectors. Many have been lost to time and 1794 is also the first rare half dollar.
Serving two roles; half dollars both circulated in commerce and secondly were held as reserves in banks. Few of the early era halves; 1794 through 1807, were minted and all are considered scarce. Any dated 1794 through 1807 is a rare find in nice condition.
Production numbers of half dollars expended along with the economy and by 1808 mintages began to average over one million coined per year.
Rare Half Dollars of the Early Years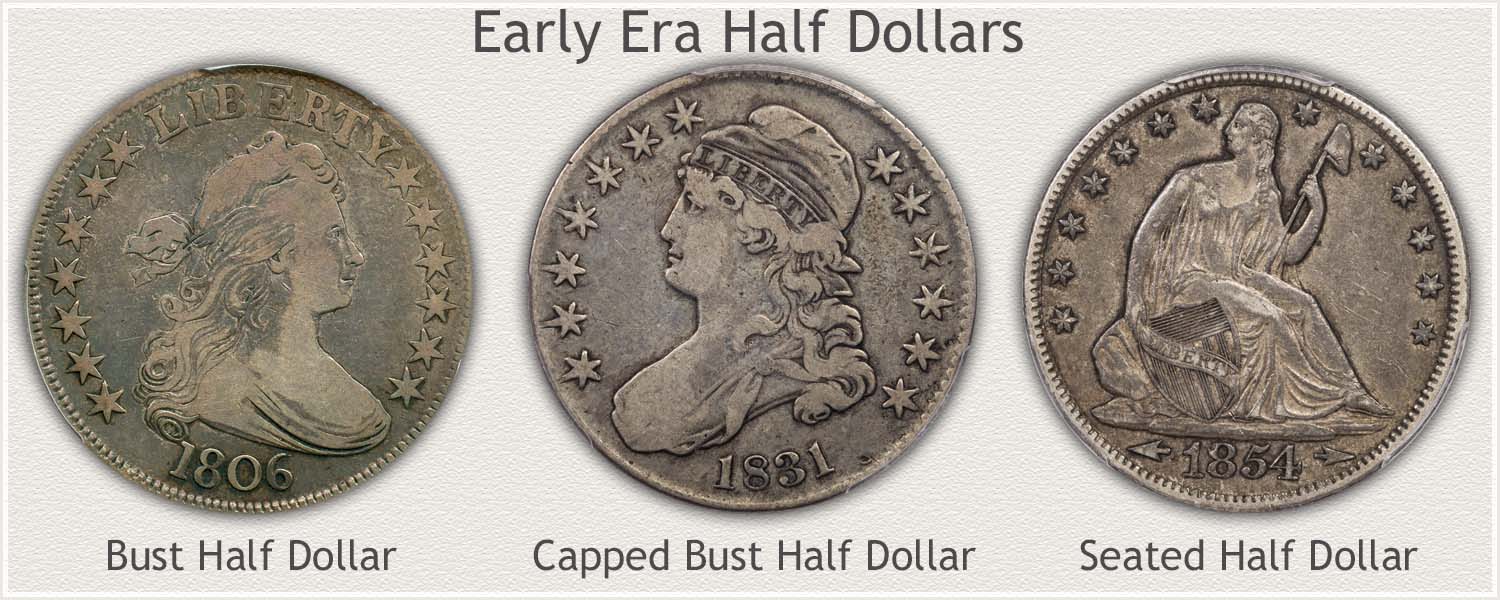 1794 Bust Half Dollar: This coin is on the want list of every serious half dollar collectors. A rare type coin with few numbers known.
1796 and 1797 Bust Half Dollars: Both extremely rare from the time of minting as few were struck.
1815 Capped Bust Half Dollar: Collectors have noted 1815 half dollar are very scarce in any condition and very rare in above average condition.
1855-S Seated Liberty Half Dollar: San Francisco mint's first half dollar. A low mintage collectible and very hard to find. A rare half dollar of the Seated series.
1870-CC Seated Liberty Half Dollar: Carson City mint's first half dollar. Branch mints at the time stuck coinage in numbers needed in their area. Low mintage of all Carson City coinage is typical, all are scarce. An 1870 half dollar with the "CC" mintmark is a key rarity.
1878-S Seated Liberty Half Dollar: Only 12,000 struck, released into circulation and most lost to wear from commerce. Extremely rare in any grade.
Rare Half Dollars of the Twentieth Century
1901-S Barber Half Dollar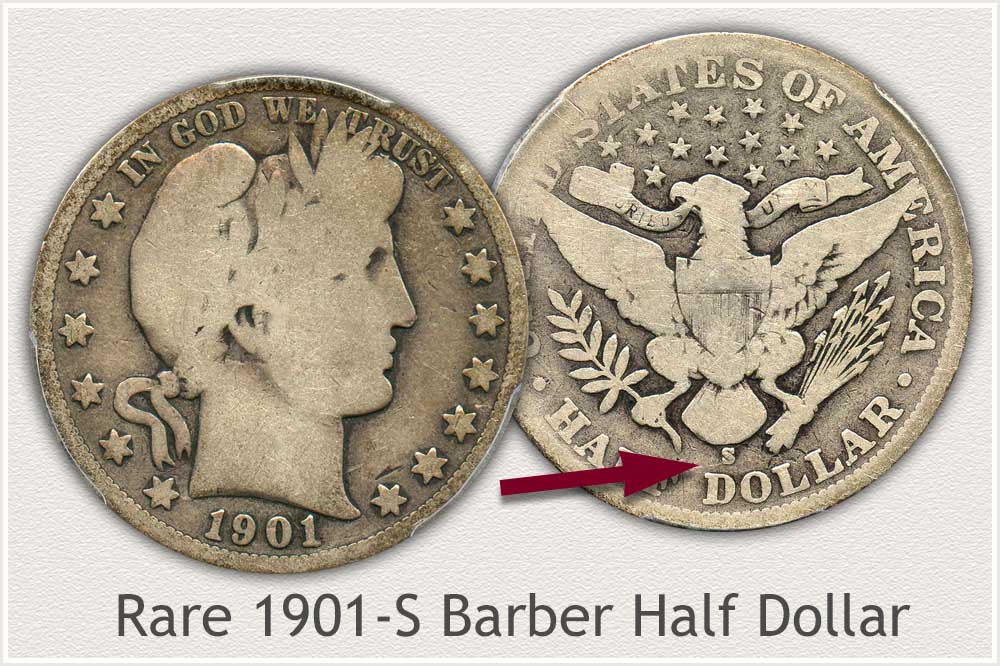 The Barber series of half dollars began the twentieth century with a rare coin from the San Francisco mint. Striking half dollars in the second half of 1901 managed 814,044 pieces. These coins are scarce in lightly-worn condition, heavy wear examples do not carry a large premium. However, the situation is few were saved in mint state condition and are now a key rarity of the series.
1904-S Barber Half Dollar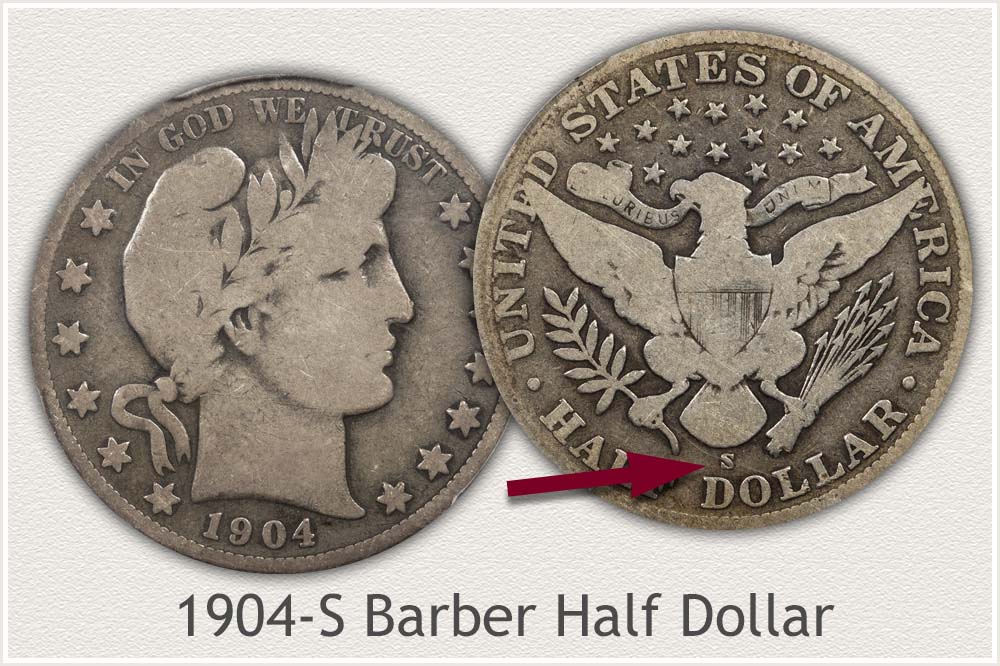 A 1904-S Barber half is scarce in all grades. Just over half a million were struck, most entering circulation. Coins with noticeable wear are considered scarce and worth a modest premium. Finding a well struck example to place in a high-grade collection is difficult. These well-preserved examples are very rare and valued highly.
1916-S Walking Liberty Half Dollar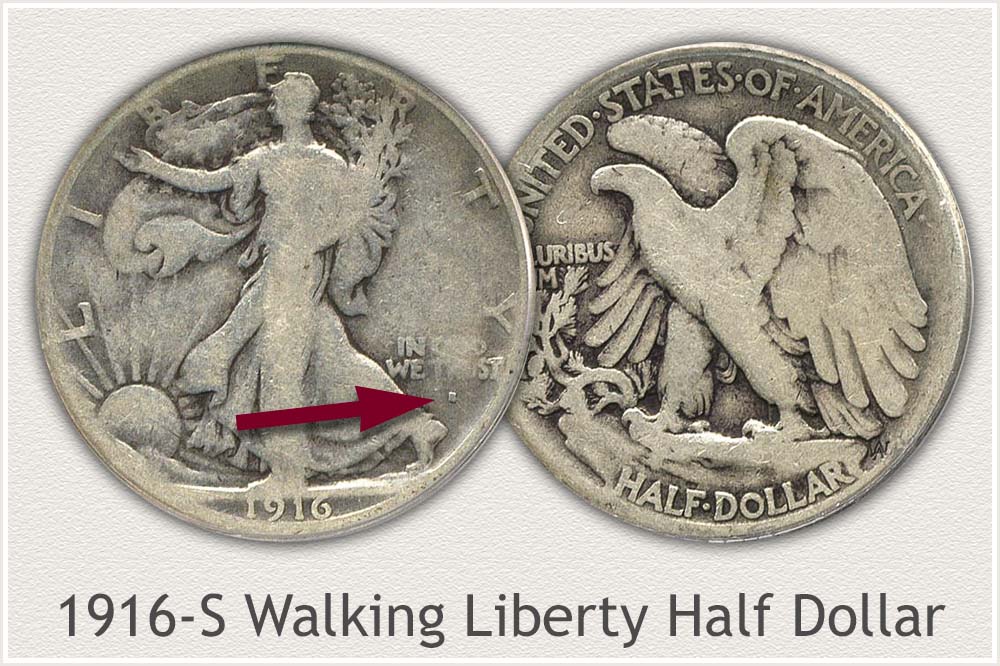 An iconic half dollar series began with the Walking Liberty design in 1916. Philadelphia, Denver, and the San Francisco mints all contributed to the initial 1916 production. San Francisco examples have proven elusive to find today. The setback most collectors face is obtaining a lightly circulated or better example, few in any condition remain. A 1916-S Walking Liberty half dollar in mint state grade is a key twentieth century rare coin.
1921 Varieties of Walking Liberty Half Dollar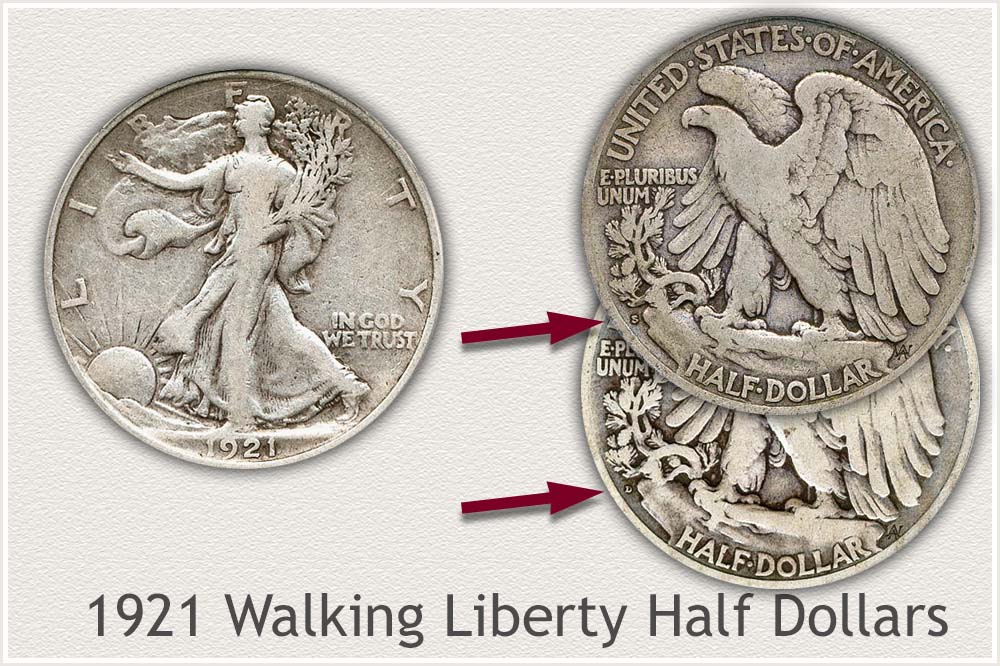 In 1921 the majority of production from the mints was focused on silver dollars. Striking half dollars and minor coinage was at a minimum. Resulting mintages from each mint were well below normal. All half dollars dated 1921 are scarce in any grade.
1921 - Philadelphia Half Dollar is very scarce, even well-worn examples are highly valued. Few are known in very nice condition
1921-D - The Denver variety is a classic twentieth century rarity because of low mintage. 208,000 struck, places it as the lowest mintage of the entire series. With recognition of initial scarcity and few are available today, premiums are very high.
1921-S - San Francisco ("S" mintmark) contributed over half a million halves in 1921. Circulated examples are less in premium than the Philadelphia and Denver issues. In mint state condition the 1921-S is the key rarity of the series.
1938-D Walking Liberty Half Dollar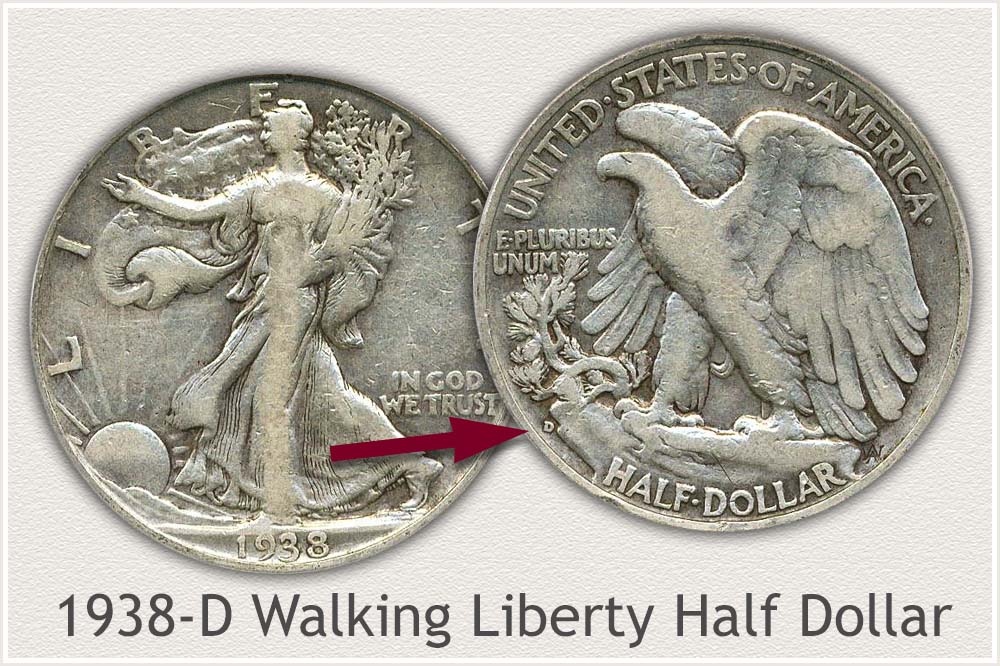 The Denver mint, normally a strong supplier of coinage, struck only 491,600 half dollars in 1938. With fewer than normal struck, the date and mint variety is in demand by collectors. High grade examples are elusive.
Identify Premium Collectible Half Dollars
Condition is often the deciding factor separating a premium collector coin from the rest. Walking Liberty half dollars are a popular series. High end condition coins are high value but circulated, affordable examples are favored by many collectors.
Finding acceptable examples of lightly circulated Walking Liberty halves is not often quick and easy. Most stayed in circulation a long time becoming very worn with few details remaining. Compare your half dollar to the condition example to identify a premium condition half dollar.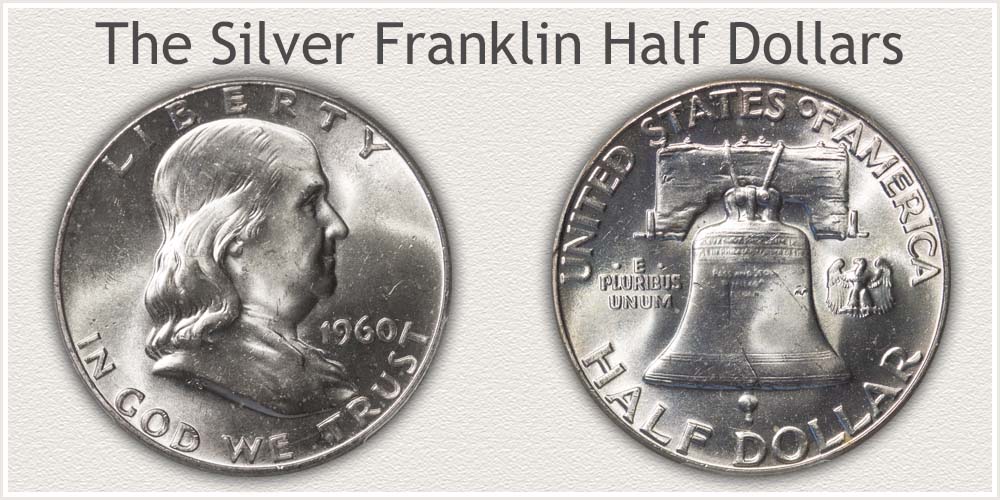 Franklin half dollars minted 1948 through 1963 are all a 90% silver alloy. Each is now a premium half dollar. Silver price has the biggest impact on the value of Franklin half dollars. Set aside all, as of 11/27/2023 these are worth $8.31 each.
Many half dollars are collectible; many are premium value. Dates and mintmarks narrow the range on value charts. Judging condition contributes to understanding an accurate value. Using a step by step method to identify all factors to value, finds how much your coins are worth.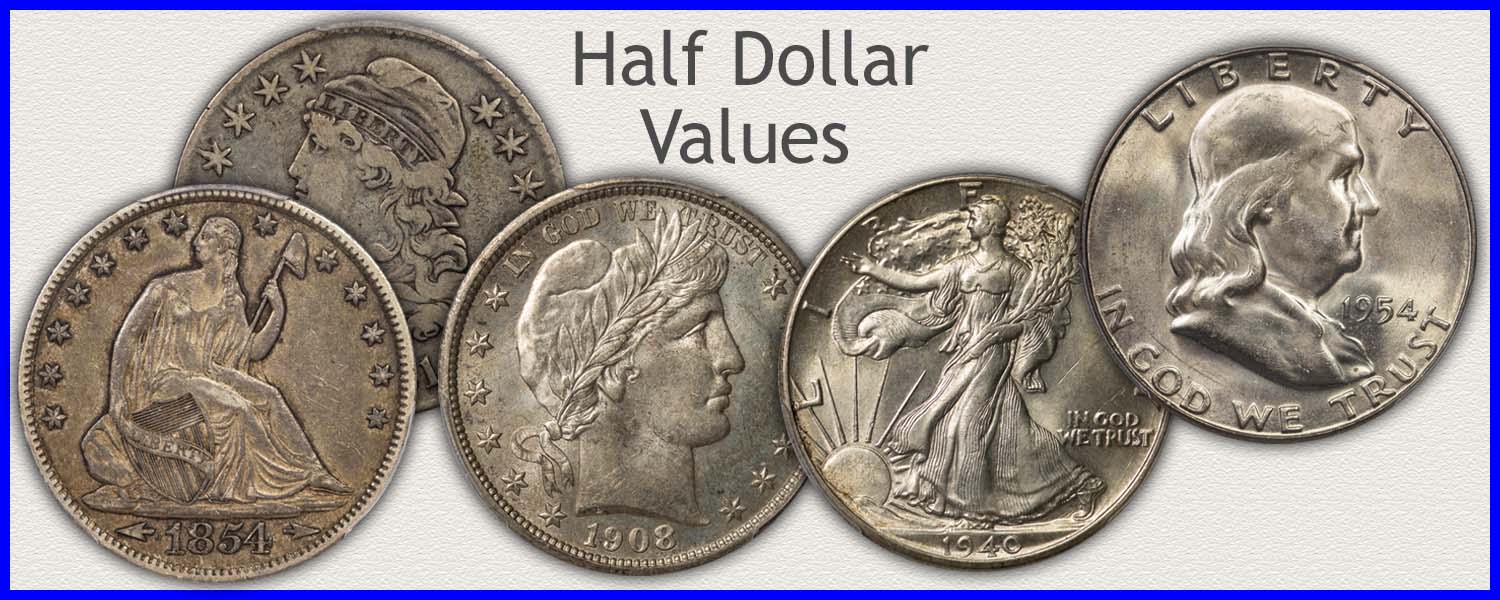 Discover the value of all your old half dollars. From the very first Bust half dollars to Seated Liberty to Barber halves. Continue to the Walking Liberty and Franklin Half dollars. Compare your coins to the "Grading Images" and find their accurate value on the charts.
★ Coin Values Discovery finds Rare Half Dollars and...
All old U.S. coin values. It is an excellent index with images and text links to all coin series, from Cents to Gold. Value charts, grading images and a step by step procedure uncovers how much your box of old coins is worth.
References
US Mint. 1901 US Mint Annual Report. https://nnp.wustl.edu/library/book/514120
US Mint. 1902 US Mint Annual Report. https://nnp.wustl.edu/library/book/321
US Mint. 1948 US Mint Annual Report. https://nnp.wustl.edu/library/book/339