Coin Values Moving with Precious Metals: Up-Dated 11/27/2023: Gold $2010 | Silver $24.66
Finding Rare Nickels
Certain rare nickels only become visible under the magnifying glass. Collectors use a close-up view of their coins to judge condition, find mintmarks, and identify rare varieties of nickels.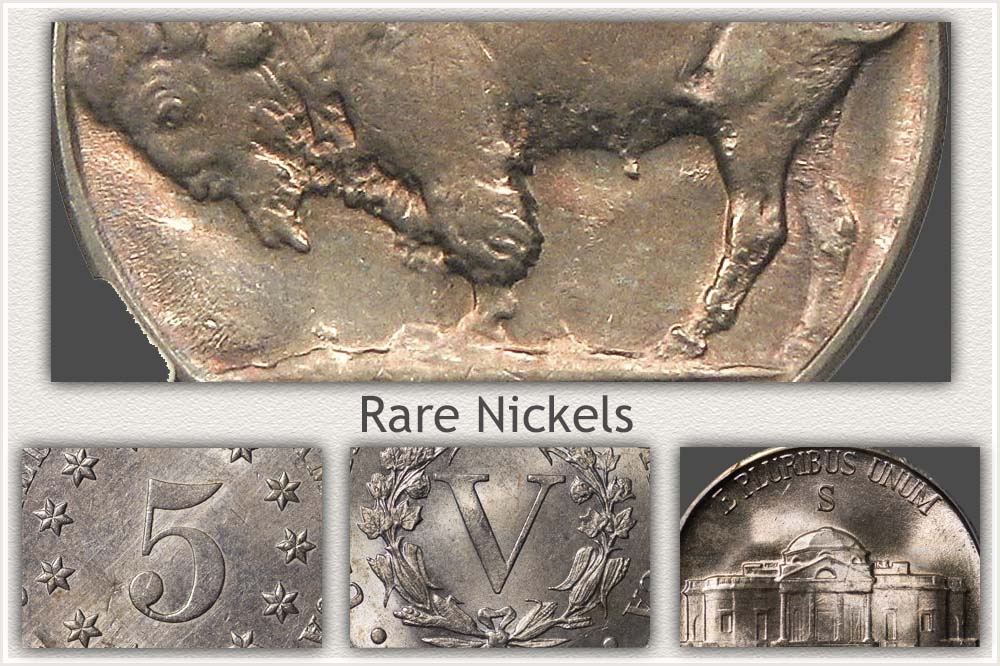 The U.S. five-cent denomination using a nickel alloy began in 1866. Although the new metal composition caused a few problems in the minting process these new coins were well received in commerce. Production numbers varied by year and a few are rare today because of low mintages.
Rare Nickels of the Early Years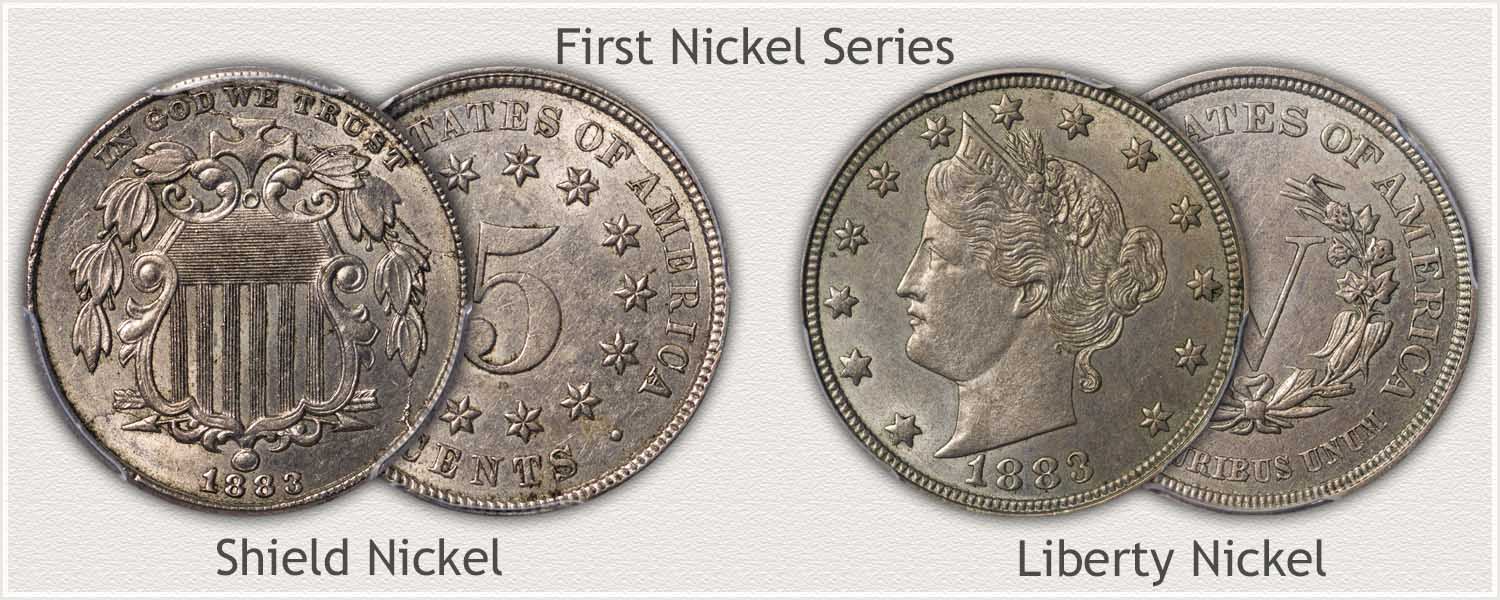 A Shield nickel represents a very early nickel. Millions were released into circulation and most remained in use and worn to very low condition. A well detailed Shield nickel is very collectible and sought. These higher-grade examples are considered scarce.
Liberty nickels are relatively plentiful in worn condition. A few are in the rare category both in numbers available and lack of high condition examples.
Key Rare Nickels of the Early Years
1879 Shield Nickel: Numbers minted dropped dramatically in 1879 creating a rare nickel in terms of availability. Use in circulation further lowered numbers in high grades. A scarce to rare nickel overall.
1880 Shield Nickel: With only 16,000 struck these were an immediate rarity. Many entered circulation and are highly valued in any condition.
1881 Shield Nickel: Low numbers minted contribute to the scarcity of an 1881 nickel. Scarce in any condition and a true rare date of the series.
1885 Liberty Nickel: Scarce in all grades and rare in mint state. After strong production numbers leading to the new design; 1885 was a low mintage year of just under 1.5 million pieces.
1886 Liberty Nickel: Mintages for the 1886 increased, however few were saved and it is one of the key rarities of the series in any condition.
Rare Nickels of the Twentieth Century
1912-S Liberty Nickel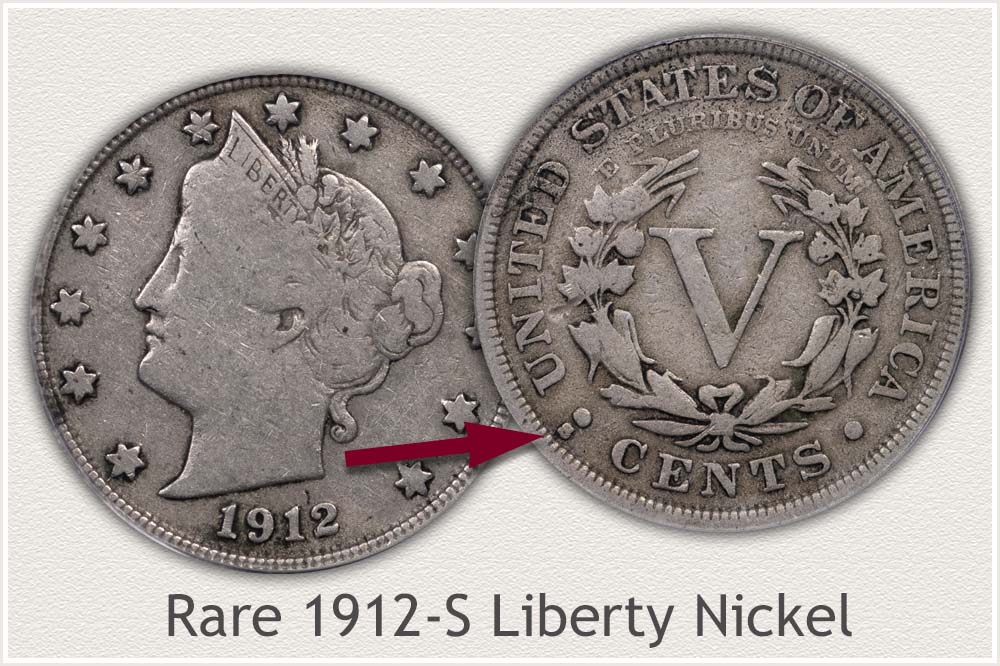 First rare nickel of the twentieth century was from the ending of the Liberty nickel series. San Francisco mint struck a small quantity - 238,000 in 1912. By far the lowest mintage of the entire Liberty nickel series. Most years production was tens of millions of nickels. A number qualities contribute to its demand keeping values strong.
First nickel denomination struck at San Francisco
Last of year status coin of the Liberty series
Only "S" mint nickel of the series
Scarce in any condition
1913-S Type II Buffalo Nickel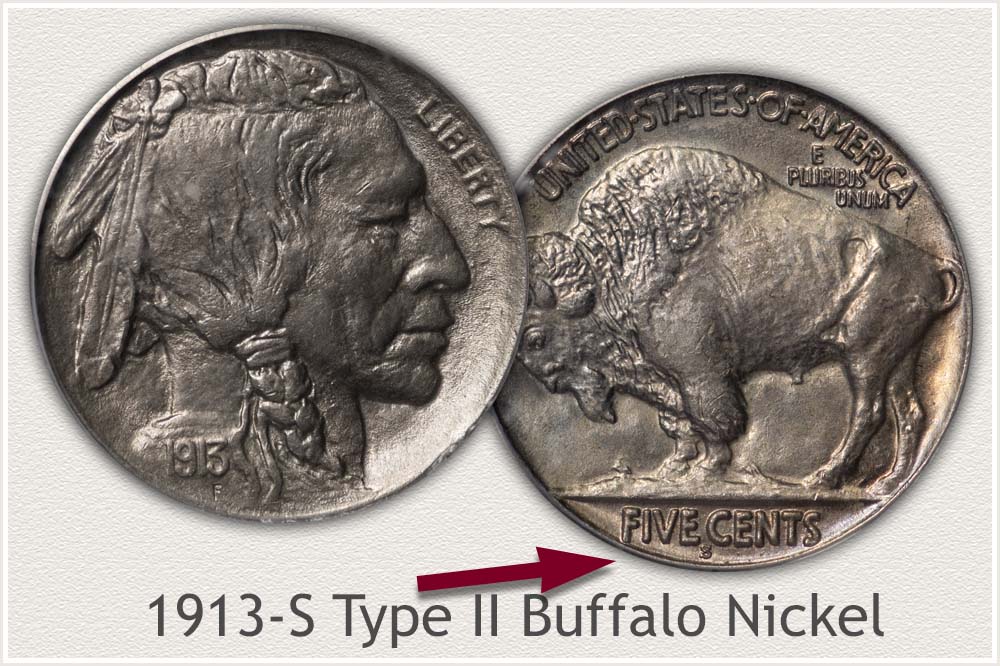 Buffalo nickels became the icon nickel of the twentieth century with collectors. Introduced in 1913; the beginning year saw modifications to the design during the year. A total of six varieties of 1913 nickels were struck. Of these the 1913-S on the "recessed mound" (known as T2) design became the rare variety. Both in numbers produced and numbers saved, the coin is rare in all levels of condition.
1914-D Buffalo Nickel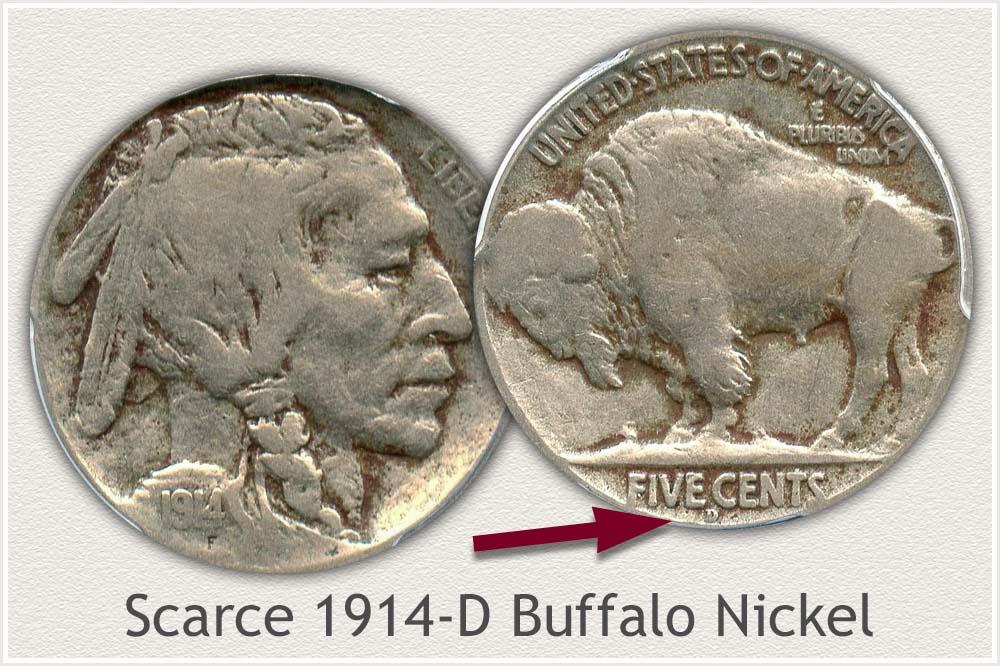 Finding nice examples of a 1914-D Buffalo nickel is noticeable difficult. The Denver issue of the year apparently were not saved in any meaningful numbers. A total of 3,912,000 were struck allowing for plenty to remain. However, it has become one of the key varieties of the series.
1921-S Buffalo Nickel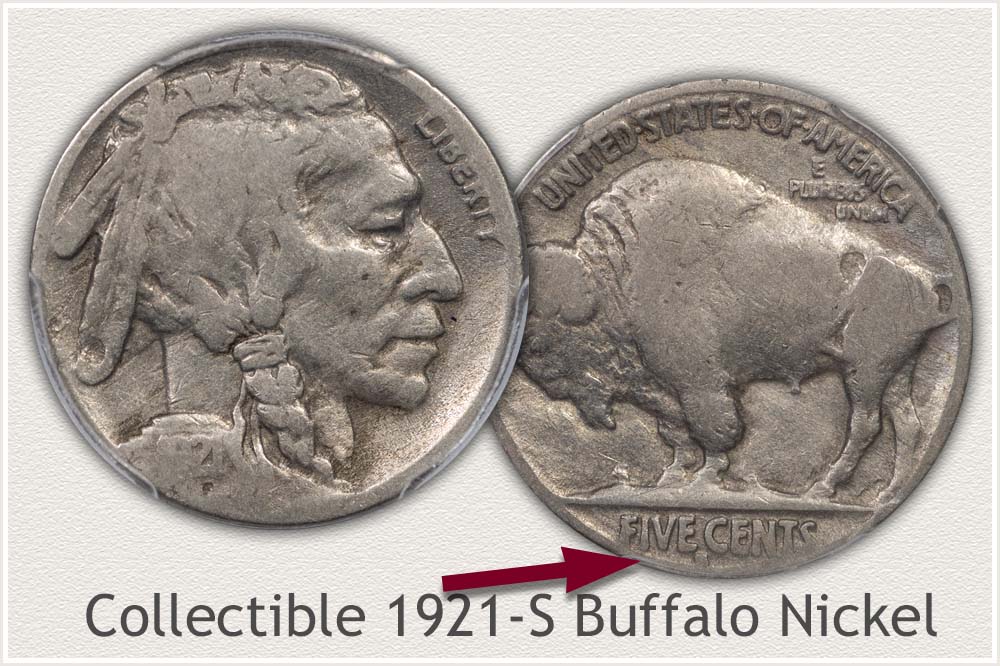 Nickels were a necessity in commerce. The denomination was used extensively in all purchases. Of the 1.5 million 1921-S Buffalo nickels produced most simply wore out because of heavy use. The 1921-S nickel imaged is typical of those remaining. Any in nicer condition are very scarce. A coin with no wear to the surface is a rarity.
1937-D Three Legged Buffalo Nickel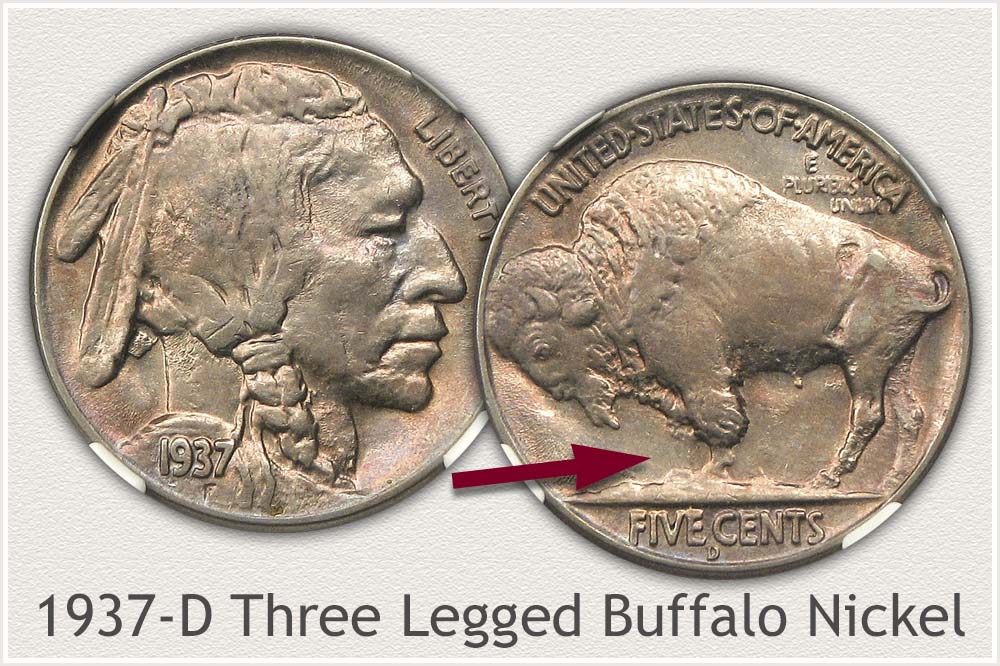 The Denver mint produced 17.8 million nickels in 1937. It represents the highest number of nickels per year for the mint. During regular maintenance of the dies used to strike coins, over polishing, and cleaning reduced the surface of one die to the point of removing part of the Buffalo's front leg. Over polishing dies to the extent of removing large parts of design elements is rare. Look close at the front leg just above the hoof, a part of the leg is distinctly missing. An easily visible and dramatic error on a nickel. Because the error is so visible and rare it has become a popular and valuable part of the Buffalo nickel series.
Identify the Collectible Nickels Worth a Premium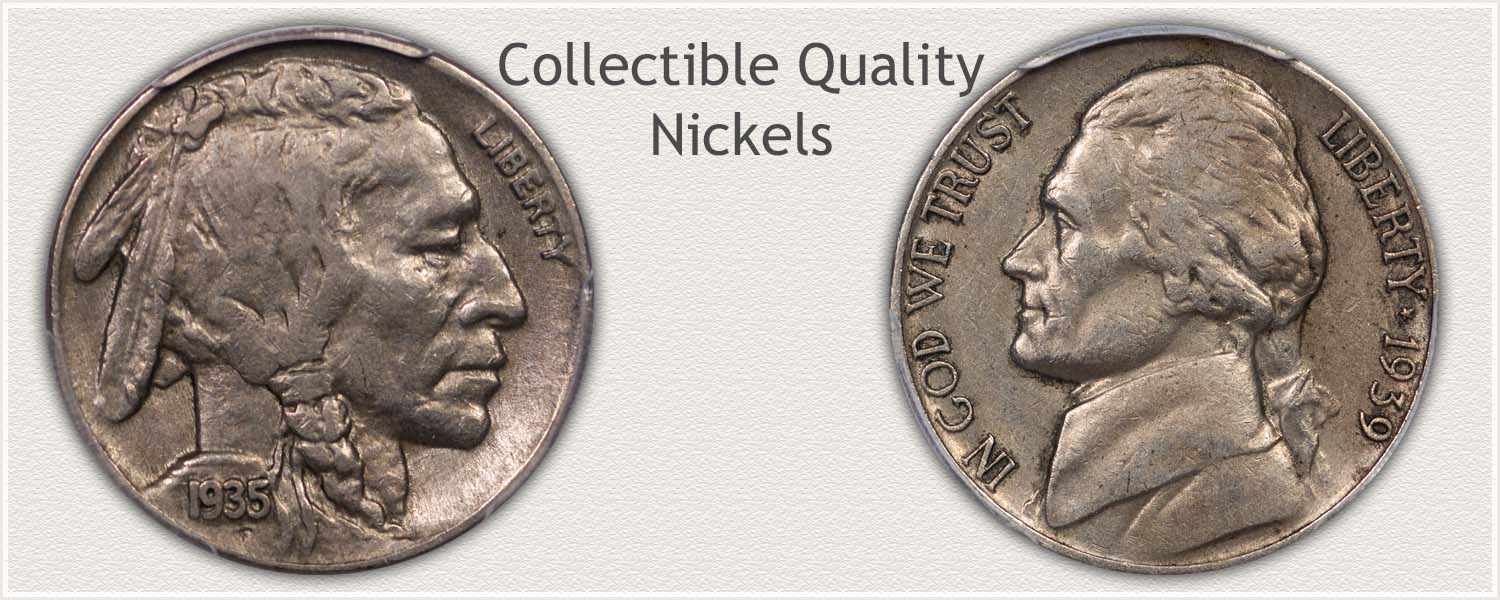 Your box of old coins often contains scarce nickels just because of their condition. Collectors treasure coins in the best condition possible. The better the condition of your coins, the higher the value. Therefore, collectors strive to place the nicest in their collections.
Jefferson nickels, first minted in 1938 are a series with potential of finding premium value. As with Buffalo nickels, collectors stress quality of surfaces and condition of the coin. A close look at the Jefferson nickel shows it is an early year and most of the finer detail is visible. Early year nickels in the 1940's are collected by new and beginning collectors because of affordability. Nice, well detailed coins are sought as part of collections.
Silver Issue Jefferson Nickels
Because of a need for nickel during the war effort of the 1940's; US nickels were alloyed with silver.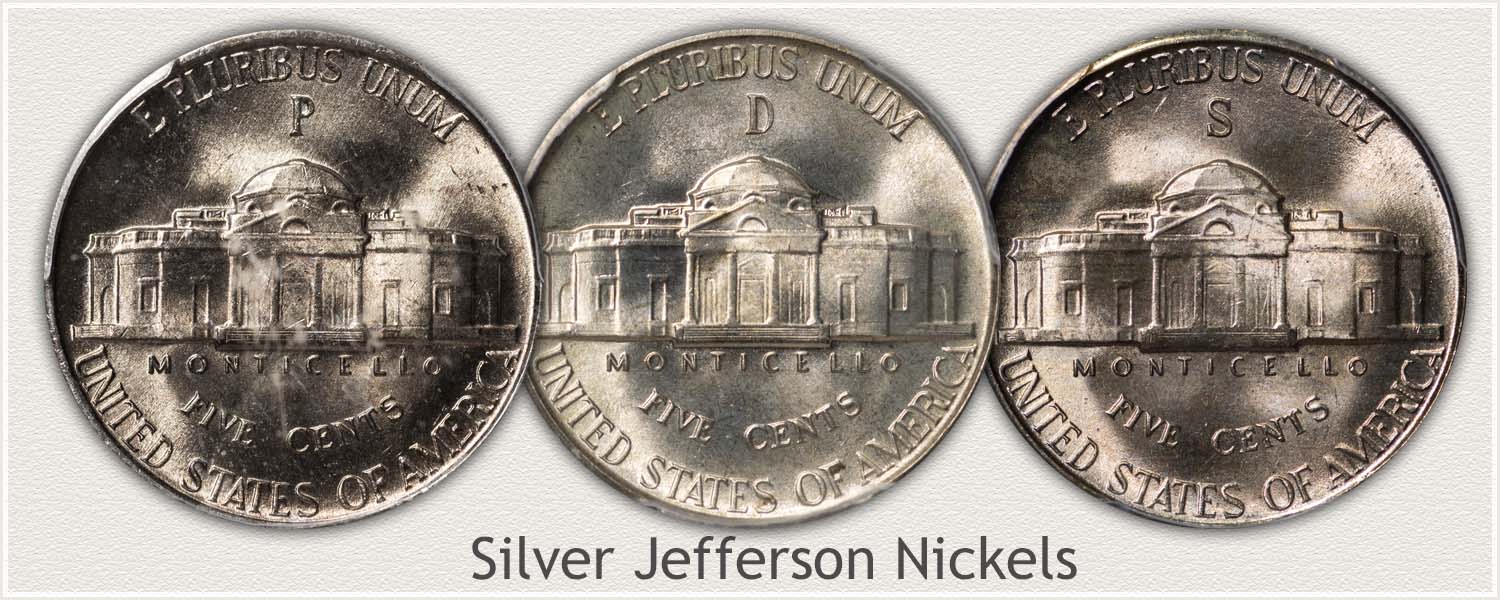 1942 through 1945 Jefferson nickels contain 35% silver by weight. These are all worth a premium based on their silver value. Currently 11/27/2023 each is worth $0.99 . All are easy to identify by the large "P" "D" or "S" mintmark above Monticello on the reverse.
Many more date and mintmark combinations are worth above a nickel's five cent face value. Each of these subtle details plus judging condition are covered in the difference nickels series.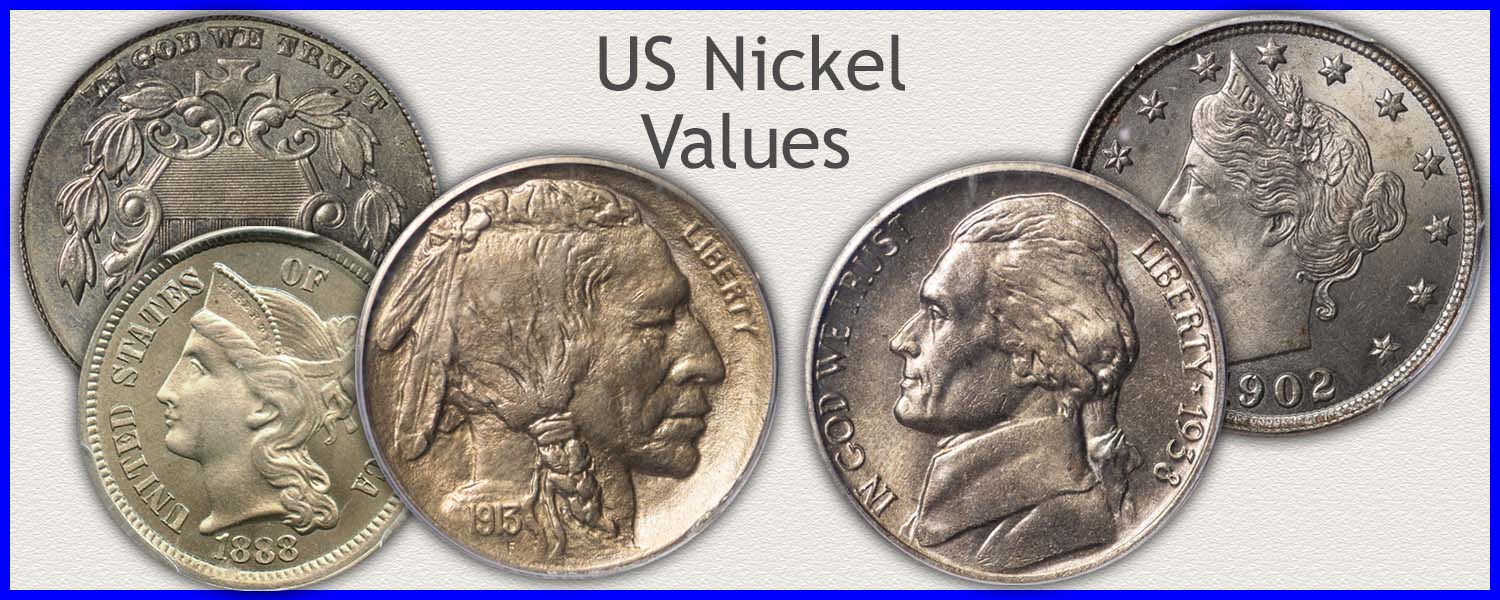 Have a look through your old nickels. Shield and Liberty "V" nickels are gaining in status with higher values. Even Buffalo nickels without dates are worth 10 cents each, amazing. Compare your coins to the "Grading" images to judge their condition then check their value on the coin value charts.
Do you have other coin denominations other than nickels?
★Coin Values Discovery... finds Rare Nickels and...
All old US coin values. It is an excellent index with images and text links to all coin series, from Cents to Gold. Value charts, grading images and descriptions uncover how much your box of old coins is worth.
References
US Mint. 1912 US Mint Annual Report https://nnp.wustl.edu/library/book/324
US Mint. 1915 US Mint Annual Report https://nnp.wustl.edu/library/book/514128
US Mint. 1922 US Mint Annual Report. https://nnp.wustl.edu/library/book/325