Coin Values Moving with Precious Metals: Up-Dated 11/27/2023: Gold $2010 | Silver $24.66
Finding Rare Pennies
Rare pennies were created throughout the history of U.S. coinage. Early cents, dating back to the beginnings, especially before 1857, are all scarce. Others rarities are the result of low numbers minted.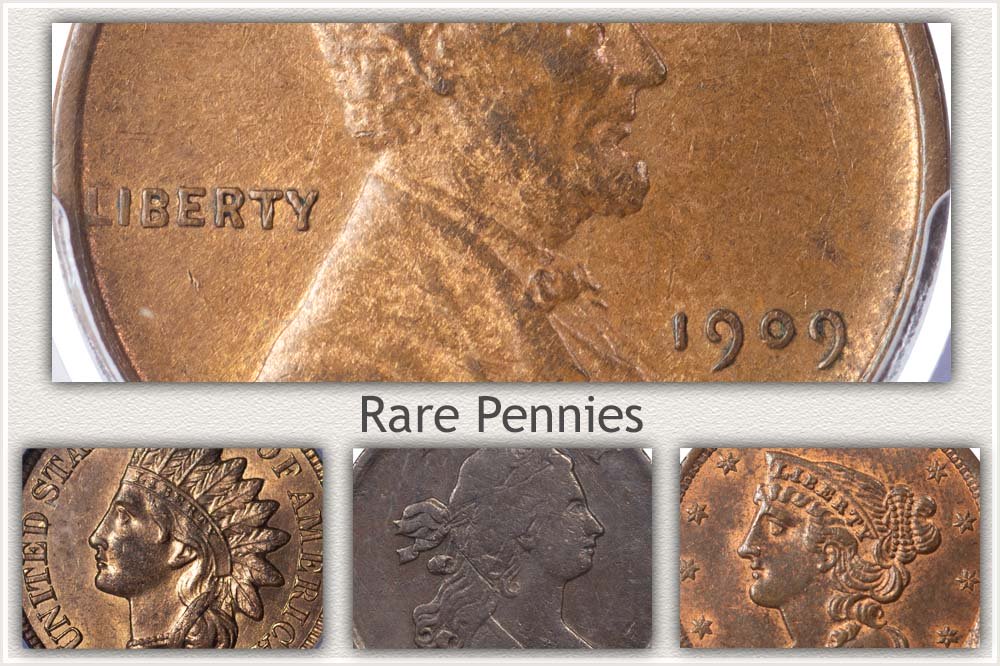 Finding a scarce penny in your box of old coins involves identifying dates and mintmarks. However, nice condition coins are surprisingly valuable. Pennies are the staple of commerce and after decades of use, simply wear out. Few were saved in the early years. Nice, finely detailed coins are becoming very collectible.
Early Era Rare Pennies
US cent production began in 1793 with the striking of what are known today as "large cents". Over time these became the first rare pennies. The economy needed circulating coinage and the early cents saw active use.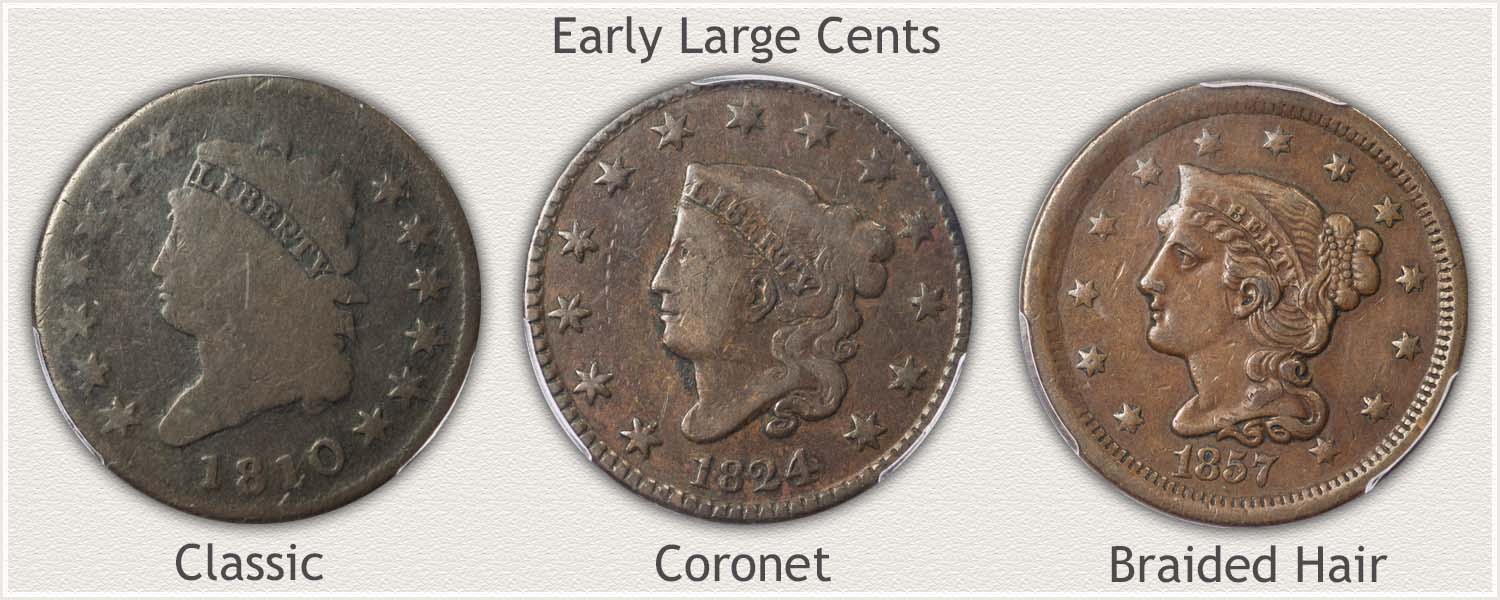 Large cents are a classic and historically significant part of US coinage. Large in size, larger than today's quarter, and avidly collected today. Minted from 1793 through 1857, all are desirable. Here are a few of the classic rare large cents.
1793 Chain Type: First US cent, first of three designs in 1793, very scarce.
1793 Wreath Type: A modification of design and necessary to all important collections of large cents.
1793 Liberty Cap: Liberty redesigned. A few thousand minted and only a small number remain.
1795 Large Cent: Scarce in any condition. If hair detail is showing in Liberty's portrait value rise by hundreds of dollars.
1799 Large Cent: An iconic rarity to the large cent coinage. A key to the series, exact mintage unknown. Estimated less than 150 survive. One of the intensely sought rare pennies of the series.
Any large cent is considered a desirable coin. These are collected in all grades, with many collectors making the series a specialty.
Introduction of the Small Cents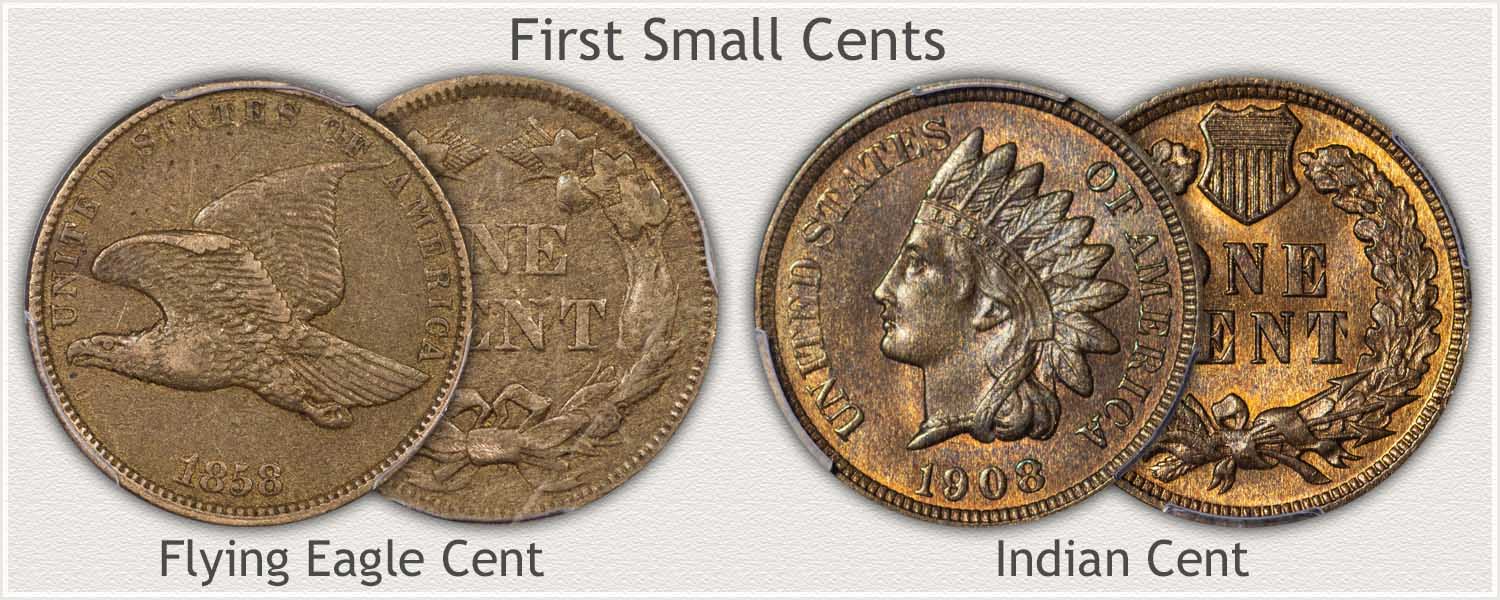 1856 saw a change in size of the US Cent denomination. Pennies were reduced from the old large diameter to the size in circulation today. First new design; the Flying Eagle cent was short lived. A significant premium is placed on all in pleasing condition.
The Indian penny was first minted in 1859 and was immediately an important part of the US economy. Millions were minted and most circulated widely. 1877 is the key date rare penny of the Indian series. Less than one million 1877 cents struck and all are worth hundreds.
Rare Pennies of the Twentieth Century
1908-S Indian Cent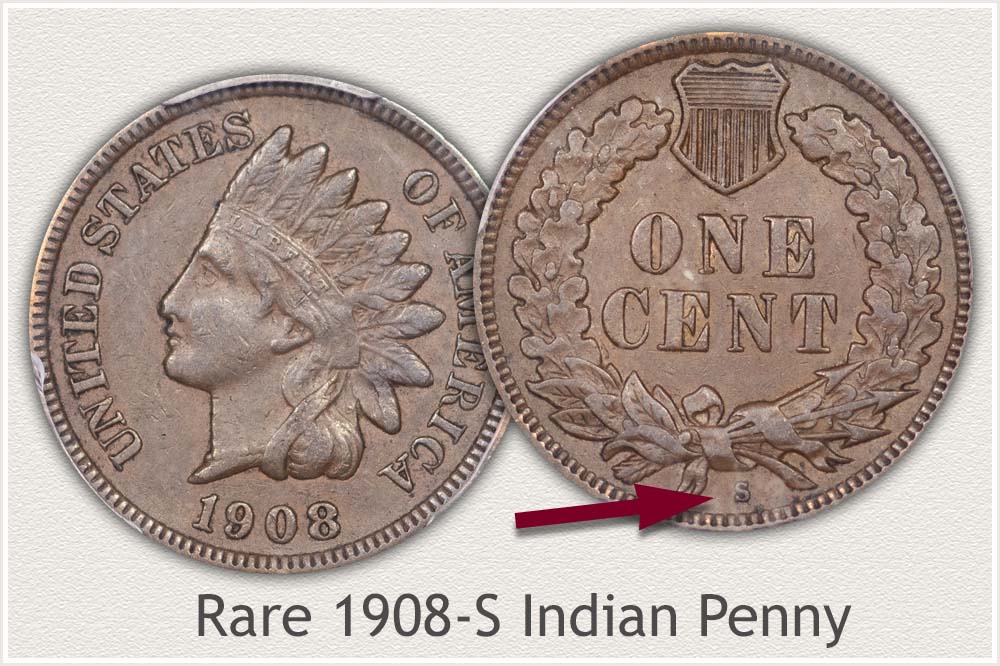 The 1908-S Indian cent has the distinction of the first rare penny of the twentieth century. Adding to the coin's importance; it is the first US Cent minted at the San Francisco mint bearing the "S" mintmark. Numbers produced and released into circulation were 1,115,000 coined. Typical mintage numbers of Indian cents were in the tens of millions.
1909-S Indian Cent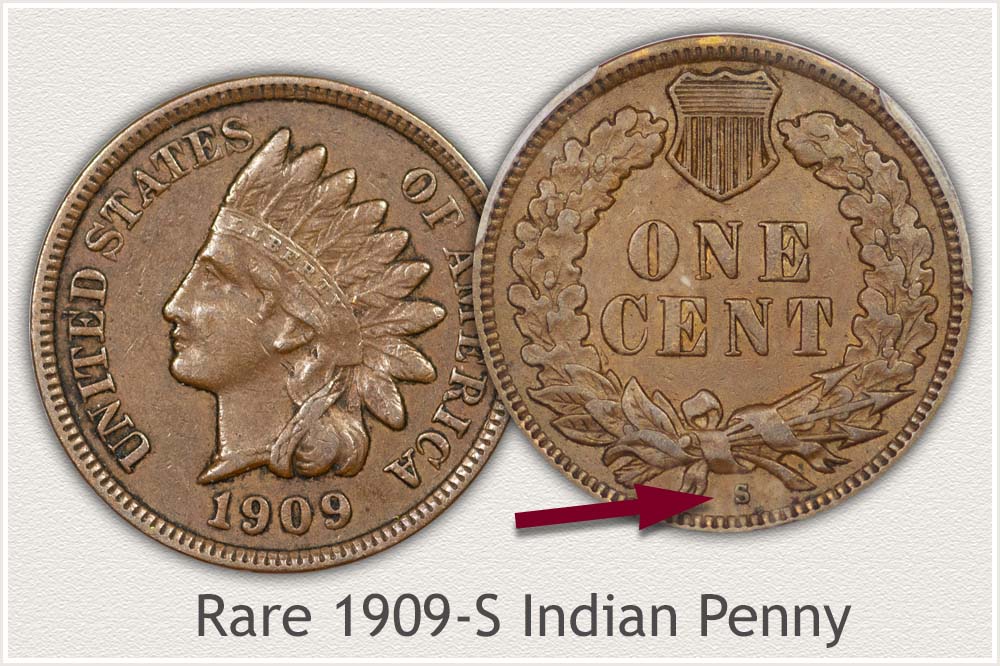 1909-S Indian pennies are part of the unique transition year of 1909. A new Lincoln cent series began and the Indian series ended. Minting of these coins was split between the old and new, causing San Francisco to mint each variety in low quantities. With attention drawn to the new Lincoln penny, few of the San Francisco 1909 Indian cents were struck and saved. A rare coin in all levels of condition.
1909-S VDB Lincoln Cent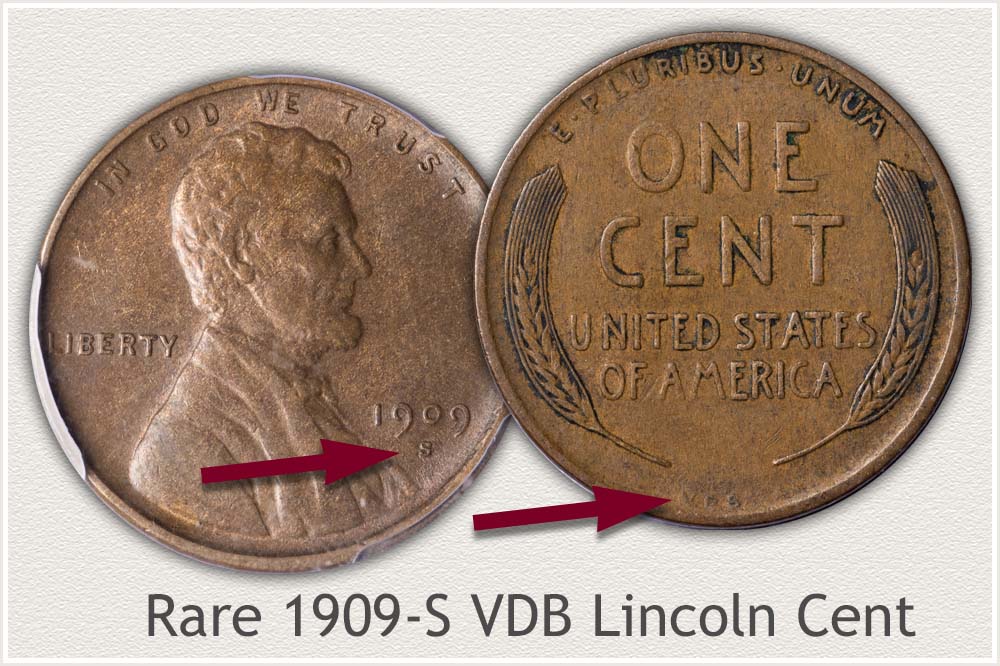 A new design series featuring Abraham Lincoln on pennies began in 1909. Production of the new coin was split between the Philadelphia mint striking the majority, and the San Francisco mint. Initial coinage featured the designer's initials "VDB" on the reverse. Soon after production began the initials were removed from the design, leaving less than half a million of the San Francisco variety sent into circulation. 1909-S VDB cents are important as first of series, assuring demand, and with low supplies they quickly became a rare US penny.
1909-S Lincoln Cent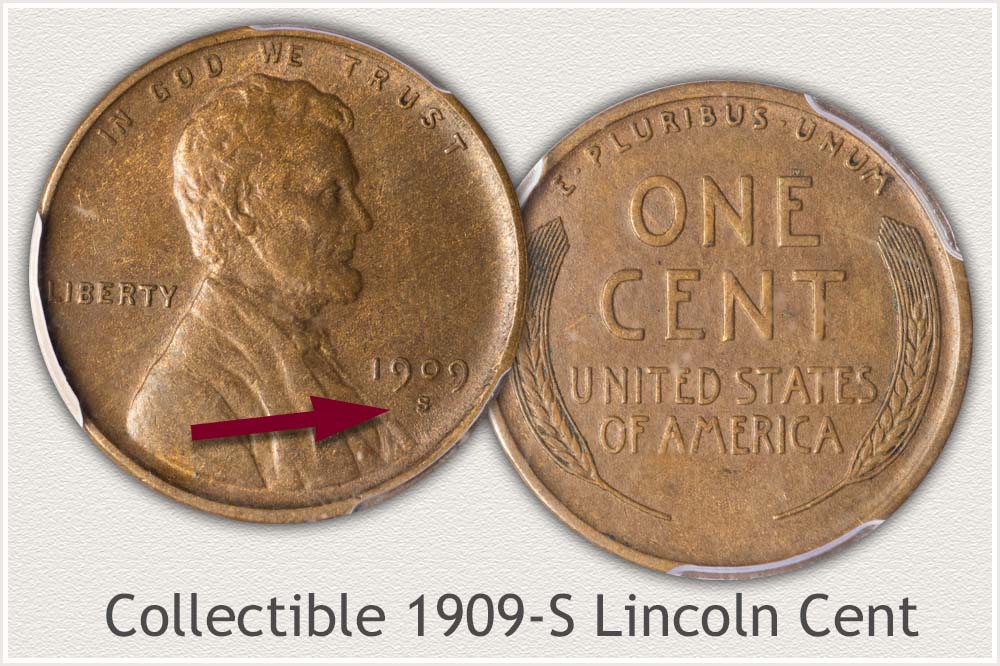 The third rare penny from 1909. San Francisco completed minting the 1909-S penny - running out of time - with a low production amount. 1909-S cents without the designer's initial represent a distinct variety and are essential to completing a set of Lincoln cents. Low mintage, first of year, and the design change add to the interest in the coin.
1914-D Lincoln Cent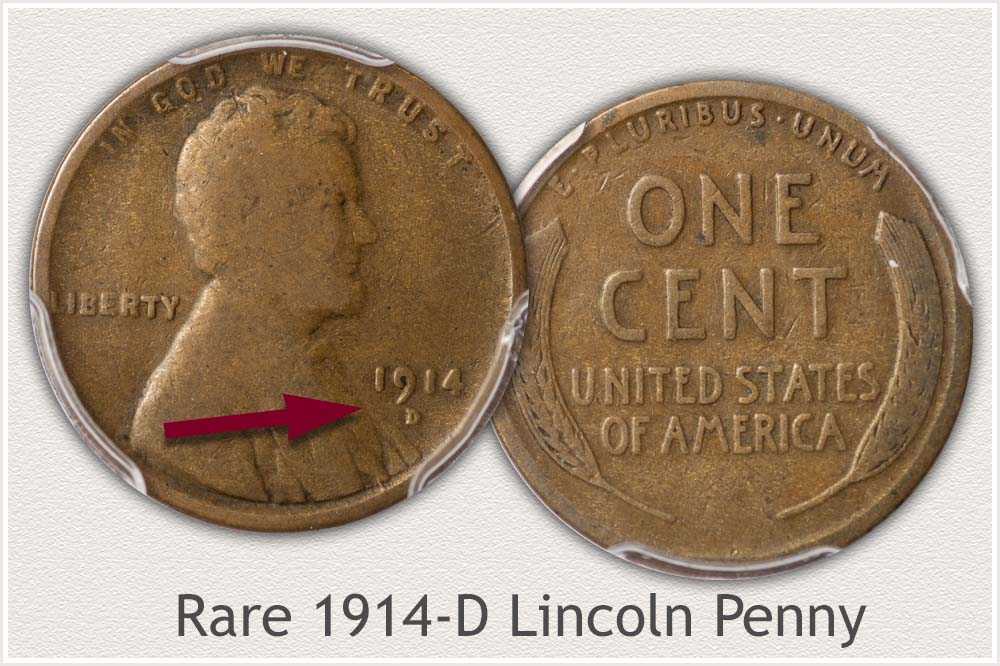 1914-D pennies became a standout year because of the low 1, 485,000 coins struck. The Denver mint ("D" mintmark) began production of pennies in 1911 and in large quantities. Tens of millions of pennies per year was standard for Denver to produce. As the years progressed is was realized the 1914 mintage was unusually low and the coins were not commonly found. Most 1914-D cents were now worn from circulation, they had become a rare penny.
1922 No "D" Lincoln Cent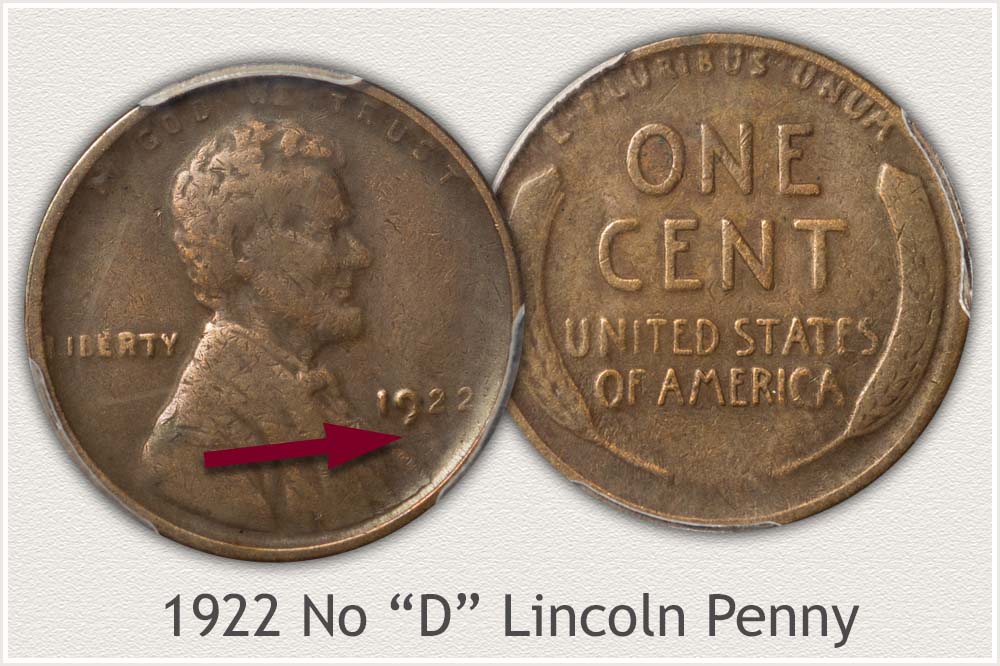 The only mint to strike pennies in 1922 was the Denver mint. Philadelphia and San Francisco, the other mints at the time, were involved minting other coinage denominations. Identity of the Denver mint is the "D" mintmark under the date. During die maintenance the mintmark was polished to the point of disappearing on one of the dies. This die then went on to strike cents without the "D" mintmark. Philadelphia coinage did not use a mintmark; however, Philadelphia did not produce pennies in 1922. These Denver pennies without a mintmark are rare and became a popular error coin.
1931-S Lincoln Cent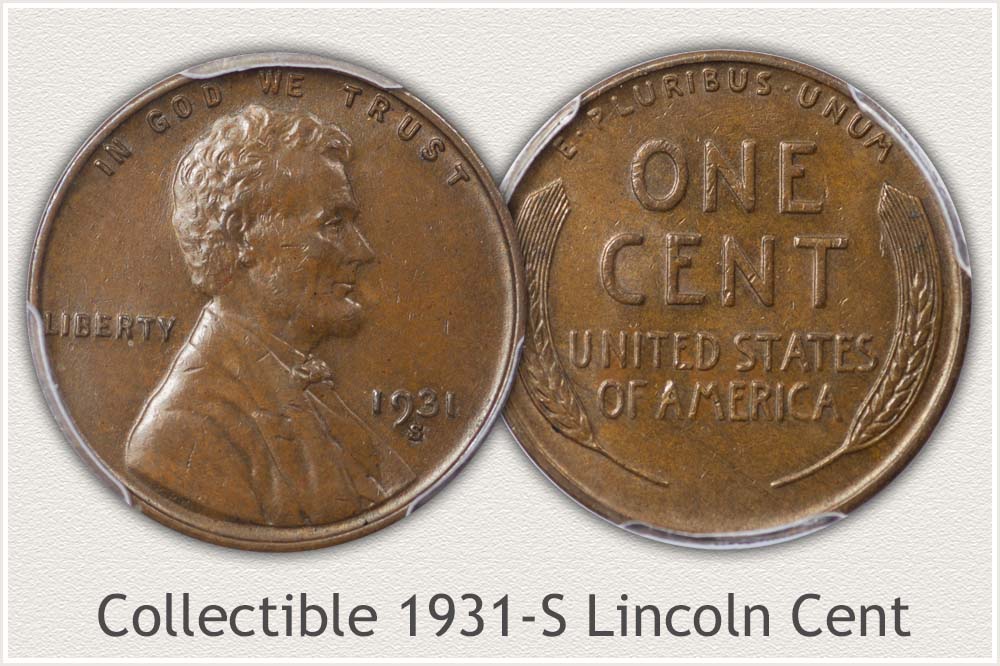 San Francisco mint ("S" mintmark) pennies in comparison to Philadelphia pennies were minted in fewer quantities. Most years multimillion where struck and generally none were considered rare, post the 1909 issues. However, in 1931 less than 866,000 were released and another rare penny was part of a set of Lincoln cents.
1955 Doubled Die Obverse Lincoln Cent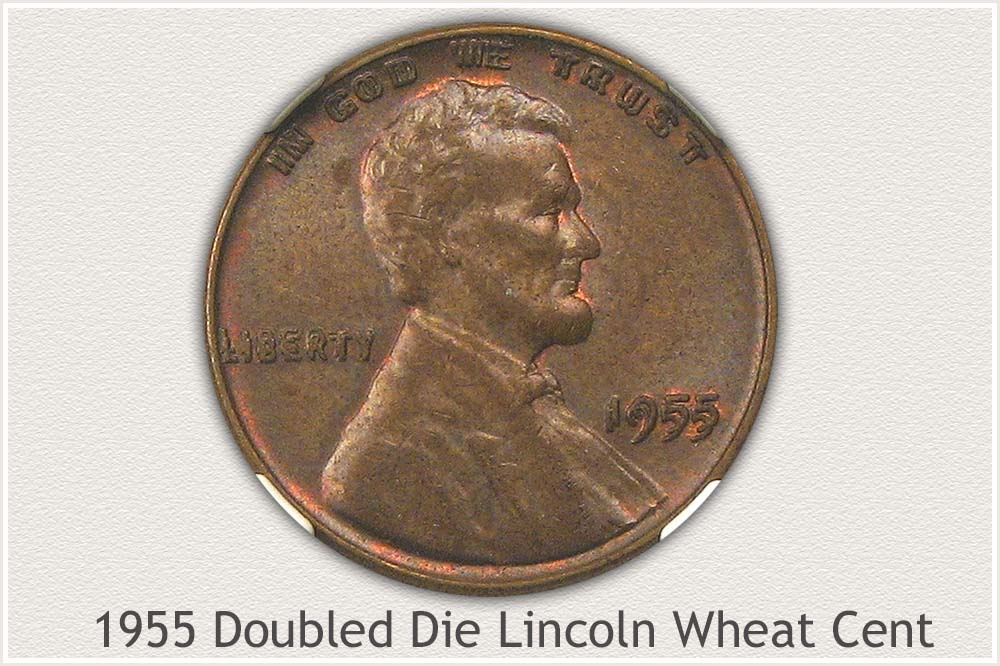 A visibly dramatic error penny was struck in 1955. A misalignment in preparation of a working die, used to strike pennies, formed a doubling of the design. An error on a working die is a very rare occurrence. Once discovered by the mint, the die was quickly removed from production. These easy to see error coins are in great demand by collectors with high value because of the small supply.
1972 Doubled Die Obverse Lincoln Cent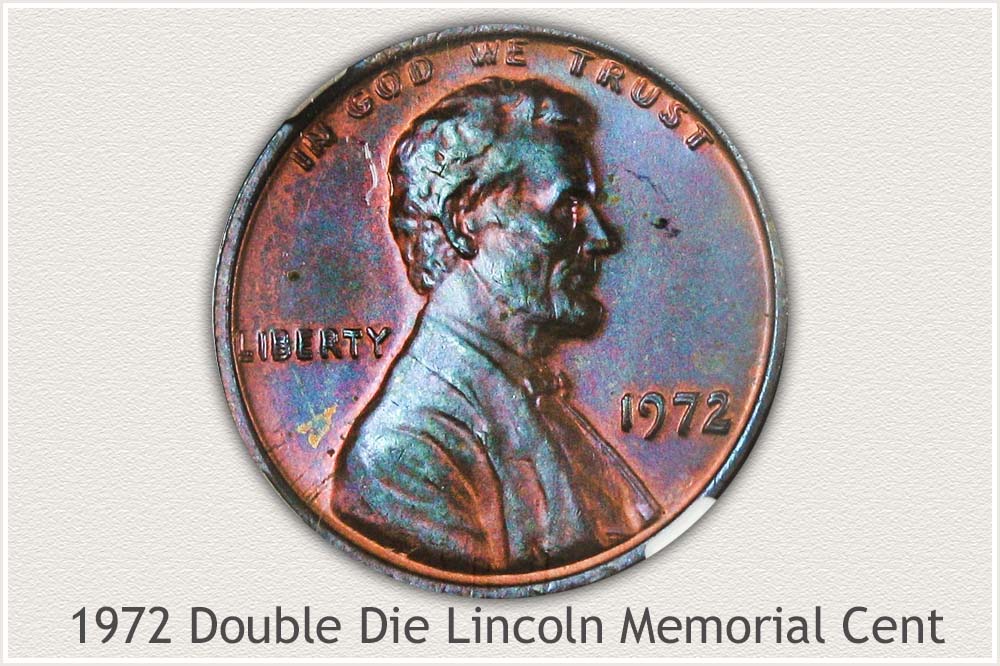 Strong doubling of the date and lettering is easily seen on the 1972 Doubled Die cent. An error in die preparation caused widely spaced double digits in the date and double lettering of the legends. These coins are very rare and sought by collectors.
1990 No "S" Proof Lincoln Cent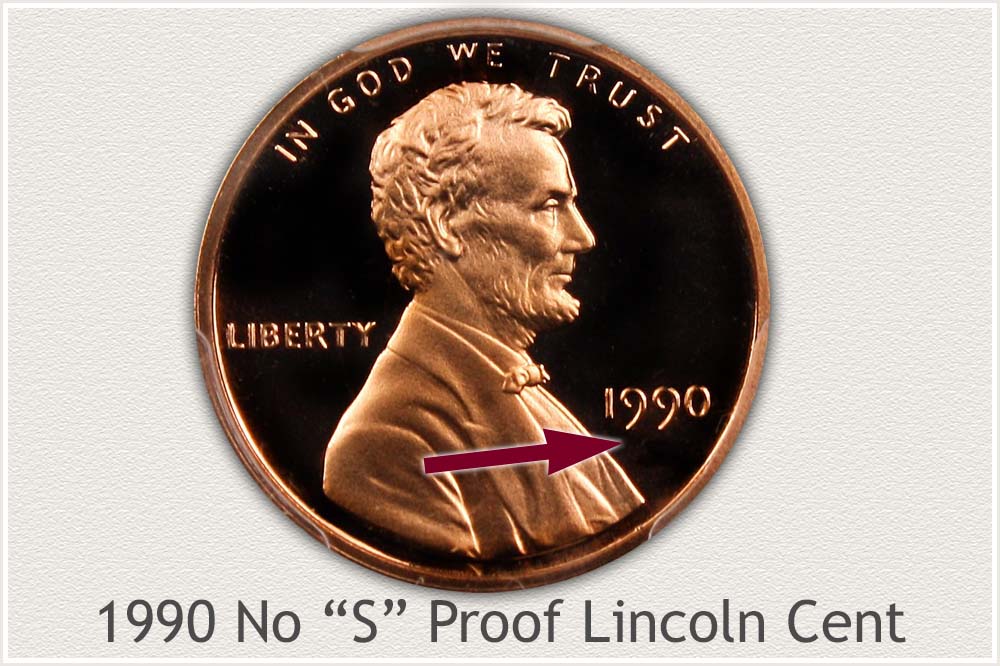 Demand from collectors combined with a very small number of known examples places the 1990 No "S" Proof Cent high on the value scale. A collectible rare penny of the twentieth century.
Only found in Proof sets, the coin is dramatic because the "S" mintmark is missing under the date. Proof coinage in the 1990's was struck at the San Francisco mint, displaying an "S" mintmark on all proof coins. The error was spotted soon after the release of the 1990 proof sets and dealers and collector have searched proof sets since that time. Very few of these have been found.
Popularity and Valuable Pennies
Collectors are the base to values of old coins. Their interest varies, in terms of series to collect, and personal budget. Pennies of many values are popular with today's collectors.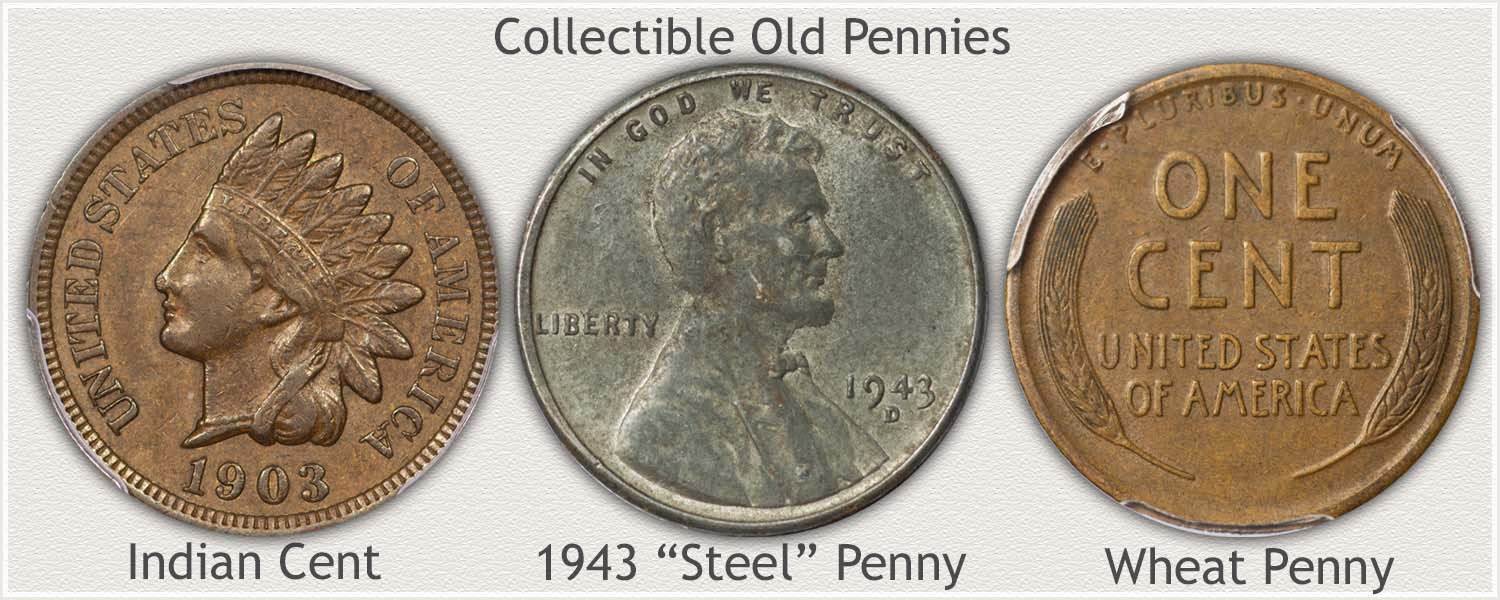 A 1903 Indian penny is not a rare date; many are available today. The quality of the coin is what interest collectors. Heavy wear is the typical condition of these old pennies. Most stayed in circulation for decades. This penny still shows many of the smaller details of the design and is pleasing despite the wear. Many collections would include an Indian penny in this condition.
The 1943 is the "steel" pennies of the Lincoln Wheat series. Popular and in demand because of its one-year type statis. A fascinating coin and always popular with new and beginning collectors.
High grade Wheat pennies of the Lincoln series are part of many collections. 1909 through 1958 is the Wheat Reverse design and many collectors focus on the series. Early years 1909 through the mid 1930's are often found heavily worn. Later years, the 1940's to 1958 were saved in quantities and usually found in better condition. Pleasing coins with light wear or better condition are premium pennies of the Wheat series.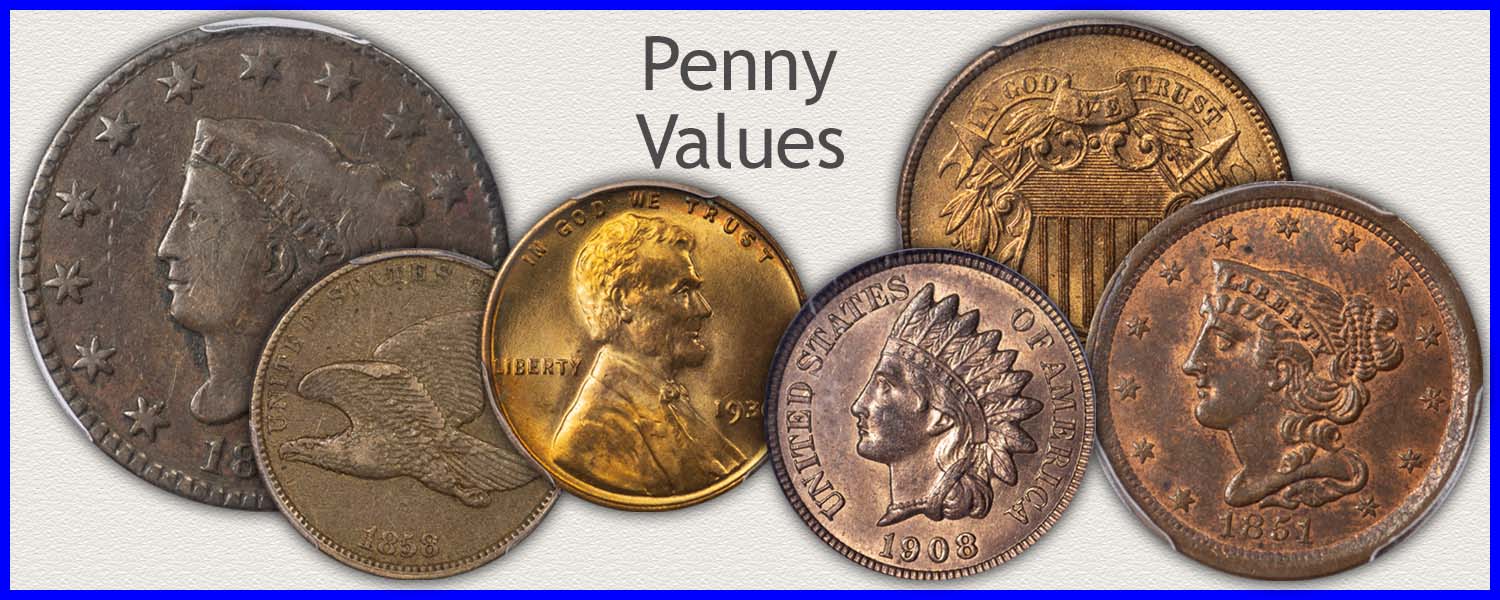 Rare Penny Values
Discover your rare pennies and all old coin values. Half Cents, Large Cents, to Indian and Wheat pennies. Match your coin to the value charts, staying current with how much they are worth today.
★Coin Values Discovery... finds the Value of Rare Pennies and... All old U.S. coin values. It is an excellent index with images and text links to all coin series, from Cents to Gold. Value charts, grading images and descriptions uncover how much your box of old coins is worth.
References
US Mint. 1948 US Mint Annual Report. https://nnp.wustl.edu/library/book/339
US Mint. Catalogue of Coins of the United States. https://nnp.wustl.edu/library/book/554591