Coin Values Moving with Precious Metals: Up-Dated 11/27/2023: Gold $2010 | Silver $24.66
1923 Peace Silver Dollar Value
High on collectors want lists and popular with investors, your 1923 Peace silver dollar value is a minimum of $18.98 today.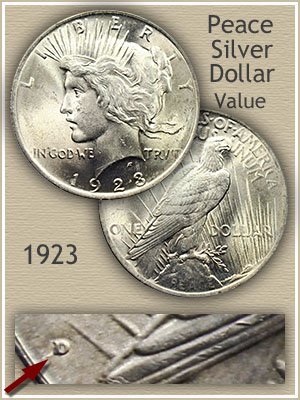 Note: Judge your coin as a collector, the presence of a mintmark and its condition play a large role.
Firstly, collectors attach added value to 1923 Peace dollars that remain in "uncirculated" condition. Seeking eye appealing coins to add to their collection, those without wear to the surface and retaining bright mint luster are highly valued. Comparing to the gem silver dollar pictured illustrates this important collectible quality. Stages of condition are imaged and described further down the page.
Also affecting value are mintmarks. These small initials found on the coin represent the different mints coining 1923 silver dollars. Popular with collectors, complete collections of Peace dollars necessarily must contain one from each mint. Use the graphic below the value chart to locate mintmarks.
Knowing your silver dollar is in demand for its silver content establishes base value. Seeing it through the eyes of a collector determines if it's prized as a collectible.
A complete assessment of value includes identifying the mint that produced your silver dollar. In 1923 mints in Philadelphia, Denver, and San Francisco struck Peace dollars. On the reverse, two of the mints added small mintmarks, "D" to identify Denver and "S" San Francisco. If no mintmark is present, Philadelphia struck the coin. Because of mintmarks small size, and sometimes faint impression, I always use a magnifying glass.
1923 Peace Silver Dollar Value
Condition of Coin
Date
Good
Fine
Extremely
Fine
Uncirculated
1923 Peace Silver Dollar Value Updated
11/27/2023
1923
$18.98
$19.55
$22.75
$25.46
1923 D
$18.98
$19.55
$22.75
$39.49
1923 S
$18.98
$19.55
$22.75
$30.53
Two Markets and 1923 Peace Silver Dollar Value
1923 Peace dollars in general comprise two large categories, worn circulated coins and those still in brand new "uncirculated" condition. Worn coins are closely tied to silver price, rising and falling with movements of the precious metal. These coins are popular with, and meet the demands of those seeking a position in bullion silver.
Higher up the quality scale is a collector driven market. Uncirculated silver dollars, described in collector terms as "mint state" are worth a premium. Additionally within the mint state grade are ascending levels of quality and demand. Noticeability superior, "gem" mint state examples comprise the top tier of value. Always in demand, gem quality Peace dollars are stunning as a collection.
Two markets, two values. Silver bullion investors currently pay $18.98 for the circulated coin with silver trading at $24.66 . Collectors less concerned with spot metal prices see a highly desirable addition to their collection in the first coin. Gem quality 1923 Peace silver dollar value is in the range of $145 to $200. Both affordable and available adding to their appeal to each market.

1923 Peace Silver Dollar Value as Seen By Collectors
Comparing your coin to these "grading" images identifies its condition. Although at first the differences between grades are subtle, they become easy to distinguish by focusing on the areas highlighted by the descriptions.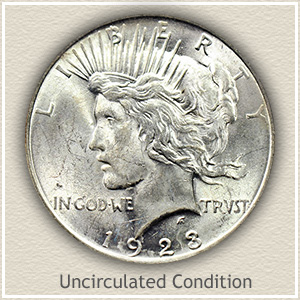 Uncirculated: 1923 Peace silver dollar value and collector appeal rises well above its base metal price in this grade. The technical standard is no wear to the surface to reach "uncirculated" condition. Mint luster, a radiating shine, must remain complete across the coin. It is easiest so see when viewed under a light, and tilting the coin side to side. Liberty's cheek, a high point of design, is quick to loose luster from wear causing a dull grey appearance.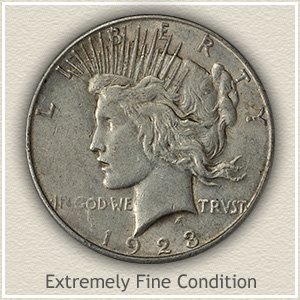 Extremely Fine: A slight amount of detail is missing from the tops of the raised portions of the design. If not wide spread a grade of "extremely fine" describes its condition. View Liberty's cheek, and back of her hair, wear forms a smoother texture than the surrounding areas. Overall a pleasing coin, displaying a vibrant appearance when viewed at a distance.
Even in this higher grade 1923 dollars trade based on silver content and value. However, should your coin exhibit a slight glow surrounding the lettering this remaining mint luster indicates it is a candidate for future collector appeal.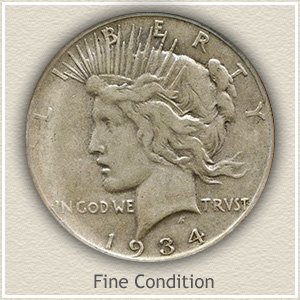 Fine: First impression of this 'fine" condition is, yes there is wear but not extensive nor unappealing. As you look closely all raised portions are affected by wear, quickly noticeable is the flattened areas of hair and cheek and also above the eye. Focusing your attention now to the tops of the lettering, motto and date, they have a leveled and smooth quality.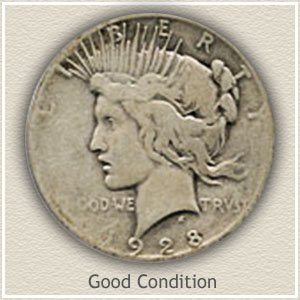 Good: Very worn and flattened, with most strands of hair merged defines the "good" grade. Today a 1923 Peace silver dollar in this condition trades at bullion value, likely never achieving any collectible status. Lettering is now faint towards the rim and on the reverse, feather details over most of the eagle are missing.
Coin Values | CoinStudy Articles
Date by Date
In Depth Peace Silver Dollar Value
1921 to 1935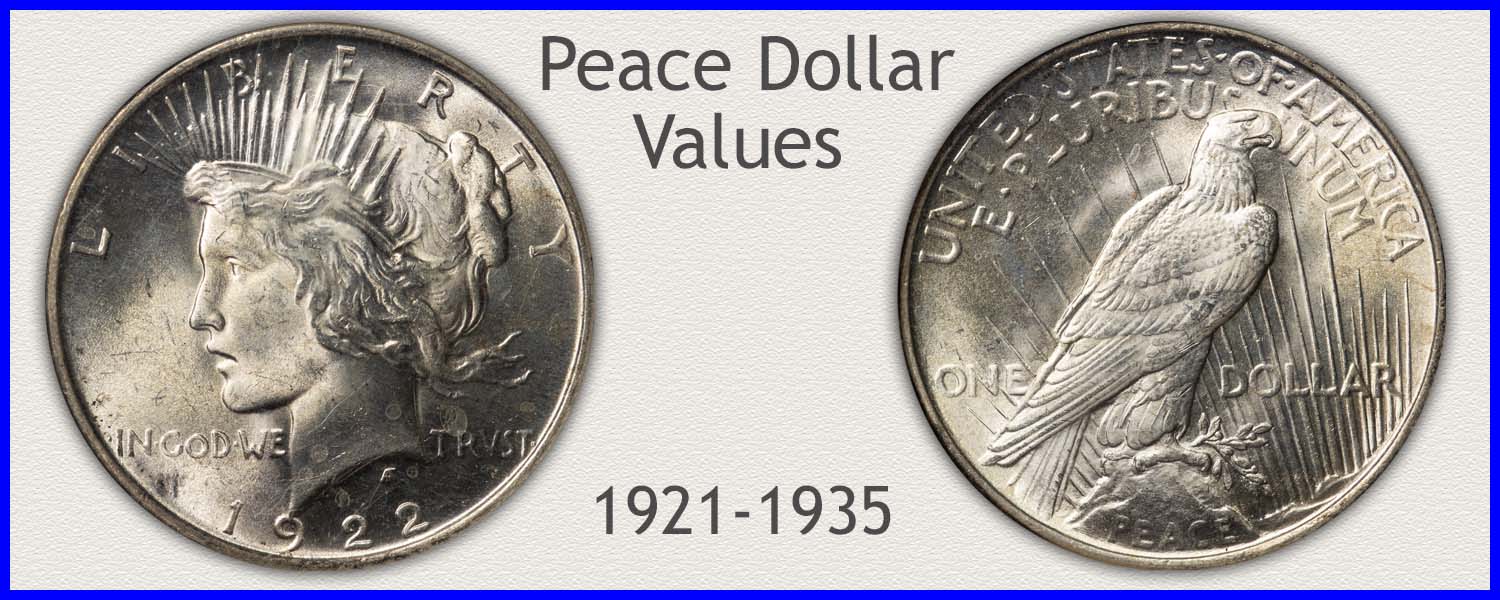 Today's Market | Peace Dollar Values
Values of your Peace silver dollars are influenced by both an active collector market and as a silver bullion coin. Determine from the chart, all the dates and mints highly valued by collectors, and current bullion value of the ones moving with the silver market.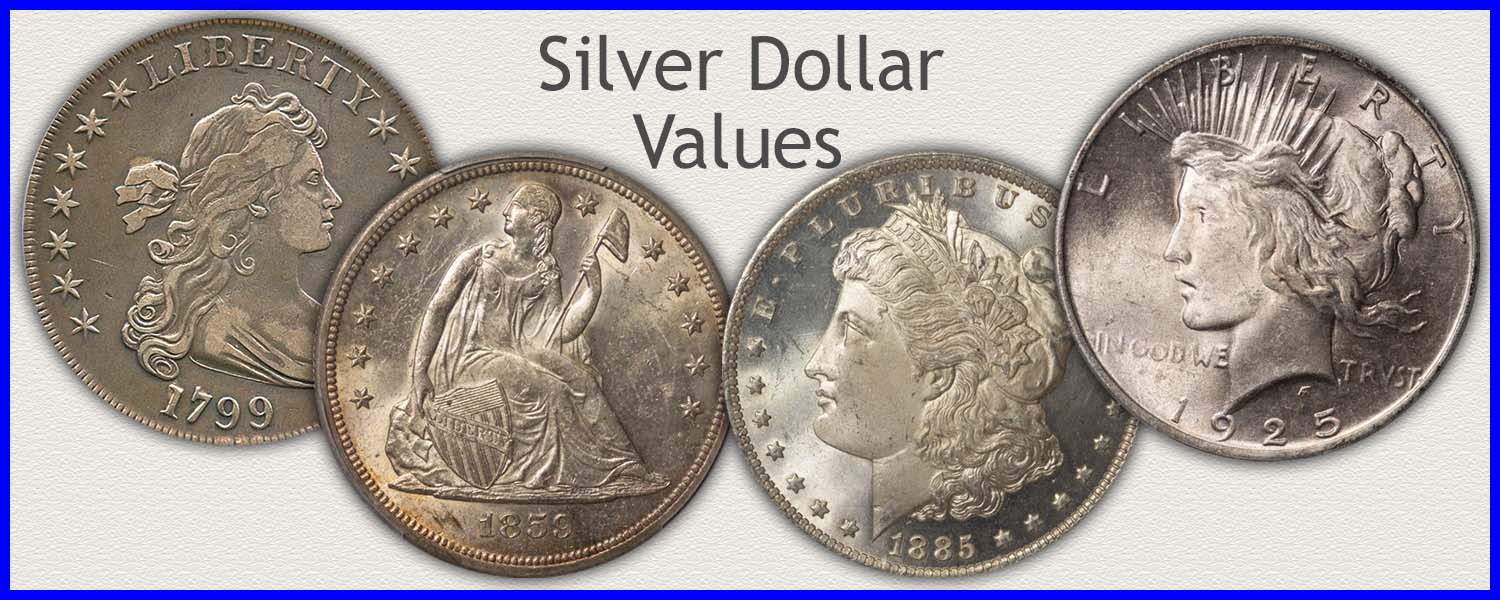 Silver Dollar Values and Your Collectible Coins
Find accurate Silver Dollar values using the coin value chart, separate the common from the rare. Listing the early Bust and Seated Liberty Dollars to Morgan and Peace silver dollars. Rising silver prices, increasing demand from both collectors and rare coin dealers requires a second look at your box of old coins.
★Coin Values Discovery finds... 1923 Peace Silver Dollar Value and...
All old US coin values. Using value charts in combination with grading images to judge condition discovers how much your old coins are worth. Get the best price if selling by knowing the accurate value of all your coins.
Safe Coin Storage | Recommendations
Recommendations on basic supplies that greatly improve coin storage. Providing for safe handling, preserving of value and organizing your box of old coins. Peace dollars a heavy coin, high is silver content and easy to tarnish, needs a certain amount of careful handling to maintain their appeal to collectors. Housing them safely is covered in the Safe Coin Storage article.