Coin Values Moving with Precious Metals: Up-Dated 11/27/2023: Gold $2010 | Silver $24.66
Bust Half Dime Value
Bust half dime value is supported by its historic importance. Dating from the beginning of the US mint, half dimes were first struck in 1794. The "Bust" design era lasted through 1837 with a few modifications creating varieties. These coins are both scarce and avidly sought by collectors. Each is judged for qualities of condition, specific date, and important variety.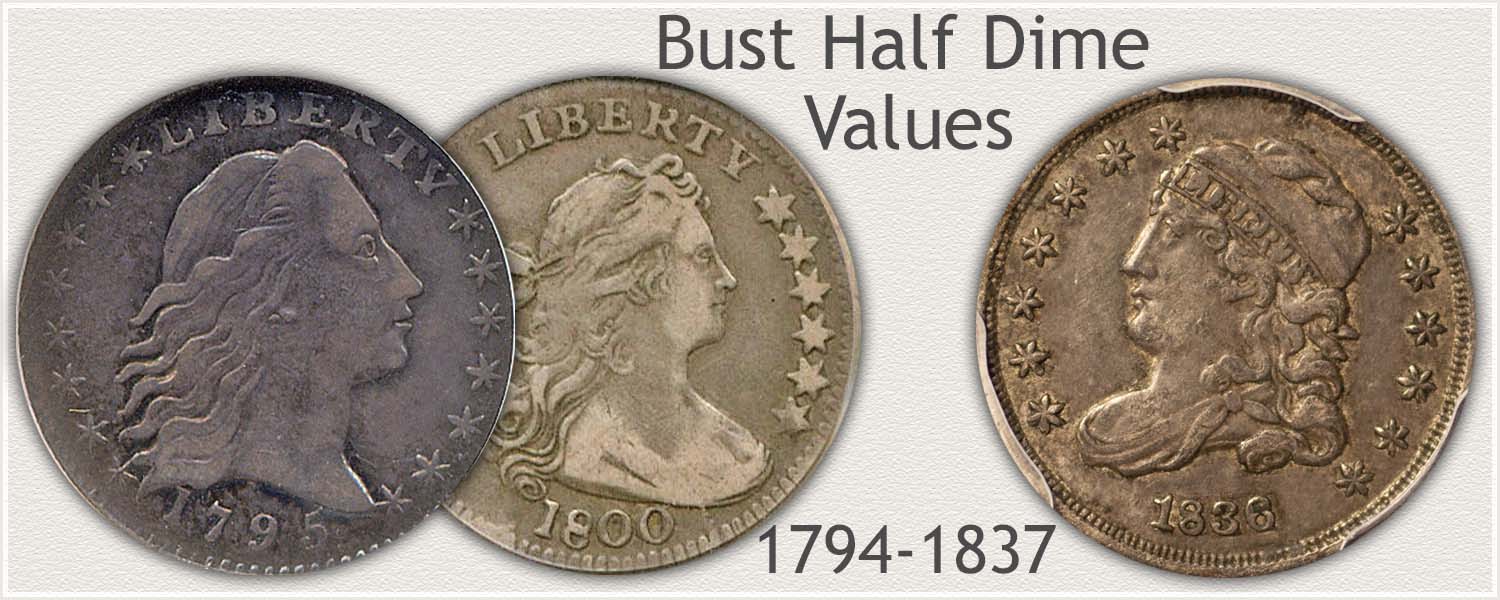 Steps Leading to Value:
Step 1: Date and Variety - Accurately identify different varieties and dates spanning the bust half dime series.
Step 2: Grading Condition - Important elements are judged and condition is graded defining their preservation.
Step 3: Special Qualities - Half dimes are silver, old, and aesthetic factors contribute to value.
It is exciting to see how much your coin is worth on the chart, it is a genuinely scarce to rare coin from the past. A mint state Bust half dime is a stunning, very valuable and collectible coin. Step 2: Grading condition, continues below the chart.
The above are wholesale coin values. Computed from dealer's price lists and auction results. Various wholesale factors are figured in to reflect closely the price you would expect to receive when selling.
If your coin is not listed above, it is seldom encountered. For additional reference... CDN publishes an extensive guide, covering Retail Bust half dime prices in detail.
Follow these steps to fully understand and realize their worth.
Step 1: | Date and Variety are Identified
Three important varieties are considered determining how much these half dimes are worth. First era and the beginning of the US mint; two varieties from 1794 to 1805 were struck. Half dime production paused in 1806, picking up again in the second era 1829 to 1837 with a new design.
Flowing Hair Variety 1794 to 1795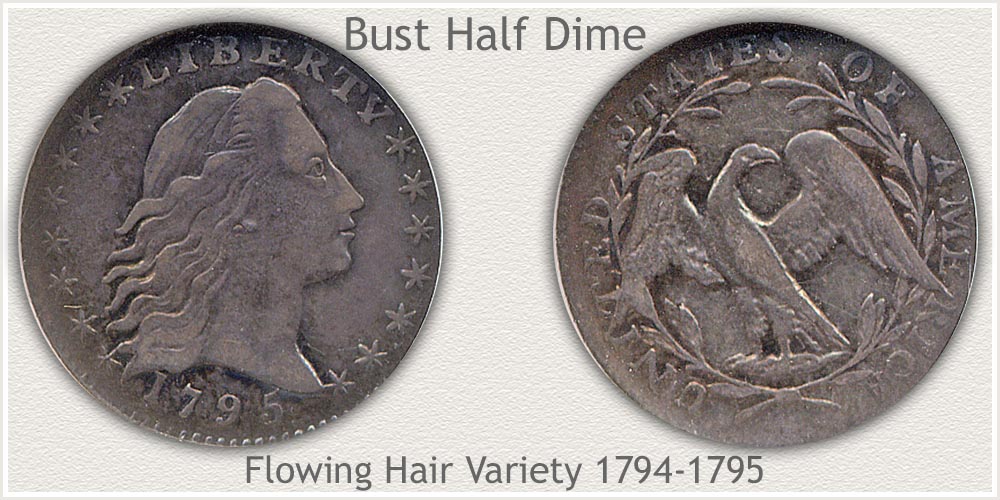 Flowing Hair half dimes are rare in surviving numbers and historically important. Struck in the first years of US Mint production they are highly sought by collectors. Numbers coined were low and most survive in heavily worn condition.
Flowing hair is the prominent feature of Liberty's portrait. On the reverse the eagle is within a wreath of laurel branches.
Draped Bust Variety 1796 to 1805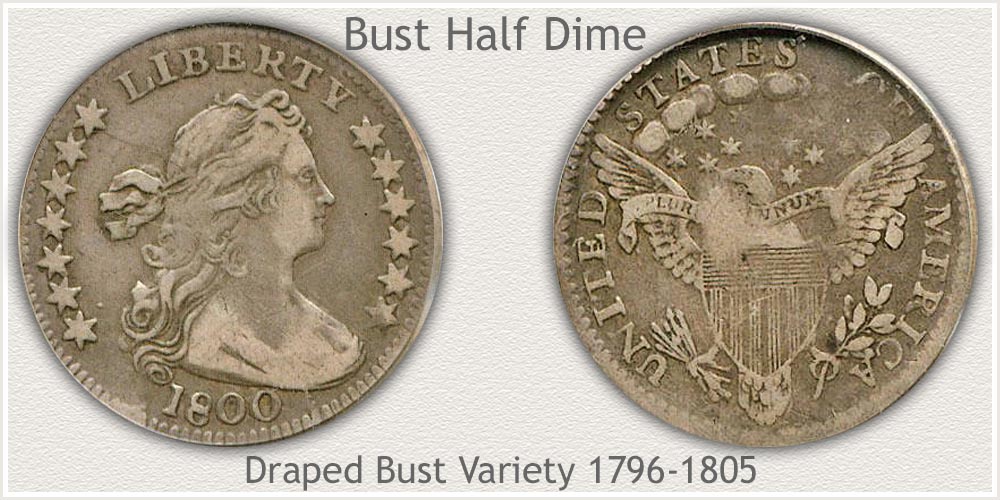 Liberty is redesigned with long loose hair. A ribbon is added, tying hair at back. Fifteen stars were added along the border. In 1796 and 1797 on the reverse; the same eagle as prior remains with the wreath now of olive and palm branches. In 1800 to 1805 a heraldic eagle and shield now represents the US on the reverse. Clouds and stars above the eagle with legend surrounding complete the new reverse design.
Total mintage through 1805 is 265,543 half dimes. The number of survivors is scarce to rare as reflected in values. Many collectors seek one as a type example maintaining a steady demand on the few available.
Capped Bust Variety 1829 to 1837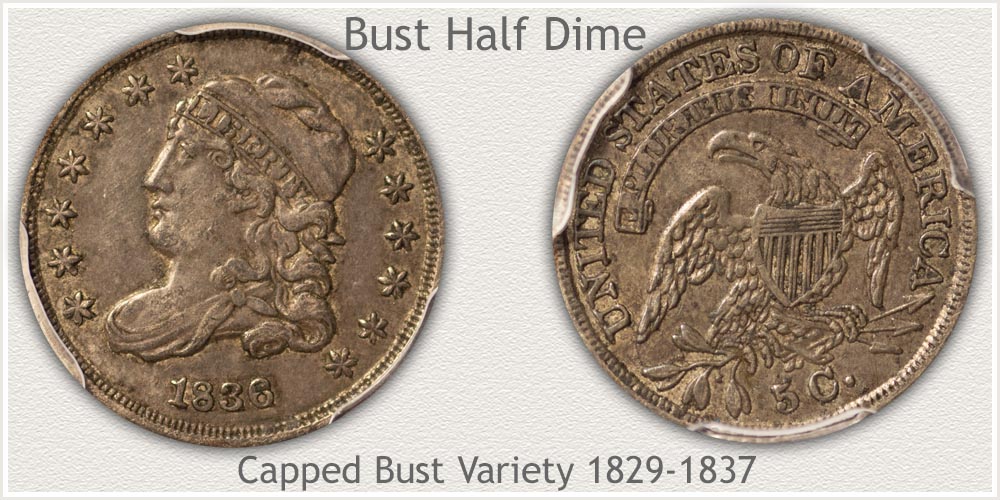 After an absence of production since 1805 a new design was issued beginning in 1829. Liberty now faces left with hair waves flowing down back of neck. A liberty cap is introduced with a ribbon inscribed "Liberty" above her forehead. A standing eagle with inverted wings displays the US Shield. Olive branches in right claw and three arrows in left. Added is a scroll above inscribed "E Pluribus Unum".
A strong collector base is behind values. 1829 to 1837 Capped Bust half dimes represent a completable series. A fascinating run of dates with a few minor varieties of similar price to challenge serious collectors. Mintage total for the entire variety is just below 14.5 million coins. Pleasing and affordable examples in collector grades are found among all 9 different dates.
Determine where on the condition scale your coin fits in the next step.
Step 2: | Grading Condition and Assigning a Grade
As a coin circulates through commerce, fine design details wear away and merge. The degree of wear separates one grade from the next and one Bust half dime value from the next.
Comparing your coin to grading images finds a close match of it condition. Inspect coins under a single light source, helping deepen contrasts bringing out small details. Zooming in with a magnifying glass is very helpful.
Value of Your Bust Half Dime is Conditional
Mint State Grade: Capped Bust Half Dime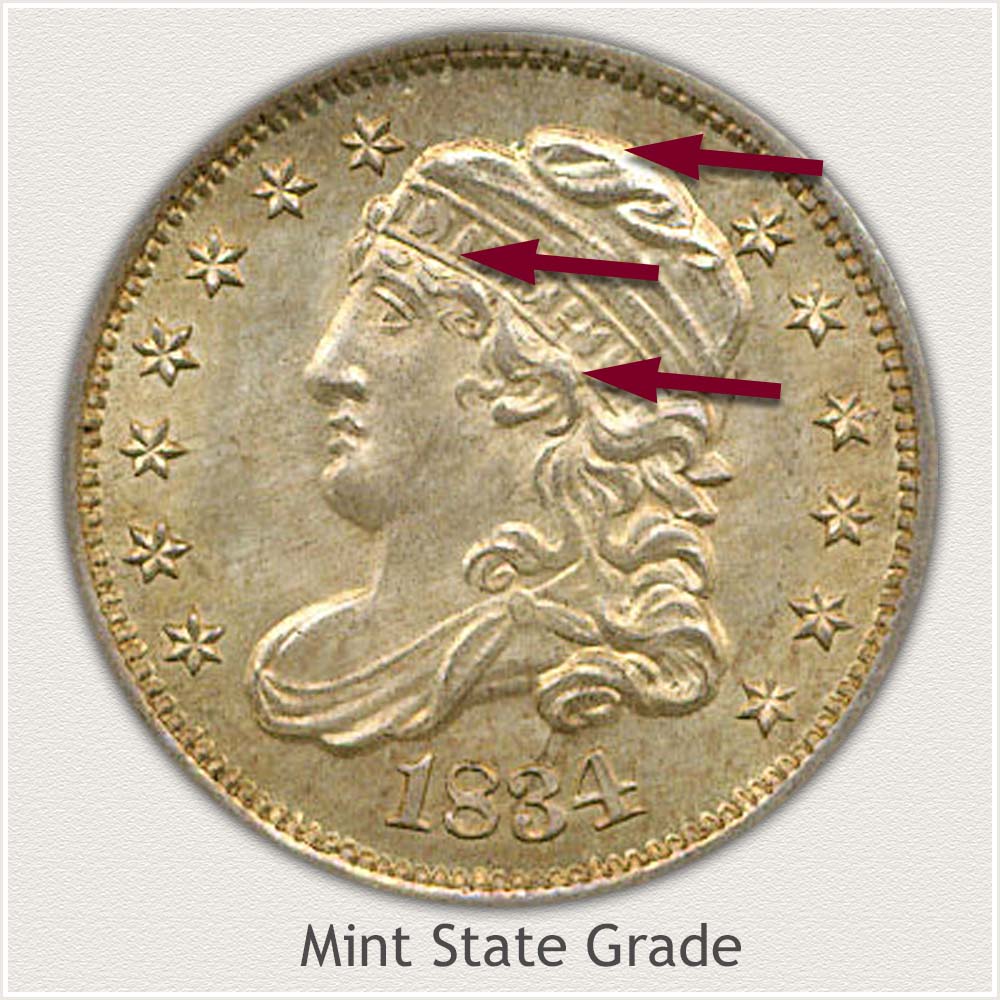 Obverse: Features Identifying Mint State Grade: Defining a mint state - uncirculated coin is absence of wear to the surface. All parts of Liberty remain as minted.
Begin your inspection with the small waves of hair just above Liberty's eye. These are subject to early evidence of wear. No smoothing above the eye indicates lack of wear.
Another high-profile element is curls of hair above the ear. Roundness and separation remain on mint state coins. View all large waves of hair along the back of her neck for evidence of a change in texture. Wear begins to smooth metal, noticeable from original texture.
At the very top of Liberty's cap is a large fold, compare its texture with surrounding metal, wear shows as a change in color and smoothness.
Reverse: Features Identifying Mint State Grade: Featured on the reverse is an eagle. First to show any signs of wear is along the tops of the wings and head. Look close at all three areas to confirm similar texture without any smooth, flat areas.
The eagle's talons are very high in relief and show wear quickly. Small flat areas towards the claws indicates first signs of wear.
An outer rim defines the shield within the eagle design. A rounded profile to this rim remains on coins without wear. NOTE: The shield is opposite high relief areas on the obverse of the coin. This alignment often results in softy struck areas of either side. If parts of the shield - usually top left - seem flattened, often a weak strike is the cause.
Extremely Fine Grade: Capped Bust Half Dime
Obverse: Features Identifying Extremely Fine Grade: A notable quality of this coin is an even, balanced toning obverse to reverse. Just a slight amount of wear is seen in various places.
Hair in front and above Liberty's ear is distinct, separated, and retains a raised appearance. Her ear is recognizable.
Clasp holding the drapery over Liberty's shoulder is clear. Often an outer ridge to the clasp remains with a raised inner oval.
Curls of hair down the back remain with a raised "look". Flatness in seen on the very tops of the waves of hair, however, remnants of curls are defined. Major separations are bold.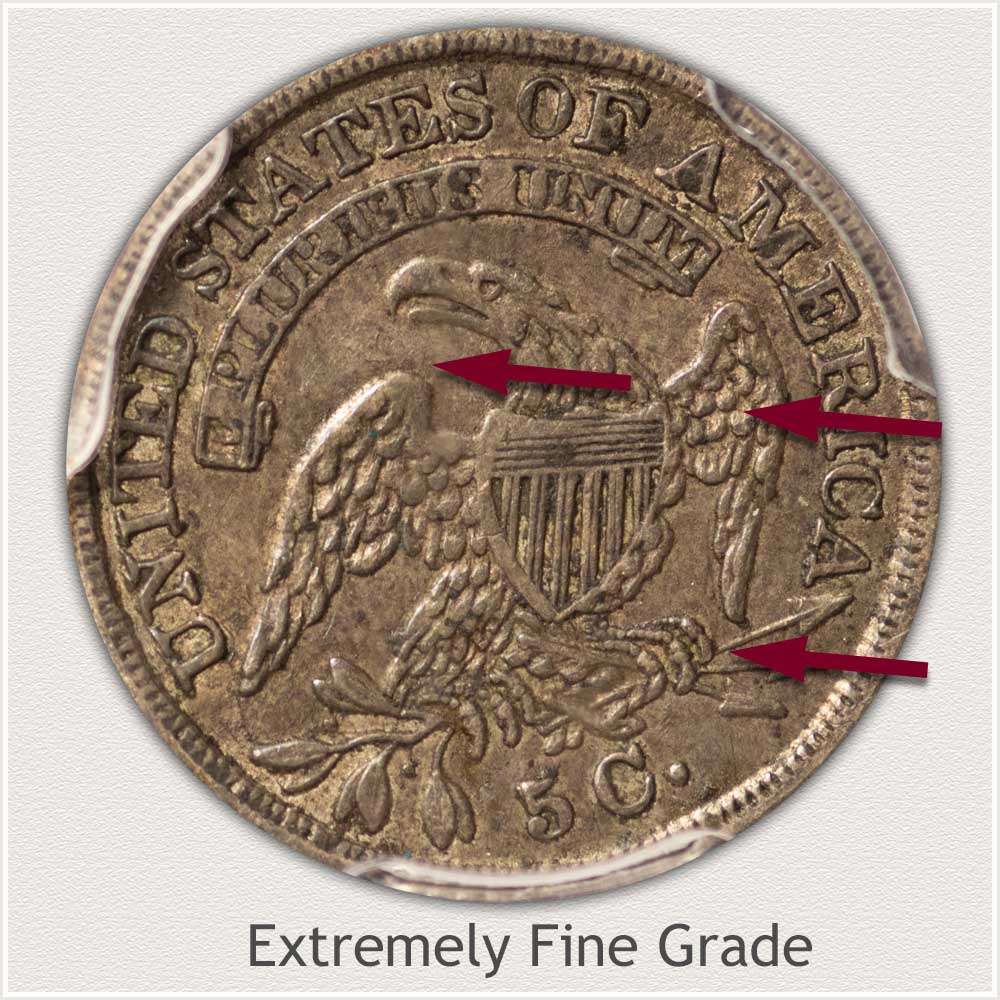 Reverse: Features Identifying Extremely Fine Grade: Top edges of the eagle's wings and head show a slight smoothness and flatness. No areas of the eagle have merged helping define the Extremely Fine grade.
Inner feathers of both wings are fully portrayed and only a minor amount of wear is detected. Wear is confined to outer edges of the wings.
Talons holding the arrows and olive branch are just beginning to show a small flat area on each. Claw holding the arrows often shows slightly heavier wear.
Rim surrounding the shield remains raised and distinct from feathers in most areas.
Leaves of olive branch are defined from each. A center line in upper leaves is visible, helping define the grade.
Fine Grade: Capped Bust Half Dime
Obverse: Features Identifying the Fine Grade: Moderate, and in some areas heavy wear, is a half dime in Fine grade.
A curl of hair just behind Liberty's eye remains separated from her face. An inner area to the curl is also visible, helping define the condition as Fine grade.
Hair flowing down the back of Liberty's neck is flattened, however, major waves are completely visible.
The clasp holding the drapery is defined on either side, although the top of the clasp is worn smooth with no inner detail.
Lettering of "Liberty" remains visible in headband. Enough detail remains overall giving a degree of depth to the design.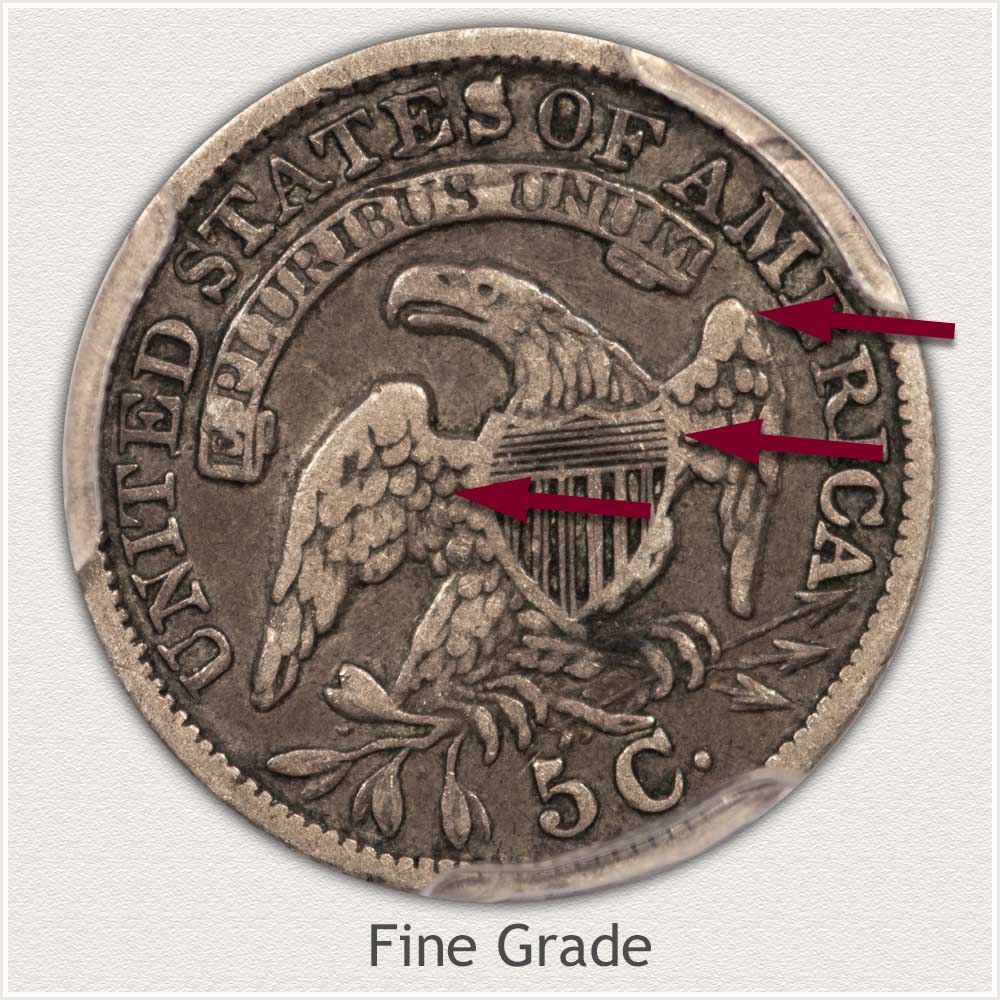 Reverse: Features Identifying the Fine Grade: Upper edges of both wings show extensive flatness along their lengths. A large flat area is present where the wings turn down.
Inner feather detail is now portrayed by a series of flat areas; each remains disconnected from the other to qualify as a Fine grade half dime.
Outer line of the shield is now flat and just beginning to merge with feather detail. Inner vertical lines of the shield remain strong.
Helping portray a sharp design is all lettering of the legend clear and separate of the rim. A weak rim is sometimes found in areas, the result of a soft strike. Lettering clear of the rim keeps a coin in the Fine grade.
Good Grade: Capped Bust Half Dime
Obverse: Features Identifying the Good Grade: Heavy wear has reduced the majority of Liberty's portrait to an outline, placing this coin in the Good grade.
Worn smooth is all separation of forehead and hair above.
Liberty's face is now a smooth flat area with no lines defining separation of hair or drapery along the lower edge of the portrait.
Centers of stars are flat, no longer showing central details. Most stars remain free of the rim.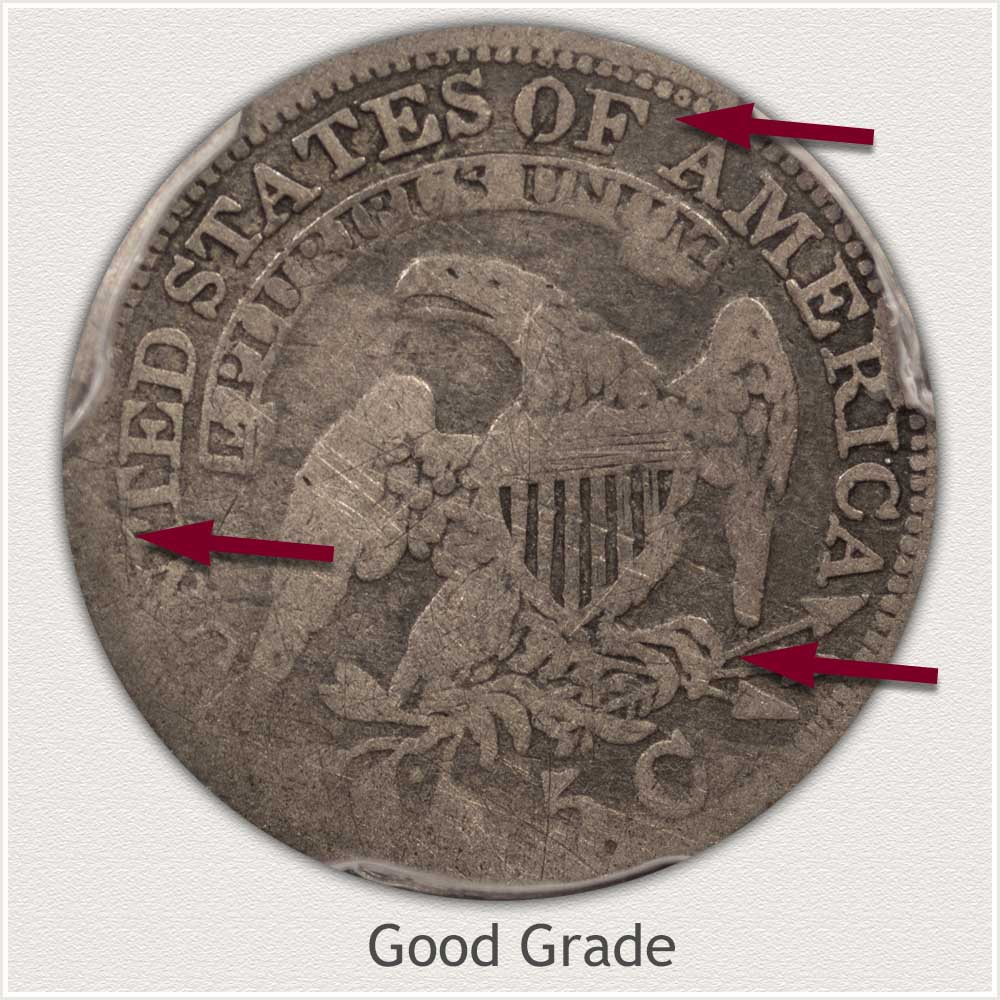 Reverse: Features Identifying the Good Grade: Wear has begun to merge outer edges of wing detail with inner feather detail. Often, heavy wear is noticed on the eagle's left wing.
Wide spread merging of inner feathers is seen towards the tips of the wings.
Eagle's talons are now flat but mostly distinct.
Legend is readable, some areas are faint and beginning to merge with rim.
Confirming Grade
A grade is considered and determined using both sides of a coin to decide.
Capped bust half dimes, once heavily worn, tend to show different striking characteristics and wear obverse to reverse. As an example; if your coin is better defined on the obverse and the reverse is heavily worn, the reverse defines the grade. Optimistic grading may favor the nicer grade obverse, but the obverse does not "pull" the lower reverse grade higher.
Step 3: | Special Qualities Enhancing Value
It seems these small silver coins were subjected to harsh treatment over the years. Active use has left many surviving bust half dimes heavily worn. Also, inspect for dented, bent, holed, or scratched surfaces. Any half dime free of damage - no matter how worn - is valuable.
Recognizing Aesthetic Appeal
By covering the steps of identifying variety, date, and condition you are well along in the process used by dealers and collectors in judging a coin. Understanding the "appeal" of a coin gives further insight to underlying value. Some coins just stand out from the rest by their pleasing appearance.
Collector Quality 1836 Half Dime
Overall toning forms the color and first impression of coin. Original surfaces are portrayed by the 1836 half dime imaged. Soft greys, silvers, and golden brightness is seen on the coin. These colors are laying on the surface highlighting the design and devices. Details are brough out by subtle contrasts. Eye appeal adds to market value.
Eye Appeal Reverse 1836 Half Dime
Boldness of the eagle is noticeable on the reverse. Brighter tones of color on the high points bring out feather detail. Well defined legend and motto indicate a fully struck coin, no faded, softly struck areas to distract the eye. A lightly circulated coin with strong aesthetic appeal.
Now add your own judgment to your coin. Is it rated as pleasing to the eye? No distractions are noticed on first impression? These are historical coins in any grade.
References
US Mint. 1851 US Mint Annual Report https://nnp.wustl.edu/library/book/516155
US Mint. Catalogue of Coins of the United States https://nnp.wustl.edu/library/book/554591
Coin Values | CoinStudy Articles
A dedicated group of collectors and dealers enjoy these numismatic treasures, forming a strong value base. Historically significant, scarce, and with values trending upward; Bust half dimes are an important part of the hobby.
Old Coin Values Using a Step by Step Method
A step by step method is used to discover old coin values. Beginning with identifying important dates and mintmarks. Next comparing your coin to images to judge and determine its condition and recognize its "grade". Value charts narrow how much coins are worth.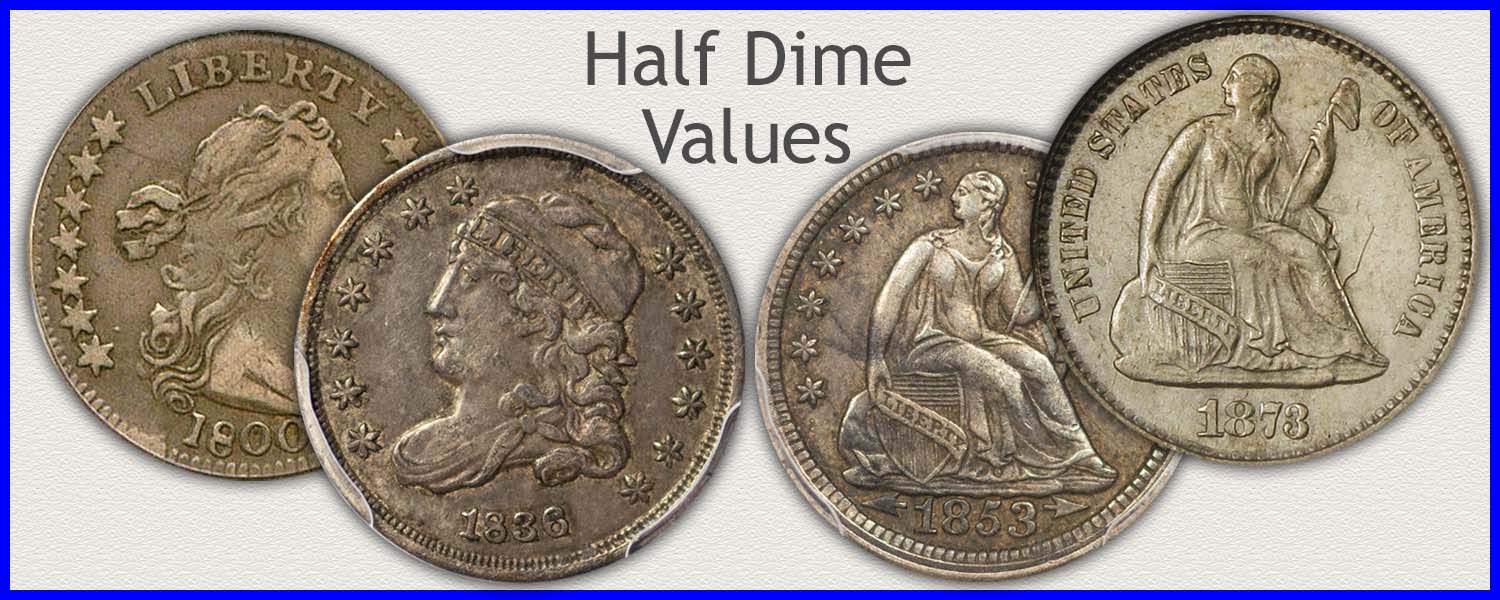 Return to the index page leading to the rest of the half dime series. These small silver coins continued through 1873 involving many design changes. Value charts cover the series and grading images with descriptions judge condition. Branch mints began to produce half dimes and now identifying mintmarks becomes important to pinpoint how much the coin is worth.
Understanding value of your half dimes is a great first step to successfully selling these coins. Resources helping find markets is the next step.
★ Coin Values Discovery finds Bust Half Dime Value and...
All old US coin values. It is an excellent index with images and text links to all coin series, from Cents to Gold. Value charts, grading images and a step by step procedure uncovers how much your box of old coins is worth.