Coin Values Moving with Precious Metals: Up-Dated 9/25/2023: Gold $1921 | Silver $23.44
Selling Wheat Pennies for the
Highest Value
Selling wheat pennies starts with organizing your coins and gaining an understanding of their value.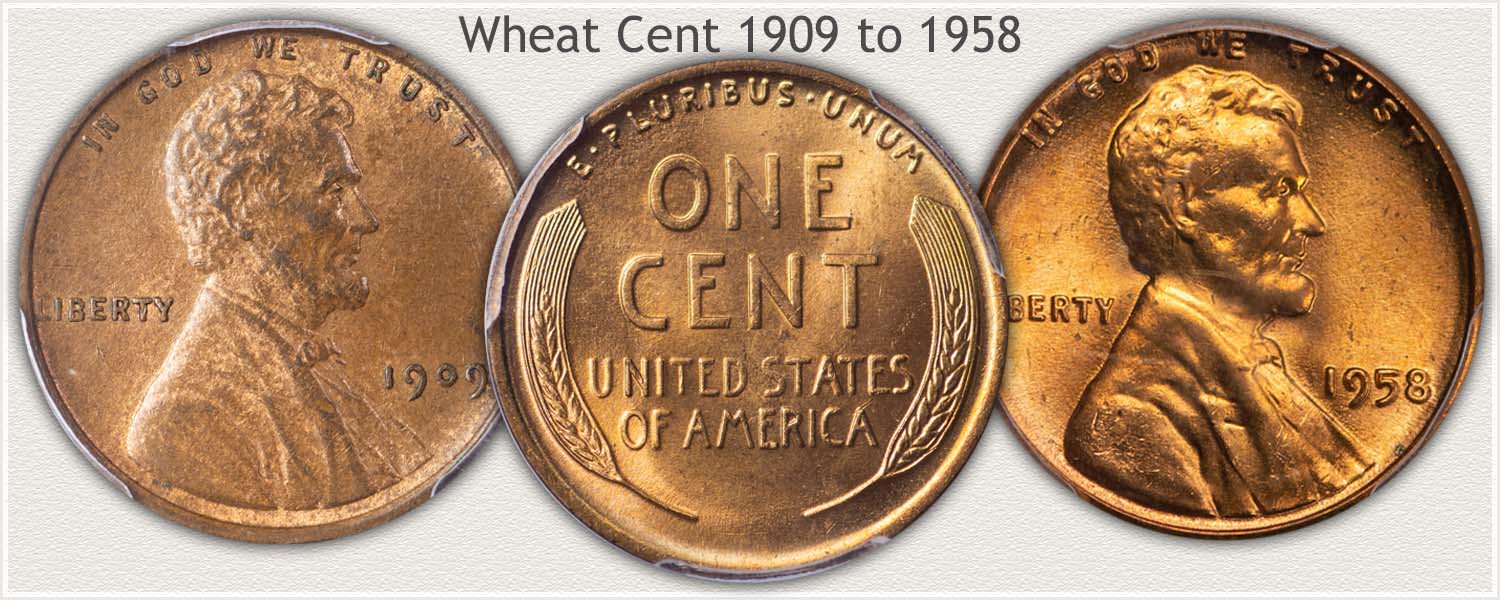 Wheat pennies minted from 1909 to 1958 is a popular series with collectors and covers a wide range of value and demand. Early era wheat cents: 1909 through the mid 1930's have many higher value dates and mints, becoming serious collectibles. Coins from the later decades the 1940's and 1950's are plentiful and affordable, popular with new and beginning collectors.
Sorting your coins into these different eras quickly defines both your selling approach and value potential.
Print the Coin Values Worksheet to record the different groups of coins as you sort them. Coins of higher value are listed individually on the worksheet. The worksheet becomes a convenient and organized summary of the wheat pennies you are selling.
Quite a few of these old wheat pennies are in the minimum value category. However, there a few steps to take helping realize a higher per coin value.
As you prepare selling wheat pennies for the best value, no longer should they be considered as one single group. Rather, time spent easily sorting your coins pays big dividends.
Sorting Wheat Pennies by Decades
With a work area set out, it is time to begin separating your wheat pennies into the different value groups. Keeping the major eras in mind - 1909 through the 1930's and the 1940's to 1950's an advance sort method identifies higher value pennies.
Begin by sorting the pennies by decades. This helps in the selling process by grouping coins in similar value categories. Additionally, be alert to specific mintmarks and the condition of the coin.
First Decade of Wheat Cents: 1909 to 1919
First Decade of Wheat Cents: 1909 to 1919
Common Dates to Group Together
CoinStudy
1916
1917
1918
1919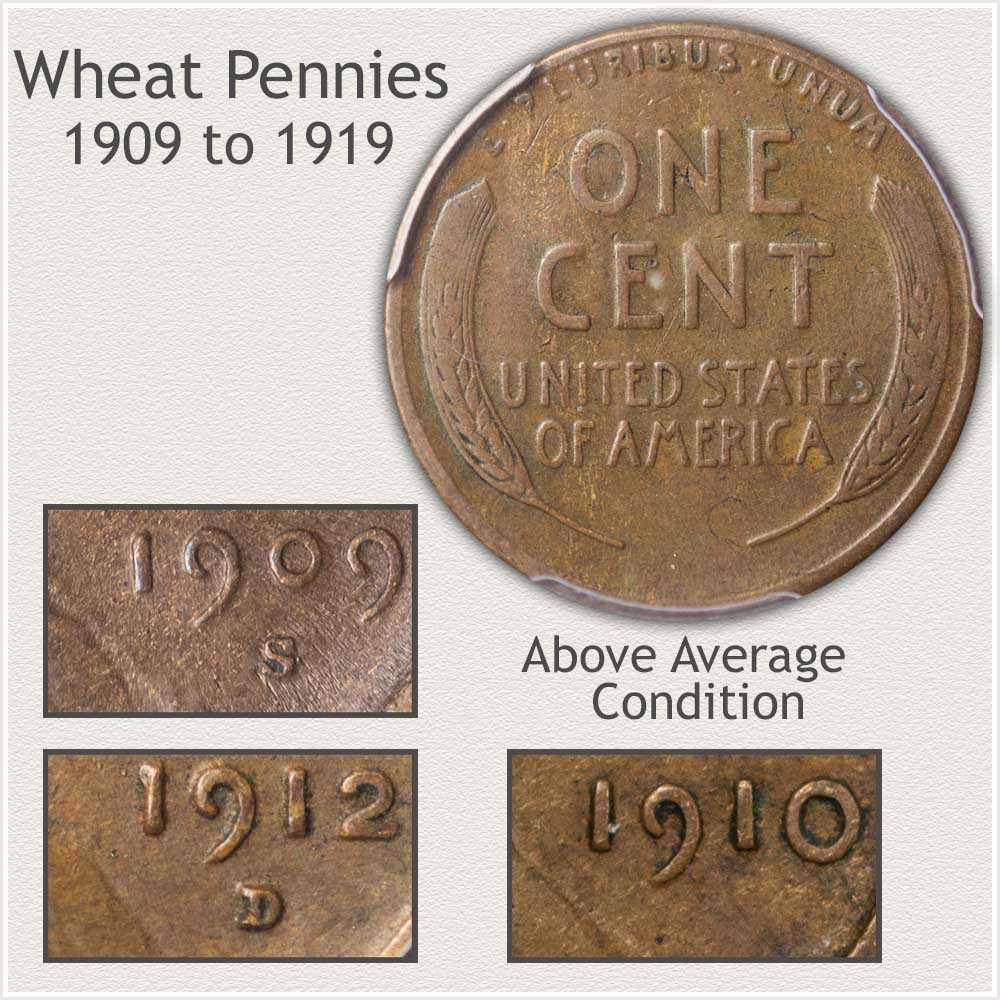 1909 is the special first year of issue. Because of the different varieties and values, each 1909 penny is judged individually when selling.
1909 Lincoln Penny Value covers in detail the many varieties of a 1909 cent.
Mintmarks are next considered. An important part of collections, most mint marked issues of the first decade are premium coins. Branch mints; Denver placed a "D" mintmark and San Francisco an "S" mintmark on their production. A 1914-D penny is a standout issue with the 1912-S and 1914-S also showing strong value in any grade.
Condition is a major factor in separating common from premium first decade wheat pennies. Compare your coins to the image to help identify higher potential coins.
The 1920's Decade
1920's Decade of Wheat Cents: 1920 to 1929
Common Dates to Group Together
CoinStudy
1920
1926
1925
1926-D
1927
1928
1929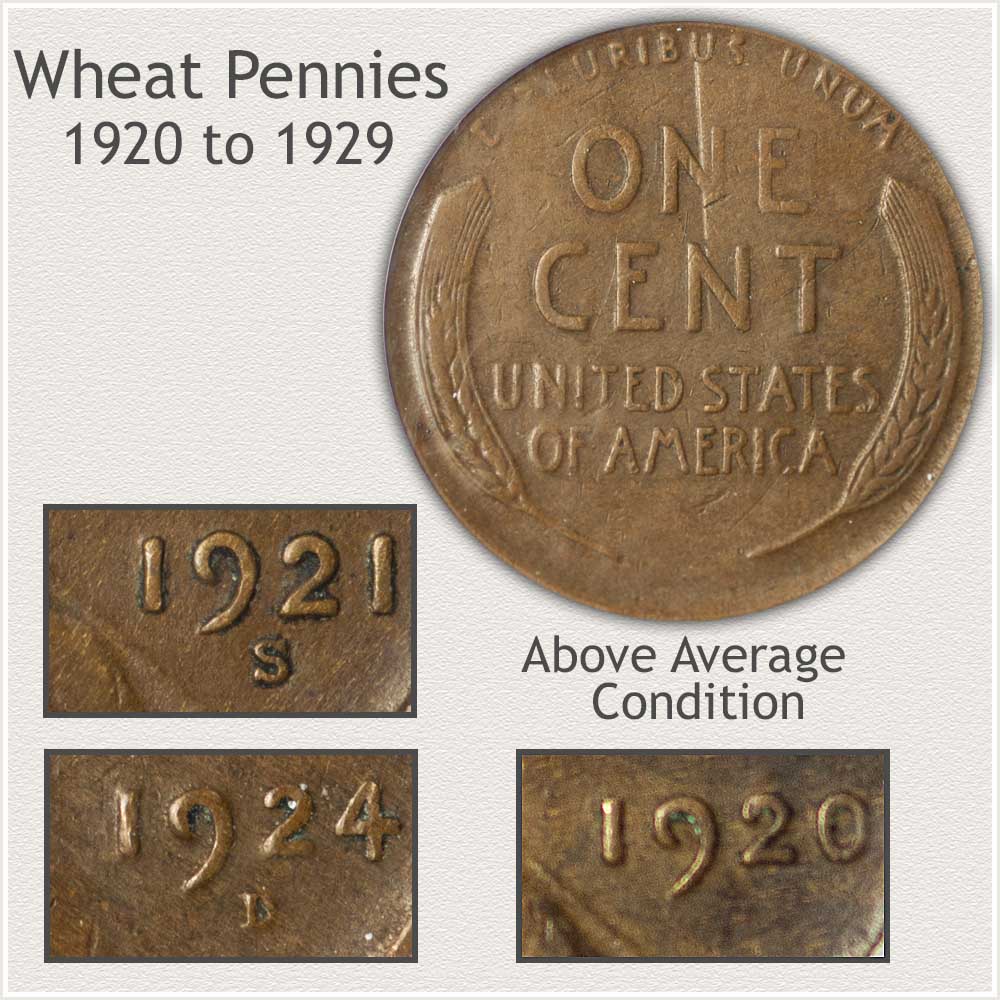 In the 1920's Philadelphia - the main mint - struck far greater numbers of cents than the branch mints. Today, availability of the Philadelphia issues place them in the common group.
Attention is given to branch mint coins of the 1920' to find premium pennies. "D" and "S" mints of the decade are very popular with collectors. 1924-D is noted as leading in value in all grades.
A close inspection of the reverse, and detail in the wheat stalks, is key to higher premiums when selling.
The 1930's Decade
1930's Decade of Wheat Cents: 1930 to 1939
Common Dates to Group Together
CoinStudy
1930
1935-D
1936-S
1938
1939-D
1934
1935-S
1937
1938-D
1939-S
1934-D
1936
1937-D
1938-S
1935
1936-D
1937-S
1939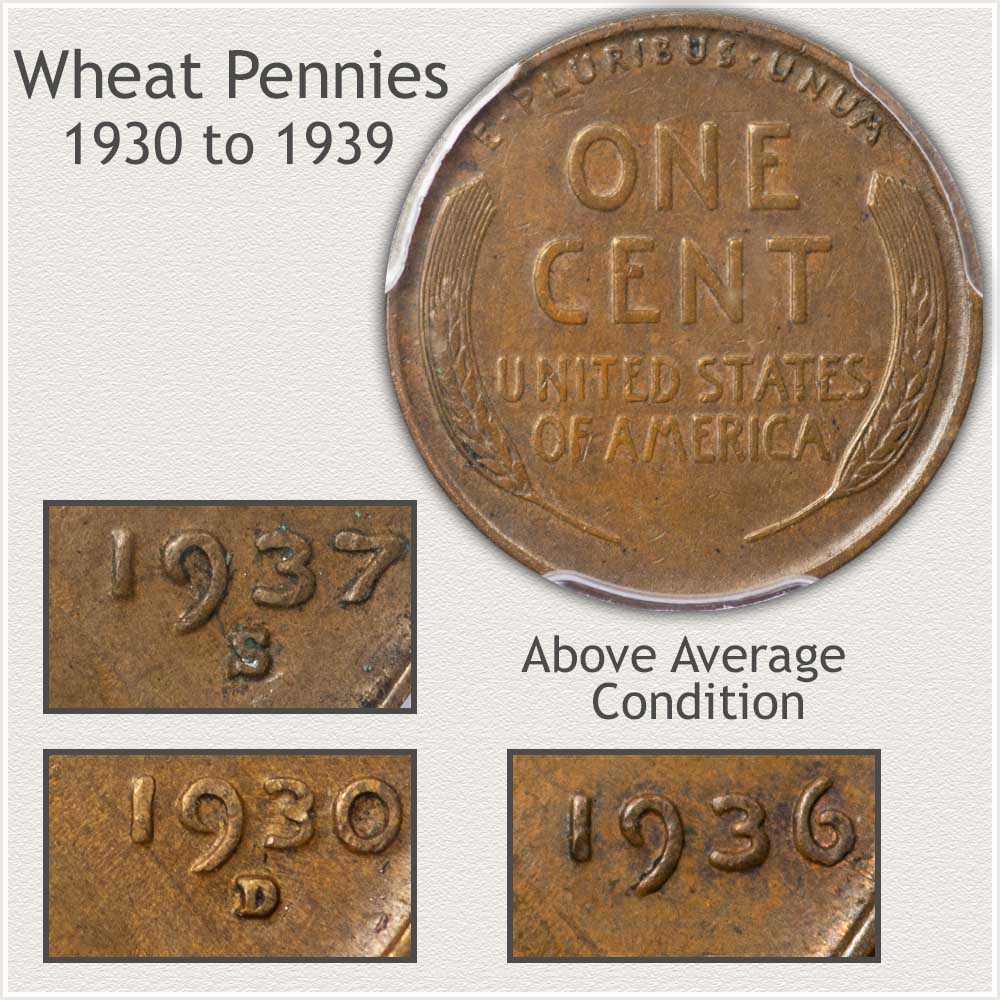 The beginning of the 1930's decade is where the premium coins are found. Low production numbers from all mints contributes to the higher value of these years. San Francisco struck just 866,000 cents in 1931 (second lowest of all wheat pennies) and all are highly valued.
Judging condition is important. Examine the reverse to make a quick assessment of condition. Finely detailed wheat stalks indicate an upper grade example, set these aside to mention when selling.
The 1940's Decade
1940's Decade of Wheat Cents: 1940 to 1949
Common Dates to Group Together
CoinStudy
1940
1942
1945
1947
1949
1940-D
1942-D
1945-D
1947-D
1949-D
1941
1944
1946
1948
1941-D
1944-D
1946-D
1948-D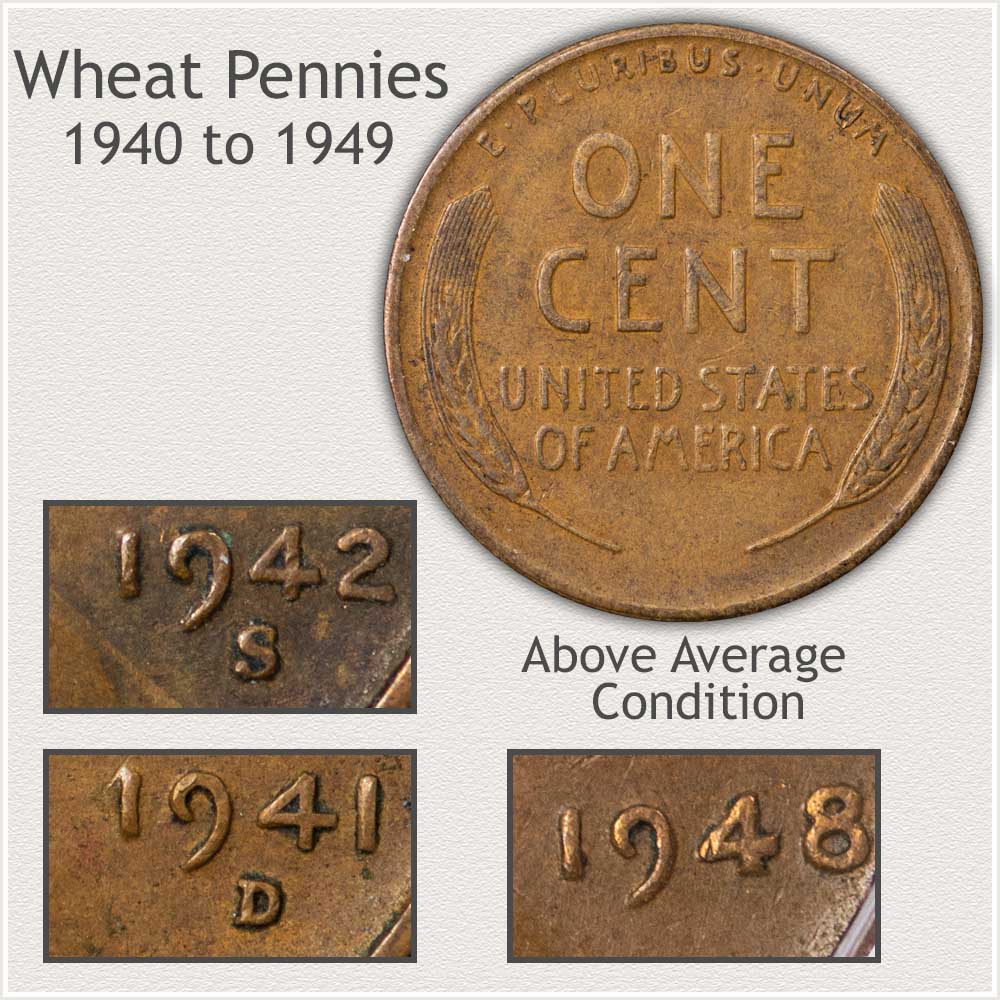 The "S" mintmark wheat pennies of the 1940's are beginning to form their own separate value group. Under the date, San Francisco placed an "S" mintmark to indicate their production. These "S" mint pennies are often worth a slight premium. Grouping them together helps further organize your coins.
1943 cents are in their own category. A unique combination of zinc coated steel was used in 1943 when coining cents, creating a one year only variety. Notable is the silver-blue color of these coins, set all aside to present separately when selling.
Condition is also used to refine the 1940's decade. All coins with noticeable wear are valued similar. Higher condition coins are worthy of separation. Inspect the reverse wheat stalks, compare to the image to identify the premium condition coins. Fine lines and sharply detailed wheat grains on the reverse are two points to judge.
The 1950's Decade
1950's Decade of Wheat Cents: 1950 to 1958
Common Dates to Group Together
CoinStudy
1950
1952
1954
1956
1958
1950-D
1952-D
1954-D
1956-D
1958-D
1951
1953
1955
1957
1951-D
1953-D
1955-D
1957-D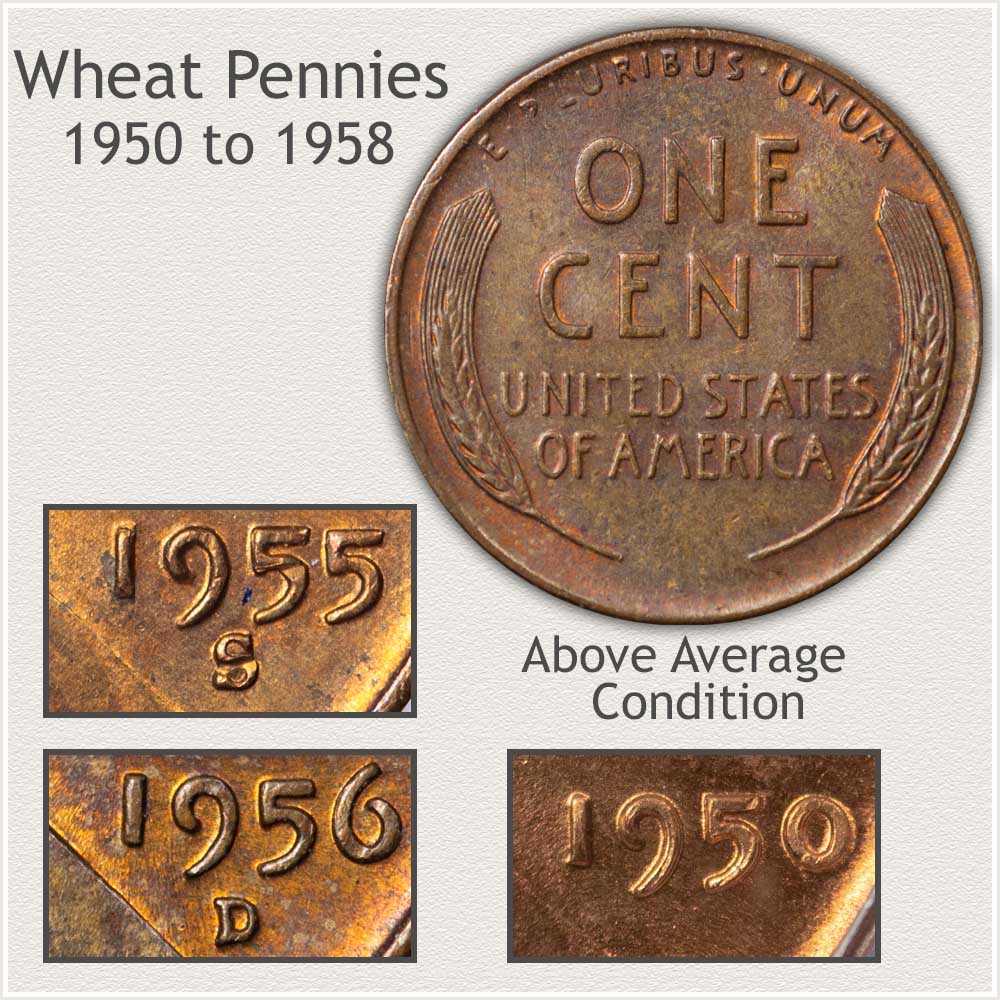 Huge quantities of wheat pennies were produced in the 1950's. In 1958 with the ending of the series, saving of the now obsolete coinage began. Many were retrieved from circulation in lightly circulated condition and all dates and mintmark combination are available today in quantities.
These old pennies of the 1950's are affordable and popular with young and beginning collectors. Finding well struck examples in well preserved condition is a pursuit of these collectors.
As you sort these coins, set all "S" mint examples aside. A slight premium is often awarded to coins with only light wear and pleasing, mark free surfaces. Compare to the image to help identify the better condition coins.
One important date is the 1955 San Francisco ("S" mintmark) variety. Representing the last wheat cent from the mint.
Placing a Value on Wheat Pennies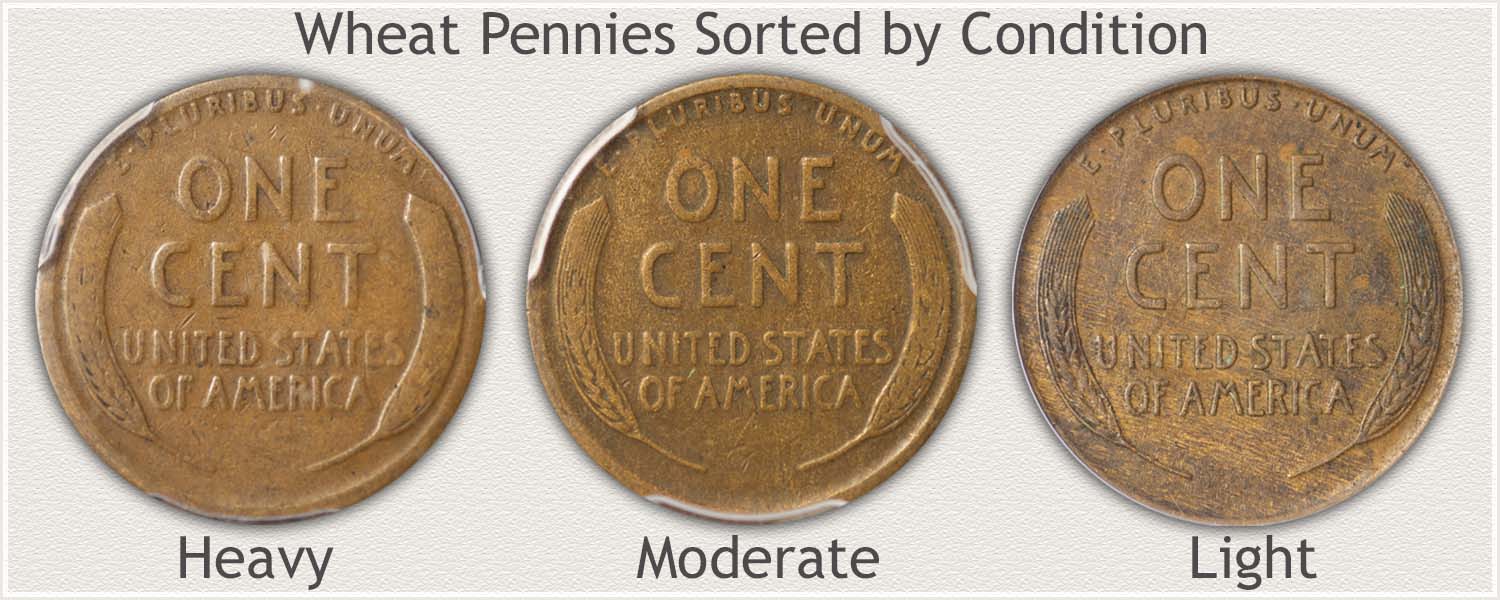 With the coins sorted and organized by decades, dates, and mintmarks; review them one last time looking at condition. Any that stand out - displaying crisp detail - are judged individually.
Breaking away from "common" status are those minted in the early teens, twenties and thirties decades.
The popular "S" mints are now worth a premium.
Always set aside for a higher asking price, coins whose condition stands out as nicer than the rest.
Following the steps above organizes your old wheat pennies into the main value groups that have begun to evolve.
Lincoln Penny Value Chart lists all dates and mintmark issues of wheat pennies. Also, on the page are images helping judge condition of these coins in greater detail.
A value range of your wheat pennies is now tabulated.
Locating Dealers
Selling Wheat Pennies to dealers often takes place in person. Old wheat pennies are heavy, a roll of 50 coins is expensive to send through the mail. Finding a local dealer to meet at either their shop or at a coin show is economical. Organizing, following the steps above and accurately placing a value, prepares for an on the spot offer and if you accept, an on the spot sale.
Multiple selling opportunities are found by visiting coin conventions. A variety of both small and large coin shows and conventions are held throughout the US, bringing together many dealers.
Always contact dealers first. With your inventory sheet at hand; a description of the coins for sale gives dealers an idea of the collection.
The following are references listing coin dealers. Search by location, specialty, and interest.
Listing of Coin Shows and Attending Dealers
Coin Shows are hosted all over the country, they bring together tens to many hundreds of dealers, depending on the size of the convention. Search this site to find area dealers and coin shows, review the dealer specialty, and contact information given. Some of these dealers have coin shops you can visit.
American Numismatic Association | Dealer Directory
The main coin collecting organization maintains a listing of dealers.
Professional Coin Grading Services | Authorized Dealers
Dealers required to meet a set of acceptant standards.
Numismatic Guaranty Corporation | Dealer Locator
Dealers meeting a set of acceptant standards.
Professional Numismatists Guild | Dealer Directory
Professional Numismatists Guild. PNG dealers are held to the highest standards of ethics and professionalism. All members pass a set of standards.
🔎Knowing the value of your coins when matching them to a buyer is key to selling wheat pennies.
Coin Values | CoinStudy Articles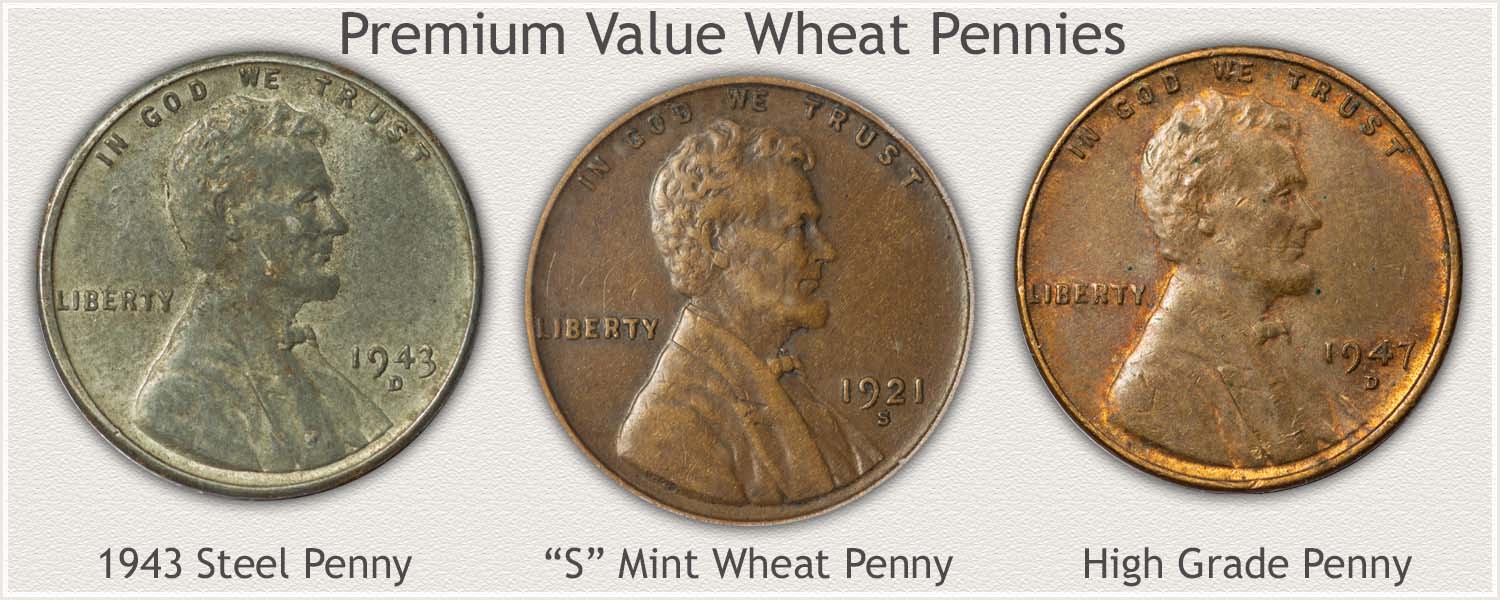 Wheat pennies grouped by decades with mint marked and high condition examples highlighted is a good presentation to dealers when selling.
An additional point when selling wheat pennies. Never clean your coins, leave them exactly as they are. Any attempt at improving their appearance lowers value. Collectors seek only original condition coins and avoid examples that have been cleaned.
Lincoln Penny Value Chart Includes links to each wheat penny date. In-depth values, mintmark identity, and grading condition is covered for each year.
Penny Values Older series of US cents imaged and identified. Their prices are climbing in response to increased demand. A quick look at the value chart shows a big change in how much your box of old pennies is worth.
All old US coin values. The home page is an excellent index, pulling together tips on selling wheat pennies and quickly leading to values of all the major coin series. From Cents to Gold. Prepare your coins for selling, find coin buyers, and understand their true potential.
References
US Mint. 1964 US Mint Annual Report. https://nnp.wustl.edu/library/book/514149