Coin Values Moving with Precious Metals: Up-Dated 9/25/2023: Gold $1921 | Silver $23.44
1897 Morgan Silver Dollar Value
Your 1897 Morgan silver dollar value is being pushed higher by active collector demand and rising bullion prices. Currently it is worth $22.17 .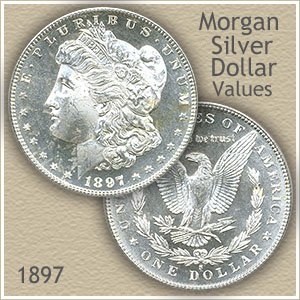 With its large silver content as a start and collector demand for the New Orleans issue your coin has the potential for much higher value. Of the three mints striking silver dollars in 1897, those struck at New Orleans are uncommon to find today. Add in the huge popularity of these coins and the prices are above minimum silver value.
Here are key factors to consider in your coin values.
Mintmarks: Evident by the chart, 1897 dollars with the "O" mintmark are scarce today, fewer of the original mintage have survived relative to others. A close up image to help locate mintmarks is further down the page.
Condition: Next, the condition of your coin needs close inspection. If it is well preserved, with most original detail remaining, it is a valuable silver dollar. These nice condition pieces are tops on collector want lists. A desirable 1897 silver dollar in "uncirculated" condition, with no wear to its surface, is pictured to the right.
Discovering rare mintmarks and high condition all contributes to how much your old silver dollar is worth.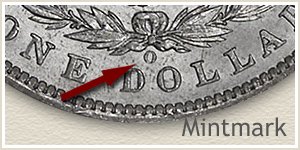 Mintmarks do make a difference in value. As collectors assemble sets, most include examples from each of the three mints that produced silver dollars in 1897. Identified by mintmarks located on the reverse just under the ribbon, these different mints are "S" San Francisco, "O" New Orleans mint. The Philadelphia mint did not place a mintmark on 1897 silver dollars.
1897 Morgan Silver Dollar Values
Condition of Coin
Date
Good
Fine
Extremely
Fine
Uncirculated
1897 Morgan Silver Dollar Values Updated
5/25/2023
1897
$22.17
$22.17
$24.61
$45.08
1897 O
$22.17
$25.78
$34.57
$1,054
1897 S
$22.17
$25.78
$28.71
$57.97
Judge Your Silver Dollar Value as a Collector
To a serious collector of Morgan dollars adding an outstanding 1897-O to their collection is a milestone. While not scarce in circulated, worn condition finding a pleasing example in "uncirculated" condition is often a challenge.
Pictured is a coin that would fit well in a high end collection. Bright luster framed by blue and gold toning sets this coin apart. It is one of the scarce mint state survivors showing no sign of wear and few nicks and abrasions. An exceptional coin and ranking among the finest 1897 New Orleans silver dollars known.
Also a significant plus to collectors, this coin is exceptional in its quality of strike rendering a highly detailed Morgan dollar. View your coin again, now with the eye of a collector.
With so much in its favor, results at a David Lawrence Rare Coin Auction were a pleasing $1600 value, a nice outcome to both the high bidder and previous owner.

Details Raise 1897 Morgan Silver Dollar Value
Essential to highest accurate coin values is determining the condition of your 1897 silver dollar. By closely examining the surface and judging the amount of wear reflect its "grade." Entries in the value chart above are listed under these grade headings. Often an old silver dollar is common in heavily worn condition but scarce and valued much higher if significant detail remains.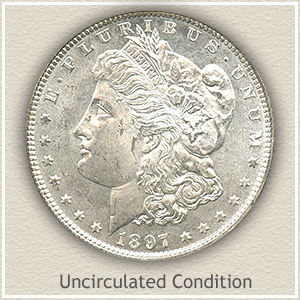 Uncirculated: A silver dollar in "uncirculated" condition has never circulated through commerce, thus no wear has occurred to its surfaces. Your coin should exhibit a "like new" luster. Wear dulls this luster and affects the high points of Liberty's check, temple and hair. On the reverse the breast feathers and head of the eagle are subject to initial wear. If the luster is complete on both sides it assures the coin is uncirculated.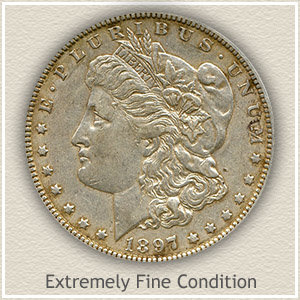 Extremely Fine: Slight but obvious removal of design and metal defines a worn silver dollar in "extremely fine" condition. Mint luster is now gone from the large exposed areas, the field in front of Liberty and her face. Small details in her hair are now missing, most noticeable above her forehead and behind her neck. Also the folds in the cap show wear on the highest parts, the result of use and handling. This is a nice coin, with solid 1897 Morgan silver dollar value.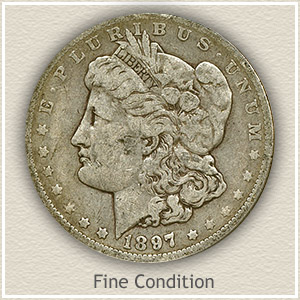 Fine: Moderate wear and moderate loss of detail reduces Morgan silver dollars to the "fine" grade. Although wear is apparent, major design elements of her cap and hair curls remain bold and recognizable. However those original fine details are lost and replaced by flat areas.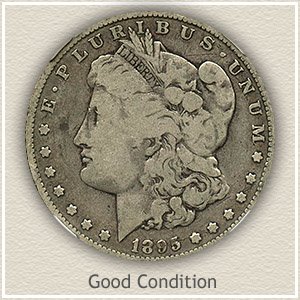 Good: Your 1897 silver dollar in "good" condition is well worn with most of the metal forming the high reliefs of design removed. Liberty's cheek and forehead have blended into one connecting with her hair and cap. The rim is almost gone, however the stars and lettering remain separate of the rim. Giving your coin character, some detail remains, large curls of hair behind the neck and a full "Liberty" in her coronet.
Coin Values | CoinStudy Articles
Date by Date
In Depth Morgan Silver Dollar Value
1878 to 1921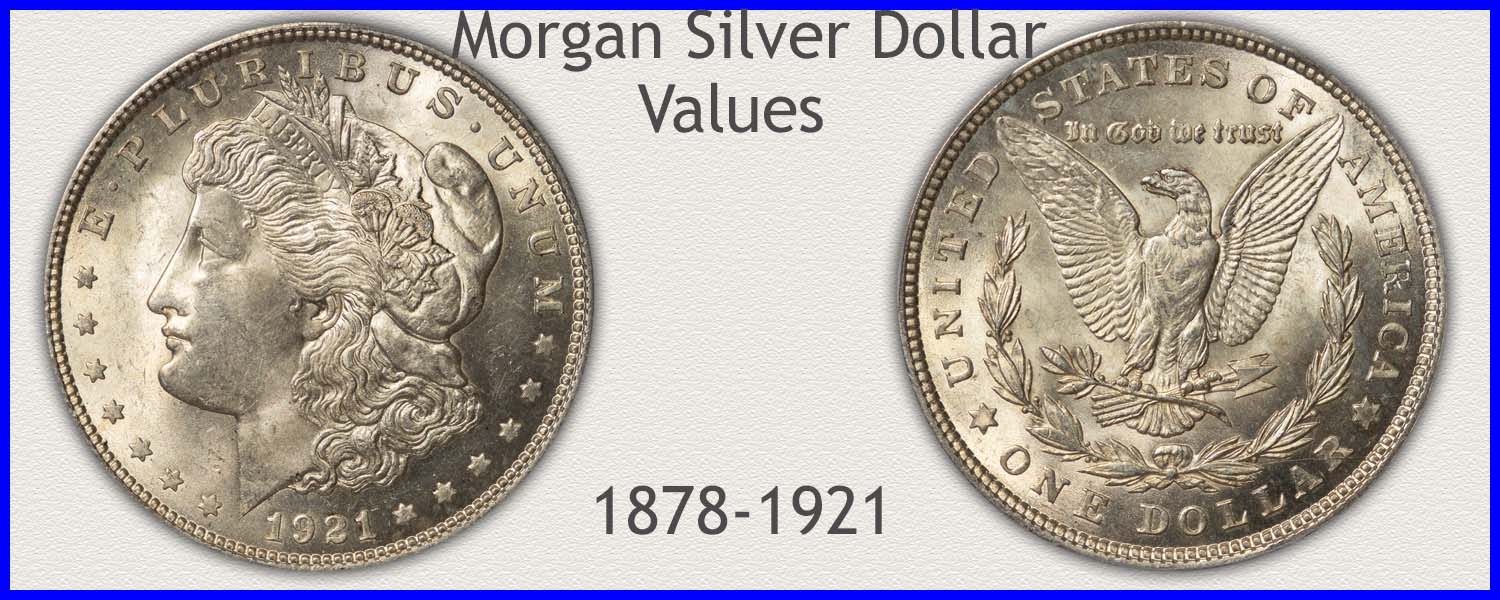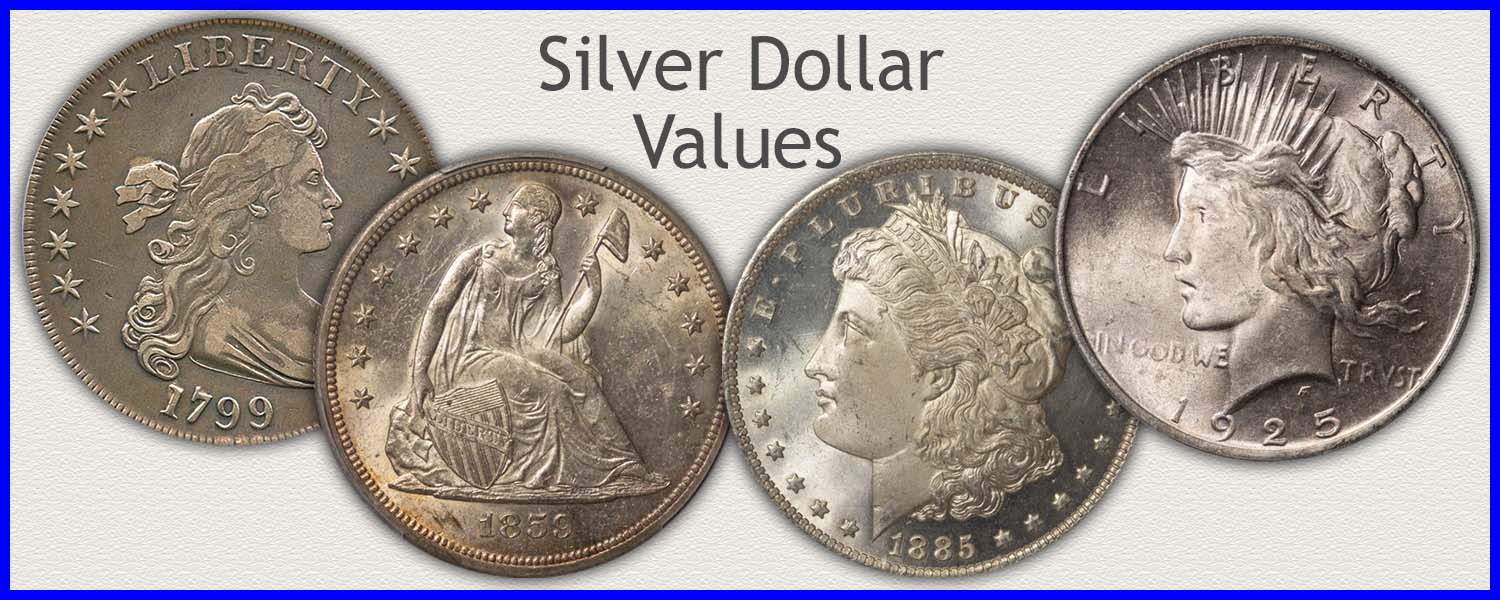 Silver Dollar Values | Charts Covering Years 1794-1935
Including more relating to your 1897 Morgan silver dollar value. These early dollars are becoming valuable. Easily find how much your old coins are worth.
Covering Bust Dollars beginning in 1794 next Seated dollars through Morgan and the last of the Peace silver dollars. All include value charts, alongside grading images to find the accurate value of your old dollars.
★Coin Values Discovery finds... 1897 Morgan Silver Dollar Value and...
It is an excellent index with images and text links to all coin series, from Cents to Gold. Value charts, grading images and descriptions uncovers the common to rare coin values found in your box of old coins.
Minimum Silver Value - A Good Place to Start
Many of your old US silver coin values are tied closely to the price of silver. Silver dimes, quarters, half dollars and silver dollars are all heavy with 90% silver and worth many times their face value. With today's high value of silver your old coins are becoming surprisingly valuable. Today's Minimum Silver Coin Values