Coin Values Moving with Precious Metals: Up-Dated 5/29/2023: Gold $1945 | Silver $23.25
1920 Dime Value
The 1920 dime value is $1.70 for a coin that is circulated and shows considerable wear. These old Mercury dimes are widely collected however and there is potential of higher value.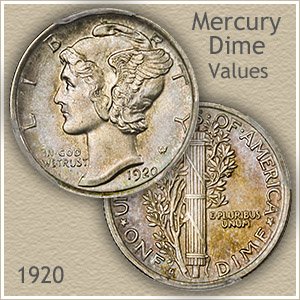 Your coin is worth a premium if determined it is in better than average condition. Collectors and dealers follow a process know as "grading" as they evaluate the condition of coins. With most old dimes surviving today in worn, circulated condition, a well preserved coin is the exception.
As an example, the value of the 1920 Mercury dime pictured is $50 or higher because of its "uncirculated" condition.
Also, of great importance as you value these coins are "mintmarks" the different mints struck onto dimes. There are three mints involved and each is valued separately. It is the combination of mintmarks and condition that decides how much your 1920 dime is worth.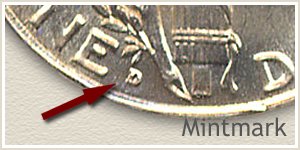 Listings on the chart are separated by condition and dimes are further identified by the mint striking the coin.
Of the three mints, Philadelphia, Denver and San Francisco, two placed a mintmark on the coin to indicate the mint of origin. Denver used a "D" and San Francisco an "S" either is found on the reverse, along the bottom, next to the rim.
1920 Dime Value
Condition of Coin
Date
Good
Fine
Extremely
Fine
Uncirculated
1920 Dime Value Updated
5/29/2023
1920
$1.70
$2.05
$4.20
$52
1920 D
$1.70
$2.43
$23
$135
1920 S
$1.83
$3.16
$21
$230
Enthusiastic 1920 Dime Value
It is easy to be enthusiastic about the rare 1920 Mercury dime auctioned by David Lawrence Rare Coin Auctions. From an owners point of view you own a valuable coin. A collector sees it as a valuable part of an advanced collection. And any dealer would welcome such a dime to inventory knowing the ease of placing it with a customer.
Drawing the attention of many, this fully struck Mercury dime with appealing blast white original color and the absent of any detracting marks required rising multiple bids to finally settle at $814. A bold price and action taken by a determined buyer.
Quality, offered in a quality auction setting demonstrates the demand for rare coins today. Accurately evaluating your old dimes finds the outstanding examples and leads to their full value. Also note quality and appeal is found, not only in the mint state grades with high 1920 dime value such as the above example, but in many circulated coins exhibiting traits pleasing to collectors.

Grading Determines 1920 Dime Value
In their search for the right Mercury dime to add to their collection, collectors judge the condition of each coin, know in the hobby as "grading." Different stages and amounts of wear are separated and given a grade. Judge the quality of your coins, comparing them to the images and descriptions, giving an accurate value of your 1920 dime according to its condition.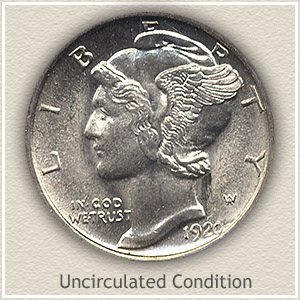 Uncirculated: A very sought after dime, noted for never circulating and not receiving any wear, the coin has remained in brand new condition as the day it left the mint. Both beginning and selective collectors strive to advance their collections into coins of this grade. Inspect the high points of the design to confirm no wear has occurred. If the coin has circulated, wear starts to appear as a dulling of the luster on the Liberty's cheek, curls of hair near the ear and the center portion of the wing.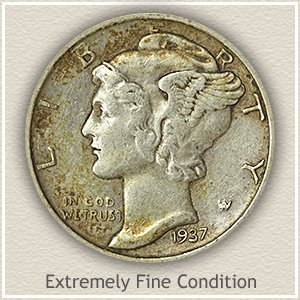 Extremely Fine: Serving for just a short time in commerce a Mercury dime in extremely fine condition is worn but only slightly. All of the major and most of the finer details are visible. Liberty's hair close to her eye, once bold and raised is now slightly flattened and in areas smooth. Feather details also flattened are loosing some definition. Your 1920 dime must portray a clear and fresh appearance.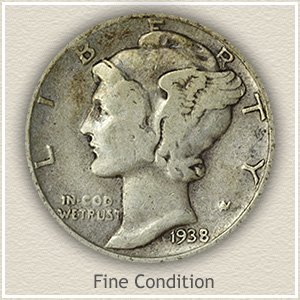 Fine: The former distinct features of Liberty's hair no longer appear separated from the cap. Lines separating the feathers within the wing have become very faint with most disappearing completely. On the reverse the vertical lines of the rods are for the most part gone, faint separation is possible in one or two protected areas.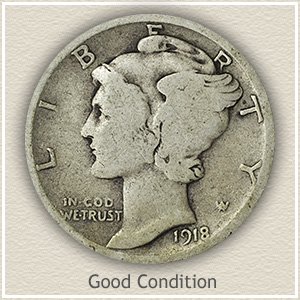 Good: A considerable amount of metal has worn away leaving Liberty as an outline in low relief. Faint suggestions of separation is found in both her hair and wing. Confirming a "good" grade is the rim blending into the tops of the lettering and last digit of the date. However, old Mercury dimes in this condition serve as a starting point to many collections.
Coin Values | CoinStudy Articles
Date by Date
In Depth Mercury Dime Values
1916 to 1945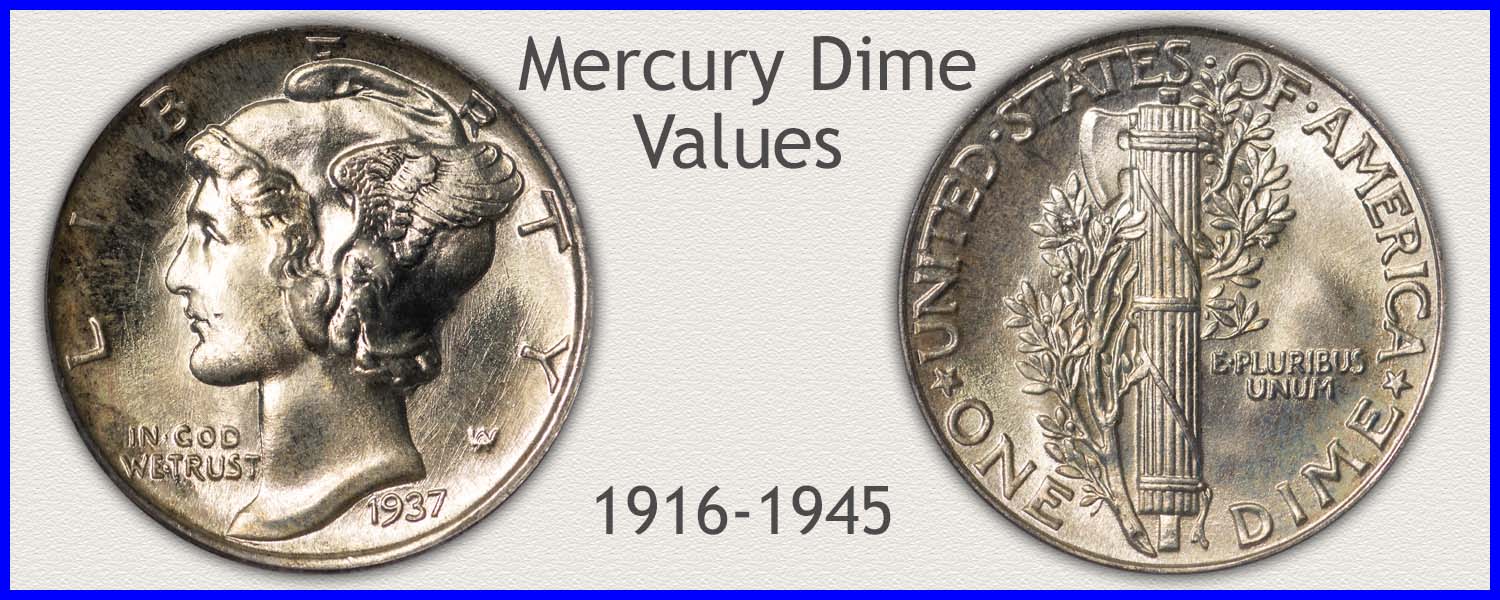 Values listed for the entire Mercury dime series including more on the 1920 dime value. Rare and valuable dates are scattered through out the series. Additionally, the condition of your old dime plays a key role in value.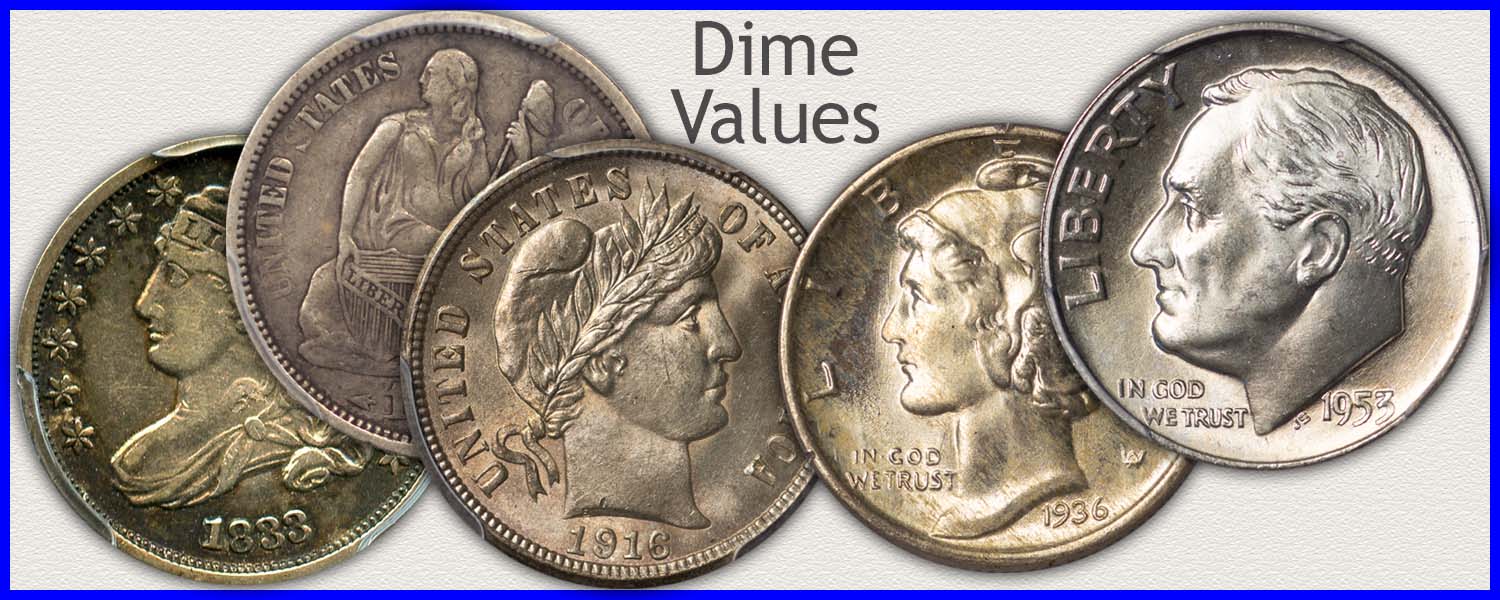 One of the most popular and widely collected coins today. Spanning over two hundred years of US dime production and literally hundreds of date and mintmark combinations. Examine closely these small potential treasures.
★Coin Values Discovery... finds 1920 dime value and...
all old US coin values. It is an excellent index with images and text links to coin series, from Cents to Gold. Value charts, grading images with descriptions uncover how much your box of old coins is worth.
Rare Dimes!
Awaiting discovery are potentially high value rarities in the US dime series as well as some other possible finds in your box of old coins. Visit... Finding Rare Dimes...