Coin Values Moving with Precious Metals: Up-Dated 11/27/2023: Gold $2010 | Silver $24.66
1939 Dime Value
The 1939 dime value is $1.81 for a coin that is circulated and shows moderate to heavy wear.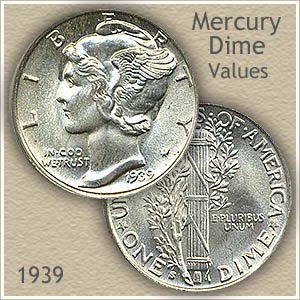 These old Mercury head dimes minted in the 1930's are widely collected however and appreciated for their age. Your coin has the potential for higher value.
Many silver dimes are worth a premium if determined in better than average condition. Collectors and dealers follow a process know as "grading" as they evaluate the condition of coins. With most of these dimes surviving today in worn, circulated condition, a well preserved coin is the exception.
Separate values are placed on 1939 dimes depending on the mint producing the coin. Three locations, Philadelphia, Denver and San Francisco struck dimes and mintmarks found on the reverse identify each. The San Francisco coin has proven the scarcest.
Below are images showing coins representing various stages of wear, and the location of mintmarks, each helping judge how much your 1939 dime is worth.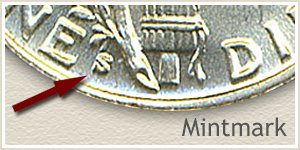 Listings on the chart are separated by condition and dimes are further identified by the mint striking the coin.
Of the three mints producing 1939 dimes the San Francisco mint placed an "S" mintmark on coins and the Denver mint used a "D" to indicate mint of origin. Find the mintmark on the reverse at the bottom next to the rim. Philadelphia the main mint did not use a mintmark in those years.
1939 Dime Value
Condition of Coin
Date
Good
Fine
Extremely
Fine
Uncirculated
1939 Dime Value Updated
11/27/2023
1939
$1.81
$1.94
$2.18
$6.00
1939 D
$1.81
$1.94
$2.18
$5.48
1939 S
$1.81
$1.94
$2.57
$18
Remarkable 1939 Dime Value
A remarkable 1939 Mercury dime was offered at a David Lawrence Rare Coin Auction. Considered one of the best condition examples of a 1939-S dime remaining today. It sold after multiple bids were entered for a price of $943. A determined buyer now features in their Mercury dime collection at least one coin that is among the finest known.
Noticed first is the colorful banding of blues, reds and gold toning developing along the rims. Also exceptional to this coin is the underlying original mint luster not interrupted by any contact nicks or marks. Rarely does a coin emerge from the mint without having jostled with others picking up abrasions.
Rare events have combined to preserve a remarkable coin to enjoy today. A well made coin produced by the San Francisco mint, separated quickly to avoid harm, and carefully handled sine then. Values of gem quality rare coins are always strong, supported by a growing number of selective collectors.

Higher Condition Leads to Higher 1939 Dime Value
Soon after entering circulation the handling of a coin begins the wearing away of its surface lowering the value of your 1939 dime. Collectors and dealers examine all coins and determine the extent of this loss of detail. The judging of coins is known as "Grading." Your coins matched against the images decide the condition to reference on the value chart.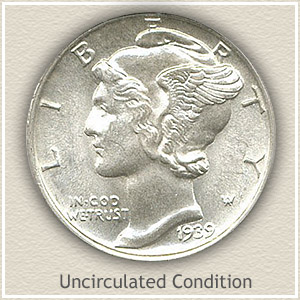 Uncirculated: Here is a Mercury head dime that is in brand new condition. The original surfaces imparted by the mint are still intact. As you view the coin under a single light source luster radiates extending rim to rim. If any wear is present a slight graying effect is seen on the highest elements of the design, most noticeable the cheek and hair above Liberty's eye.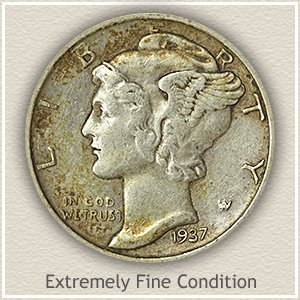 Extremely Fine: Even wear, but very light, is typical of this condition. All of the design details are very distinct. Upon close examination, flatness of once rounded details is evident. Dimes in extremely fine condition stand out as crisp and sharp in appearance. Your coin is in a collectible condition with a premium 1939 dime value.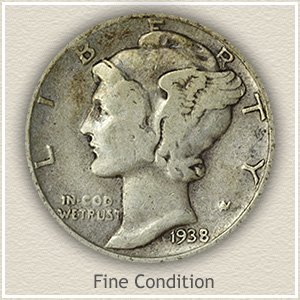 Fine: Wear is noticeable over the entire surface. The central part of the wing is now flat and lacking any design detail, as well as the hair braid extending from Liberty's forehead to chin line. On the reverse of your dime, many but not all the vertical lines have merged.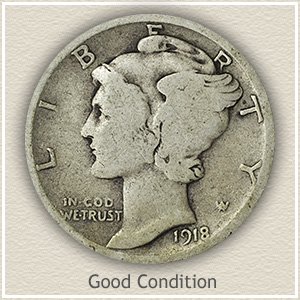 Good: Heavy wear has removed most of the design, leaving only Liberty's portrait in outline. Protection once afforded by the rim is now blending with the lettering. The central device on the reverse "fasces" is worn smooth, again the rim is worn significantly into the lettering.
Coin Values | CoinStudy Articles
Date by Date
In Depth Mercury Dime Values
1916 to 1945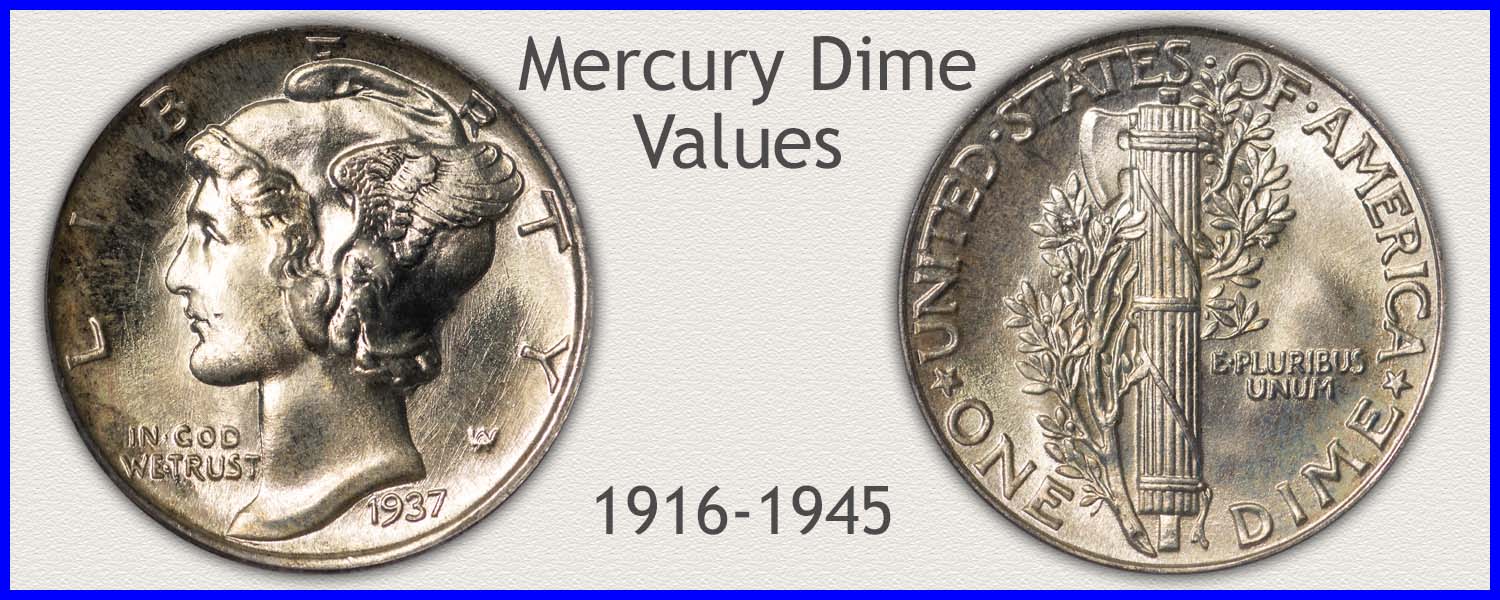 Values listed for the entire Mercury head dime series including more on the 1939 dime value. Rare and valuable dates are scattered through out the series contributing to a large spread in Mercury dime values. Additionally, the condition of your old dime plays a key role in today's rare coin values.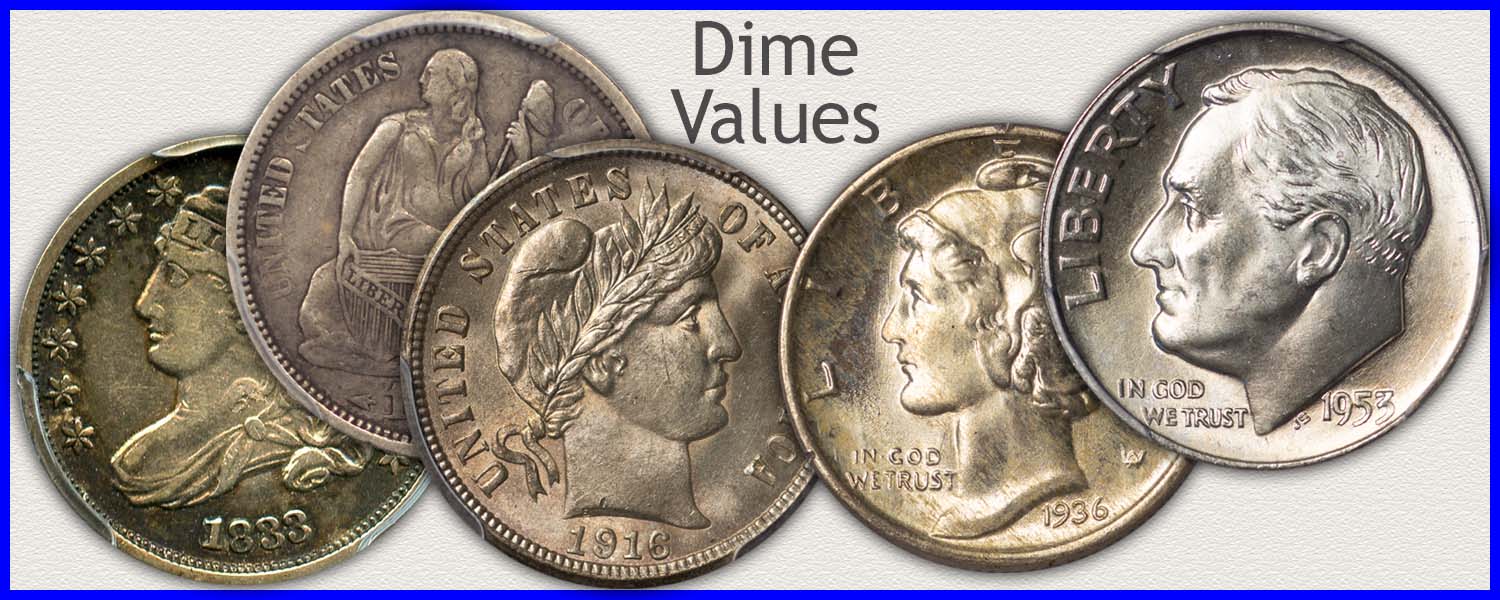 One of the most popular and widely collected coins today. Spanning over two hundred years of US dime production with rare coin values listed for literally hundreds of date and mintmark combinations. Examine closely these small potential treasures.
★Coin Values Discovery... finds 1939 dime value and...
all old US coin values. It is an excellent index, follow the images and text links to coin series, from Cents to Gold. Value charts, alongside grading images to judge condition, determines how much your box of old coins is worth.
Rare Dimes!
Awaiting discovery are potentially high value rarities in the US dime series as well as some other possible finds in your box of old coins. Visit... Finding Rare Dimes...