Coin Values Moving with Precious Metals: Up-Dated 11/27/2023: Gold $2010 | Silver $24.66
1941 Dime Value
The 1941 dime value is at a minimum of $1.81 - the price of silver it contains. However these old Mercury head dimes are avidly collected today and many are valued higher.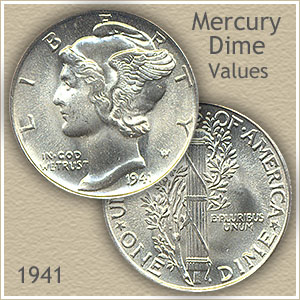 Old silver dimes from the 1940's are commonly found in circulated condition, meaning they have wear on their surfaces. Higher collectable value is found in coins that are "uncirculated" showing no wear.
Pictured is an uncirculated 1941 dime valued in the range of $5.48 . A value attributed to the situation as many are available today. Although your old dime even if lightly worn does have an appeal, numerous Mercury dime collections have been started with just these types of coins.
Adding to the diversity, values of 1941 dimes vary with the mint marked issues. Those coins minted in Denver and San Francisco are closely priced together but interesting to look for and find.
Discover how much your 1941 dime is worth by judging condition and locating mintmarks, both covered in detail below.
Popularity of collecting Mercury dimes is high.
Often collections are assembled by date and include coins of the different mints that produced dimes in 1941. Mintmarks identify the different mints, a small "D" for the Denver mint and "S" for San Francisco are found on the reverse. If your coin is without a mintmark, it was struck at the Philadelphia mint.
1941 Dime Value
Condition of Coin
Date
Good
Fine
Extremely
Fine
Uncirculated
1941 Dime Value Updated
11/27/2023
1941
$1.81
$1.94
$2.18
$5.11
1941 D
$1.81
$1.94
$2.18
$6.47
1941 S
$1.81
$1.94
$2.18
$5.48
Gem Quality 1941 Dime Value
The vast majority of coins in the 1940's entered circulation and immediately began to show wear on the high points of the design. This rare 1941 dime is the exception, and among those saved from the damages of circulating, it stands apart.
Displaying most attributes discerning collectors seek as they assemble the highest quality sets, it is true gem quality. Judging by the strong price of $198 at a David Lawrence Rare Coin Auction, those who saw this gem where impressed enough to bid aggressively.
Absolutely no wear is apparent, contact marks so small magnification in needed to notice and the luster is as intense as the day of minting. A rare gem quality dime is far above an abraded uncirculated dime with dulling luster. All of your old silver dimes are examined and judged for quality in order to discover their accurate value.
Grading Determines 1941 Dime Value
In their search for the right Mercury dime to add to their collection, collectors judge the condition of each coin, know in the hobby as "grading." Different stages and amounts of wear are separated and given a grade. Judge the quality of your coins, comparing them to the images and descriptions, giving an accurate value of your 1941 dime according to its condition.
Uncirculated: At the top in value and desirability an Uncirculated Mercury dime is in the same condition as it left the mint, there is no wear on the coin. The delicate mint luster is unbroken and still covers the entire surface. Examine high points of the design for signs of wear, it occurs first on the hair above the eye and Liberty's cheek just below the eye.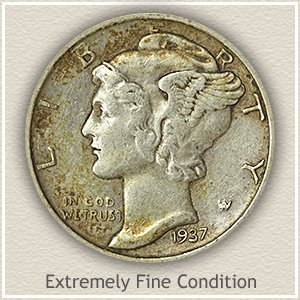 Extremely Fine: Although this coin has been in circulation, it sill remains very detailed in appearance. Across the surface a small amount of wear is visible. The feather details of the wing above Liberty's ear have worn and lost detail but remain separated. Also a slight flatness to the once rounded cheek is noticeable. On the reverse, all of the vertical lines of the "fasces" are separated.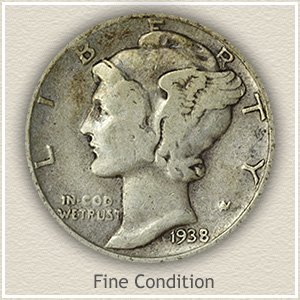 Fine: Wear is noticeable over the entire surface. The central part of the wing is now flat and lacking any design detail, as well as the hair braid extending from Liberty's forehead to chin line. On the reverse of your dime, many but not all the vertical lines have merged.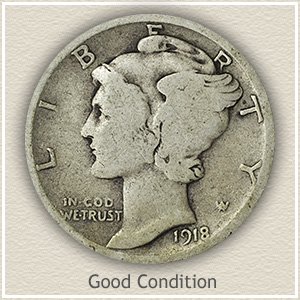 Good: Heavy wear has removed most of the design, leaving only Liberty's portrait in outline. Protection once afforded by the rim is now blending with the lettering. The central device on the reverse "fasces" is worn smooth, again the rim is worn significantly into the lettering. All silver dimes in this condition are valued based on their silver content.
Coin Values | CoinStudy Articles
Date by Date
In Depth Mercury Dime Values
1916 to 1945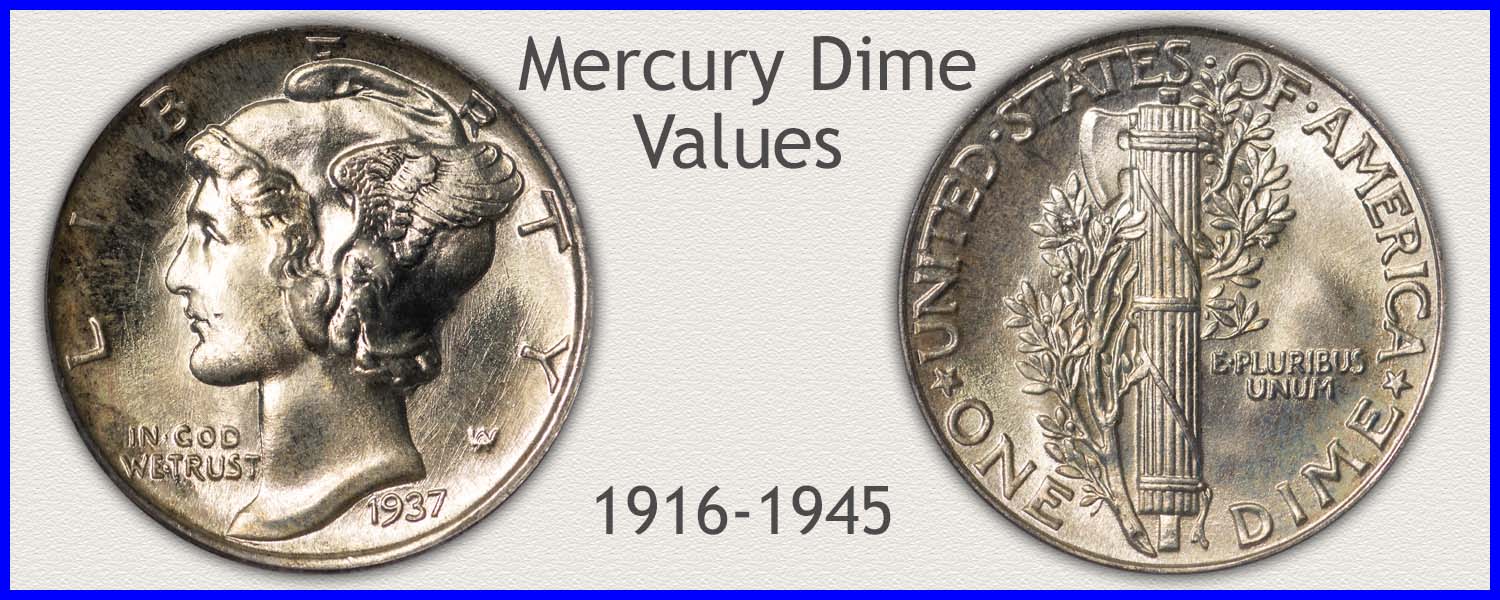 Values listed for the entire Mercury head dime series including more on the 1941 dime value. Rare and valuable dates are scattered through out the series contributing to a large spread in Mercury dime values. Additionally, the condition of your old dime plays a key role in today's rare coin values.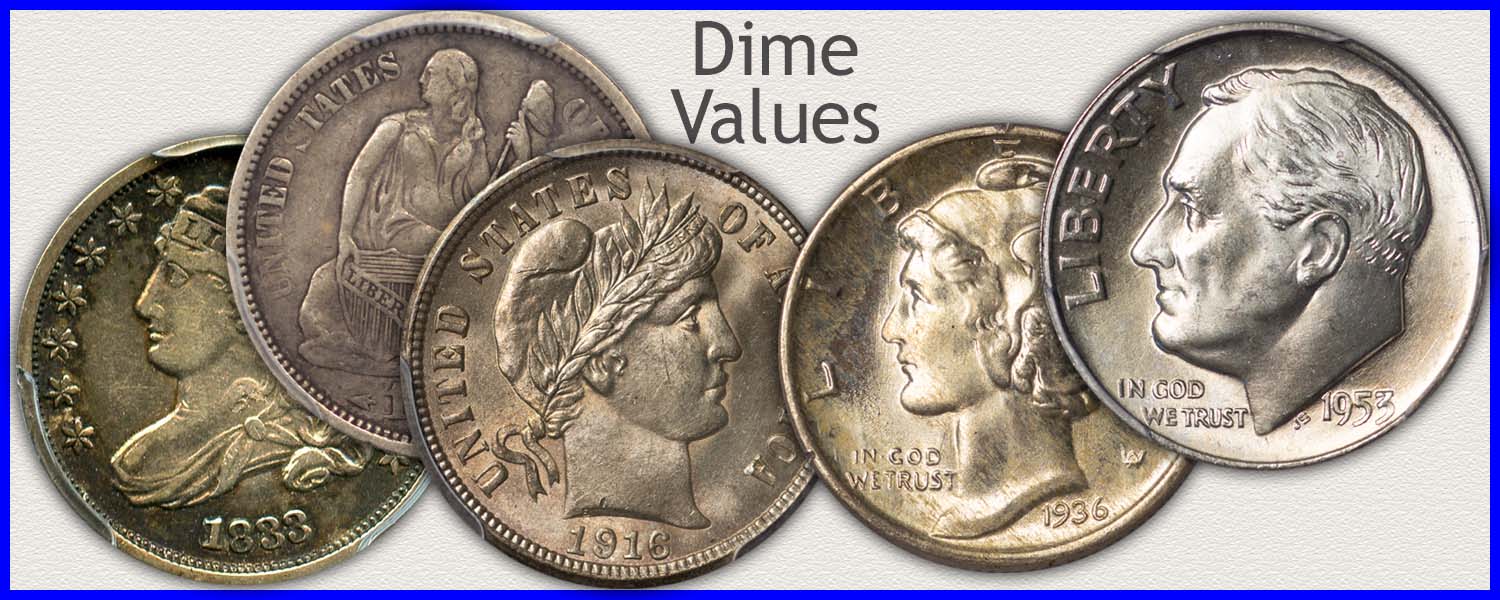 One of the most popular and widely collected coins today. Spanning over two hundred years of US dime production with rare coin values listed for literally hundreds of date and mintmark combinations. Examine closely these small potential treasures.
★Coin Values Discovery... finds 1941 dime value and...
all old US coin values. It is an excellent index with images and text links to coin series, from Cents to Gold. Value charts, grading images with descriptions uncover how much your box of old coins is worth.
Rare Dimes!
Awaiting discovery are potentially high value rarities in the US dime series as well as some other possible finds in your box of old coins. Visit... Finding Rare Dimes...