Coin Values Moving with Precious Metals: Up-Dated 11/27/2023: Gold $2010 | Silver $24.66
1935 Dime Value
1935 dime value starts with the value of its silver content, approximately $1.81 today 11/27/2023 . It is a coin that shows moderate to heavy wear.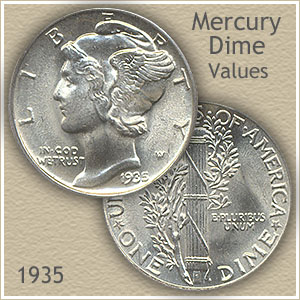 Although $1.81 is a good starting value, other factors potentially change how much your old silver dimes are worth. For example the "uncirculated" 1935 dime pictured is valued above $7.04 because of its choice condition.
Also if you find the "S" mintmark and especially the "D" mintmark it immediately raises the value of your 1935 dime. Collectors assembling sets often include all the different mints coining dimes in a given year. A nice example minted in Denver has proven difficult to find, dime minted in San Francisco are a little more available.
Although affecting your 1935 dime value the greatest is its state of preservation. The majority of these old dimes are heavily circulated and worn, lacking many of the original details. An uncirculated coin is often the one chosen as an addition to most Mercury head dime collections.
Below are images of old dimes in various stages of wear, each representing large swings in value. Compare your coin to these and judge how much your 1935 dime is worth.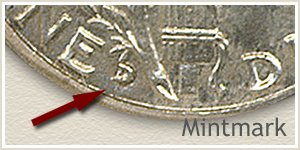 Three mints produced dimes for this year.
Starting with the rare Denver mint coin, it is identified by a "D" mintmark found on the reverse. The San Francisco mint used an "S" mintmark and Philadelphia, the main mint, did not place a mintmark on coins.
1935 Dime Value
Condition of Coin
Date
Good
Fine
Extremely
Fine
Uncirculated
1935 Dime Value Updated
11/27/2023
1935
$1.81
$1.94
$2.18
$7.04
1935 D
$1.81
$1.94
$3.35
$29
1935 S
$1.81
$1.94
$2.57
$20
Details of 1935 Dime Value
Three details set this rare 1935 Mercury dime apart from the majority of today's survivors. Absolute stunning silver luster with a light blue tinge, complete absence of nicks and marks to the surface and a sharpness of detail by an outstanding strike when minted.
Desirable details all in one coin, collectors are willing to pay premium prices to add these types of gem quality dimes to their collection. David Lawrence Rare Coin Auctions offered this coin and it was sold for $401, a price far above most others lacking of quality features.
Other than visual appeal, other points are more subtle. Careful examination discovers the boldness of strike, subtle but important to value. Also a survey of the surface confirms a rare lack of contact marks, again a subtle detail to judge. Your 1935 dime, especially if in nice condition is appealing to discerning collectors and dealers.
Grading Determines 1935 Dime Value
Soon after entering circulation the handling of a coin begins the wearing away of its surface. Collectors and dealers examine all coins and determine the extent of this loss of detail. The judging of coins is known as "Grading." Your coins matched against the images decide the condition to reference on the value chart.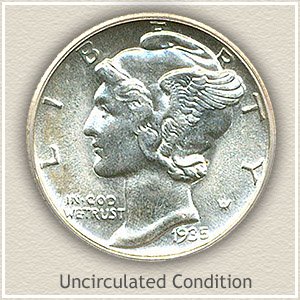 Uncirculated: This Mercury dime never circulated. Untouched since minted, it shines with luster. Your coin in this condition may show toning, but underneath there is no evidence of wear. Rotated under a light, an unbroken, radiating luster rolls across the surface. An uncirculated coin is one sparkling with a freshness placing it at the top of 1935 dime value.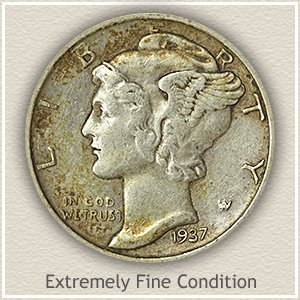 Extremely Fine: Although this coin has been in circulation, it sill remains very detailed in appearance. Across the surface a small amount of wear is visible. The feather details of the wing above Liberty's ear have worn and lost detail but remain separated. Also a slight flatness to the once rounded cheek is noticeable. On the reverse, all of the vertical lines of the "fasces" are separated. Your coin is a nice collectible condition with a premium 1935 dime value.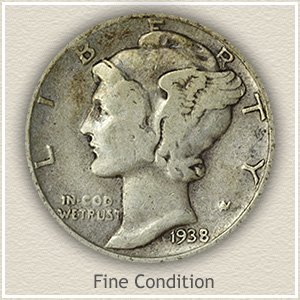 Fine: Wear is noticeable over the entire surface. The central part of the wing is now flat and lacking any design detail, as well as the hair braid extending from Liberty's forehead to chin line. On the reverse of your dime, many but not all the vertical lines have merged.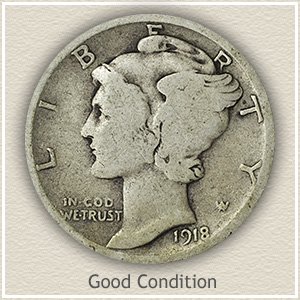 Good: A considerable amount of metal has worn away leaving Liberty as an outline in low relief. Faint suggestions of separation are found in both her hair and wing. Confirming a "good" grade is the rim blending into the tops of the lettering and last digit of the date. However, old Mercury head dimes in this condition and the affordable 1935 dime value serve as a starting point to many collections.
Coin Values | CoinStudy Articles
Date by Date
In Depth Mercury Dime Values
1916 to 1945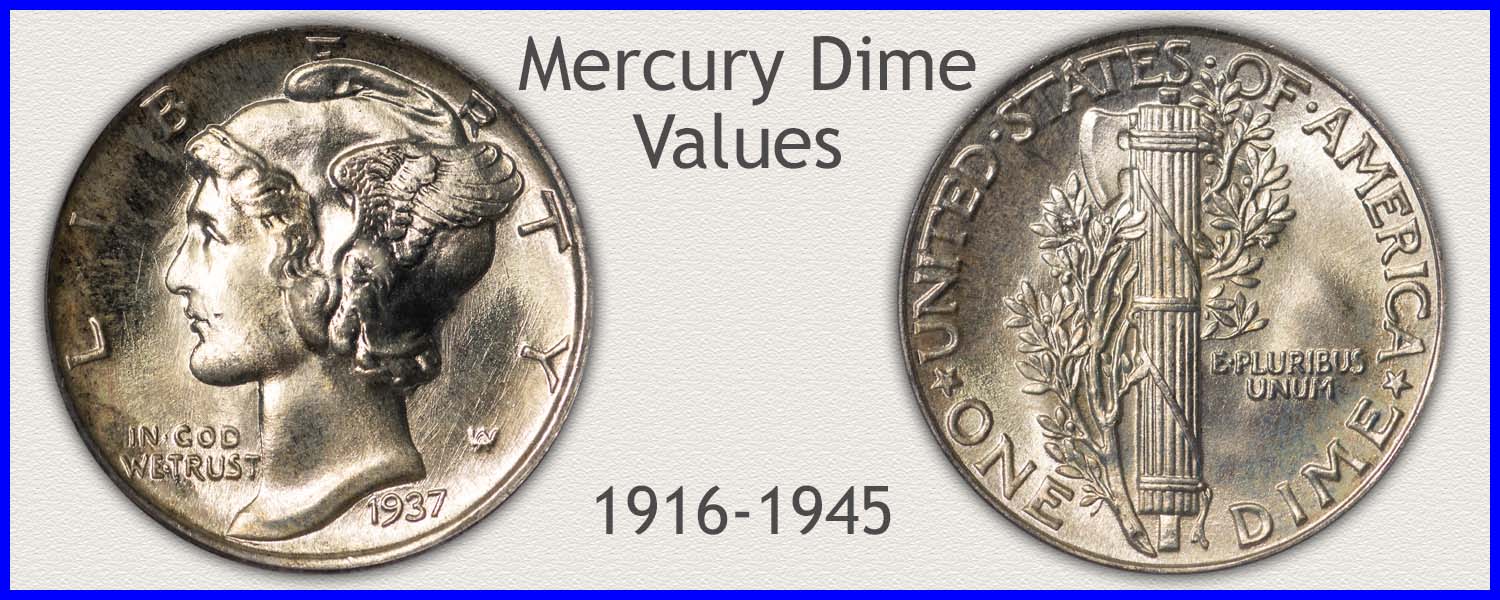 Values listed for the entire Mercury head dime series including more on the 1935 dime value. Rare and valuable dates are scattered through out the series contributing to a large spread in Mercury dime values. Additionally, the condition of your old dime plays a key role in today's rare coin values.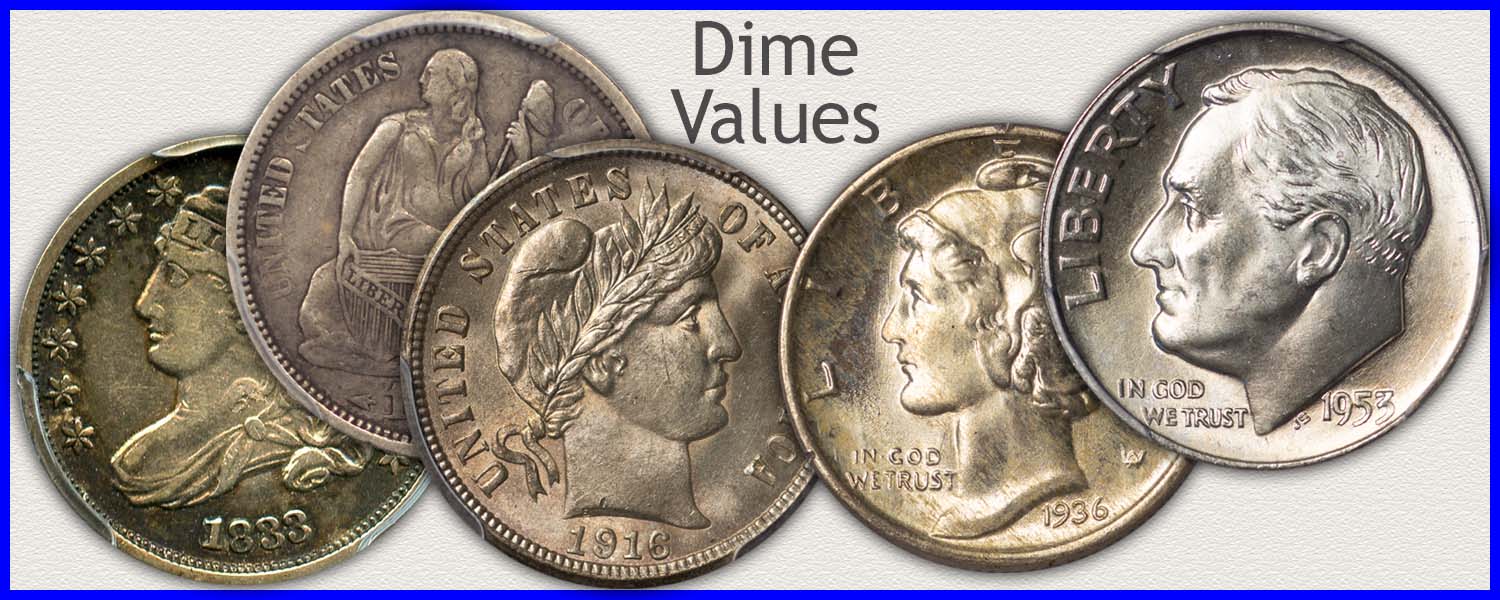 One of the most popular and widely collected coins today. Spanning over two hundred years of US dime production with rare coin values listed for literally hundreds of date and mintmark combinations. Examine closely these small potential treasures.
★Coin Values Discovery... finds 1935 dime value and...
all old US coin values. It is an excellent index with images and text links to coin series, from Cents to Gold. Value charts, grading images with descriptions uncover how much your box of old coins is worth.
Rare Dimes!
Awaiting discovery are potentially high value rarities in the US dime series as well as some other possible finds in your box of old coins. Visit... Finding Rare Dimes...