Coin Values Moving with Precious Metals: Up-Dated 9/18/2023: Gold $1928 | Silver $23.14
1937 Dime Value
The 1937 dime value is at a minimum of $1.69 - rising with the value of silver it contains. However old Mercury head dimes are avidly collected today and many are valued higher.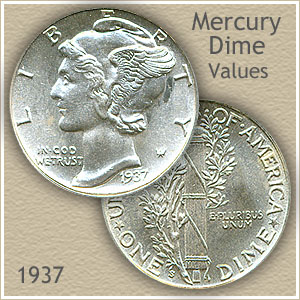 Your old silver dime does have the very real possibility of being worth more, especially if it is in very nice condition. Additionally if you find the "D" or "S" mintmark on the reverse it has increased appeal and raises the value of your 1937 dime.
Mercury head dimes are popular and collectors assembling sets often include coins from the all the mints that produced dimes for that year. And these branch mint coins are scarce when compared to those minted in Philadelphia.
The "Uncirculated" 1937 dime pictured, is $6.07 plus coin because of its high end condition and also the San Francisco mintmark, becoming a nice addition to any Mercury dime collection.
Images showing coins representing various stages of wear are found in the grading section below and see under the value chart for the locations of mintmarks, helping judge how much your 1937 dime is worth.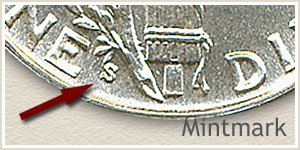 Many people are interested in collecting Mercury dimes by dates and also include coins of the different mints.
Used to identify minting facilities, a small "D" for the Denver mint and "S" for San Francisco are found on the reverse. If your coin is without a mintmark, it was struck at the Philadelphia mint.
1937 Dime Value
Condition of Coin
Date
Good
Fine
Extremely
Fine
Uncirculated
1937 Dime Value Updated
9/18/2023
1937
$1.69
$1.82
$2.04
$6.07
1937 D
$1.69
$1.82
$2.41
$18
1937 S
$1.69
$1.82
$2.04
$16
Brightly Toned 1937 Dime Value
Silver tones naturally overtime, today this rare 1937 Mercury dime displays subtle shades of gold, red and blue highlighted by original luster. Often when toning is light and attractive the visual interest adds value to the coin.
Even though some collectors seek only brilliant silver white examples as additions to their collections, many others see stunning toned Mercury dimes as appealing. The coin pictured lived up to its potential by realizing $402 at a David Lawrence Rare Coin Auction.
A notable Mercury dime having everything necessary to classify as gem quality - mark free surfaces, bold strike, and intense luster. Add eye-caching toning together with appreciative collectors and values rise. Natural toning and aging of coins, when undisturbed, brings the highest prices.
Grading Determines 1937 Dime Value
The amount of wear or preferably the lack of it, determines a large part of the value of your 1937 dime. Collectors after checking the date and mintmark next examine the condition of the coin and give it a "grade. " As a coin wears there are distinct visual differences from one "grade" to the next. Judge your coins against the images and descriptions to gain an accurate value.
Uncirculated: A very sought after dime, noted for never circulating and not receiving any wear, the coin has remained in brand new condition as the day it left the mint. Both beginning and selective collectors strive to advance their collections into coins of this grade. Inspect the high points of the design to confirm no wear has occurred. If the coin has circulated, wear starts to appear as a dulling of the luster on Liberty's cheek, curls of hair near the ear and the center portion of the wing.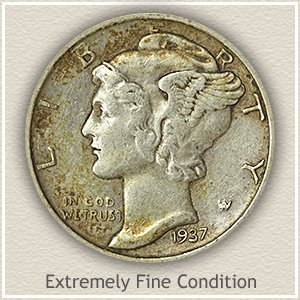 Extremely Fine: Although this coin has been in circulation, it sill remains very detailed in appearance. Across the surface a small amount of wear is visible. Feather details of the wing above Liberty's ear have worn and lost detail but remain separated. Also a slight flatness to the once rounded cheek is noticeable. On the reverse, vertical lines of the "fasces" are separated. Your coin is a nice collectible condition with a premium 1937 dime value.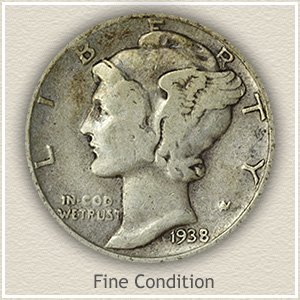 Fine: After serving for an extended period of time your dime has lost considerable detail. Liberty's portrait once distinguished by feathers in a wing above her ear is hard to recognize. Additionally the hair running along her fore head under her cap is now quite flat, the curls hard to see. 1937 dime value is now just above its silver value.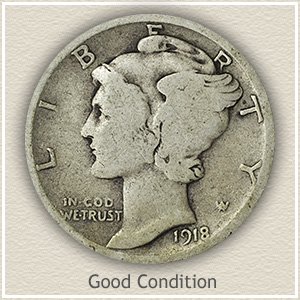 Good: Just beginning to merge into the lettering and date, the rim indicates the grade of this dime. The bust of Liberty is lacking all design features, no hair or wing elements are visible but she does remain well outlined. At the low end of the 1937 dime value, collectors strive to add nicer examples to their collections.
Coin Values | CoinStudy Articles
Date by Date
In Depth Mercury Dime Values
1916 to 1945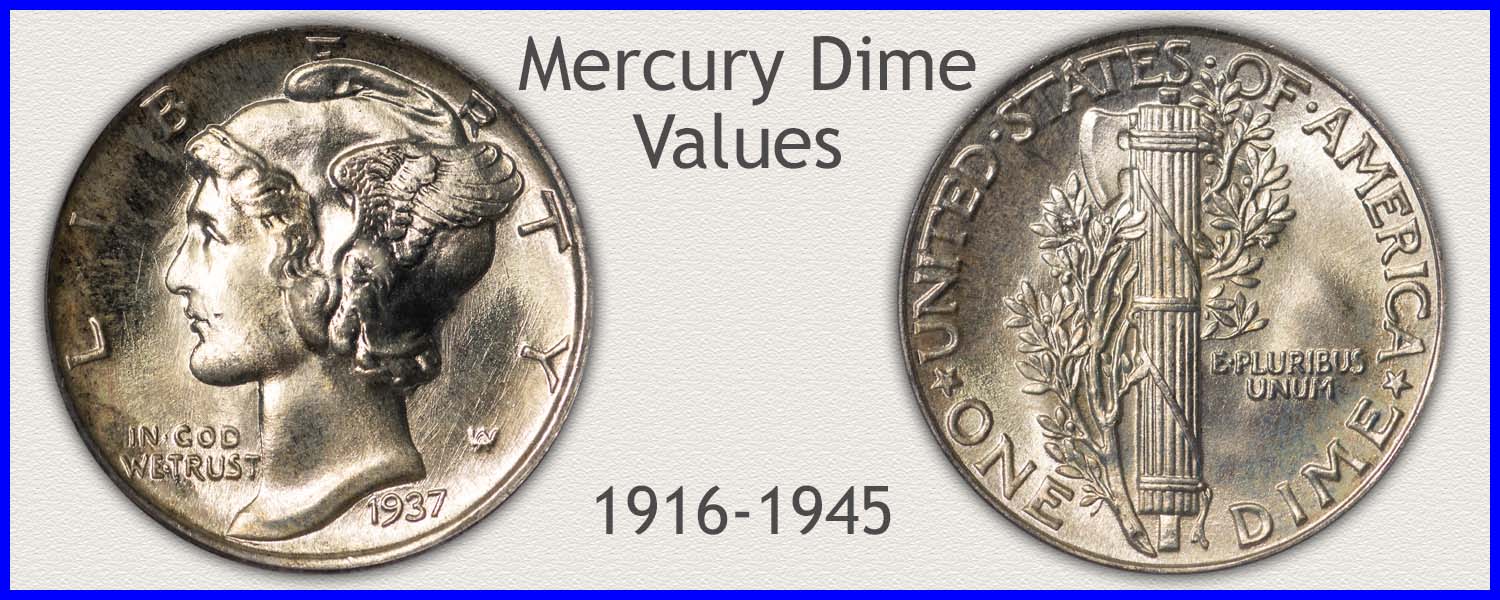 Values listed for the entire Mercury head dime series including more on the 1937 dime value. Rare and valuable dates are scattered through out the series contributing to a large spread in Mercury dime values. Additionally, the condition of your old dime plays a key role in today's rare coin values.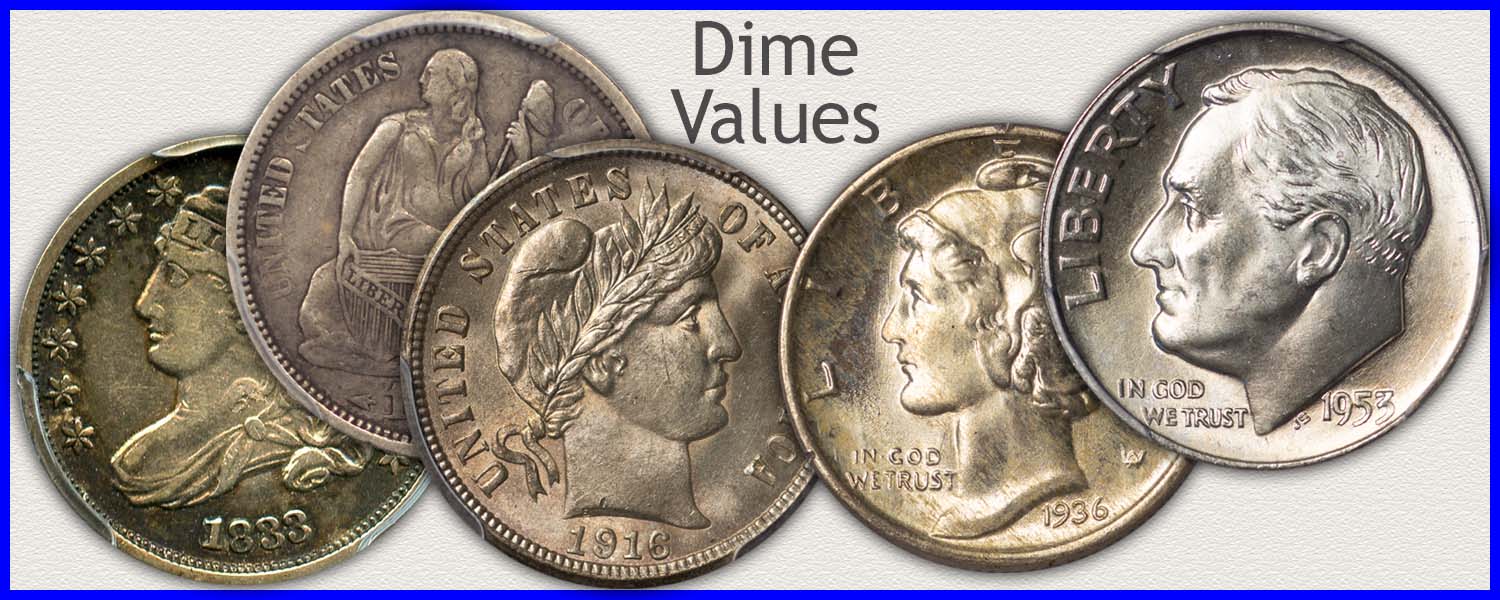 One of the most popular and widely collected coins today. Spanning over two hundred years of US dime production with rare coin values listed for literally hundreds of date and mintmark combinations. Examine closely these small potential treasures.
★Coin Values Discovery... finds 1937 dime value and...
all old US coin values. It is an excellent index with images and text links to coin series, from Cents to Gold. Value charts, grading images with descriptions uncover how much your box of old coins is worth.
Rare Dimes!
Awaiting discovery are potentially high value rarities in the US dime series as well as some other possible finds in your box of old coins. Visit... Finding Rare Dimes...