Coin Values Moving with Precious Metals: Up-Dated 9/25/2023: Gold $1921 | Silver $23.44
1860 Indian Head Penny Value
Collector demand is causing your 1860 Indian head penny value to rise. A popular series of old coins to collect, interest remains strong with both advanced and new collectors.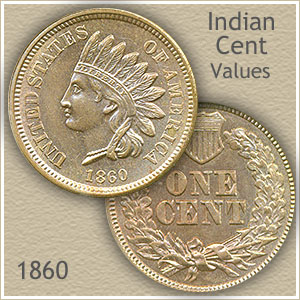 Your 1860 penny is also significant as it introduces a new reverse design. The wreath was changed, a shield and arrows were added and this design remained on all latter years.
Needed by collectors as a first year design type and with its value assured, next evaluate your coin's condition. Wear to surfaces and the design elements is judged when determining how much it is worth.
Pictured is an "uncirculated" 1860 Indian penny and because of its like new state of preservation is very desirable to collectors and dealers. Further down the page is a section on grading the condition of your coin.
1860 Indian Head Penny Value
Condition of Coin
Date
Good
Fine
Extremely
Fine
Uncirculated
1860 Indian Head Penny Value Updated
2023
1860
$9
$19
$57
$201
Thousand Dollar 1860 Indian Head Penny Value
The appearance of this sparkling gem 1860 penny at a David Lawrence auction attracted multiple bids. It is one of those coins seldom offered and it drew the attention of many serious buyers.
Setting it apart from the majority of early Indian pennies is the remarkable lustrous golden yellow color. Obviously well cared for since minted the result was a price realized of $1183 at auction.
Also appealing to serious collectors was the absence of the normal marks and abrasions found on coins. Special handling to avoid marring surfaces and preserve the luster results in a treasure for collectors today and continued future 1860 Indian head penny value increases.
Careful Grading Finds Accurate Value
The value chart lists coins in different "grades" depending on the amount of wear. Known as grading, compare your coin to the images and find the best match.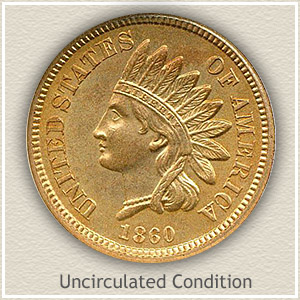 Uncirculated: Shortly after minting a coin in uncirculated condition was put away and never used. The highest parts of the design have not been disturbed by wear. Check the Indian's cheek, hair and ribbon below her ear and the tips of the feathers. If there is any wear, these areas show a smoothing to the surface and the original luster is disturbed.
Extremely Fine: Sharp detail remains on Indian pennies in extremely fine condition. Although some flattening from wear is evident it is found only on small portions of the coins. Within the head band "Liberty" is one of the highest points of the coin and the first to wear. All letters must be present to reach the extremely fine grade.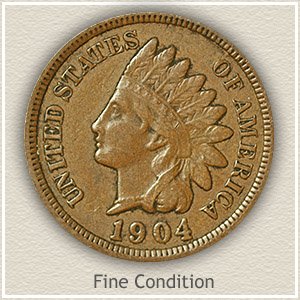 Fine: Noticeable are parts of the hair and headband have worn to the point of merging. Feather details are missing at the ends. Her cheek no longer is rounded. Despite this moderate wear your 1860 penny still has a pleasing look.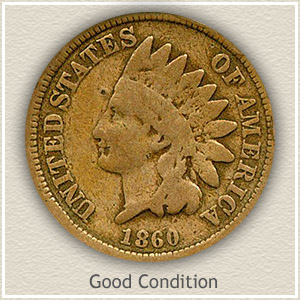 Good: Extensive use has worn the majority of this coin away. Most detail separating the feathers, headband, and hairline above her face is smooth and missing. Collectors and dealers prefer a full rim if considering a coin as reaching the "good" grade.
Coin Values | CoinStudy Articles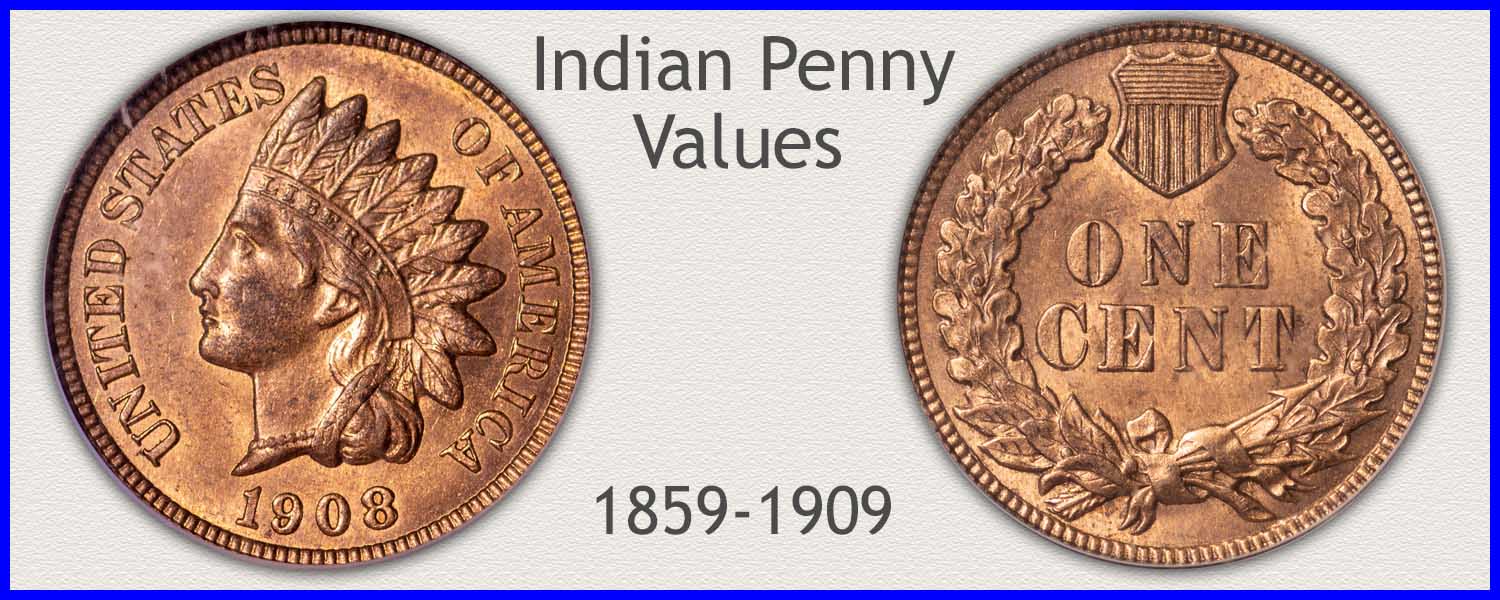 The Value of an Indian Penny | Very Solid
A very popular coin, everyone understands and has heard of the value of an Indian Head penny. Common dates are now worth more than $1 each. Many collectors are building collections and putting a heavy demand on the rare dates and better condition coins. Compare your coins to the values chart.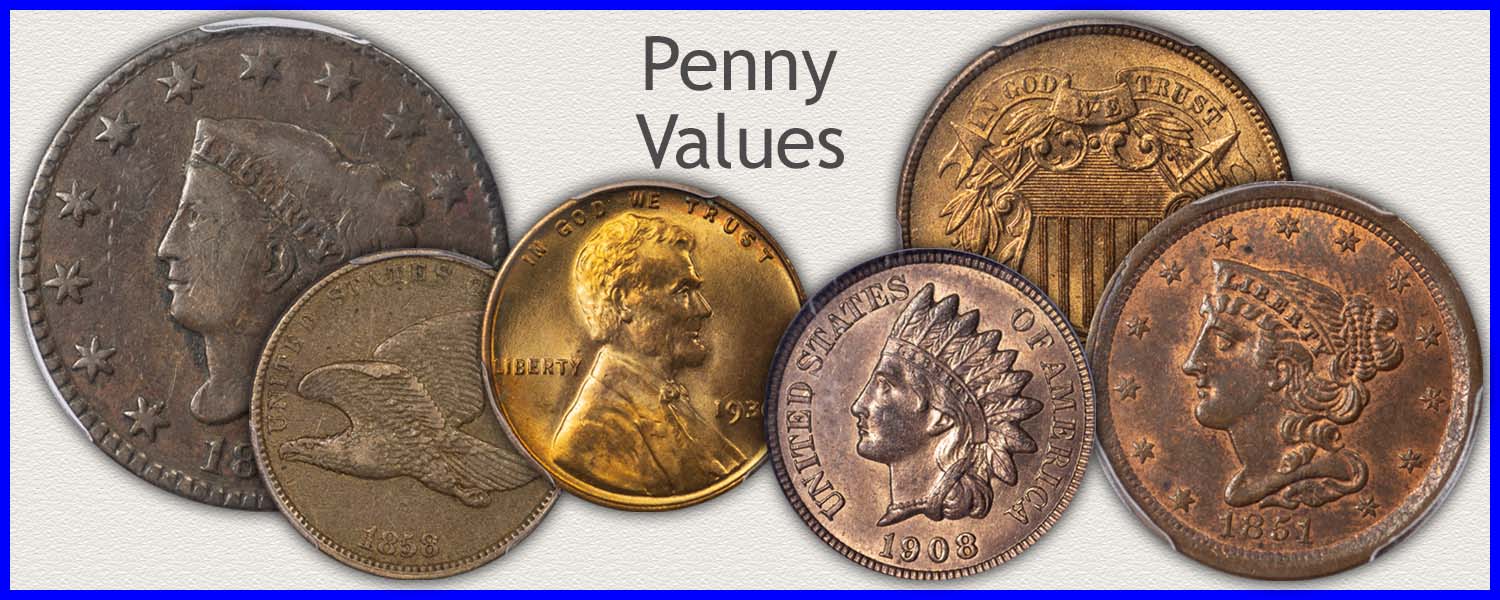 Penny Values | Rare Pennies Have Outstanding Values
Coin values are determined by using the grading images to judge condition then checking the date and values on the charts covering each series of US pennies. Discover all the rare varieties, dates and mintmarks.
★Coin Values Discovery finds... 1860 Indian Head Penny Value and...
All old US coin values. It is an excellent index with images and text links to coin series, from Cents to Gold. Value charts, grading images and descriptions uncover how much your box of old coins is worth.