Coin Values Moving with Precious Metals: Up-Dated 9/25/2023: Gold $1921 | Silver $23.44
1878 Indian Head Penny Value
1878 Indian head penny value continues the run of early years and higher valued coins of the series. Your coin is a scarce date to find and needed by many collectors.
Sending value higher than the already nice minimum price, is your judgment the coin is above average condition. Your coin may be worn, and at first glance appear as the rest of the coins in your box. However an 1878 is needed by many who are assembling collections of Indian pennies.
As you approach the value process, special attention is placed on condition. Examples displaying greater detail, for example, distinctive hair curl detail above her eye and covering parts of her neck are desirable. Most available 1878 pennies are very worn, any with ample design remaining command a strong premium.
Pictured is an exceptional and rare penny, never circulated, still bright as the day of minting. Because of its rarely found condition this 1878 Indian head penny value is in excess of $200 with steady demand.
1878 Indian Head Penny Value
Condition of Coin
Date
Good
Fine
Extremely
Fine
Uncirculated
1878 Indian Head Penny Value Updated
2023
1878
$26
$62
$137
$204
Rare 1878 Indian Head Penny Value
Surviving against the odds in gem condition, a stunning 1878 penny sold for $2070 at a David Lawrence rare coin auction.
Visual appeal drew the attention of serious Indian penny collectors. Seldom is offered quality of preservation with a copper coin. Prone to turning brown and spotting, copper is an active metal. Avoiding discoloring is rare, combined with the absence of wear and distracting marks and nicks is very rare.
Indian penny collecting is a large part of the hobby. Many enjoy searching for affordable and pleasing examples to collect. Also there is a large group of collectors studying the series in depth and striving to find the best quality, such as the one pictured, when adding to their collection. Your 1878 penny is appreciated by many.
Condition Separates Indian Penny Value
Most old Indian pennies are found in a condition resembling tired and heavily worn, scarce are those in above average condition. Collector demand for these higher quality survivors often creates a doubling in value from one "grade" to the next. By comparing your coins to the images and descriptions you quickly develop an eye for the difference in wear. Judging and "grading" closes in on an accurate value.
Uncirculated: Rare is an 1878 penny in "uncirculated" condition. It is a coin that has never circulated and there is no wear to its surfaces. To confirm your coin is in this condition examine the very ends of the feathers, if wear is present it smoothes the normal "grain" and flow lines of the metal. Her cheek and extending to include the chin is another area prone to early wear. Again a worn surface shows smoothing to the metal, a distinctly different look compared to the surrounding area.
Extremely Fine: Sharp detail remains on Indian pennies in extremely fine condition. Although some flattening from wear is evident it is found only on small portions of the coins. Within the head band "Liberty" is one of the highest points of the coin and the first to wear. All letters must be present to reach the extremely fine grade.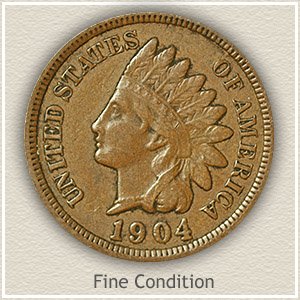 Fine: Worn somewhat flat but all major details clear describe a penny in "fine" condition. It also places 1878 Indian head penny value well above the minimum. Roundness and contours to her chin and cheek have worn flat. Also wear has removed much of the finer detail separating the curls of hair. The headdress is recognizable with the headband and feathers separated. Overall a bold image remains.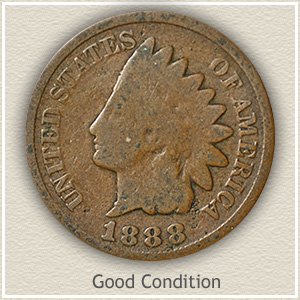 Good: Very worn but still recognizable this 1878 Indian penny is in "good" condition. Even at this low end of the condition scale the main design elements are prominent. Her profile is outlined with some detail separating her cheek and neck. Although very little of the headdress is visible, there is some slight roundness to the feathers. Traveling around the rim all lettering is visible, even if some are faint.
Coin Values | CoinStudy Articles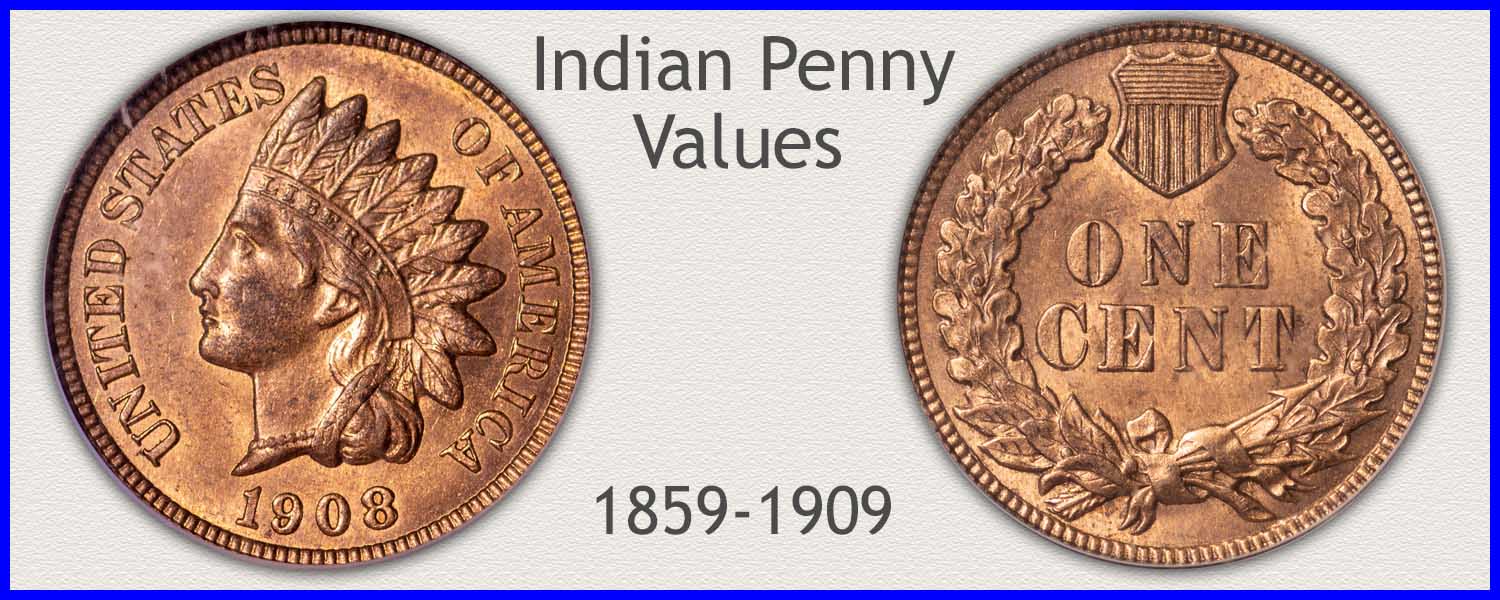 The value of an Indian Penny is...
$1 to 2 dollars for common dates. With many advanced collectors pursuing Indian pennies the rare dates along with your 1878 Indian head penny value are moving higher. As always better condition coins are especially sought. Today your box of old coins has never been more valuable.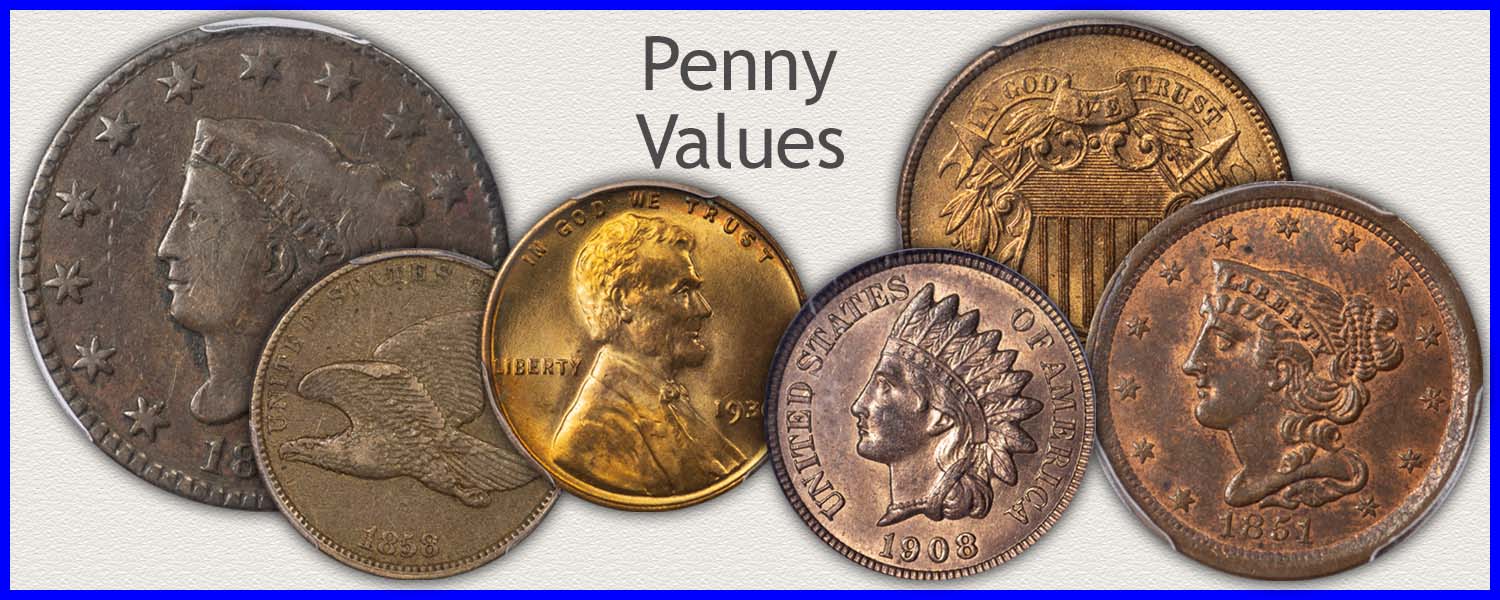 Old US Penny Values are Rising
Accurate penny values are found by using the grading images to judge condition then checking the date and values on the charts covering each series of US pennies. Discover all the rare varieties, dates and mintmarks.
★Coin Values Discovery finds... 1878 Indian Head Penny Value and...
All old US coin values. The home page is an excellent index, quickly leading to the major coin series. From Cents to Gold. Each with grading images and value charts.