Coin Values Moving with Precious Metals: Up-Dated 9/18/2023: Gold $1928 | Silver $23.14
1868 Indian Head Penny Value
1868 Indian head penny value is above average compared to most old pennies. With the growing popularity of the series those minted in the 1860's are worth large premiums.
If your 1868 penny has avoided the most common "problems" found on old coins the value often doubles.
The first to notice is the appearance and overall color, tan to warm brown is natural. Dark and uneven color is less appealing. Another obvious distraction is if the coin is bent, also lowering the value. Inspect for scratches and also for large dents or nicks to the rim. Noticeable heavy abrasions also lower the value of an otherwise nice coin.
Collectors of Indian pennies are committed to adding quality to their sets. Nice, original honest coins are in the greatest demand. Coins with "problems" are passed over or discounted.
1868 Indian Head Penny Value
Condition of Coin
Date
Good
Fine
Extremely
Fine
Uncirculated
1868 Indian Head Penny Value Updated
2023
1868
$52
$80
$134
$239
Above Average 1868 Indian Head Penny Value
There are coins whose appearance and quality of surfaces place them well above average. Other uncirculated 1868 pennies are known, but within the top gem uncirculated condition class this rare penny is decidedly above average.
The consignor who placed the coin in a David Lawrence rare coin auction saw the bidding reach $1256, an above average price. Most uncirculated 1868 pennies are valued in the $175 to $350 range.
It's easy to see many above average qualities combined into this one coin. Bold, highly detailed strike, fully detailed feathers. Pleasing bright luster with just the slightest golden toning covers the coin. Normally seen nicks and contact marks are few and light.
Also possible, when considering your old Indian pennies in circulated grades, some will naturally stand out. Look for those displaying above average qualities. One of the best in terms of eye appeal are examples having toned a light to medium brown in color, a nice look for a circulated coin. Those pennies with very dark toning tend to hide much of the design. By comparing one coin to the next, exceptional qualities are apparent. The market place does reward quality with above average 1868 Indian head penny value.

Condition Leads to Above Average Value
Wear is the leading factor in raising or lowering the value of your Indian penny. When a collector or dealer is determining value they first "grade" the condition of the coin. Judge your coin by comparing the images and description and conservatively estimate its grade. Coins without the "problems" detailed above are considered solid for their grade.
Uncirculated: Shortly after minting this 1868 penny still in uncirculated condition was put away and never used. The highest parts of the design have not been disturbed by wear. Check the Indian's cheek, hair and ribbon below her ear and the tips of the feathers. If there is any wear, these areas show a smoothing to the surface and the original luster is disturbed.
Extremely Fine: Sharp detail remains on Indian pennies in extremely fine condition. Although some flattening from wear is evident it is found only on small portions of the coins. Within the head band "Liberty" is one of the highest points of the coin and the first to wear. All letters must be present to reach the extremely fine grade.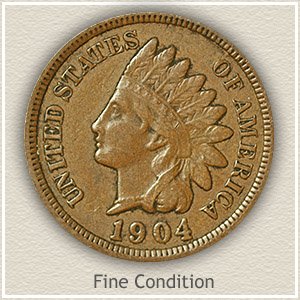 Fine: As a collectible coin, 1868 Indian head penny value in the "fine" grade is generally double a lesser grade example. Moderate wear with ample detail remaining is the appearance of a "fine" condition penny. Wear has reduced the highest details considerably but not to the point of merging one into the other. The ribbon behind her neck is still separated from the hair, although worn smooth as it crosses. Her forehead is fully detailed and distinct from the headband. Further examination of the headband shows despite obvious wear it still portrays "Liberty."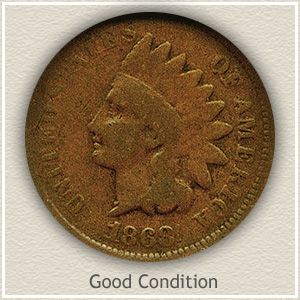 Good: A complete outline of the feathers, her face and neckline is separated and raised from the background. Lettering is distinct as well as the date. All other parts of the design are now worn away. However, your coin is still enjoyed by many young collectors.
Coin Values | CoinStudy Articles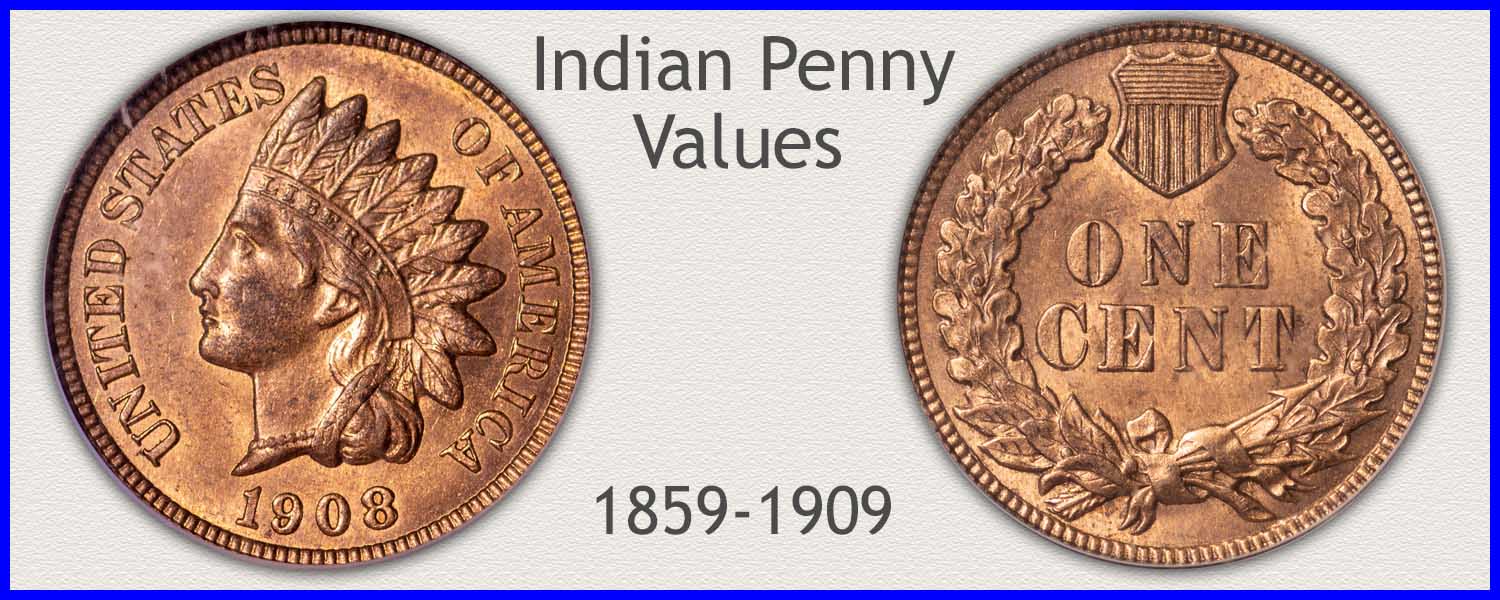 The Value of an Indian Penny | Very Solid
A very popular coin, everyone understands and has heard of the value of an Indian Head penny. Common dates are now worth one dollar each. Many collectors are building collections and putting a heavy demand on the rare dates and better condition coins. Compare your Indian head penny dates to the values chart.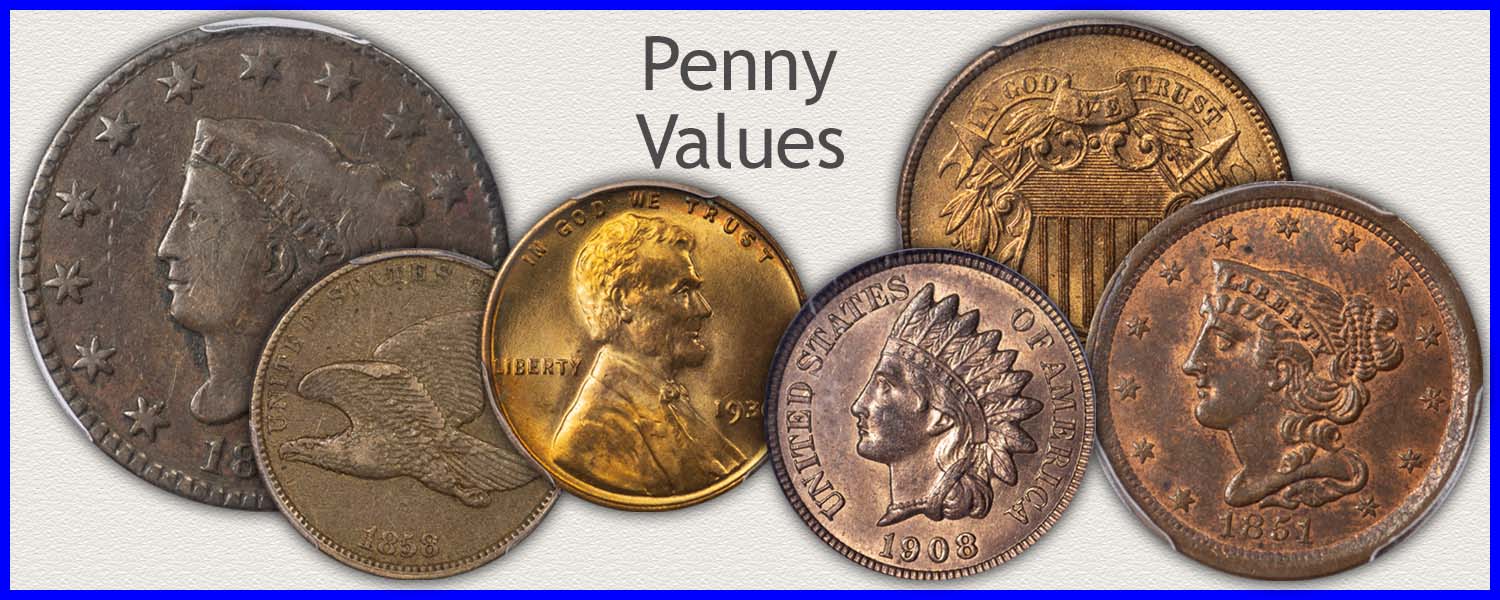 Old US Penny Values are Rising
Penny values listed for US cents. From the earliest Half and Large cents, to Indian head pennies to the popular Wheat cents of 1909 to 1958.
★Coin Values Discovery finds... 1868 Indian Head Penny Value and...
All old US coin values. It is an excellent index with images and text links to all coin series, from Cents to Gold. Value charts, grading images and descriptions uncover not only the value of Indian pennies but how much your box of old coins is worth.