Coin Values Moving with Precious Metals: Up-Dated 9/18/2023: Gold $1928 | Silver $23.14
1898 Indian Head Penny Value
Your old penny is worth more than a passing glance, accurate 1898 Indian head penny value is determined only after a careful examination of its condition. Further down the page side by side grading images highlight the different stages of wear found on these old coins and points to the different values.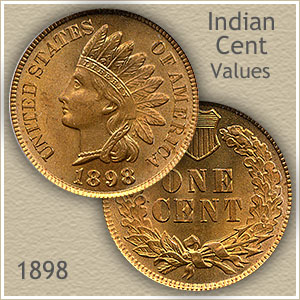 Condition plays the number one role in deciding how much your old Indian penny is worth. Yes there are rare dates and rare mintmarks, both important, however it's the subtle differences in condition that possibly raises the value of any coin.
Pictured is an 1898 penny still in the condition is left the mint. All of the original design is visible, none has been reduced by wear. Collectors refer to this coin as "uncirculated" and examples in this condition form the highlight to any collection of Indian pennies.
Make it a point to evaluate how well your coin has survived and the amount of detail remaining. One example: if the ribbon across her hair just above the neckline is still visible your coin is above average in condition and value. Determine an accurate 1898 Indian head penny value, the section on "grading" is just after the value chart.
1898 Indian Head Penny Value
Condition of Coin
Date
Good
Fine
Extremely
Fine
Uncirculated
1898 Indian Head Penny Value Updated
2023
1898
$1.50
$2.34
$8
$32
Rare Surviving 1898 Indian Penny
It is apparent the gem quality condition of this coin. Bright golden luster, no visible blemishes, either nicks or darkness to the copper. Only on rare occasions does an old coin survive so nice. With just a few of this quality remaining and the large number of collectors the value is always strong. A remarkable coin that would enhance any advanced collection of Indian pennies.
Featured in a David Lawrence rare coin auction, bidding raised the value of this gem 1898 Indian penny to $678. Your box of old coins should be handled carefully. Many Indian penny collections assembled long ago and now discovered by today's generation have the potential of yielding high grade examples.
The coin pictured highlights the need to evaluate these old coins carefully. 1898 is not a rare date in the series, only by deliberately judging condition are those with higher value set apart.

It's Important to Grade Your 1898 Indian Penny
Few of these old 1898 Indian pennies remain today in above average condition. The demand for higher quality survivors creates a doubling or more in value for the nicer coins. Judge the "grade" and value category of your coin by comparing it to the images and descriptions.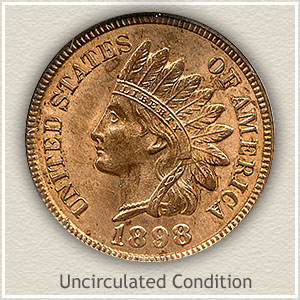 Uncirculated: For a coin to grade "uncirculated" and at the top of 1898 Indian head penny value no wear is present to its surfaces. Close examination is made to the ends of the feathers, hair and headband above her eyebrow and cheek and neck. These areas are the highest parts of the design and in the case of the neck and cheek, quickly show any wear. You are looking for a slight flattening to the normal roundness of the designs. Rotate the coin at an angle to you eye. Wear appears as a different color in the metal, compared to the surrounding non abraded surface.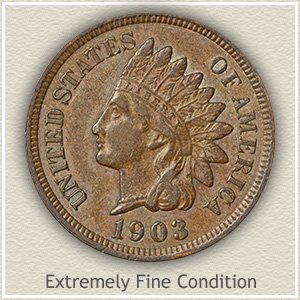 Extremely Fine: Sharply defined describes this grade. You have to look close to find the small amount of wear present on the hair just above the ear. Notice a slight flattening to the cheek below her eye, and the ribbon trailing below her headdress. Overall a nice coin with a pleasing appearance.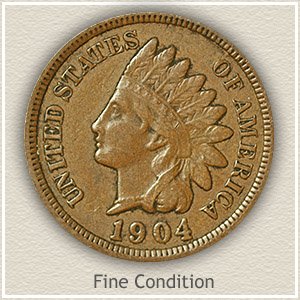 Fine: Highest parts of the design, cheek, neckline and headband are visibly worn, and somewhat flat. However, all major details remain clear, indicating an 1898 Indian penny in fine condition. Roundness of her cheek and chin has worn away. Along the back of her neck most fine details separating the hair curls are blended into one. Giving your coin definition the central area of the headdress is well defined with the headband and feathers separated. Overall a bold, moderately worn image remains.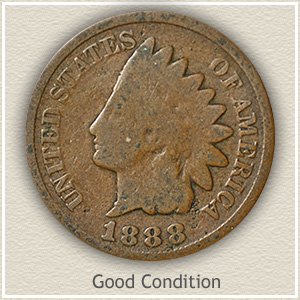 Good: Heavy wear reducing the design to just an outline describes an Indian penny in "good" condition. Normally protected by the line of the shoulder, no evidence of a beaded necklace is visible at the base of the neck. Once finely detailed feather and headband are now worn virtually smooth. Although recognizable by date and as an Indian penny, all major elements forming the design have merged. However, if a small amount of roundness is visible to her face your 1898 Indian head penny value is slightly higher.
Coin Values | CoinStudy Articles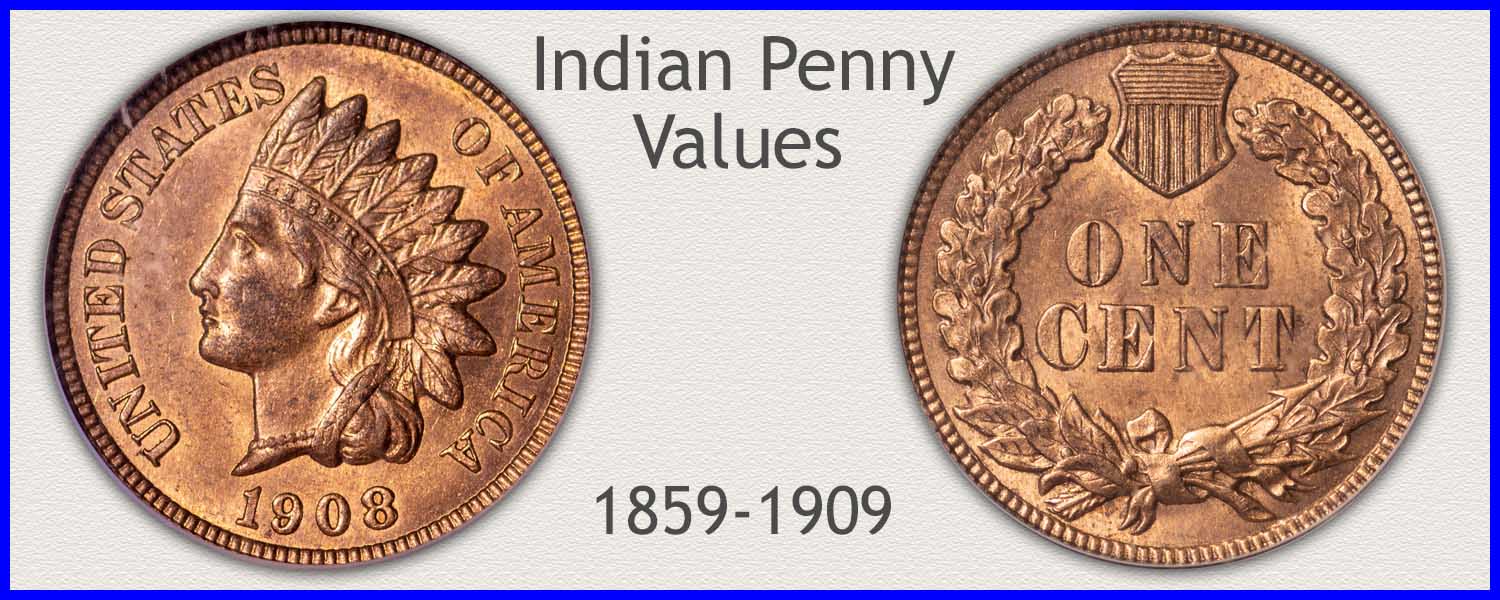 The Value of an Indian Penny | Very Solid
A very popular coin, the value of an Indian Head penny is understood and appreciated by those who owns one. Common dates are now worth one dollar each. Many collectors are building collections and putting a heavy demand on not only your 1898 Indian head penny value but also the very rare dates and better condition coins. Compare your coins to the values chart.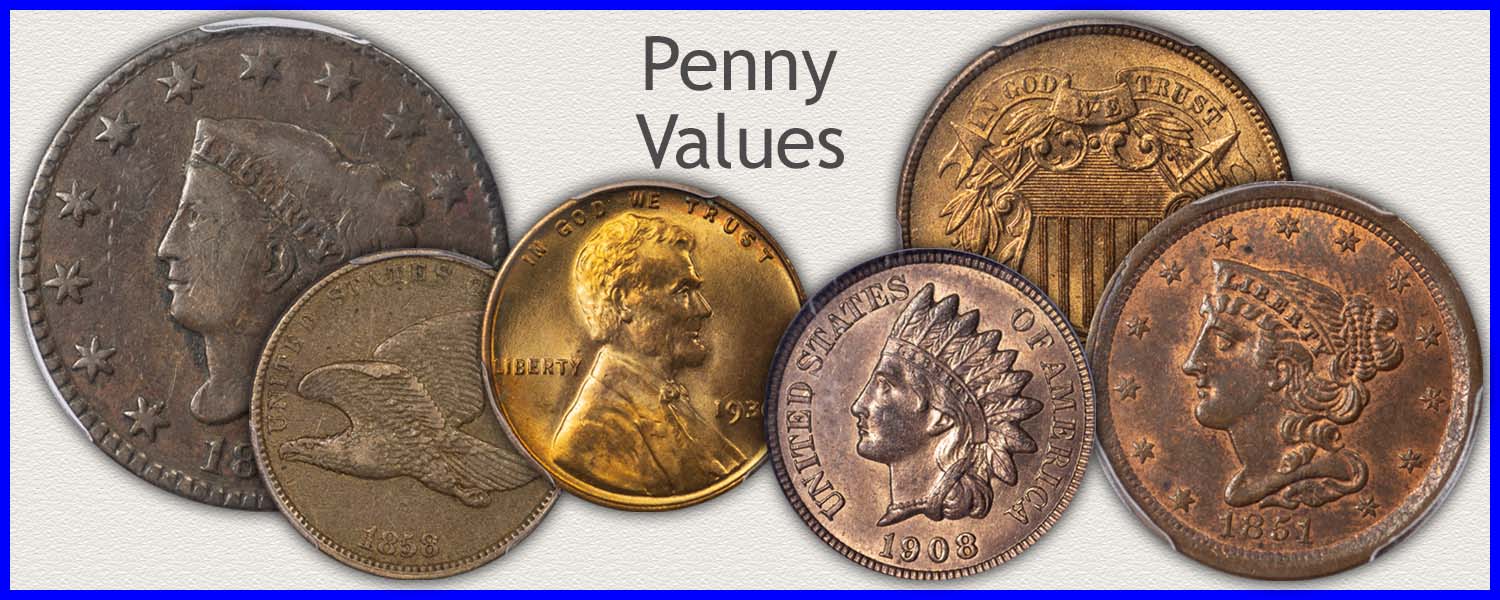 Old US Penny Values are Rising
Penny values listed for US cents. From the earliest Half and Large cents, to Indian head pennies to the popular Wheat cents of 1909 to 1958.
Match your coins to the grading images and value charts. Some of these old pennies have amazing values.
★Coin Values Discovery finds... 1898 Indian Head Penny Value and...
All old US coin values. The home page is an excellent index, quickly leading to the major coin series. From Cents to Gold. Each with grading images and value charts, the combination of the two finds the value of your old coins.