Coin Values Moving with Precious Metals: Up-Dated 5/29/2023: Gold $1945 | Silver $23.25
1870 Indian Head Penny Value
1870 Indian head penny value continues the run of early years and higher valued coins of the series. Your coin is a scarce date to find and needed by many collectors.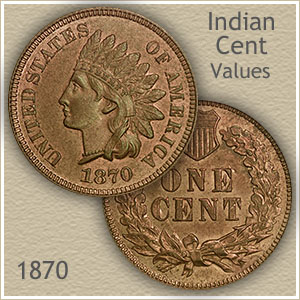 Compared to other years a relatively small number of these 1870 pennies are around today. Normally available in worn condition collectors examine each one carefully judging its condition. These circulated examples range from heavy to light wear and determining the extent of wear leads to an accurate value.
Highest valued are "uncirculated" condition coins. An 1870 penny protected from wear and abrasions is a very rare coin. Remarkably, a few of these are as bright and lustrous as when minted and like the one pictured worth $450 and higher.
Very important with these old Indian pennies is the condition. Finding a readable "Liberty" in the headband is a small detail but places your coin in above average condition. Indian penny collectors are looking for these scarce traits and pay a premium when found.
1870 Indian Head Penny Value
Condition of Coin
Date
Good
Fine
Extremely
Fine
Uncirculated
1870 Indian Head Penny Value Updated
2023
1870
$54
$131
$268
$422
True 1870 Indian Head Penny Value Reveled
Pull this Indian penny out of your box of old coins and at first glance it may appear as all the rest. The color is similar to the others, the date however is the first indication you have something special. Looking closer the amount of detail is also separating it from the rest. This 1870 penny is showing promise, as both a scarce date and in nice condition and possibly high value.
Turning to the reverse it begins to reveal more about its condition and the true value of the coin. Original mint luster is still clinging to the small protected areas among the leaves. Under a magnifying glass the final judgment is made when it's discovered the coin never circulated. No wear is evident to the surfaces and now this old penny is accurately graded as "uncirculated."
Indian pennies seldom seen in top quality, uncirculated condition are keenly sought by collectors. Offered at a David Lawrence rare coin auction, bidding put the value of this 1870 penny at $598. The consignor, by having the true condition of the coin revealed, saw it reach its highest value.

Condition Separates Indian Penny Value
With 1870 Indian head penny value rising quickly for better condition coins, accurate "grading" separates a coin worth a few dollars from the hundred dollar penny. Match your coin to the images and grading descriptions.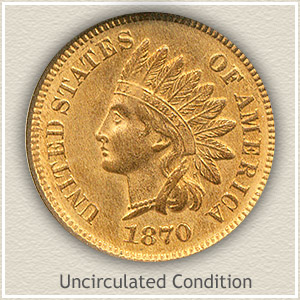 Uncirculated: All the characteristics of a new penny remain. The original mint luster is unbroken with no wear to the coin. Toning to a light brown is possible however rotating the coin under a light reveals undisturbed luster underneath. Examine the highest areas for signs of wear. The first to exhibit abrasions is hair above the eye and curls behind her neck.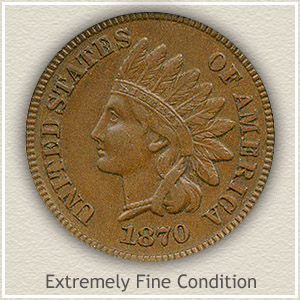 Extremely Fine: Sharp detail remains on Indian pennies in extremely fine condition. Although some flattening from wear is evident it is found only on small portions of the coins. Within the head band "Liberty" is one of the highest points of the coin and the first to wear. All letters must be present to reach the extremely fine grade.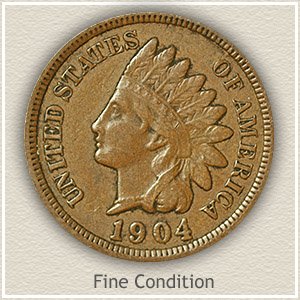 Fine: As a coin begins to show moderate wear its grade is termed "fine." Feathers once finely detailed are now smooth at the ends and worn in the centers. Hair curls are no longer rounded in appearance with parts blending into the headband. Below the ear and behind her neck the headdress ribbon and hair is lacking detail and separation.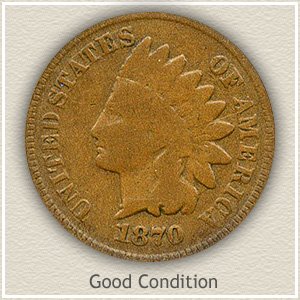 Good: If a coin has received extensive wear it is referred to as "good" condition. As your scan travels around the rim, it is important all lettering is visible. Although the portrait is very worn the bold design is clearly separate of the surface. Few details of the headdress remain, feathers are just an outline and the headband is obscured. Her facial features are very faint, the eye does have some depth and the cheek is faintly separated from her neck. If a small amount of roundness is visible to her face your 1870 Indian head penny value is slightly higher.
Coin Values | CoinStudy Articles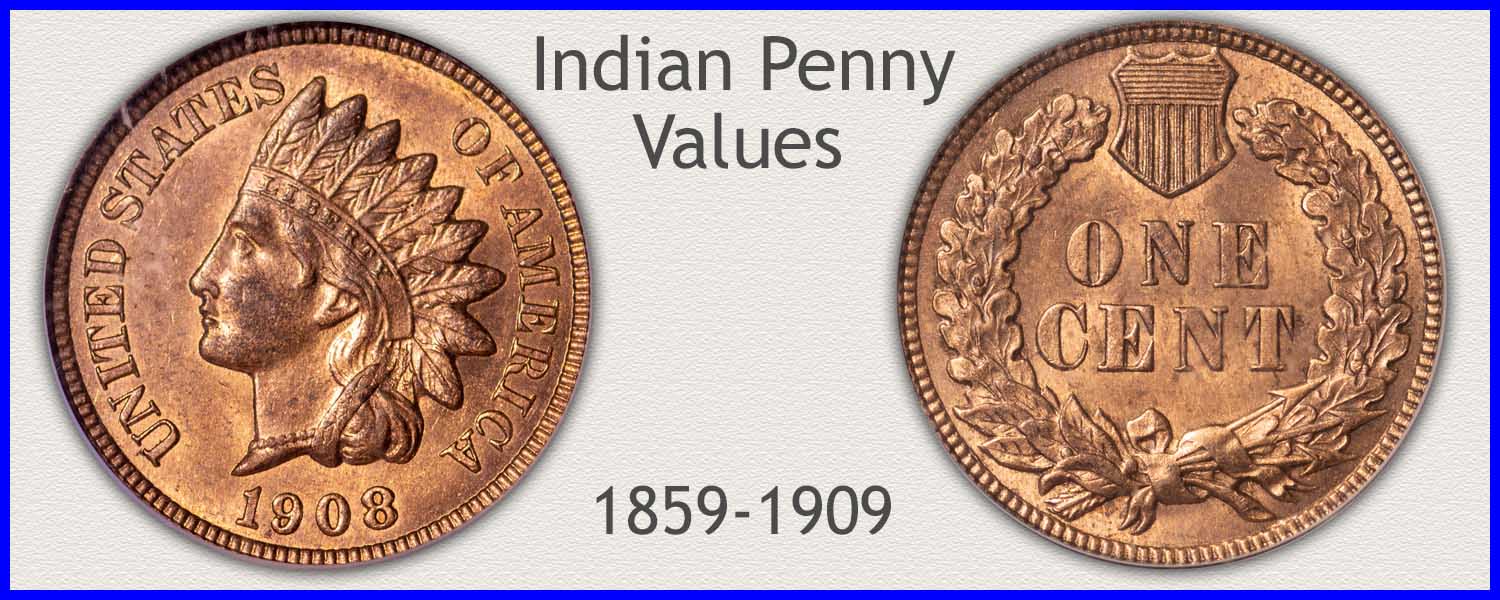 The Value of an Indian Penny | Very Solid
A very popular coin, everyone understands and has heard of the value of an Indian Head penny. Common dates are now worth $1 each. Many collectors are building collections and putting a heavy demand on not only your 1870 penny but also the very rare dates and better condition coins. Compare your coins to the values chart.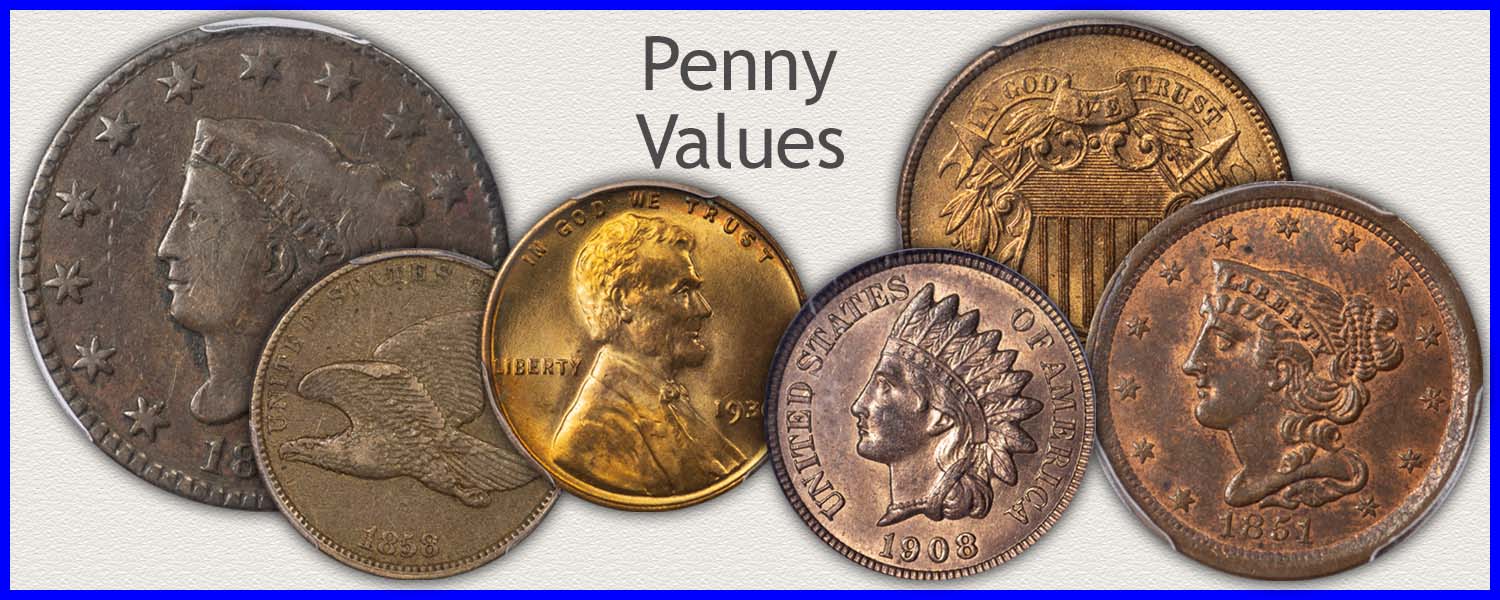 Old US Penny Values are Rising
Penny values listed for US cents. From the earliest Half and Large cents, to Indian head pennies to the popular Wheat cents of 1909 to 1958.
Match your coins to the grading images and value charts. Some of these old pennies have amazing values.
★Coin Values Discovery finds... 1870 Indian Head Penny Value and...
All old US coin values. It is an excellent index with images and text links to all coin series, from Cents to Gold. Value charts, grading images and descriptions uncover how much your box of old coins is worth.