Coin Values Moving with Precious Metals: Up-Dated 11/27/2023: Gold $2010 | Silver $24.66
1908 Indian Head Penny Value
Discovering your 1908 Indian head penny value must now include its condition and determining if your coin is the rare "S" mint issue.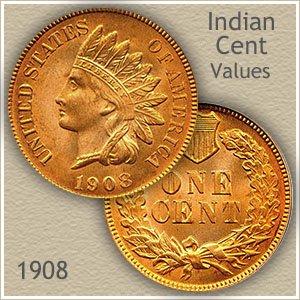 A significant event accrued in 1908, the mint in San Francisco struck pennies for the first time. Importantly and affecting the value of these Indian pennies, the quantities of coins produced was only a fraction of those minted at the main facility in Philadelphia.
Now accurately finding the value of these 1908 pennies is both judging its condition and a check on the reverse for the possibility of the "S" mintmark indication the San Francisco mint. Below the value chart is an image to help locate this important mintmark.
Keep in mind, even if your coin is not the highly valued 1908-S Indian penny, it is still valued as a collectible. Take extra care when judging condition, better grade coins are awarded high premiums for quality of preservation. Pictured is one example, this "uncirculated" 1908 Indian head penny value is over $32 because of the gem condition.
Finding the "S" mintmark is exciting, but rare, more often the value is in accurately determining your coin's condition.
1908 Indian Head Penny Value
Condition of Coin
Date
Good
Fine
Extremely
Fine
Uncirculated
1908 Indian Head Penny Value Updated
2023
1908
$1.23
$1.96
$5
$31
1908-S
$42
$78
$125
$254
Auction Value of the Rare "S" Mint 1908 Indian Head Penny
Few 1908-S Indian head pennies are available today in true "uncirculated" condition, meaning without any wear to their surfaces. It is also the state of preservation preferred by collectors. Additionally, the 1908 San Francisco penny is considered an important part to a collection of Indian cents. Their value is secure, as a popular series, a 1908-S is necessary to complete collections and it is rare.
When one of these top condition rarities are offered it is likely presented in an auction setting. David Lawrence rare coin auction sold the example pictured for $483. This coin is clearly without any wear, it retains much of the original luster and no distracting marks are visible. A true collectible, solid for the grade, solid demand and 1908 Indian head penny value.

Steady Value Found in Accurate Grading
Not to be over shadowed by the rare 1908-S penny, condition is a major factor in Indian penny value. In all cases by judging condition you discover accurately how much your 1908 penny is worth. Compare both the images and descriptions with the appearance of your coin.
Uncirculated: Desirable because no wear is affecting the surfaces. This penny despite its age is in like new condition. Toning may appear as a dark redness and brown, however no parts of the design have been worn from contact. With a magnifying glass examine her cheek and the tips of the feathers for wear. Minting imparts a certain grain to the surfaces of coins, wear can appear as a somewhat glossy or smooth area and sometimes with dullness to the area.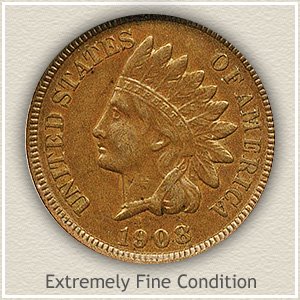 Extremely Fine: Sharply defined describes this grade. You have to look close to find the small amount of wear present on the hair just above the ear. Notice a slight flattening to the cheek below her eye, and the ribbon trailing below her headdress. Overall a nice coin with a pleasing appearance. In this condition it represents nice 1908 Indian head penny value and desirability as a collectible.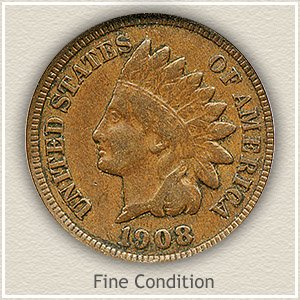 Fine: As a coin begins to show moderate wear its grade is termed "fine." Wear has merged the hairline and headband and continues down the neckline smoothing the ribbon and hair curl where they meet. A positive is the major details of the feathers show and each feather is separated from the next. Clearly a coin that has seen moderate wear but still has some sharpness.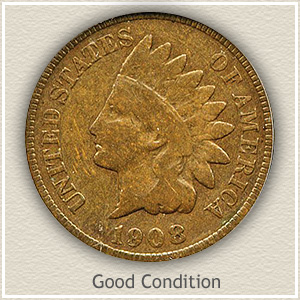 Good: Worn to a shallow relief with little detail remaining describes a coin in "good" condition. The area surrounding the eye is slightly defined. Just visible is a separation of chin and neck. The headdress and feathers are worn smooth showing just an outline. Although the lettering and date are heavily worn they should be separated from the rim. Your 1908 Indian head penny value may be at the low end of the scale, however it is an important year in penny production.
Finding the Valuable "S" Mintmark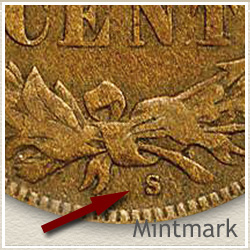 Adding to the large production of Philadelphia mint pennies, a relatively small number of 1908 Indian head pennies were minted in San Francisco. Examine the reverse of your coin, at the bottom between the ribbon and rim. A small "S" mintmark indicates the valuable San Francisco coin.
Coin Values | CoinStudy Articles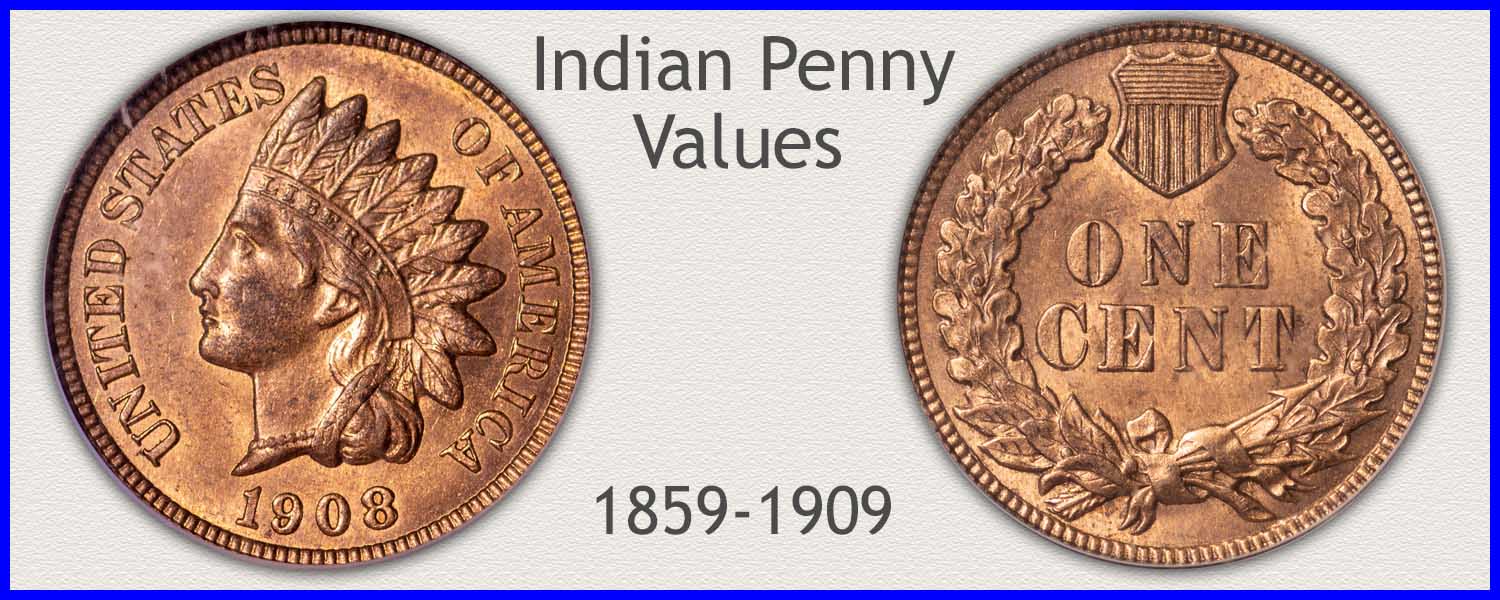 The Value of an Indian Penny | Very Solid
A very popular coin, the value of an Indian Head penny is the result of wide spread collector interest. Common dates are now worth one dollar each. Many collections are being assembled with an emphasis on high condition and rarity. Compare your Indian head penny dates to the values chart. Find not only your 1908 Indian head penny value but all dates in the series.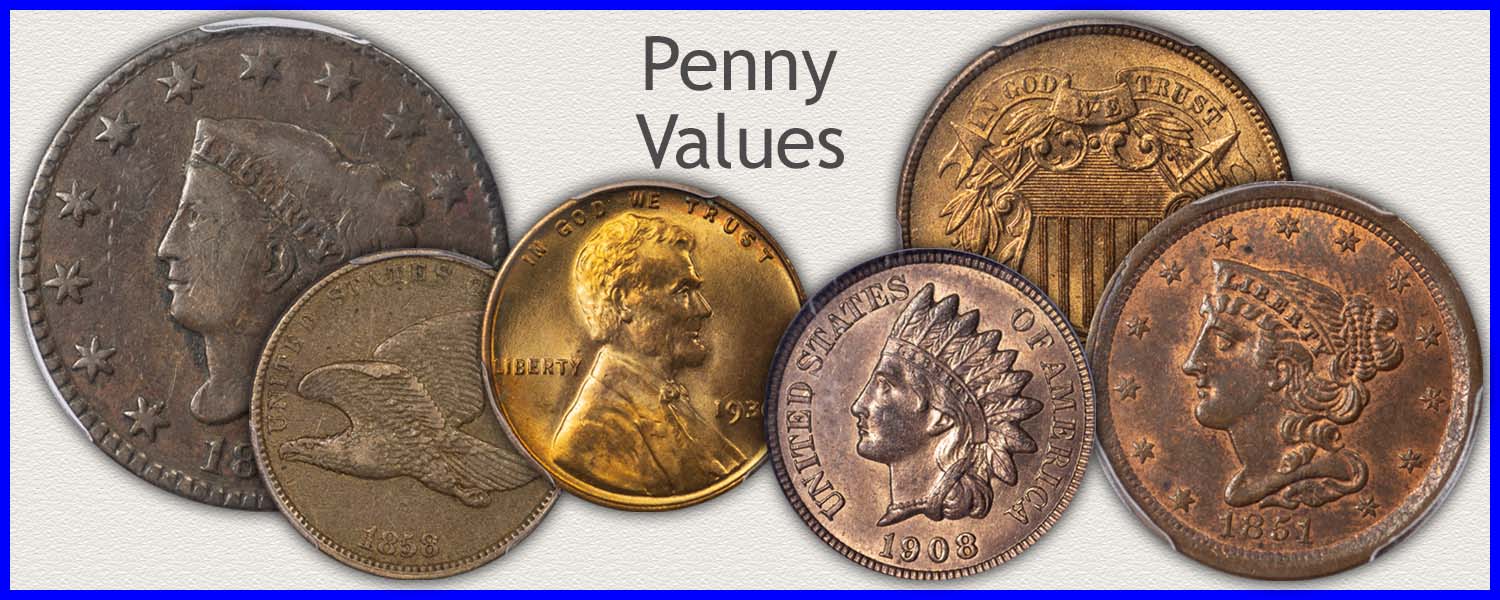 Old US Penny Values are Rising
Accurate penny values are found by using the grading images and descriptions to judge the condition of your coins. Next, check the date and values on the charts covering each series of US pennies. Discover all the rare varieties, dates and mintmarks combinations.
★Coin Values Discovery finds... 1908 Indian Head Penny Value and...
All old US coin values. Use this page as a starting point, it is an excellent index with images and text links to all coin series, from Cents to Gold. Value charts, grading images and descriptions uncover not only the value of Indian pennies but how much your box of old coins is worth.