Coin Values Moving with Precious Metals: Up-Dated 9/18/2023: Gold $1928 | Silver $23.14
1881 Indian Head Penny Value
Demand is causing your 1881 Indian head penny value to rise. A popular series of old coins to collect, interest remains strong with both advanced and new collectors.
1881 is a date rising in importance. It is scarce enough and collecting Indian pennies has expanded to the point 1881 pennies are valued well above those from the 1900s.
As you work through the value process, special attention is placed on condition. Examples displaying greater detail become very desirable and command a strong premium. If you magnify your coin and detect most of "Liberty" is visible above her eye, it indicated a higher value coin.
To the right is an exceptional and rare 1881 penny, never circulated, still bright as the day of minting. Value of this gem is in excess of $60 with steady demand. Further down the page is a section devoted to grading the condition of your Indian head penny.
1881 Indian Head Penny Value
Condition of Coin
Date
Good
Fine
Extremely
Fine
Uncirculated
1881 Indian Head Penny Value Updated
2023
1881
$3
$7
$19
$53
Attracting the Highest Value
Eye catching and visually pleasing is one of the properties making the 1881 Indian penny pictured very collectible. Also it helps to raise the value into the hundreds of dollars.
Soft bronze toning is just beginning to develop on high points of design. Important to value and adding to its appeal is the almost total absence of abrading marks. 1881 pennies at the time were released into circulation by the millions. Happily a few were spared and are available today in like new condition.
Appearing in a David Lawrence rare coin auction, collectors searching to add high end quality to their collection bid the value of this gem 1881 Indian head penny to $333. All old pennies dated in the 1880s are in demand. From circulated, worn examples to those rising in quality to the one pictured are being placed into an ever growing number of collections.

Your 1881 Indian Head Penny Value is Conditional
As more and more collectors assemble sets of Indian pennies the condition of each is judged carefully. Values are separated by a coin's appearance and remaining detail. At times only a small amount, or lack of wear separate what is necessary to please the eye of a collector and to pay a higher price. Compare your coin to the images and descriptions finding an accurate value.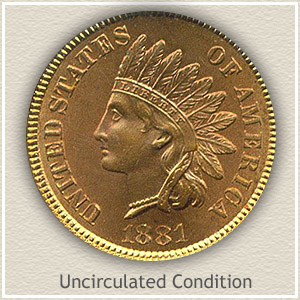 Uncirculated: For a coin to grade "uncirculated" and at the top of 1881 Indian head penny value no wear is present to its surfaces. Close examination is made to the ends of the feathers, hair and headband above her eyebrow and cheek and neck. These areas are the highest parts of the design and in the case of the neck and cheek, quickly show any wear. You are looking for a slight flattening to the normal roundness of the designs. Rotate the coin at an angle to you eye. Wear appears as a different color in the metal, compared to the surrounding non abraded surface.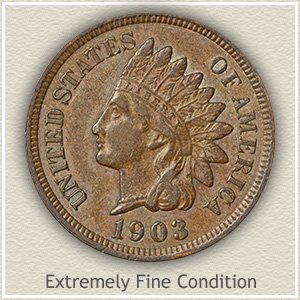 Extremely Fine: Sharply defined details, including the minor elements, define an Indian penny in "extremely fine" condition. Looking closely at the head band the letters in Liberty are fully separated from the defining lines of the band. Wear is present, however all parts are bold. Your coin should stand out as very pleasing to the eye and highly detailed.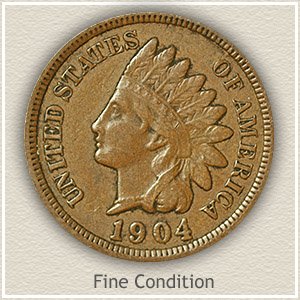 Fine: Noticeable are parts of the hair and headband have worn to the point of merging. Feather details are missing at the ends. Her cheek no longer is rounded. Despite this moderate wear your old penny still has a pleasing look and above average 1881 Indian head penny value.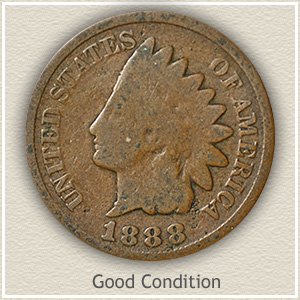 Good: A complete outline of the feathers, her face and neckline is separated and raised from the background. Lettering is distinct as well as the date. All other parts of the design are now worn away. However, your coin is still enjoyed by many young collectors.
Coin Values | CoinStudy Articles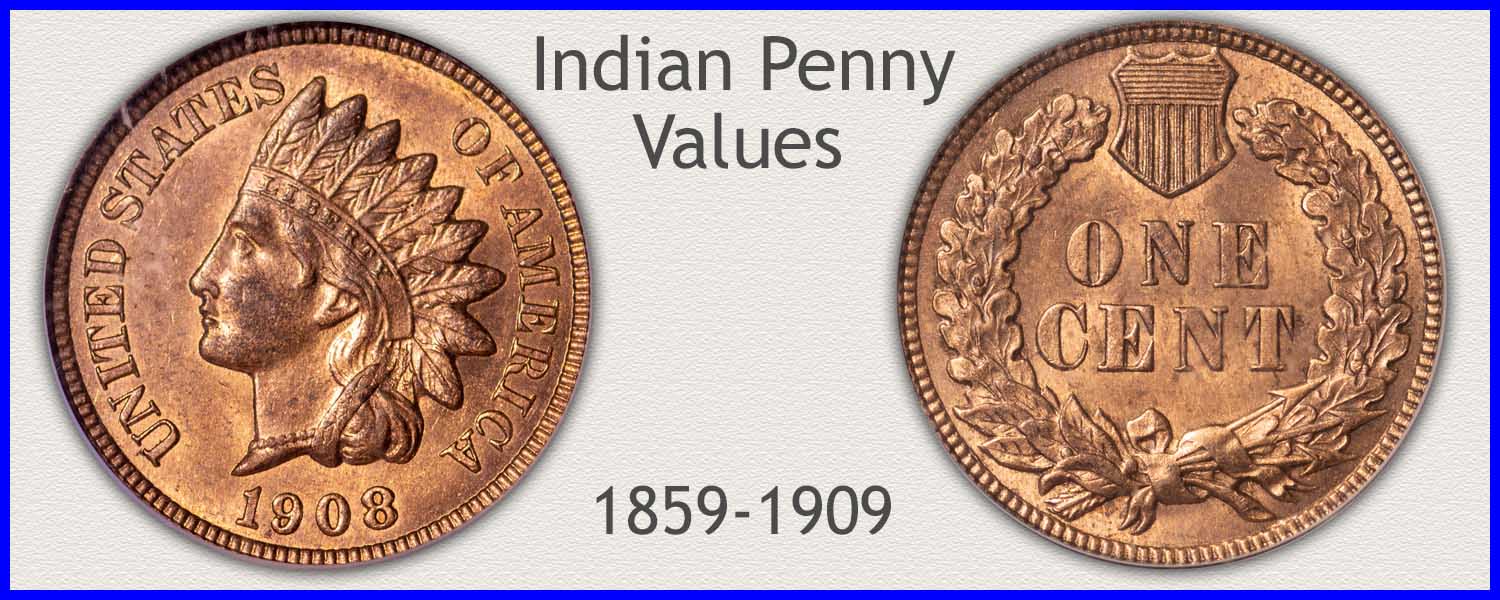 The Value of an Indian Penny | Very Solid
A very popular coin, everyone understands and has heard of the value of an Indian Head penny. Common dates are now worth one dollar each. Many collectors are building collections and putting a heavy demand on not only your 1881 penny but also the very rare dates and better condition coins. Compare your coins to the values chart.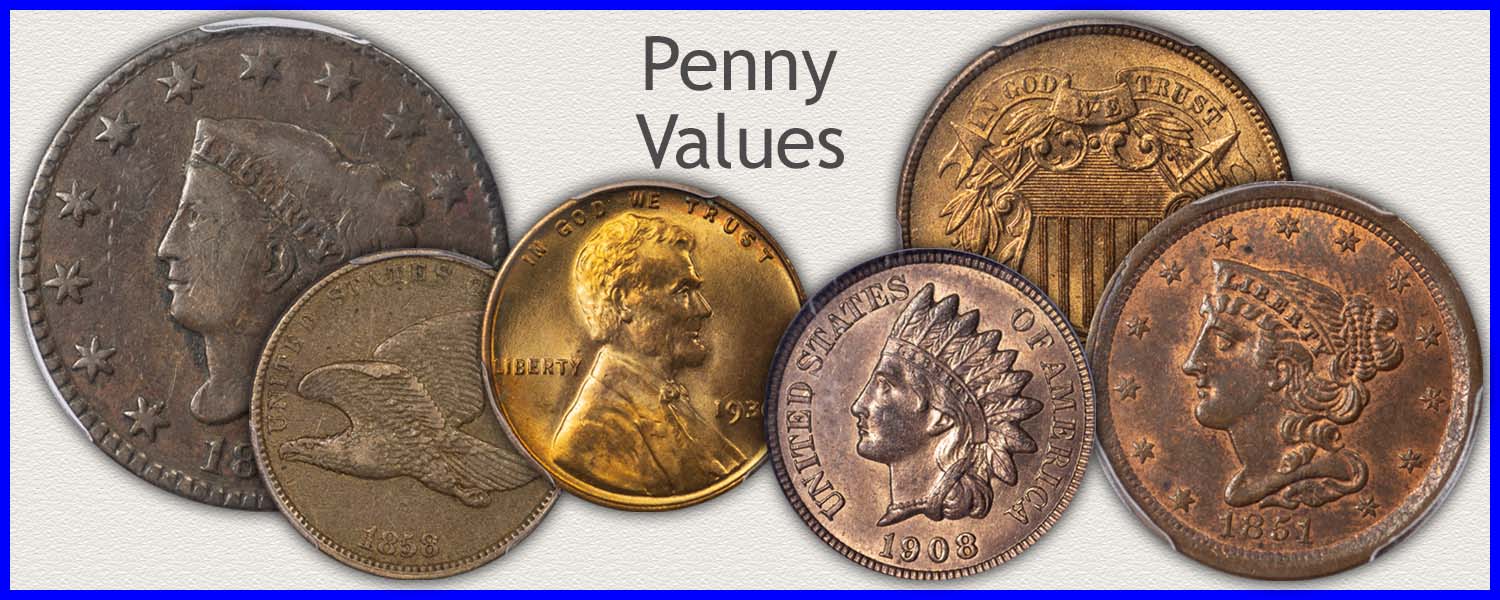 Old US Penny Values are Rising
Penny values listed for US cents. From the earliest Half and Large cents, to Indian head pennies to the popular Wheat cents of 1909 to 1958.
Match your coins to the grading images and value charts. Some of these old pennies have amazing values.
★Coin Values Discovery finds... 1881 Indian Head Penny Value and...
All old US coin values. It is an excellent index with images and text links to all coin series, from Cents to Gold. Value charts, grading images and descriptions uncover not only the value of Indian pennies but how much your box of old coins is worth.
Follow the steps above and increase your ability to realize higher value if selling and finding coin buyers.