Coin Values Moving with Precious Metals: Up-Dated 9/25/2023: Gold $1921 | Silver $23.44
1869 Indian Head Penny Value
1869 Indian head penny value has steadily moved higher over the years. It is among the top 12 rarest and valuable Indian pennies.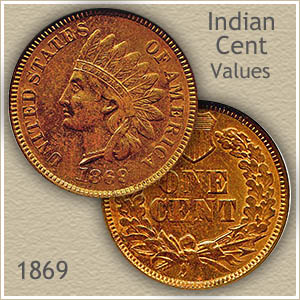 Your coin, even in heavily worn condition enjoys great demand by collectors. So few have survived there is a potential collection waiting for all. It is one of those coins with a fairly substantial number minted, however the hobby has realized an unusually few are available today. A growing awareness of its rarity is pushing values higher.
Rising substantially in value are 1869 pennies in nice condition. If the headband and "Liberty" within the band are clearly visible there is huge potential for your coin. The image to the right is a coin never placed in circulation and showing no signs of wear on its surfaces. In outstanding condition the value of this 1869 penny is easily over $440.
Demand from the collecting community, both advanced and the growing numbers new to the hobby place upward pressure on values. In nice condition your 1869 Indian head penny value is well above $300. Below the value chart is a section on "grading" the condition of your coin.
1869 Indian Head Penny Value
Condition of Coin
Date
Good
Fine
Extremely
Fine
Uncirculated
1869 Indian Head Penny Value Updated
2023
1869
$72
$148
$270
$493
Quality and Competition Meet at Rare Coin Auction
Rare coin auctions attract the finest, top quality coins. Attention is drawn to these rarities and serious collectors have a chance to add an elusive piece to their collection. Indian pennies are studied and pursued by many, both casual, serious, beginner and advanced. The demand is strong over the whole range from the affordable circulated dates in the 1900's to the gem condition rarities.
One such gem was offered at a David Lawrence rare coin auction. Bright flashy original luster shining from this coin makes a lasting first impression. Several collectors and dealers noticed the outstanding eye appeal and rarely seen quality. Their bids quickly raised the value of this gem 1869 Indian penny to $874. Strong value for a coin destined to highlight an advanced collection.
Old pennies enjoy great demand. Examine the condition of each closely discovering your true 1869 Indian head penny value.

Importance of Grading Condition
Condition of your coin is rated by the different stages of wear and referred to by different "grades." The removing of design details as a coin was used in circulation lowers today's value to a collector. Compare your coin to the images finding the closest match. Follow the descriptions and you soon recognize the difference from one "grade" and value to the next.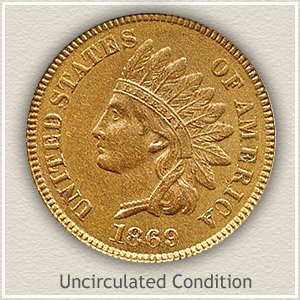 Uncirculated: With the highest demand and 1869 Indian head penny value are coins that never circulated. It is very rare to find coins in the same condition as they left the mint, with no wear to their surfaces. Amazingly there are a select few known with the original bright mint luster radiating across the surface. Confirm your coin is "uncirculated" by examining the very highest points of design. The ends of the feathers and her cheek are two areas that would quickly appear dull and slightly smooth from the lightest of wear. Rotate the coin under a light, any wear shows as a disruption in the luster as it travels around the coin.
Extremely Fine: Sharply defined describes this grade. You have to look close to find the small amount of wear present on the hair just above the ear. Notice a slight flattening to the cheek below her eye, and the ribbon trailing below her headdress. Overall a nice coin with a pleasing appearance.
Fine: Worn somewhat flat but all major details clear describes an 1869 Indian penny in fine condition. Her chin and cheek has worn flat, much of the finer detail separating the curls of hair are smoothed into one. The headdress is recognizable with the headband and feathers separated. Overall a bold image remains.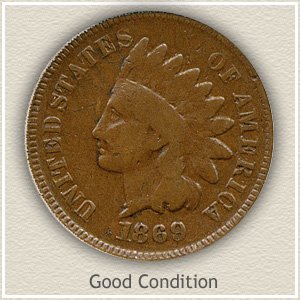 Good: A complete outline of the feathers, her face and neckline is separated and raised from the background. Lettering is distinct as well as the date. All other parts of the design are now worn away. However, your 1869 penny is still worth a premium and enjoyed by many collectors.
Coin Values | CoinStudy Articles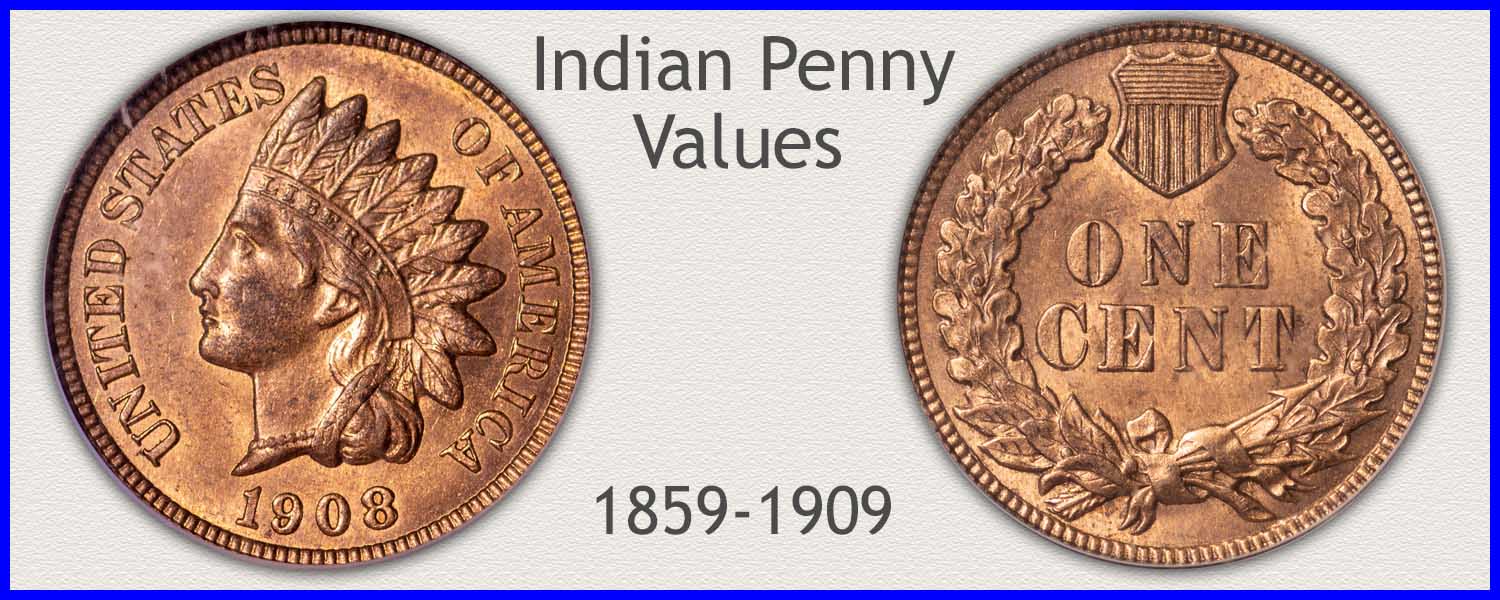 The value of an Indian Penny is...
$1 to 2 dollars for common dates. With many advanced collectors pursuing Indian pennies the rare dates along with your 1869 Indian head penny value are moving higher. As always better condition coins are especially sought. Today your box of old coins has never been more valuable.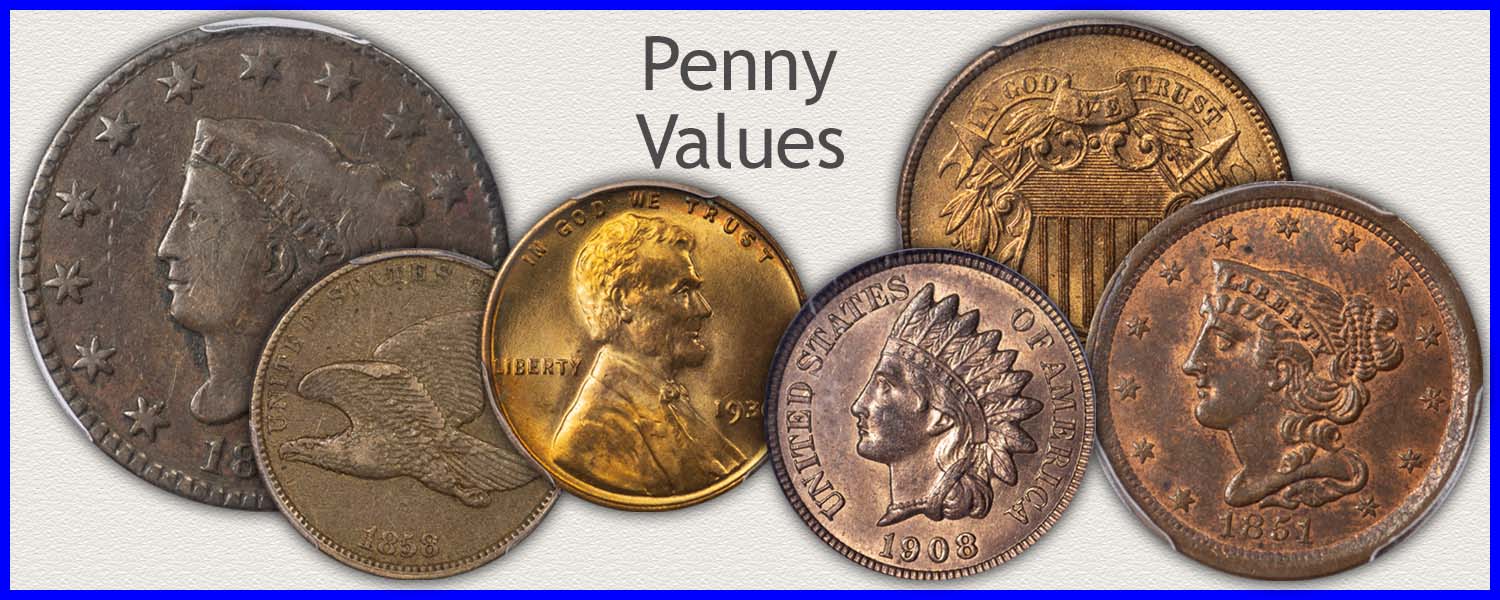 Old US Penny Values are Rising
Accurate penny values are found by using the grading images to judge condition then checking the date and values on the charts covering each series of US pennies. Discover all the rare varieties, dates and mintmarks.
★Coin Values Discovery finds... 1869 Indian Head Penny Value and...
All old US coin values. The home page is an excellent index, quickly leading to the major coin series. From Cents to Gold. Each with grading images and value charts. Get the best price if selling and finding coin buyers by knowing accurate values.