Coin Values Moving with Precious Metals: Up-Dated 9/25/2023: Gold $1921 | Silver $23.44
1907 Quarter Value
By following a defined method, accurately establish 1907 quarter value.
Worth of Barber quarters is narrowed by identifying a few key variables. It is typical for collectors to put together collections of all dates and each mint variety.
To ensure an accurate judgment, specific steps are taken to recognize these different mint issues. 1907 is noted as having four mint issues of quarters
Steps Leading to Value:
Step 1: Date and Mintmark Variety - Collectible and premium date and mintmark combinations of 1907 quarters are identified.
Step 2: Grading Condition - When collecting coins, collectors consider how well preserved they are and how much detail still remains. Premium coins stand out visually from the rest.
Step 3: Special Qualities - The value of a coin often rises because of a few subtle points. Many factors are considered during the value process. A separation of bullion quality from collector quality is identified.
1907 Quarter Value
Condition of Coin
Date
Good
Fine
Extremely
Fine
Mint
State
Barber Quarter Values Updated
5/25/2023
1907
$5.66
$16
$51
$174
1907 D
$5.66
$26
$53
$275
1907 O
$6.51
$33
$61
$188
1907 S
$7.20
$38
$163
Rare
The above chart list wholesale 1907 Barber Quarter values. Computed from dealer's price lists and auction records with various mark-up factors figured in.
Step 1: | Date and Mintmark Issue Confirmed
Four Varieties of 1907 Quarters to Recognize
The process of determining the value of these Barber quarters includes confirming date and also the mint that struck the piece. Quarters were produced by four separate mints in 1907, mintmarks were used to identify the mint that issued the coin.
On the chart, each entry is valued separately and includes the date and mint. See just below, images are used to help identify the important mintmarks.
1907-S Barber Quarter
"S" Mintmark on Reverse: San Francisco Mint Struck the Coin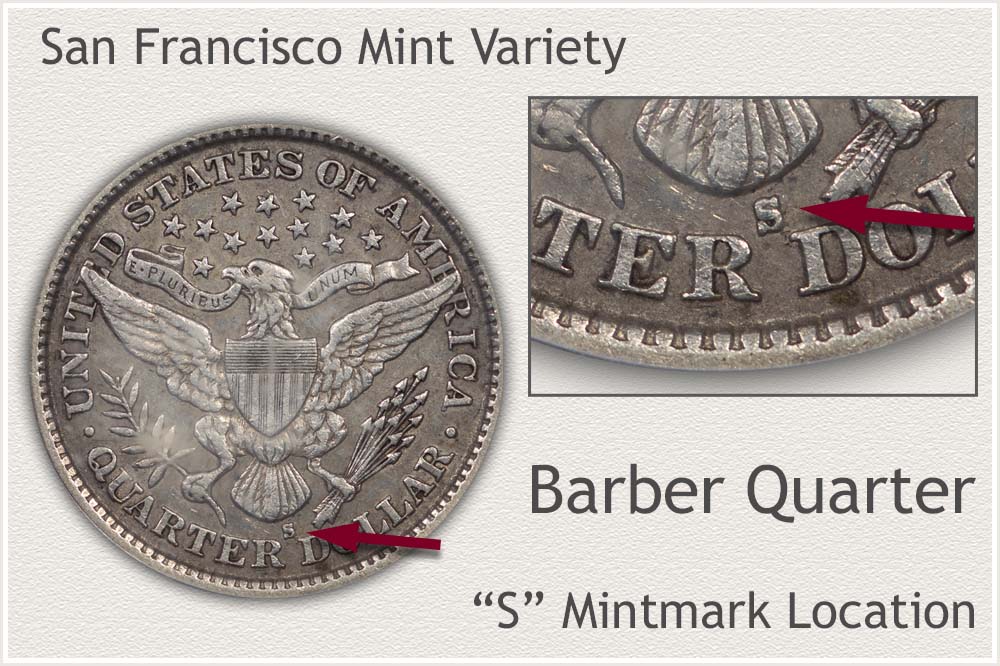 The San Francisco issue 1907 quarter is known for its scarcity when compared to the three other mint varieties of the year. Popularity of San Francisco mint coinage and the lowest production totals for the year contribute to their premium status and value.
A total of 1,360,000 of these were struck and placed into circulation. Over the decades, a majority of those produced became very worn. All examples in nice condition are in strong demand, as referenced on the value chart.
San Francisco is a branch mint and required to place a mintmark on its coinage. This mark in on the reverse in the space above "Quarter Dollar". A large "S" mintmark identifies the coinage of the San Francisco mint.
1907-O Barber Quarter
"O" Mintmark on Reverse: New Orleans Mint Struck the Coin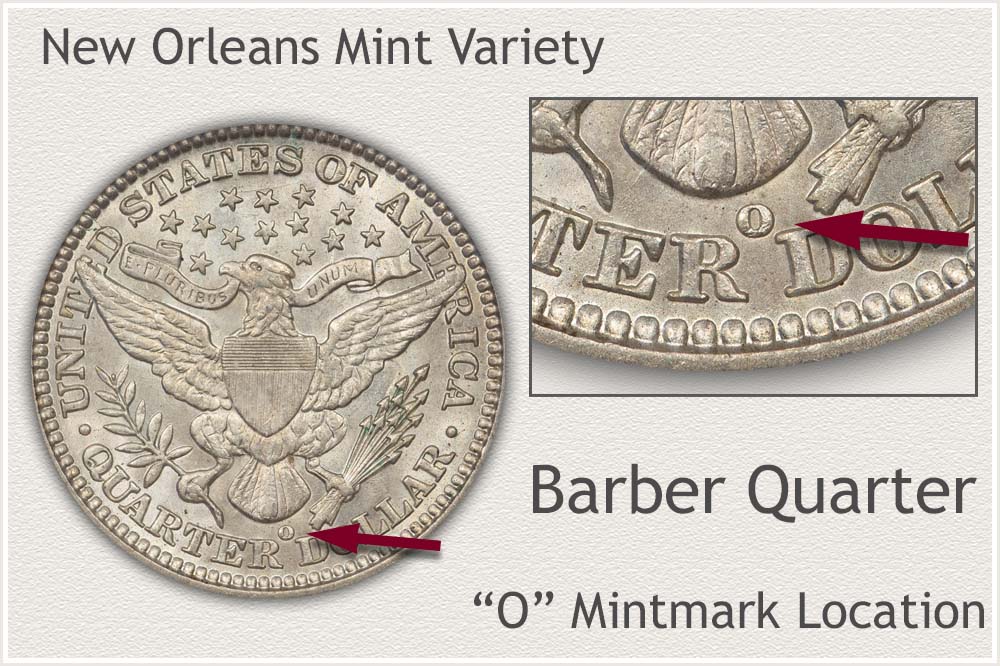 In order to distinguish a premium collectible coin from those trading based on their silver content; it is necessary to identify the exact mint variety of the 1907 quarter. The Barber series coins from New Orleans are popular with collectors, notable as produced at a now obsolete minting facility. In 1909, New Orleans ended a period of production that started in 1838.
With a total mintage of 4,560,000 quarters struck, the vast majority of these coins are valued for their silver content because of heavy wear. Collectibles of higher quality are highly prized.
To identify its coinage, New Orleans used the "O" mark. The "O" mintmark identifying the New Orleans mint is found on the reverse, just below the eagle's tail feathers.
1907-D Barber Quarter
"D" Mintmark on Reverse: Denver Mint Struck the Coin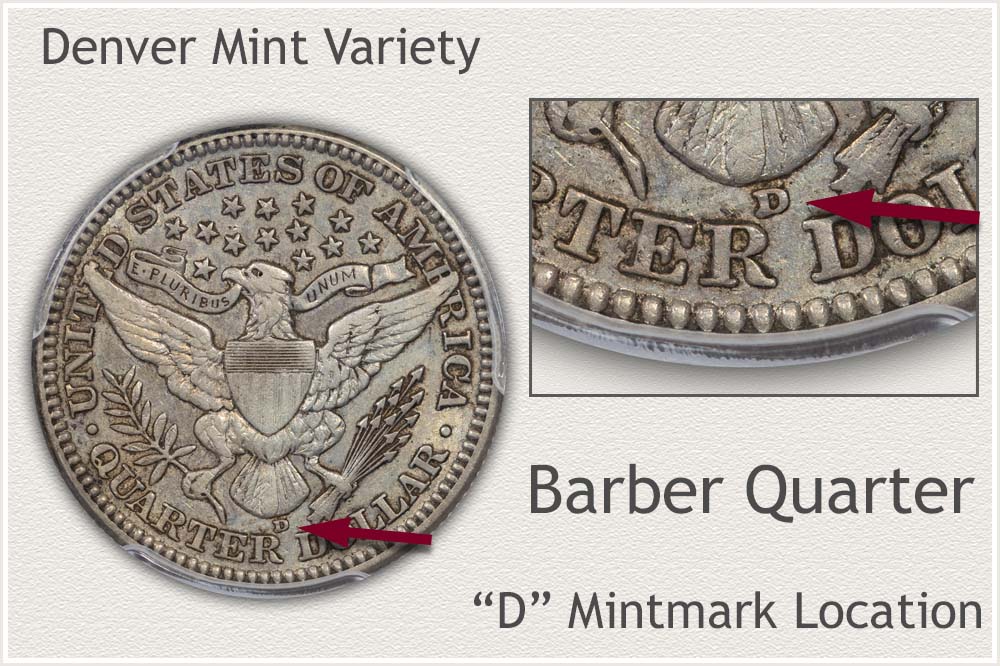 In the second year of striking Barber quarters, production decreased slightly at the Denver mint. With a total of 2,484,000, this proved ample to supply commerce. These are still available today in quantities, enough remain that low condition examples trade near their silver value. As with all of these old quarters, condition is a key factor to higher premiums. Step 2 below goes into detail helping determine a narrow condition range.
Denver issue quarters are identified by the "D" mintmark found on the reverse. Looking just below the tail feathers of the eagle, a large "D" is confirming Denver struck the coin.
1907 Barber Quarter
No Mintmark on Reverse: Philadelphia Mint Struck the Coin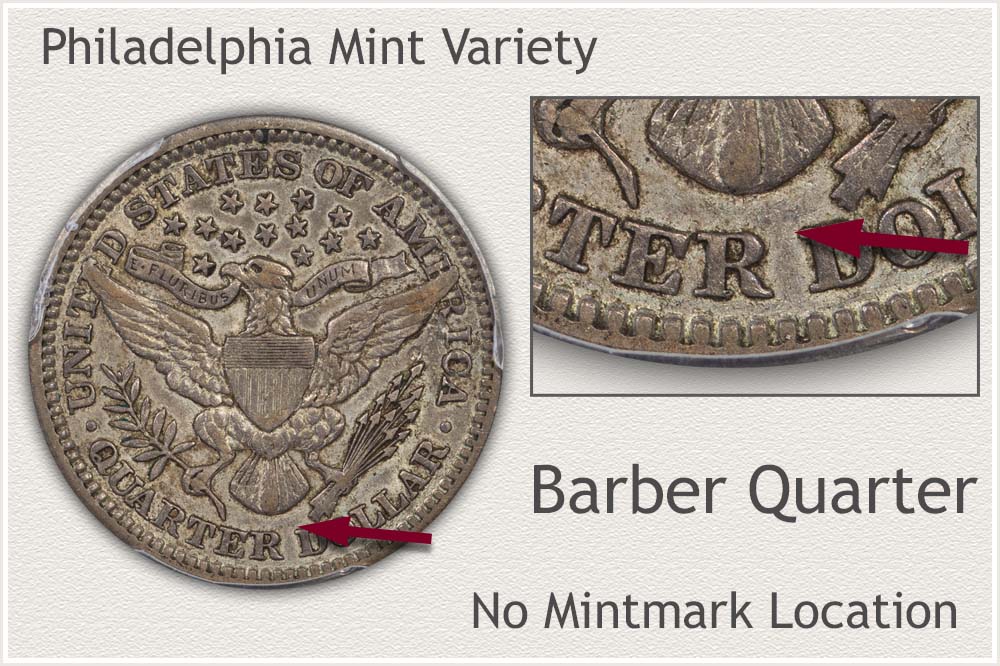 1907 Philadelphia quarters are the mintage leaders of a year with four mints involved striking Barber quarters. Producing over half the yearly total, 7.1 million pieces are of the Philadelphia variety. These are available in quantities large enough that low condition examples are priced close to their silver content value.
There is an active market for quarters of the Barber series, which supports premiums on nicer condition coins. Note on the chart, the heavily worn examples are priced closer to their silver content value.
Both the date and the mint issue are used to identify every Barber quarter on the chart. Mintmarks were used by branch U.S. mints, however the main mint, Philadelphia, did not use them at the time. An empty area above the "R" and "D" of Quarter Dollar on the reverse confirms the Philadelphia issue.
Step 2: | Grading Identifies a Condition Category
Judge an Accurate 1907 Quarter Value
One grade is recognized from the next higher grade by subtle characteristics. A condition that shows finer details of the design increases the premium value of these old quarters.
The various wear stages are categorized using a grading process. In order to determine the narrow range of conditions within a specific grade, standards are compared.
Mint State Grade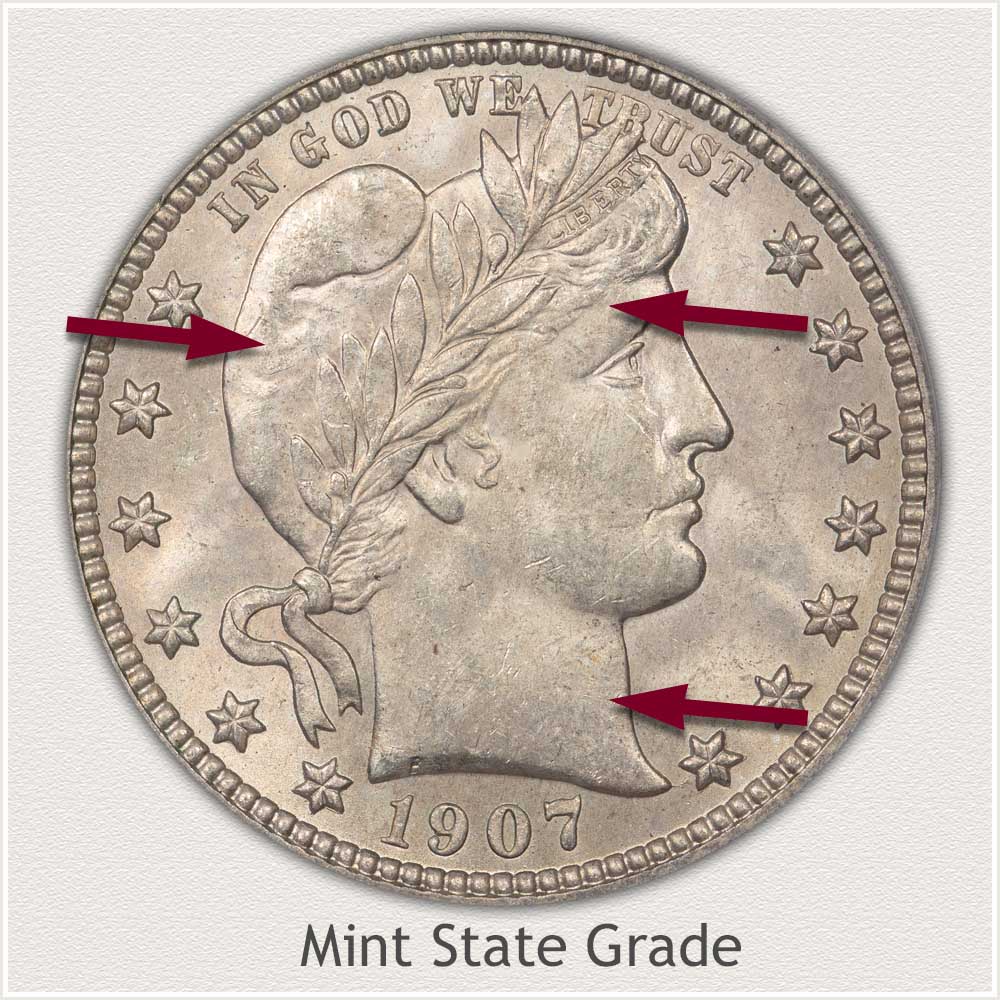 Mint State: A coin's mint state grade is significant to a collector. It represents a Barber quarter with no surface wear. In addition, all of the original details and mint luster are intact. These vintage series quarters are in a rare state of preservation.
In the design of the coin, there are many fine details. Highest points are examined to make sure none have smoothed out or become dulled from wear. Over Liberty's forehead, raised, fine hairlines are examined. It's in mint condition if original luster remains visible covering the area.
The open area of Liberty's cap is next examined closely to confirm there is no wear. When tilted and moved under a single light, luster remains reflective along outer edges of the cap.
Overall, notice her neck and cheek does not have any smooth or deepening regions of gray. In contrast to the lower intact luster in the recesses of the design, worn silver takes on a different color and texture.
Extremely Fine Grade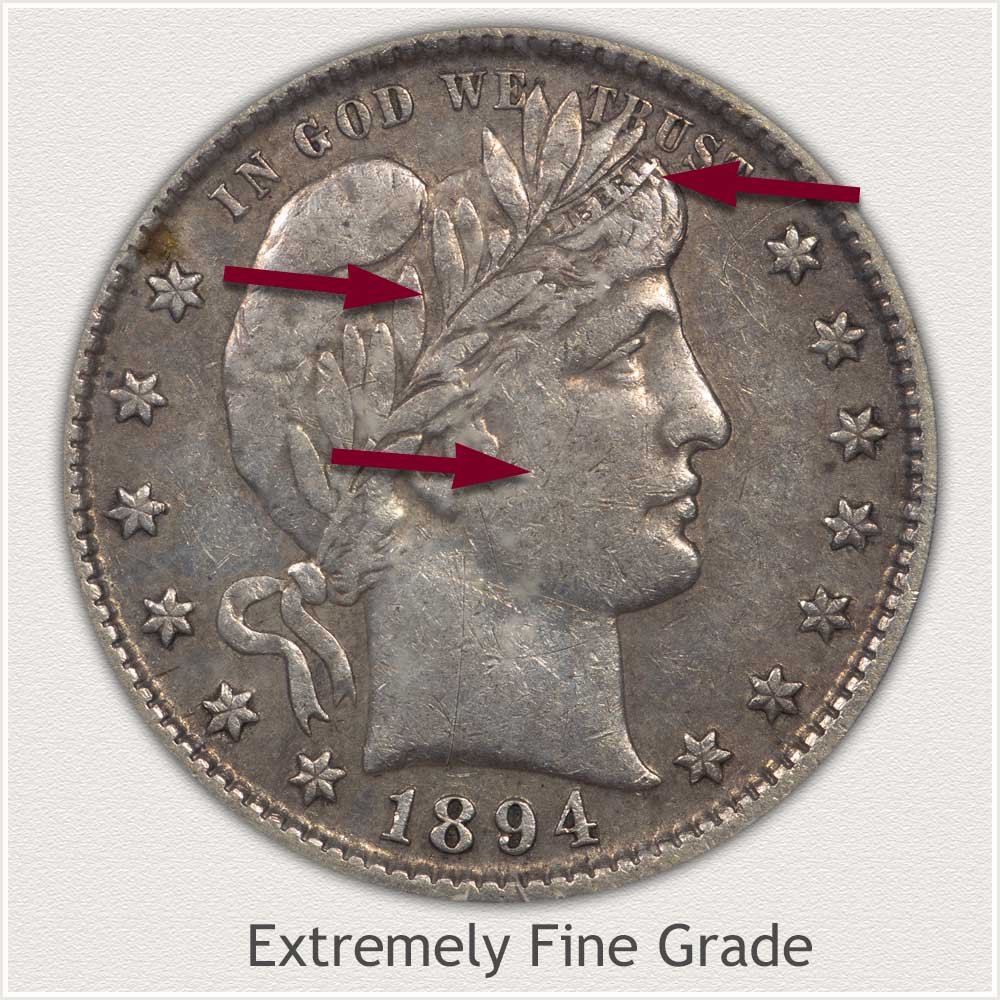 Extremely Fine: These Extremely Fine grade quarters stand out for having all of the details visible and only very minor wear on the high points. Very minor wear helps define the grade.
Judge the condition of the wreath's leaves within Liberty's hair to determine the extent of wear. There are five laurel leaves in the bottom row. Her hair is completely separate from all of the leaf edges. This is a key point to confirm. In addition, the ribbon over her forehead contains lettering of "LIBERTY" that is only lightly worn, with all letters distinct. A superior example for the grade has both an upper and lower band edge.
Overall features, cheek, and neck of Liberty are only slightly worn, and the high facial contours have barely flattened. First thing you'll notice about a quarter in the Extremely Fine grade is how crisply defined its features are.
Fine Grade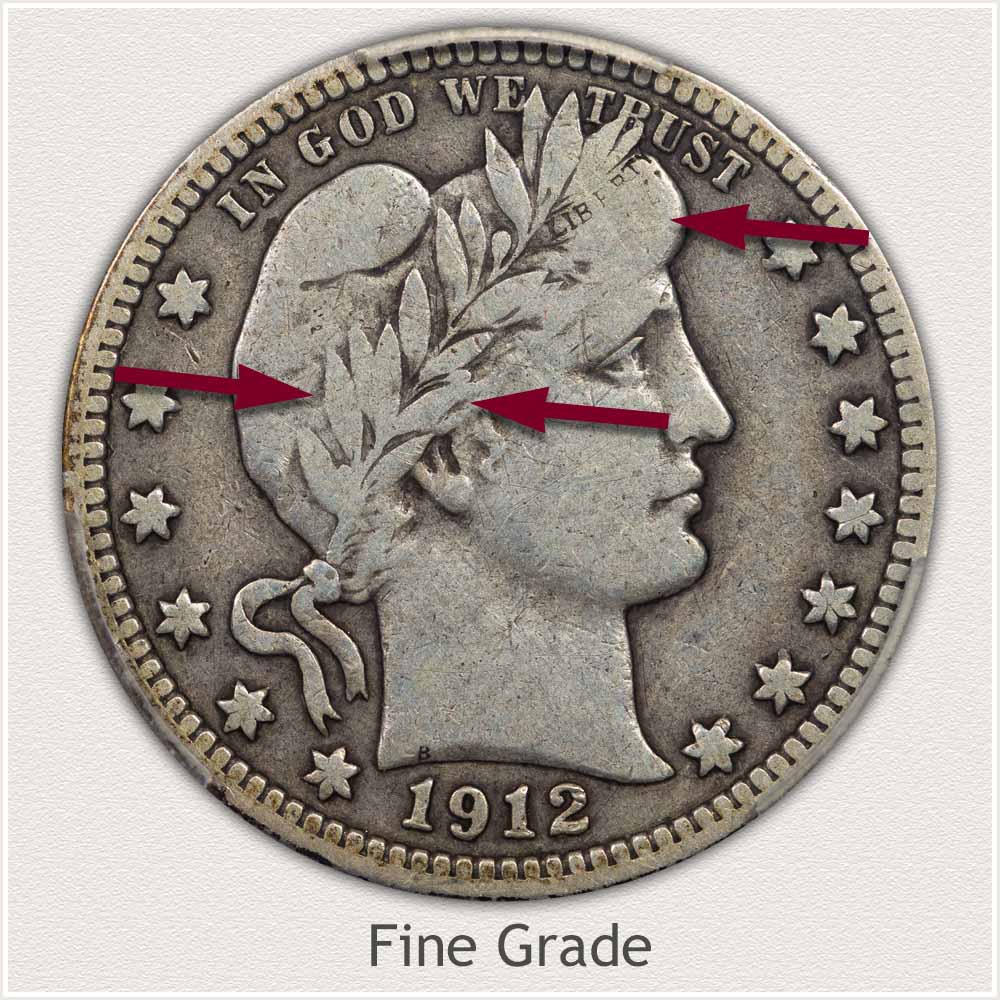 Fine Grade: A nicely detailed Barber quarter is often difficult to find. The general condition of this collectible coin is moderate wear. Despite small areas of noticeable flatness, the Fine grade is awarded to a quarter that shows substantial detail.
One point that requires examination is the laurel wreath featured within Liberty's hair. The wreath that extends to the forehead must clearly show the upper row of leaves. Indicating only moderate wear, the leaves now have a smooth and flat surface with defined edges. Notice the lower row of leaves' edges and Liberty's hair are blending together. This difference between upper and lower leaves is a characteristic that places the condition within the Fine grade range and indicates moderate wear.
Despite being worn and showing areas of flattened metal, these coins are of collector quality. Featuring a soft silver-grey color and toning that highlights the devices, pleasing examples are highly sought after.
Good Grade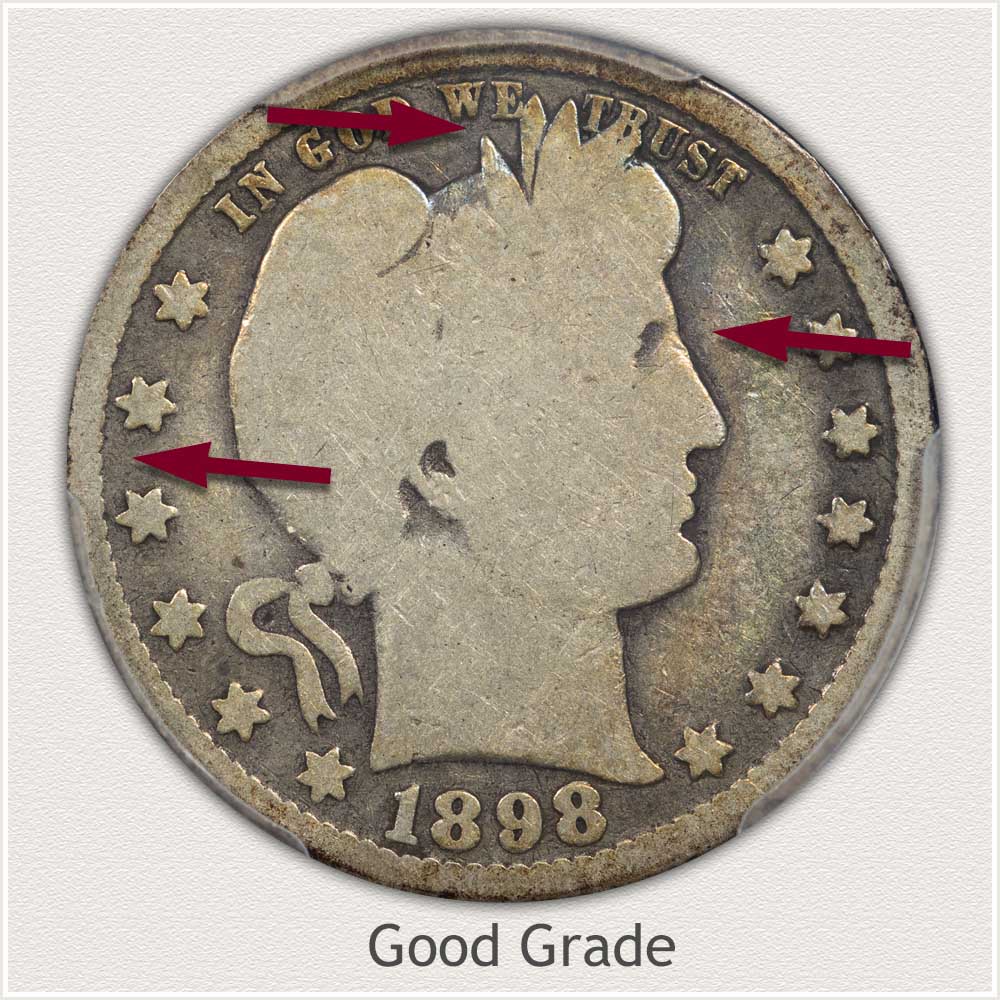 Good Grade: A rare date and mint combination Barber quarter in the Good grade is of great interest to new collectors. The definition of Good condition is Liberty's portrait is primarily an outline, but is well raised from the field.
A complete outline of Liberty is seen on the example coin. Neither the upper leaf edges nor the ribbon ends behind her head have faded into the coin's fields. A complete rim and an easily readable date serve to verify the grade. All of the edges of the stars near the rim are completely distinct from the rim, which is important to remain in the Good grade range.
These coins display heavy wear but retain a certain crispness to the edges of the remaining design elements.
How to Video: Grading Barber Quarters
Grading Barber quarters requires judgment in key areas. Inspecting these areas closely helps in determining the degree of wear and the surface quality. The information in the video and the descriptions focus on particular grading components.
Video, Images and Descriptions | Grading Barber Quarters
Step 3: | Special Qualities of Collector Status Quarters
Identify the Collector Quality Barber Quarter
1907 recorded over 15.5 million quarters minted when totaling all four mint varieties. A year of above average production and many of these quarters remain today. Two important markets trade in Barber quarters. First is the collector market, in search of nice quality examples. Second, is the silver bullion market for the very worn condition coins of certain dates with large quantities available.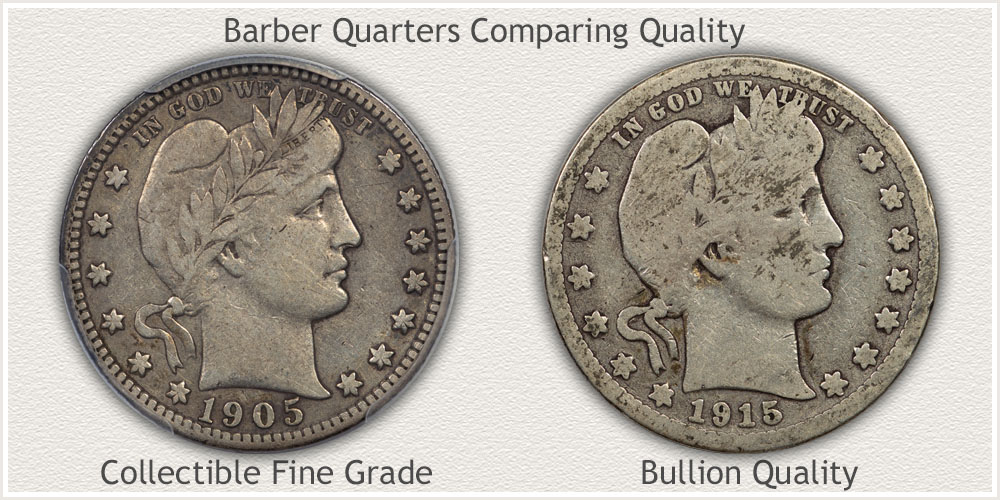 It is the condition of the coin playing a key role in determining Bullion from Collector quality and potential premium value.
Compare closely the two quarters imaged. A very clear visual difference is apparent to all collectible Barber quarters in Fine Grade and above. Importantly, all dates and mints of the entire series in Fine Grade is a quality sought by collectors.
Imaged is a low grade bullion quality example. Certain dates and mints are part of this group in these low grade conditions. Currently 5/25/2023 each is worth $5.66 . The changing price of silver moves the value up or down as silver moves.
The quarter in Fine Grade is the condition where silver content becomes a strong base and added is collector premiums depending on date and mint variety.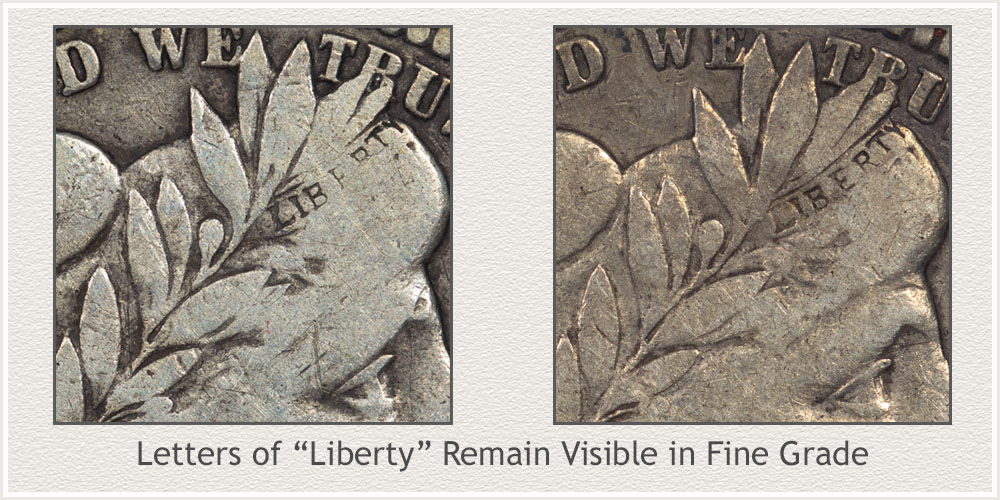 Confirming the Fine Grade to the examples is the visibility of "Liberty" across the headband. All letters visible is required to reach the Fine grade.
Second, note the leaves above the headband are fully separate and edges remain. And thirdly, a full line distinguishing Liberty's hair from forehead represents a solid Fine grade Barber quarter.
The eye appeal and scarcity of Barber quarters in better than heavily worn condition is a special quality in demand by collectors. 1907 represents one of many years in the series needing a close inspection to identify a special quality condition quarter.
References
U.S. Mint. 1908 U.S. Mint Annual Report https://nnp.wustl.edu/library/book/514124
U.S. Mint. Catalogue of Coins of the United States. https://nnp.wustl.edu/library/book/554591
Coin Values | CoinStudy Articles
Date by Date
In Depth Barber Quarter Values
1892 to 1916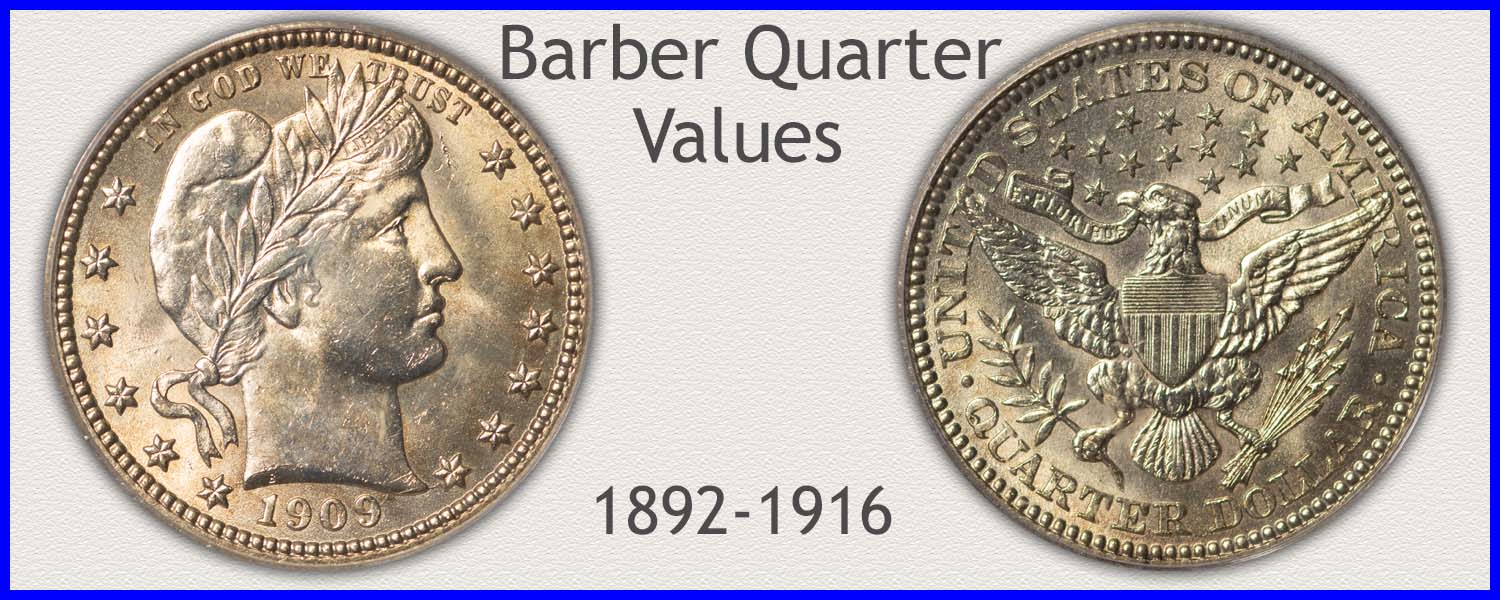 Barber Quarter Value | Many Scarce Dates
1907 is just one of twenty-five dates to the Barber quarter design series. Each is valued separately on the full value chart. Steps identifying date, mint, and condition lead to finding an accurate place on the chart.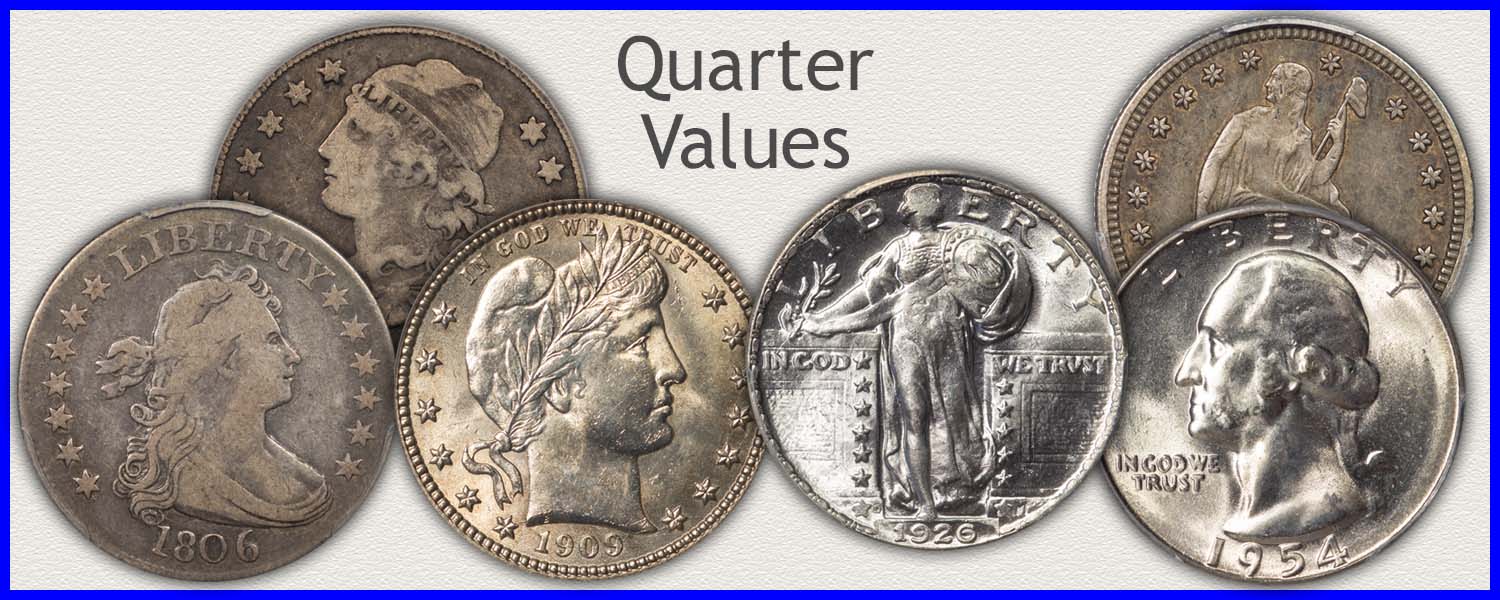 Quarter Values | Discover the Many Varieties
Major design changes took place often in U.S. quarter coinage. Images help identify your old quarter along with links to the different series. Value charts list Bust, Seated, Walking Liberty, and Franklin half dollars.
Coin Value Guide | How to Value a Coin Collection
Coin collections are of many sizes and specialties. Large to small and a wide range in values. Placing a value on these coin collections follows a process confirming all important elements, identified and judged correctly.
Safe Coin Storage | Recommendations
Select from a variety of options to safely store, maintain, and house Barber quarters and the rest of your collection of coins. Specific recommendations are made to hold single to many coins in a protected manner.
Rare Quarters | Spanning the Many Series
Many Barber quarters are entering the scarce to rare value range. Those of the 1890's are difficult to find in nice condition. All series of quarters are reviewed, pointing to the scarce and rare qualities placing these old coins high in value.
★Coin Values Discovery finds 1907 Quarter Value and...
All old coin values. Images are used to follow a step-by-step method when determining how much U.S. coinage is worth. Perform an accurate judgement of your box of old coins.