Coin Values Moving with Precious Metals: Up-Dated 11/27/2023: Gold $2010 | Silver $24.66
1892 Quarter Value
Identify the various mintmark varieties and 1892 quarter value by using the series of images.
Barber quarters are collected by determining the exact date and mint type of the coin. Collector demand for the scarce mints issues is reflected in greater premiums. Additionally, on the chart, it's noted that the higher quality coins are in strong demand.
Following the identification of mintmarks, the condition of a coin is determined with a series of grading images.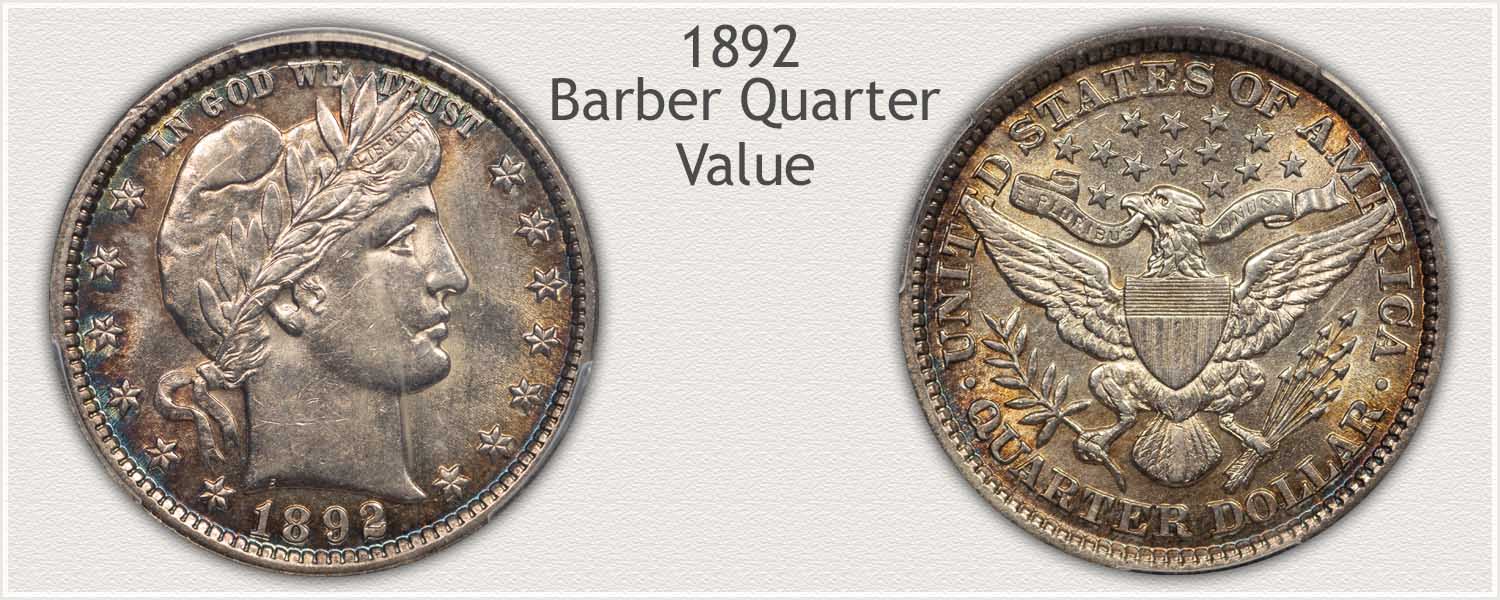 Steps Leading to Value:
Step 1: Date and Mintmark Variety - Dates found on Barber quarters are first considered, and full collections include examples from each mint for the year. These varieties are valued independently.
Step 2: Grading Condition - A premium collectible quarter is recognized by how well it is preserved and how much detail it still retains.
Step 3: Special Qualities - Among the many factors influencing the value of 1892 quarters is the historical "first of series" status the coin enjoys.
1892 Quarter Value
Condition of Coin
Date
Good
Fine
Extremely
Fine
Mint
State
Barber Quarter Values Updated
11/27/2023
1892
$6.85
$18
$55
$172
1892 O
$10.58
$37
$89
$245
1892 S
$30
$92
$201
$496
Use the chart to determine a range of wholesale values, what a dealer pays for these old Barber quarters.
Step 1: | Date and Mintmark Combination is Identified
Mint Varieties of the Barber Series
1892 began the new Barber quarter series of U.S. coinage. The first year of issue was struck at three mints. Each is collected as part of a set representing the series. Today the Philadelphia quarter is the commonly found variety. It is the scarce San Francisco quarter valued as a premium coin.
To confirm and narrow the range of values represented on the chart, a close inspection of the coin is needed. See the images below to identify the different mint issues.
1892-S Barber Quarter
"S" Mintmark on Reverse: San Francisco Mint Struck the Coin
San Francisco 1892 quarters are the scarce issue of the year. The mint's contribution to the new Barber series totaled only 964,079 pieces. These low mintage quarters today have become a difficult coin to obtain.
Any U.S. coin with a mintage under one million draws the attention of collectors. Premium values are awarded to examples in all stages of preservation. Well circulated pieces are popular with new collectors. Finding a nice, lightly circulated to better coin is a challenge to advanced collectors of Barber quarters.
San Francisco coinage is recognized by the "S" mintmark the mint placed on all of its production. Looking at the reverse, the "S" mark is visible above the lettering of "Quarter Dollar".
1892-O Barber Quarter
"O" Mintmark on Reverse: New Orleans Mint Struck the Coin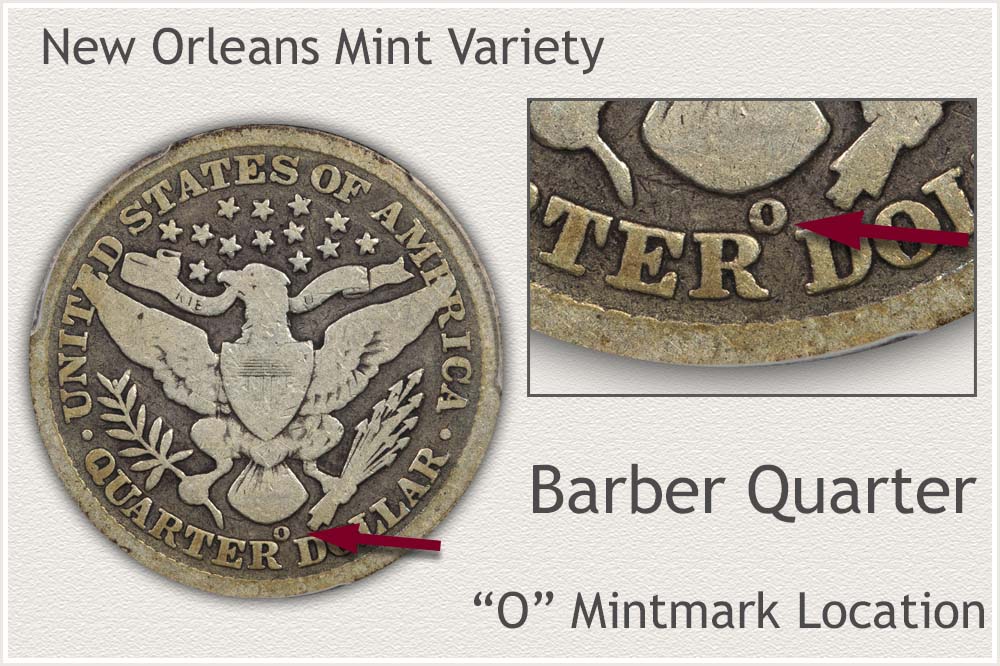 Supplying the central part of the country, the New Orleans mint was important in launching the new Barber quarter series in 1892. Minting over 2.6 million quarters, New Orleans, along with the Philadelphia mint, produced the majority of quarters for the year. A nicely detailed example is a premium collector coin. Additionally, heavily worn pieces are worth slightly above base silver value.
Mintmarks placed on the coinage of branch mints are used to identify the different mining facilities. A large letter "O" is the mark of the New Orleans mint and is found on the reverse of these quarters.
Locate the New Orleans mintmark above the "R" and "D" of Quarter Dollar. Just under the tail feathers of the eagle, the "O" identifies the New Orleans mint struck the coin.
1892 Barber Quarter
No Mintmark on Reverse: Philadelphia Mint Struck the Coin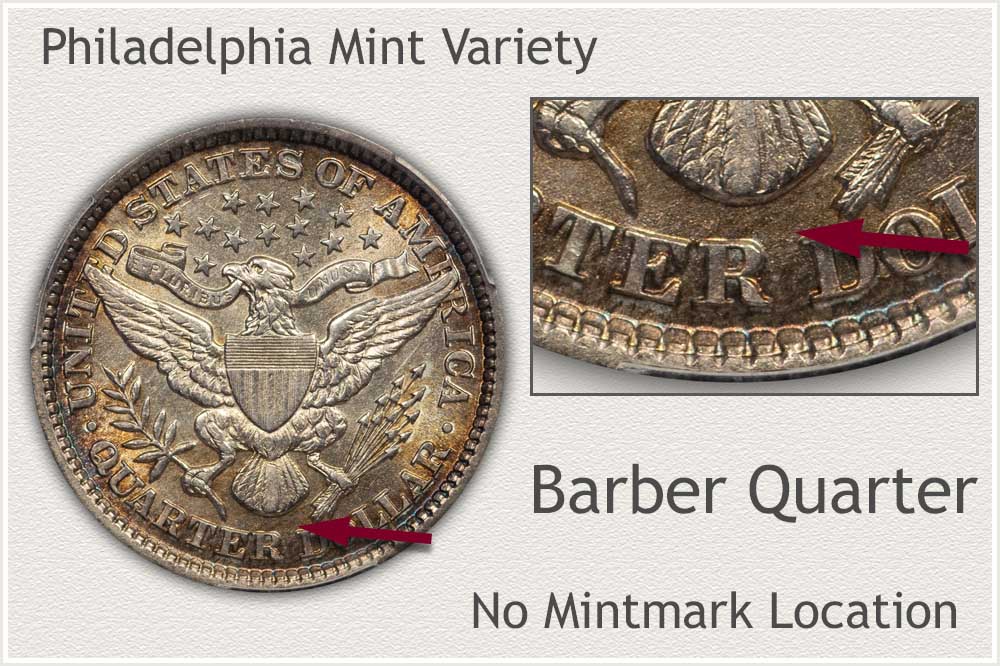 Beginning in 1892 the Philadelphia mint introduced the new "Barber" quarter. A design by Charles E. Barber, the engraver of the mint at Philadelphia. The new quarter features a female Liberty with an olive wreath around her head and a Phrygian cap. Supplying over 8.2 million of the new quarters, Philadelphia issues of 1892 remain affordable and obtainable to collectors today.
Mintmarks denote and identify branch mints of the U.S. with the Philadelphia mint identified by not using a mintmark. Absence of any mark in the area above the lettering of "Quarter Dollar" is a new Barber quarter minted in Philadelphia.
Step 2: | Judge Condition to Assign a Grade
Compare to Images to Grade and Narrow 1892 Quarter Value
As seen by the ascending values on the chart, condition of a coin is of importance to its desirability and premiums within the collectible market. Following a scale, condition is compared to images representing standards of grades, and a grade is determined. Grades define conditions.
Match your coin to a similar image. Using the descriptions to focus on significant markers determining stages of wear and help confirm the grade.
Mint State Grade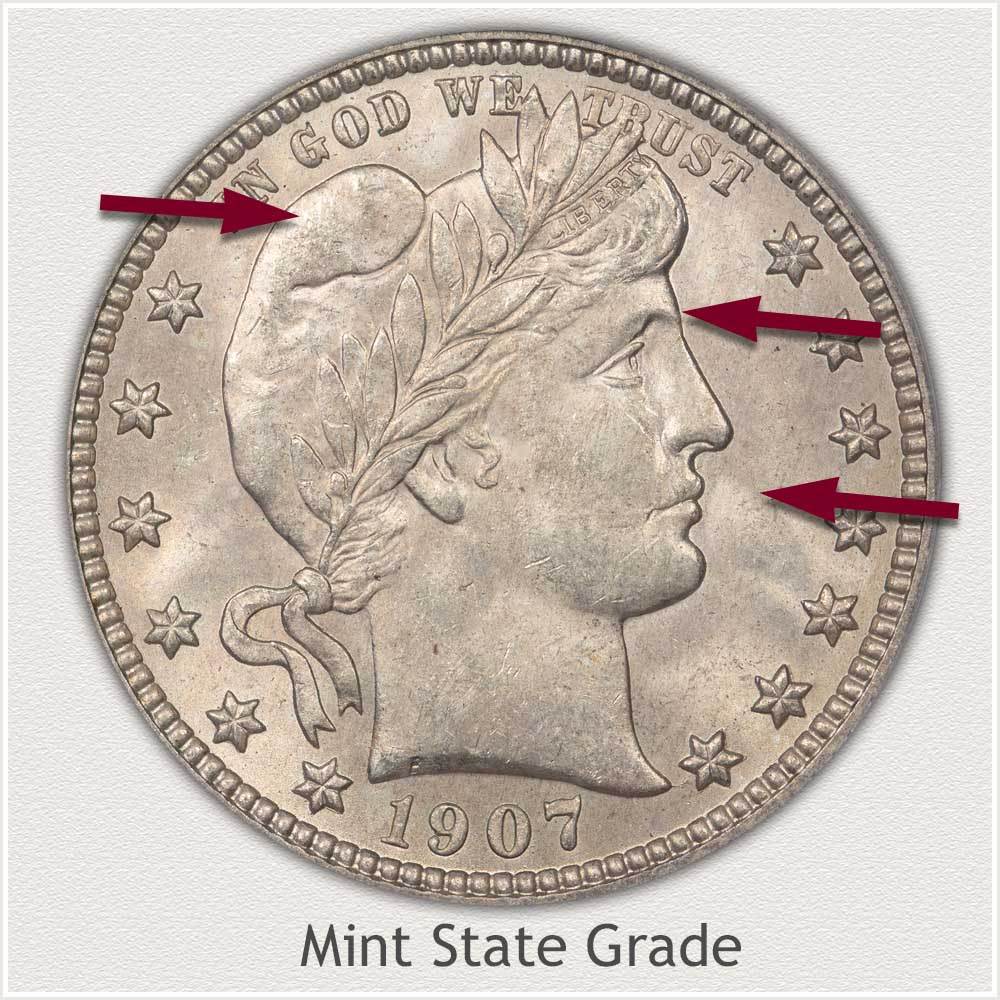 Mint State: Mint State grade is the top-quality category of a coin's condition. Defined as a coin without any wear to the surface. Additionally, luster, the shine, is full across both the high relief and low areas of the surface.
A coin's design is made of fine and major details on both high and low areas. An inspection of Liberty's eyebrow, a very high point, shows no smoothing of the metal and remains rounded in contour. Wear on the eyebrow quickly causes a flat spot.
Luster is a delicate, fine texture, that is reflecting light causing the sparkle and shine of a minted surface. Tilting a mint state coin under a light, intact luster radiates across Liberty's cheek under her eye. This is an open area and prone to smoothing and dulling from circulation wear. Complete luster over the cheek and neck indicates a Mint State Barber quarter.
Extremely Fine Grade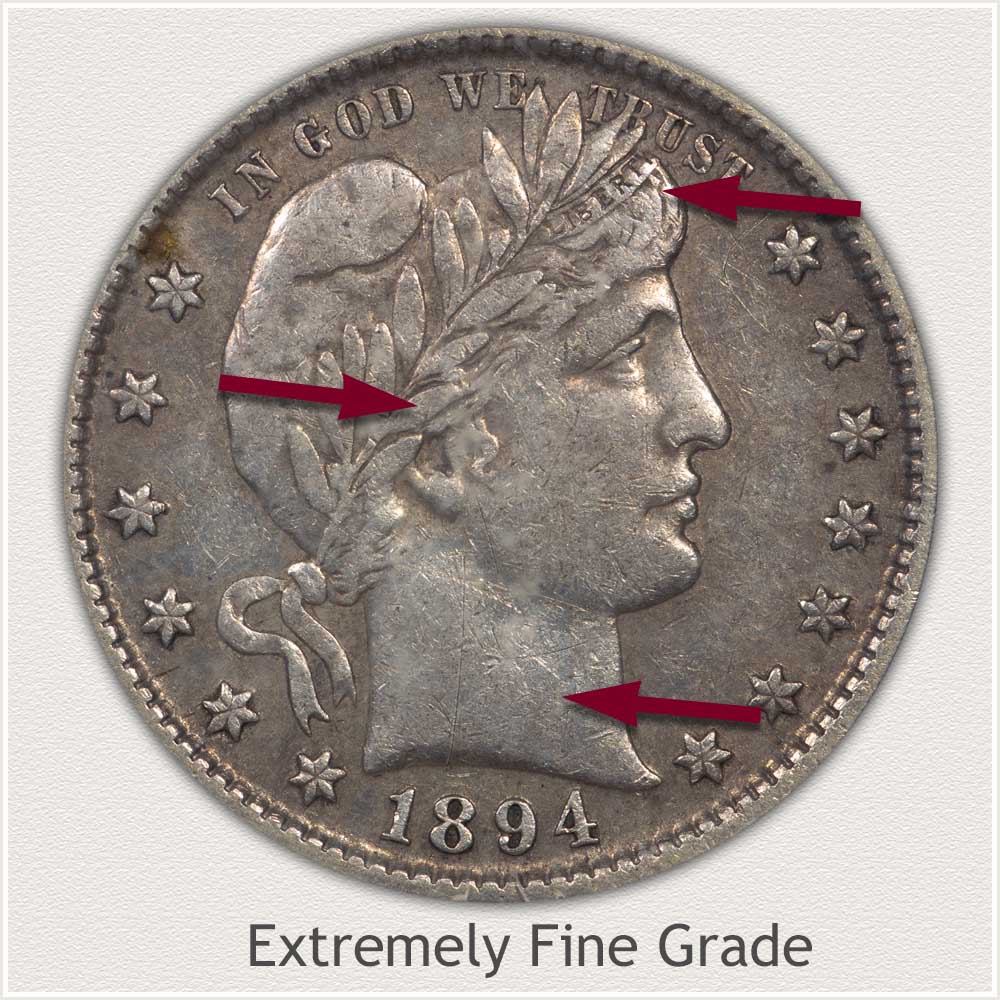 Extremely Fine: A notable feature of these Extremely Fine grade quarters is all details are visible with only a slight amount of wear across the high points. Very light wear helps define the condition.
In order to judge the amount of wear, inspect the leaves of the wreath within Liberty's hair. Five laurel leaves are part of the lower row. All edges are fully separated from her hair. This is an important detail to confirm. Next, the ribbon over her forehead contains lettering of "LIBERTY" is only lightly worn with all letters distinct. A very nice example for the grade shows both an upper and lower edge to the band.
Liberty's overall features, cheek and neck are only slightly worn, with little flattening of the high contours within the face. A sharply defined coin is the first impression when viewing an Extremely Fine grade quarter.
Fine Grade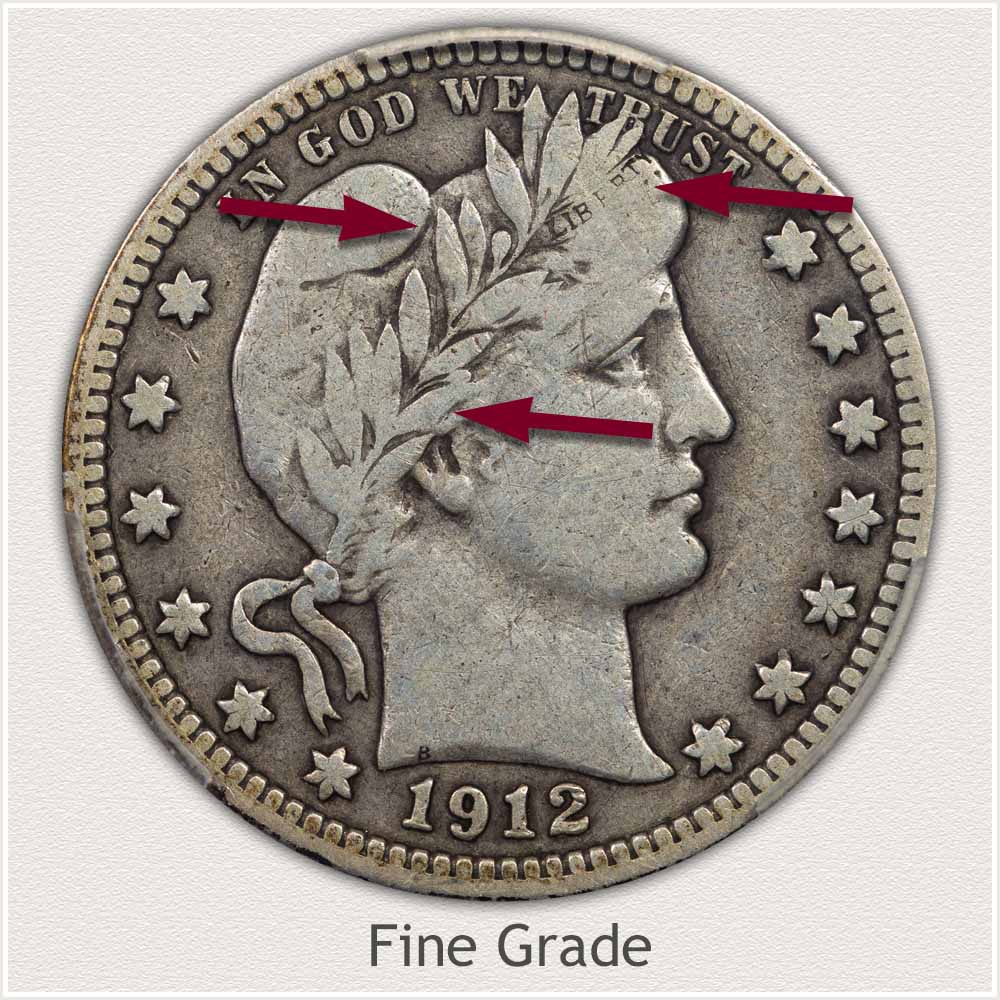 Fine Grade: A leading force supporting strong premiums for these quarters is the large collector base. A moderately worn quarter with many details remaining describes and defines the condition of the Fine grade. With a pleasing amount of detail, these eye appealing coins form nice collections of this vintage series.
One of the areas to inspect to confirm a quality example is the headband of Liberty with the lettering of "LIBERTY". These letters are deeply incused into the design, and when all are visible, the coin is well within the Fine grade of condition. If parts of the upper and lower edges to the ribbon remain, the coin becomes solid for the grade.
Overall, the majority of original small details are worn smooth. Leaves of the wreath have lost their high and low contours and have become a flat, smooth surface. Importantly, all leaves in the upper row are outlined with just traces of blending. A noticeable blending of the leaf edges is seen in the lower row.
A moderately worn coin with no distracting large marks or dents is a nice example of collector quality.
Good Grade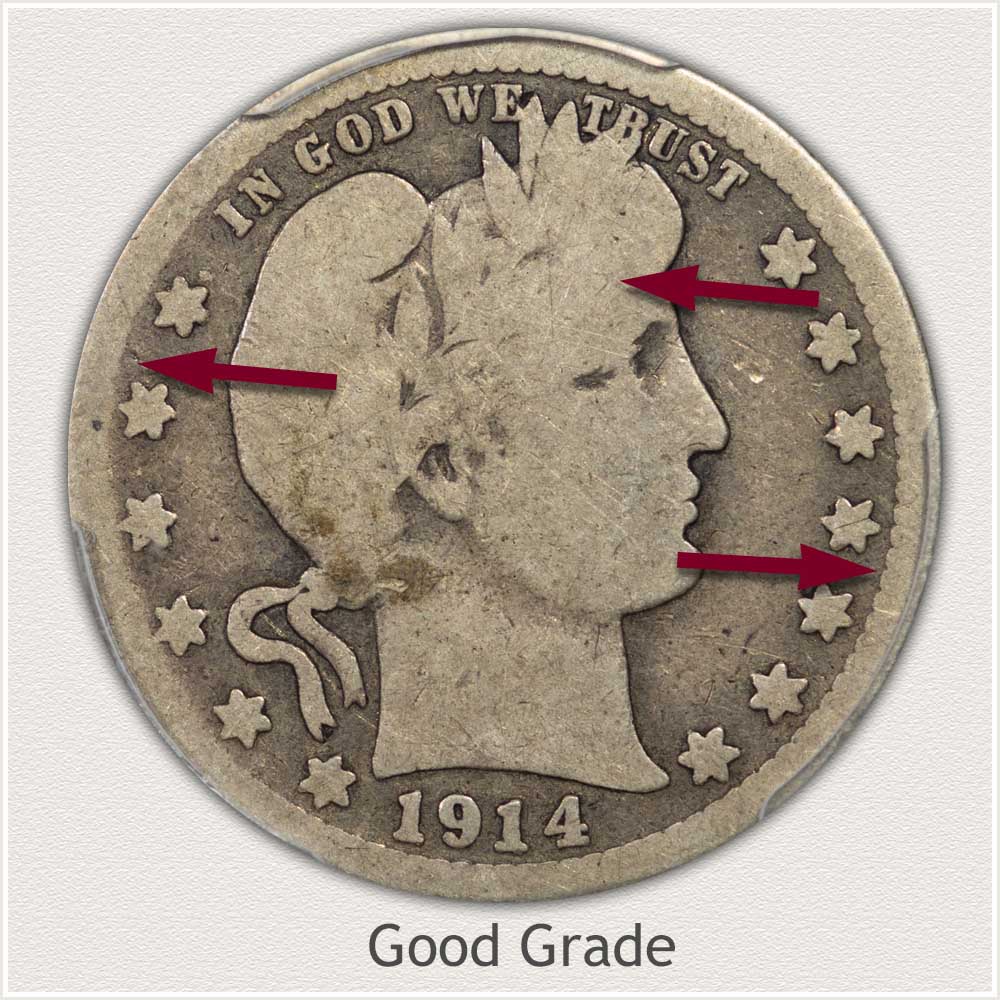 Good Grade: An outlined portrait of Liberty with few central details, defines the condition of a quarter in Good grade.
Over Liberty's eye, the once strong hair line and all elements of the headband are missing. Ends of leaves remain along the top of the portrait, with slight detail to the cap at the back of her head. Importantly, the entire portrait is completely outlined, no fading into the fields of the coin.
A complete rim is helping determine the Good grade. All the stars are raised from the field, and the clear date gives the coin a nice impression. No distracting marks catch the eye on the example quarter, overall, remaining details are well displayed.
How to Video: Grading Barber Quarters
Video highlights additional features for each of the different grades. Identify an accurate condition of your quarter and separate one grade from the next.
Video, Images and Descriptions | Grading Barber Quarters
Step 3: | Special Qualities and Historical Value
1892 Quarter's Appeal as a Collectible
A long running quarter design featuring a Seated Liberty was retired in 1891 and the Liberty portrait quarter began its introduction starting in 1892.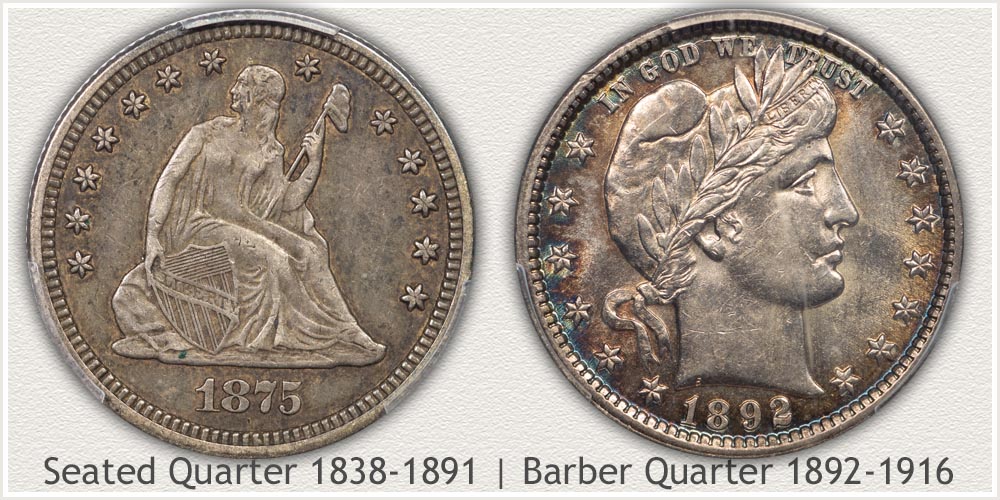 The new design quarter now displays a large portrait of Liberty, a very different design from the previous Liberty series. The new reverse design draws from earlier coinage with the eagle and shield. Later, the new quarters acquire the name of "Barber" quarters in reference to designer Charles E. Barber.
Major design changes in U.S. coinage become historical event. Often, collectors seek these "first of series" pieces, creating demand and nice premiums. The public also tends to save new design coinage as keepsakes.
Three mints struck 1892 quarters, Philadelphia, New Orleans, and San Francisco. Of the three varieties, an ample number were saved except for the San Francisco issue. First year of series, San Francisco quarters were produced in modest quantities and are elusive in all states of preservation.
All Barber quarters enjoy demand from collectors as a vintage series. Added to 1892 coinage are elements of historical interest, a complete design change, and a scarce mint variety. Participation in the Barber series spans interest from new to advanced collectors, 1892 is a special year in U.S. coinage.
References
U.S. Mint. 1893 U.S. Mint Annual Report https://nnp.wustl.edu/library/book/317
U.S. Mint. 1891 U.S. Mint Annual Report https://nnp.wustl.edu/library/book/512060
Coin Values | CoinStudy Articles
Date by Date
In Depth Barber Quarter Values
1892 to 1916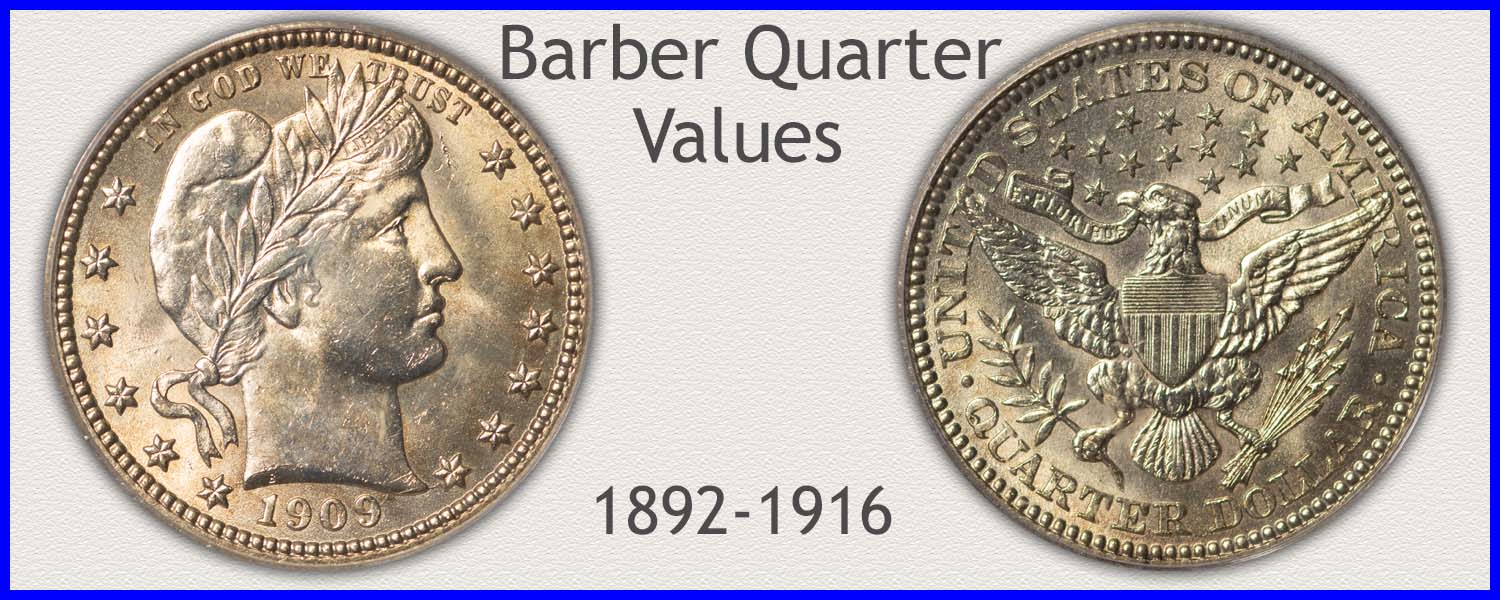 Barber Quarter Value | Strong Demand by Collectors
Collectors seek 1892 quarters as part of the long running Barber design series. Full listing of the many date and mint combinations are found on the value chart. Mintmark images and grading images identify and judge these old quarters finding an accurate value of each.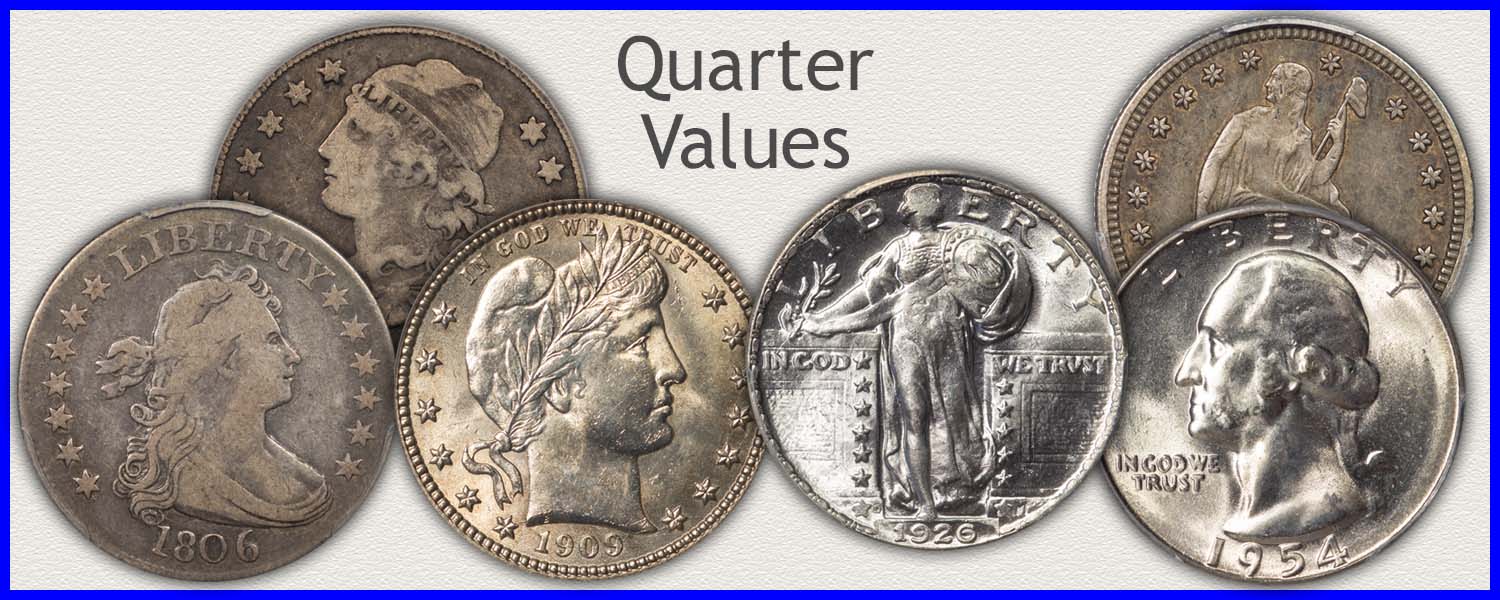 Quarter Values | Discover the Many Varieties
Major design changes took place often in U.S. quarter coinage. Images help identify your old quarter along with links to the different series. Value charts list Bust, Seated, Walking Liberty, and Franklin half dollars.
Old Coin Values | Step by Step
Determining the value of a few coins or complete collections follows a similar process. Important factors are recorded, including series, date and mint combinations. Barber quarters are listed and organizes alongside, but separate of other series. Steps are taken in specific order to assure a compete judgement of value.
Print the Coin Values Worksheet
List valuable Barber quarters individually with important date, mint and condition descriptions. Continue with the rest of your collection. Record current values organizing your coin holdings.
Safe Coin Storage | Recommendations
Worn coins show wear, nicks, and marks form use. Mint state coins are at risk of discoloration and darkening over time. Proper storage helps protect, maintain, and preserves condition and values. Collectors use individual and bulk storage options to house their collections and groups of coins.
Popular Coin Series | Collectible Quarters
Values of Barber quarters are supported by their silver worth and demand as a collectible. Popular series are charted in order of collector interest. From series of cents to gold coin series, numbers of collectors assembling sets gives insight to the strength of demand.
Rare Quarters | Scarce U.S. Coinage
A review of the quarter series of U.S. coinage finds many valued in the hundreds of dollars and higher. Over the decades many dates were produced in low quantities with few remaining today. Special qualities of rare quarters are explored.
Coin Grading Services | Professional Review of Condition
Grading of Barber quarters can lead to recognizing coins in the over one hundred dollar value range. With large premium coins; subtle points to condition are very important to judge accurately. The top two grading services NGC and PCGS authenticate and grade coins, providing a market accepted judgement of condition.
★Coin Values Discovery finds 1892 Quarter Value and...
All U.S. coin values. Coins are valued on a scale depending on the series, date, and condition. These primary elements are part of a step-by-step process followed when judging old coins. Start the process by comparing to images of the different series of U.S. coins and links to each series and value charts.