Coin Values Moving with Precious Metals: Up-Dated 9/25/2023: Gold $1921 | Silver $23.44
1914 Quarter Value
1914 quarter value is largely determined by the condition of your coin. These vintage series of Barber quarters are sought and valued by two large and different marketplaces.
Value of silver they contain is the foundation. Following that, coin collectors seek examples in nice condition. A higher-quality coin is important to identify in order to determine an accurate value.
Important elements, including date and mint combination, and determining condition, are covered using the step-by-step procedure below. A premium collectible is recognized from the base silver coin by finding the correct listing on the chart.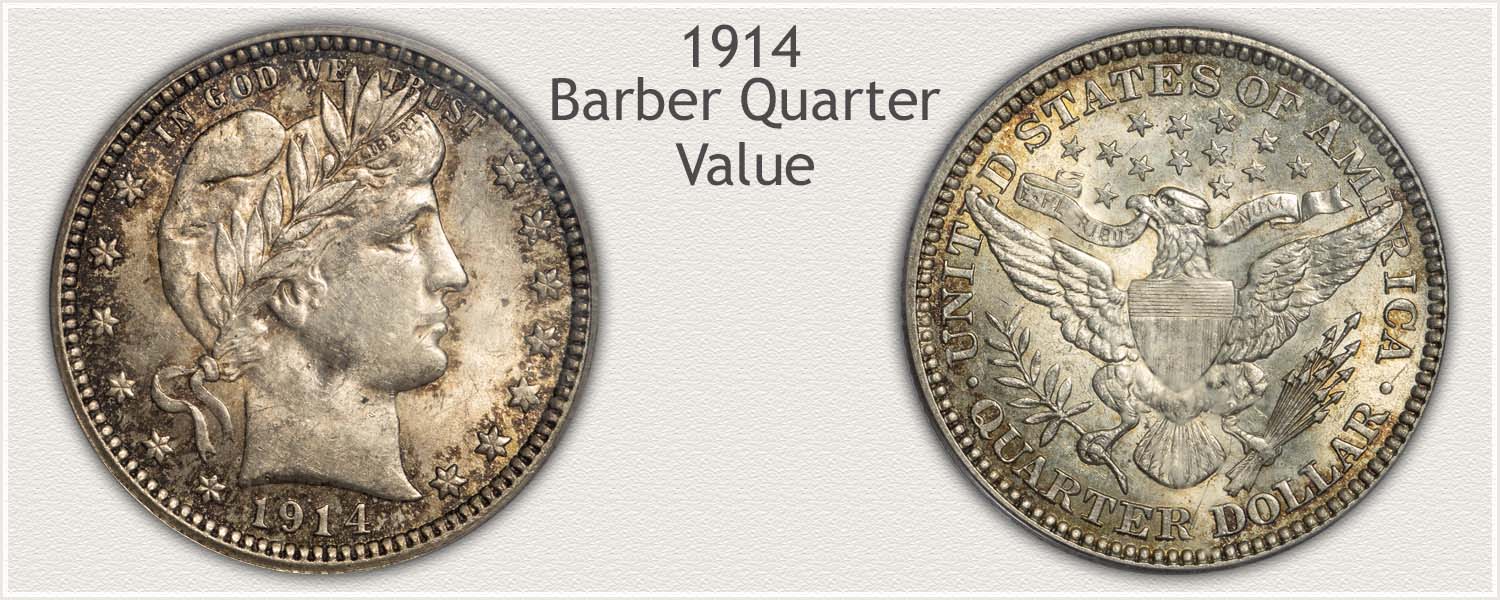 Steps Leading to Value:
Step 1: Date and Mintmark Variety - There is a potential difference in value depending on which mint struck a 1914 quarter. The different mint issue and the date combinations are identified and collected separately.
Step 2: Grading Condition - Condition of a coin is described by dealers and collectors in terms of a grade. Grades are depicted using images in Step 2.
Step 3: Special Qualities - Often, values increase due to minor factors. To finish the process of assigning value, other elements are taken into consideration.
1914 Quarter Value
Condition of Coin
Date
Good
Fine
Extremely
Fine
Mint
State
Barber Quarter Values Updated
5/25/2023
1914
$5.66
$15
$51
$171
1914 D
$5.66
$16
$52
$194
1914 S
$86
$250
$699
$2,062
Above are a starting point to determining a wholesale value of your Barber quarter. Follow the steps to narrow the range of subtle grading points.
Step 1: | Date and Mintmark Combination Recognized
Important to Recognize the Scarce San Francisco Quarter
The Philadelphia variety 1914 quarter is plentiful today because of high production for the year. It is less likely to find quarters from the branch mints of New Orleans and San Francisco because of lower production.
Mintmarks were used to identify each branch mint that issued coins. To find and verify these mintmarks, use the following images of the different marks.
1914-S Barber Quarter
"S" Mintmark on Reverse: San Francisco Mint Struck the Coin
Very low numbers of 1914 San Francisco quarters were minted, just 264,000. When released into circulation, they quickly become worn, and values listed on the chart indicate few remain in better than heavily worn condition.
Starting at a strong premium in low grades, these quarters are in demand by the many Barber quarter collectors. San Francisco 1914 quarters are the "difficult" variety of the year to find in nice collectible grades.
It's important to note the large letter "S" on the reverse of the coin, in the area just above "Quarter Dollar." The "S" mintmark identifies the coin as the premium San Francisco mint issue.
1914-D Barber Quarter
"D" Mintmark on Reverse: Denver Mint Struck the Coin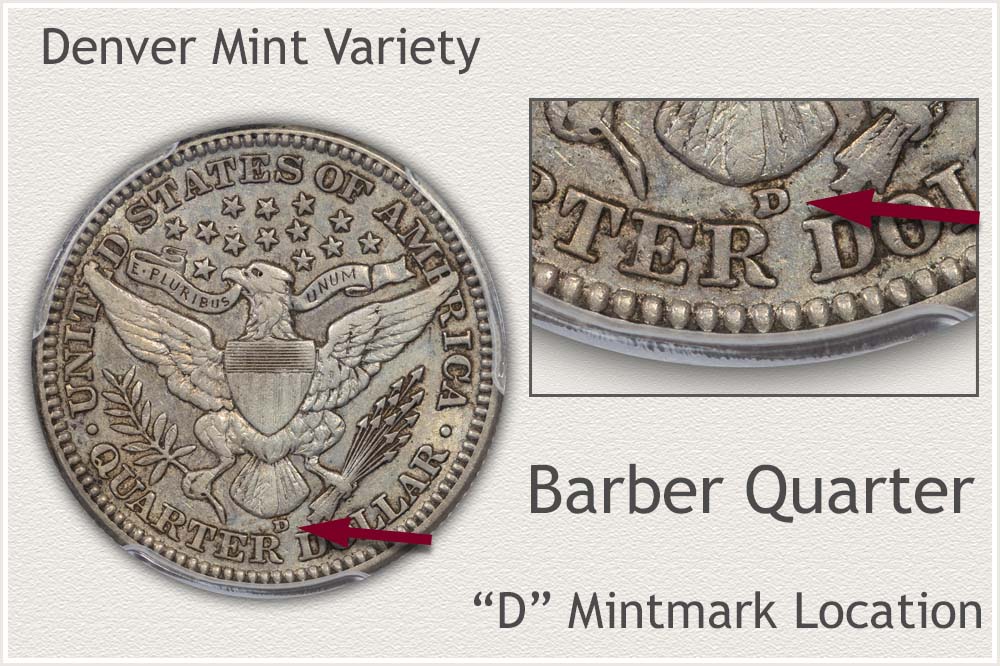 Today's collector finds the 1914 Denver variety quarter an available and affordable coin to add to their Barber series collection. Substantial quantities of the quarters were struck at Denver, totaling just over 3 million pieces. Nicely detailed and better examples are a popular and sought-after coin.
The Denver mint supplied the central U.S. and mint marked all of their coinage with the letter "D". On the reverse, inspect the area above the "R" and "D" of QUARTER DOLLAR. The large "D" is confirming the Denver mint variety.
1914 Barber Quarter
No Mintmark on Reverse: Philadelphia Mint Struck the Coin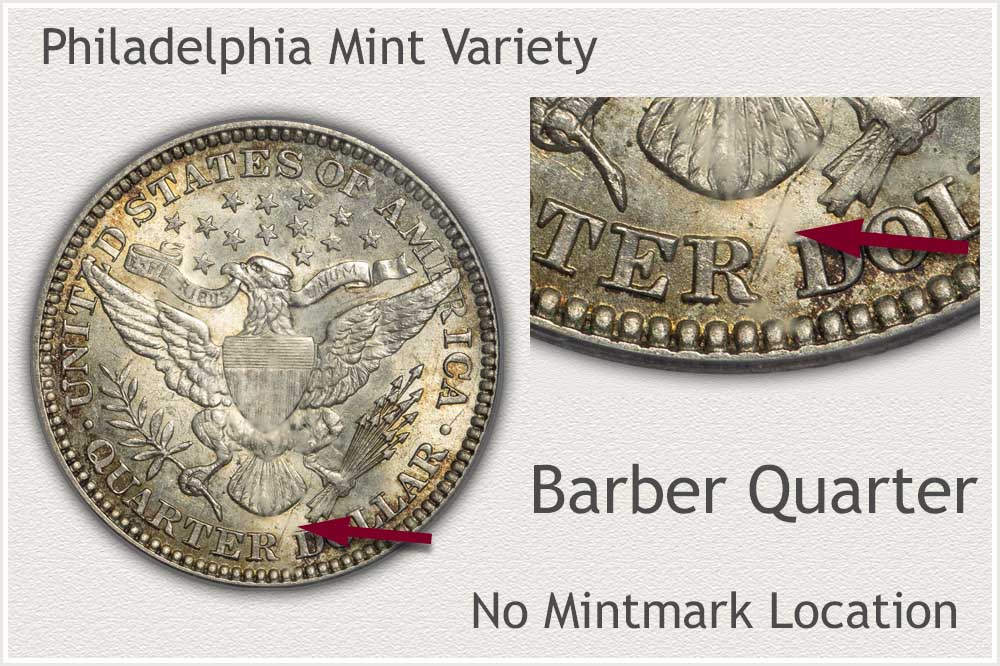 Produced in ample quantities to meet the needs of the time, 1914 Philadelphia issue quarters remain available today in quantity. Over 6.2 million were struck and placed into commerce. However, most circulated for a long time becoming very worn. These represent the majority of examples found today and are valued close to silver content. Few were set aside in lightly worn or nicer condition.
As noted on the chart, to attract collector interest, a quality of Fine grade or better is required. These high condition pieces are limited in quantity.
Inspect each quarter for the presence or absence of a mintmark, Barber quarters are collected and valued by date and mint combination. Philadelphia mint coinage is recognized by the absence of any mintmark on the reverse. If the space over the lettering of the "Quarter Dollar" is empty, it is the Philadelphia mint variety.
Step 2: | Condition is Defined by Grades used by Collectors
Identify High Quality 1914 Quarter Value
Judging the condition of 1914 quarters is essential because of higher premiums in collector quality grades. Grading assigns these coins to categories on the value chart after judging and defining their condition.
Using images of different grades helps see both large and small changes to a coin's surface as it becomes worn through use. Note the details indicated in the descriptions pointing to certain features of the design showing stages of wear.
Mint State Grade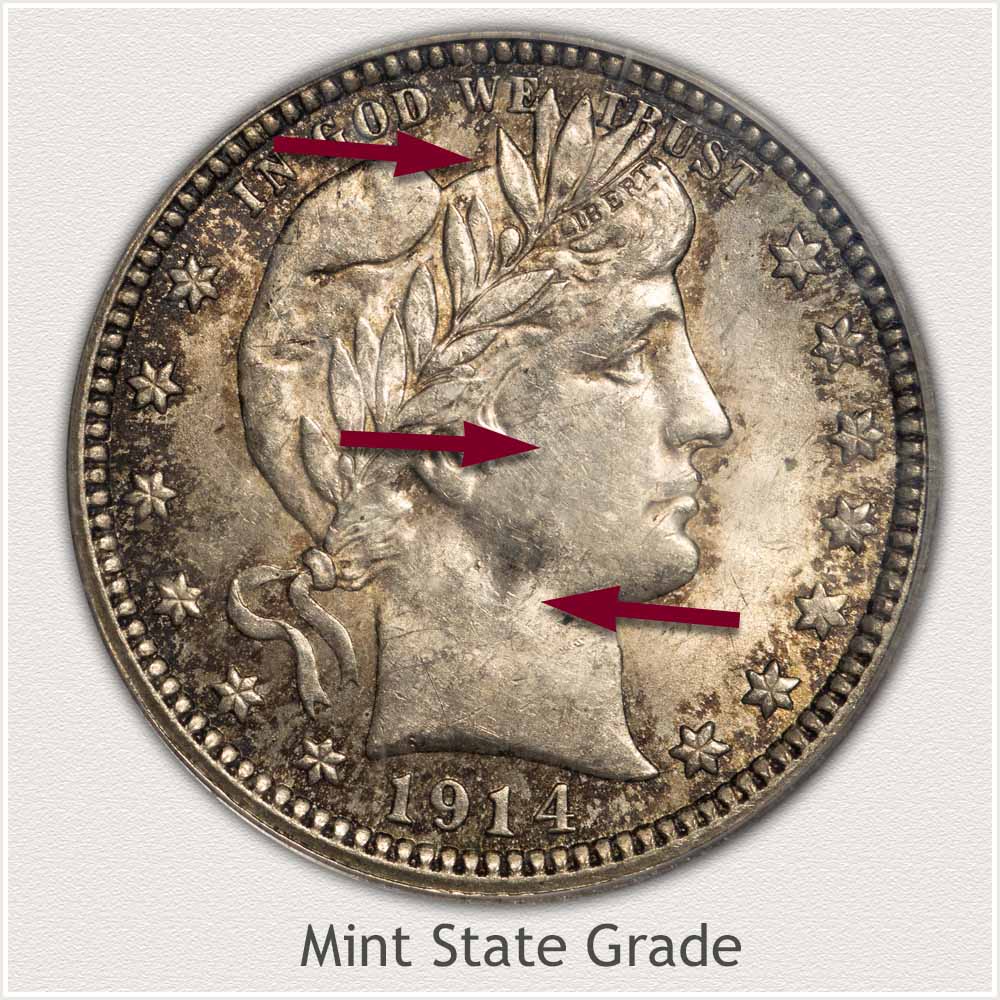 Mint State: Mint State coins are in the highest possible condition, with no signs of wear that would dull their luster. These coins were never circulated and remain without any wear. Unworn Barber quarters retain their luster over the entire surface including the design's high points.
When you examine Liberty's cheek, note that both the raised and lower portions of the contour have the same surface texture. The luster radiates equally from both high and low areas of the contours.
Looking closely at the laurel leaves that make up the wreath in her hair, fine edges of the leaves are not worn or show loss of any metal.
When the coin is rotated under a light, a radiant shine is full and spreads across its surface.
Extremely Fine Grade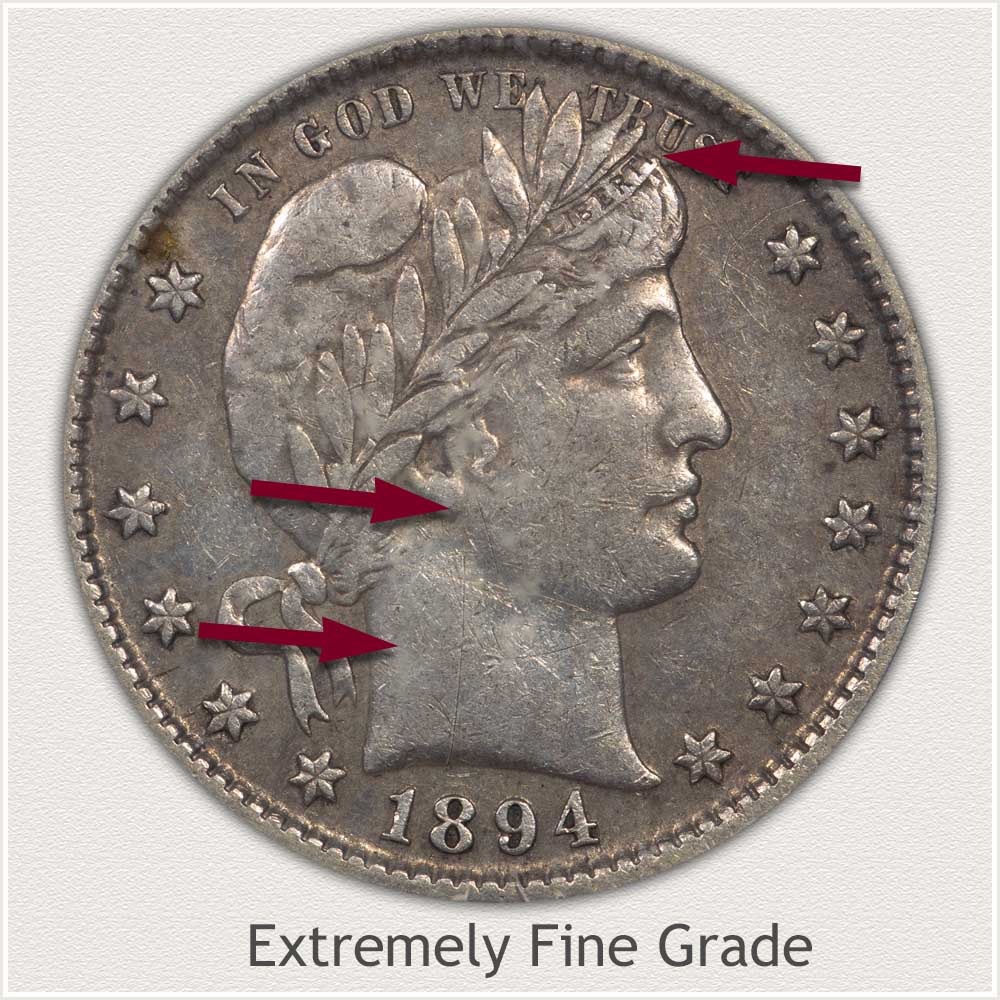 Extremely Fine: This quarter displays many fine details that remain crisp and sharp. On the very tops of the design, only a small amount of metal has worn away by circulation wear. In its current state, the coin is a strong candidate for the grade of Extremely Fine.
Examine the "LIBERTY"-inscribed band in Liberty's hair to help determine the coin's condition. Deeply impressed, full letters are a key detail to confirm. It is possible to read all the letters, including the "Y" at the top of her forehead.
The cheek and jaw line of Liberty's portrait once had a texture of luster covering it, but wear has dulled and smoothed the surface. There does remain high, rounded contours along the jaw line and neck. Metal of her face is only slightly flattened as a result of wear, barely noticeable.
A sharply defined Barber quarter falls within the collector quality and worth.
Fine Grade
Fine Grade: There is something visually appealing about a Fine grade Barber quarter. Collectors struggle to find nice examples of these vintage series coins because so many of them are in very worn condition. It is this scarcity that gives them their premium value.
To achieve the quality of Fine grade, all major details remain clearly defined. Several features, including Liberty's hairband and a knotted ribbon tying the ends of the wreath, are easily recognizable. Within the wreath, the edges of the uppermost row of leaves are nearly complete. There is some fading and blending of leaf edges towards the top of Liberty's head. The lower row of leaves are well-smoothed and blend with her hair in many places, indicating a Fine grade quality.
The ability to read "LIBERTY" above the forehead serves as one of the grade's defining characteristics. Only minor fading is acceptable; the lettering is nearly complete.
On the sample quarter, there are no noticeable flaws that detract from the overall aesthetics. An excellent representation of a quality Barber quarter.
Good Grade
Good Grade: A quarter is in Good grade if all of the key design elements are smooth but still well raised above the fields.
Starting with the date, every numeral is crisp and clear. No joining with the rim is causing them to look faded. The rim itself has been worn down to a small fraction of its original height above the field due to years of use. A closer inspection of the inner edge reveals that it remains intact around the entire coin.
Each of the stars in the design are complete and fully outlined. The lettering of the motto and these stars are still clearly raised, giving the entire coin a clear appearance. This example has avoided receiving any large marks and is a quarter in worn, but appealing condition.
How to Video: Grading Barber Quarters
Follow the video and images while grading to concentrate on specific areas. Inspecting these vintage quarters, key elements are used to determine their quality and extent of wear.
Video, Images and Descriptions | Grading Barber Quarters
Step 3: | Special Qualities Enhancing Value
Original Quality in all Conditions Adds Value to Barber Quarters
Barber quarters were an active part of commerce at the time. From 1892 when first minted, to 1916, the last year, and far beyond, they continued to circulate and receive wear through use. Most available today are typically in Good grade or just slightly better condition, with many showing damage of one type or another. High quality surface preservation is a scarce coin.
In addition to heavy wear, three qualities need judgment. Firstly, eye distractions such as deep nicks and scratches. Secondly, because silver eventually turns very dark, many are cleaned to brighten the surface. And a close inspection is done to judge if storage damage is visible.
A pleasing reverse of a Barber quarter is a first impression of the example coin. When a close inspection is made, the eye is immediately drawn to large marks, deep into the surface. ST in STATES, a very large mark within the wing, continuing to the C in AMERICA. Damage of this amount lowers quality and any potential premium collector value.
In an effort to "improve" the appearance of old coins, many are cleaned. Unfortunately, the results of any cleaning leave the surface unnatural, often with a monotone "shine" without any natural colors. Cleaning to this degree is considered damage, and all of these coins are discounted in demand.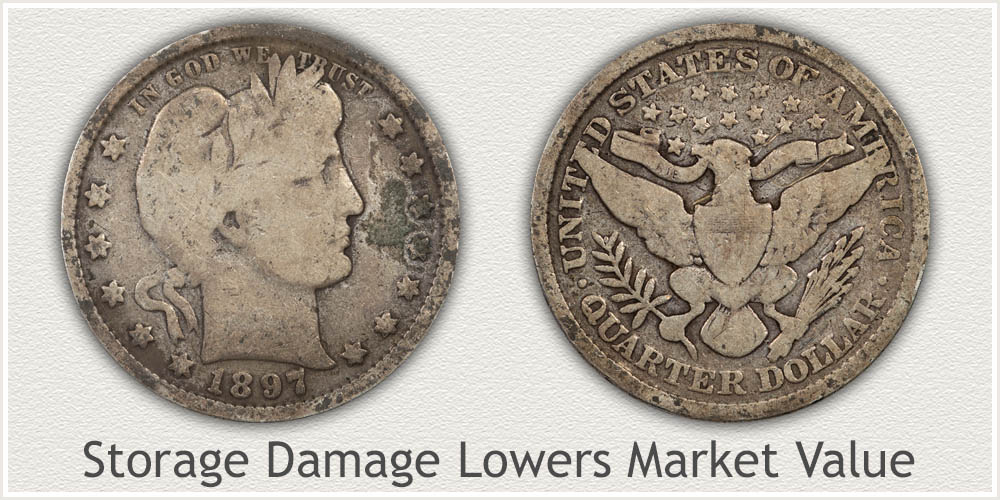 Over time, the place where coins have resided leaves a negative impact to surface qualities. Dampness and materials housing the coin combine to deteriorate the surface. In front of Liberty, damage is evident by the raised corrosion. Pitting of the surface metal is part of the corrosion area. This is a type of damage considered severe. Loss of quality results in lower value because of a lack of demand for these coins.
Quality is recognized by eye appealing surfaces, no evidence of past cleaning, and nice toning undisturbed by storage damage. Collector quality is a scarce trait to the Barber quarter series.
References
U.S. Mint. 1915 U.S. Mint Annual Report https://nnp.wustl.edu/library/book/514128
U.S. Mint. Catalogue of Coins of the United States. https://nnp.wustl.edu/library/book/554591
Coin Values | CoinStudy Articles
Date by Date
In Depth Barber Quarter Values
1892 to 1916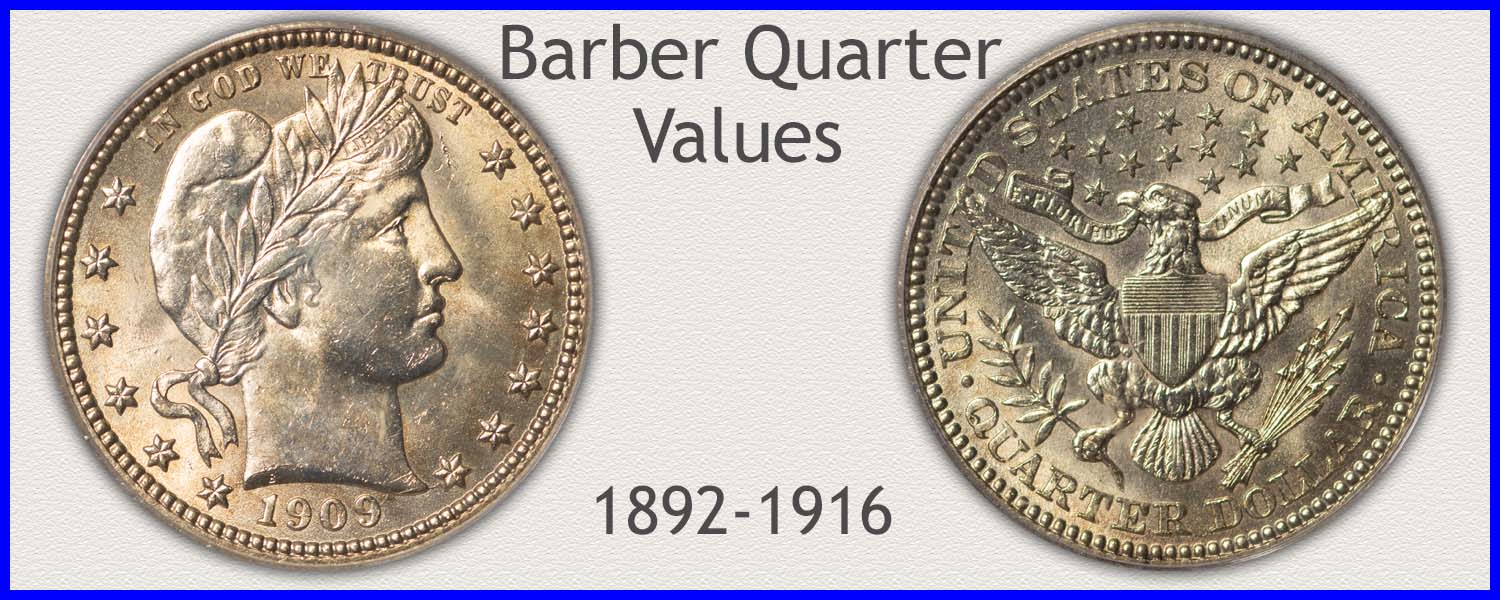 Barber Quarter Value | Strong Demand by Collectors
Collectors seek 1914 quarters as part of the long running Barber design series. Full listing of the many date and mint combinations are found on the value chart. Mintmark images and grading images identify and judge these old quarters finding an accurate value of each.
Old Coin Values | Introduction to Step-by-Step Method
Following a defined method helps insure a complete assessment of a coin's value. Key elements; correct series, date and mint are identified. Followed by an accurate judgment of condition are done in steps to complete how much an old coin is worth.
Silver Coin Values | Minimum Values of U.S. Silver Coins
Heavily worn and abundant dates of Barber quarters are worth a base silver value. These old quarters are an alloy of 90% silver and minimum values move daily with the price of silver. Images identify all U.S. silver coin issues and the calculator determines current worth.
Safe Coin Storage | Recommendations
High valued coins when properly stored are protected from handling, further damage, and remain in the same condition as when collected. Recommended are products available to collectors to house both single coins and multiple coins in groups.
Selling Coins | A Defined Process
Following a process to accurately identify your coins and current market value is a strong beginning to receiving a fair offer. Each series is different in key elements to recognize. Judge and evaluate your coins and then reference the dealer listings.
★Coin Values Discovery finds 1914 Quarter Value and...
All U.S. coin values. Coins are valued on a scale depending on the series, date, and condition. These primary elements are part of a step-by-step process followed when judging old coins. Start the process by comparing to images of the different series of U.S. coins and links to each series and value charts.