Coin Values Moving with Precious Metals: Up-Dated 9/25/2023: Gold $1921 | Silver $23.44
1908 Quarter Value
Examples in significantly better condition than average are given a high 1908 quarter value. Collectible pieces of high quality are becoming more and more scarce.
On the chart, you can see the difference between values from one grade and the next higher. To determine where your coin is listed on the chart, a specific process is used to recognize essential factors. After determining the coin's date and mintmark, compare it to a series of grading images to judge its condition.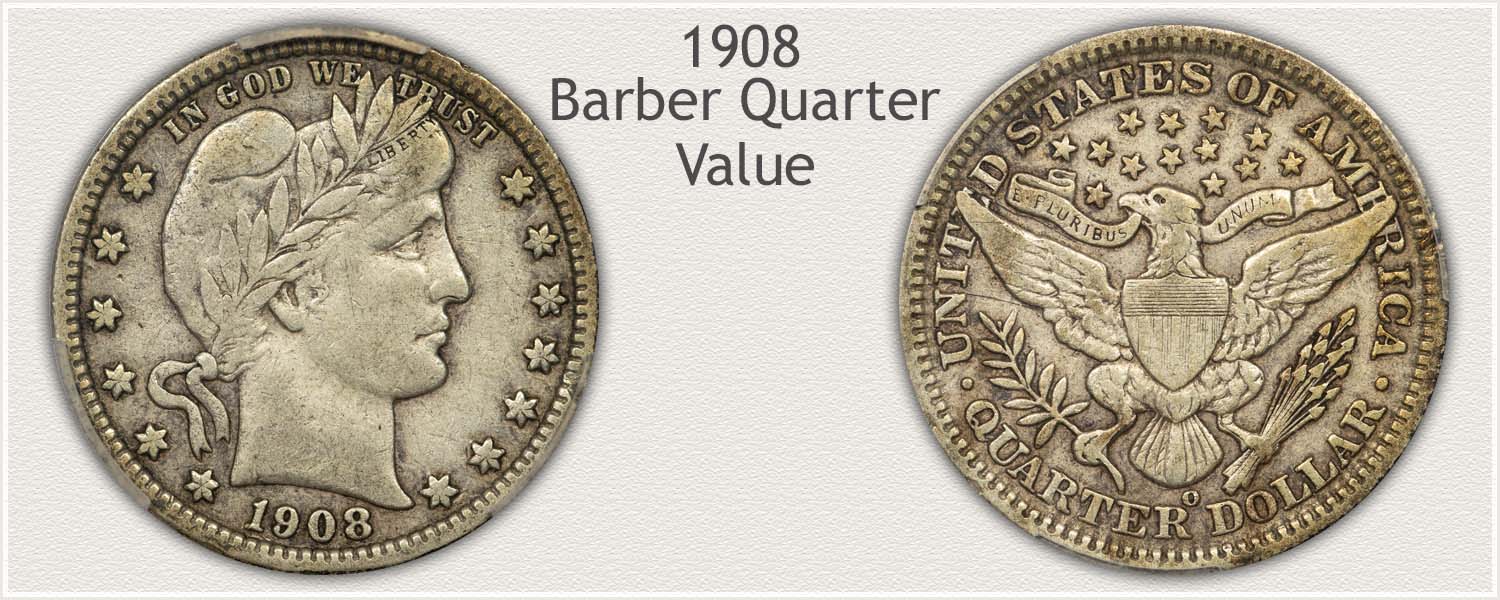 Steps Leading to Value:
Step 1: Date and Mintmark Variety - Determine the precise variety of these 1908 quarters. Struck by four distinct mints and are valued separately of one another.
Step 2: Grading Condition - Condition and grade of a coin depend on how worn it is and how its appearance overall. Grading verifies premium value.
Step 3: Special Qualities - Theme collectors today often specialize in New Orleans quarters. A popular subset of the Barber quarter series is highlighted.
1908 Quarter Value
Condition of Coin
Date
Good
Fine
Extremely
Fine
Mint
State
Barber Quarter Values Updated
5/25/2023
1908
$5.66
$17
$53
$183
1908 D
$5.66
$16
$53
$183
1908 O
$6.51
$17
$53
$204
1908 S
$39.43
$121
$240
$677
Listed is a range of wholesale values for conservatively graded Barber quarters. Use the steps to grading helping narrow the ranges found on the chart.
Step 1: | Date and Mintmark Combination is Identified
Different Date and Mints of 1908 Quarters are Listed on the Chart
The year 1908 is a high-value year because of a desirable and elusive mint type. Throughout the Barber quarter series, the San Francisco mint typically issued the fewest quarters toward the annual total.
All mint variations issues have their own unique values, which are determined by recognizing the mintmarks of the various branch mints. Examine the images below and note the precise date and mint combination of your coin.
1908-S Barber Quarter
"S" Mintmark on Reverse: San Francisco Mint Struck the Coin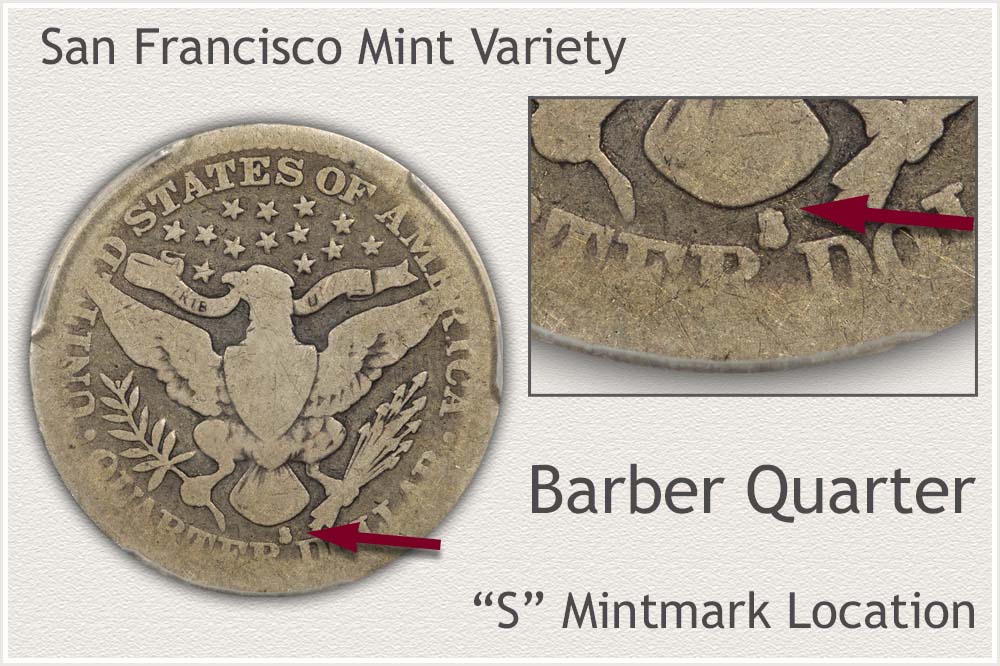 Collectors find 1908 Barber quarters are an available coin until they begin to search for the San Francisco mint variety. With the three other mint issues produced in multi-million quantities, the San Francico production at 784,000 is noticeable low.
These San Francisco quarters are now the in-demand variety of 1908 quarters. Difficult to obtain in nice condition, and under one million struck, it has become the notable issue of the year. Examine the coin closely when judging its condition.
On the reverse of the coin, an "S" mintmark is used to identify the mint. San Francisco coinage was struck with a large "S" mark located between "Quarter Dollar" and the bottom edge of the eagle's tail feathers.
1908-O Barber Quarter
"O" Mintmark on Reverse: New Orleans Mint Struck the Coin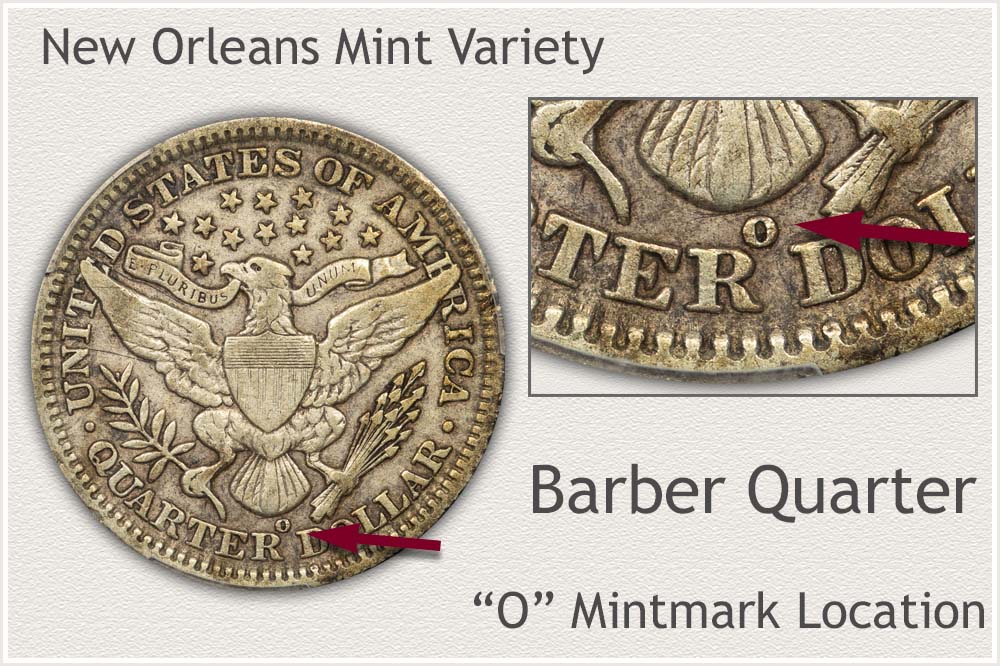 The exact 1908 quarter mint variety helps in separating the premium collector coin from those trading based on its silver content. Due to their connection to a now obsolete mint operation, Barber series issues from New Orleans are given special consideration. New Orleans shut down production in 1909, bringing an end to an era that had begun in 1838.
6,244,000 quarters were stuck, the majority of which trade based on their silver worth due to heavy wear. An example of higher quality is considered a valuable collectible.
To indicate its coinage, New Orleans used the letter "O" as a mark. Look for an "O" mintmark on the reverse of the coin, just below the eagle's tail feathers; this indicates that the coin was struck in New Orleans.
1908-D Barber Quarter
"D" Mintmark on Reverse: Denver Mint Struck the Coin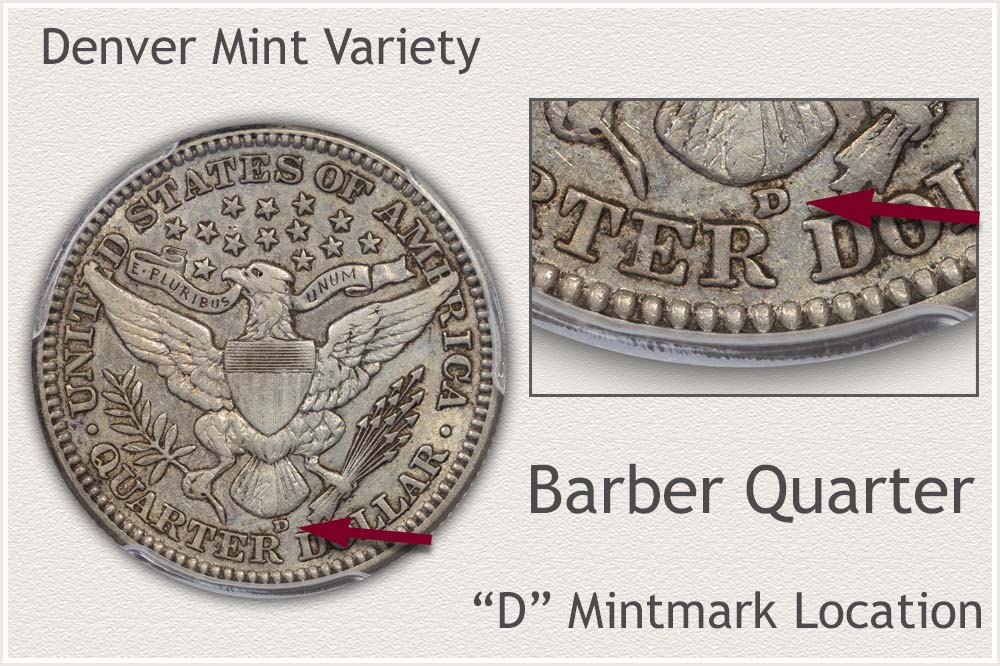 The Denver issue of the Barber quarter, one of four mints that produced them in 1908, is identified by a large "D" mintmark. Value of these old quarters is determined by precisely noting the date and mint issue. On the chart, each of these date and mint combinations is given a separate listing and value.
View the coin's reverse, examining the area above the "R" and "D" of "Quarter Dollar." The "D" indicates that the quarter was produced in Denver. It is important to note that the Denver variety saw heavy circulation in 1908 and the decades following. Just a small percentage survive today in better than heavily worn condition. Well-detailed coins are highly prized by collectors placing premium values on eye appealing examples.
1908 Barber Quarter
No Mintmark on Reverse: Philadelphia Mint Struck the Coin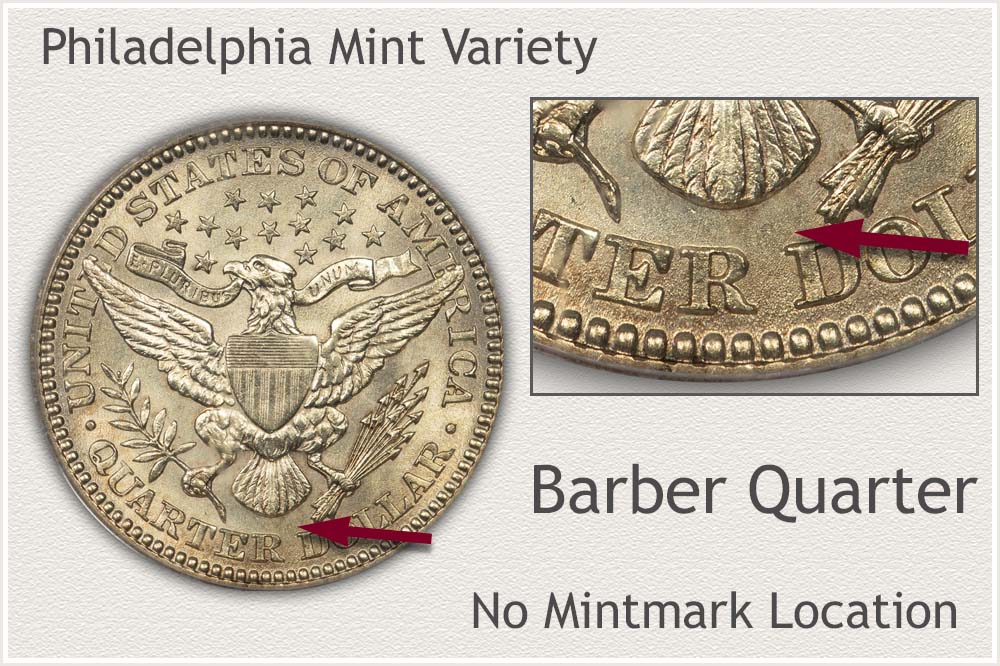 In 1908 Philadelphia production of quarters declined sharply. A below average total of 4.2 million were struck. However, sufficient quantities of these coins remain in low grades, holding values tied to their silver worth.
Popularity of the Barber series helps to support collector premiums for better-quality coins. A typically found, heavily worn example, is traded close to what its silver content is worth.
Year and mint that issued each quarter is used to identify each variety and its place on the chart. U.S. branch mints placed mintmarks on their coins, however, the main mint in Philadelphia did not. A Philadelphia variety is recognized by a blank area above the letters "R" and "D" of "Quarter Dollar" on the coin's reverse.
Step 2: | Identify State of Preservation by Grading Condition
1908 Quarter Value Rises When a Quality Coin is Identified
The better condition a rare coin is in, the higher its value increases. Coins are graded based on their relative wear in comparison to standards. The amount of metal lost to wear is judged by looking closely at small features in both the high relief and low relief areas of design.
By comparing your coin with the images and descriptions, a small range of condition becomes apparent. A magnifying glass is useful for recognizing the main design details that distinguish one grade from the next. Also, a single light source highlights smaller details on the coin. To begin, examine the Mint State quarter, these display all design details as minted.
Mint State Grade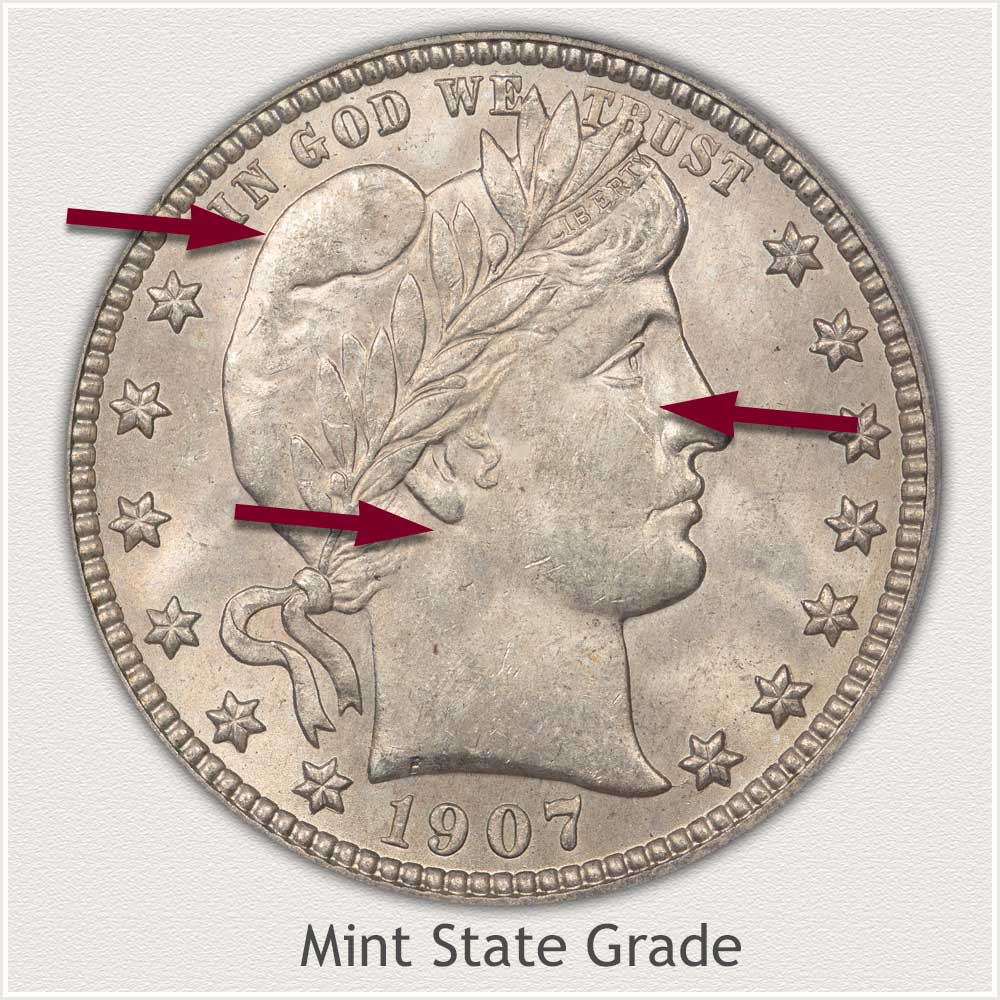 Mint State: For their collections, collectors aim to acquire the highest quality example of a Barber quarter. A mint state grade coin that is still in the same condition as when it left the mint and makes a worthy choice. The grade is defined as having no surface wear.
Inspecting the remaining luster on the coin is one of the best indicators of wear. Mint state condition quarters show complete luster visible in the low relief areas and also covering high contours. The striking process causes metal to flow and fill the design elements during coinage. Metal flowing results in a fine texture to the surface reflecting light with a luster effect.
Liberty's cheek is an open area that is prone to first signs of wear. Compare the lower area near the ear to the higher relief area under her eye. Without wear, the surface of both areas is similar, with no smoothing and dulling of the metal near the eye. She also has a similar texture and brilliance throughout, visible on the higher areas of her neck and cap. An excellent example of a Barber quarter in mint condition.
Extremely Fine Grade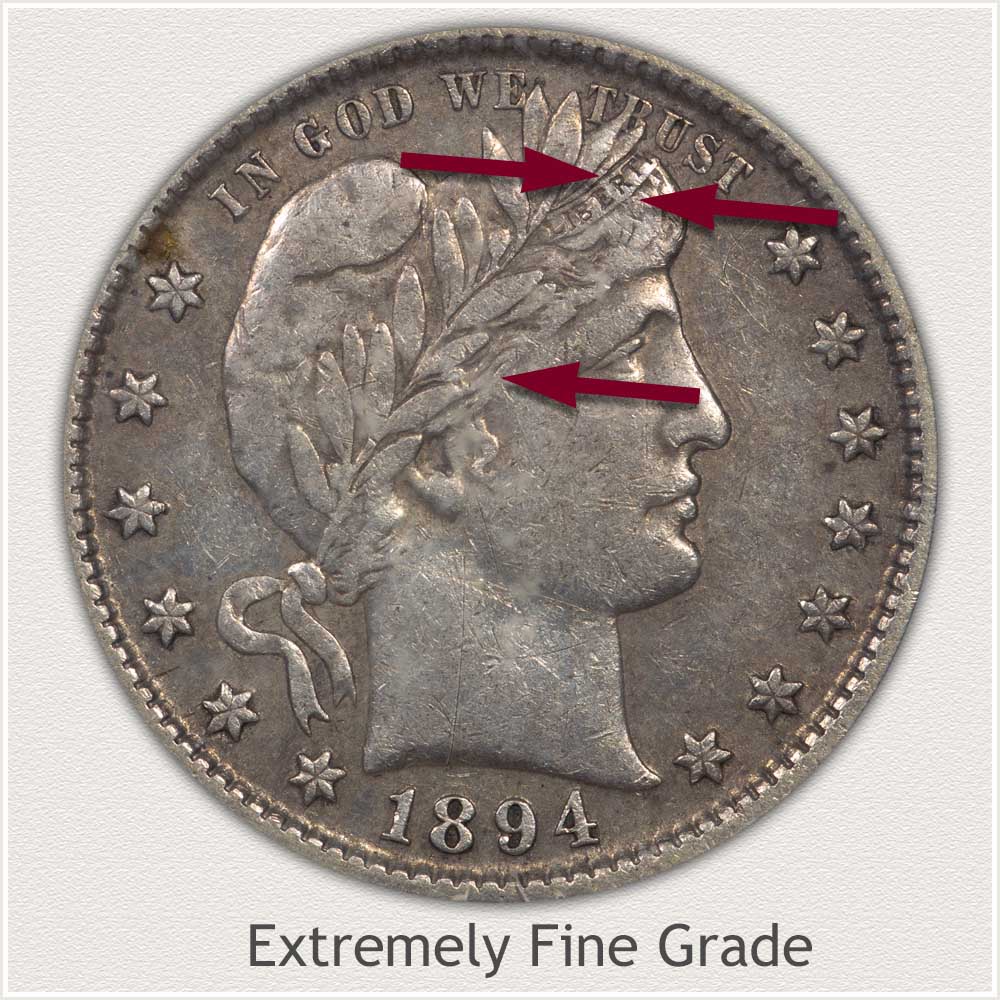 Extremely Fine: All of the details are evident on these Extremely Fine grade quarters, and there is only minimal wear on the high points. A quality condition is defined by very light wear.
Examine the wreath leaves within Liberty's hair to determine the amount of wear. Five laurel leaves make up the lower row. There is a complete separation between her hair and all edges of the leaves. Confirming this detail is important. Next, the ribbon across her brow with the lettering "LIBERTY" is only lightly worn, with all letters distinct. A high-end example for the grade displays the band's upper and lower edges.
Just minor wear is visible on Liberty's overall features, cheeks, and neck, with little flattening of the high contours. First impression of a quarter in Extremely Fine grade is sharply defined details.
Fine Grade
Fine Grade: A Barber quarter graded as Fine condition is a coin with ample eye-appeal. It's difficult for collectors to locate appealing examples of these vintage series coins because so many of them are in very worn condition. Because of this, value of a Fine grade coin is significantly higher than average.
All important details are clearly defined in order to achieve the standard of fine condition. Visible are a wreath, a headband in Liberty's hair, and a knot in the ribbon that ties the ends of the wreath together. Most of the edges of the upper row of leaves are complete within the wreath. Leaf edges are blending in a small area near the top of Liberty's head. The lower row of leaves are well flattened and, in many places, merge with her hair, a distinction of the Fine grade.
Readability of "LIBERTY" above the forehead is a defining requirement for this collectible grade. Only slight fading is acceptable; otherwise, the lettering is almost complete.
There are no significant flaws that detract from the overall appeal of the example quarter. A representation of the Barber series that is rich in detail.
Good Grade
Good Grade: A solid Good grade coin has three main characteristics. The portrait is fully outlined and bold from the field. All of the portrait's finer details are missing due to wear, leaving only Liberty's flat outline. Second, there is still a distinct rim and stars. Finally, a date that is very legible.
All of the main devices have worn down to the point where they are now flat, helping define the Good grade. All edges of the leaves on the upper part of the portrait are complete; no lettering or parts of the rim are merging. There is also a clearly defined inner edge to the rim, which is distinct from the outermost points of the stars. Liberty's portrait is nicely framed by stars and a rim.
Additionally, the date is separated from the rim. With continued use, the rim wears down further and eventually blends into the numbers. Any merging of the main elements results in a decrease in the appeal to collectors. A pleasing Good grade representation of an old quarter.
How to Video: Grading Barber Quarters
Additional features for each of the various grades are highlighted in the video. Judge an accurate condition of your quarter. Added attention to small details, and overall quality, helps identify one grade from the next.
Video, Images and Descriptions | Grading Barber Quarters
Step 3: | Special Qualities of New Orleans Mint Quarters
Added Attention of New Orleans Mint History Adds Demand
History often creates demand for a particular series of coins or varieties within a series. Barber quarters are the last quarter series with the New Orleans mint as part of production. It stopped coinage operations after the calendar year 1909.
In particular, 1908 quarters represent the added demand for New Orleans coinage. 1908 is notable as the highest mintage of the series for the mint Strong demand is recognized in the premium over the minimum base silver value. Extra attention is given to these coins by collectors.
An effort was made in the early 1900's to update all U.S. mint facilities. Philadelphia, on the east coast, moved into a new facility with modern equipment. San Francisco on the west coast was updated. And a new mint in Denver was constructed. No longer did the New Orleans mint on the Gulf Coast serve as an economical facility. The New Orleans mint, first opened in 1838, was soon closed.
1908 quarters have the special qualities of a year with four mints striking quarters. Among them is the now absolute New Orleans variety. Collecting interest is high, with a variety of theme collections and collectors in search of these quarters.
Date and mint collectors need the New Orleans quarter as part of a complete set. Also, New Orleans coinage has become a specialty for collectors building theme sets of the mint variety. Another source of demand are sets featuring one example of all mints striking Barber quarters. 1908 is a year featuring all four mints in operation.
Consider the 1908 New Orleans quarter as having special qualities, additional demand, and strong values in all degrees of condition.
References
U.S. Mint. 1902 U.S. Mint Annual Report. https://nnp.wustl.edu/library/book/321
U.S. Mint. 1909 U.S. Mint Annual Report https://nnp.wustl.edu/library/book/322
Coin Values | CoinStudy Articles
Date by Date
In Depth Barber Quarter Values
1892 to 1916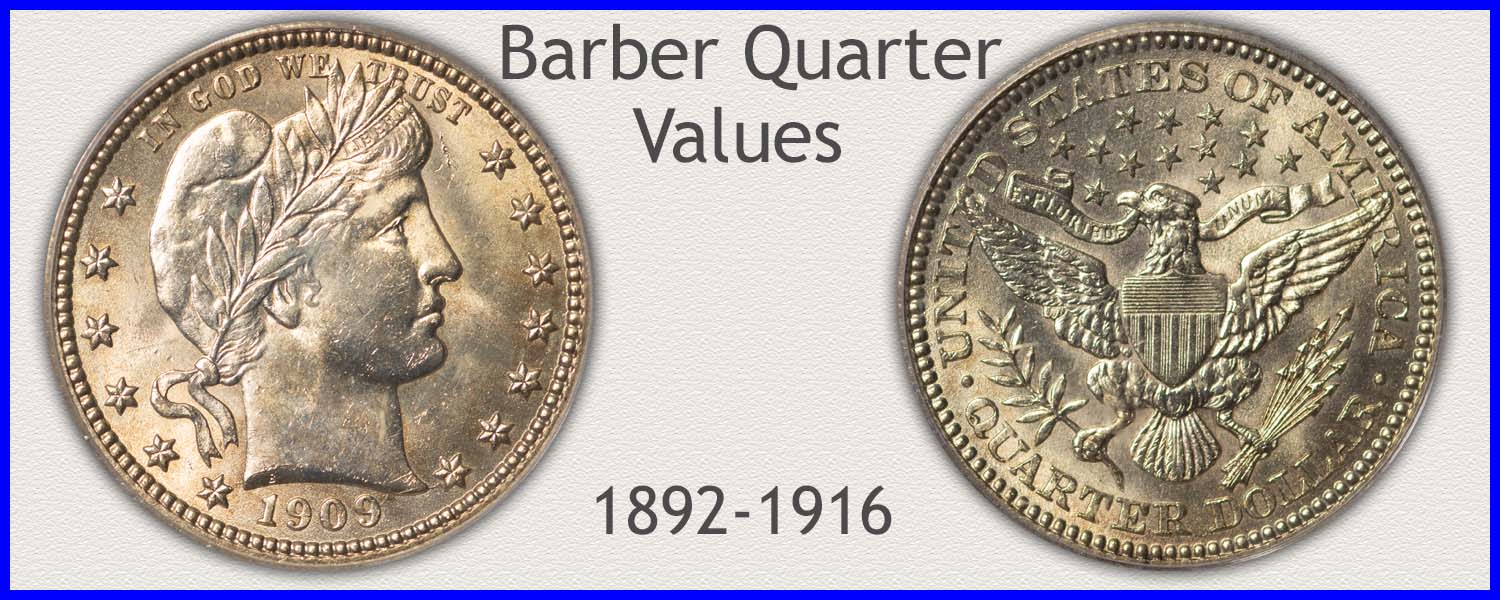 Barber Quarter Value | Many Scarce Dates
1908 is just one of twenty-five dates to the Barber quarter design series. Each is valued separately on the full value chart. Steps identifying date, mint, and condition lead to finding an accurate place on the chart.
Mobile guide identifies U.S. coinage using images and lists minimum values for each series. Links are followed to in depth coverage of all date and mint combinations and judging condition of coins.
Popular Coin Series | U.S. Quarters
Realizing the popularity of Barber quarters helps identify the strength of the market for these coins. Coin series are charted according to numbers of serious collectors active in registry programs listing their collections. Quarter dollars, as a denomination, are ranked second to the dollar denomination.
Rare Quarters | Scarce U.S. Coinage
A review of the quarter series of U.S. coinage finds many valued in the hundreds of dollars and higher. Over the decades many dates were produced in low quantities with few remaining today. Special qualities of rare quarters are explored.
Silver forms a solid base to many vintage U.S. coin series. Selling these coins first involves recognizing the 90% silver alloy issues, using the calculator for current worth, and finding dealers to contact. Images and descriptions identify the silver issues, and a listing of dealers buying silver coins is referenced after calculating current prices.
Coin Grading Services | Authenticate and Grade of Coins
High value coins are routinely sent to a grading service to authenticate and grade the piece. The two leaders in coin grading are NGC and PCGS. Each provide assurance of condition and grade of coins helping narrow the value range. Market acceptance of condition is often worth the fee to review the coin.
★Coin Values Discovery finds 1908 Quarter Value and...
All old coin values. Images are used to follow a step-by-step method when determining how much U.S. coinage is worth.