Coin Values Moving with Precious Metals: Up-Dated 9/25/2023: Gold $1921 | Silver $23.44
1896 Quarter Value
In the current market, 1896 quarter value starts at a silver base of $5.66 .
Only 5.5 million were made in total for the year. Furthermore, this amount was distributed throughout three mints, resulting in rare mint varieties. It's important to recognize each branch mint's production. The Philadelphia issue 1896 quarter is the coin likely encountered, steps outlined below are important to follow and identify the scarce branch mint coins.
Steps Leading to Value:
Step 1: Date and Mintmark Variety - Completing sets of Barber Quarters requires all mint combinations of each year. Determine those high demand mint varieties required by collectors.
Step 2: Grading Condition - 1896 is a scarce date within the Barber quarter series. Collectors and dealers are in search of these. In high grade, it is a very valuable coin.
Step 3: Special Qualities - Scarce mint issues in above average condition often benefit from an outside opinion of grade, condition, and desirability. Grading services fill this need.
1896 Quarter Value
Condition of Coin
Date
Good
Fine
Extremely
Fine
Mint
State
Barber Quarter Values Updated
5/25/2023
1896
$6.51
$18
$61
$229
1896 O
$51
$141
$409
$1,200
1896 S
$437
$1,612
$3,030
Rare
Use the chart to determine a range of wholesale values, what a dealer pays for these old Barber quarters.
Step 1: | Date and Mintmark Combination is Identified
Mint Varieties of 1896 Quarters
Values of these vintage quarters are narrowed by identifying the exact mint striking the coin. Of the three mints in production the value chart shows the branch mints at a premium.
Branch mints placed a mintmark on their coinage. An inspection of the reverse is needed to locate these different marks.
1896-S Barber Quarter
"S" Mintmark on Reverse: San Francisco Mint Struck the Coin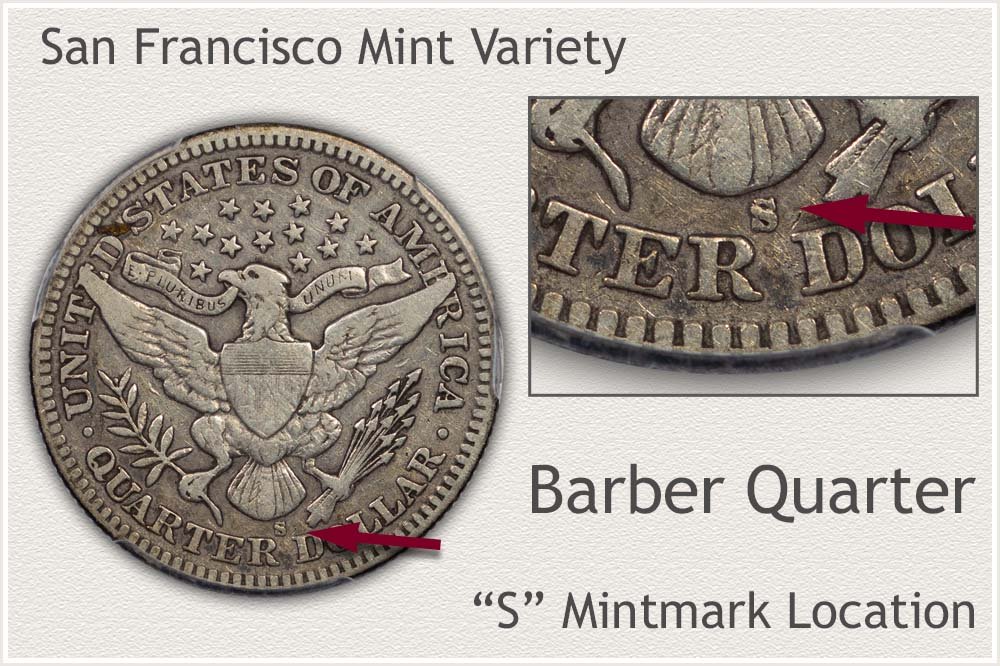 1896 is a distinctive year in the Barber quarter series. The San Francisco mint struck the third lowest number of quarters of any mint for the entire series in 1896; recording 188,039 pieces produced. These very scarce coins have become one of the highest valued of the series.
Any condition 1896 San Francisco quarter is sought by collectors. From the very worn examples worth hundreds of dollars. Elusive high condition coins rarely trade, and when auctioned are bid well into the thousands.
An important mintmark to recognize is the large letter "S" of the San Francisco mint. On the reverse of the coin, and in the area just above "Quarter Dollar" the "S" mark identifies the coin was struck at San Francisco.
1896-O Barber Quarter
"O" Mintmark on Reverse: New Orleans Mint Struck the Coin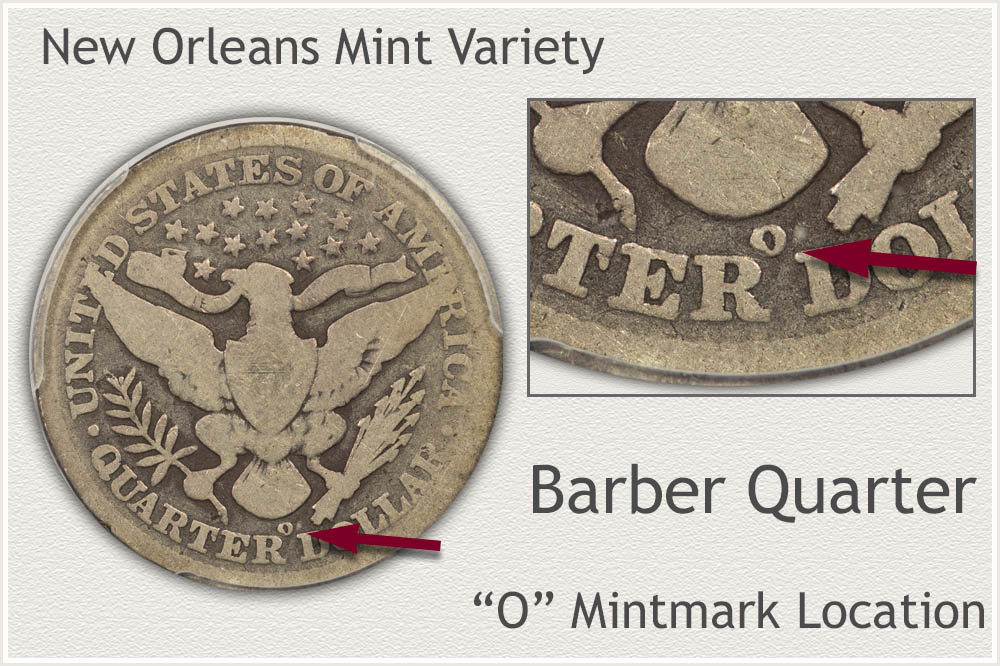 1896 New Orleans minted quarters have captured the attention of collectors. Notable is the difficulty of finding nice, pleasing examples to add to collections. Enough to supply commerce at the time, just over 1.4 million were produced by the New Orleans mint. This is only slightly below the average yearly production for the mint. Today, however, these are a popular mint variety, appealing to many collectors, creating a large demand. Both date and mint set collectors and those who focus on the New Orleans issues are seeking these vintage quarters.
Identifying the New Orleans issue is the "O" mintmark found on the reverse. Looking just above the lettering of "Quarter Dollar" a large "O" fills the space. The "O" mintmark confirms the date plus mint variety of a scarce coin.
1896 Barber Quarter
No Mintmark on Reverse: Philadelphia Mint Struck the Coin
Collectors looking for a nice representative 1896 quarter often choose the Philadelphia issue. It remains the available, affordable mint variety of the year. Produced in larger quantities; 3.8 million struck, than the two scarce branch mint varieties of 1896.
Two main markets seek these old Barber quarters, silver investors and collectors. Very worn examples trade close to their base silver value. A collector is searching for a type of coin with less wear and pleasing detail remaining
Mintmarks identify the branch mint issues, and the absence of a mintmark is the indicator to recognize Philadelphia mint coinage. Turn to the reverse of the coin, look at the area just above "One Dollar." If the space is empty, the quarter is the Philadelphia mint variety.
Step 2: | Grade Condition to Narrow Range on Value Chart
Recognize Subtle Details and Premium 1896 Quarter Value
Scarce coins typically increase in value rapidly the better their state of preservation. Grading coins is a comparison to standards representing stages of wear. Subtle details within both the high relief areas and low relief areas are examined to determine the extent of metal removed by wear.
Using the images and descriptions, compare your coin, soon a narrow range of conditions becomes recognizable. A magnifying glass is very helpful in detecting the important design elements separating one grade from the next. If the coin is viewed under a single light source, the contrast highlights smaller details. Begin with the Mint State example, a coin with full design detail.
Mint State Grade
Mint State: A quarter in Mint State grade is defined as having no wear to the surface. When first minted these quarters have a surface texture of fine grains giving it a notable brilliance. This texture reflects light as luster when the coin is tilted and rotated under a light.
Confirming this delicate luster is complete, high areas of the design are inspected for evidence of wear, smoothing, dulling, and flattening. Liberty's cap is one area quick to dull and smooth when the coin is used in circulation. Inspecting the upper edge of the cap, luster remains, no smoothing of the metal has taken place. Worn silver becomes a soft gray tone in contrast to the brightness of an original minted surface.
Additionally, fine lines in Liberty's hair above her forehead are also visible. This very high relief area receives wear first with the example quarter showing no flattening of the design.
Extremely Fine Grade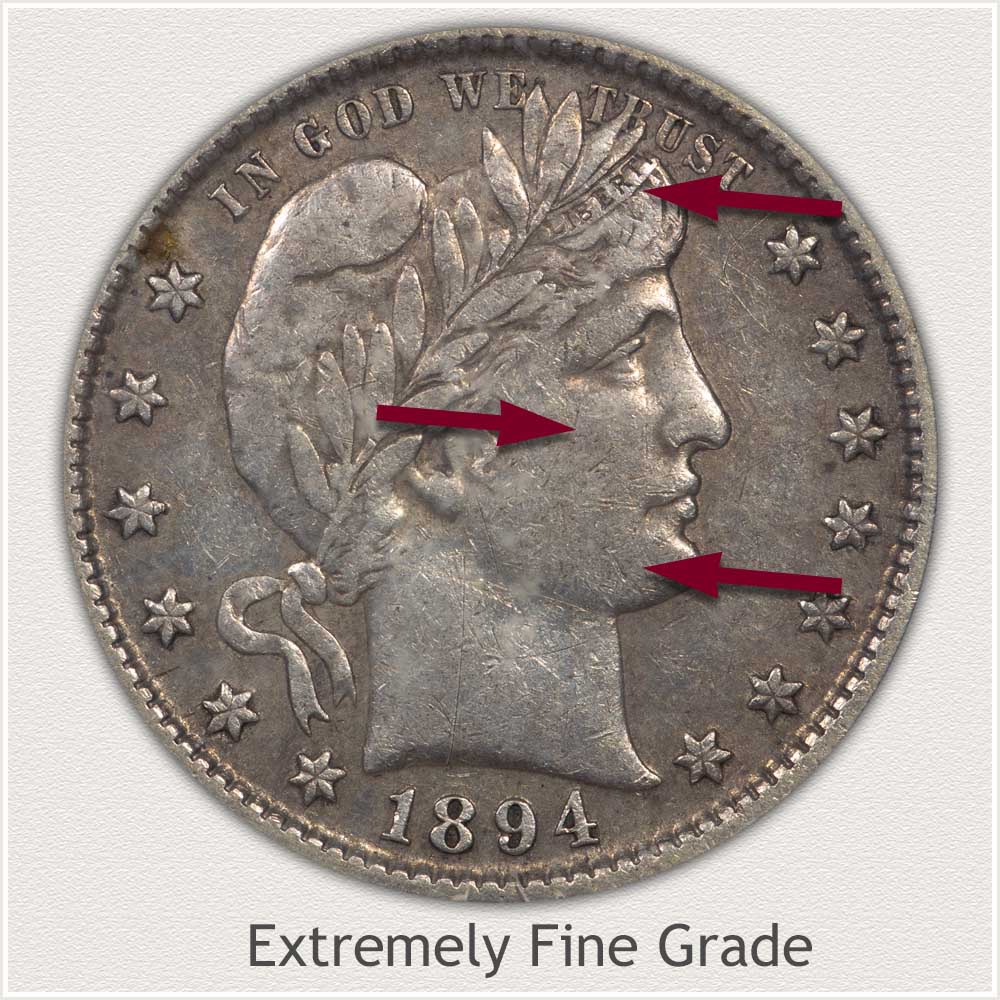 Extremely Fine: With many fine details remaining crisp and sharp, this quarter is a high-quality example. Light wear has removed only a small amount of metal from the very tops of the design. In this condition, the coin is a strong candidate for the Extremely Fine grade.
To judge condition, examine the band in Liberty's hair with the lettering of "LIBERTY". Full letters, deeply impressed is an important feature to confirm. All letters are readable, including the "Y" at the very top of her forehead.
Wear has removed the original texture of luster once covering the cheek and jaw line of Liberty's face. The remaining definition of the jaw line shows a rounded contour leading to her neck. Any flattening of metal from wear is minimal and only slightly noticeable.
A well-defined Barber quarter is within the collectible range of desirability and premium worth.
Fine Grade
Fine Grade: A nicely detailed Barber quarter is a somewhat difficult coin to locate. Moderate wear is the general description of this collectible condition. Fine grade is awarded to a quarter when the majority of detail is visible along with areas of noticeable flatness.
One area of particular interest is the Laurel wreath within Liberty's hair. Bound by a ribbon and knot at its end, the wreath extending to the forehead must show strong outlines of the upper row of leaves. Confirming the Fine grade, and only moderate wear, is the leaves are now completely smooth and flat from wear, but distinct. Edges of the lower row of leaves are merging with Liberty's hair. A feature helping indicate moderate wear and keeping the condition within the Fine grade.
Although worn and showing areas of flattened metal, overall, these coins are within the collector quality range. With a soft silver-gray color and toning highlighting devices, pleasing examples enjoy strong demand.
Good Grade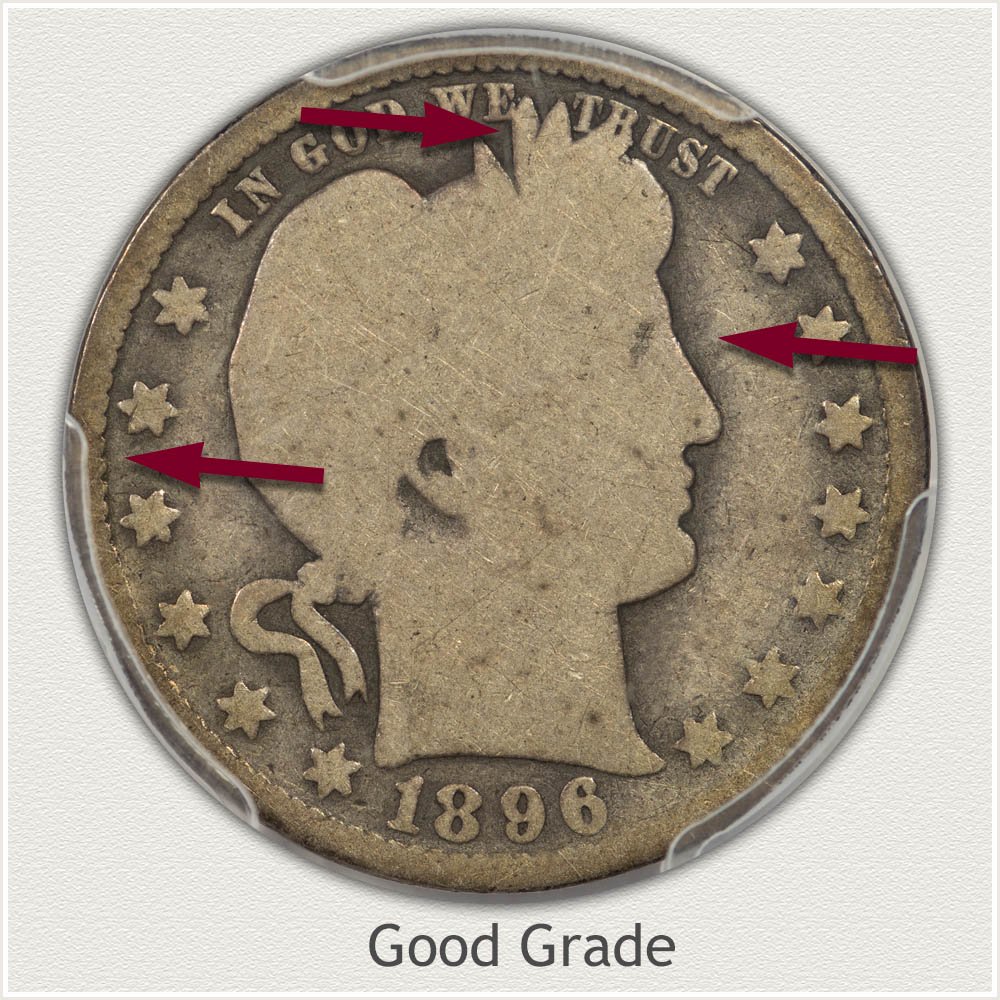 Good Grade: Although well worn, many of these circulated quarters are appealing because the remaining details are bold. A flattened surface, smooth because of wear, is defining and placing the condition of the example in the Good grade category.
Inspecting the portrait, note Liberty is smooth overall, lacking any of the original small details. Importantly, to the grade, all edges of her portrait are clearly defined and well raised from the fields. A close look at the edges of the upper leaves atop her head is needed to confirm this full separation from the field and complete outline.
The rim, intended to slow the wear of the design elements, is well defined at its inner edge. Although the stars are flattened and without inner radial lines, they remain complete and separate of the rim. Branch mint coins in this condition are showing a nice premium worth.
How to Video: Grading Barber Quarters
In the video, subtle points of interest when grading are highlighted. Next, using the provided images as a guide, carefully examine the coin's key features and judge condition to assign a grade.
Video, Images and Descriptions | Grading Barber Quarters
Step 3: | Special Qualities | Professional Quality Assessment
Professional Grading and Authentication of 1896 Quarter
1896 quarters are a year in the Barber series notable for the large range in values depending on date, mint, and condition of the coin. The Philadelphia issue, confirmed by absence of a mintmark, is affordable in heavy wear condition, in high grade, the coin is special in quality.
Both of the branch mint varieties of 1896 are scarce, with the San Francisco variety a very rare coin. To fully understand potential, high value coins need additional opinions from experts.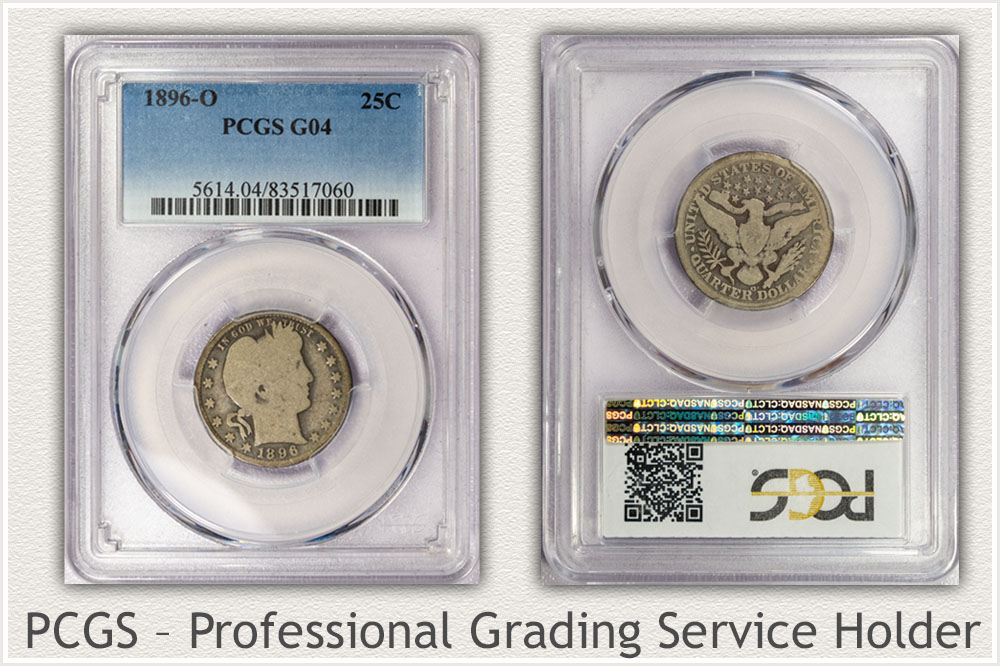 PCGS (Professional Coin Grading Services) provides needed expert grading and authentication of coins. Spotting and correctly identifying date and mint begins the value process. Grading is where the potential for higher value is found.
Submitting higher value coins to a grading service determines an accurate grade. Providing a professional judgment and market acceptance of condition. Additionally, all coins are first authenticated, especially important with the rare 1896-S.
Costs are involved in professional grading, starting at $22 per coin. Consider coins you identify as valued over $100 as candidates and an economical approach. Listing of PCGS services are on theirPCGS Submission Introduction Page. An excellent choice whether you are selling or keeping these high end coins. Having the coins in a PCGS holder assures protection and preservation.
An additional resource is the assistance of an Authorized PCGS Dealers to contact. A conversation with a dealer answers many questions and advice on the proper selection of coins that warrant grading by PCGS.
All Barber quarters are special quality coins in high condition, and scarce date and mint combinations need expert grading in any condition.
References
U.S. Mint. 1897 U.S. Mint Annual Report https://nnp.wustl.edu/library/book/318
U.S. Mint. Catalogue of Coins of the United States. https://nnp.wustl.edu/library/book/554591
Coin Values | CoinStudy Articles
Date by Date
In Depth Barber Quarter Values
1892 to 1916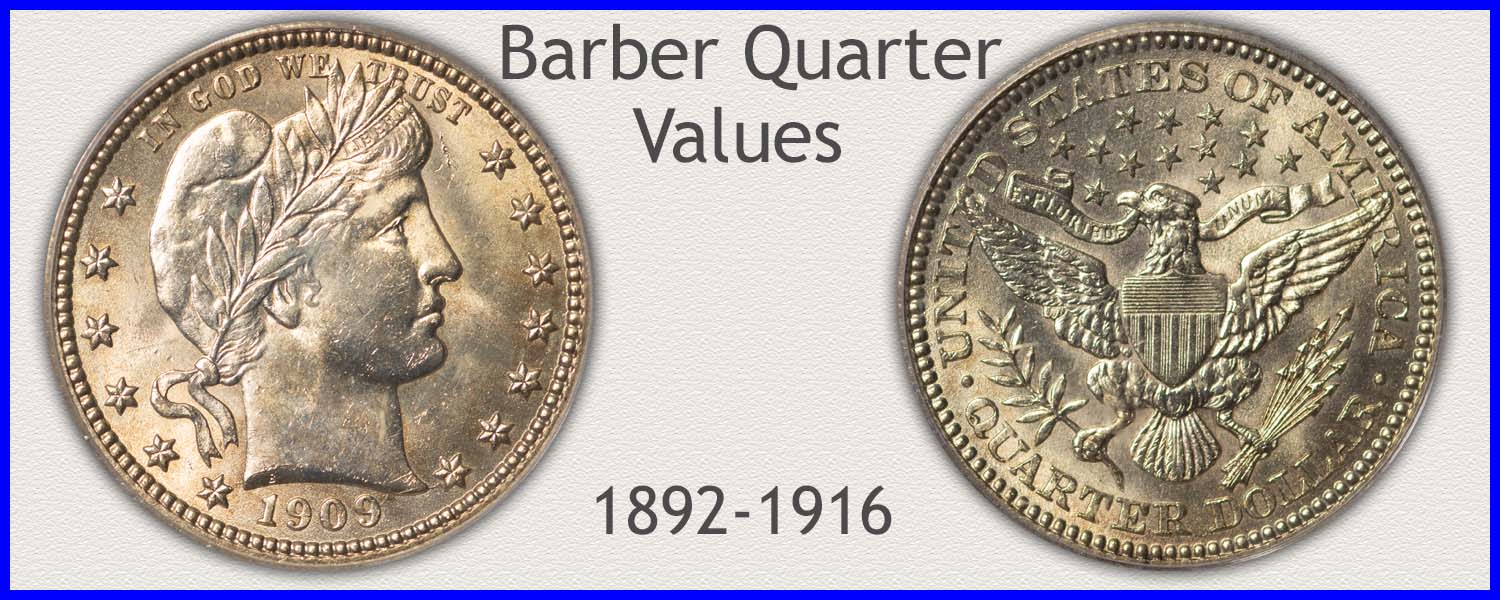 Barber Quarter Value | Many Scarce Dates
1896 is just one of twenty-five dates to the Barber quarter design series. Each is valued separately on the full value chart. Steps identifying date, mint, and condition lead to finding an accurate place on the chart.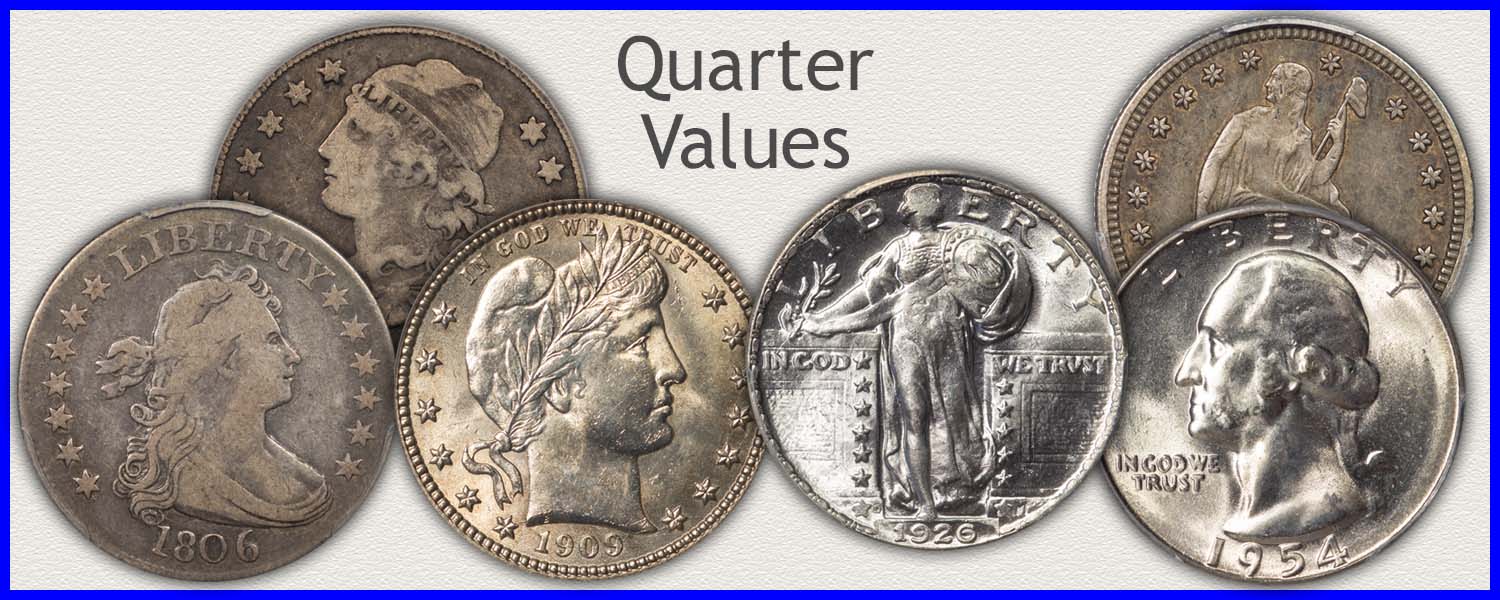 Quarter Values | Discover the Many Series
Barber quarters are of one of many design series of quarters. Each series has its range of values, key dates, and popular mints. Identify your old quarter by images, follow links to coverage of values, grading and special qualities of the various series.
Coin Value Guide | How to Value a Coin Collection
Follow a few steps to identify and judge the key factors determining the value of a coin collection. Design series are identified, dates and mints are valued individually, and judging condition, all narrow a range towards how much these collections are worth.
Silver Coin Values | Minimum Values of U.S. Silver Coins
Heavily worn and abundant dates of Barber quarters are worth a base silver value. These old quarters are an alloy of 90% silver and minimum values move daily with the price of silver. Images identify all U.S. silver coin issues and the calculator determines current worth.
Safe Coin Storage | Recommendations
Select from a variety of options to safely store, maintain, and house Barber quarters and the rest of your collection of coins. Specific recommendations are made to hold single to many coins in a protected manner.
Selling Coins | Organized and Planned
Organize and record key factors to your coins to begin the selling process. An understanding of current market values with an accurate description of the coin, helps find the right buyer. Follow the same process used by the coin collecting community.
★Coin Values Discovery finds 1896 Quarter Value and...
All old coin values. Images are used to follow a step by step method when determining how much U.S. coinage is worth.