Coin Values Moving with Precious Metals: Up-Dated 9/25/2023: Gold $1921 | Silver $23.44
1916 Barber Quarter Value
Minimum 1916 quarter value is based on a silver content of 90% by weight. Barber coinage is an older vintage series, and due to their obsolete standing, this minimum includes a slight premium.
The worth of each coin in the Barber quarter series begins at $5.66 . Silver is currently trading at a price of $23.44 per ounce on 5/25/2023 .
Collectible features are evaluated next. Collectors seek certain date and mint combinations, putting a premium on mint issues that are seldom encountered.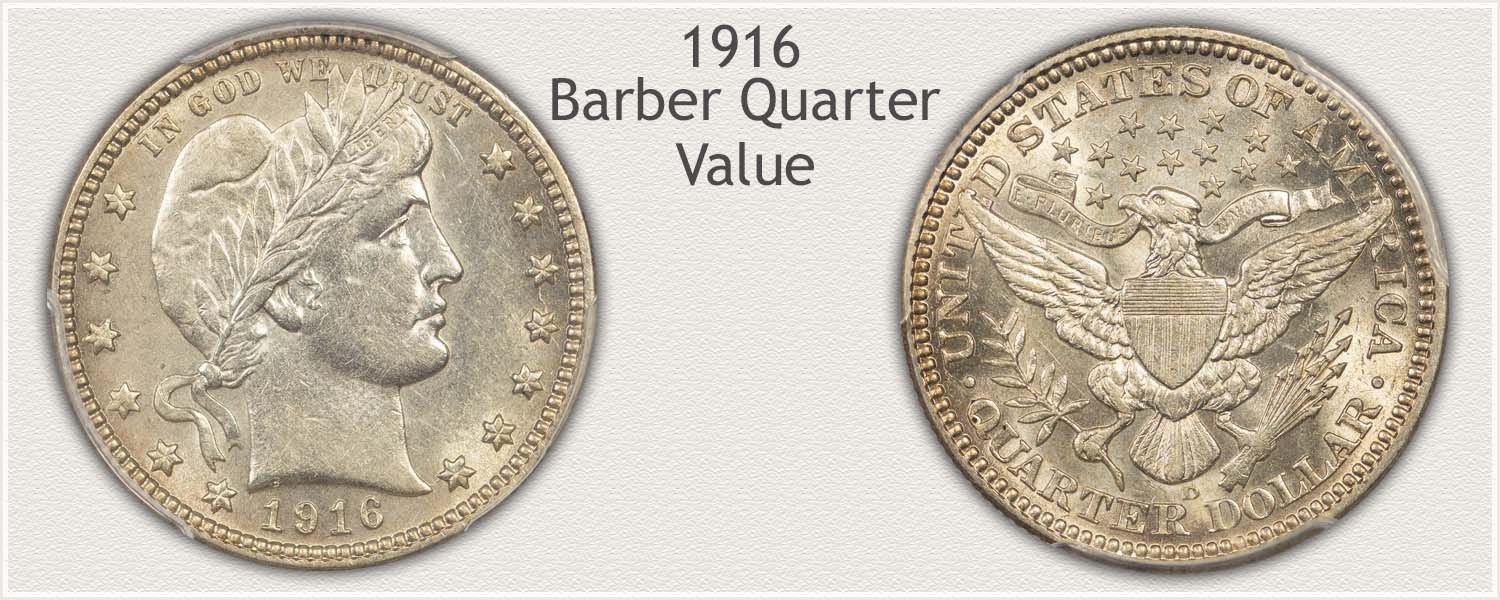 Steps Leading to Value:
Step 1: Date and Mintmark Variety - Old quarters are collected by their dates, and complete sets also feature the various mints for each year. For each issue, the value is listed; check the mintmark of your coin.
Step 2: Grading Condition - Coins are evaluated by collectors, when deciding premiums, by how well they have been maintained and also for the amount of detail visible.
Step 3: Special Qualities - Total quantities of Barber quarters produced each year help give insight to the scarce date and mint issues.
1916 Quarter Value
Condition of Coin
Date
Good
Fine
Extremely
Fine
Mint
State
Barber Quarter Values Updated
5/25/2023
1916
$5.66
$16
$53
$168
1916 D
$5.66
$16
$50
$185
Values listed are a starting point to wholesale Barber quarter premiums. Dealer demands plus a close eye to condition are important to recognize. Use the steps to narrow the value range.
Step 1: | Date and Mints | Images Help Confirm Mintmark
Varieties of 1916 Barber Quarters to Recognize
Identifying the mint that struck these Barber quarters, in addition to the date, its mint variety is part of the valuation process. To identify the mint from which a quarter was produced, mintmarks were placed on coinage.
Date and mint combinations for each variety are listed, and valued individually. Images are used to help identify the mintmark and its location.
1916-D Barber Quarter
"D" Mintmark on Reverse: Denver Mint Struck the Coin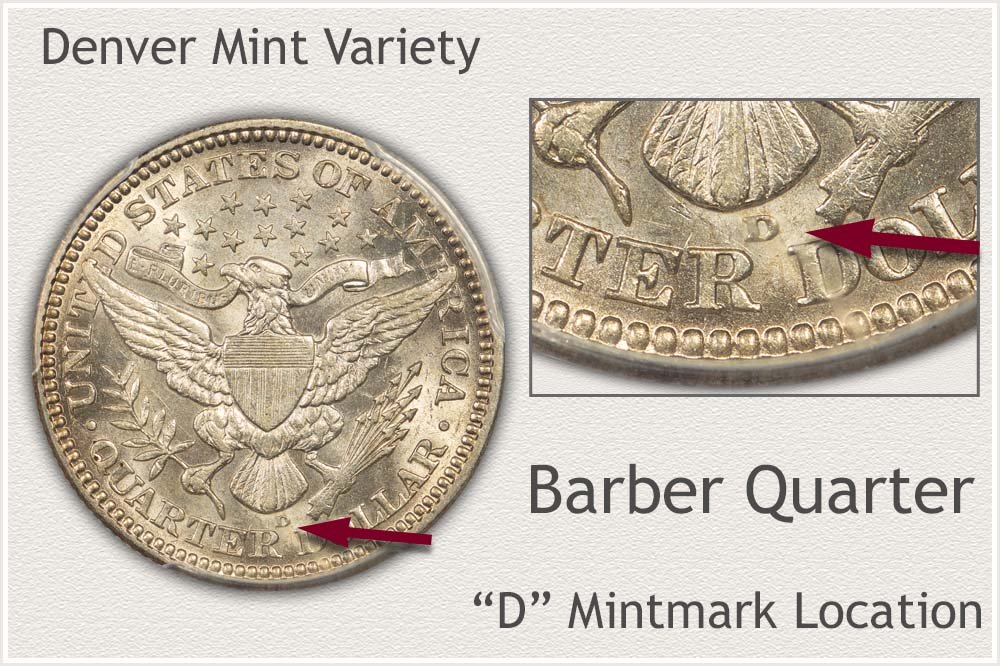 1916 Denver quarters represent the last of the Barber series of quarters. Denver significantly increased production and minted a total of 6.5 million quarters to finish the Barber quarter design. These circulated alongside the new Standing Liberty quarters for many years and most remaining today are heavily worn.
Collectors focus on above average condition examples to add to collections. Inspect for both mint variety and grade of your coin.
Denver coinage is recognized by the large "D" mintmark placed on the reverse. In the area above the letters of QUARTER DOLLAR and below the tail feathers of the eagle is the placement of the "D" mintmark. This 1916 quarter pictured is confirmed as the Denver mint issue.
1916 Barber Quarter
No Mintmark on Reverse: Philadelphia Mint Struck the Coin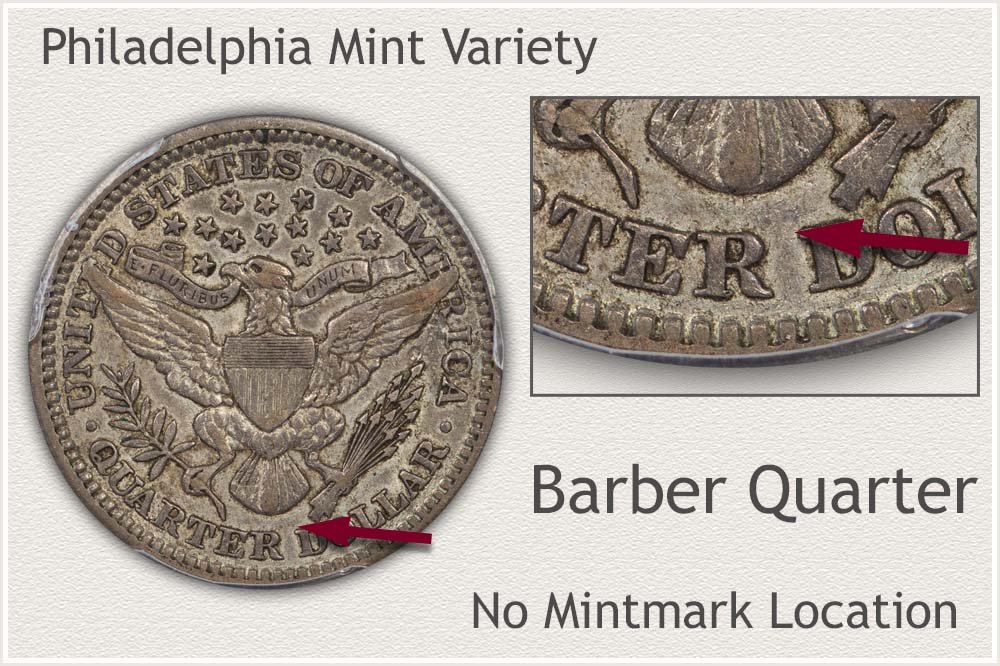 Barber quarters were struck at four different mints, but only the Philadelphia mint struck them every year of the series. Many historical factors contribute to the popularity to this year's quarter. "Last Year" to the Barber series and second lowest mintage numbers of the Philadelphia mint for the series. Only 1.7 million were produced. Adding a nice 1916 Philadelphia quarter to a collection is an important part of the set.
Heavy wear examples are still available; however, better-quality pieces are becoming harder to locate. Considering the scarcity of high-grade coins, the premiums are high.
Absence of a mintmark confirms the identity of coins produced at the Philadelphia mint. The mint did not place a mintmark on coins from the Barber quarter series. On the reverse of the coin, the space directly above the letters R and D in "Quarter Dollar" lacks any mark.
Step 2: | Condition is Categorized into Grades
Grading - an Important Part to 1916 Quarter Value
The degree of wear on coins follows distinct visual stages. Once high points of the design are worn smooth over time, remaining design begins looking noticeably different. The different grades are identified by these changes.
Starting with a coin in as-new condition, it displays all of the original detail it had when it was initially produced. Wear levels are determined by comparing to images of different conditions representing grades.
Mint State Grade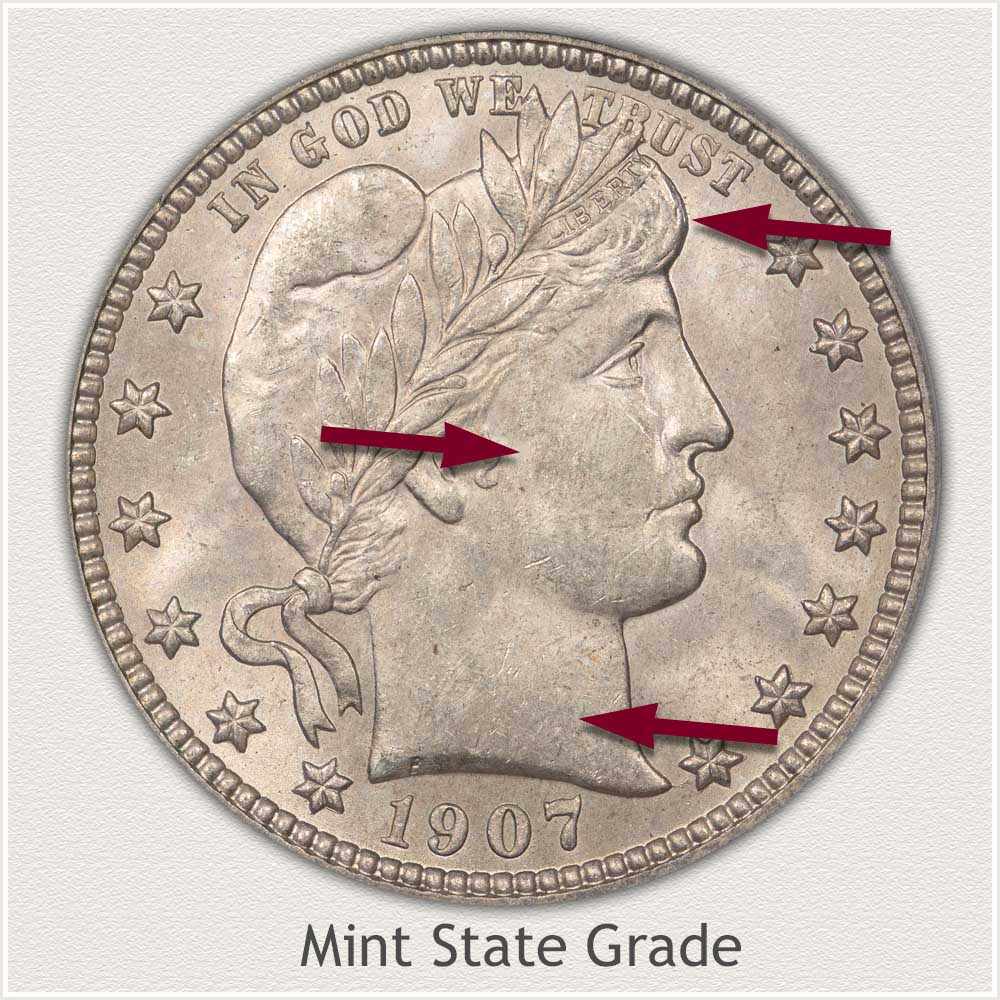 Mint State: One of the most sought-after conditions for Barber quarters is Mint State. Since it was first minted, the surface of this coin has not experienced any wear. Recognizing this high quality involves inspecting specific key areas of the design to verify no wear has removed any of the original surface.
First, look at Liberty's entire cheek and neck region. A "luster" is imparted to the metal during the striking process of the coin when originally minted. Wear to the delicate luster turns the metal a soft, dull gray color. Both high relief and low relief areas of the coin are fully radiant with luster when tilted and moved under a light.
Additionally, the lack of wear on the design's highest points is confirmed. Liberty's hair just above the forehead shows no signs of the metal being flattened or smoothed when closely examined. When worn in this area, individual hair strands quickly blend into a smooth, flat surface. A fully detailed coin of exceptional collector quality is a Mint State quarter.
Extremely Fine Grade
Extremely Fine: Extremely Fine grade is defined as a quarter with just a small amount of noticeable wear. These Barber series coins in excellent condition are highly prized and sought after by many collectors. Overall, a silver-gray tone to the metal is replacing original mint luster.
Looking at the hair right above Liberty's forehead is an area that shows early wear. A small amount of blending has flattened many of the fine hair strands that were originally part of the design. Next examine the headband's lower and upper edges in the area. This coin is graded high quality because of a well-defined band that is separate from the hair.
A significant characteristic of this grade is that all leaves within the wreath have strong outlines and very distinct contours. Wear is minimal and restricted to the leaf edges. A pleasing coin giving the impression of having very sharp detail overall. With no distracting marks, this Extremely Fine grade example is a nice collectible coin.
Fine Grade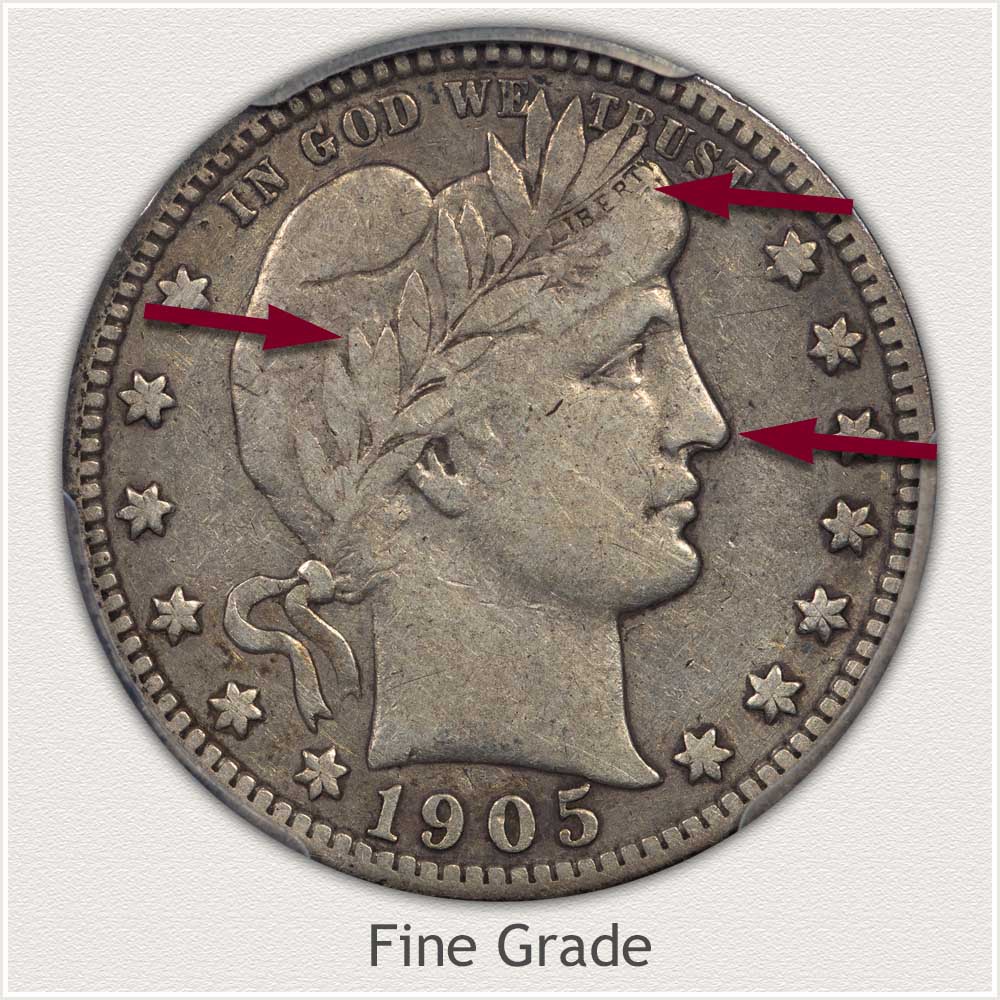 Fine Grade: Barber quarters in Fine grade require the lettering "LIBERTY" in the headband above the forehead in readable condition. To judge all letters are visible, collectors carefully examine this area. Fine grade coins are determined by well-defined letters.
Examine the headband with the help of a magnifying glass to make certain that each letter is visible. Letters "ER" in the band's highest relief area need to remain recognizable. The coin is considered high grade if they remain bold.
Also, wear has flattened the contours of all leaves within the wreath due to smoothing of the metal. Each leaf, originally defined by high and low reliefs and bold edges, is now a smooth, flat surface. Upper row of leaves is well outlined and defined, qualifying for the Fine grade condition.
In Liberty's portrait, strong features remain, preserving its collectible quality. A coin with only moderate wear is identified by its well-defined cheek and neck regions.
Good Grade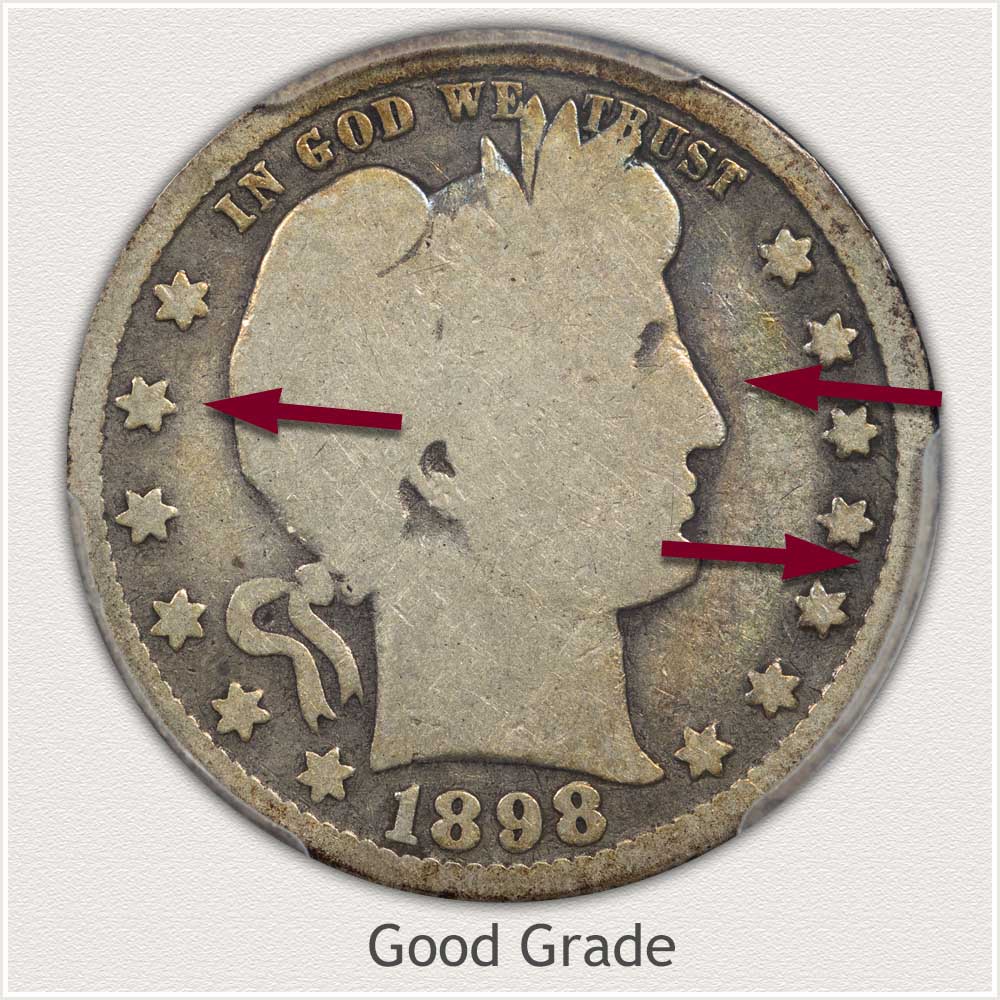 Good Grade: A strong and complete appearance of Liberty's portrait is a contributing factor helping define the Good grade. The design's original features are now worn mostly smooth. Her portrait, however, does not merge into the lower fields of the coin, placing the example quarter within the grade category.
Although much of the metal and design is smooth from wear, remaining details are full and bold. There is clear separation between stars along the rim and the rim itself. The rim is clearly defined at its edge, a sharp line that does not fade into the field. These coins have a pleasing appearance helped by a bold date.
When examining the surface as a whole, notice there are no heavy marks visible and it has a nice silver-gray color with darker tones toward the edges. Although well circulated Barber quarter, it still retain a pleasing appearance.
How to Video: Grading Barber Quarters
Subtle grading considerations are reviewed in the video. Examine closely the coin's important features and evaluate its condition using the close-up images to determine its grade.
Video, Images and Descriptions | Grading Barber Quarters
Step 3: | Special Qualities Enhancing Value
Mint Records Point to Valuable Barber Quarters
Often, insight and information is gained by viewing a series of coins and taking note of their initial production numbers. Barber quarters, a series spanning the years 1892 to 1916, saw many high and low quantities of coins produced per year. Collector popularity of individual dates and mint varieties is influenced by the numbers struck as recorded by the mint. A certain rarity factor is perceived, and demand is created by very low mintages.
Three large groups stand out on the above chart. Mintage numbers showing as high peaks, low to very low peaks, and the crowed range in the middle. 1899 Philadelphia issues, an early year of the series, rising high on the chart, is one date and mint available today. These are enjoyed by new collectors seeking an old and affordable Barber quarter. Many other large mintages are quickly spotted, leading to the recognition of abundant varieties.
Scarce to rarely encountered dates and mints are easily identified by their low coinage numbers. Early in the series, 1892-S San Francisco quarters were minted in low numbers and are a premium coin today. Only just showing is the very small (40,000 minted) 1913-S San Francisco mint variety, a key to the series today and highly prized.
One factor present in Barber quarter coinage is the responsibilities of the different mints and the amounts needed to satisfy commerce in their area.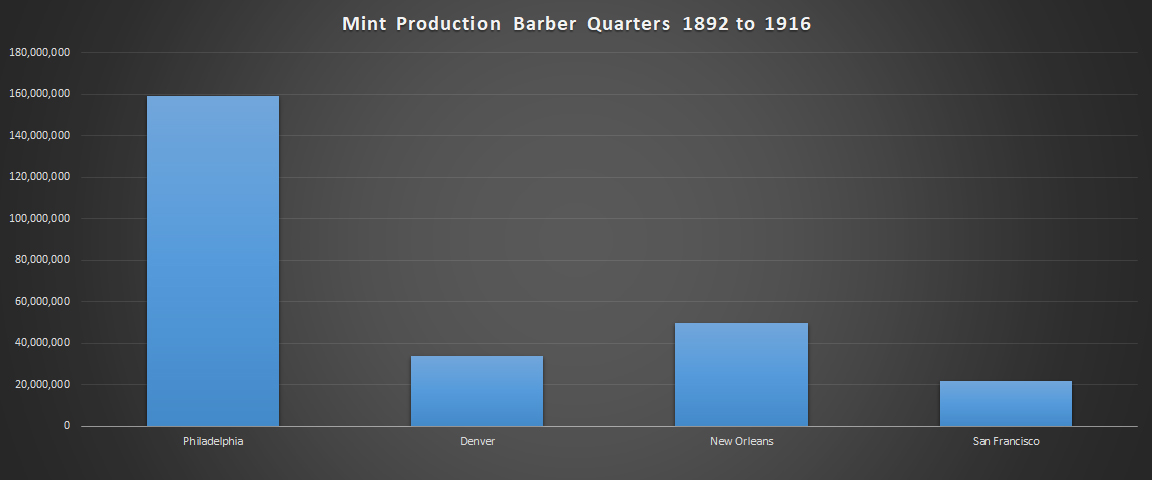 Philadelphia, the main mint on the east coast of the U.S. required minting very large numbers of coins. San Francisco on the west coast provided quarters for a smaller population.
Both mints met production throughout the years of the series, and average mintage numbers from each mint show in the overall totals.
Collectors are keen to understand the availability of the different dates and mints. Mints with low overall numbers are noted and confirmed by availability. Values adjust to these demands on today's existing supply.
The New Orleans mint has been a popular mint variety with collectors over the years. Barber quarters were supplied by the mint from the beginning of the series. Closing the mint permanently to coin production in 1909 created added interest in a retired mint issue. Combined with the moderate numbers produced over the years, these are now a valued, in demand collectible in all states of preservation.
Market strength is a special quality of many Barber quarters, low mintages, and popular mint varieties, all adding interest to a now very old series of U.S. coinage.
References
U.S. Mint. 1917 U.S. Mint Annual Report. https://nnp.wustl.edu/library/book/514130
U.S. Mint. 1948 U.S. Mint Annual Report. https://nnp.wustl.edu/library/book/339
Coin Values | CoinStudy Articles
Date by Date
In Depth Barber Quarter Values
1892 to 1916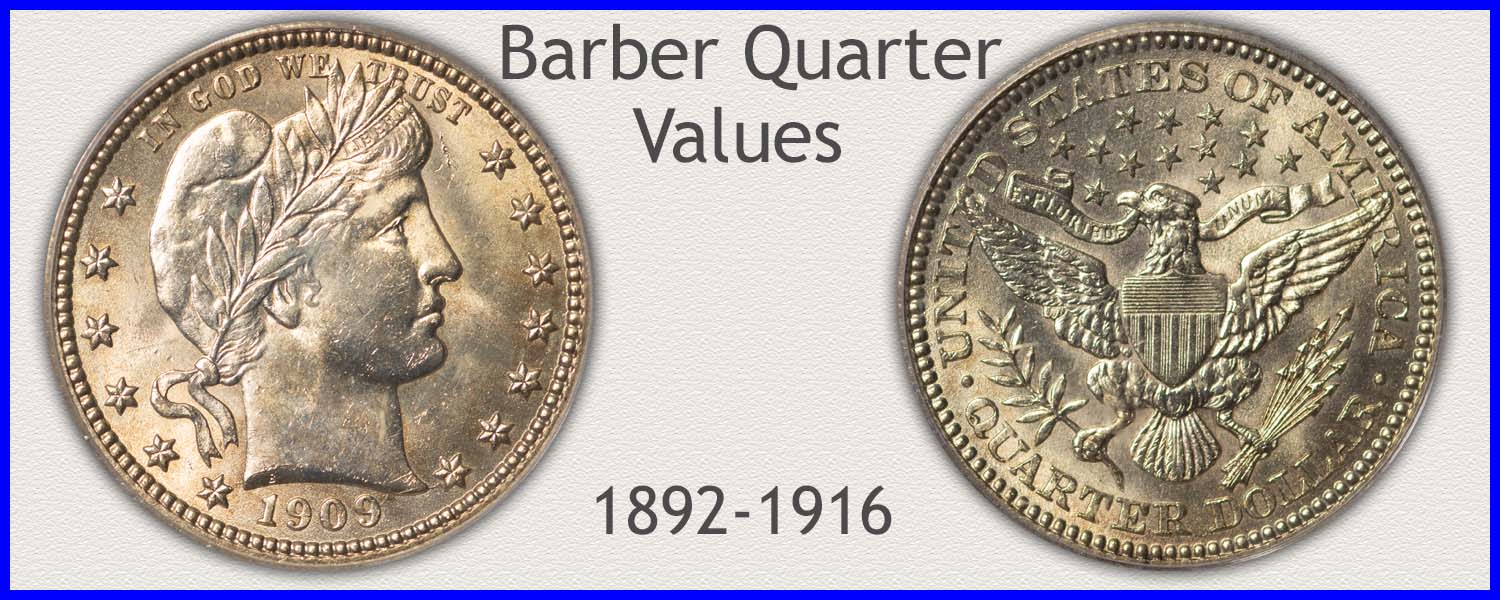 Barber Quarter Value | Many In Demand Dates
Different condition coins are valued separately, also the many dates and mints of the Barber quarters range from common to scarce to very rare. Complete value chart of all dates and mints with condition ranges are listed. All dates of the series are in demand.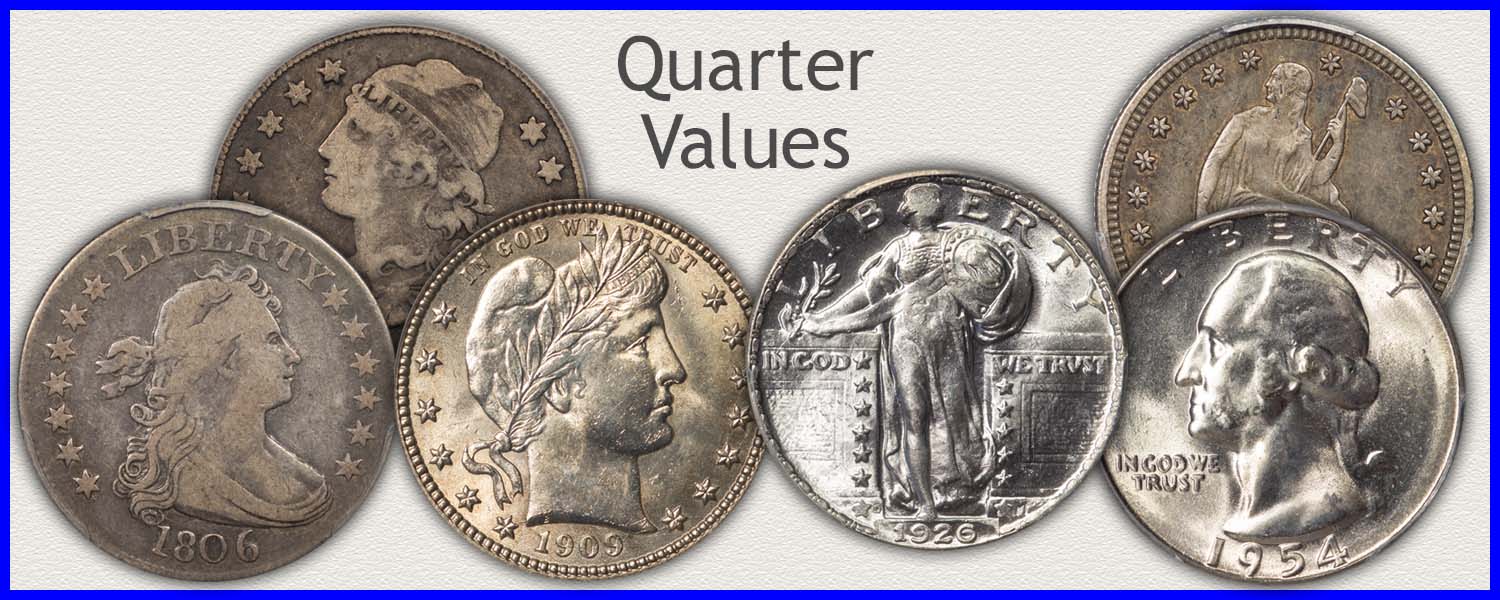 Quarter Values | Scarce Series and Designs
Many appealing designs are part of the quarter denomination of U.S. coinage. Barber quarters were minted long after the first quarter in 1796. Bust and Seated quarters are the very early issues and highly valued. Identify your old quarter with images and links to the series.
Silver Coin Values | Minimum Values of U.S. Silver Coins
Silver was a base metal to U.S. coinage up to 1964. Many of these silver dimes, quarters, halves, and silver dollars are valued and traded today rising and falling with the price of silver. Using the calculator and current market price of silver determine the minimum worth of the older 90% silver coinage.
Safe Coin Storage | Recommendations
High valued coins when properly stored are protected from handling, further damage, and remain in the same condition when collected. Recommended are products available to collectors to house both single coins and multiple coins in groups.
Silver forms a solid base to many vintage U.S. coin series. Selling these coins first involves recognizing the 90% silver alloy issues, using the calculator for current worth, and finding dealers to contact. Images and descriptions identify the silver issues, and a listing of dealers buying silver coins is referenced after calculating current prices.
★Coin Values Discovery finds 1916 Quarter Value and...
All old U.S. coin values. The home page introduces the important steps in the value process. Identifying your coin series, accurate date and mint, and images to compare when judging condition. Key elements are noted to narrow a range of how much these old coins are worth.