Coin Values Moving with Precious Metals: Up-Dated 9/25/2023: Gold $1921 | Silver $23.44
1912 Quarter Value
By following defined steps, determine the correct listing on the chart of 1912 quarter value.
Firstly, in 1912, different mints struck quarters, resulting in mint varieties to identify. In addition, the condition of each coin is assessed to narrow value. Two separate markets are interested in these coins. From silver investors seeking base silver content to collectors wanting collectible grade pieces to add to collections.
The range of values listed reflects the range of availability. Find out how much these Barber quarters are worth by following a step-by-step process.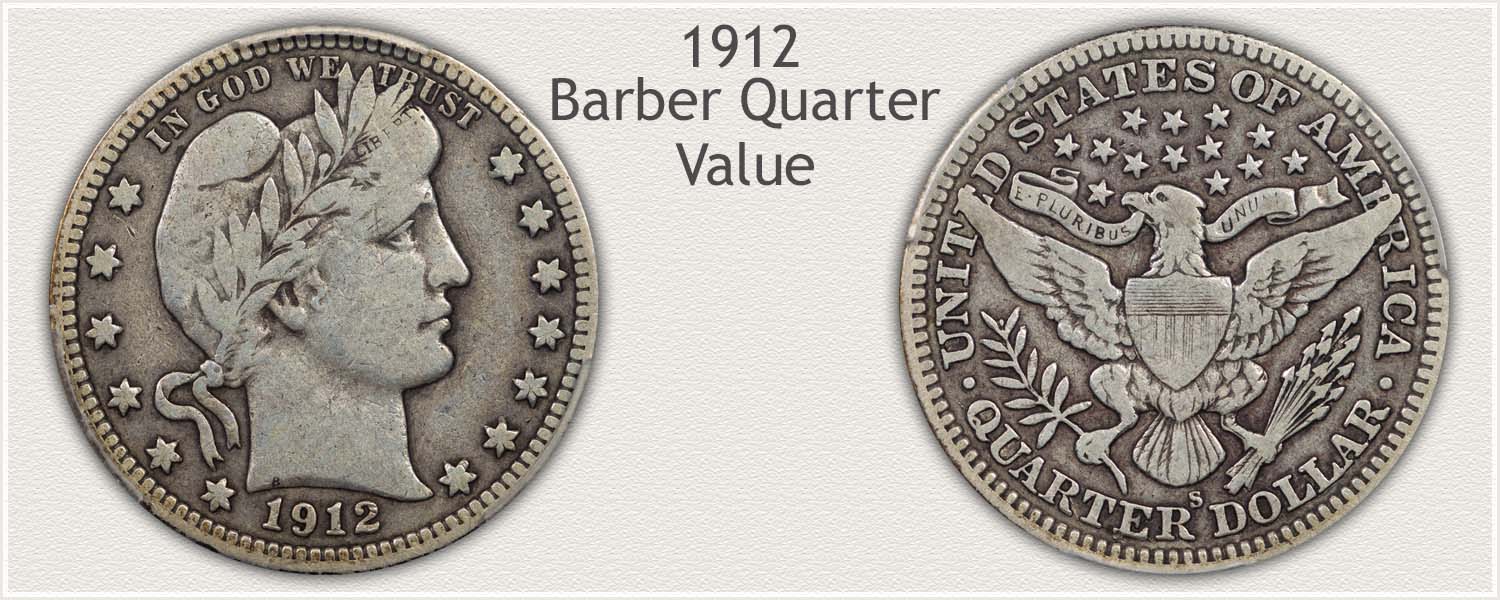 Steps Leading to Value:
Step 1: Date and Mintmark Variety - Depending on the mint that struck a 1912 quarter, the value fluctuates. Each date and mint issue is listed on the chart separately.
Step 2: Grading Condition - An important step. Collectors decide on acquiring a coin based on how well preserved and amount of detail remains. Compare to images to help recognize high quality.
Step 3: Special Qualities - Searching and finding an eye appealing old quarter is a challenge. A few grading basics help identify these coins.
1912 Quarter Value
Condition of Coin
Date
Good
Fine
Extremely
Fine
Mint
State
Barber Quarter Values Updated
5/25/2023
1912
$5.66
$15
$55
$179
1912 S
$18
$53
$131
$327
Values listed are a starting point to wholesale Barber quarter worth. Dealer demands plus a close eye to condition are important to recognize. Use the steps to narrow the value range.
Step 1: | Date and Mint Varieties | Images Confirm Mintmark
1912 Scarce Mint Issue Valued by Collectors
The different mints striking coins in each year are typically part of Barber quarter collections. Branch mints used mintmarks to distinguish their coins. Two mints supplied coins this year and of particular interest and value is the San Francisco mint quarters of 1912.
Mintmarks are recognized by referencing the images below and comparing to your coin. These small marks are often the indication of premium value.
1912-S Barber Quarter
"S" Mintmark on Reverse: San Francisco Mint Struck the Coin
A scarce mint issue of the year is the San Francisco 1912 quarter. In total, the mint produced just over 700,000 pieces of these Barber quarters. Because of their limited mintage, quarters from this era are now extremely difficult to find.
Collectors are interested in any U.S. coin with a mintage of less than one million. Examples in all states of preservation are given premium values. New collectors find the affordable pieces in the well-worn condition range. Advanced collectors of Barber quarters award high value to lightly circulated or better pieces.
The "S" mintmark the San Francisco mint placed on all of its production is used to easily identify its coinage. Above the lettering "Quarter Dollar", the "S" mark is seen on the reverse.
1912 Barber Quarter
No Mintmark on Reverse: Philadelphia Mint Struck the Coin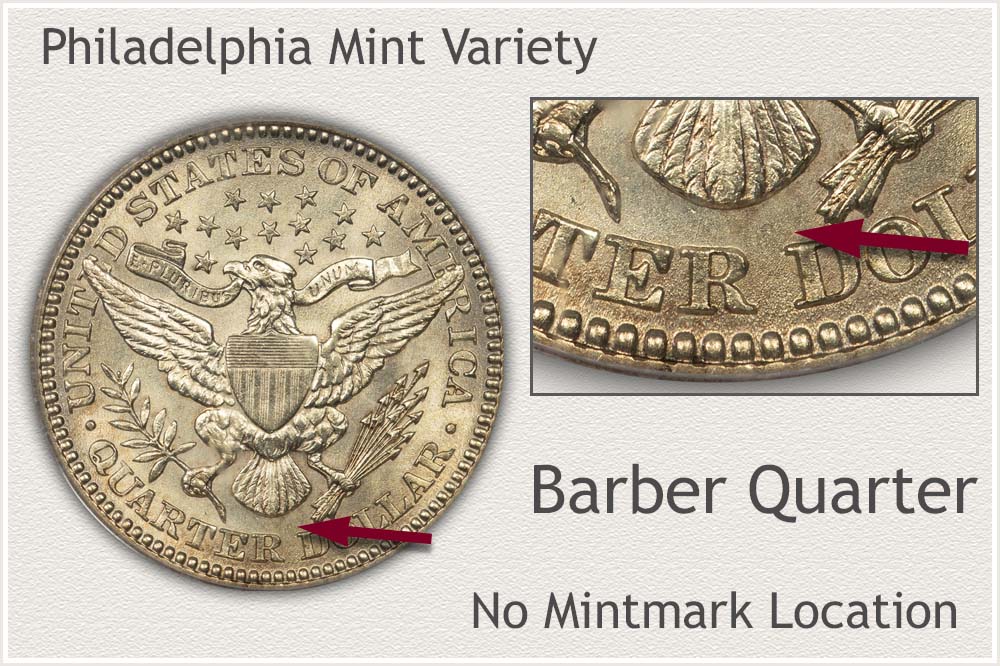 A Philadelphia mint issue is a popular choice among collectors seeking a nice representative of a 1912 quarter. It's the available, affordable mint variety of the year. 4.4 million were struck, which is a significantly higher number than the scarce branch mint issue of 1912.
These obsolete Barber quarters are sought by collectors and silver investors, representing the two primary markets. Examples that are very worn trade near their base silver worth plus a small premium. When searching for a coin, a collector seeks one with less wear and a pleasing amount of detail.
Branch mint issues are identified by their mintmarks, while Philadelphia mint coinage is distinguished from other mints' coinage by the lack of a mintmark. Look at the area directly above "One Dollar" on the coin's reverse; if it's blank, the quarter comes from the Philadelphia mint.
Step 2: | Condition is Defined by a Grading Process
Grading Condition | Important to Accurate 1912 Quarter Value
Subtle differences are identified from one grade from the next higher grade. These vintage quarters are a higher premium collectible if they are in excellent condition and display the finer details of the design.
Different stages of wear are classified into the different grades. The limited condition range within a specific grade is determined by comparing standards.
Mint State Grade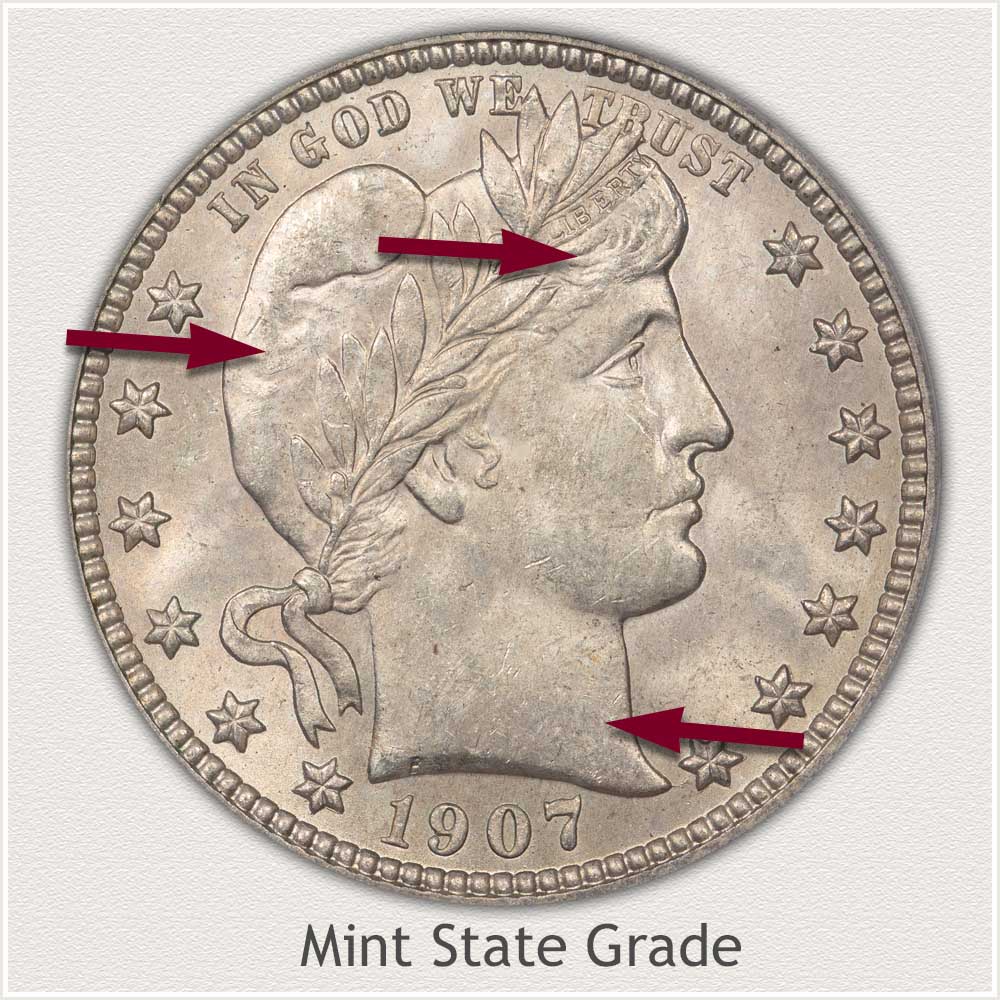 Mint State: For a coin collector, the grade of "Mint State" is important. It is a Barber quarter with no wear to the surface. Additionally, it is in a high quality condition with all original details visible. A rare state of preservation for this old series of vintage quarters.
The coin's original design contains numerous minute details. To ensure there is no wear-related smoothing or dulling, the highest points are examined. Above Liberty's forehead, there are raised fine lines of hair. It indicates mint state condition if mint luster covers the area. When coins circulate, their luster fades and dulls first and quickly.
Inspecting Liberty's cap further confirms no wear is visible. As the coin is turned and moved under a single light, luster is seen reflecting off the very top and outside edges of the cap.
An overall view reveals that there is no dulling to high points of her neck and cheeks. Worn silver takes on a different color and a smoother texture than lower intact luster in design recesses.
Extremely Fine Grade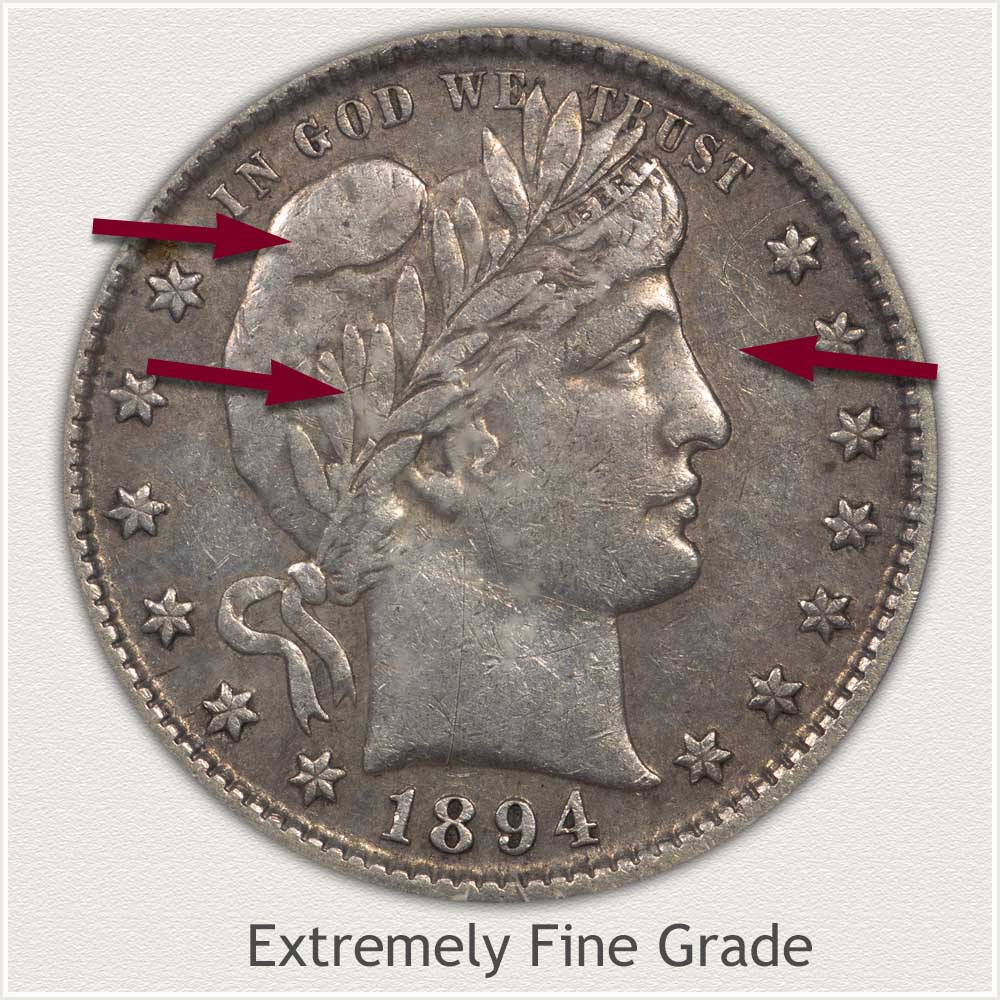 Extremely Fine: A collector examines the surface quality of these old quarters carefully. To qualify for the Extremely Fine grade, the coin retains fine details and shows wear on only the highest points of high relief areas.
It is important to examine Liberty's wreath. Small details prone to wear are examined within the leaves, including slight contours and the edges defining the leaves. All edges of the Laurel leaves, including the stems, are strong and bold, enough to help qualify for an Extremely Fine grade. It's important to confirm these details on the lower row of leaves also.
Liberty also wears a detailed hat on top of her head, with distinct folds. Folds to the cap remain fully contoured with wear confined to the upper edge of the cap. A close-up view of the example Barber quarter shows a strong portrait with contoured eye, nose, and cheek. These details identify a coin's collectible quality.
Fine Grade
Fine Grade: Barber quarters have a specific wear pattern used to help categorize the stages of wear. Moderate wear, defining the Fine grade, is recognizable by certain features remaining of the design.
High areas of relief, quick to wear first, are Liberty's forehead and the wreath of Laural leaves extending to below her ear. Notable of the forehead is the now merging of hair and headband. The lower edge of the band is also worn smooth. However, all lettering to "LIBERTY" is visible, a necessary detail to obtaining the Fine grade.
Leaves of the wreath within her hair are stronger in definition along the upper row. All edges to the leaves are clear with the exception of slight merging towards the high area above her forehead. Along the lower row of leaves, many of the edges are now blended with the high areas of hair.
With smooth surfaces overall and clear edges to most small details, a Fine grade coin is of collectible quality. Condition remains pleasing with a soft-grey color and boldness of Liberty's portrait.
Good Grade
Good Grade: A beginning collector often seeks appealing examples of a scarce date and mintmark combination Barber quarter in Good condition. Good condition is judged by Liberty's portrait, which is mostly an outline but stands out strongly from the field of the coin.
The example coin features Liberty's portrait in its entirety, a complete outline. There is no fading of either the upper leaf edges or the ribbon ends at the back of her head into the coin's fields. A date that is clearly readable and a complete rim are two characteristics that also identify the grade. One important feature of the Good grade is the fact that, looking closely at the edges of the stars close to the rim, they are all entirely distinct from the rim.
Adding to their appeal, edges of the remaining design elements on these coins still have a certain crispness to them, despite the fact that these coins are in a condition of heavy wear.
How to Video: Grading Barber Quarters
Grading a Barber quarter requires evaluating key areas. Wear and surface condition is identified and judged by these features. Specific grading elements are described in the video and descriptions.
Video, Images and Descriptions | Grading Barber Quarters
Step 3: | Special Qualities | Found by Grading Barber Quarters
Grading Basics Identify Premium Barber Quarters
Condition of Barber quarters are an important part to value. Nice quality coins are in demand and a few grading procedures help to narrow their state of preservation.
Judging condition is best done by comparing your quarter to examples of known grades. Comparing one coin to another "within" a group of old coins does not identify an accurate grade.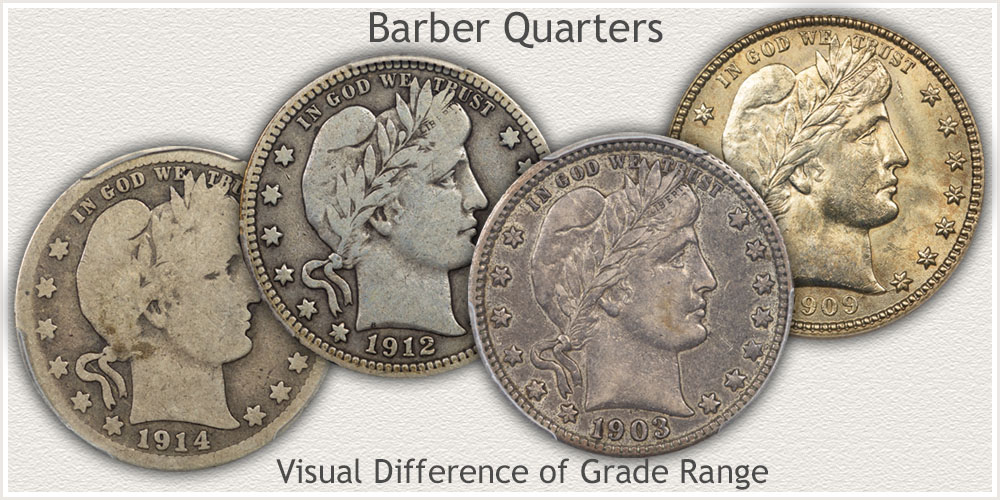 Scan your coin along the row of example grade coins. Matching to a similar condition coin in the image begins to narrow the condition. Looking at small details, for example, leaves and headband on Liberty's portrait, similarities and differences begin to appear. Use this approach when judging condition.
A close-up view of remaining detail is often needed. A magnifying glass of 3 to 5x power does the job. Place your viewing area on an open table with a single light source. Ample room for viewing and lessening the chance of dropping coins to the floor.
If these old Barber quarters are in holders or albums and remain visible, there is no need to remove and handle them directly. You are in a preliminary stage of recognizing higher value coins worth an in-depth judgement.
Using these methods increases accuracy and organization when determining values of Barber quarters.
References
U.S. Mint. 1913 U.S. Mint Annual Report https://nnp.wustl.edu/library/book/514126
U.S. Mint. Catalogue of Coins of the United States. https://nnp.wustl.edu/library/book/554591
Coin Values | CoinStudy Articles
Date by Date
In Depth Barber Quarter Values
1892 to 1916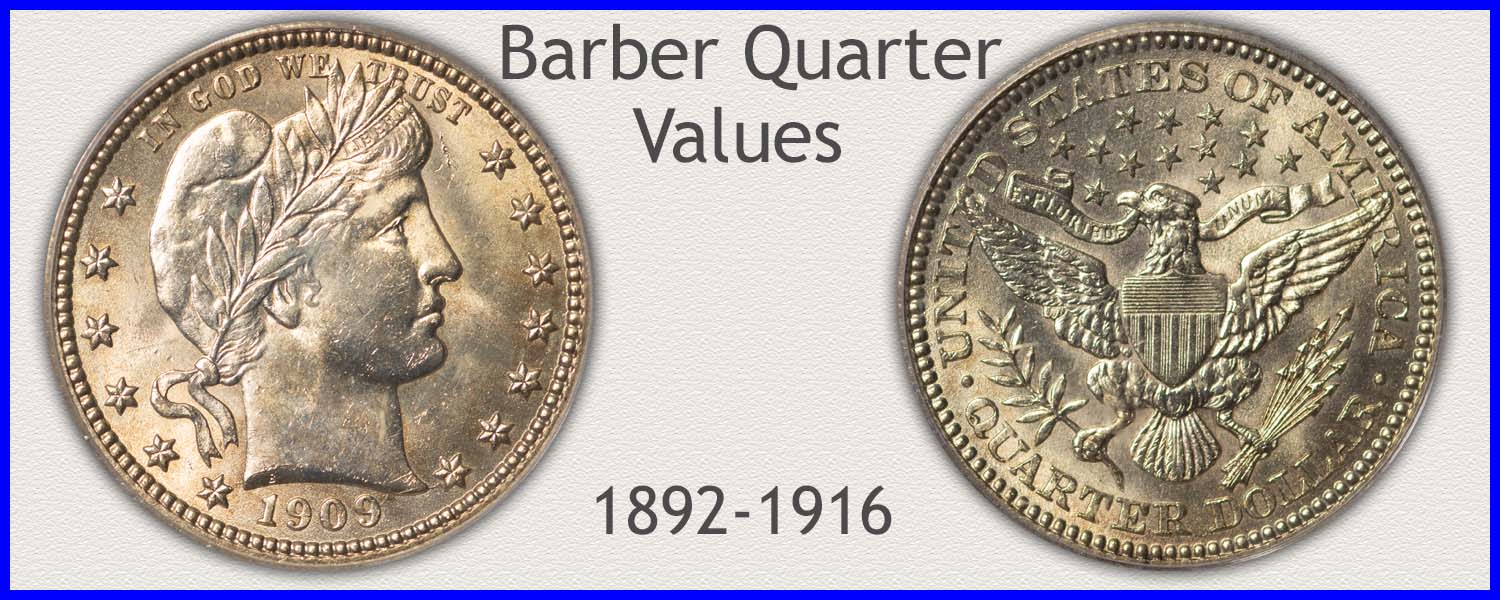 Barber Quarter Value | Strong Demand by Collectors
Collectors seek 1912 quarters as part of the long running Barber design series. Full listing of the many date and mint combinations are found on the value chart. Mintmark images and grading images identify and judge these old quarters finding an accurate value of each.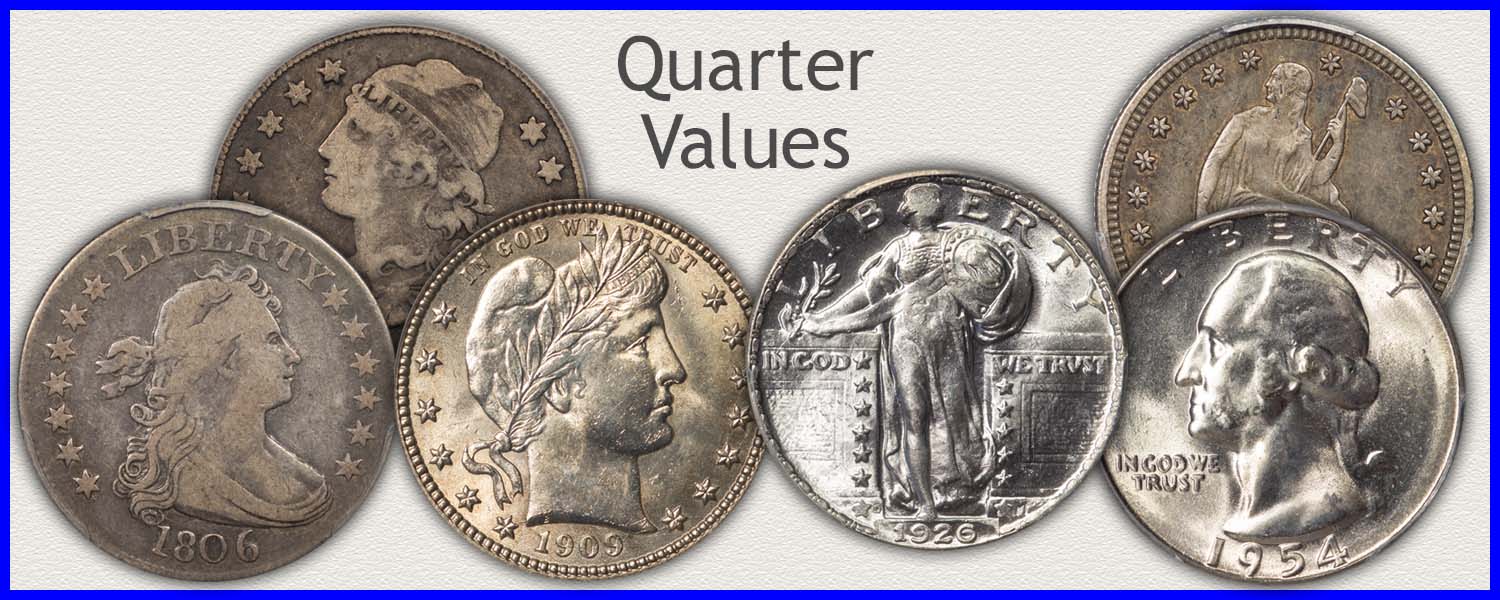 Quarter Values | Discover the Many Series
Barber quarters are of one of many design series of quarters. Each series has its range of values, key dates and popular mints. Identify your old quarter by images, follow links to coverage of values, grading and special qualities of the various series.
Coin Value Guide | How to Value a Coin Collection
Starting with organizing a coin collection prepares for an accurate evaluation. Essential key factors are categorized in order and follow a method to accurately place a value on the collection.
Silver Coin Values | Minimum Values of U.S. Silver Coins
Two strong markets exist in old silver U.S. coinage. Collectible quality examples and bullion quality coins trading at base silver value. Identify the vintage silver coinage with images and descriptions and using the calculator place a current value on the silver bullion quality coins.
The U.S. quarter denomination was introduced in 1796. Many dates of the early years are very rare and most are scarce and highly valued. Beginning with Seated Liberty series, collectors find difficulty in completing sets because of the rarity of many date and mint examples. Barber quarters are represented, Standing Liberty and Washington series all have coins with potential.
Selling Coins | A Defined Process
Following a process to accurately identify your coins and current market value is a strong beginning to receiving a fair offer. Each series is different in key elements to recognize. Judge and evaluate your coins and then reference the dealer listings.
★Coin Values Discovery finds 1912 Quarter Value and...
All U.S. coin values. Coins are valued on a scale depending on the series, date, and condition. These primary elements are part of a step by step process followed when judging old coins. Start the process by comparing to images of the different series of U.S. coins and links to each series and value charts. A box of old coins has potential.