Coin Values Moving with Precious Metals: Up-Dated 9/25/2023: Gold $1921 | Silver $23.44
1897 Quarter Value
Different mint issues and their production numbers have an influence on 1897 quarter value this year.
Three mints struck Barber quarters towards the end of the century. There is a wide range of value for these different issues, from those worth silver content to those that are premium, difficult to locate varieties.
Images are used at every stage of the examination process to identify the presence of mintmarks, indicating the mint striking the coin. On the chart, there are a wide range of values narrowed by this process.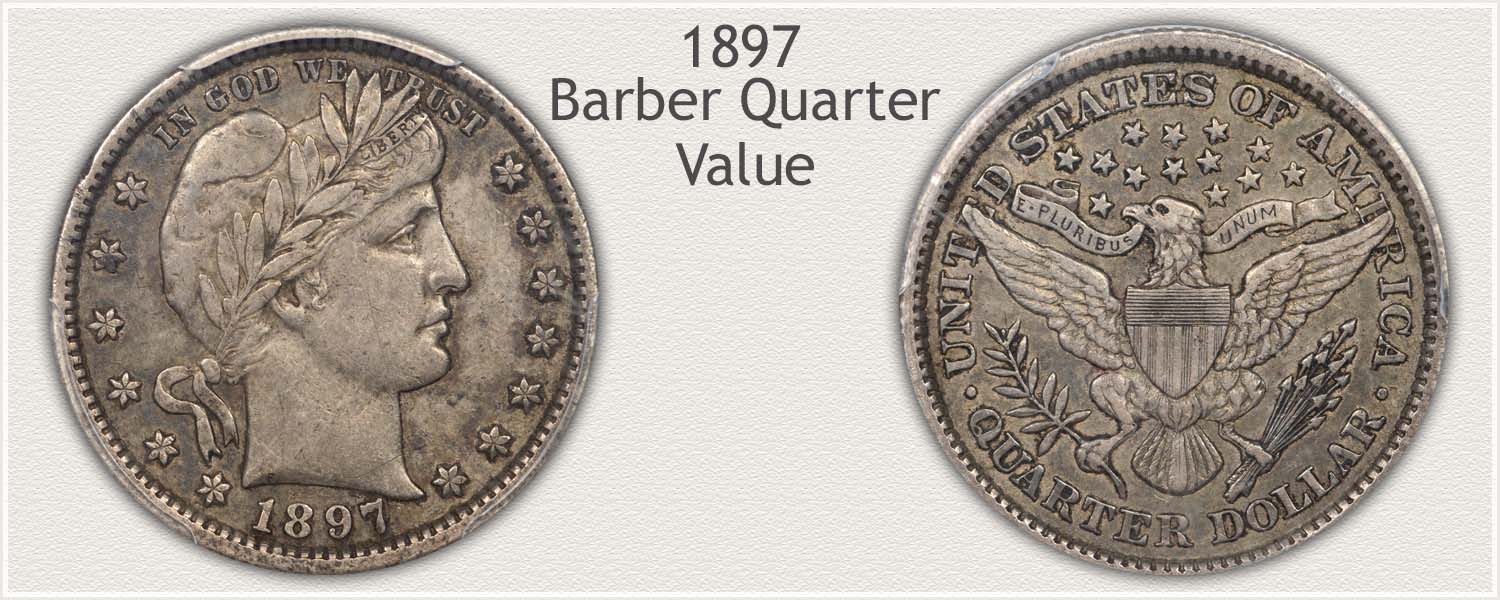 Steps Leading to Value:
Step 1: Date and Mintmark Variety - There is a significant change in value depending on which mint struck an 1897 quarter. Collections are judged and valued on the basis of their mint issue and date combinations.
Step 2: Grading Condition - A coin's condition and grade are determined by the amount of wear and appeal. Grading helps confirm the appeal and worth of a coin.
Step 3: Special Qualities - Identify the characteristics and collectible qualities that commonly raise or lower the premiums that Barber quarters receive.
1897 Quarter Value
Condition of Coin
Date
Good
Fine
Extremely
Fine
Mint
State
Barber Quarter Values Updated
5/25/2023
1897
$6.51
$17
$51
$171
1897 O
$37
$161
$365
$994
1897 S
$71
$211
$587
Rare
The above chart list wholesale 1897 Barber Quarter values. Computed from dealer's price lists and auction records with various mark-up factors figured in.
Step 1: | Date and Mintmark - Three Different Varieties
Mintmarks on 1897 Quarters are Recognized
High numbers struck in 1897 places the Philadelphia variety quarter as abundant. Less likely to find are the branch mint issues of New Orleans and San Francisco quarters.
Mintmarks were used to identify each of the branch mints issuing coinage. These mintmarks are located and confirmed by using the images below.
1897-S Barber Quarter
"S" Mintmark on Reverse: San Francisco Mint Struck the Coin
The rarest mint variety of the year is the San Francisco 1897 quarter. Only producing 542,229 coins for the Barber quarter series. This became the fifth lowest mintage of the series from San Francisco. Today, it is challenging to find these low mintage quarters.
Collectors are interested in any U.S. coinage having a mintage below one million. Every stage of preservation is rewarded with premium values. New collectors tend to choose well-circulated examples. A challenge for advanced Barber quarter collectors is finding a nice, lightly circulated to superior coin.
The "S" mintmark used by the mint on all of its production identifies San Francisco coins. On the reverse, the letter "S" is seen above the words "Quarter Dollar."
1897-O Barber Quarter
"O" Mintmark on Reverse: New Orleans Mint Struck the Coin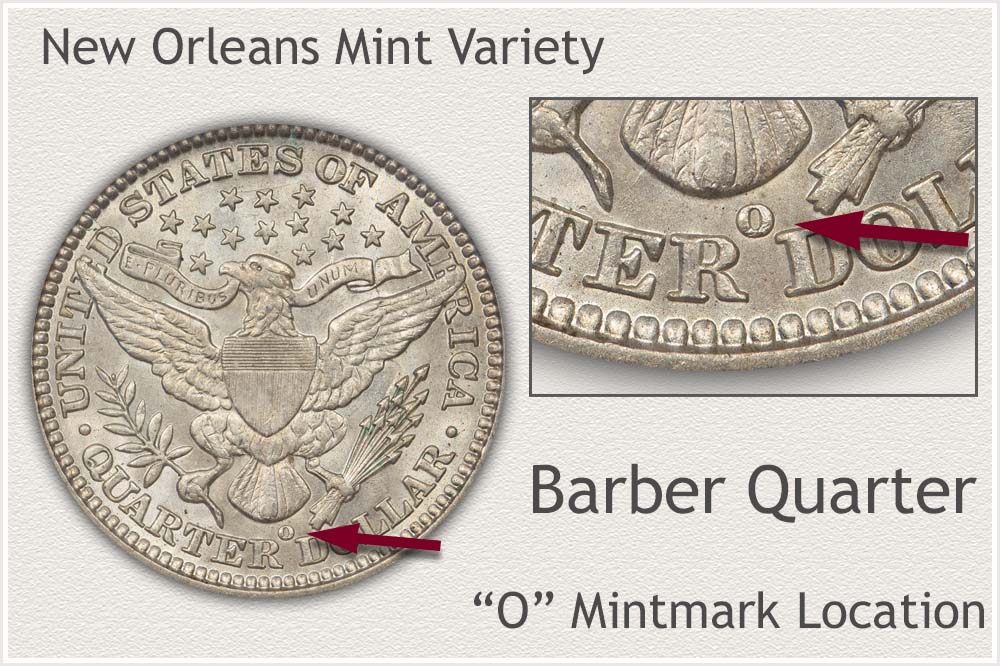 Collectors have taken note of the scarcity of the 1897 New Orleans issued quarters. There is a difficulty in finding attractive examples to add to collections. A total of 1,414,000 were struck by the New Orleans mint, which was sufficient for the time period's economy. This is marginally less than the mint's typical annual production. There is, however, a high demand for this mint variety today, as they appeal to many collectors. New Orleans quarters are in demand from date set and mint set collectors as well as mint variety specialists.
On the reverse of the New Orleans issue, there is an "O" mintmark. Just above the letters "Quarter Dollar" is seen a large "O". "O" mintmarks confirm a coin's date and mint variety.
1897 Barber Quarter
No Mintmark on Reverse: Philadelphia Mint Struck the Coin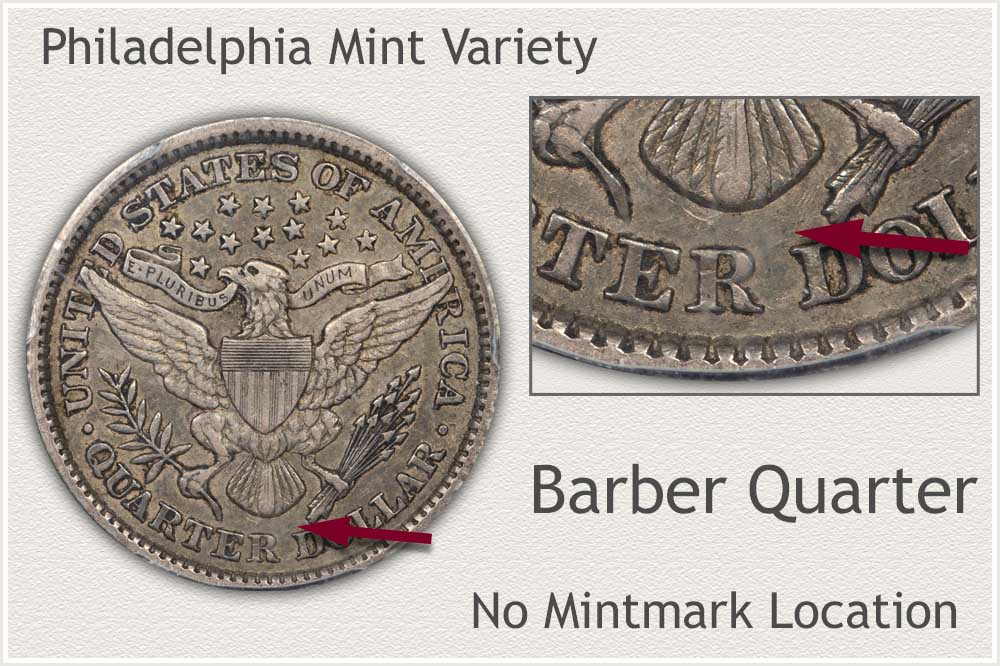 The Philadelphia issue is the most common 1897 quarter found today. These quarters were manufactured in amounts that exceeded 8.1 million individual pieces. Numerous collectors are interested in this affordable mint issue. Investors also seek them because of their silver content and favorable price near silver base worth.
In order to distinguish and identify a premium quarter, the chart stresses the importance of condition. A nice collector-quality example is hard to find, despite the fact that quantities of the date remain.
The United States' principal mint is located in Philadelphia. It did not use mintmarks on its production throughout the Barber series' minting. To verify the mint issue, the typical location of the mintmark is empty. A Philadelphia mint variety quarter has no mintmark on the reverse, below the eagle's tail feathers.
Step 2: | Grade Condition to Define State of Preservation
Important Qualities of Condition Determine 1897 Quarter Value
With a couple of high premium mint varieties, 1897 quarters need a close inspection of their condition. Grading judges and then defines the condition of these coins, placing them in categories as seen on the value chart.
Using the images of different grades helps visualize the large and small differences to the surface as a coin begins to wear during use. Focus on the areas highlighted in the descriptions pointing to specific parts of the design indicating stages of wear.
Mint State Grade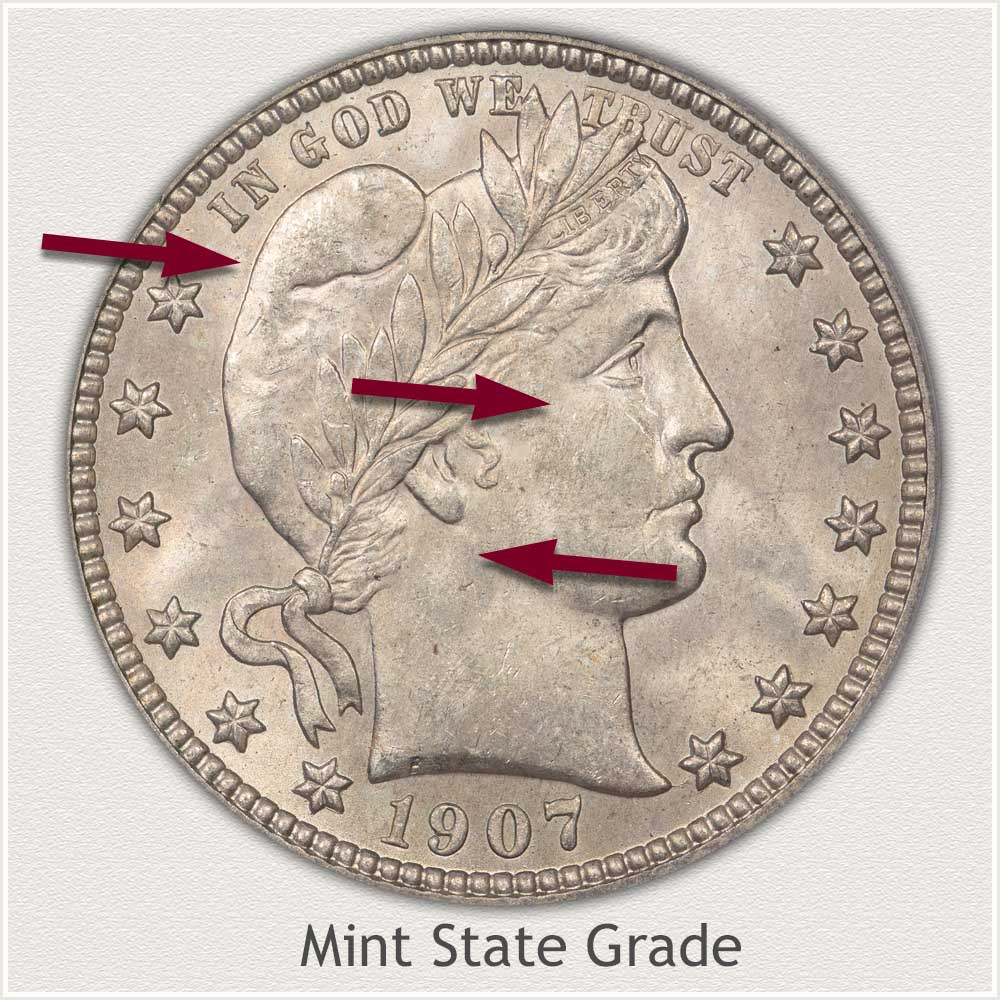 Mint State: Collectors strive to obtain the best quality example Barber quarter for their collections. This top condition is a mint state grade coin remaining in the condition it left the mint. Defining the grade is - no wear to the surface.
One of the best indicators of wear, is inspecting the luster remaining on the coin. Mint state condition coins have complete luster covering both the high and low recesses of the design. When minted, the striking process causes metal to flow, filling the design elements. Luster across the surface is a result of this metal flow.
Liberty's cheek is an open area prone to first signs of wear. Compare the high relief area under her eye with the lower area near the ear. Without wear, both have a similar texture, with no smoothing of the metal near the eye. Additionally, her neck and cap confirm a similar texture and shine in both high and low areas. A nice mint state example of a Barber quarter is identified.
Extremely Fine Grade
Extremely Fine: A collector inspects closely the surface quality of these old quarters. To place the coin within the Extremely Fine grade, fine details must remain and evidence of wear is confined to only the tops of high relief areas.
A prime area to examine is the wreath on Liberty's head. Small details, susceptible to wear are examined within the leaves; specifically, slight contours of the leaves themselves, and the edges defining the leaves. Looking closely, all edges of the Laurel leaves, including the stems, are strong and bold to qualify for the Extremely Fine grade. These details are also important to detect on the lower row of leaves.
Her cap at the top of her head is also detailed, with folds within the cap remaining well defined. A slight amount of smoothness to the metal is limited to the upper edges of the cap. An overall view of the example Barber quarter shows a strong portrait with fullness and roundness to her eye, nose, cheek, and neck. A collectible quality coin is recognized by these details.
Fine Grade
Fine Grade: Moderate wear, flattening, and blending minor design features defines the Fine grade. Areas to focus on to recognize this condition are the remaining detail within the wreath, lettering of the headband, and general flatness of the metal.
A Laurel wreath adorns Liberty's hair. To place in the Fine grade, the upper row of leaves, although smooth and flat, is well outlined, separate from her hair. Slightly less defined are the lower leaves, many are merged at the tips into the hair.
Above her forehead, the band displays all letters to "LIBERTY". A strong "BE" at the center is a good indicator of the Fine grade.
In an overall view, contours of Liberty's portrait are flattened only slightly. Inspecting the stars along the rim shows a flatness to the metal, losing the central radial lines, however, each star is very bold from the field. Ample detail remains with these collectible condition quarters.
Good Grade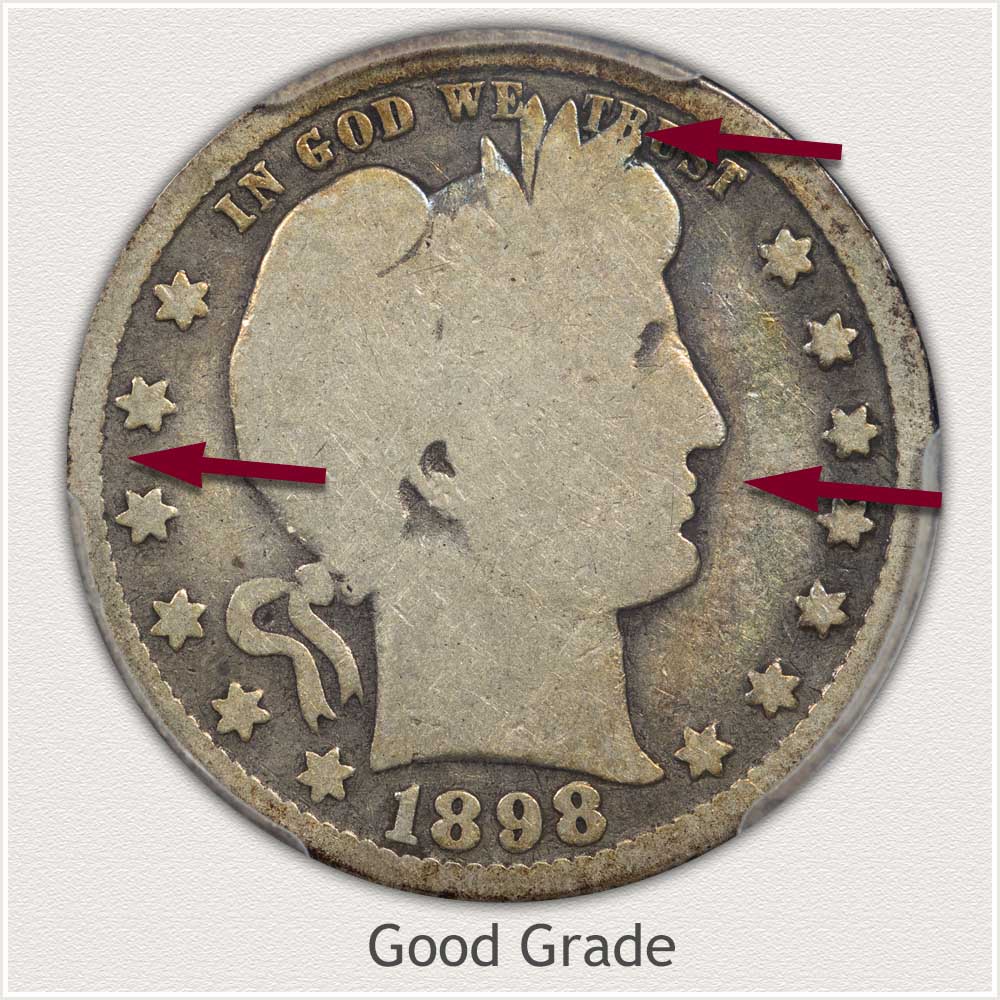 Good Grade: Despite their wear, many of these circulated quarters are appealing due to the remaining details. The example's Good grade condition is defined by a surface smoothed and flattened by wear.
Liberty's portrait appears smooth overall, lacking any small details from the original surface. Importantly, all of her portrait's outline is well-defined and well-raised from the fields. This complete separation from the field and full outline is confirmed by a close inspection of the edges of the upper leaves on top of her head.
The inner edge of the rim, which is meant to slow the wear of the design elements, is clearly defined. Stars are flattened and lack inner radial lines, but they are still full and distinct from the rim. Values of branch mint coins in this condition are quite high.
How to Video: Grading Barber Quarters
Review the video and make a careful assessment of the condition of these vintage quarters using additional images. On the chart, narrow the range of values.
Video, Images and Descriptions | Grading Barber Quarters
Step 3: | Special Qualities | Valuable Collections of Barber Quarters
Collector Demand and the 1897 Quarter
Value of the Barber quarter series is supported by the many collectors involved and the many ways the coins are assembled into sets.
Although these coins are a heavy 90% silver alloy with a strong silver worth, premiums above silver show strongest within collectible coins. Different collecting themes allow a wide range of collecting interests and price ranges to attract many levels of collecting.
A special Barber quarter is one that fits nicely into a complete date and mint set of the entire series. New collectors participate in these collections with quarters in the Fine grade range. An advanced collection attempts to assemble all coins within the Mint State grade, a challenge. A total of 74 coins are needed, and is a long-term effort, requiring study of the series and patience in locating coins. Of the three different 1897 quarters minted; the San Francisco issue is the scarce variety in all conditions, becoming a key rarity in Mint State grade.
Helping to shorten the time to complete a collection and lessen the costs involved, a popular theme collection is to obtain one quarter from each year of the Barber series. Only one example from the year is needed. With this year set, the total is now 25 coins, and many years provide an example suitable for new and advanced collecting levels of expertise. In this set, the Philadelphia variety is affordable to beginning collections. An alternative for an 1897 example is the New Orleans issue, a nice, semi-scarce coin representing an obsolete mint. Either is a good choice for an 1897 quarter.
Value is also the interest of popular minting facilities of U.S. coinage. Theme collections of New Orleans quarters is a specialty collection that includes 18 coins in degrees of difficulty from available to scarce. An 1897 New Orleans quarter is a semi-scarce coin in all levels of preservation. A nice set of circulated New Orleans quarters with soft antique gray toning is a satisfying set to complete. Mint State sets of these coins are a high value accomplishment.
Barber quarters of any year that attract collectors because of their nice condition or popular mint variety are special quality coins.
References
U.S. Mint. 1898 U.S. Mint Annual Report https://nnp.wustl.edu/library/book/319
U.S. Mint. Catalogue of Coins of the United States. https://nnp.wustl.edu/library/book/554591
Coin Values | CoinStudy Articles
Date by Date
In Depth Barber Quarter Values
1892 to 1916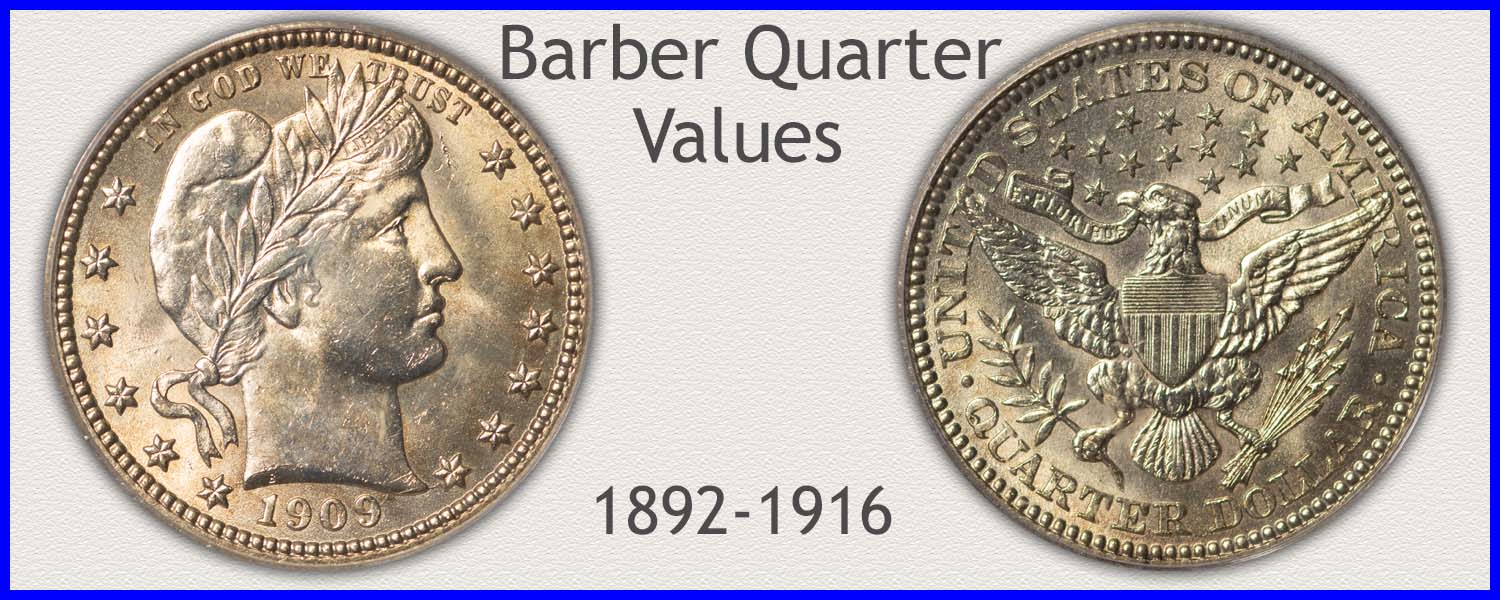 Barber Quarter Value | Strong Demand by Collectors
Collectors seek 1897 quarters as part of the long running Barber design series. Full listings of the many date and mint combinations are found on the value chart. Mintmark images and grading images identify and judge these old quarters finding an accurate value of each.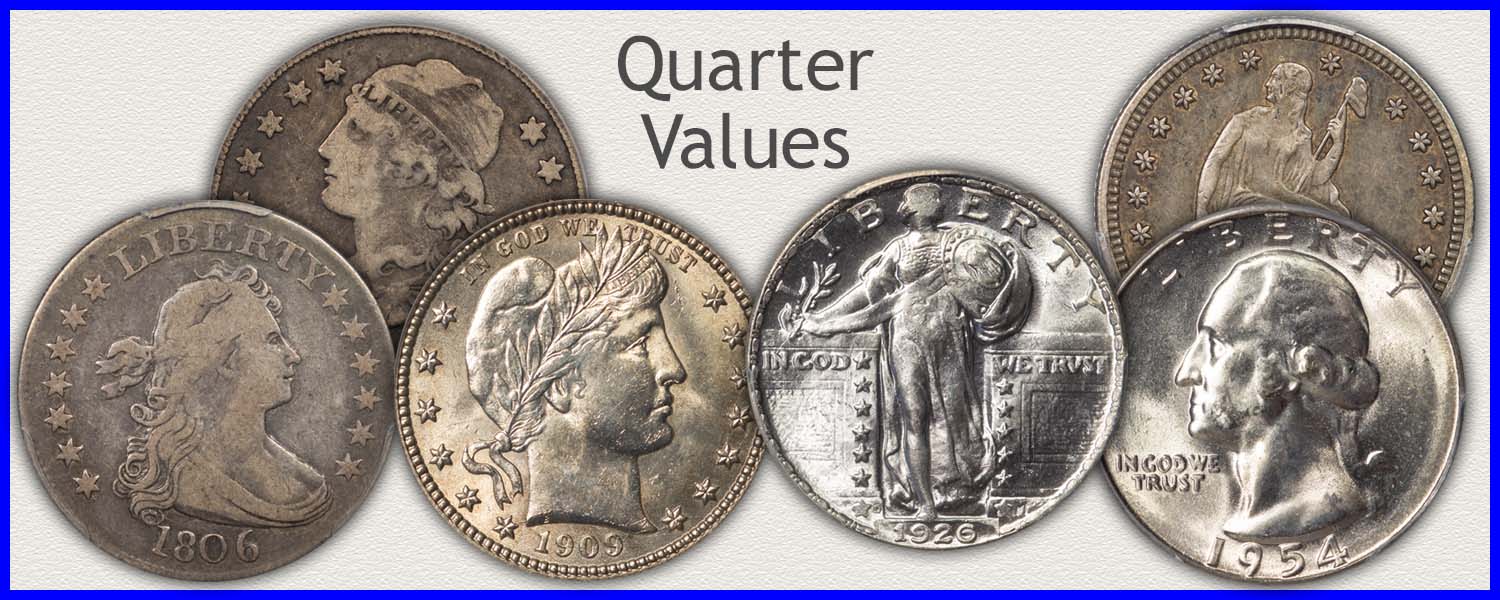 Quarter Values | Discover the Many Series
Barber quarters are of one of many design series of quarters. Each series has its range of values, key dates and popular mints. Identify your old quarter by images, follow links to coverage of values, grading and special qualities of the various series.
Old Coin Values | Step by Step
Determining the value of a few coins or complete collections follows a similar process. Important factors are recorded, including series, date and mint combinations. Barber quarters are listed and organizes alongside, but separate of other series. Steps are taken in specific order to assure a compete judgment of value.
Print the Coin Values Worksheet
Record accurate descriptions of Barber quarters with values. Your collection becomes identified and organized.
Popular Coin Series | Barber Quarters
Registry set collections give an insight to the numbers of serious collectors involved in the different series of U.S. coinage. Quarters in general, are a popular denomination to collect. Barber quarters are in demand by a solid group of collectors. Rankings of all major series are presented.
Rare Quarters | Spanning the Many Series
Many Barber quarters are entering the scarce to rare value range. Those of the 1890's are difficult to find in nice condition. All series of quarters are reviewed, pointing to the scarce and rare qualities placing these old coins high in value.
Selling Coins | Organized and Planned
Organize and record key factors to your coins to begin the selling process. An understanding of current market values with an accurate description of the coin, helps find the right buyer. Follow the same process use by the coin collecting community.
Coin Grading Services | Authenticate and Grade of Coins
High value coins are routinely sent to a grading service to authenticate and grade the piece. The two leaders in coin grading are NGC and PCGS. Each provide assurance of condition and grade of coins helping narrow the value range. Market acceptance of condition is often worth the fee to review the coin.
★Coin Values Discovery finds 1897 Quarter Value and...
All U.S. coin values. Coins are valued on a scale depending on the series, date, and condition. These primary elements are part of a step-by-step process followed when judging old coins. Start the process by comparing to images of the different series of U.S. coins and links to each series and value charts.