Coin Values Moving with Precious Metals: Up-Dated 9/25/2023: Gold $1921 | Silver $23.44
1898 Quarter Value
Coins having above-average detail remaining withing the design are given premium 1898 quarter value. Additionally, precious metal content of these 90% silver quarters is a strong base to their minimum worth.
Coins in well preserved condition are ones becoming highly sought. Barber quarters now belong to an old series of obsolete coinage.
Today, they are collected and valued based on the combination of Date and Mint, and notability, high-end condition examples are very hard to find. To determine where it belongs on the chart, follow the steps outlined below.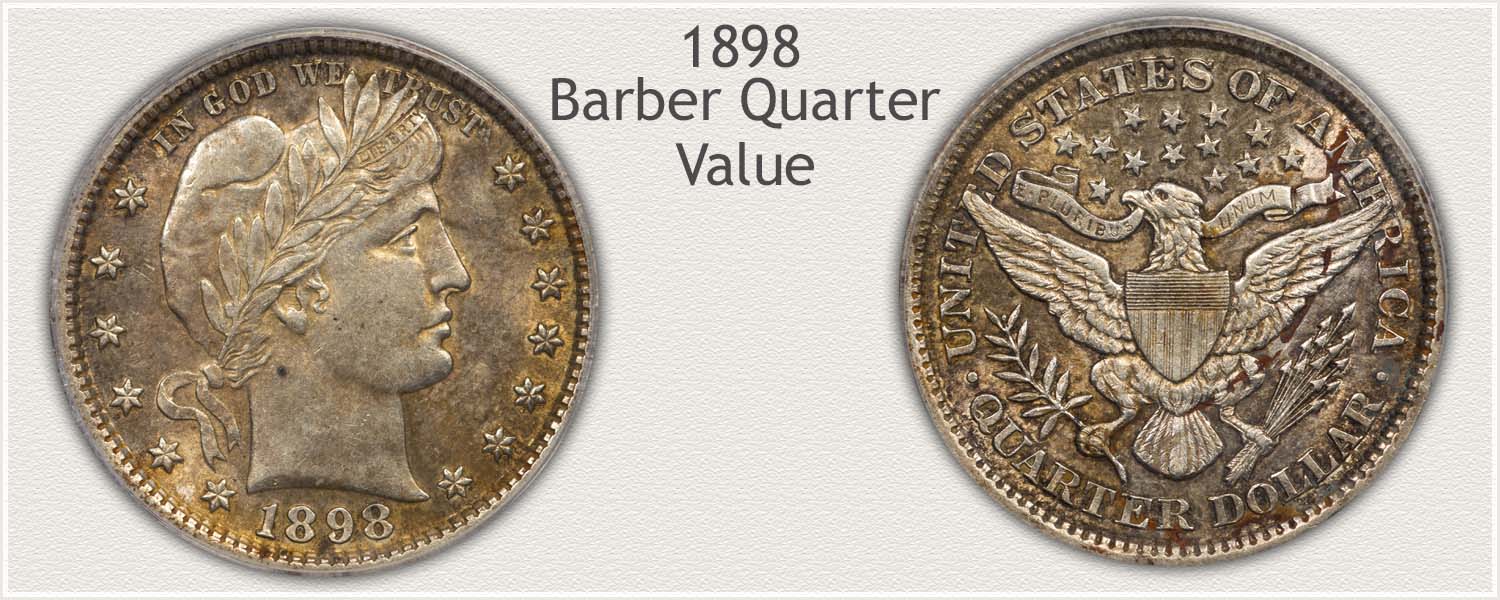 Steps Leading to Value:
Step 1: Date and Mintmark Variety - Identify the correct variety of these 1898 quarters, which were struck by three different mints and each valued separately.
Step 2: Grading Condition - Collectible coins are judged by the state of condition. Value tables list according to these conditions known a grades. An important step is following the grading descriptions to narrow condition range.
Step 3: Special Qualities - Collections of Barber quarters are popular among all levels of coin collectors. Everyone, from new coin collectors to experts, looks at each coin for its own unique qualities.
1898 Quarter Value
Condition of Coin
Date
Good
Fine
Extremely
Fine
Mint
State
Barber Quarter Values Updated
5/25/2023
1898
$6.51
$18
$50
$188
1898 O
$10.06
$61
$212
$789
1898 S
$7.20
$38
$122
$1,050
Listed is a range a collector would sell Barber quarters to a dealer. Use as a guide.
Step 1: | Recognizing the Different Mint Issue
Philadelphia and Two Branch Mints of Barber Quarters
1898 quarter production was led by the Philadelphia mint contributing over 11 million quarters to the yearly total. The coinage from Philadelphia is one of three mint varieties struck that year. With much lower production rates, two other Branch mints also contributed coins.
Given the wide range of values for both mint variety and condition shown on the chart, a detailed examination is required. Images help identify the different mintmarks.
1898-S Barber Quarter
"S" Mintmark on Reverse: San Francisco Mint Struck the Coin
A San Francisco 1898 quarter is an affordable example of a now obsolete series and with a date from the long ago nineteenth century. Available in lower condition, their scarcity begins to show on the value chart, with a strong premium needed to obtain high grade examples.
The branch mint in San Francisco struck 1,020,592 of these quarters, resulting in the lowest mintage of the three mint varieties of the year. With the majority of those now in low, worn condition, an eye pleasing coin is in demand by many collectors.
Confirm the San Francisco variety by the "S" mintmark found on the reverse. Look in the area between the tail feathers of the eagle and lettering of "Quarter Dollar." The large letter "S" is the mark confirming the San Francisco issue.
1898-O Barber Quarter
"O" Mintmark on Reverse: New Orleans Mint Struck the Coin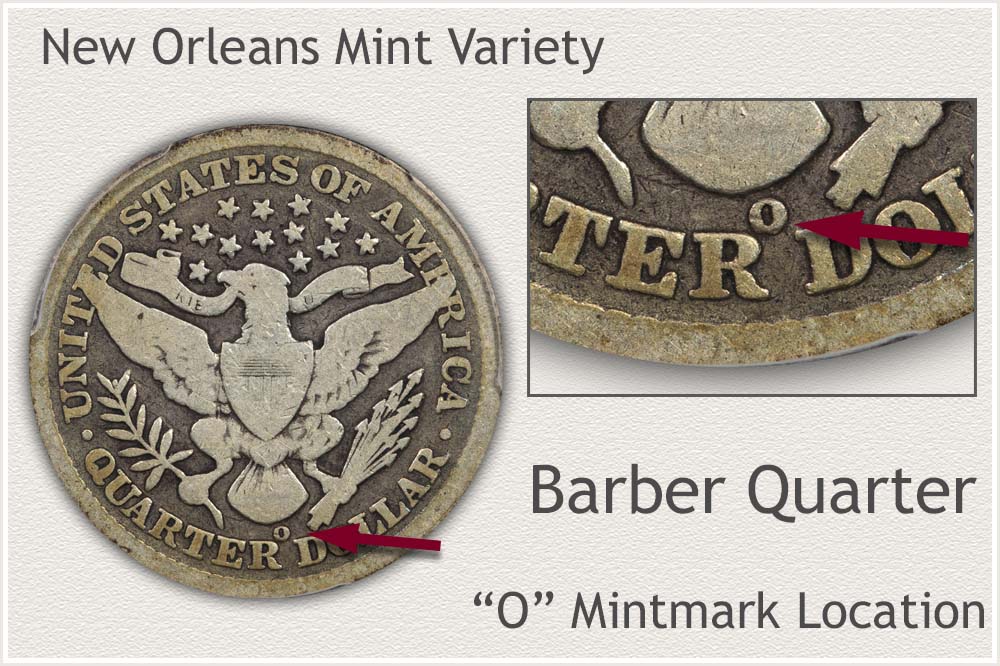 Recognizing the exact mint variety of 1898 quarter helps separate the premium collectible coin from those trading based on their silver content. New Orleans issues of the Barber series are considered in a special category because of their association with a now obsolete mint facility. New Orleans closed production in 1909 ending an era dating back to 1838.
Striking a total of 1,868,00 quarters, the majority of these trade based on silver value because of heavily worn condition. New Orleans issues of the year however enjoy a small premium. A nicer quality example is a valued collectible.
New Orleans used an "O" mark to identify its coinage. On the reverse, below the tail feathers of the eagle, look for the "O" mintmark confirming the New Orleans issue.
1898 Barber Quarter
No Mintmark on Reverse: Philadelphia Mint Struck the Coin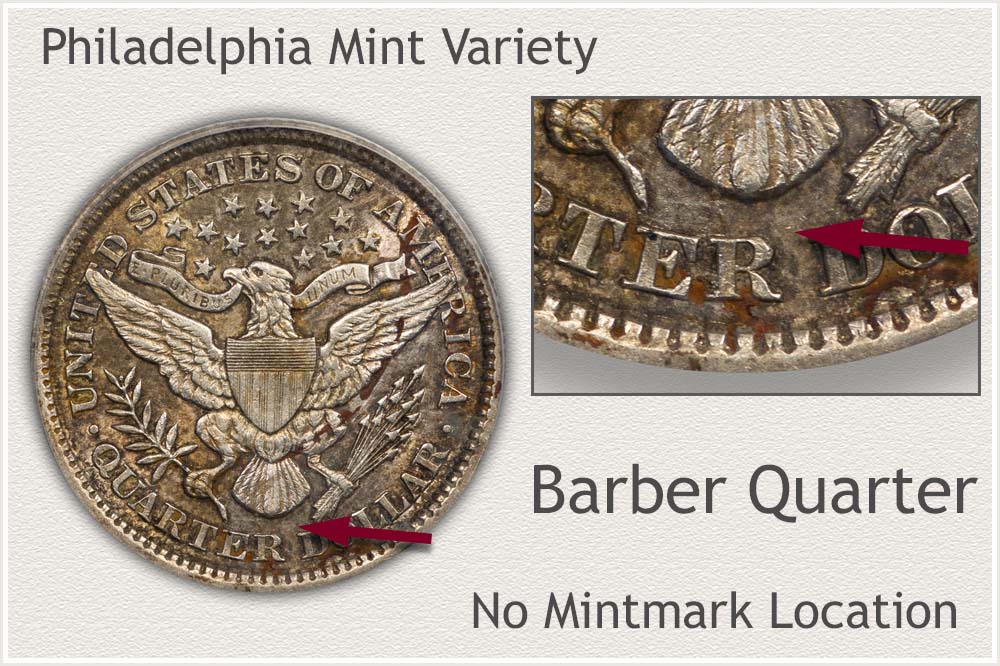 The Philadelphia mint became the leading producer during the early years of the Barber series. 11.1 million quarters were produced in total during 1898. Today, a highly worn coin is considered common.
Base silver price represents the majority of the value of examples at the low end of the condition scale. As part of a long obsolete series and a date from the nineteenth century, it is a popular year among collectors. These coins have been around for a very long time.
In order to verify the mint variety, check the reverse for a mintmark. At the time, Philadelphia quarters were produced without a mintmark. If the area above "Quarter Dollar" at the bottom reverse of the coin is vacant, it confirms Philadelphia coinage.
Step 2: | Grading Separates the Common from Collectible Condition
Premium 1898 Quarter Value Depends on Condition
Collectible condition of these vintage quarters begins when small details are visible. Grading condition defines the different stages of preservation and wear into "Grades." These grades are used when applying a description to a coin.
A series of grade categories are listed on value charts, often with substantial differences in premiums for one grade to the next higher. Inspect your coin comparing to the Grading images and descriptions. A close match narrows the condition range. Using a magnifying glass and single light source is helpful in seeing subtle and small details.
Mint State Grade
Mint State: An example in Mint State condition is often the highlight of a Barber quarter collection. Coins like these have no wear on their surfaces and are still in their original condition. Inspecting a few important design elements judges none of the original surface has received wear.
As a first step, inspect Liberty's cheeks and neck. When a coin is first minted, the metal is given a "luster" by the striking process. Luster is a delicate texture that fades to a dull, soft grey color when worn. When you hold the coin at an angle and tilt it under a light, luster flows evenly across the surface, highlighting both the high and low relief features.
Next, the design's highest points are checked for lack of wear. No signs of metal smoothing or flattening is noticed when examining Liberty's hair along the forehead. Hair strands in this area soon blend into a smooth surface due to wear. Mint State is a highly detailed coin with a high collector value.
Extremely Fine Grade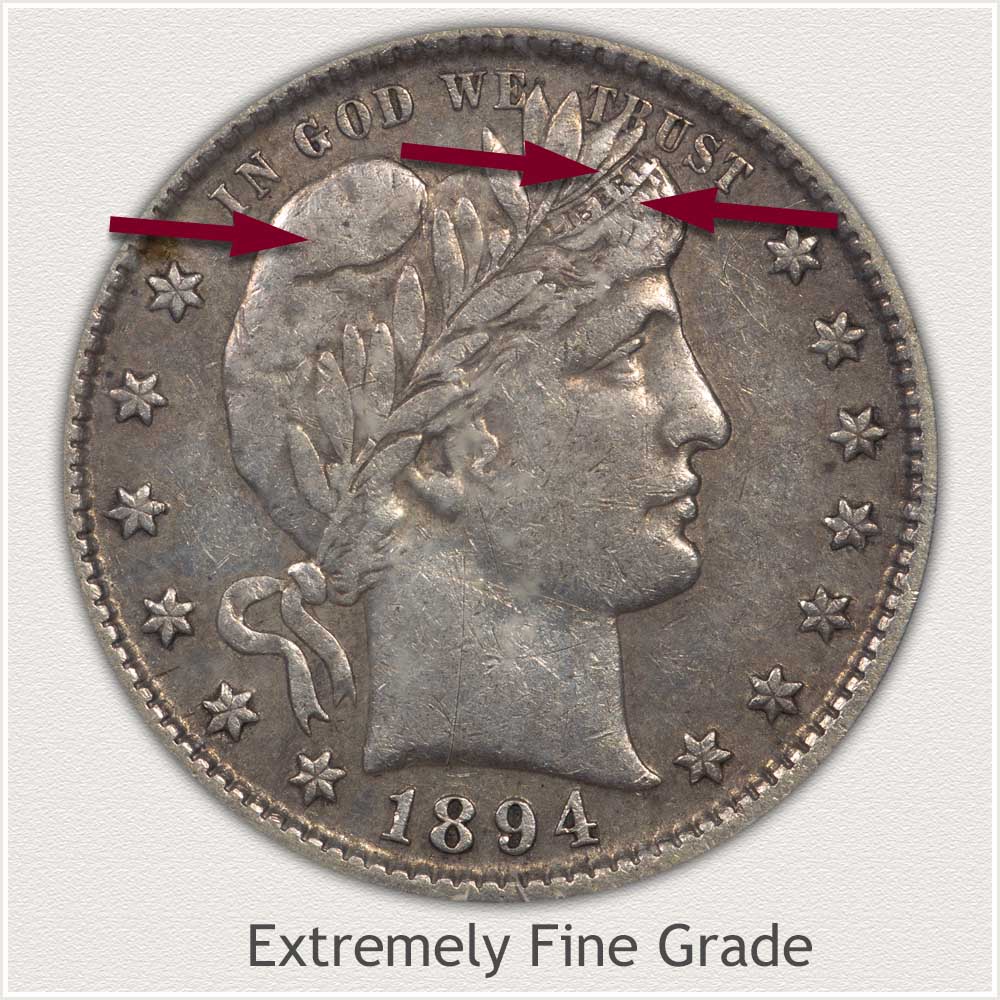 Extremely Fine: A quarter in Extremely Fine grade is defined by light wear visible only on the highest relief points of the design. Metal removal is slight, and the condition of the coin shows a well-detailed impression when viewed overall.
Key areas to inspect and judge to confirm the light wear standard are letters "LIBERTY" in the headband, the headband itself, and amount of wear to Liberty's cap.
Lettering of LIBERTY is full and strong to qualify as Extremely Fine grade. Each letter remains deeply impressed; a close look is needed to judge the completeness of the ending "Y". The original top edge of the ribbon is complete, and the bottom is virtually complete with just a small amount of softness.
Additionally, visible folds and contours remain defined on Liberty's cap. Areas of smoothness are small, and flattening of the contours is minimal. Crisp detail is the overall appearance of these high condition quarters.
Fine Grade
Fine Grade: Judging a Barber quarter in Fine condition identifies a coin with collectible value. A few key design features are examined in order to identify the important remaining details. Overall, signs of moderate wear defines the Fine grade.
The depth of the portrait and lettering is worn away with time in circulation, reducing the high points of the design. Her hair is one of the highest points on the coin, just above Liberty's brow. When the hair's fine strands have lost their details, the grade is in the Fine category. She has also lost the lower edge of her headband, which has become blended with her hair.
Condition of the leaves in the wreath is also considered when grading the preservation of the coin. Design element are reduced to a smooth, flat surface. The leaves lack any inner details. Edges of the upper row of leaves are visible and defined, an important feature to achieve the grade. Small areas where leaves overlap are blended slightly, most remain clearly outlined and defined.
Overall appearance of quality is enhanced by an ample amount of remaining design.
Good Grade
Good Grade: Good grade quarters display an outlined portrait of Liberty with few central details.
A once prominent hairline over Liberty's eye and the entire headband are now smooth and missing. Along the top of the portrait, leaf tips remain well defined and bold from the field, and the cap on the back of her head has slight detail. There is no fading into the coin's fields; the entire portrait is completely outlined.
The Good grade is also judged and confirmed by a complete rim. All of the stars are raised from the field, and the coin's date is clearly visible. Overall, the example quarter is well-defined, with no distracting marks.
How to Video: Grading Barber Quarters
In the video, additional features for each grade level are examined. Establish the condition of your quarter and differentiate between the various grades.
Video, Images and Descriptions | Grading Barber Quarters
Step 3: | Special Qualities | Affordable Long-Term Demand
Collector Involvement and Support of 1898 Quarter
1898 quarters are a good representation of a collectible coin with many levels of interest and suitable to many levels of collecting ability.
An appeal to new collectors is the affordability of the 1898 mint varieties. With an entry level price range, many collectors obtain a surprisingly old, vintage quarter. Philadelphia issues and San Francisco quarters of 1898 are close in price to their underlying silver worth. A large silver quarter and affordable. New Orleans 1898 quarters are examples with appeal of an obsolete mint and a strong following among collectors.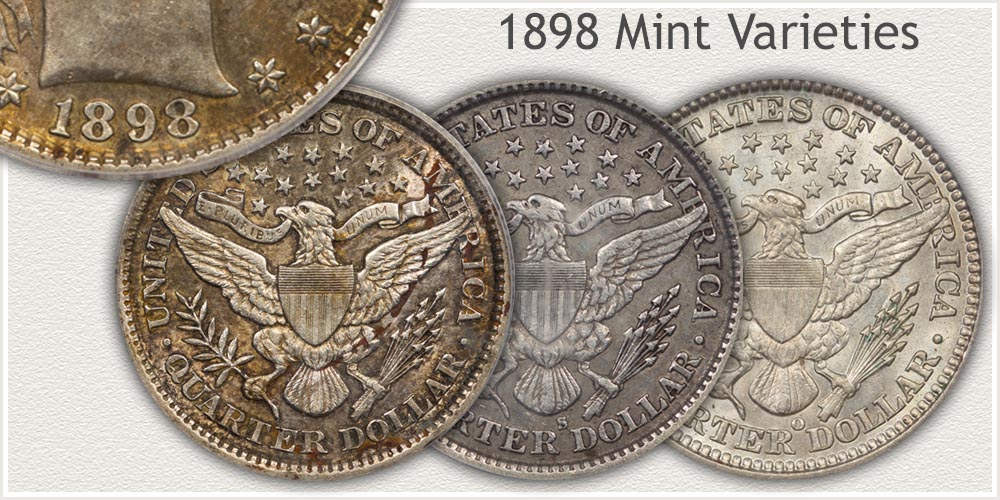 Demand for these quarters is also found among advanced collectors. As experience and knowledge grow, collections are improved. A natural expansion is adding other dates and mints to complete a set of quarters. Additionally, upgrading to higher condition coins enhances overall quality of an advanced set.
1898 quarters of all mint varieties appeal to a large group of collectors. Providing levels of involvement expanding as collectors advance their skills. Finding a Fine grade New Orleans 1898 quarter is a scarce coin to add to all collections. Now add to these popular quarters the allure of their Nineteenth Century origin. Now, a long-ago century, 1898 Barber quarters are a special quality year of the series. Collectible on many levels with a strong long-term demand.
References
U.S. Mint. 1899 U.S. Mint Annual Report https://nnp.wustl.edu/library/book/514119
U.S. Mint. Catalogue of Coins of the United States. https://nnp.wustl.edu/library/book/554591
Coin Values | CoinStudy Articles
Date by Date
In Depth Barber Quarter Values
1892 to 1916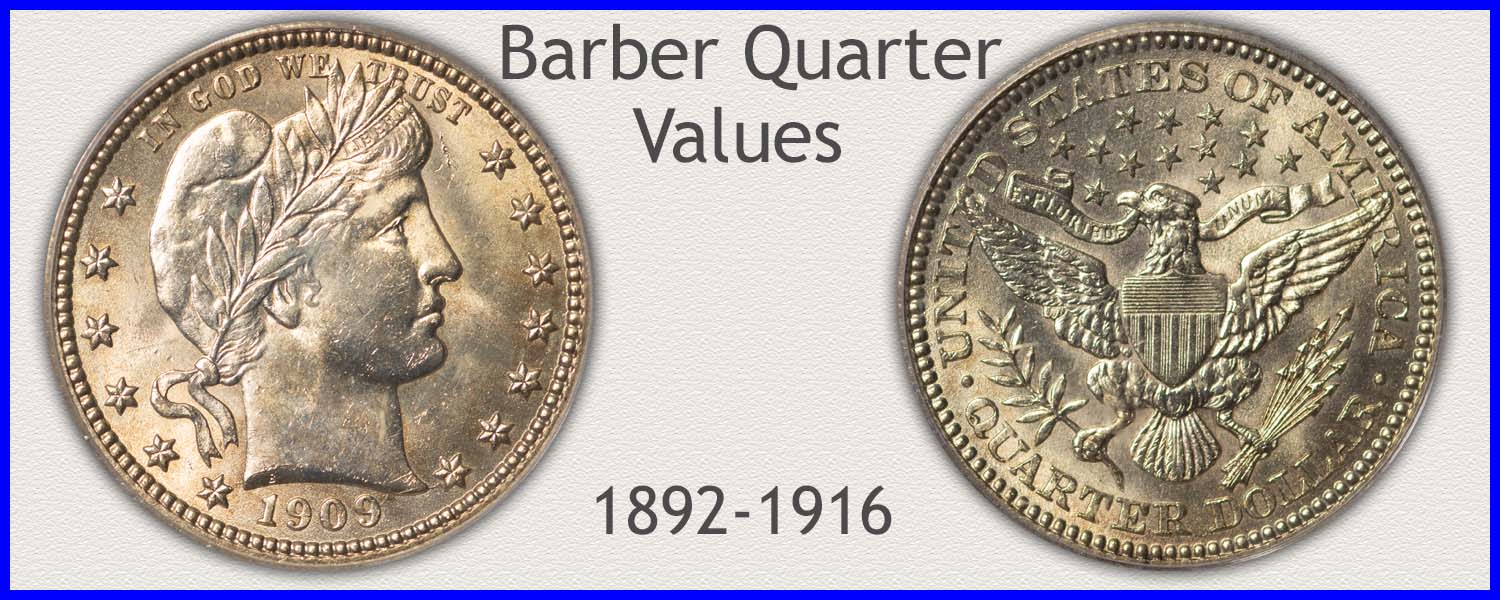 Barber Quarter Value | Many In Demand Dates
Different condition coins are valued separately, also the many dates and mints of the Barber quarters range from common to scarce to very rare. Complete value chart of all dates and mints with condition ranges are listed. All dates of the series are in demand.
Coin Value Guide | How to Value a Coin Collection
Coin collections are of many sizes and specialties. Large to small and a wide range in values. Placing a value on these coin collections follows a process confirming all important elements, identified, and judged correctly.
Print the Coin Values Worksheet
Organize Barber quarters on the worksheet by dates and mints along with condition and values. Record your entire group of old coins in one reference place.
Popular Coin Series | Collectible Quarters
Values of Barber quarters are supported by their silver worth and also demand as a collectible. Popular series are charted in order of collector interest. From series of cents to gold coin series, numbers of collectors assembling sets gives insight to the strength of demand.
Selling Coins | A Defined Process
Following a process to accurately identify your coins and current market value is a strong beginning to receiving a fair offer. Each series is different in key elements to recognize. Judge and evaluate your coins and then reference the dealer listings.
Coin Grading Services | Professional Review of Condition
Grading of Barber quarters can lead to recognizing coins in the over one hundred dollar value range. With large premium coins; subtle points to condition are very important to judge accurately. The top two grading services NGC and PCGS authenticate and grade coins, providing a market accepted judgement of condition.
★Coin Values Discovery finds 1898 Quarter Value and...
All old U.S. coin values. The home page Introduces the important steps in the value process. Identifying your coin series, accurate date and mint, and images to compare when judging condition. Key elements are noted to narrow a range of how much these old coins are worth.