Coin Values Moving with Precious Metals: Up-Dated 9/25/2023: Gold $1921 | Silver $23.44
1905 Quarter Value
1905 quarter value is supported by collectors who put together complete sets of the Barber series. All of the different year and mint issues are represented in these collections.
It is possible to distinguish between different mint issues by identifying mintmarks or the absence of a mintmark. Confirmation of the variety uses images that point to the area and highlight the mintmark.
The chart includes separate values for date and mint variety combinations. An important next step determines the coin's condition in order to narrow its value.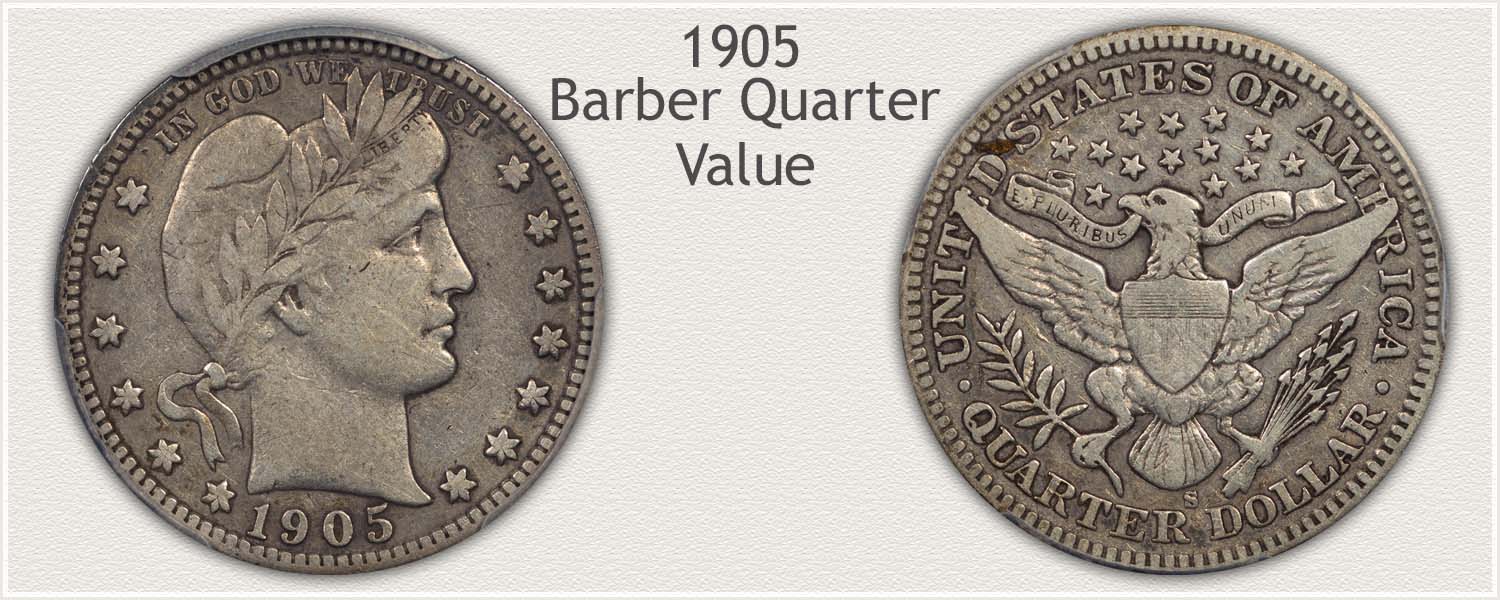 Steps Leading to Value:
Step 1: Date and Mintmark Variety - Since these 1905 quarters were made at three different mints, and each is worth a different premium, mintmarks identify the variety.
Step 2: Grading Condition - Evaluate the state of preservation of your coin using descriptions of its condition. A visually attractive coin is highly sought by collectors and worth a premium.
Step 3: Special Qualities - Old coins often have one, if not many positive qualities to discover. 1905 is noted for its scarcity of all mint issues.
1905 Quarter Value
Condition of Coin
Date
Good
Fine
Extremely
Fine
Mint
State
Barber Quarter Values Updated
5/25/2023
1905
$17
$28
$58
$185
1905 O
$38
$86
$196
Rare
1905 S
$24
$60
$114
$505
Listed are a range of wholesale values for conservatively graded Barber quarters. Use the steps to grading to help narrow the ranges found on the chart.
Step 1: | Date and Mintmark Combination Confirmed
1905 Scarce Mint Varieties to Recognized
What is important to realize is, all mint varieties of 1905 quarters are premium coins. Each is worth well above their base silver value. To place an accurate value on your coin, a correct identity of the mint producing the coin is needed.
The important mintmarks and their locations are displayed in the images found below.
1905-S Barber Quarter
"S" Mintmark on Reverse: San Francisco Mint Struck the Coin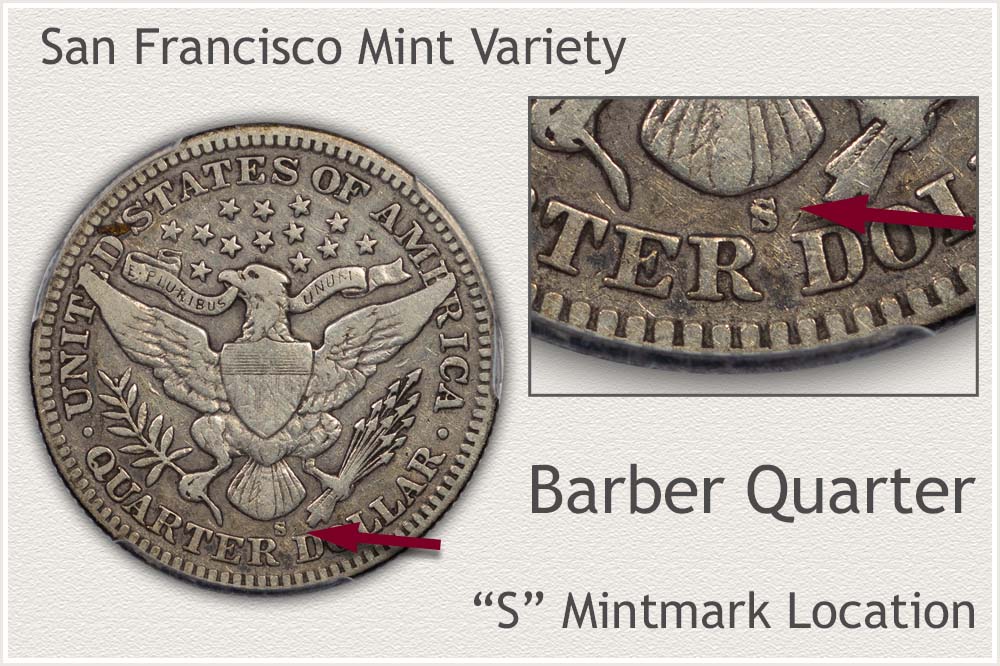 1905 is a premium value year of all mint varieties. San Francisco 1905 quarters are in strong demand and highly valued, as shown on the chart.
A total of 1.8 million were produced and entered circulation. Most stayed in circulation until completely worn-out and retired by the mint. The value chart shows, by the high premiums, few remain today to meet demands of collectors.
An important mint variety to recognize, San Francisco quarters have an "S" mintmark on the reverse. In the lower part of the coin, just above the letters "Quarter Dollar" the large "S" confirms the San Francisco issue.
1905-O Barber Quarter
"O" Mintmark on Reverse: New Orleans Mint Struck the Coin
1905 New Orleans mint quarters are a highly sought-after coin. Collections of Barber quarters are assembled, including each mint variety striking coins in the year. Despite a recorded mintage of 1,250,000 pieces produced, these have proven very difficult to find today in any condition. A lack of saving examples at the time and popularity of the mint variety with current collectors have provided a strong base to value. The New Orleans issue is a high premium coin.
Grading condition in Step 2 has become important with this issue. Nice quality is in strong demand. Identify New Orleans mint coinage by the "O" mintmark placed on the reverse. This "O" mark is found just above the letters of "R" and "D" of "Quarter Dollar".
1905 Barber Quarter
No Mintmark on Reverse: Philadelphia Mint Struck the Coin
Considered a scarce date and mint combination, any 1905 Philadelphia quarter is a premium value collectible. Here is a coin valued well above its base silver content worth.
Just over 4.9 million were produced, not an exceptionally low number for Philadelphia. In contrast the value chart is showing a slightly scarce coin to find in any condition.
To confirm the Philadelphia mint variety, the absence of a mintmark is used to recognize the issue. Turning to the reverse, looking below the tail feathers of the eagle, if the space is empty it was struck at Philadelphia.
Step 2: | Grade by Comparing to Images
Judging Condition is an Important Step to 1905 Quarter Value
A coin's condition plays a significant role in its desirability and premiums in the collectible market, as shown by the rising values on the chart. A grade is determined by comparing the condition to images representing standards of grade. Conditions are described by grades.
Match your coin to a comparable image. Use descriptions to find important indicators identifying phases of wear and supporting the grade.
Mint State Grade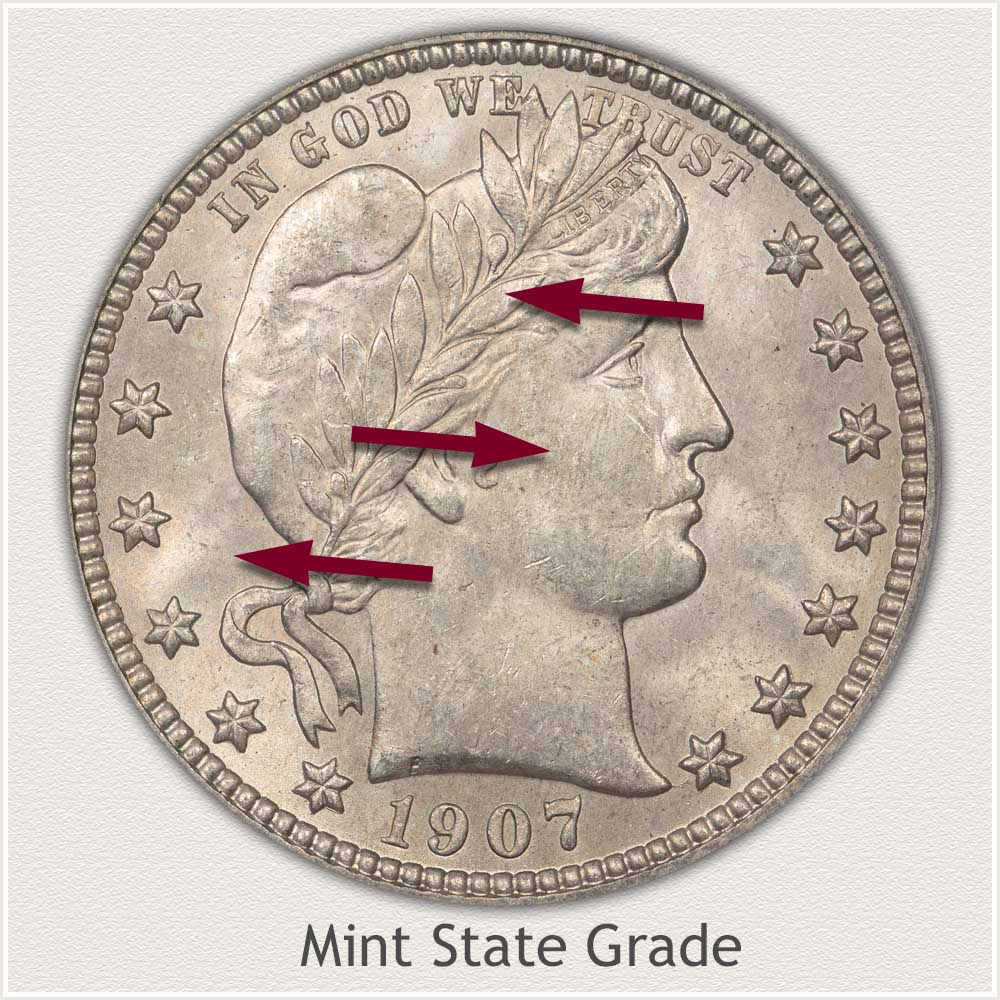 Mint State: A coin is considered Mint State condition if its surface has not been worn in any way and luster remains intact. Coins in this condition were never released into circulation and become worn. High points of the design on a mint condition Barber quarter are intact.
Observe the texture of Liberty's cheek is the same on high areas and low recesses of the contours. Both the high points and the low points show a complete covering of luster.
Laurel leaves, part of the wreath in her hair, when viewed close-up, exhibit no signs of wear and metal removal flattening the leaf edges.
Overall, the coin retains full luster spreading across the surface as it is rotated under a light.
Extremely Fine Grade
Extremely Fine: For collectors, the Extremely Fine grade is a highly desirable and appealing condition. Barber quarters in this condition are only slightly worn, with the majority of the original detail visible. A few important elements are required to attain this grade, and collectors carefully examine each quarter to judge its condition.
The word "LIBERTY" is recessed into the design of Liberty's headband. Note on the example, all letters are visible and complete, indicating a grade of Extremely Fine. In addition, the top edge of the band is clearly defined, while the lower edge is less so, although still clear. Showing some signs of wear in the same area just below the ribbon, Liberty's hair is still well-raised over her forehead.
A second area to inspect is the leaves on Liberty's wreath. All the edges, particularly the bottom row, are clearly defined. Identifying a high condition quarter is this crisp detail of leaves and their stems. Wear only flattens the design's very highest points in small areas.
Fine Grade
Fine Grade: Fine grade is characterized by moderate wear, flattening, and blending of minor design elements. To identify this condition, look for remaining detail within the wreath, lettering on the headband, and the extent of flatness to the metal.
There is a Laurel wreath displayed over Liberty's hair. Although smooth and flat, the upper row of leaves is well defined, separate from her hair, indicating the Fine grade. Slightly less distinct are the lower leaves, the tips of many are merged with the hair.
LIBERTY is displayed in capital letters on a band across her forehead. Fine grade is confirmed by a strong "BE" in the center.
Over all, the portrait of Liberty has only slightly less rounded high and low contours. A closer look at the stars along the rim shows the metal is flattened and the central radial lines have been lost, but each star is still very distinct from the field. These collectible condition quarters retain pleasing detail.
Good Grade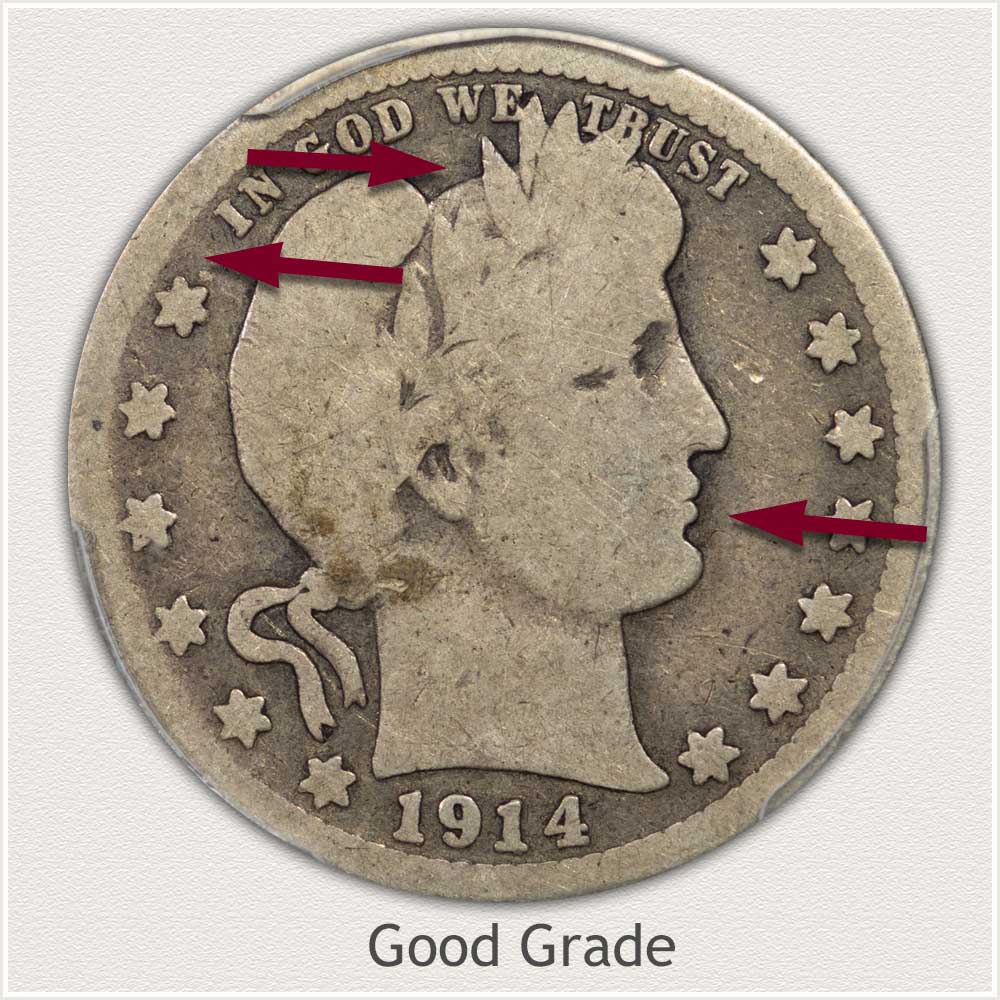 Good Grade: Bold remaining details on these circulated quarters make them attractive to collectors even though they are heavily worn. The example's condition and grade of Good, is defined by a flattened surface that has become smooth as a result of wear.
Upon closer inspection, Liberty's portrait is now smooth overall and missing all original fine line details. However, all of her portrait's edges are sharply defined and well raised from the fields, which is significant to the grade. A close examination of the edges of the upper leaves atop her head is required to confirm this complete separation from the field and outline.
Designed to slow the wear of the design elements, the rim remains with a well-defined inner edge. Even though the stars are flattened and do not have any inner radial lines, they remain complete and distinct from the rim. Coins minted at Branch Mints are in demand by collectors in this condition and have a nice premium value.
How to Video: Grading Barber Quarters
Assess the condition of these vintage quarters based on the video and additional images. Narrow the range of values displayed on the chart.
Video, Images and Descriptions | Grading Barber Quarters
Step 3: | Special Qualities of a Premium Year
All 1905 Quarters are Collectible and Valuable Coins
A standout quality of all mint issues of 1905 Barber quarters are their premium values and scarcity in all states of preservation. There are no "common" 1905 quarters. Scarcity ranges from difficult to find, too rarely available.
Mintages numbers of the Philadelphia variety are in the average range 4.9 million struck. Initial supplies were simply worn out over time. Few set aside results in premium value beginning with the heavily worn examples.
San Francisco mint also produced the yearly average of 1.2 million quarters in 1905. Lack of saving the date is showing in value charts with all grades worth well above base silver value.
New Orleans 1905 quarters have a plausible reason for scarcity. The mint recorded the second lowest mintage of the entire series in 1905 with 1.2 million struck. A few were saved, however, today demand is strong along with values. New Orleans mint issues are very popular with collectors across all series of U.S. coinage.
Collectors are aware of the scarcity of all 1905 quarters. Quality examples are quickly placed into collections. The top variety is the 1905-O New Orleans quarter.
Special qualities of scarcity, popular New Orleans variety, and sought by both beginning and advanced collectors, is the strong base to value. True collectibles.
References
U.S. Mint. 1906 U.S. Mint Annual Report https://nnp.wustl.edu/library/book/514122
U.S. Mint. Catalogue of Coins of the United States. https://nnp.wustl.edu/library/book/554591
Coin Values | CoinStudy Articles
Date by Date
In Depth Barber Quarter Values
1892 to 1916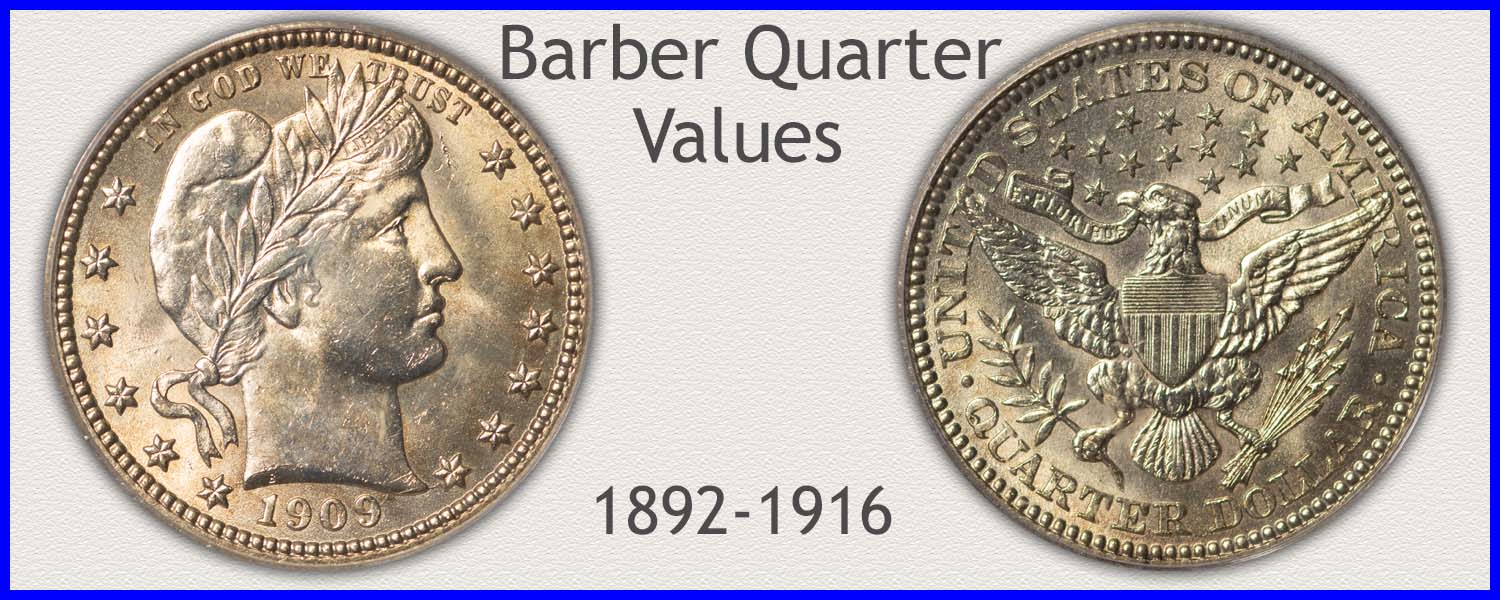 Barber Quarter Value | Strong Demand by Collectors
Collectors seek 1905 quarters as part of the long running Barber design series. Full listing of the many date and mint combinations are found on the value chart. Mintmark images and grading images identify and judge these old quarters finding an accurate value of each.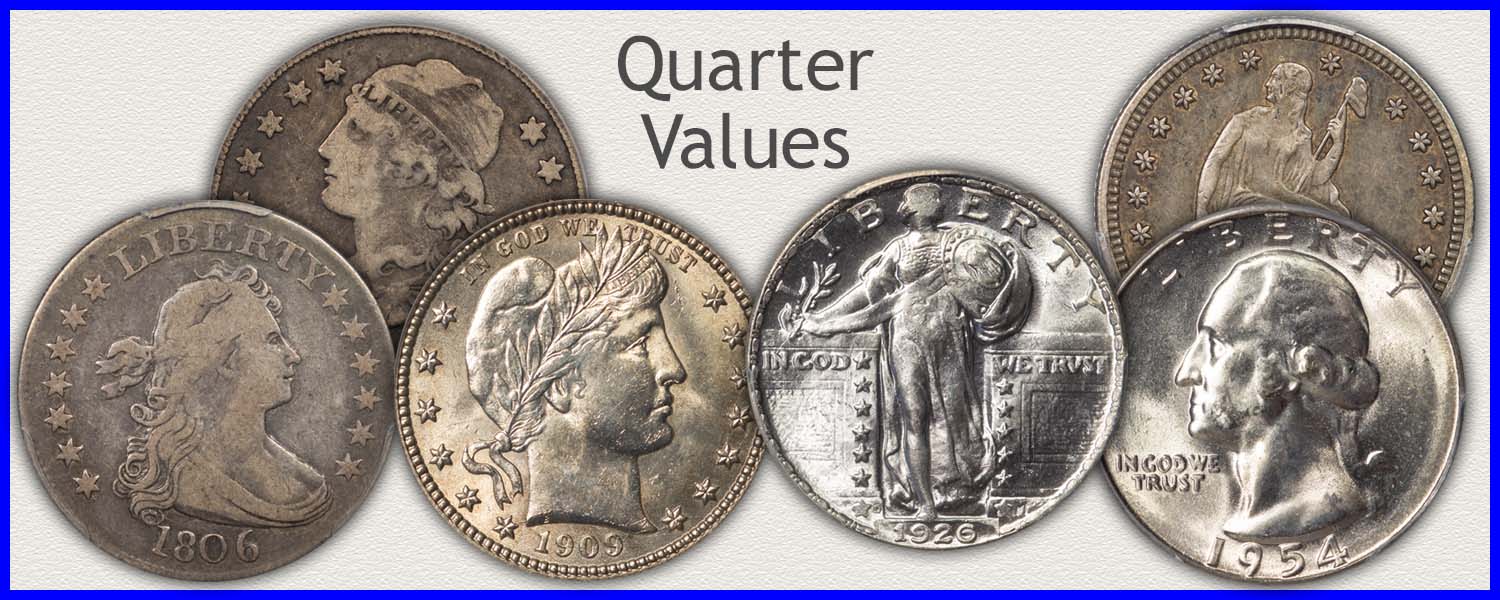 Quarter Values | Scarce Series and Designs
Many appealing designs are part of the quarter denomination of U.S. coinage. Barber quarters were minted long after the first quarter in 1796. Bust and Seated quarters are the very early issues and highly valued. Identify your old quarter with images and links to the series.
Images are used to help identify all U.S. coinage. Different series of coins and their designs are matched to your coin leading to value charts and coverage of how to value your old coins.
Popular Coin Series | Barber Quarters
Registry set collections give an insight to the numbers of serious collectors involved in the different series of U.S. coinage. Quarters in general, are a popular denomination to collect. Barber quarters are in demand by a solid group of collectors. Rankings of all major series are presented.
Silver is a market moving daily, upward or lower. Many Barber quarters in heavily worn condition trade based on their silver worth. Identify the U.S. coin series produced in the now valuable silver alloy. Calculate current values and refer to the listing of dealers involved in buying bullion quality silver coins.
★Coin Values Discovery finds 1905 Quarter Value and...
All U.S. coin values. Coins are valued on a scale depending on the series, date, and condition. These primary elements are part of a step by step process followed when judging old coins. Start the process by comparing to images of the different series of U.S. coins and links to each series and value charts.