Coin Values Moving with Precious Metals: Up-Dated 9/25/2023: Gold $1921 | Silver $23.44
1906 Quarter Value
The high minimum 1906 quarter value is due to the silver content. These Barber quarters were all struck with an alloy containing 90 percent silver.
Silver is now trading in the $23.44 per ounce level on 5/25/2023 . This is a good starting point for determining how much they are worth.
In order to find any premium collector value, proceed through the steps found below. Collectors are interested in the various mint varieties of the year as well as the challenge of locating coins in quality condition.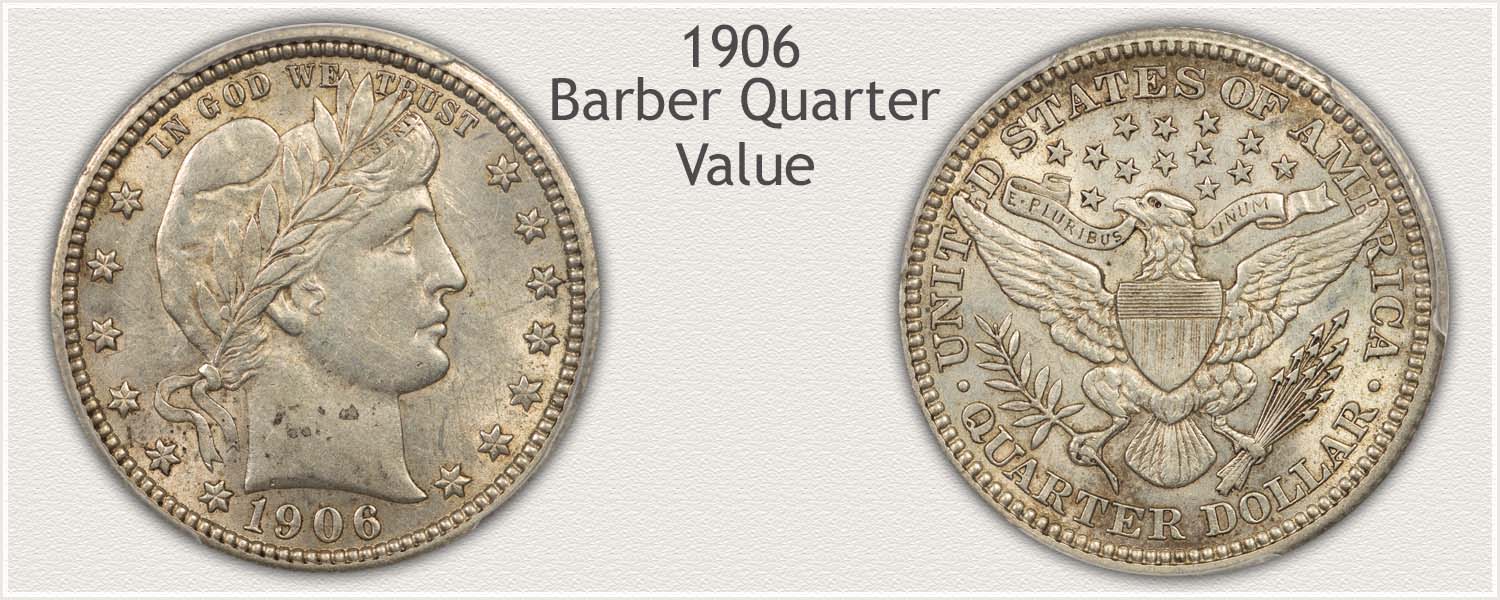 Steps Leading to Value:
Step 1: Date and Mintmark Variety - Both the specific year and mint variety of Barber quarters are identified and sought by collectors. Mint variety is confirmed by inspection.
Step 2: Grading Condition - From one Barber quarter to the next, there are visible changes in condition. With images, grading defines the condition.
Step 3: Special Qualities - Introduction of a new mint striking Barber quarters is always a coin of interest to collectors. These new issues are a popular variety of 1906 coinage.
1906 Quarter Value
Condition of Coin
Date
Good
Fine
Extremely
Fine
Mint
State
Barber Quarter Values Updated
5/25/2023
1906
$5.66
$18
$53
$172
1906 D
$5.66
$18
$53
$242
1906 O
$6.51
$59
$81
$253
Above is a starting point when determining a wholesale value of your Barber quarters. Follow the steps to narrow the range of subtle grading points.
Step 1: | Date and Mintmark - Three Different Varieties
Mint Varieties of the Barber Series
Along with the date of these Barber quarters, identifying the mint that struck the coin is also part of the value process. With three different mints producing quarters in 1906, mintmarks were placed on coinage to indicate the mint of issue.
Each listing on the chart shows the date and mint and is valued individually. Images are used to help in recognizing the mintmark and its location.
1906-O Barber Quarter
"O" Mintmark on Reverse: New Orleans Mint Struck the Coin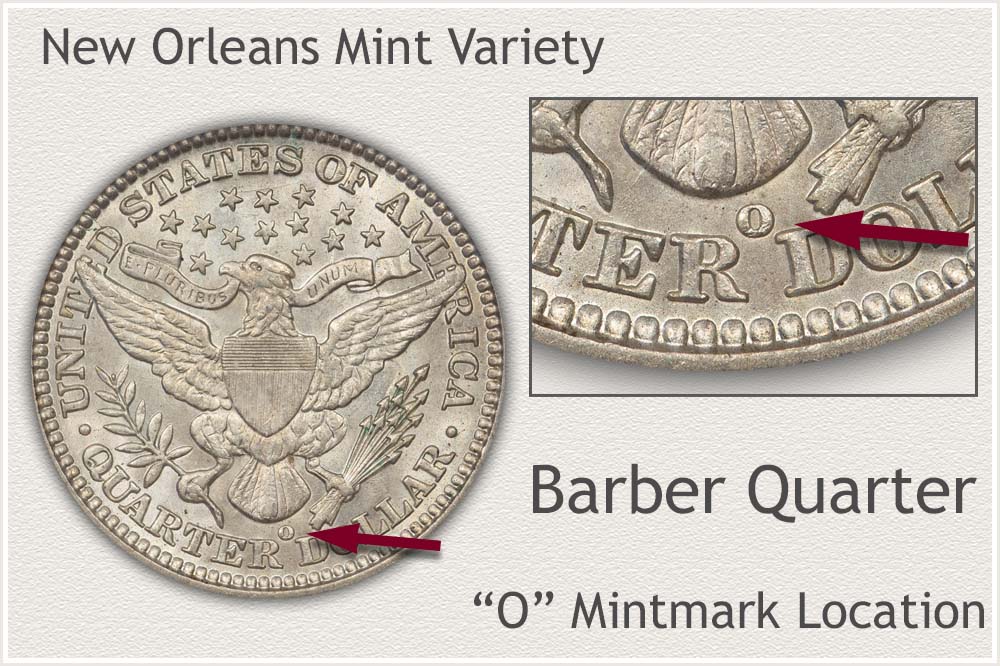 Most surviving New Orleans quarters from 1906 are well worn, typically of low quality. Over 2 million barber quarters were struck in New Orleans throughout the year, the majority of which circulated for years in commerce. Plentiful supplies of low-quality examples are available today.
Finding the "O" mintmark and evaluating condition are important steps in determining a coin's premium. Barber quarter collectors and specialists of the coins made by the New Orleans mint realize it's hard to find pieces in better than average condition. Collectible coins of higher quality carry a premium value.
The reverse of the coin is examined, particularly the area just beneath the eagle's tail feathers. All coins produced by the New Orleans mint were identified with an "O" mintmark. The New Orleans variety is confirmed by the "O" mark as seen on the example coin.
1906-D Barber Quarter
"D" Mintmark on Reverse: Denver Mint Struck the Coin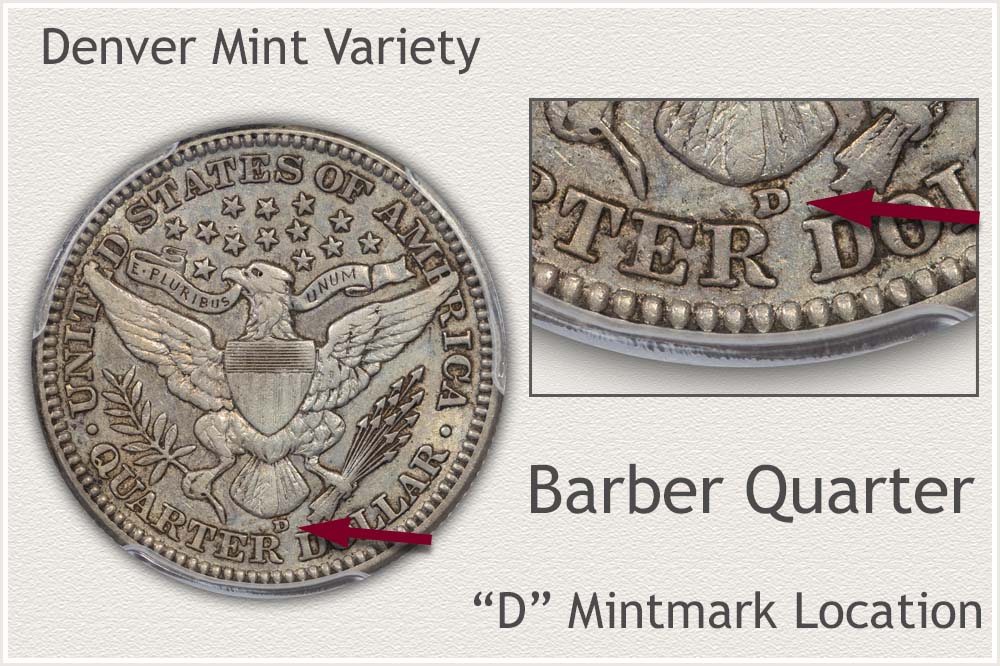 The Denver Mint began contributing to the production of Barber quarters in 1906. Striking a mint variety that is historically significant today. Adequate amounts were struck, with a total of 3,280,000 being produced. These are currently available in abundant quantities, value based on silver content. However, the majority are now very worn. To accurately determine worth, it is necessary to recognize the date and mint issue as well as the condition of your coin.
Denver, as a branch mint is required to place a mintmark on coinage to identify its production. The mintmark, a large "D," is seen on the reverse of the coin, below the tail feathers of the eagle. A large letter "D" on the quarter is evidence it was struck in Denver.
1906 Barber Quarter
No Mintmark on Reverse: Philadelphia Mint Struck the Coin
The Philadelphia mint established itself as the leader in production during the years of the Barber series. In 1906, 3.6 million quarters were minted. Although this was a below average production year, Philadelphia still led in yearly production. In heavily worn condition, this is a notability available coin.
Silver price is used to determine the value of examples at the low end of the condition scale. The date's popularity is backed by its status as a 19th-century date and a long-obsolete series. Coins of this type are now considered very old.
No mintmark on the reverse of the coin is used to identify the mint variety. There is no mintmark on Philadelphia quarters during the Barber series. An empty space above "Quarter Dollar" in the lower reverse part of the coin confirms the coin was minted in Philadelphia.
Step 2: | Accurately Define Condition into a Grade
Grades are Listed to Narrow 1906 Quarter Value
1906 quarters require a detailed examination of their condition due to high premiums in collectible quality. These coins are placed into categories on the value chart by the grading process; a judgment of condition.
When a coin wears during use, it begins to show recognizable large and small differences to the surface. Judge the areas on the coin noted in the descriptions. These point to features specific to the design helping indicate phases of wear.
Mint State Grade
Mint State: Collectors attempt to add Barber quarters of the highest quality to their collections. A mint state grade coin is this top condition and remains as when it was first produced. No surface wear is how the grade is defined.
Inspecting the coin's luster is a good indicator of wear. Luster on mint state coins is complete, covering the high relief contours and extends into the lower recesses of the design. The striking process causes metal to flow, filling the design throughout the coin when minted. As a result of this metal flow, the surface develops a texture and when under a light, shines with luster.
The exposed cheek of Liberty is usually the first place that wear becomes noticeable. She has a high relief region under her eye and a lower protected relief area next to her ear. Both have a similar texture without wear, with no smoothing of the metal near the eye. Her cap and neck further display a uniform texture and luster throughout. A Barber quarter in quality mint condition is recognized.
Extremely Fine Grade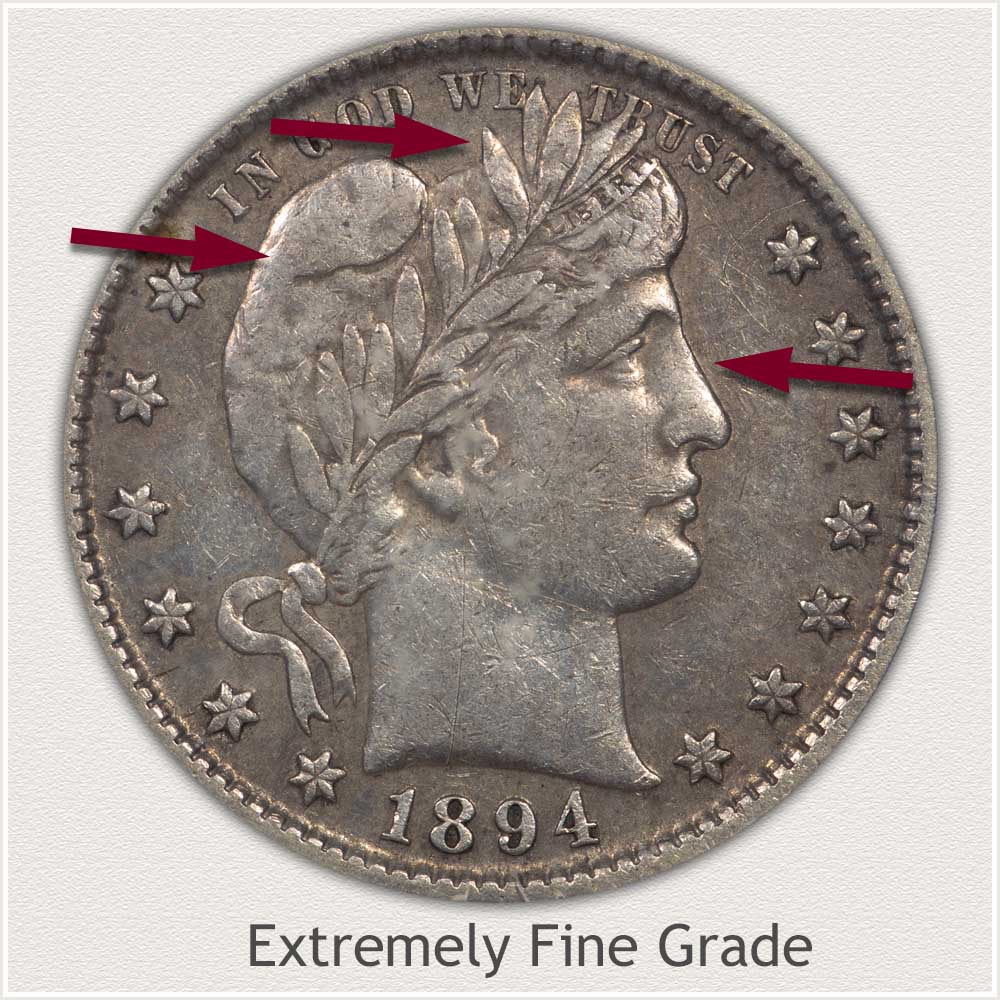 Extremely Fine: Collectors inspect and judge condition of old quarters carefully when considering them for a collection. Extremely Fine condition coins have fine details and only the tops of high relief areas show signs of wear.
The wreath atop Liberty's head is a focal point for close inspection. Small details prone to wear are examined within the leaves of the wreath, specifically contours and edges of the leaves. To qualify for an Extremely Fine grade, each leaf edge and stem is defined and bold. This boldness is also important to remain on the lower row of leaves.
Liberty also wears a detailed cap at the top of her head, with clearly visible folds. Wear to the cap only appears along the upper edge, folds are strongly contoured. The example Barber quarter presents a strong portrait with fullness and roundness to her eye, nose, cheek, and neck. These characteristics define a coin as collector-level quality.
Fine Grade
Fine Grade: Condition of the lettering "LIBERTY" found in the headband above the forehead is an important feature of any Barber quarter in Fine grade. Collectors carefully examine this area to confirm each letter is present and readable. Well-defined letters contribute to the Fine grade.
Examine the headband with a magnifying glass to identify all letters are readable. The letters "ER" appear in the band's highest relief, an area quick to wear. If these are still bold, the coin is towards the top of its grade.
Additionally, the metal has become smooth due to wear, flattening all of the leaf contours within the wreath. Each leaf no longer has the distinguishing features of high and low reliefs. The top row of leaves show clear outlines, helping to judge the coin in the Fine quality range.
Liberty's portrait maintains its collectible quality as it displays strong features. Only moderate wear has taken place, identified by the coin's remaining contoured cheek and neck.
Good Grade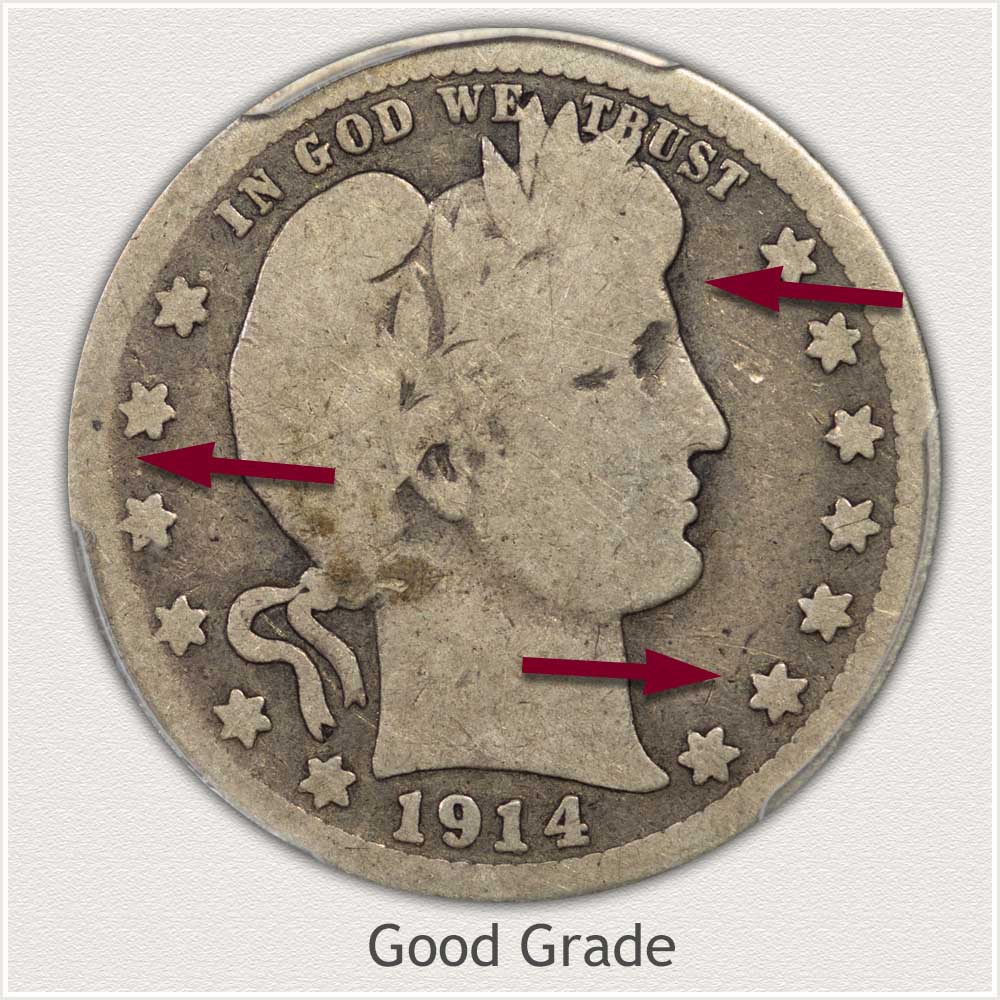 Good Grade: Condition of a quarter in Good grade is defined by an outlined portrait of Liberty with few central details.
All elements of Liberty's headband, including her once strong hair line, are missing. Importantly, at the top of the portrait, and still remaining, are the leaf ends, and the cap on the back of her head has a little detail. Note, the portrait's entire outline is fully visible; there is no merging into the coin's fields.
A complete rim with no fading is also contributing to judging the Good grade. These coins make a nice impression due to the raised stars from the field and distinct date. No glaring flaws, and remaining details are bold and full on the example quarter.
How to Video: Grading Barber Quarters
Follow the video and images to focus on specific areas during the grading process. These vintage quarters are examined for quality and wear using key elements.
Video, Images and Descriptions | Grading Barber Quarters
Step 3: | Special Qualities Found in Mint Varieties
Denver Variety Quarter Begins in 1906
1906 introduced the Denver mint in Colorado to production of Barber quarters. Becoming the fourth mint to strike these coins, and now an important mint variety to collectors.
Fitted with new machinery and facilities, Denver, another branch mint, was now in production, helping with coinage in the western U.S. Denver's coinage in 1906 saw 3 million quarters struck. These are historical, marking the "first of year" and the beginnings of a branch U.S. mint.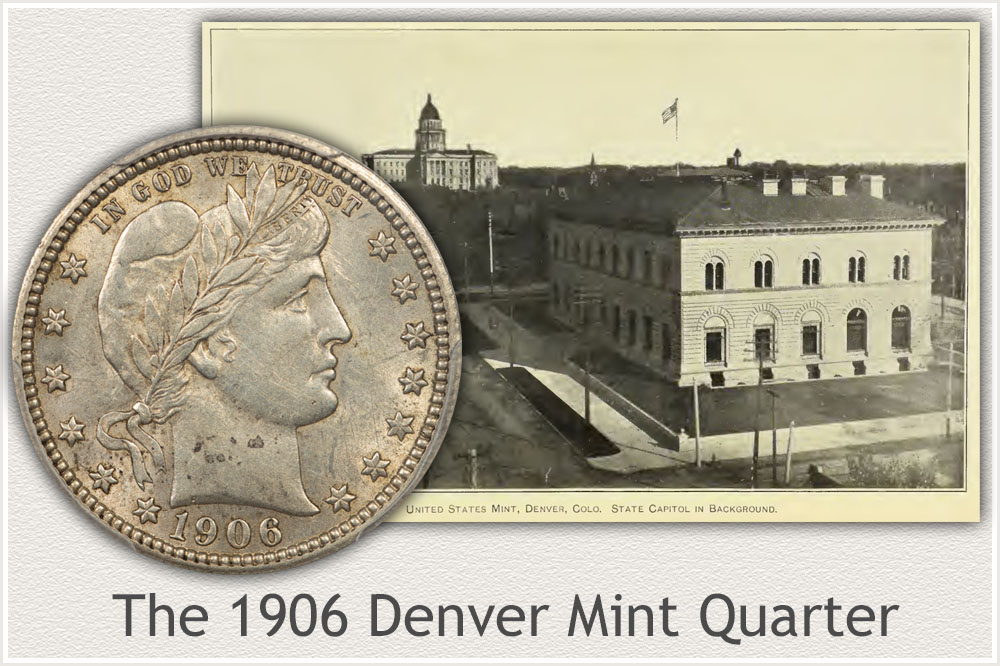 1906-D (Denver) quarters are affordable today, although most are worn heavily. These are needed by date and mint collectors. Also, new and beginning collectors seek examples in Good to Fine grades. Additionally, a high-end collection often focuses on Mint State pieces with excellent detail.
Numbers of available coins in all states of preservation is providing collectors with affordable, historical, and important Barber quarters.
Strong demand as a collectible is also supported by its silver content. At 90% silver by weight, a solid base is its silver worth. Inspect each Denver issue carefully for quality of surfaces. If hair detail is present and letters of LIBERTY visible in the head band, your coin is well above its base silver value.
Multiple markets seek these vintage quarters. New collectors | Advanced collectors | Bullion silver worth.
References
U.S. Mint. 1906 U.S. Mint Annual Report https://nnp.wustl.edu/library/book/514122
U.S. Mint. 1907 U.S. Mint Annual Report https://nnp.wustl.edu/library/book/514123
Coin Values | CoinStudy Articles
Date by Date
In Depth Barber Quarter Values
1892 to 1916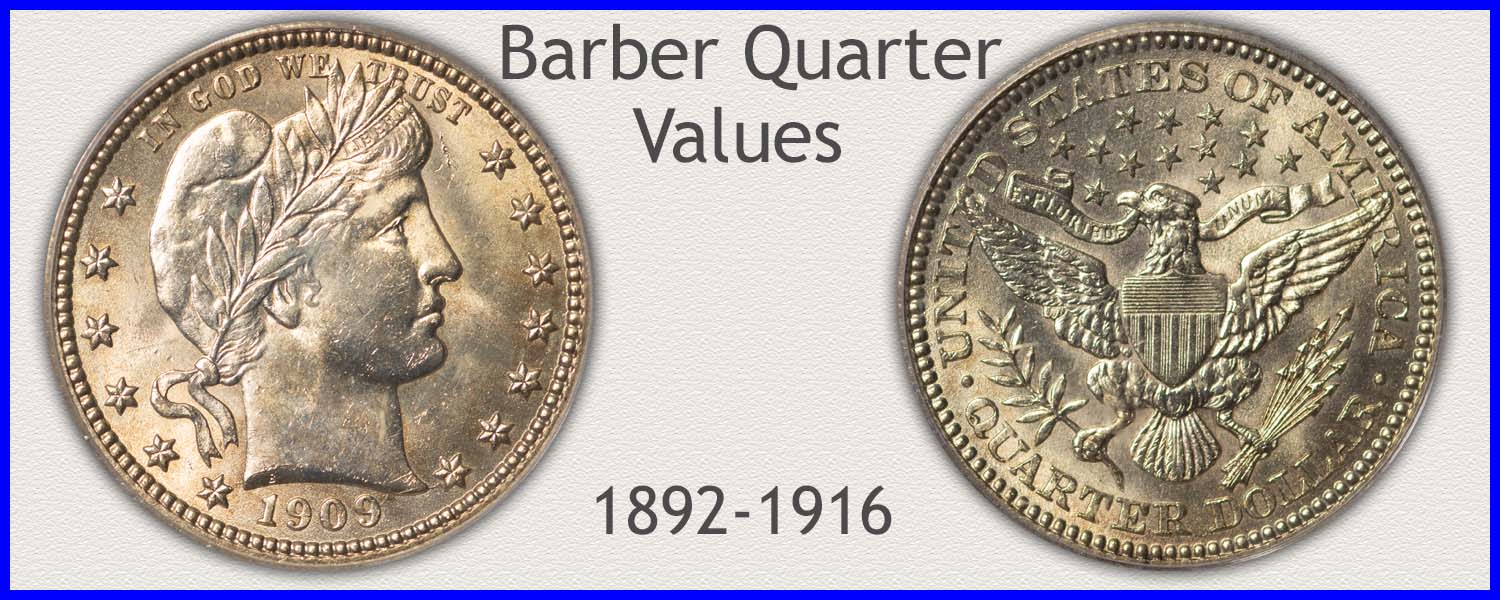 Barber Quarter Value | Strong Demand by Collectors
Collectors seek 1906 quarters as part of the long running Barber design series. Full listing of the many date and mint combinations are found on the value chart. Mintmark images and grading images identify and judge these old quarters finding an accurate value of each.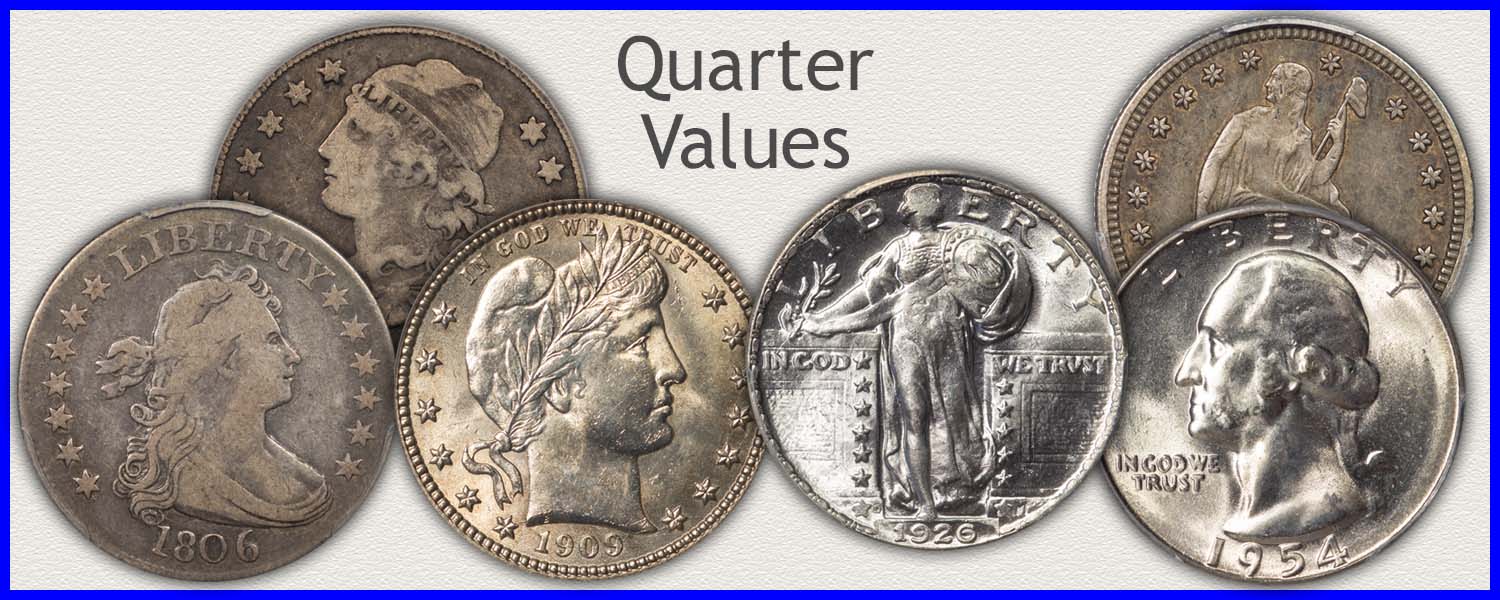 Quarter Values | Discover the Many Varieties
Major design changes took place often in U.S. quarter coinage. Images help identify your old quarter along with links to the different series. Value charts list Bust, Seated, Walking Liberty, and Franklin half dollars.
Mobile guide identifies U.S. coinage using images and lists minimum values for each series. Links are followed to in depth coverage of all date and mint combinations and judging condition of coins.
Silver Coin Values | Minimum Values of U.S. Silver Coins
Heavily worn and abundant dates of Barber quarters are worth a base silver value. These old quarters are an alloy of 90% silver and minimum values move daily with the price of silver. Images identify all U.S. silver coin issues and the calculator determines current worth.
Selling Coins | Receiving Value
Barber quarters are part of a large coin market. Selling these, or any U.S. coin, follows a few steps to assure a current market value. Accurate identity of series, date and condition are recorded, all narrow the value range. Refer to the listing of dealers finding one specializing in coins similar to yours.
★Coin Values Discovery finds 1906 Quarter Value and...
All U.S. coin values. Coins are valued on a scale depending on the series, date, and condition. These primary elements are part of a step-by-step process followed when judging old coins. Start the process by comparing to images of the different series of U.S. coins and links to each series and value charts.