Coin Values Moving with Precious Metals: Up-Dated 9/25/2023: Gold $1921 | Silver $23.44
1959 Dime Value
90% silver is part of the alloy in a vintage Roosevelt dime. 1959 dime value begins at $1.57 each and depending on variety and condition has higher potential. With silver in the $23.44 per ounce range, how much these silver dimes are worth rises and falls with precious metals prices.
The objective is to identify and confirm mint variety/date combination. Next is separate those pieces in the bullion category from the premium collector quality dimes.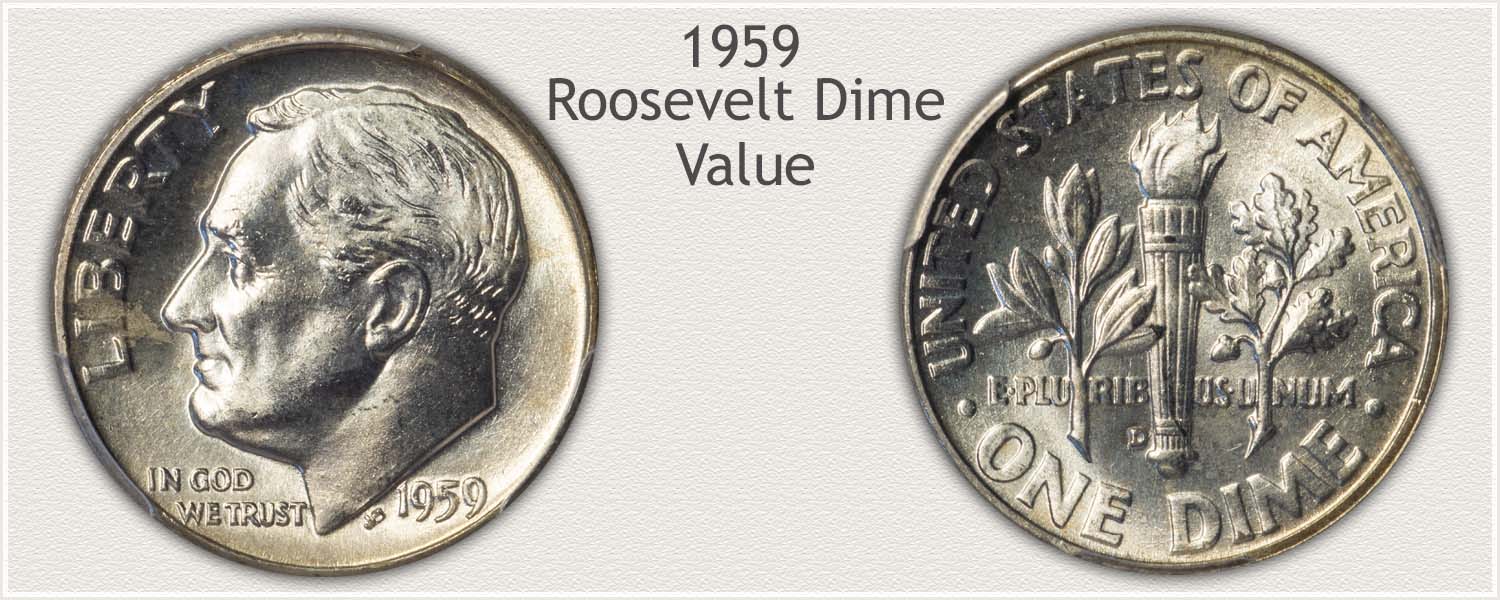 Steps Leading to Value:
Step 1: Date and Mintmark Variety - Vintage dimes are collected and formed into set by dates and mint variety. Identify the correct variety and confirm date.
Step 2: Grading Condition - Late 1950's dimes are sough in a high state of preservation. Premiums above silver content are awarded to these quality coins. Images are used to compare and judge a collectible dime.
Step 3: Special Qualities - Many times it is a subtle point deciding the quality of a coin. Silver years are just a start.
1959 Dime Value
Condition of Coin
Date
Good
Fine
Extremely
Fine
Mint
State
Roosevelt Dime Values Updated
5/25/2023
1959
$1.57
$1.57
$1.57
$1.93
1959 D
$1.57
$1.57
$1.57
$1.93
Always begin the assessment of value with an accurate date of the coin. Charts list dimes by date and then mint variety, scarcity and demand are reflected in how much each is worth.
Step 1: | Confirm Date and Mintmark Variety
Two Mint Varieties of 1959 Dimes to Recognize
1959 dime are collected by date and mintmark varieties. Two mints are involved and each is listed separately on the value chart. Both varieties were minted in the millions, a total of over 250 million released into circulation. As a collectible, identity of variety is important to a date and mint variety set.
1959-D Roosevelt Dime
"D" Mintmark on Reverse: Denver Mint Struck the Coin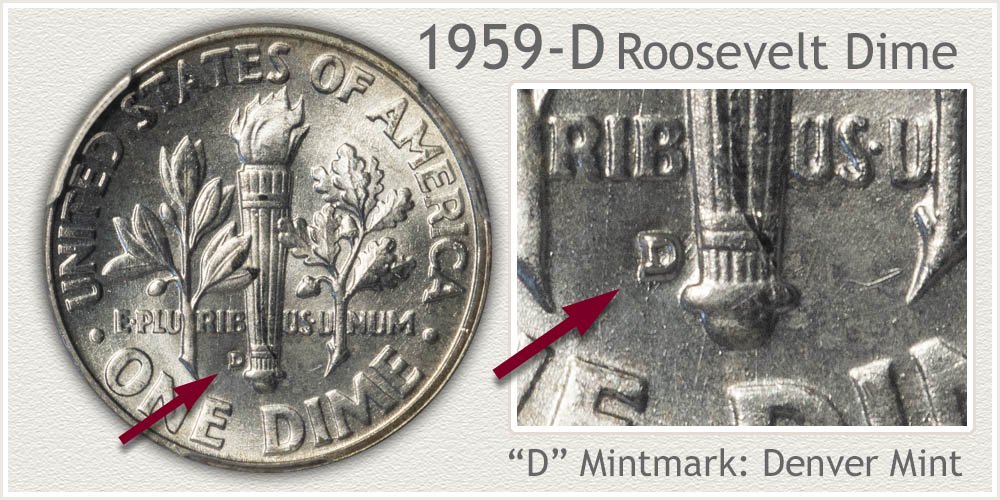 The Denver mint continued the trend of striking the largest quantity of dimes for the year, and continued the over 100 million struck totals. These Denver coins are recognized as available today and, if circulated, most trade based on their silver value.
Denver mint is identified by the "D" mintmark it placed on the reverse. Near the base of the torch, on the left, the "D" confirms the Denver mint struck the dime.
1959 Roosevelt Dime
No Mintmark on Reverse: Philadelphia Mint Struck the Coin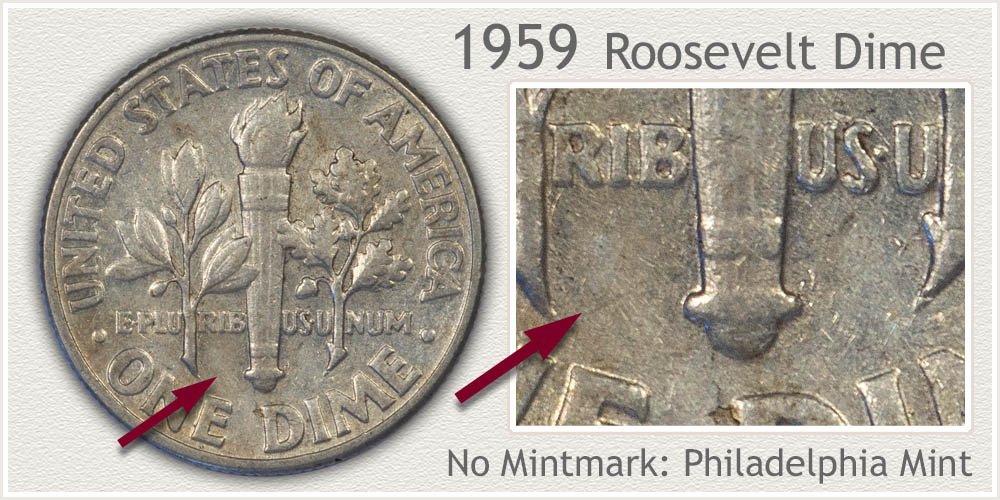 Philadelphia contributed over 85 million silver dimes in 1959 to continue the steady increase in yearly totals. This 1959 variety is abundant today, however, most are worn to varying degrees. To reach a premium value above silver content their condition must exhibit no wear to the surface. Step 2 the Grading Section is important to a full evaluation of the coin.
Philadelphia variety dimes are recognized by the lack of a mintmark. On the reverse, look to the left of the torch, no mintmark is a Philadelphia struck dime.
Step 2: | Judge Condition to Identify Grade
1959 Dime Value is Conditional
Grading examines a coin's surface closely, and then matches it with examples of different grades. Defining the condition places the value of coins within a narrow range on charts listing the date and mint combination.
Silver Roosevelt dimes of the late 1950's are supported by silver content and premium. Further study of condition is needed to determine collectible quality. Begin grading by looking at a Mint State coin with all original detail as minted. Missing details, because of wear, then become easily apparent on worn coins.
Mint State Grade
Mint State: Undisturbed surfaces, without wear, defines a 1959 dime in Mint State grade. This high state of preservation is a coin with surfaces covered with original luster.
Time in use quickly develops breaks in luster replaced with a dull smooth surface. This worn surface does not reflect light as brilliant as the fine texture of luster. Open areas are first to wear and a focus on Roosevelt's neck below the ear shows full luster remaining. In the example image the neck is the same texture and shine as the rest of the coin's surface. All high points of the design are inspected and each remain original confirming the mint state grade.
Extremely Fine Grade
Extremely Fine: Light wear on the highest parts of the design is a coin in Extremely Fine grade. Light wear allows the fine detail to remain with just slight flattening on the very tops of contours.
Wear is visible on Roosevelt's neck. A small area of smooth metal - with a slight color change is visible just under his ear. A strong contour to the neck must remain with flatness just affecting the highest point.
Strong details are visible within the hair of the example image. Crisp lines remain representing waves of hair. Notice the light color change to the very tops of cheek and jaw indicating a small amount of wear. Overall a well detailed design remains.
Low Grade Examples
Low Grade Condition: A silver Roosevelt dime with visible wear and large flat areas is in low grade condition.
Wear is visible and covers the majority of the design. Roosevelt's neck has lost its contour and appears as a flat surface. His cheek and jaw are also represented by flat areas with little contour between.
Few details representing hair remain. Flat areas are large and cover most of the hair. Loss of fine details is reducing the appeal of coins in low grade.
How to Video: Grading Roosevelt Dimes
The above images help recognize and narrow a condition range. An in-depth study of grading these silver dimes is found on the following page.
Video, Images and Descriptions | Grading Roosevelt Dimes
Step 3: | Special Qualities Enhancing Value
Roosevelt Dimes | The Silver Years
Roosevelt dimes represent a long running design series. First minted in 1946 and features Franklin Delano Roosevelt on the obverse. Roosevelt served as the 32nd president of the United States from 1933 to 1945 and was honored after his passing with the introduction of the new dime.
Since 1946 the design of the Roosevelt dimes has remained the same, however, metal content has changed. In the initial years, silver was a major part of the alloy. 90% silver and 10% copper is the official metal composition of years dated 1946 to 1964. These silver era dimes contain .0723 ounces of fine silver.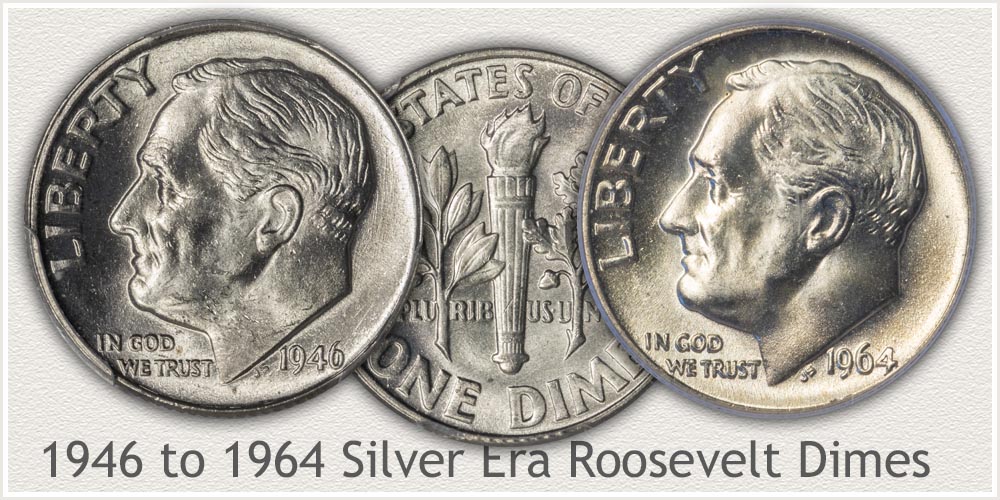 Last of the silver era Roosevelt dimes are identified by the 1964 date. All Roosevelt dimes dated 1946 to 1964 are the silver composition and are worth $1.57 each as of 5/25/2023 . Dimes dated after 1964 are a non-silver alloy of nickel and copper.
Early silver era dimes are always a premium coin; base silver price supports a nice minimum value. As a collectible, collectors often specialize in the silver issues of the series assembling complete date and mintmark sets. 48 dimes complete the set representing just under 3.5 ounces of silver.
1959 dimes are a typical range of production during the silver years with a total of over 250 million pieces struck. This number of dimes required 18,226,875 ounces of silver to produce. At the time silver traded in the 92 cents an ounce range, in comparison; today's range is $23.44 per ounce.
Silver content and the potential of added collector premium are important value factors to the silver era Roosevelt dimes.
References
U.S. Mint. 1960 U.S. Mint Annual Report. https://nnp.wustl.edu/library/book/514147
U.S. Mint. 1959 U.S. Mint Annual Report https://hdl.handle.net/2027/osu.32435057210981
Coin Values | CoinStudy Articles
Date by Date
In Depth Roosevelt Dime Values
1946 to 1964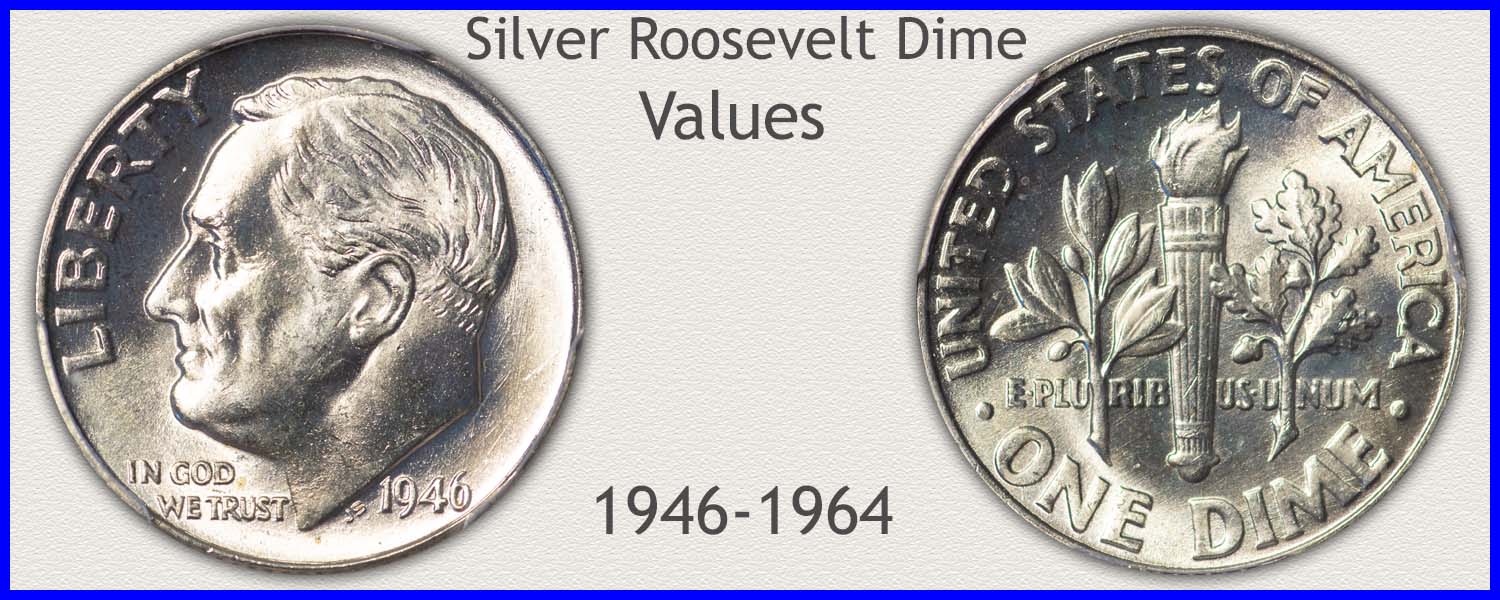 Silver issues of 1946 to 1964 are slowly maturing and beginning to gain in value. Most Roosevelt silver dime dates and mint varieties of these years are tied to the value of silver, each worth $1.57 . However, there are a few exceptions. Affordable to collect, the value is in Mint State condition - coins without wear. Value chart lists complete variety and dates spanning the silver years.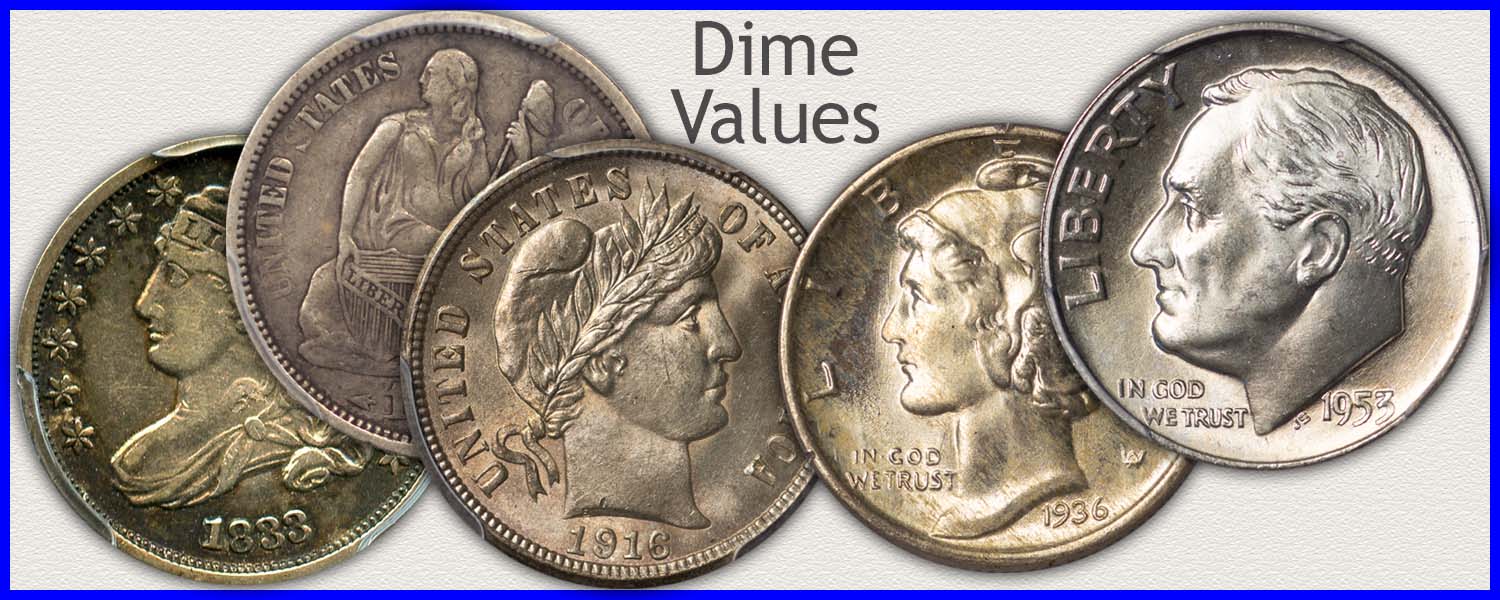 Dime Values | Covering the Many Series of U.S. Dimes
Determine a narrow range on the value charts. Following a step-by-step approach, first to identify the series of dimes. Early Bust dimes are exceptionally collectible. Recognize the importance of Mint Variety, and using images compare your coin to judge condition. Collectible high value coins are found in all series of U.S. dimes.
An insight into what is collected today, what is popular, and numbers of collectors involved helps show Roosevelt dimes are a series in demand. Coin series spanning all denominations are charted and ranked by numbers of collectors assembling sets of U.S. coins.
Coin Value Guide | How to Value a Coin Collection
Identify the different series of coins, recognize the higher condition coins, and narrow the range of value on the charts. A step-by-step process insures a complete assessment of your coin collection.
Safe Coin Storage | Recommendations
Thoughtful coin storage to improve safe handling, preserve value, and organize your box of old coins. A few basic supplies are highlighted that provide long term protection. Safe storage of silver coins maintains their state of preservation into the future.
★Coin Values Discovery finds 1959 Dime Value and...
All old US coin values. The home page is an excellent index, quickly leading to the major coin series. From Cents to Gold. Easily sort and value your coins, an important step in preparing for selling and finding coin buyers.