Coin Values Moving with Precious Metals: Up-Dated 9/25/2023: Gold $1921 | Silver $23.44
1948 Dime Value
Following a few steps comparing to images finds 1948 dime value. Silver is the first premium to these silver Roosevelt dimes. Each in 90% silver and a minimum of $1.57 in all degrees of condition.
Collectors place added value to mint varieties and coins in high state of preservation. Have a close look at your coin and discover how much it is worth.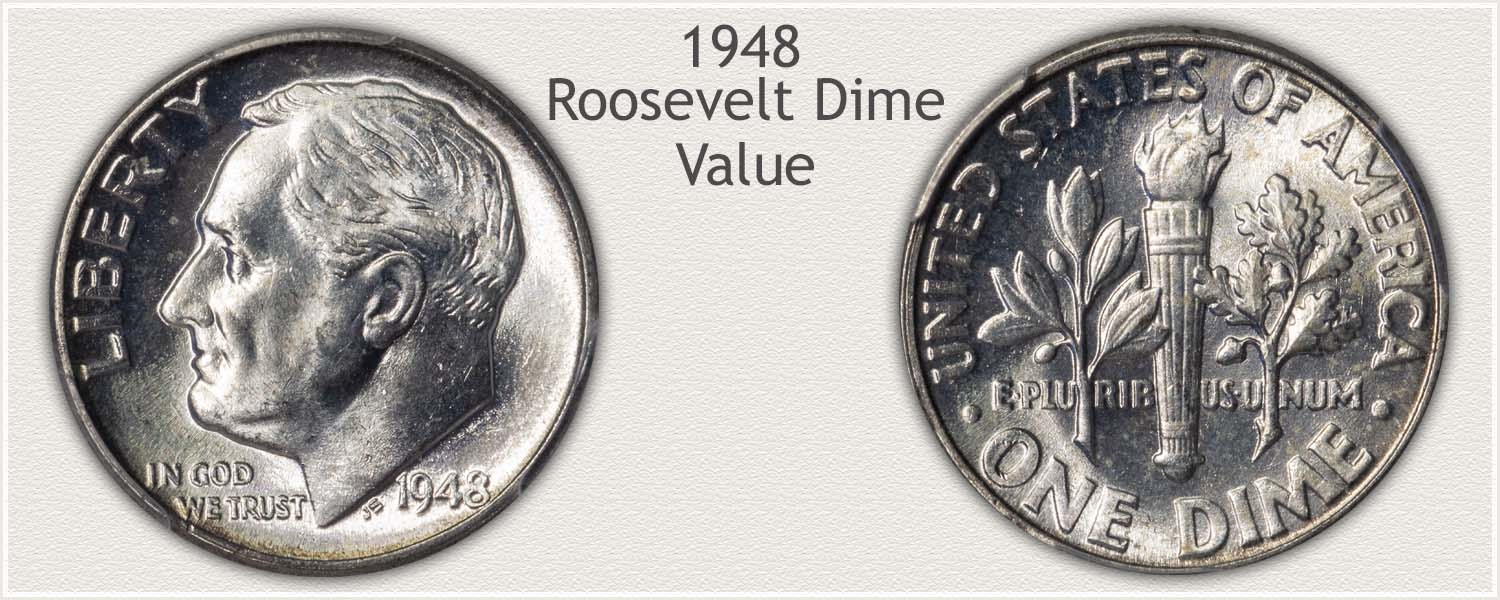 Steps Leading to Value:
Step 1: Date and Mintmark Variety - Roosevelt dimes are collected and valued by date and mint variety. It is necessary to identify the variety of your coin.
Step 2: Grading Condition - A second consideration is condition of the coin, premiums are placed on top grade examples. Images help confirm its grade.
Step 3: Special Qualities - High grade dimes are the first choice both in demand and values. Explore options to storing your coins and preserving their collector qualities.
1948 Dime Value
Condition of Coin
Date
Good
Fine
Extremely
Fine
Mint
State
Roosevelt Dime Values Updated
5/25/2023
1948
$1.57
$1.57
$1.57
$3.24
1948 D
$1.57
$1.57
$1.57
$4.92
1948 S
$1.57
$1.57
$1.57
$3.24
Minted during the silver years of the Roosevelt dimes, a 1948 example is sought by many levels of collector. New and young collectors are in search of examples in nice, affordable circulated condition. A silver dime from the 1940's is an attractive collectible. Seasoned collectors seek the top of the scale preserved pieces. All follow a few steps to identify and judge these coins. Begin with the mint variety.
Step 1: | Date and Mintmark Variety Identified
Varieties of 1948 Dimes to Recognize
Placing demand on these silver dimes are collectors forming date and mintmark sets. To complete the collection each is needed and identified by date first and then importantly mint variety.
Three mints are part of 1948 dime production, Philadelphia, Denver, and San Francisco. Each mint struck different quantities that determine numbers available today. Notable is the total dimes for the year is the fourth lowest of the silver Roosevelt era. An important coin to confirm.
1948-S Roosevelt Dime
"S" Mintmark on Reverse: San Francisco Mint Struck the Coin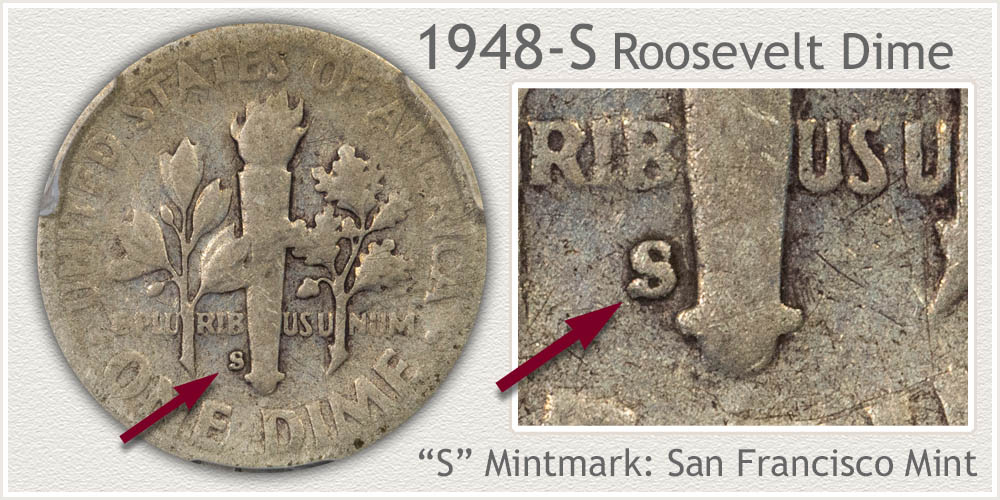 For the San Francisco mint an ample number of dimes were produced; 35.5 million. San Francisco coinage is a favorite with many collectors. A lightly worn or better dime is affordable to collectors just beginning to enter the hobby.
San Francisco mint dimes are determined by the "S" mintmark found on the reverse. The small mark is towards the bottom of the torch handle on the left. An "S" is the San Francisco dime variety.
1948-D Roosevelt Dime
"D" Mintmark on Reverse: Denver Mint Struck the Coin
In comparison to the entire silver Roosevelt era, Denver struck only a moderate total of just under 53 million dimes in 1948. Although abundant in numbers today, most show signs of heavy wear. Those saved from circulation early with light to no wear are in demand.
Identify the Denver coin by the "D" mintmark found on the reverse. Look closely at the base of the torch, on the left a small "D" mark is confirming the Denver mint dime.
1948 Roosevelt Dime
No Mintmark on Reverse: Philadelphia Mint Struck the Coin
In the third year of Roosevelt dime production Philadelphia struck 74,950,000 pieces. Also, a third year of declining mintages. The likely found 1948 dime is from the Philadelphia mint, heavily worn, valued at base silver value. Judging condition is the important element to higher value.
Philadelphia during the silver Roosevelt era did not place a mintmark on dimes. On the reverse, and the base of the torch, an empty area on the left side identifies the Philadelphia variety.
Step 2: | Condition is Judged and Grade Determined
Grading Confirms 1948 Dime Value
Collectible dimes in demand by collectors, worth a premium above silver content are recognized by judging condition. How well the surfaces of the coin are preserved is the deciding point.
A scale of grades defines the condition of a coin's surfaces. Staring with the highest - Mint state - no wear and preceding to a heavily worn coin. A comparison of your coin to examples of the different grades is used to help judge condition. These grades are used on value charts to narrow range of potential worth.
Mint State Grade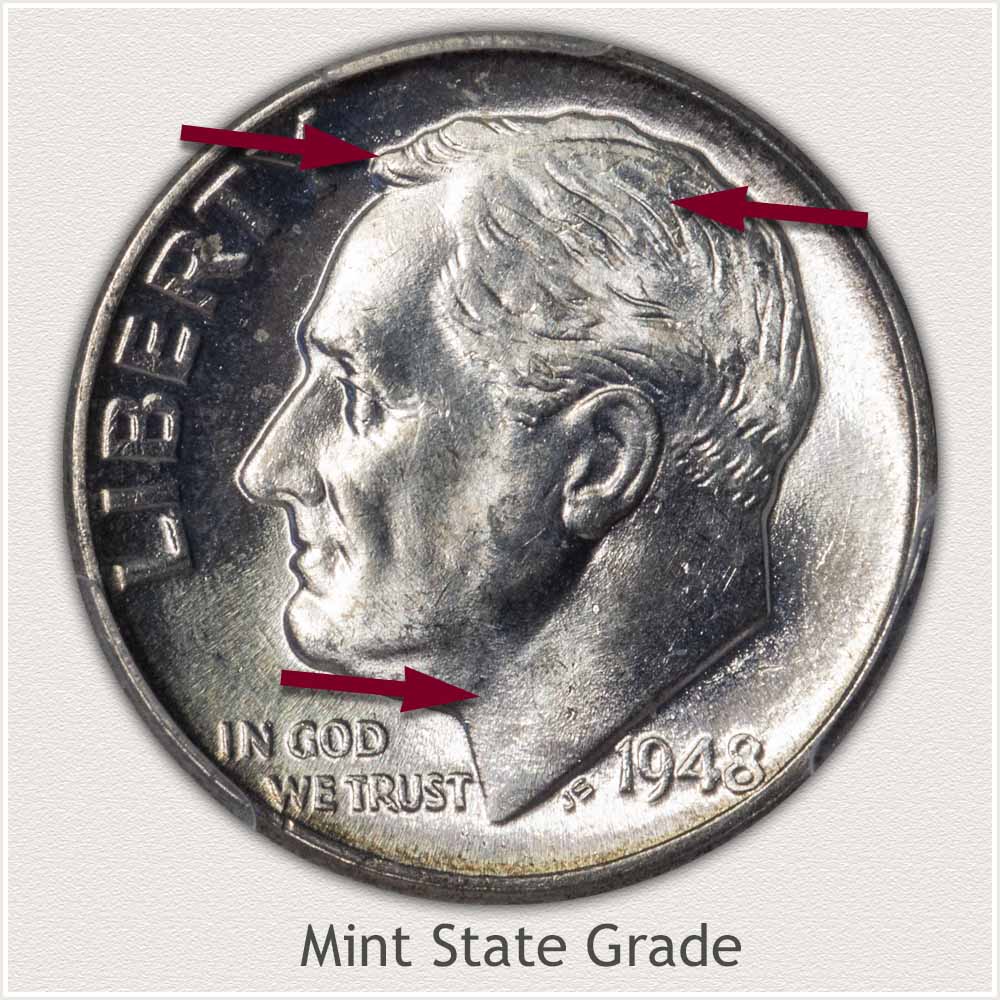 Mint State: It is expected no wear is visible on a coin in Mint State grade. This grade is reserved for coins displaying the fine texture of luster over the entire surface. High areas of design are closely inspected to confirm the grade.
One noticeable feature of Roosevelt's portrait is fine lines within the hair. Lines are formed by deep recesses with high areas remaining. The hair near the temple is one of the areas to show any smoothing caused by wear. Color and texture of the hair remains lustrous both near the temple and rest of his head. Dulling and smoothing of the hair is absent on the example indicating a mint state grade.
Extremely Fine Grade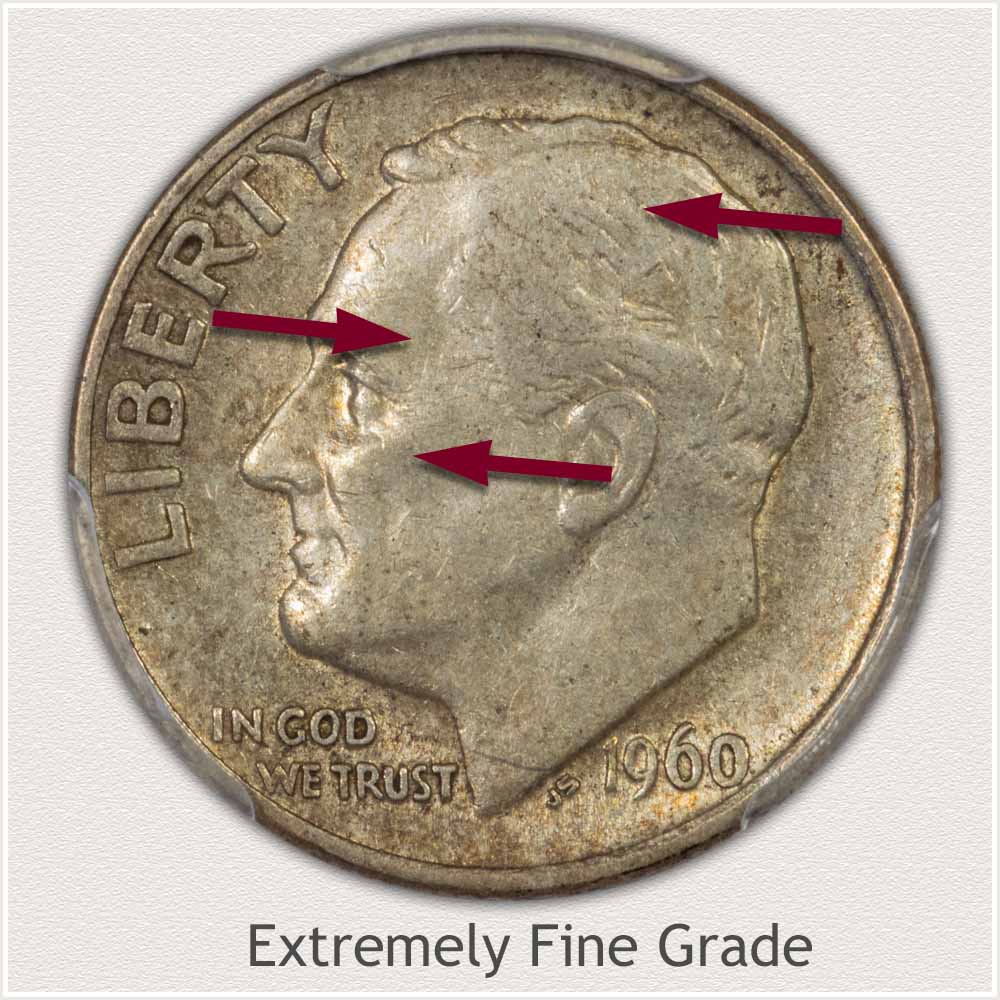 Extremely Fine: A strong indicator of wear is the soft grey color of the example, lacking any luster shine on high points. Very light wear defines the Extremely Fine grade.
Looking closely at the hair near Roosevelt's temple, a small flat area is beginning. Wear is light in the area and a few lines remain indicating hair. Further up on the head, small lines representing hair strands are visible giving the coin a detailed appearance. All major and high contours remain; cheek below the eye is defined and the jaw area remains raised with just slight flattening.
A nicely detailed coin with just slight wear is an appealing addition to a circulated set of silver Roosevelt dimes.
Low Grade Examples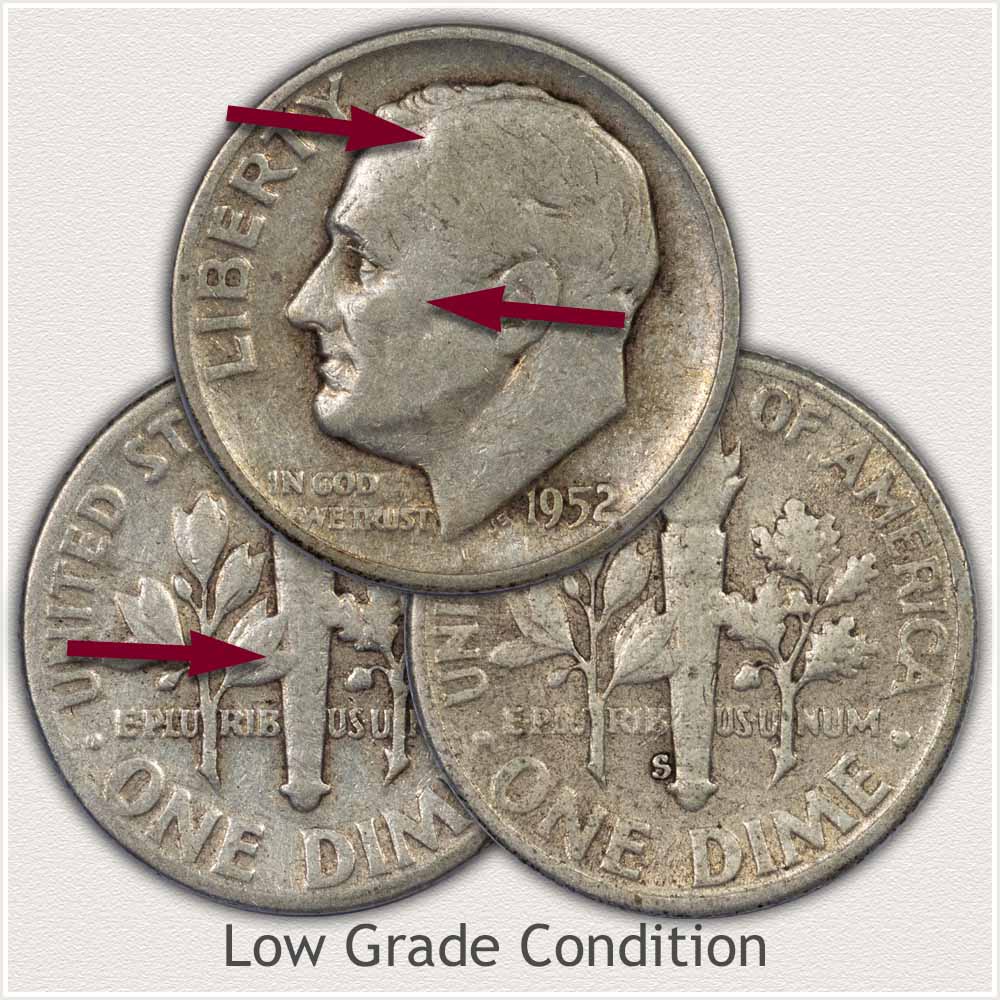 Low Grade Condition: Moderate to heavy wear is a condition many Roosevelt dimes exhibit. These low-grade examples are considered below collectible condition and trade in bulk at their silver value.
A standout feature of a low-grade dime is the lack of detail within Roosevelt's hair. Flat areas cover the majority of the hair with just a few deeper recesses remaining towards the back of his head. It is these large flat areas giving the coin a less appealing and desirable look. When looking closely for smoothness, the cheek below the eye is flattened as well is the majority of the jaw line.
Silver Roosevelt dimes of the 1940's, when heavily worn begin to fall out of favor with collectors. Examples in nice, full details condition remain affordable and are sought.
How to Video: Grading Roosevelt Dimes
Examining all surfaces of a silver Roosevelt dime is often needed to decide a grade. Using the video judge both obverse and reverse to narrow a grade range.
Video, Images and Descriptions | Grading Roosevelt Dimes
Step 3: | Special Qualities Enhancing Value
Special Handling of Quality Roosevelt Dimes
Proper storage of old coins is an important step to take when preserving value. Maintaining the original surface quality of a silver coin with advanced age requires a level of care.
Silver tones and eventually becomes a very dark grey if left exposed to the environment. Proper storage addresses three main causes of problems and helps stop any further loss of quality.
Contact with other coins and receiving marks
Ease of handling | full view of the coin when enclosed
Avoiding humid conditions
Steps taken: One and Two above have separated these silver Roosevelt's dimes into main categories of Collector Quality and Bullion Quality. A bullion quality coin is conveniently kept with similar coins and storage is primarily to avoid humid conditions. Collector quality is given advanced storage conditions.
Storing and maintaining value of higher quality collector coins is accomplished by housing each coin separate in its own holder. An excellent, first choice holder, are Saflips Mylar Flips. Clear mylar protects the coin from contact and gives full view of the coin. Coin is in one pocket of the flip and description card in the other pocket.
Saflips Mylar Flips are available in a 2 inch by 2 inch size, that holds all denominations of U.S. coinage. The 2x2 size fits in well with the majority of coin holders used by dealers and collectors. Place your coin in the holder, record information about the coin and store in a dry location. An excellent choice to protect quality. Dimes in the image above are coins I collected long ago. The Saflips they now reside in are from WizardCoinSuppy.com. A local coin dealer often stocks Saflips.
References
U.S. Mint. 1949 U.S. Mint Annual Report https://nnp.wustl.edu/library/book/340
Coin Values | CoinStudy Articles
Date by Date
In Depth Roosevelt Dime Values
1946 to 1964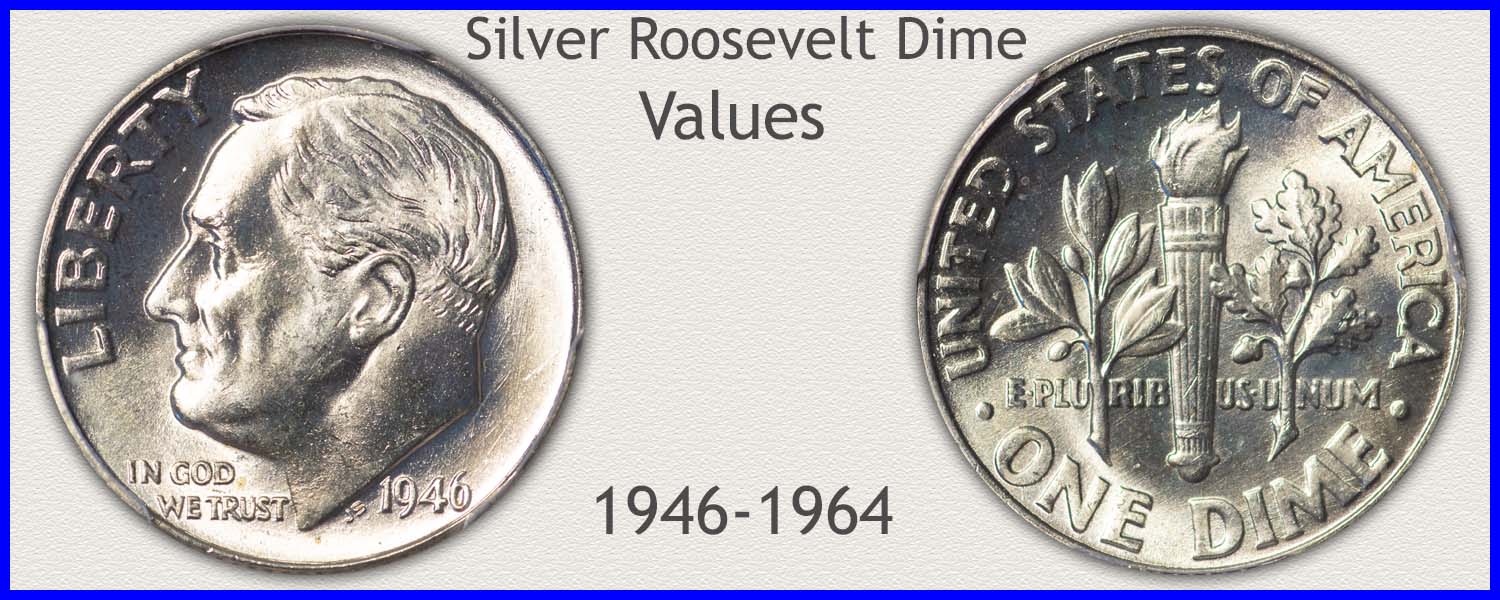 Roosevelt Dime Values | 1946 to 1964
Collectible status separates the many date and mint varieties of early Roosevelt dime values. Silver is a strong base to the 1946 to 1964 era dimes. Condition identifies the coins collectors place a collector premium on. Chart listing silver Roosevelt dime values highlights the issues worth above silver content and in demand by collectors.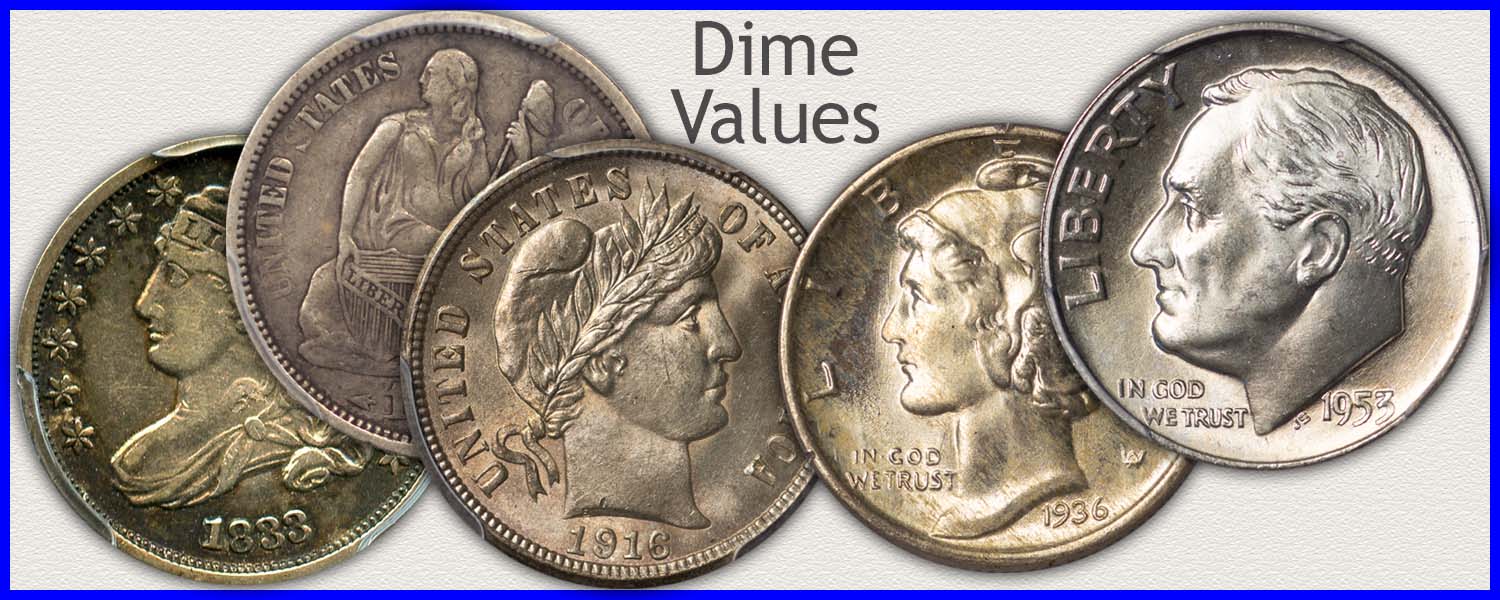 Dime Values | Covering the Many Series of U.S. Dimes
Determine a narrow range on the value charts. Following a step-by-step approach, first to identify the series of dimes. Early Bust dimes are exceptionally collectible. Recognize the importance of Mint Variety, and using images compare your coin to judge condition. Collectible high value coins are found in all series of U.S. dimes.
Print the Coin Values Worksheet
After following the steps above to evaluate your coins. List dimes by dates, mints and bullion quality to record their values.
Popular Coin Series | Silver Dimes
A study of Registry Set collection totals begins to identifies popular coin series. Collectors post their collections to share their interest in a coin series. Ranking the total collectors involved in a particular series gives insight into popularity. U.S. coins are diverse in design and series. Collectors enjoy many themes of interest. Popular denominations and series are listed in order.
Images to identify U.S. coins with charts of minimum values. Bookmark to phone to recognize starting value of coin series. Links to expanded charts, variety, and grading images the keys to value.
Silver Coin Values | Dimes to Dollars
Calculate current silver value of U.S. coinage. Silver dimes, quarters, halves, and dollars all move with the changing price of silver. These coins are heavy with silver and worth well above face value, changing daily.
★Coin Values Discovery finds 1948 Dime Value and...
All old U.S. coin values. Image and description index leading to value charts. Step by step method to date and variety identification. And grading condition by comparing to images, video and descriptions. Special qualities are also judged. Discover how much your box of old coins is worth.