Coin Values Moving with Precious Metals: Up-Dated 11/27/2023: Gold $2010 | Silver $24.66
1949 Dime Value
Added to base silver content is the collectability premiums to 1949 dime value. Roosevelt dimes of the era are heavy with silver and each worth $1.65 as of 11/27/2023 .
1949 is a year a close inspection of the coin's condition is important. Spotting a lightly worn or better-preserved piece is finding an in-demand collectible. Follow the steps, comparing to images helping recognize full potential.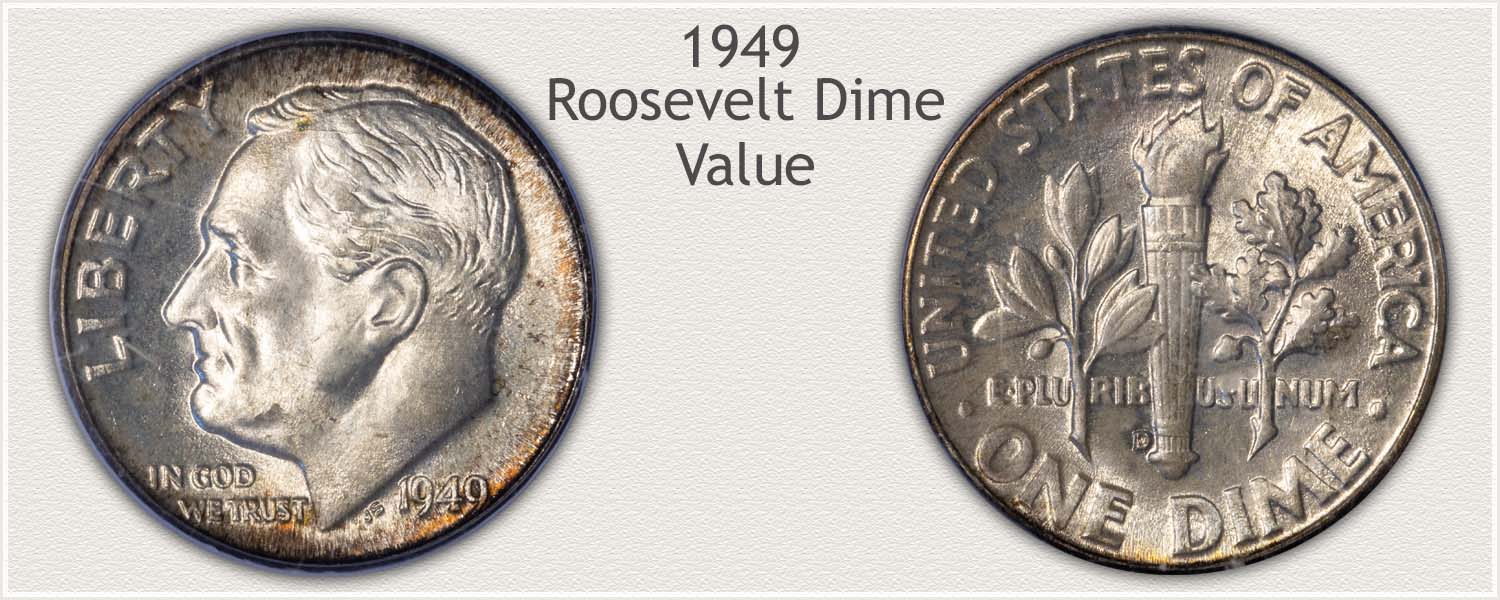 Steps Leading to Value:
Step 1: Date and Mintmark Variety - Accurate date of your coin is very important, mint variety further narrows value on the chart.
Step 2: Grading Condition - A second consideration is the state of preservation. Separate the minimum from collector demand conditions comparing to images.
Step 3: Special Qualities - Collectors are placing premiums above silver value on many 1949 dimes. A very close look at examples helps recognize the in-demand coins.
1949 Dime Value
Condition of Coin
Date
Good
Fine
Extremely
Fine
Mint
State
Roosevelt Dime Values Updated
11/27/2023
1949
$1.65
$1.65
$3.72
$12
1949 D
$1.65
$1.65
$1.96
$5.17
1949 S
$1.65
$1.65
$4.81
$20
As outlined, there are specific steps to take when finalizing an accurate inspection of coins. Closely compare your coin to the images and look for the subtle points highlighted allowing for an accurate reading of its value on the chart.
Step 1: | Confirm Date and Mintmark Combination
Important Mint Varieties of 1949 Dimes to Recognize
1949 sees all mint varieties enjoying premium values in lightly circulated condition. Collectors consider these dimes as infrequent in the ability to find choice quality examples. During the silver era of Roosevelt dimes (1946 to 1964) only 70.4 million dimes from all mints combined were struck for the year. A newsworthy low number and became the second lowest yearly mintage of the series.
A close look and accurate recognition of variety is needed.
1949-S Roosevelt Dime
"S" Mintmark on Reverse: San Francisco Mint Struck the Coin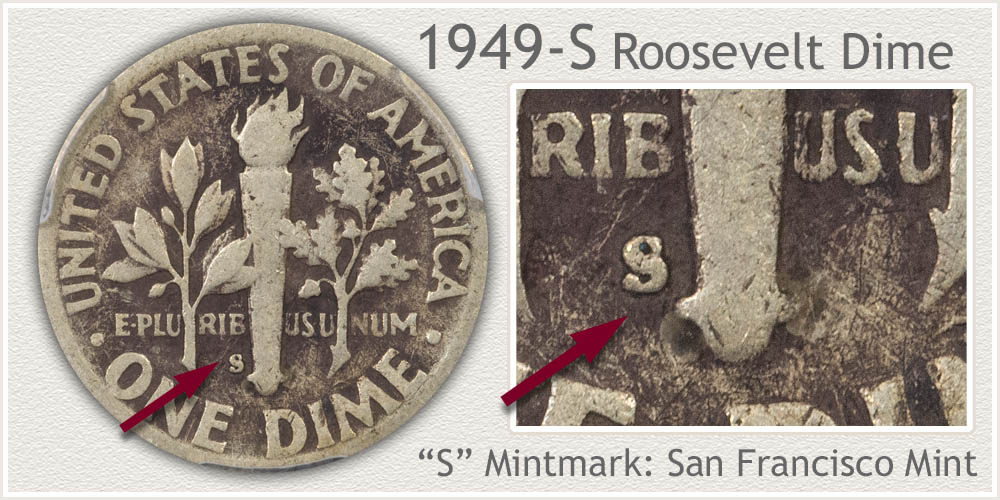 Dime mintage numbers from San Francisco in 1949 totaled 13,510,000 pieces. This total became the second lowest variety of the Roosevelt vintage silver era. These are all sought by collectors. San Francisco dimes are popular with collectors, and small numbers produced attracts attention and premiums.
An "S" mintmark on the reverse identifies issues minted at San Francisco. Near the base of the torch on the left side a small "S" mintmark is confirming the San Francisco mint struck the coin.
1949-D Roosevelt Dime
"D" Mintmark on Reverse: Denver Mint Struck the Coin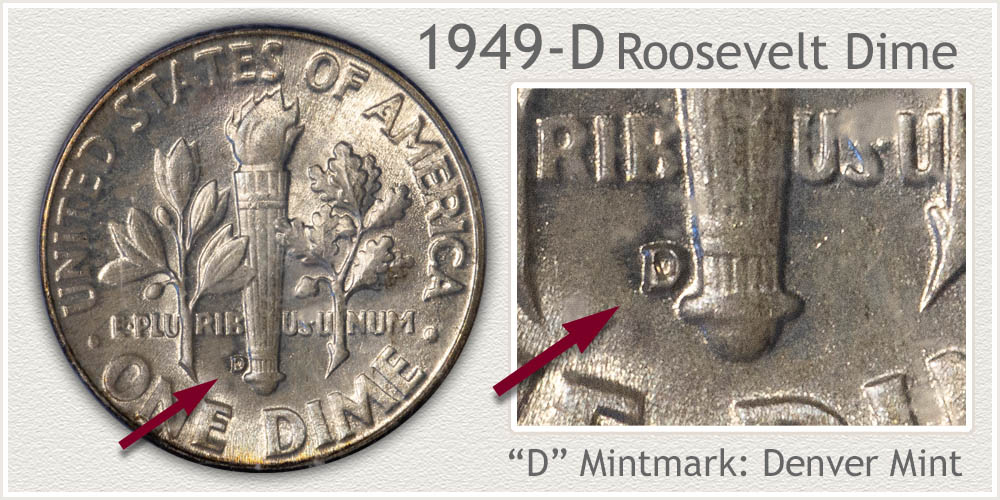 Collectors pursue all mint varieties of the year as collections are assembled. Denver provided just over 26 million 1949 dimes, second lowest mintage Denver variety of the series. The majority entered circulation, those saved before heavy wear are in premium demand today. Eye appealing coins with the "D" mintmark are sought.
Denver used a "D" mintmark to indicate the coin was part of their production. On the reverse is the torch of Liberty. Look at the base on the left side, a "D" mark is a coin struck at Denver.
1949 Roosevelt Dime
No Mintmark on Reverse: Philadelphia Mint Struck the Coin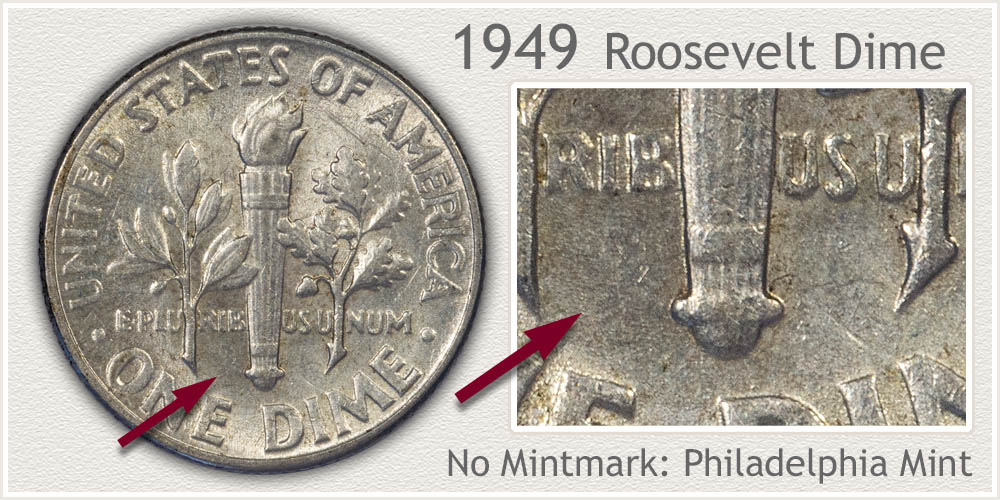 Philadelphia only struck 30.9 million dimes in 1949, an uncommonly low number for the facility. This went unnoticed when compared with the lower numbers from the branch mints. Today these Philadelphia issues are worth a nice premium in lightly worn or better condition. Step 2 below is needed to judge condition.
Philadelphia varieties do not have a mintmark. On the reverse, at the base of the torch no mintmark is found on the left side. No mintmark confirms these premium 1949 dimes minted at Philadelphia.
Step 2: | Identify Grade to Collectible Dime
1949 Dime Value is Conditional
Grading your 1949 dime identifies one of three value ranges. Bullion silver - low condition coins; second are collectible condition worn pieces; and at the top is mint state condition dimes with high premiums.
Condition is examined and compared to images representing grades. These grades define the categories found on value charts. Special attention is given to areas on the coin susceptible to wear and then gaging the amount visible to match a grade definition.
Mint State Grade
Mint State: Roosevelt dimes when they leave the mint are covered with a bright luster. This new surface is delicate, the fine texture of luster is easily worn. Especially prone to wear are the highest, first points of contact, parts of design. A close inspection is needed to detect the signs of wear and luster removal.
A good place to inspect and confirm a mint state grade dime is the cheek just below Roosevelt's eye. Looking closely, the cheek remains bright, fully contoured, and its texture is the same as surrounding areas. If worn, the high point of the cheek becomes smooth and the metal takes on a dull silver-grey tone.
An overall view of the dime in the example image shows no signs of smoothed surfaces. Light reflects brightly off all parts of the design. Traces of wear would disrupt the continuous "flow" of luster.
Extremely Fine Grade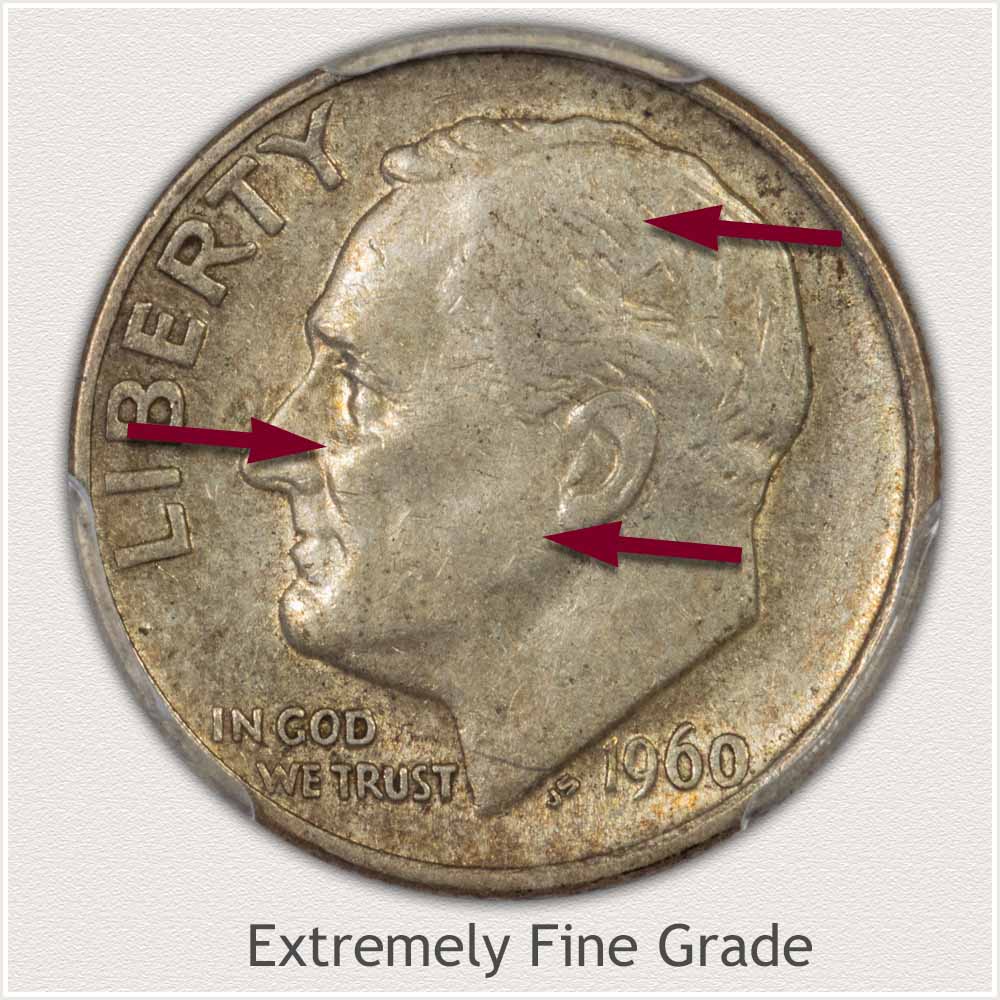 Extremely Fine: Light wear on just the high areas defines a dime in Extremely Fine grade. Sharp details remain in protected areas around the ear and within Roosevelt's hair.
The cheek below the eye is just beginning to show a smooth surface. Notice the contour of the cheek has flattened in only a small area. A deep relief separates the high area of the cheek and high area of the jaw, helping identify the Extremely Fine grade. Only light wear is scattered over Roosevelt's face and hair, there is no serious smoothness with the majority of fine detail.
Low Grade Examples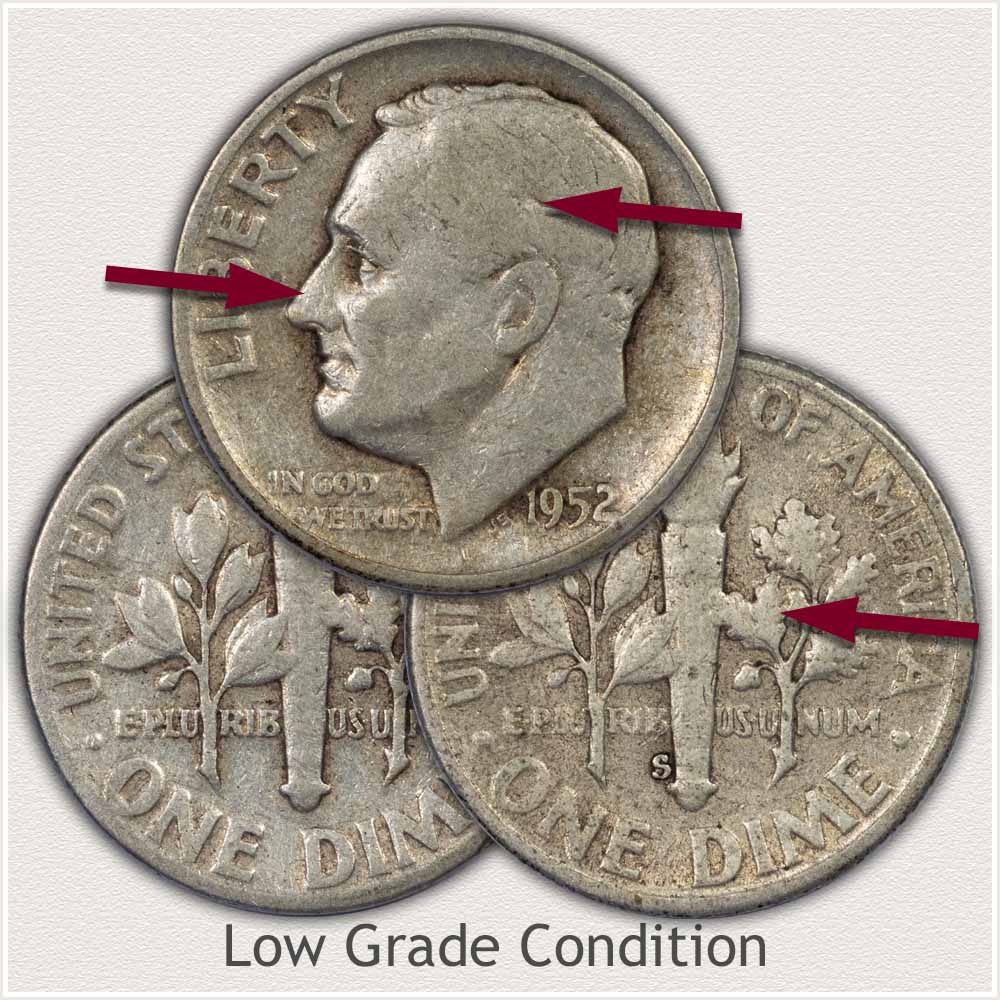 Low Grade Condition: Moderate wear removing both fine line detail and creating noticeable flat areas defined the lower condition Roosevelt dimes. These coins fall below the Extremely Fine grade. A heavily worn coin is less than collectible quality and not avidly sought by collectors.
Indicating moderate to heavy wear is the large flat area below the eye on Roosevelt's face. The reduction of metal is causing the once contoured cheek, temple, and forehead to appear as one flat connected area. Additionally, the lack of fine lines within the hair shows heavy wear and lost eye appeal.
How to Video: Grading Roosevelt Dimes
A few moments spent looking closely at these silver dimes begins the see the different levels of wear and condition.
Video, Images and Descriptions | Grading Roosevelt Dimes
Step 3: | Special Qualities Enhancing Value
Recognize Subtle Details and Collector Quality
1949 is a special year of Roosevelt dimes. All issues are considered worth a premium in less than mint state grade. Every 1949 dime needs a close inspection of condition to identify those valued above silver content.
Popularity of collecting the silver era dimes tends heavily towards placing mint state examples - coins without wear - in collections. Because of a preference for mint state coins, their availability plus affordability, the majority of circulated condition coins are only valued by their silver content. 1949 is a year in the Roosevelt series separate of this trend.
The reverse of the coin is an excellent place to recognize the quality of 1949 dime awarded a collector premium.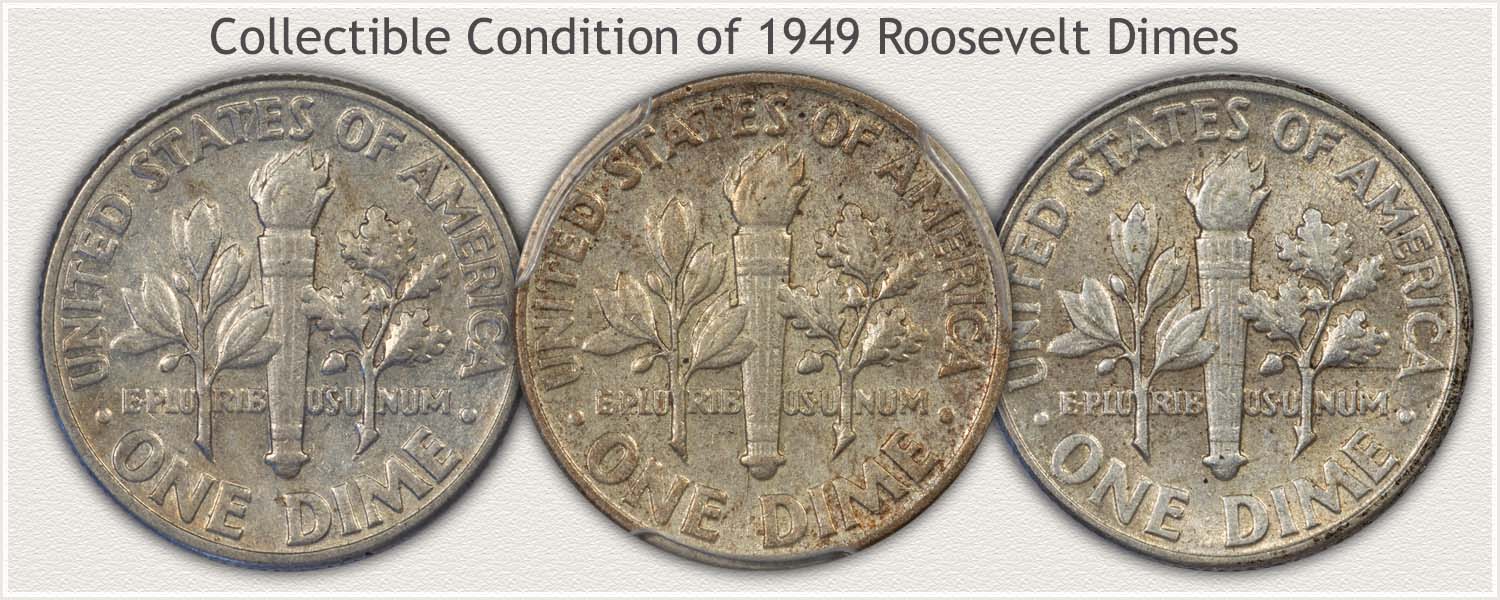 First to note of the higher circulated grades is the amount of fine detail seen on the torch.
Separate flames of the torch are clearly visible and remain with distinct features
The torch handle is detailed with complete vertical lines
Clear top and bottom horizontal bands wrap the torch and are raised in profile
On the sides of the torch is an olive branch on the left and oak branch to the right, symbols of Peace and Strength. Fine vein details are visible within the leaves and all leaves are full and complete. Acorns in the oak branch have defined caps.
Collectors appreciate a lightly circulated 1949 dime. All issues are a low production year for the mints; Philadelphia, Denver, and San Francisco. Demand is catching up to supply and scarcity of eye appealing coins is represented by premiums on value charts.
Compare your coin closely to the high condition examples. Finding the finer details on your coin have not worn away identifies a higher 1949 dime value.
References
U.S. Mint. 1950 U.S. Mint Annual Report https://nnp.wustl.edu/library/book/341
U.S. Mint. 1946 U.S. Mint Annual Report. https://nnp.wustl.edu/library/book/514144
Coin Values | CoinStudy Articles
Date by Date
In Depth Roosevelt Dime Values
1946 to 1964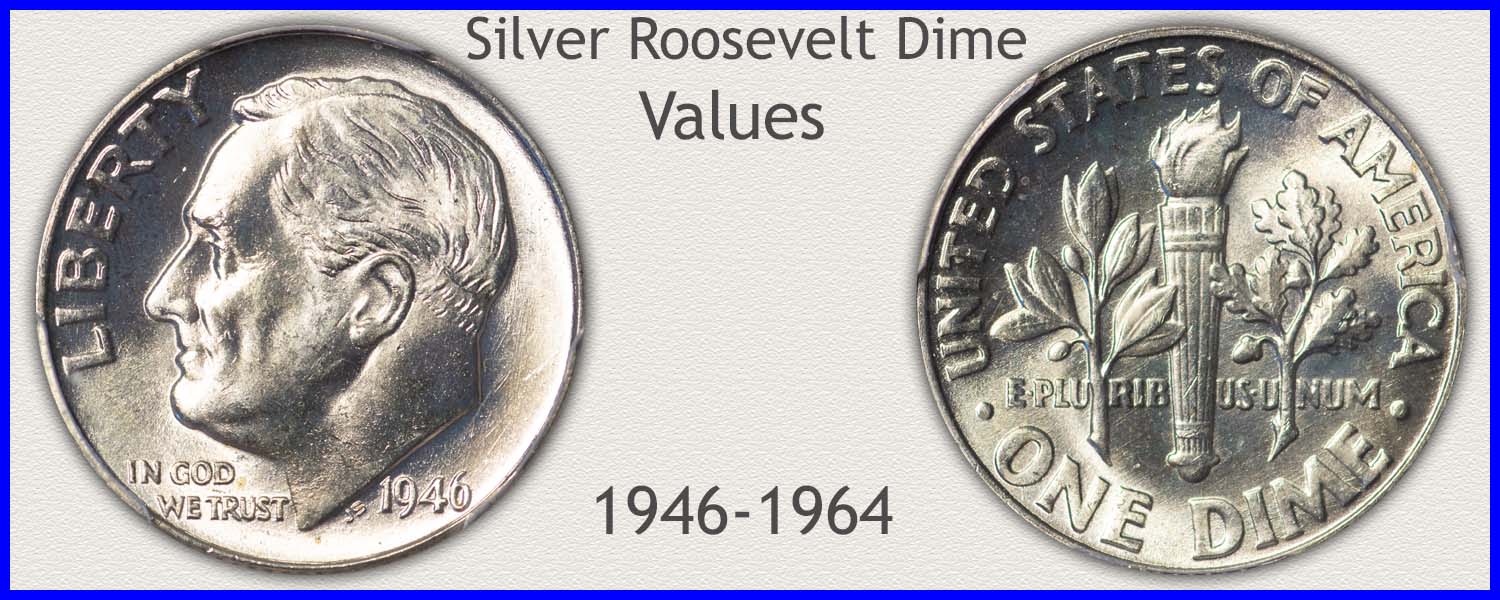 Roosevelt Dime Values | Early Silver Era
Roosevelt dime values of the early silver years, 1946 to 1964 are a premium coin because of silver content. These early dimes are 90% silver and move with the price of precious metals. Currently worth $1.65 each. Dates and mint varieties are listed on value charts with a step-by-step process to determine condition and how much they are worth.
Scarce and collectible dimes are found throughout the dime series. Many rare dimes are from the early mintage years. Bust dimes minted prior to 1850's are low mintage and highly sought. Seated Liberty, Barber, and Mercury dimes all have key rarities.
Coin Value Guide | How to Value a Coin Collection
A coin collection is valued using a step-by-step method. Key factors are identified and the coin value guide leads to charts of how much your collection is worth.
Safe Coin Storage | Silver Dime Recommendations
Safe coin storage is important to preserve value, organize your box of old coins, and improve safe handling. A few basic supplies are highlighted that provide long term protection. Silver alloy coins need the protection as other coinage metals such as copper and nickel.
Follow the movements in silver price and calculate minimum values of silver U.S. coinage. Roosevelt dimes of the silver era 1946 to 1964 are a 90% silver alloy mix and worth far above face value. Calculator lists Pre 1965 silver coins and current silver values.
★Coin Values Discovery finds 1949 Dime Value and...
U.S. coin values determined using a step-by-step process. Begin with identifying the major coin series covering cents to gold coins. Images are used throughout to compare dates, mint varieties, special varieties, and grading condition of your coins. Follow a few steps to narrow range on value charts.