Coin Values Moving with Precious Metals: Up-Dated 11/27/2023: Gold $2010 | Silver $24.66
1946 Dime Value
1946 dime value has a strong base in its silver content. Roosevelt dimes of the 1940's | 1950's | early 1960's are 90% silver by weight. Current minimum value is $1.65 each, see chart below for expanded listings.
Also, because of age, these coins are a popular collectible. Combining silver and certain collectible traits determines how much they are worth. A few steps are used to identify its place on the value chart.
Steps Leading to Value:
Step 1: Date and Mintmark Variety - Vintage silver dimes are identified and valued by date and mint variety. Confirm your dime variety.
Step 2: Grading Condition - Comparing your coin to images of different grades, recognize the quality in demand and awarded premium value.
Step 3: Special Qualities - Collectors support the value to old coins. Silver dimes are collected in many ways creating different levels of demand and ultimately, how much they are worth.
1946 Dime Value
Condition of Coin
Date
Good
Fine
Extremely
Fine
Mint
State
Roosevelt Dime Values Updated
11/27/2023
1946
$1.65
$1.65
$1.65
$2.72
1946 D
$1.65
$1.65
$1.65
$2.72
1946 S
$1.65
$1.65
$1.65
$2.72
1946 was the beginning year of the Roosevelt series and many were saved as examples of the new dime. Demand for higher condition coins is seen in the value chart. Follow the steps to identify the premium collectible variety and quality.
Step 1: | Date and Mintmark Variety Identified
Varieties of 1946 Dimes to Recognize
All new design series attract the attention of everyone. Saving of the Roosevelt dime was popular and collectors enjoyed the beginnings of a series.
1946 dimes are abundant today thanks to the many saved when entering circulation. At the time three different mints struck these across the country. Each mint variety is collected individually as part of a set. First to confirm is date and mint combination.
1946-S Roosevelt Dime
"S" Mintmark on Reverse: San Francisco Mint Struck the Coin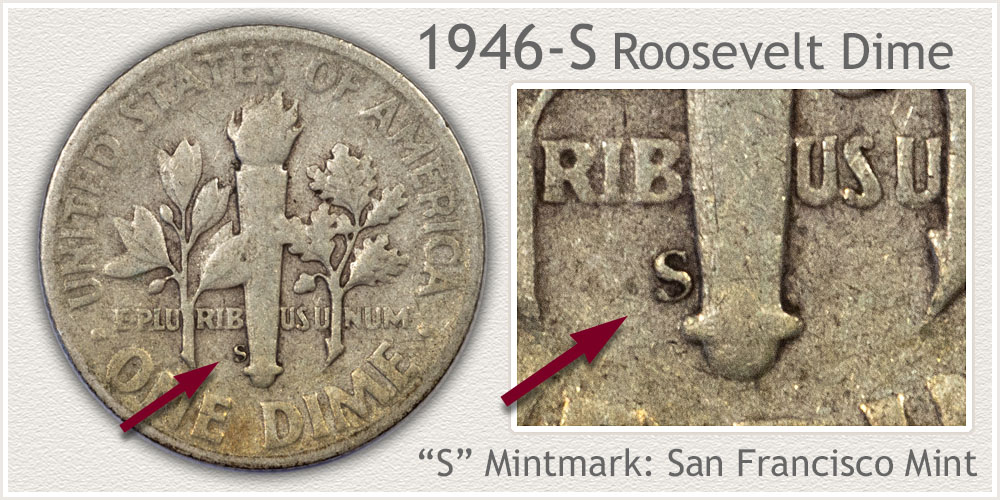 By January 1946 the San Francisco mint was releasing these new dimes into circulation. In total for the year, they struck 27,900,000 dimes, an abundant number to meet the needs of commerce.
Identify the San Francisco variety by the small "S" mintmark on the reverse. On the left side of the torch the "S" indicates the San Francisco mint produced the coin.
1946-D Roosevelt Dime
"D" Mintmark on Reverse: Denver Mint Struck the Coin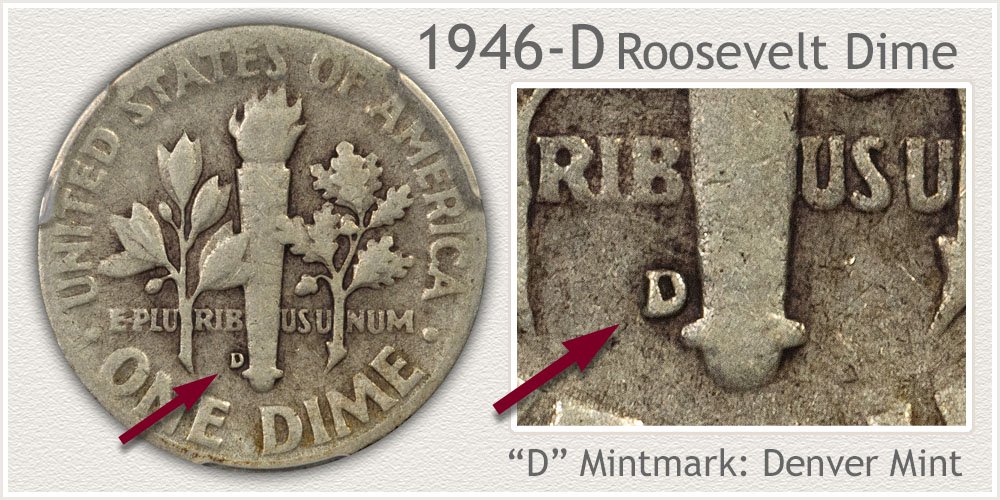 The Denver mint suppled the central U.S. with coinage. Large numbers of new Roosevelt dimes where needed to replace the now retired Mercury dime series. People were saving the last of the old and the beginnings of the new placing a production demand on the mints. Denver supplied over 61 million dimes in 1946 with many surviving today.
A "D" mintmark was placed on the reverse to identify the Denver mint. Next to the left side of the torch towards the bottom a "D" mark is seen.
1946 Roosevelt Dime
No Mintmark on Reverse: Philadelphia Mint Struck the Coin
Philadelphia mint is the main U.S. mint. Supplying coins, coinage dies, assaying precious metals, and refining metal alloys.
Dimes were a big part of Philadelphia's production in 1946 striking over 255 million pieces. This huge amount is the sixth highest of the silver years. A popular date and abundant today in circulated condition.
Philadelphia did not use a mintmark in 1946 on coinage. At the base of the torch the space on the left is empty indicating the coin was struck at the Philadelphia mint.
Step 2: | Judge Condition to Identify Grade
1946 Dime Value is Conditional
The condition listings further refine dime values on the above chart. As a coin is used in commerce, wear takes place starting on the high points of the design. Grading the condition of a coin applies a set of standards for the different conditions and then assigning a grade.
Nice condition coins are sought by collectors. Use the images to compare and help narrow the state of preservation of your coin.
Mint State Grade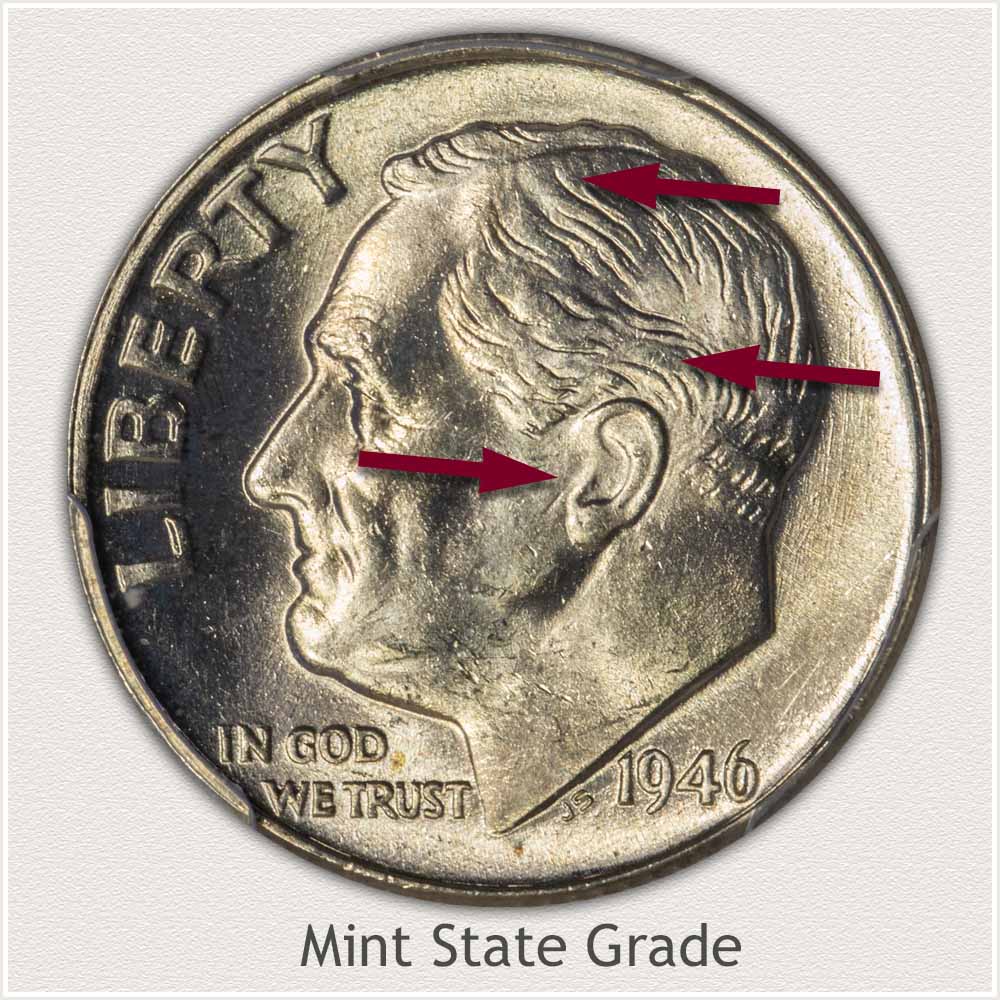 Mint State: All 1946 dimes left the mint with no wear to the surface. This state of condition is graded and termed as Mint State. Wear to no wear is the major separation in both popularity with collectors and value of silver Roosevelt dimes.
Roosevelt's portrait has many high points subject to wear. Focus on the hair and small lines just above the ear. Looking closely, notice the surface remains bright with luster and importantly a fine texture to the metal remains. Smoothing due to wear removes the fine texture, part of the luster and often causes a dullness of color. Fine details within the hair remain on this dime indicating the mint state grade.
A pleasing coin, still bright with the original color and shine, it represents collector quality.
Extremely Fine Grade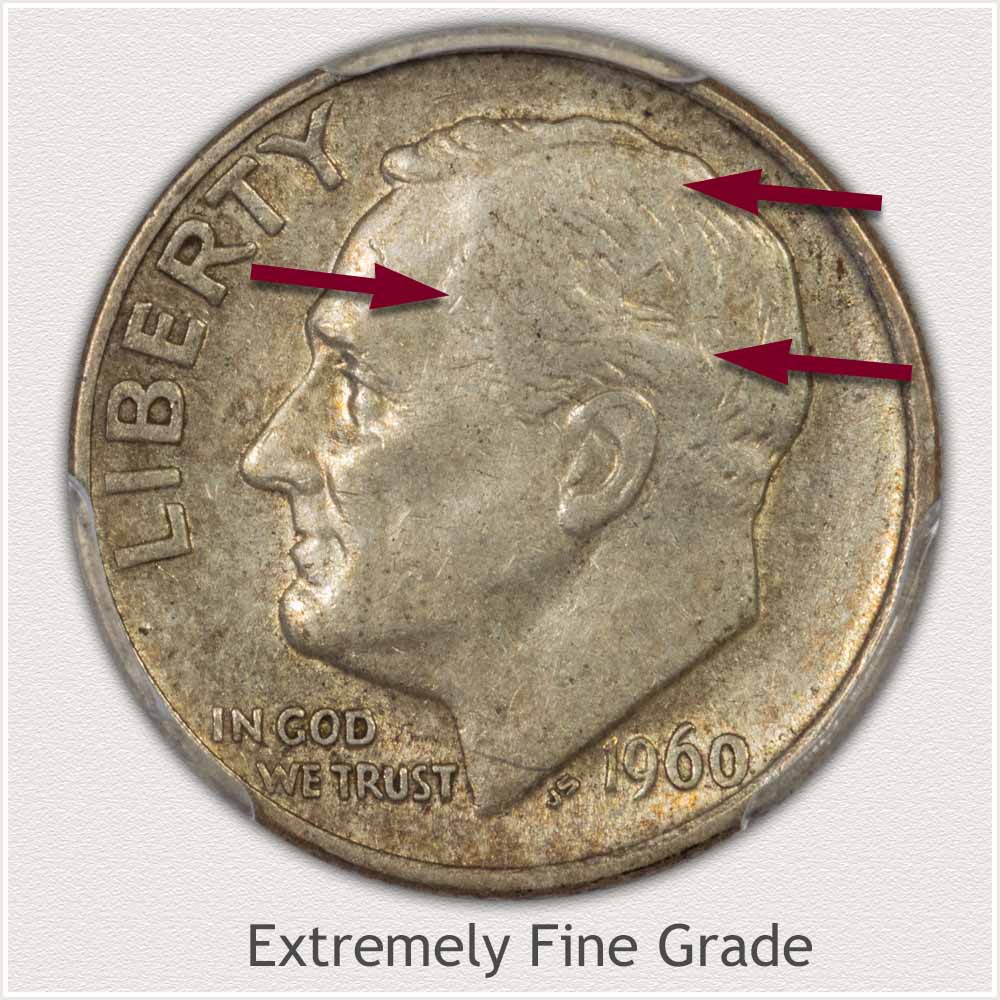 Extremely Fine: Slight wear confined to high point details help define a dime in Extremely Fine grade. Wear is minor and no merging of major design elements is visible. First impression is a crisp looking coin.
It is possible to detect small amount of the wear to the surface of the imaged coin. The raised area of hair above the ear is slightly smooth in texture. Fine lines are beginning to fade creating a flat area across the top of the ear. Helping define the grade are the many remaining hair lines throughout the rest of Roosevelt's hair.
Although this coin is valued close to silver value, it is affordable to young collectors and has a nice eye appeal.
Bullion Condition Examples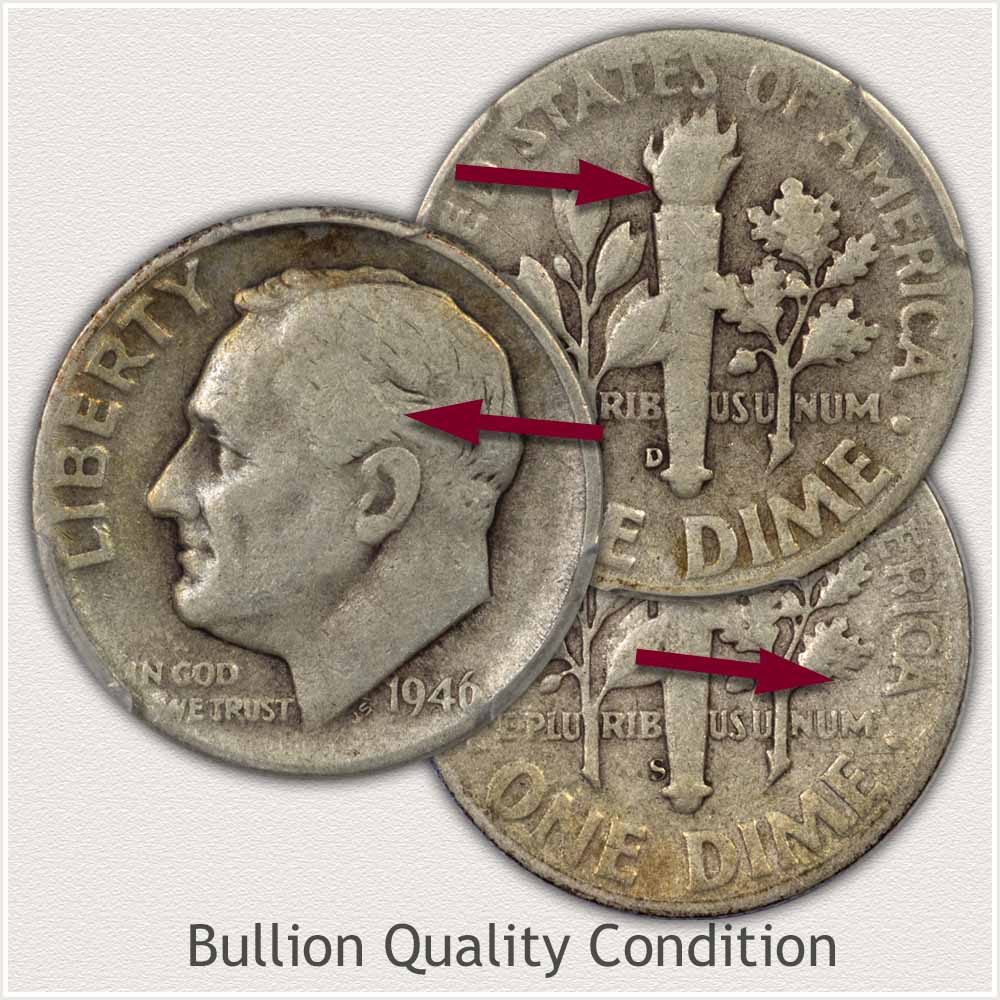 Bullion Condition Quality: 1946 dimes with many of the fine line details worn and missing become less collectible. The bulk of bullion quality and bullion value dimes are these moderately to heavily worn examples.
Hair detail above Roosevelt's ear is now one continuous smooth surface. Flatness extends from the temple over the top of the ear to the back of his head. This amount of wear confirms a moderately worn bullion quality 1946 dime.
A fun coin to hold on to, 1946 is the first year of the series.
How to Video: Grading Roosevelt Dimes
Compare your coin to more images of the different grades. Subjective elements play a role in spotting an eye appealing dime. Subtle details are examined.
Video, Images and Descriptions | Grading Roosevelt Dimes
Step 3: | Special Qualities Enhancing Value
Introducing the Collectible "First Year of Series" Roosevelt Dime
Beginnings of the Roosevelt dimes series is marked by the 1946 issue. These first year of issue dimes are important to many collectors. All collections of silver Roosevelt dimes need the date. If assembling a type set collection of the many different dime designs, first year of issues are a popular choice to represent the series. 1946 Roosevelt dimes are an historical year.
Franklin Delano Roosevelt's portrait fills the obverse. On the reverse the Liberty Torch is center of an olive branch on the left signifying Peace and an oak branch to the right signifying Strength and Independence. A very modern design coinage.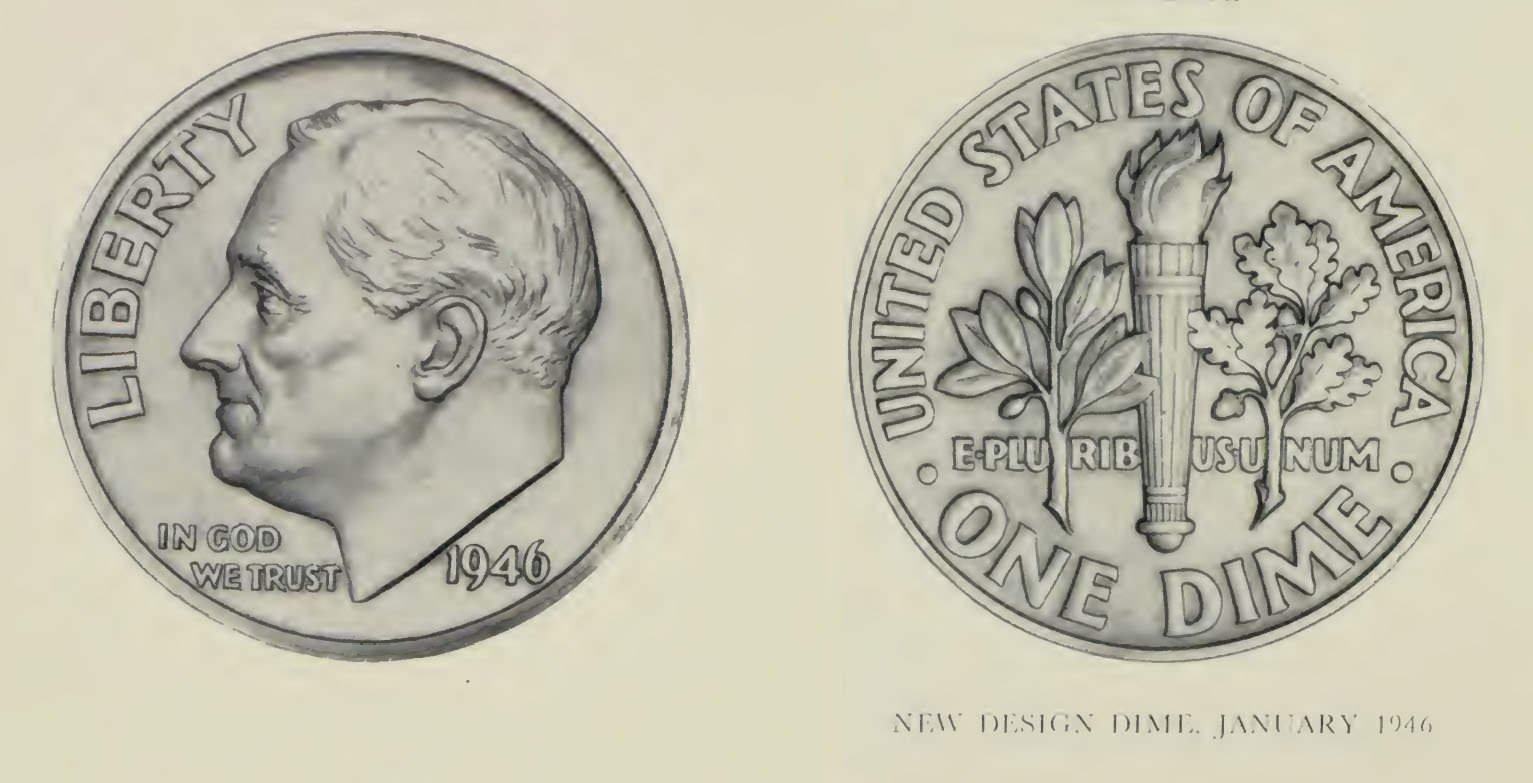 January 30, 1946 is the exact date of release of the new dime, in honor of the late President's birthday. By July of the year, over 146 million were in circulation, the production of three mints; Philadelphia, Denver, and San Francisco.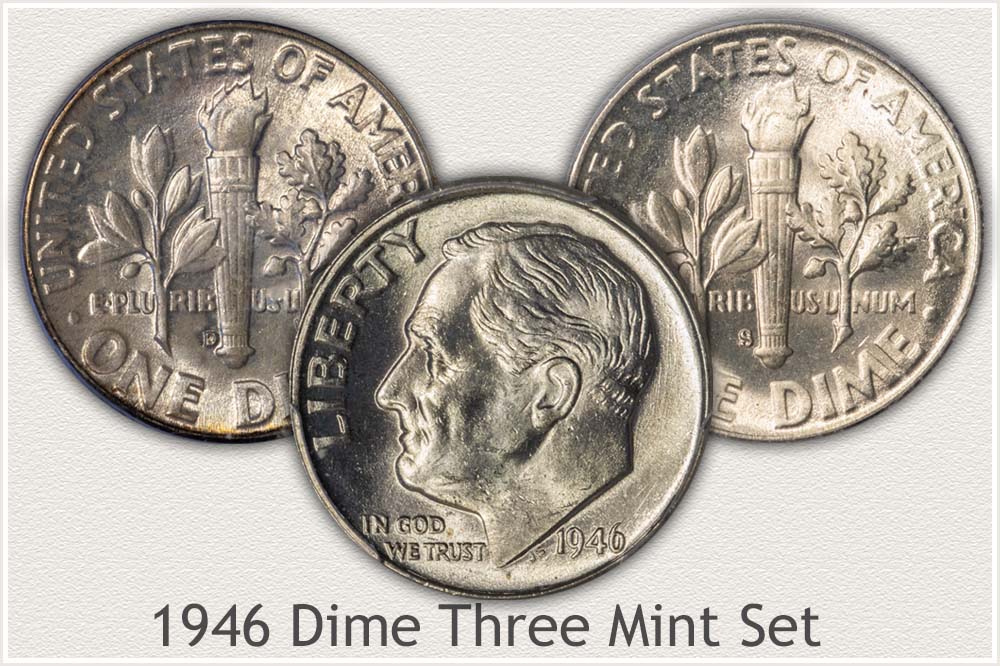 Many of these new dimes were saved at the time of issue. Inspect yours closely, if just lightly worn, it was set aside soon after minting, as far back as 1946. President Roosevelt was a strong leader throughout very trying times in the U.S. and keeping one of these dimes was important to people.
Historical importance plus collectible first year are unique qualities to 1946 Roosevelt dimes. An affordable coin appreciated by new to advanced collectors. A nice set features all three mint issues.
References
U.S. Mint. 1946 U.S. Mint Annual Report. https://nnp.wustl.edu/library/book/514144
U.S. Mint. 1947 U.S. Mint Annual Report https://nnp.wustl.edu/library/book/514145
Coin Values | CoinStudy Articles
Date by Date
In Depth Roosevelt Dime Values
1946 to 1964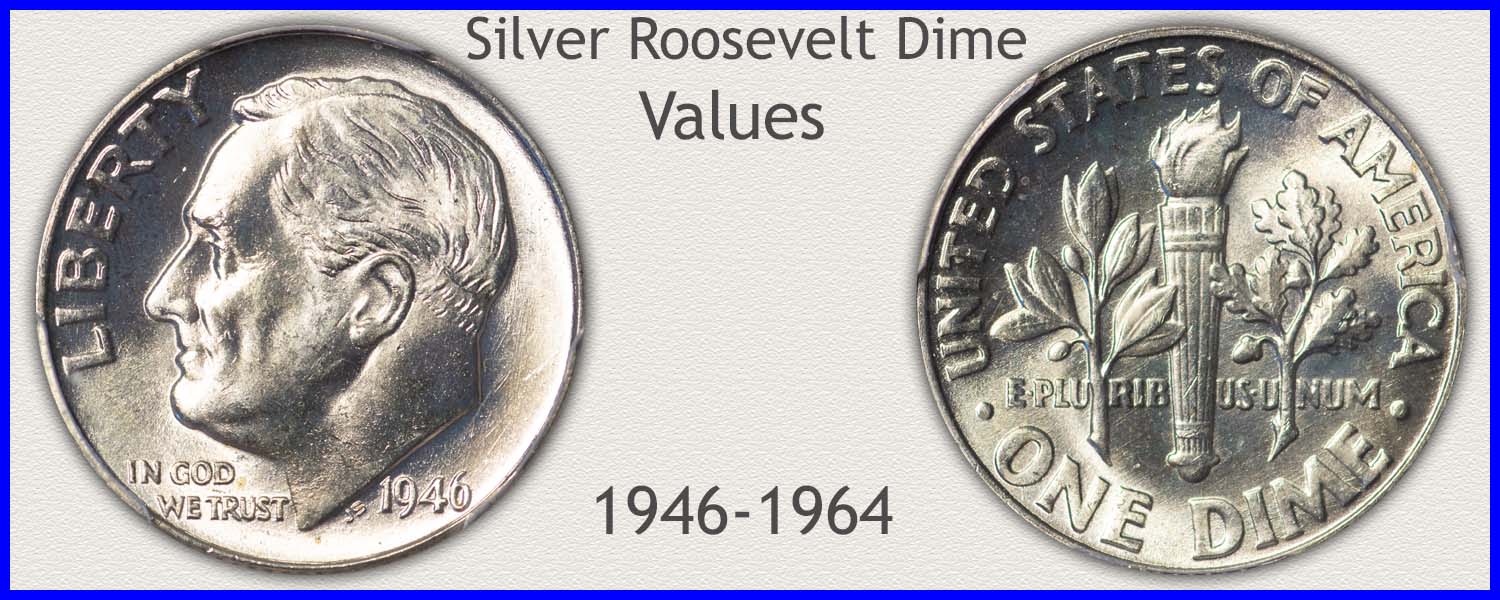 Roosevelt Dime Values | Early Silver Era
Roosevelt dime values of the early silver years, 1946 to 1964 are a premium coin because of silver content. These early dimes are 90% silver and move with the price of precious metals. Currently worth $1.65 each. Dates and mint varieties are listed on value charts with a step-by-step process to determine condition and how much they are worth.
Print the Coin Values Worksheet
List collectible Roosevelt dimes separately by date and mint variety. Add the bullion quality numbers to the list and record their values. Identify and organize your collection, keeping a summary of all coins.
Popular Coin Series | Silver Dimes
A study of Registry Set collection totals begins to identifies popular coin series. Collectors post their collections to share their interest in a coin series. Ranking the total collectors involved in a particular series gives insight into popularity. U.S. coins are diverse in design and series. Collectors enjoy many themes of interest. Popular denominations and series are listed in order.
Coin Value Guide | How to Value a Coin Collection
A coin collection is valued using a step-by-step method. Key factors are identified and the coin value guide leads to charts of how much your collection is worth.
Safe Coin Storage | Silver Dime Recommendations
Safe coin storage is important to preserve value, organize your box of old coins, and improve safe handling. A few basic supplies are highlighted that provide long term protection. Silver alloy coins need the protection as other coinage metals such as copper and nickel.
Follow the movements in silver price and calculate minimum values of silver U.S. coinage. Roosevelt dimes of the silver era 1946 to 1964 are a 90% silver alloy mix and worth far above face value. Calculator lists Pre 1965 silver coins and current silver values.
★Coin Values Discovery finds 1946 Dime Value and...
All old US coin values. The home page is an excellent index, quickly leading to the major coin series. From Cents to Gold. Easily sort and value your coins, an important step in preparing for selling and finding coin buyers.