Coin Values Moving with Precious Metals: Up-Dated 11/27/2023: Gold $2010 | Silver $24.66
1957 Dime Value
An accurate picture of how much these old dimes are worth starts with silver content. Beginning 1957 dime value is $1.65 each because of silver. As of 11/27/2023 silver is $24.66 per ounce. A nice start.
Next is the potential of added collector potential. Placing a coin into a collection involves judging the appeal of the coin in the eyes of a collector.
Steps are used to increase accuracy when confirming date, mint variety, and importantly with these silver Roosevelt dimes, their condition.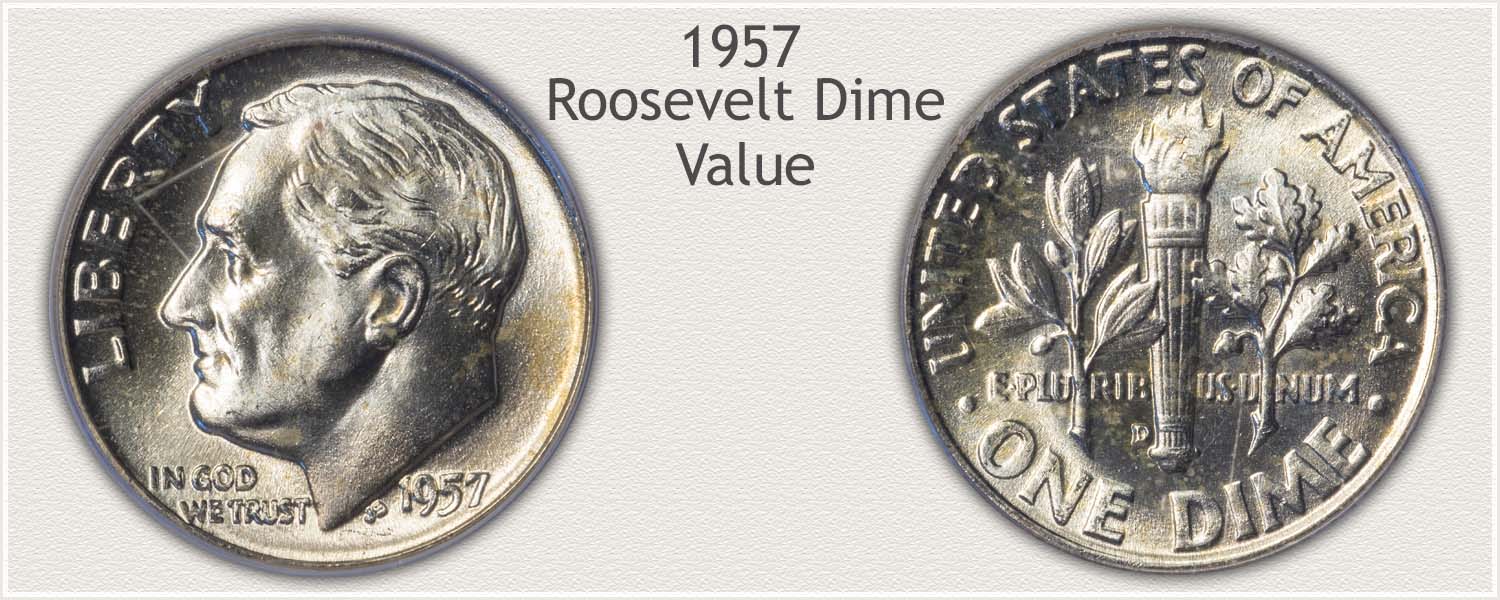 Steps Leading to Value:
Step 1: Date and Mintmark Variety - Vintage silver Roosevelt dimes are collected and valued by date and mint variety. Images help identify the different varieties.
Step 2: Grading Condition - Grade and condition is a top priority when judging an old coin. Bullion quality, tied to silver price, is separated from premium quality by comparing to images.
Step 3: Special Qualities - Often it is a subtle feature to a coin that causes the needed appeal to a collector and adding value.
1957 Dime Value
Condition of Coin
Date
Good
Fine
Extremely
Fine
Mint
State
Roosevelt Dime Values Updated
11/27/2023
1957
$1.65
$1.65
$1.65
$2.03
1957 D
$1.65
$1.65
$1.65
$2.28
The above chart shows condition is the major factor to consider when judging your coin. Steps below quickly confirm if your 1957 dime is bullion quality or collector quality.
Step 1: | Date and Mintmark Variety Confirmed
Identify the Mint Varieties of 1957 Dimes
1957 Roosevelt dimes were produced in huge numbers. Two mints struck and placed into circulation 273 million dimes in the year. This became the fifth largest total of the silver Roosevelt era.
Each 1957 dime starts with silver as its base value. Date and mint variety is considered by collectors along with condition when acquiring coins and possible added premiums.
1957-D Roosevelt Dime
"D" Mintmark on Reverse: Denver Mint Struck the Coin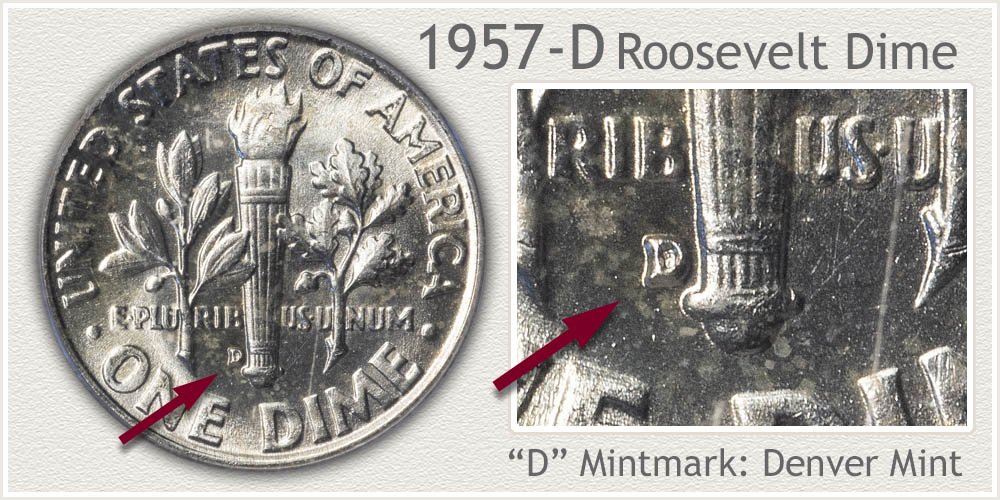 Denver mint variety of 1957 dimes are part of a complete date and mintmark set. Over 113 million Denver dimes were struck in 1957 and remain a coin in abundance today. Most circulated through the mid 1960's and received light to moderate wear. Collectible quality are dimes in mint state preservation, no wear to the surface.
Denver coinage is identified by the "D" mintmark. On the reverse at the base of the torch, look on the left side, the "D" indicates Denver struck the dime.
1957 Roosevelt Dime
No Mintmark on Reverse: Philadelphia Mint Struck the Coin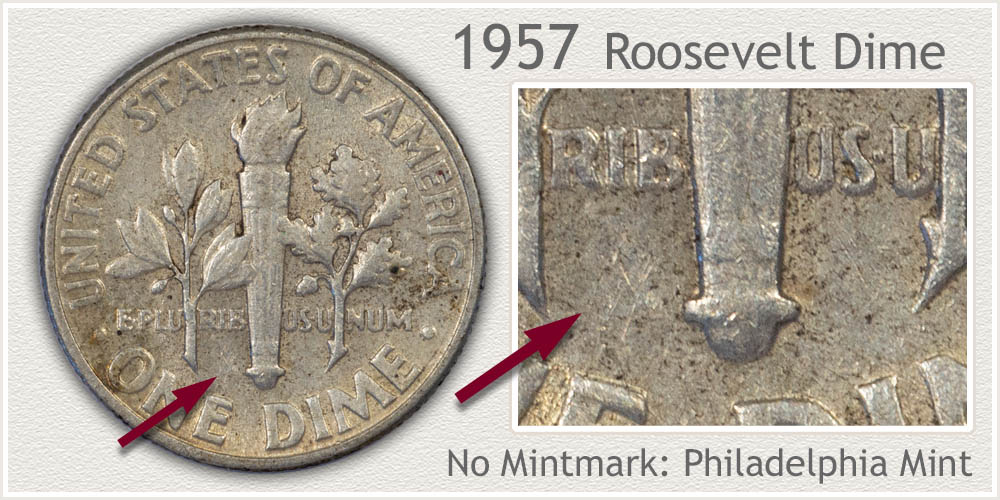 Philadelphia contributed just over 160 million dimes to the 1957 production. Ample supplies are available today to meet demand. Enough were saved in mint state condition to keep values affordable to new collectors. A popular silver dime from the 1950's attainable in high state condition.
No mintmark was used by the Philadelphia mint on 1957 dimes. An empty space on the left side of the torch is how a Philadelphia dime is identified. Look on the reverse at the base of the torch, no mintmarks are present, confirming Philadelphia coinage.
Step 2: | Judge Condition to Identify Grade
1957 Dime Value is Conditional
A key deciding factor to value is condition of a 1957 dime. Recognizing a well-preserved example from a slightly worn example is part of the grading process. Grading judges and defines different stages of condition. Coins without wear are at the top of collector's demand in the silver Roosevelt series.
Images of grades plus descriptions are used to compare and narrow condition to a grade. Beginning with a mint state coin notice all original details found in the design. Worn coins lacking fine details become less appealing to collectors.
Mint State Grade
Mint State: All collectors aspire to assemble collections of coins in a high state of preservation. Mint state grade is defined as no wear to the surface. These coins that did not circulate are at the top of demand.
The main separation point to achieving a mint state grade is confirming surfaces in the same condition as when the coin left the mint. Wear easily removes luster, a delicate texture that produces the "shine" of original surfaces.
An area to inspect for evidence of wear is the hair just to the right of the forehead. On the Roosevelt portrait there is a distinct raised hair line following the forehead. Undisturbed or worn hair is fully lustrous, no dulling, and no smoothness to the texture. If worn, high points are dull in appearance compared to lower relief areas. Notice on the example image, texture and shine of the metal is consistent over the hair.
Extremely Fine Grade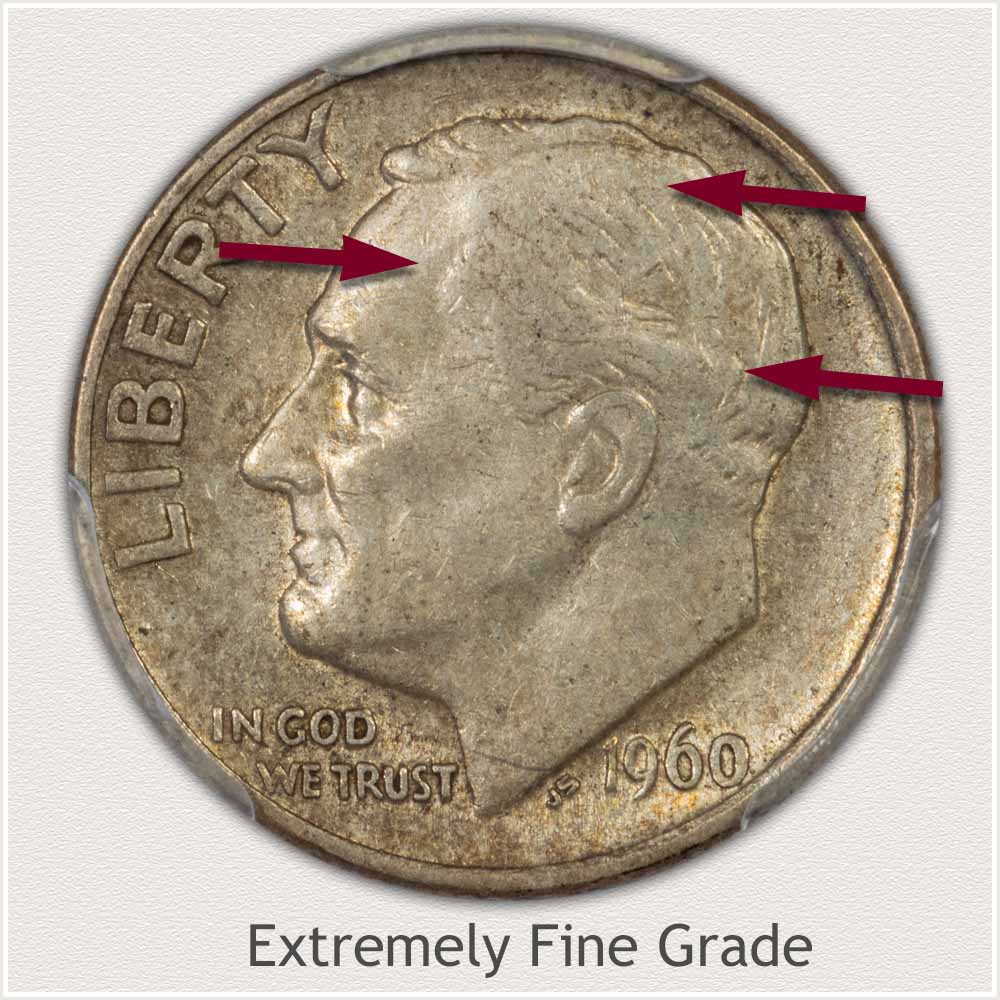 Extremely Fine: Slightly worn coins displaying just minor traces of wear on the high points is given the Extremely Fine grade.
It is the amount of wear that is important to achieve the extremely fine grade. With a focus on the hair and lines along the forehead, a small area of smoothness is visible. Although worn, this area remains with many small fine lines.
Tops of hair details are the only areas with visible wear, an important point to the extremely fine grade. Visible detail must remain to the fine lines of the hair.
Bullion Condition Examples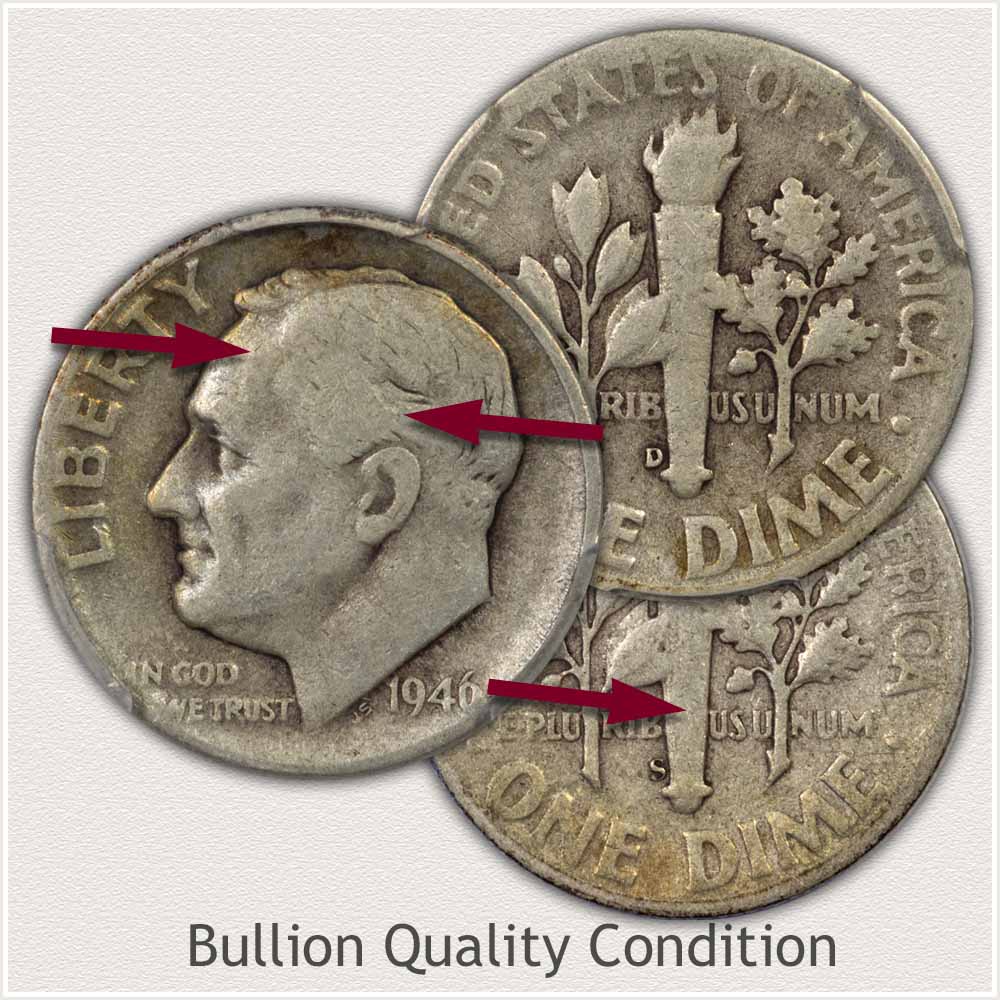 Bullion Condition Quality: Collectible 1957 dimes are coins with the majority of detail remaining. Visible wear, moderate to heavy, lowers grade below Extremely Fine and collectible status.
Wear is immediately visible on the example image. Flatness of the metal, lacking fine details, lowers the condition and these silver Roosevelt dimes trade at their base silver value.
Roosevelt's hair along the forehead is only a smooth flat area, no fine lines are visible and the hair, once a raised contour, is beginning to merge with the forehead. Many parts of the hair show merging of high areas with most detail now a smooth surface. A distinct worn look is the impression of the coin.
How to Video: Grading Roosevelt Dimes
When grading 1957 dimes the objective is to confirm the higher value - collector quality coins.
Video, Images and Descriptions | Grading Roosevelt Dimes
Step 3: | Special Qualities Enhancing Value
Subtle Collector Qualities of 1957 Dimes
1957 is a year supplies of the date are abundant. All enjoy a strong silver base value. It is finding the high-quality examples that locates a premium (above silver value) coin.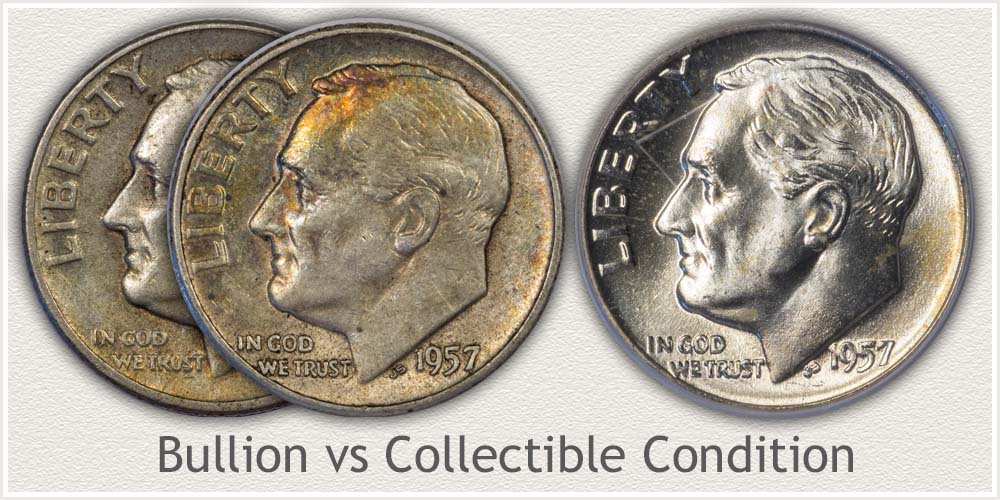 In the image, one coin on the right is in mint state grade and of interest to collectors. The other two display wear to the surface and are routinely traded based on silver value alone. Wear is noticeable to the surface of the coin on the left. A confident judgement of condition places it in the bullion quality range.
It is the middle dime that needs very close inspection to realize the difference of bullion quality and collector quality.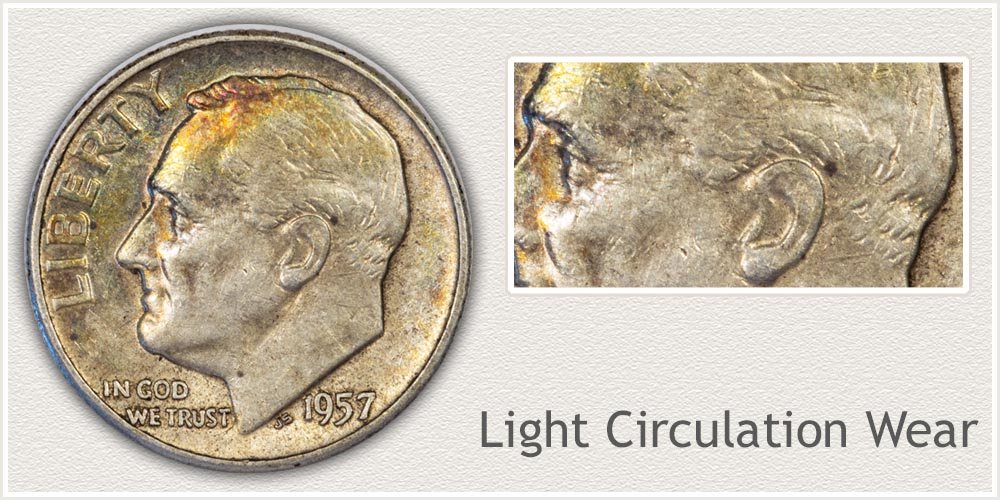 Looking closely at the slightly worn coin there are a few areas to help judge the slight presence of wear. Although wear is very light, removing primarily just the luster, it is significant enough to lower the grade into the circulated range.
One of the first areas to inspect is the fine lines in the hair. Each raised contour between the hair lines is slightly dull grey when compared to the rest of the coin's surface. Notice also the texture of the metal is different on raised areas, appearing smooth, and recessed areas showing a texture.
The area behind the ear is lower in relief, protected, and remains lustrous and textured. Just above are the signs of wear within the hair, dull color on the high points and smoothness of the metal.
In contrast, if all areas remain with a lustrous shine and texture of the metal is consistent in both high to low areas, the dime is of the quality sought by collectors.
References
U.S. Mint. 1958 U.S. Mint Annual Report https://hdl.handle.net/2027/pst.000068053482
Coin Values | CoinStudy Articles
Date by Date
In Depth Roosevelt Dime Values
1946 to 1964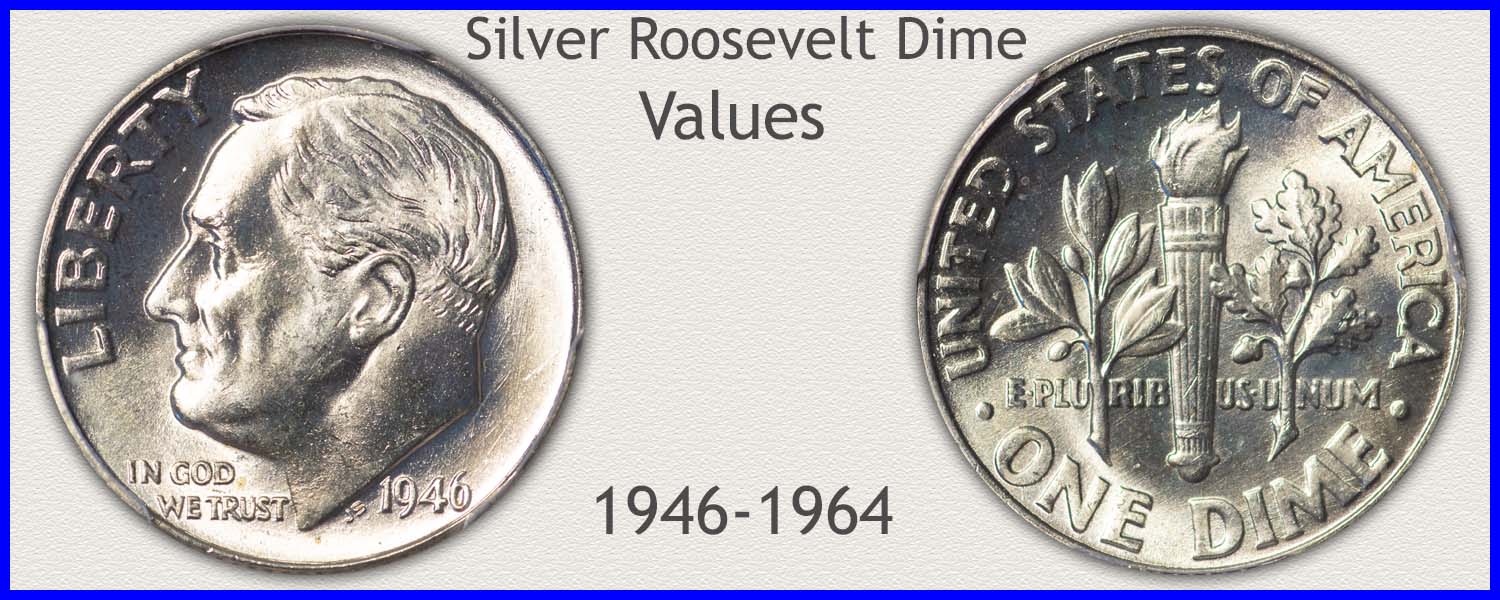 Roosevelt Dime Values | 1946 to 1964
Collectible status separates the many date and mint varieties of early Roosevelt dime values. Silver is a strong base to the 1946 to 1964 era dimes. Condition identifies the coins collectors place a collector premium on. Chart listing silver Roosevelt dime values highlights the issues worth above silver content and in demand by collectors.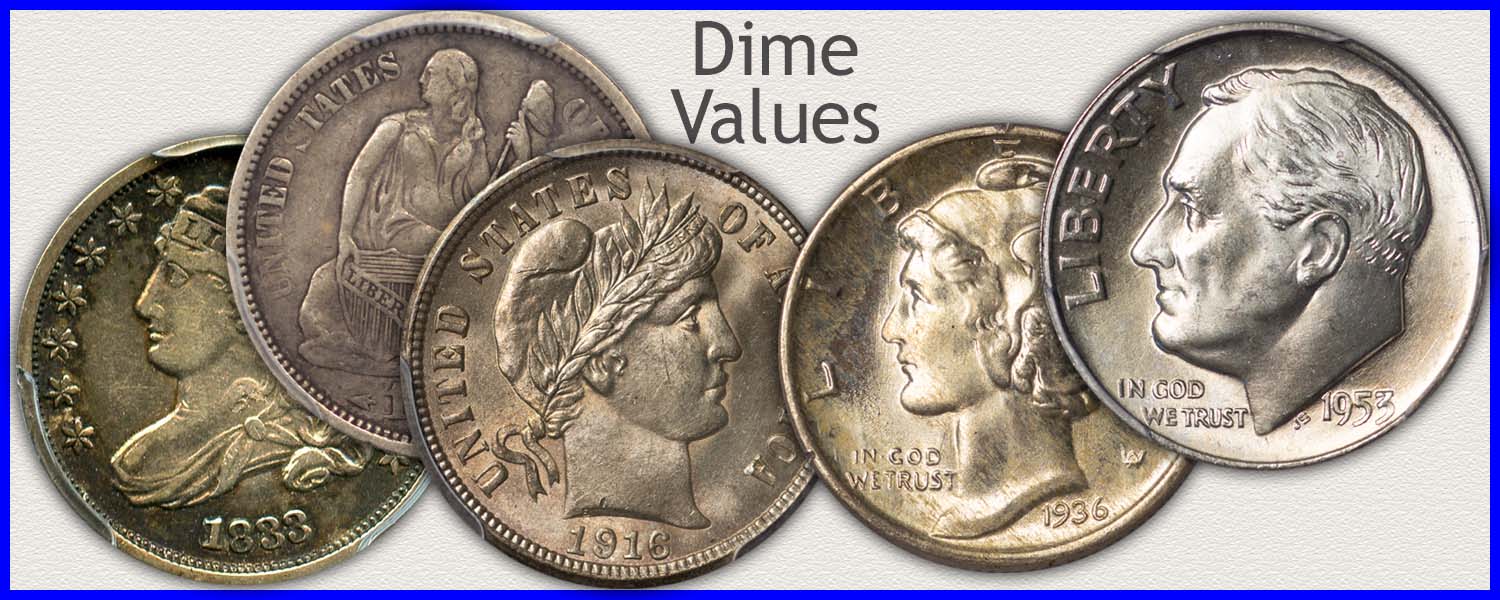 First minted in 1796 there are many rare and collectible dime varieties to discover.
From the early Bust coinage to the Seated Liberty series of 1837 to 1891. Next the Barber dime spanning 1892 through 1916 followed by the widely collected Mercury Head dime. The silver Roosevelt series bring it to 1964. Match your coins to variety images, grading images, identify its place on value charts.
Print the Coin Values Worksheet
List your Roosevelt dimes and record their values. Should you decide to sell... use the worksheet as an invoice and packing slip when sending coins through the mail to dealers. It indicates you have done your coin values homework.
The Rare dimes article covers the high value U.S. dime rarities and many other possible finds in your box of old coins. Listed are highly sought and collectible coins, value of these old dimes is often surprising.
Coin Value Guide | How to Value a Coin Collection
Place a value on your entire group of coins. Coin collections are valued using a step-by-step process helping identify, organize, and record specific information needed. Comparing to images and value charts discover the value of your box of old coins.
Safe Coin Storage | Recommendations
Recommendations on basic supplies that greatly improve coin storage. Providing for safe handling, preserving of value and organizing your box of old coins. Stored and housed properly, coins maintain their condition and value.
★Coin Values Discovery finds 1957 Dime Value and...
U.S. coin values determined using a step-by-step process. Begin with identifying the major coin series covering cents to gold coins. Images are used throughout to compare dates, mint varieties, special varieties, and grading condition of your coins. Follow a few steps to narrow range on value charts.