Coin Values Moving with Precious Metals: Up-Dated 11/27/2023: Gold $2010 | Silver $24.66
1956 Dime Value
Silver is the underlying base to 1956 dime value. A precious metal alloy and today's price of silver places each at $1.65 . How much these are worth also has the additional collector demand.
Following a step-by-step method, mint varieties and condition is identified and judged. Collectors both new and advanced are assembling collections and search for specific qualities.
Steps Leading to Value:
Step 1: Date and Mintmark Variety - Roosevelt dimes of the silver era are listed by mint variety and date. Both are important to identify accurately.
Step 2: Grading Condition - Close-up images of different grades are used to compare and recognize the quality in demand and awarded premium value.
Step 3: Special Qualities - Collections are assembled using different themes and approaches. These various ways of collecting place demand on specific coins each needing a close look.
1956 Dime Value
Condition of Coin
Date
Good
Fine
Extremely
Fine
Mint
State
Roosevelt Dime Values Updated
11/27/2023
1956
$1.65
$1.65
$1.65
$2.14
1956 D
$1.65
$1.65
$1.65
$2.03
A few steps are followed to complete the value process. Most of the 1956 dime value is tied to silver, however, the objective is to determine the potential of added collector premium.
Step 1: | Confirm Date and Mintmark Variety
Two Varieties of 1956 Dimes to Identify
1956 saw just two mint varieties struck. The San Francisco mint, one of the original three mints at the start of the Roosevelt series, ceased production of coinage and devoted its efforts to refinery, assay office and bullion depository.
Philadelphia and Denver mints continued striking dimes to a total of 216,655,100 pieces in 1956. This large amount supplies ample coins for collectors today. Step 2 - Grading becomes important to find examples of high condition and collector quality.
1956-D Roosevelt Dime
"D" Mintmark on Reverse: Denver Mint Struck the Coin
Denver variety 1956 Roosevelt dimes are part of the silver era. With 90% silver as part of the alloy all have a premium over face value. As a collectible, high condition is needed to added worth. Recognizing the mint variety is part of an accurate evaluation.
Denver coins are all mint marked with a small "D" on the reverse. Look closely at the base of the torch. On the left side the letter "D" was placed by the Denver mint to indicate its production.
1956 Roosevelt Dime
No Mintmark on Reverse: Philadelphia Mint Struck the Coin
Philadelphia placed over 108 million 1956 dimes into circulation. An ample amount to meet demands of commerce. A vast majority of these became "used" and worn eliminating consideration as collector quality. Step 2-Grading identifies the condition needed to realize added value.
All dimes within a series such as the Roosevelt design are collected and valued based first on date and mint combination. Philadelphia did not use a mintmark on 1956 dimes, this absence of a mark indicates the Philadelphia mint. On the reverse, if the space to the left of the torch is empty, it is a Philadelphia variety dime.
Step 2: | Judge Condition Narrows Value Range
1956 Dime Value is Conditional
All coins once they leave the mint and begin to circulate quickly begin to wear and loose both original luster and metal from the surface. Collectors use standards applied to these different conditions and define each with a grade. Grades defining condition range from Mint State - no wear to Good - heavy wear.
Use the images to compare your coin. A close inspection finds a close match helping define the condition and assign a grade.
Nice condition 1956 dimes are approaching collector quality and premiums.
Mint State Grade
Mint State: A premier condition 1956 dime is a coin that never circulated. It was set aside just after minting. The key to the Mint State grade is defined as no wear to the surface. These coins remain with the original surface and luster.
Recognizing complete luster is needed to confirm a top-grade coin. High areas are inspected to look for traces of wear. Roosevelt's jaw extending for chin to ear is an area that received wear quickly. Viewing the example image, the fine texture of luster and shine remain. Wear causes a smoothing look to the metal and changes the shine to a dull silver-grey.
Tilt your coin under a light and inspect the jaw and cheek under the eye is still bright with luster. Look also for the presence of fine lines in the hair and no dulling.
Extremely Fine Grade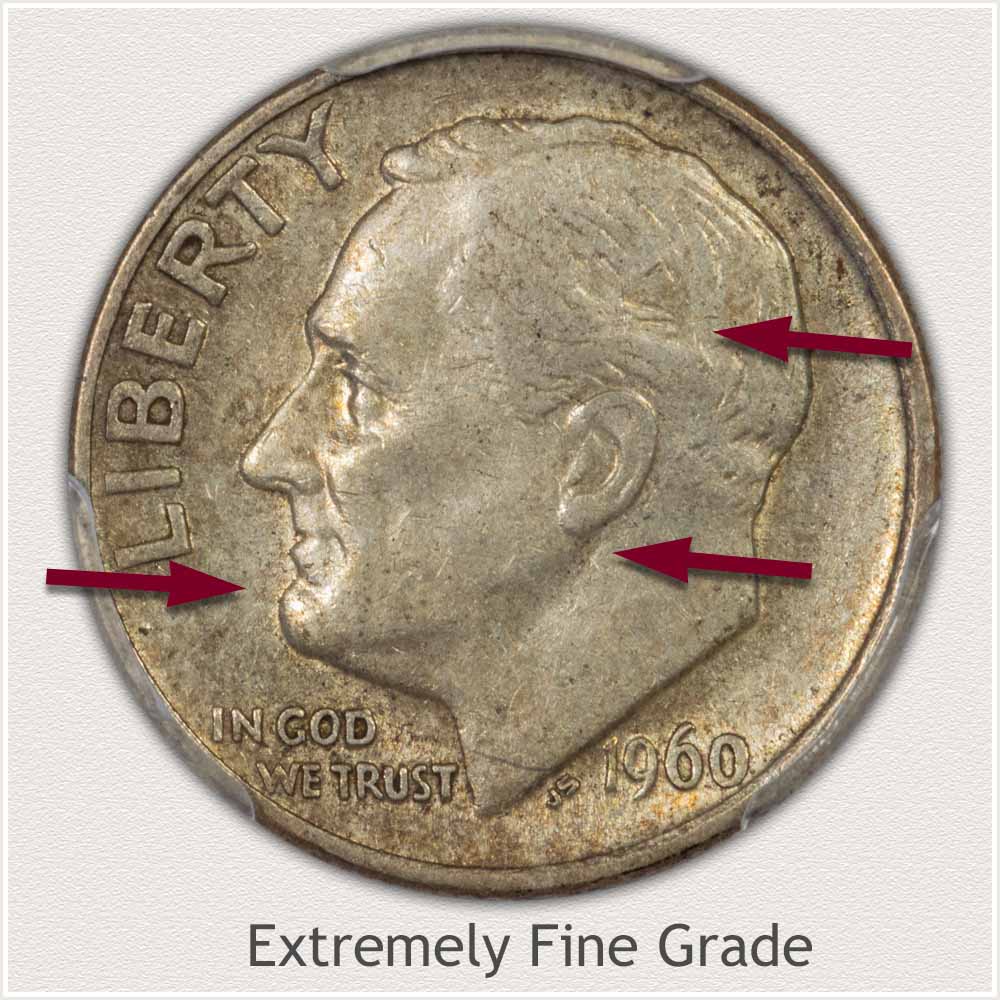 Extremely Fine: Wear from circulation begins to show as a slight flattening to the contours and color change from high relief areas to low areas. Light wear over the surface is a coin in Extremely Fine grade.
Wear is seen on the jaw area of Roosevelt's face. From his chin to ear the metal is smooth on the high areas and just slightly flat. There remains a high area defining the cheek and a low separation relief to the jaw.
On the example image, notice the fine lines in the hair are visible and no wide spread merging of details is seen. A sharp look to the coin is the overall impression.
Low Circulated Condition Examples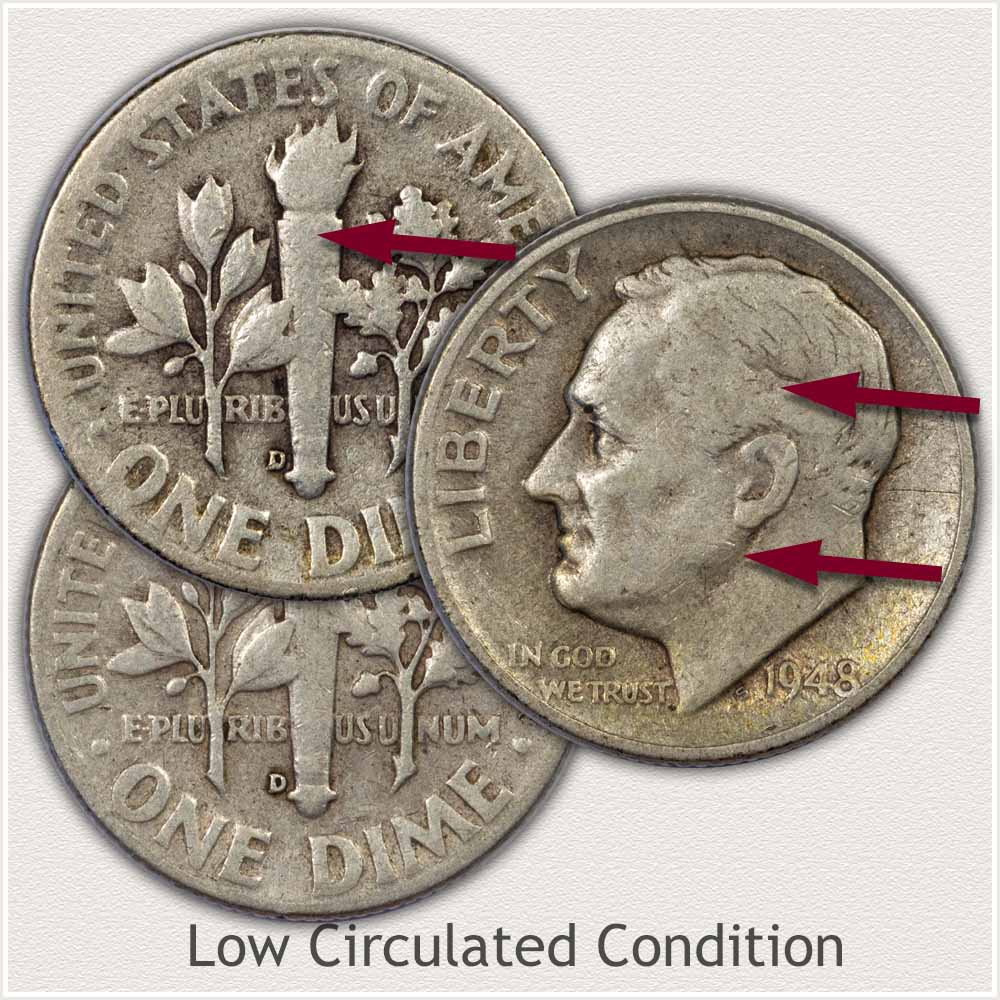 Low Circulated Condition: Once a silver Roosevelt dime is worn and minor details are missing it is now below the extremely fine grade. Low condition coins display noticeable wear overall.
The jaw line near Roosevelt's neck shows a distinct flatness extending from chin to ear. A once high relief jaw is now mostly flat. His cheek is also flattened and beginning to connect to the contour of the jaw.
Additionally, a large smooth area is within the hair above the ear. Moderate to heavy wear is lowering condition and appeal to collectors. Many of the silver era Roosevelt dimes in low condition trade based on silver value.
How to Video: Grading Roosevelt Dimes
An accurate judgement of condition is made during the grading process. Using visual cues, separate the bullion from collector quality silver dime.
Video, Images and Descriptions | Grading Roosevelt Dimes
Step 3: | Special Qualities Enhancing Value
Identifying Subtle Qualities
Quality is the overall feature that separates a minimum value silver Roosevelt dime from a collector quality coin. Light to no wear of the surface, pleasing color and toning are important to collectors. Damage to the coin is also considered very important to overall appeal.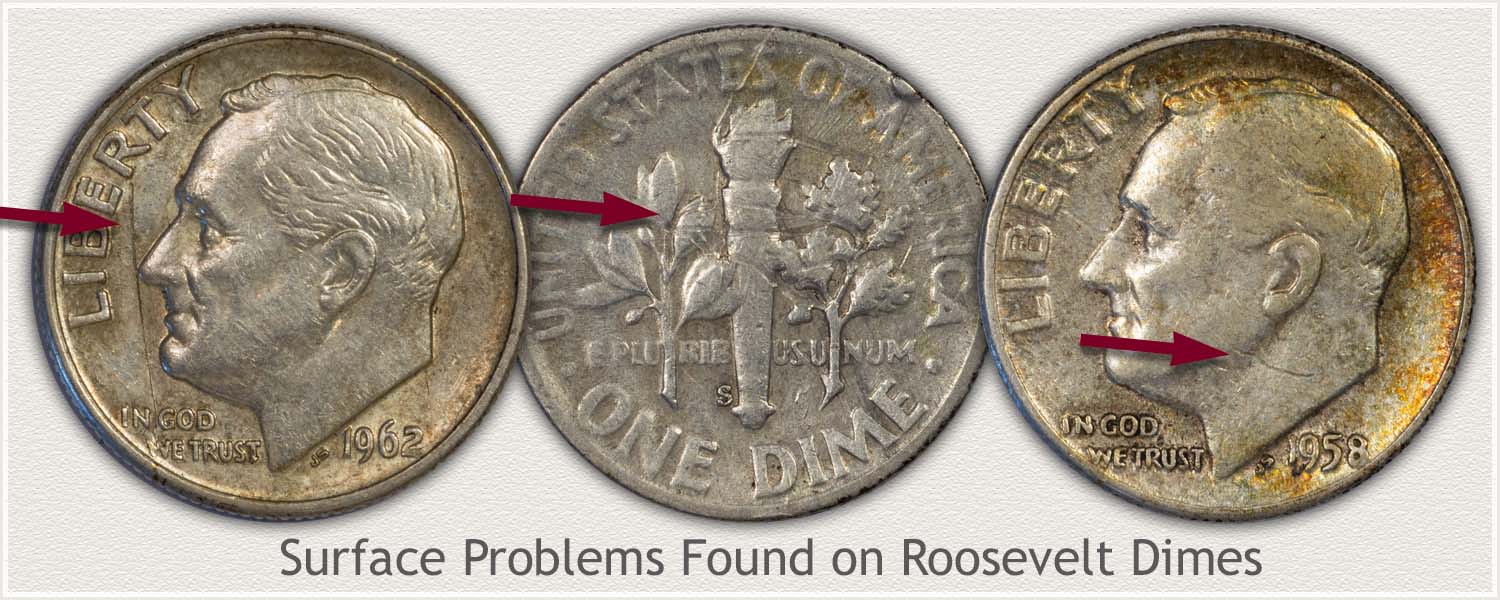 Minor distractions caused by damage greatly impacts the value and demand by collectors. 1956 dime value is largely based on its silver content. To reach collectors quality the coin needs high eye appeal. Just a slight imperfection disqualifies a coin from collectability and it trades based on silver value.
The first coin in the image presents well at first look. However, just in front of Roosevelt is a large scratch. A pleasing coin, with damage it is not considered collectible.
In the middle is a San Francisco dime, the low mintage varieties of the series. Wear is beginning to easily show, lowering appeal. Looking closely, a group marks are found within the center marring the torch and leaves either side. With no collector appeal the coin is valued based on silver.
On the right is a coin that takes a moment plus a close look to fully evaluate. It is toned a very appealing shade to many collectors. With just light wear visible, it is a candidate for a well-chosen circulated set of silver dimes. Inspecting the neck and eye of Roosevelt and extending to the "E" of Liberty a scratch noted. This damage, although subtle, is a drawback and lowers the coin to base silver value. A pleasing coin, however, many collectors would pass on the coin and choose another.
Damage is one of the final checks made when judging condition of coins. If highly visible, damage, quickly decides value. An effort to spot the subtle distractions helps confirm the absence of damage and leads to an accurate value.
References
U.S. Mint. 1957 U.S. Mint Annual Report https:// https://nnp.wustl.edu/library/book/346
Coin Values | CoinStudy Articles
Date by Date
In Depth Roosevelt Dime Values
1946 to 1964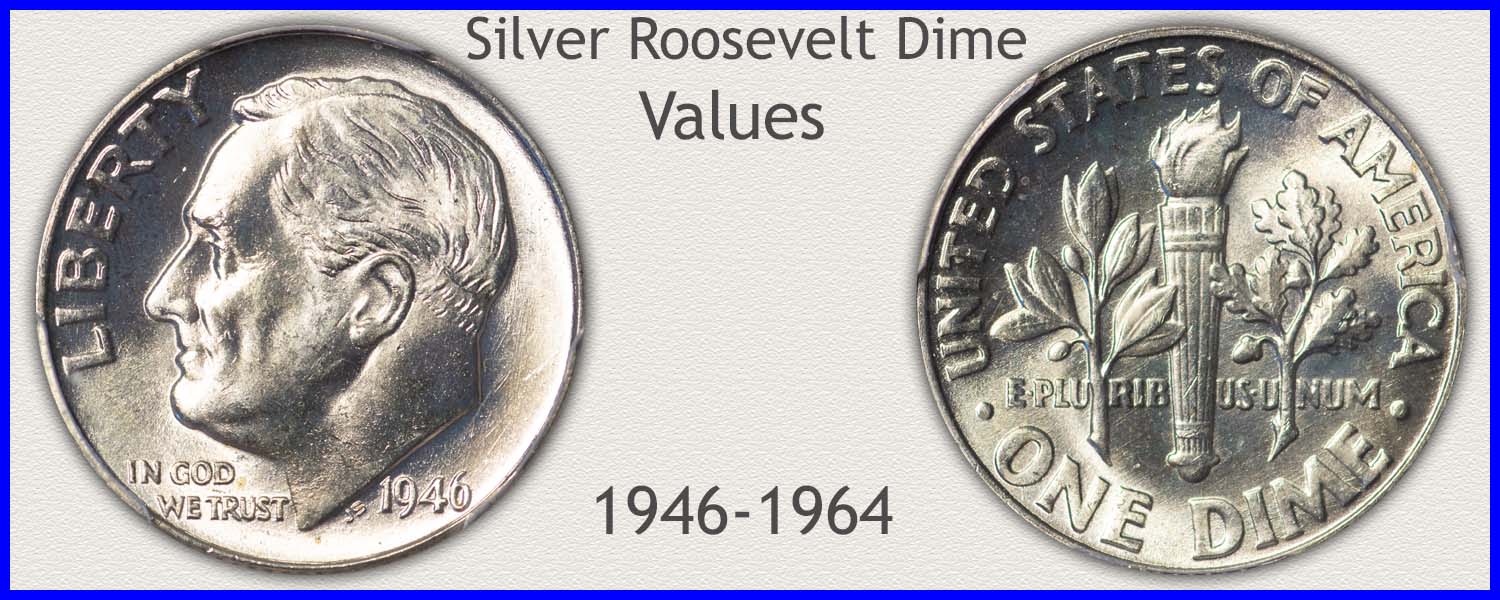 Roosevelt Dime Values | 1946 to 1964
Collectible status separates the many date and mint varieties of early Roosevelt dime values. Silver is a strong base to the 1946 to 1964 era dimes. Condition identifies the coins collectors place a collector premium on. Chart listing silver Roosevelt dime values highlights the issues worth above silver content and in demand by collectors.
Popular Coin Series | Roosevelt Dimes
How much your old dime is worth is determined by its base silver value and collectible demand. The number of collectors pursuing the Roosevelt series becomes another solid base to premiums. Collecting interests of the different coin series are ranked and charted. Roosevelt dimes are among the popular series today.
An easy, quick reference to U.S. Coin Values. Follow images to identify each coin series. Minimum values are listed and link to expanded value charts and grading descriptions to narrow place on charts. Bookmark the Mobile Guide to your phone.
Silver Coin Values | Minimum Values of U.S. Silver Coins
Identify silver U.S. coins and find current up to the minute values. Roosevelt dimes 1946 to 1964 are 90% silver and minimum values move up or down with changing silver prices. Enter silver price and calculate dimes, quarters, half and silver dollar premiums.
★Coin Values Discovery finds 1956 Dime Value and...
All old U.S. coin values. Image and description index leading to value charts. Step by step method to date and variety identification. And grading condition by comparing to images, video and descriptions. Special qualities are also judged. Discover how much your box of old coins is worth.